How To Become a Professional Skydiver
What would you say if we were to tell you, you could skydive for a living? It's alright if you pause to wonder if we are off our rockers, but it's not as crazy of an idea as it may seem. All across the world, hundreds of people have chosen to "cut-away" from their day jobs to become professional skydivers. Now that we have your attention and your interest, allow us to explain the trajectory from everyday joe to a standout with a career as a professional skydiver.
Tandem Skydiving – Jump 1
The majority of people are introduced to the wide-open world of skydiving by a tandem skydive. This first jump will help you see if that single leap of faith is enough to last you a lifetime or if you'd like to explore the world of skydiving and body flight even more! Your foray with skydiving doesn't have to end after your first tandem skydive. In fact, it could be step one on a long and rewarding journey to becoming a professional skydiver.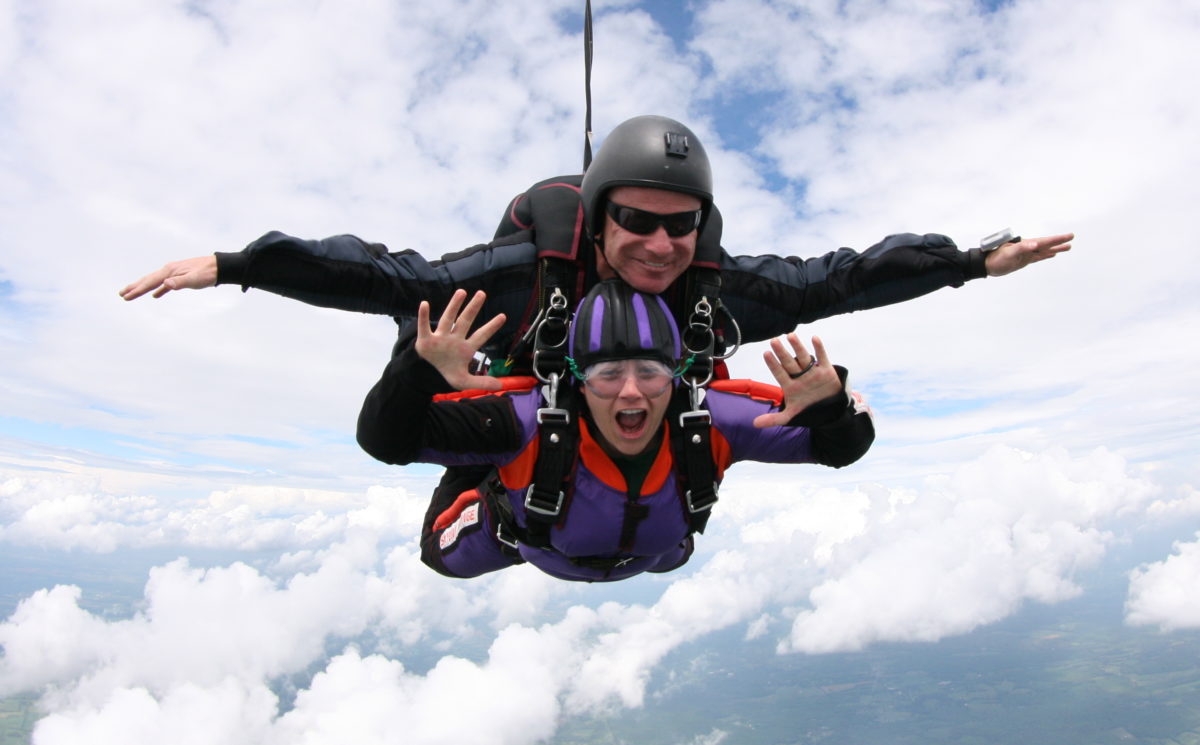 Learning To Skydive – Jumps 2-25
Before you learn to run, you've got to learn to walk. Similarly, you have to learn to skydive before you can become a professional skydiver! Your Accelerated Free Fall progression will teach you the fundamental skills you will need to master to become a licensed skydiver. Among other free fall skills, you'll learn how to maintain a stable body position, how to exit the aircraft, how to adjust your fall rate, and how to handle emergency procedures should they arise. To progress from Accelerated Free Fall student status to a licensed skydiver, you'll need to accrue 25 total skydives and complete a few objectives.
Coach Rating – Jump 100
The Coach rating is the first instructional rating a skydiver can receive. The coach rating serves as an introductory instructional rating. To qualify for the Coach rating, a candidate must have earned a USPA B License and completed at least 100 jumps. To actually receive the rating, the jumper must satisfactorily complete a USPA Coach Rating Course. During the course, a candidate will need to complete both a written evaluation and satisfactorily complete two evaluation jumps.
An individual with a Coach rating can conduct training in the non-method-specific portions of the skydiving ground school, like equipment familiarization and basic canopy control. The skydive Coach rating enables a skydiver to provide freefall skills training and complete jumps with students cleared by a USPA instructor and clears them to train and supervise certain skills within the Integrated Student Progression. In our program, coaches are provided compensation for each jump with a student they complete.
Videographer – Jump 200
To begin training with a camera set up a skydiver needs to accrue 200 skydives. And we promise you the effort is well worth it. Skydiving videographers can make a fair amount of money in a variety of ways. Some skydiving videographers specialize in capturing the experiences of first-time skydivers. Others enter into the national and international competition circuit to film skydiving teams. With enough training, skill, and gumption videographers may even go on to be used to capture aerial footage for media ranging from commercials to major motion pictures.
AFF Rating – Jump 200-500
Though other steps on the journey have a concrete number attached to them, the instructional rating to teach others to skydive is slightly different. In order to receive your AFF rating, you need to have a USPA C License. The minimum requirement for this license is 200 skydives. The additional requirements established by the USPA are if you haven't held your USPA Coach rating for at least 12 months, you'll need to have at least 500 jumps to attain this instructional rating. As with the Coach Rating, an AFF rating candidate will need to attend a rating course, pass both a written evaluation and satisfactorily complete evaluation jumps.
Once you have your AFF rating, you can begin to train and jump with student skydivers beginning their journey developing the next generation of skydivers. Instructors are compensated by dropzones for each AFF jump they complete.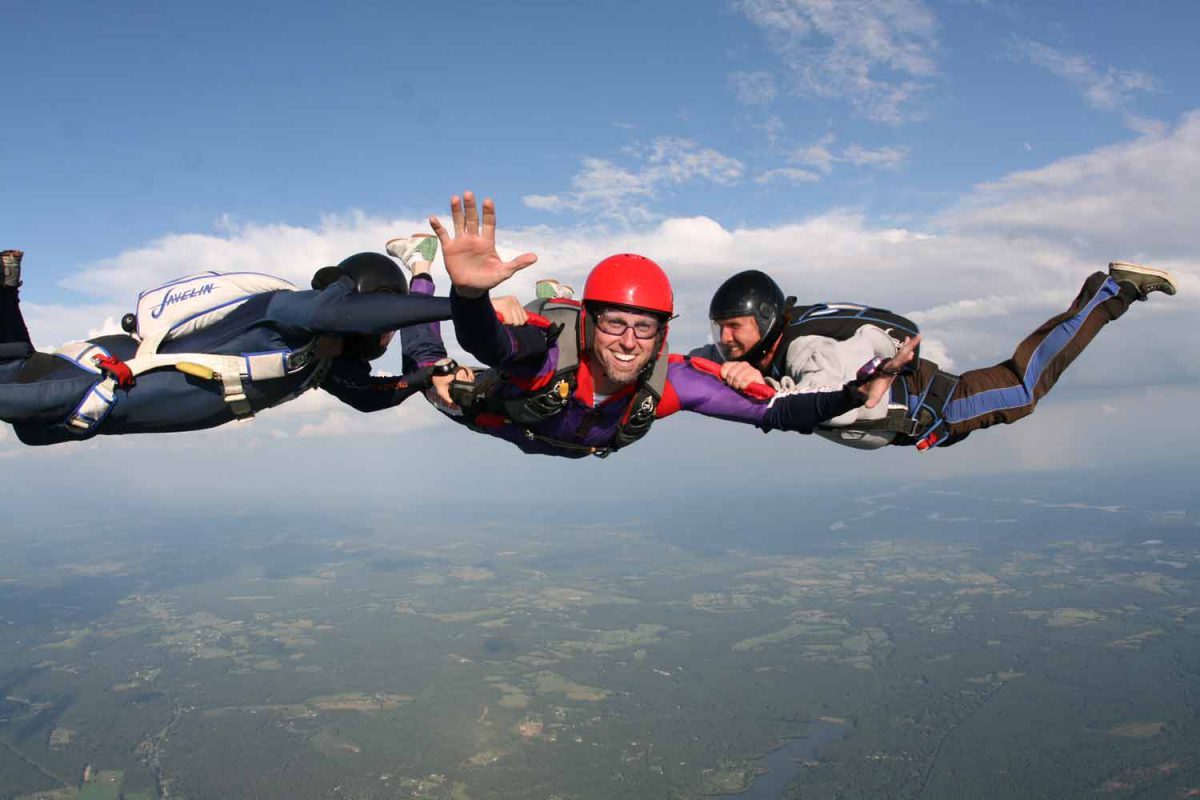 Tandem – Jump 500
The most lucrative position at many dropzones is that of a Tandem Instructor. The cool thing about choosing to be a Tandem Instructor as your skydiving profession is that, in part, your career is built around introducing the adventure of a lifetime to first-time skydivers. Because of the growing demand for Tandem Instructors, your position can open up opportunities around the world!
The role of a Tandem Instructor carries with it some serious responsibility. This is why pre-requisites to receive the rating require candidates to have a significant amount of experience. Candidates must have earned a USPA D License, must have held any of the other USPA instructional ratings, have logged 500 skydives, and have a minimum of three years experience in skydiving.
What Are You Waiting For?
" Professional skydiver" might not have been an option at your local career fair, but it is a career that can literally take you to new heights. Plus, it gets even better because Skydive Orange has everything you need to pursue a career as a professional skydiver! We've got you covered from your first jump as a tandem skydiver, through your Accelerated Freefall progression, and we even regularly offer rating courses to help you pursue your goals.
Want to know more about becoming a professional skydiver? Just give us a call today!
Skydiving Videos: Are They Worth the Money?
The cost of tandem skydiving videos may seem steep, especially after you've already saved up and shelled out to book your skydive, but listen closely – now's not the time to scrimp! As cliche as it sounds, it's worth stating: you only skydive for the first time once. Don't miss the opportunity to catch yourself in the act of accomplishing something extraordinary!
Here's the skinny on skydiving videos, and why they are absolutely worth it!
Why You Should Get Skydiving Video
Skydiving is like nothing you've ever done, and like nothing else you'll ever do! It's impossible to accurately describe the experience to someone who's never done it, and there's so much stimuli to take in during your jump that the details are difficult even for you to recall. You might've been there and done that, but if you don't get the video . did it even happen?
Prove to yourself that you can harness your inner awesomeness, defy gravity and FLY! Skydiving, and seeing yourself soaring through the wide-open sky, is extra-level empowering and mega confidence boosting. If you're ever in need of a pick me up, watch your skydiving video; there is no better pep talk!
Is skydiving video worth it? Yes!! Still not convinced? Consider this: not getting video is the number one regret from those who chose to go without. They so wish that they could rewind time and instead go all in. Skydiving video or stills packages are the ultimate souvenir . and are solid social media gold (don't forget to tag us! #skydiveoc).
Media Packages at Skydive OC
At Skydive OC, we offer several media packages, ranging from $99 to $169, so that you can choose what combination of stills and video options best suits your needs:
Skydiving Stills Package – 30-60 Digital Images
Video & Still Package – Images, Plus Raw Video Footage
Social Media Package – Images, Raw Footage, Plus 1 Minute Clip
Ultimate Package – Images, Raw Footage, 1 Minute Clip, Plus Full Jump Edited Video
All images and footage are taken by hand-cam – literally a camera strapped to your tandem instructor's wrist. This up-close-and-personal view means every single moment of your skydive is captured. With sequential stills or video, you can relive your epic leap again and again (and again, and again . ).
Tips for an Awesome Skydiving Video
As long as you bring your grin, you'll have everything you need for your skydiving video. Here are a few pro tips for making it awesome:
Chin Up: look forward rather than down so you can catch those tell-all facial expressions, and not the top of your head. Bonus, the view looking toward the horizon is breathtaking.
Smile Wide: everyone's face flaps in the wind – but not nearly as much if you engage those muscles and smile for the birdie! (This one is an easy win, because you'll be ear-to-ear anyway.)
Hair Back: pull long hair back or into braids so it's not in your face – or, most importantly, in your instructor's – and so it's not pointing to the heavens throughout your video.
Jewelry Off: you don't have to remove your jewelry, but know that the wind may take it. Be mindful of anything that may fly around or try to steal the spotlight.
Dress for Success: dress comfortably, ideally athletic gear, and consider brightly colored or black clothing. You want to stand out against the big blue sky all around you.
Need more info on getting ready for your skydiving experience? Check out our articles on How to Prepare for Your (First) Tandem Skydive and How to Have the Ultimate Skydiving Experience!
How To Become A Professional Skydiver, Or Close To It
Skydiving is perhaps the definitive bucket list experience, but it is also much more than that. Since people realized that you could jump out of airplanes for fun, skydiving has grown into a leisure activity, hobby and even a competitive sport. Professional skydivers have various roles, but all have a couple of things in common – they are not superhuman, and everybody starts with a first jump. Here is a bit more information about what goes into a professional skydiving career.
Tandem Skydiving
Tandem skydiving was first developed in the early 1980s and has since grown into a global industry, with constantly evolving techniques and technology helping numbers expand year after year. The ability to have highly experienced instructors introduce people to skydiving after just a small amount of training opened up the potential of the industry as a full-time career, and is an essential part of skydiving operating at a much larger scale.
Tandem instructors not only need to be very experienced and qualified, but must also be good with people, as they guide them though what is likely one of the most intense (and awesome) experiences of their lives. To become a tandem instructor in the United States, you must have completed at least 500 skydives.
Camera Work
Your very first skydive is an amazing experience, and capturing it in photos and on video to share with your friends and family is an important part. You'll want to have a qualified camera flyer jump with you in freefall and record the action from a third, or "outside," perspective. Flying camera is traditionally the first job that people get in the industry that pays them to jump, and you can start doing this when you have more than 200 jumps. It's a way to build skill and experience before moving on to other areas of employment.
Instructors
Teaching people to skydive for themselves can be a very rewarding thing to do, and for many professional skydivers this represents an important career goal. To become an instructor in the United States, you need over 800 jumps. Instructing can be a job on its own, but just as likely by the time people get to this stage they also continue to do the other things as well. Skydiving is a diverse sport, and can represent a varied and involved career. By the time you become an instructor, you will likely already have occupied many of the other roles on the dropzone – all of which give you the correct experience to pass on to others.
Other Things
Packing Skydiving Parachutes is a traditional way to earn money to pay for jumps, and completely immerses you in dropzone culture. Learning while on the ground, and simply spending time in and around the sport, is extremely important.
Coaching is something you can do once you have developed enough skill in a particular area that other qualified skydivers will pay you to share your knowledge with them. Many professional skydivers use coaching to supplement their other work, but the very best can make a living from coaching alone.
Dropzone Operations involves all of the various ground-based tasks that keep a skydiving operation running – such as manifesting all the jumps or editing video. There are also all the non-skydiving related things like groundskeeping and facility management, which keep you close to the action until you're ready.
How Do I Get Involved?
Start skydiving! Becoming a professional skydiver might seem as though it involves a staggering number of jumps, but everyone starts with zero jumps and builds from there.
A tandem skydive is by far the most accessible way to experience skydiving for the first time. Once you get involved and start hanging out at the dropzone, you will be surprised at how those jumps numbers start to creep up. There is no professional skydiving course that will take you all the way to being an instructor, but the things listed above are established stepping stones and guidelines for how to be a professional skydiver.
Jumping out of aeroplanes for fun is potentially life-changing, and those that work in the sport are simply people that tried it once and then wished to do it again, and again, and again. It all starts with that first jump, though, so book it with Skydive OC today!
Source https://www.skydiveorange.com/2020/02/25/how-to-become-a-professional-skydiver/
Source https://www.skydiveoc.com/about/articles/skydiving-videos-are-they-worth-the-money/
Source https://www.skydiveoc.com/about/articles/become-professional-skydiver/