Skydiving in India: Feel The Feeling of Free Fall
Skydiving is an established adventure sport around the world and is in its nascent stage in India. If you think you need a passport to strike this adventure off your bucket list, you might want to think again.
Here is a list of 8 Places for Skydiving in India:
Aamby Valley, Maharashtra
Deesa, Gujarat
Dhana, Madhya Pradesh
Narnaul, Haryana
Bir Billing, Himachal Pradesh
Mysore, Karnataka
Aligarh, Uttar Pradesh
Pondicherry, Tamil Nadu
1. Aamby Valley, Maharashtra – Best Spot for Skydiving in India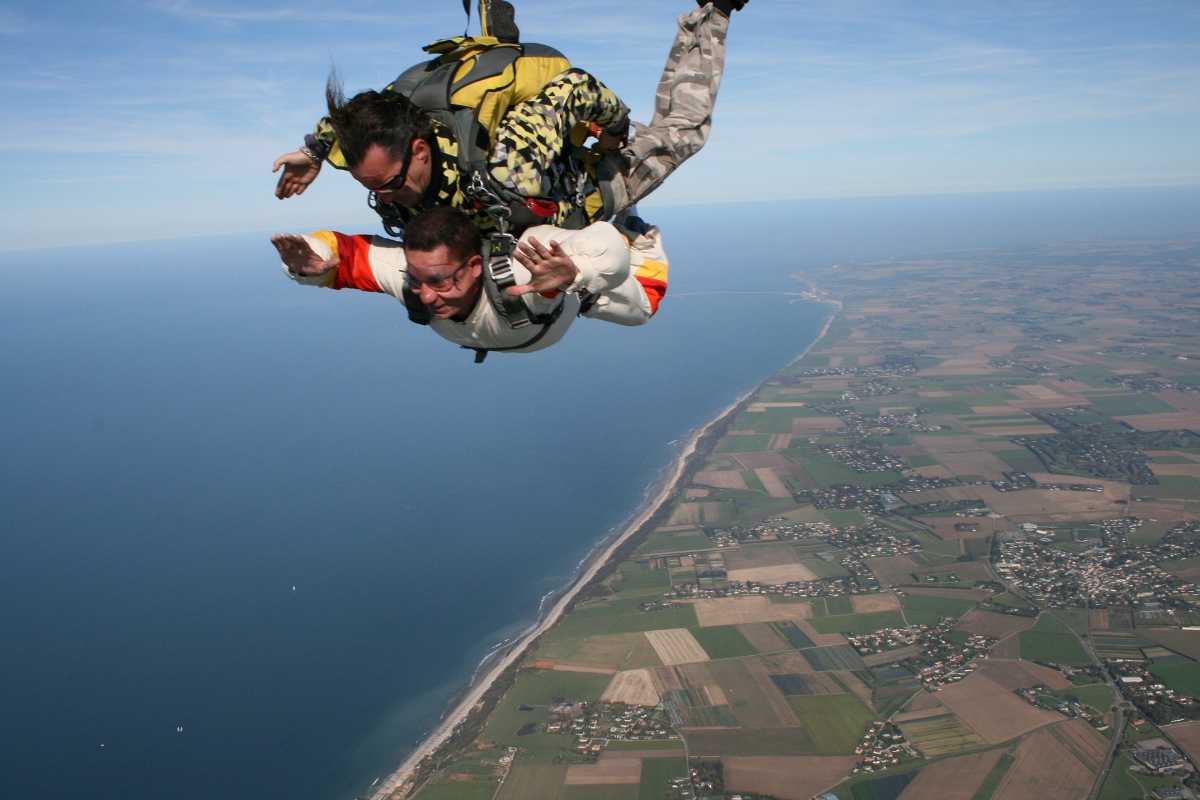 Source
Aamby Valley in Maharashtra is the top sky diving spot in India, especially for a tandem jump. If you are an avid skydiver, this place also offers membership which will allow you to go for skydiving all round the year. 10,000 ft tandem jumps are their speciality, for now, however, the organizers are also planning to introduce other popular types of jumps. There will be a training session of approximately for an hour with the instructor in which you will be briefed about the basic Do's and Don'ts of skydiving. Post the briefing, a plane will take the skydiver to the starting point of about 10,000 feet where you, with your instructor, will take that big exciting plunge from the aircraft. Within a span of 20-30 seconds, the instructor will deploy the parachute. In the next 40-45 minutes, you can absorb the picturesque surrounding of Aamby Valley while the wind takes you on a joy ride.
2. Deesa, Gujarat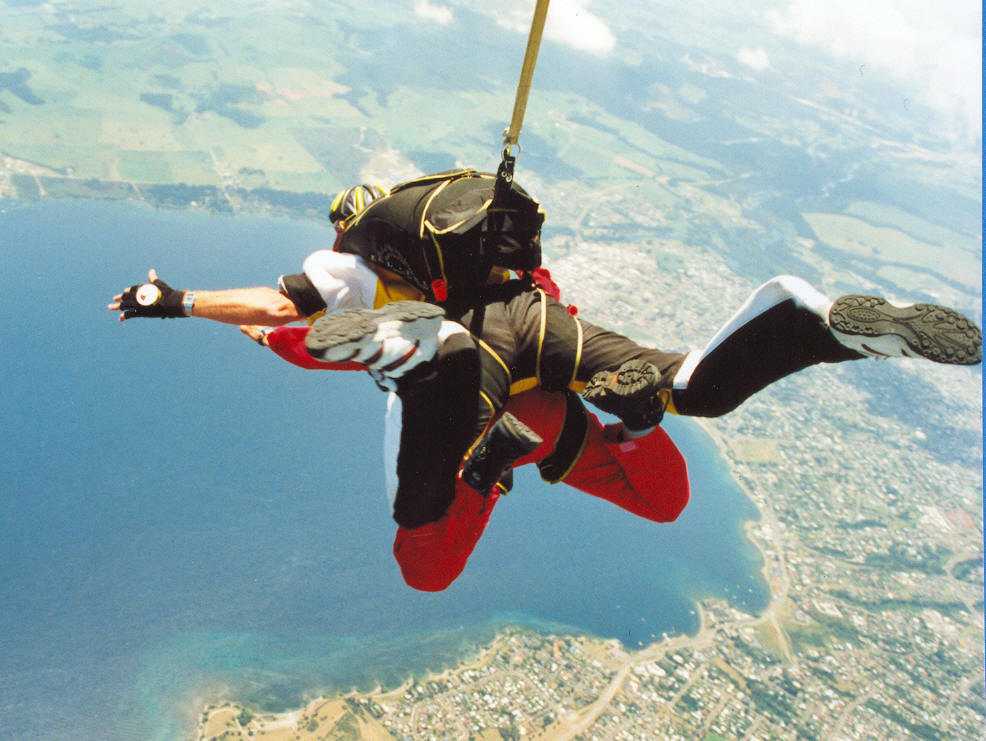 Source
In the scenic lakeside city, Deesa in Gujarat, the Sports Authority of India recognized its potential to become a certified drop zone for skydiving as an adventure sport. Thus, in this way, Deesa went on to become the country's first skydiving spot. Every year, the city becomes a host to several skydiving events. The Athletics Specialist of Gujarat is in the process of converting Deesa as a spot for more such experience sports. While one can opt for a Tandem Jump here where the first time skydivers can get an ensured memorable experience. There is also a Static Jump in which the skydiver will undergo a training for 1.5 days. In a Static Jump, the participant is his/her own master- there is no instructor attached to them with a harness, rather they are connected with two instructors via radio who guide the skydiver about the safe landing. The parachute is immediately deployed once the skydiver takes the leap.
3. Dhana, Madhya Pradesh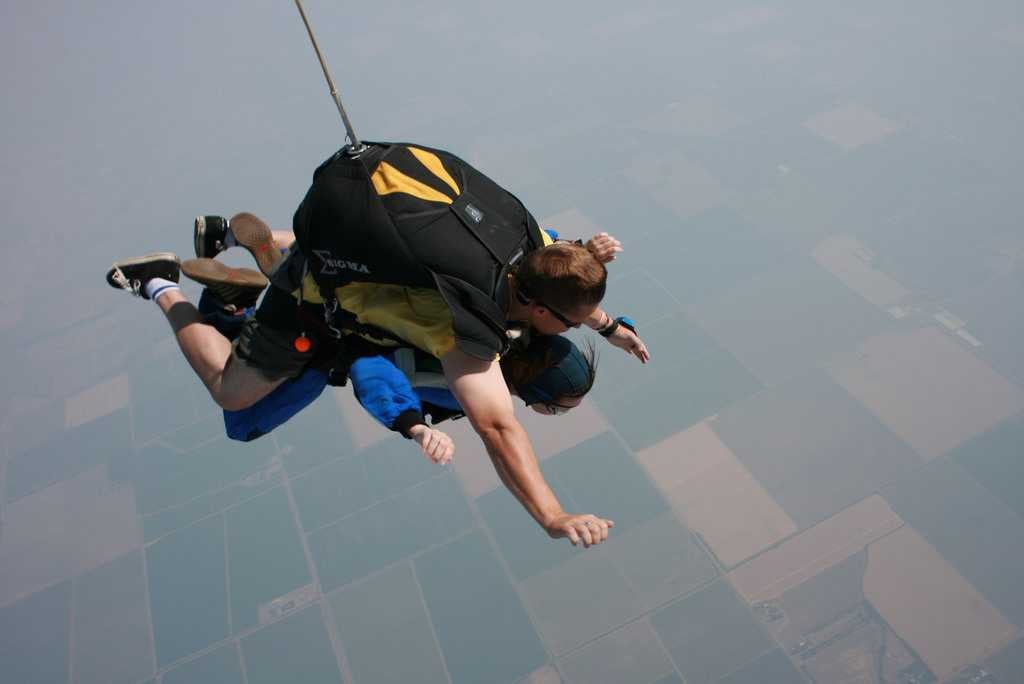 Source
In the Sagar district of Madhya Pradesh, lies the serene town of Dhana. The place has an airstrip where various operators organize skydiving camps for those who love an adrenaline rush. The freefall time is less here, however, one can enjoy the vast stretches of landscape in the area. The first Indian skydiving was hosted in this quaint town. The tandem instructor is strapped with the skydiver to ensure and help them in a safe landing. There is no mandate for previous experience in a similar scenario. A valuable 30-minute training session is all one needs to be ready for the big dive. The speed of the free fall is around 120 mph.
4. Narnaul, Haryana – India's Only International Skydiving Zone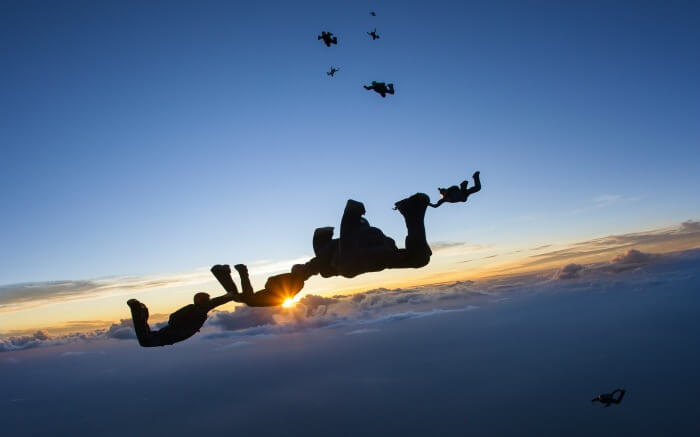 Caption Link
The Bachhod Airstrip located in Narnaul, is India's only international skydiving zone. Located two hours away from New Delhi, it is a popular place amongst adventure enthusiasts. Offered by SkyHigh Diving Company, two types of skydiving options are available – Tandem Jump and Static Line Jump. They also provide one hour training prior to the main skydiving.
The height of the fall: 10000 ft
Price: Tandem Jump – INR 27,500
Notable Operator: SkyHigh
Best Time: Not ideal during monsoon season.
5. Bir Billing, Himachal Pradesh – Top 3 Paragliding Sites in the World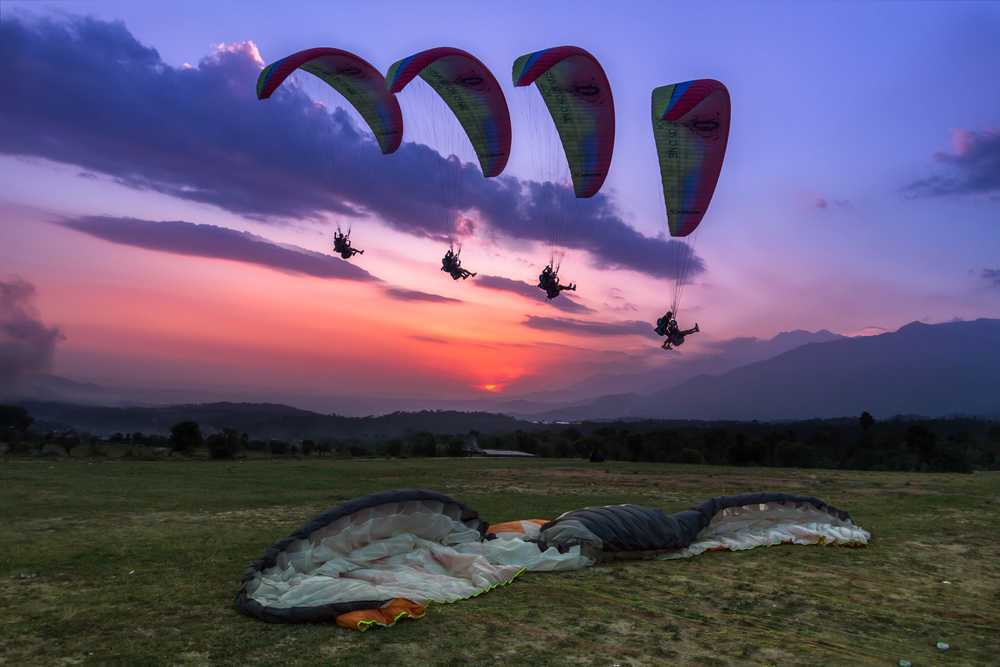 Source
Bir-Billing is considered as one of the top three paragliding sites in the world. Known as the Paragliding capital of India, Bir attracts adventure-seekers from throughout the country and the world. Bir also hosts the Paragliding pre-world cup during the month of October. The exciting and thrilling activity of paragliding is set amidst lush green meadows. The starting point is at Billing (2400 m) and landing takes place in the fields at Western Edge of Tibetan Colony in Chowgan, Bir (14 km south).
6. Mysore, Karnataka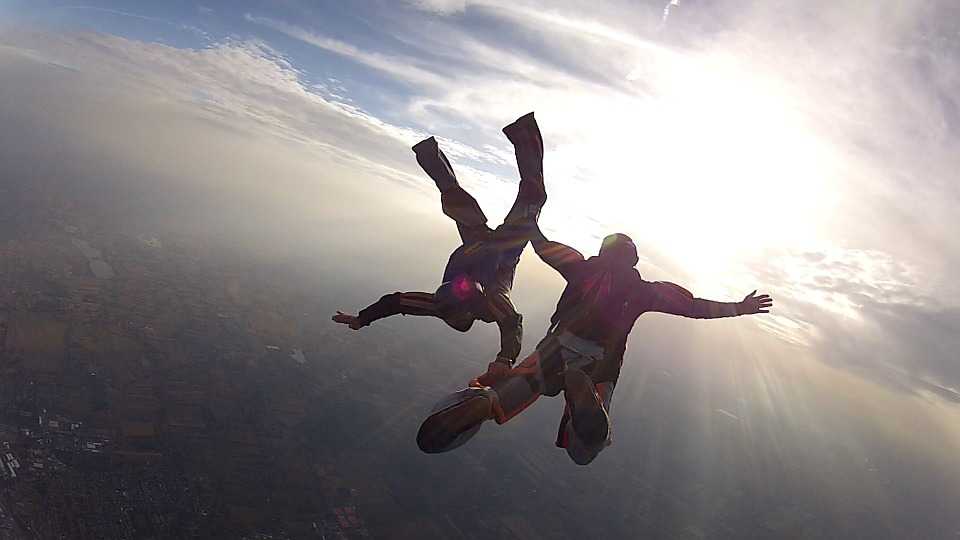 Source Surprisingly, Mysore is one of the top sky diving spots in India. Offering two types of jump – Tandem jump and Freefall, the Mysore skydiving strip is located at the base of Chamundi Hills. It offers a spectacular scenic view of whole Mysore.
7. Aligarh, Uttar Pradesh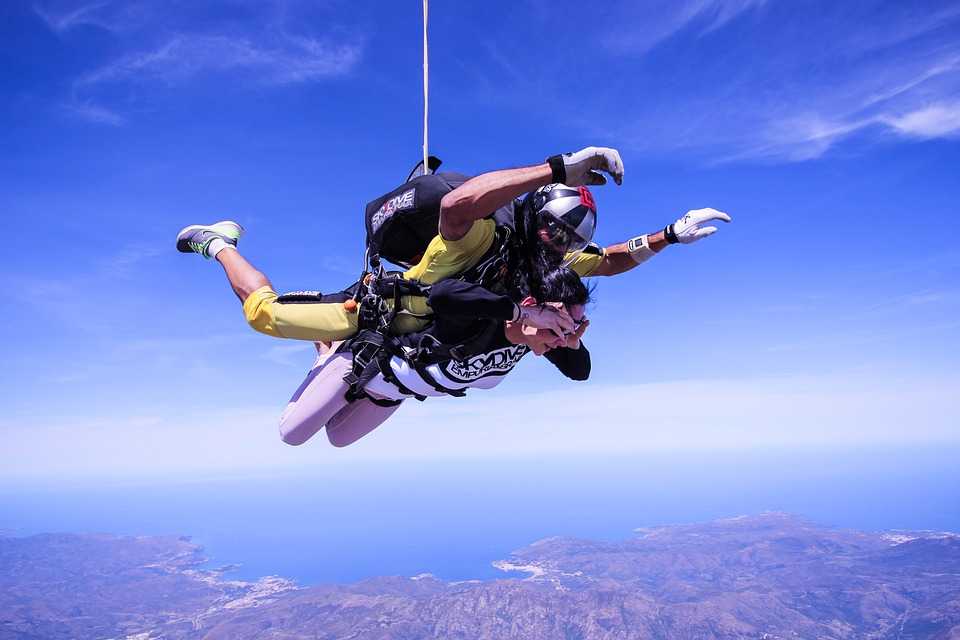 Source
Yes, the Aligarh airstrip has a skydiving facility where you can take that thrilling giant leap. You will be required to undergo a fitness test to make certain that the participant is medically fit. This medical certificate can be provided by a general physician. The registration process will be followed by an induction program by qualified tandem instructors. The Aligarh airstrip has 5 slots in a day, so, one has to make a prior reservation to ensure that they successfully get to dive on the day they wish to. For early birds who would want to soak some sunlight, the reporting time is 9:00 AM, wherein, the jump is conducted between 10:00 AM -12:00 PM. If you are a lover of watching sunsets, then you can report at 12:00 PM and be ready to have a bird-like experience between 1:00 PM to 5:00 PM. One can either opt for a Tandem Jump in which the instructor will assist in deploying a parachute for the landing or A Jump to Remember. The Tandem Jump package also includes a coffee mug and a certificate of completion. A Jump to Remember participants will additionally get photographs as well as a video recording of their journey from the sky to earth. Do give the broadest of all your smiles, because, well, you are on camera. These participants can also choose the Coffee mug from an available selection range.
8. Pondicherry, Tamil Nadu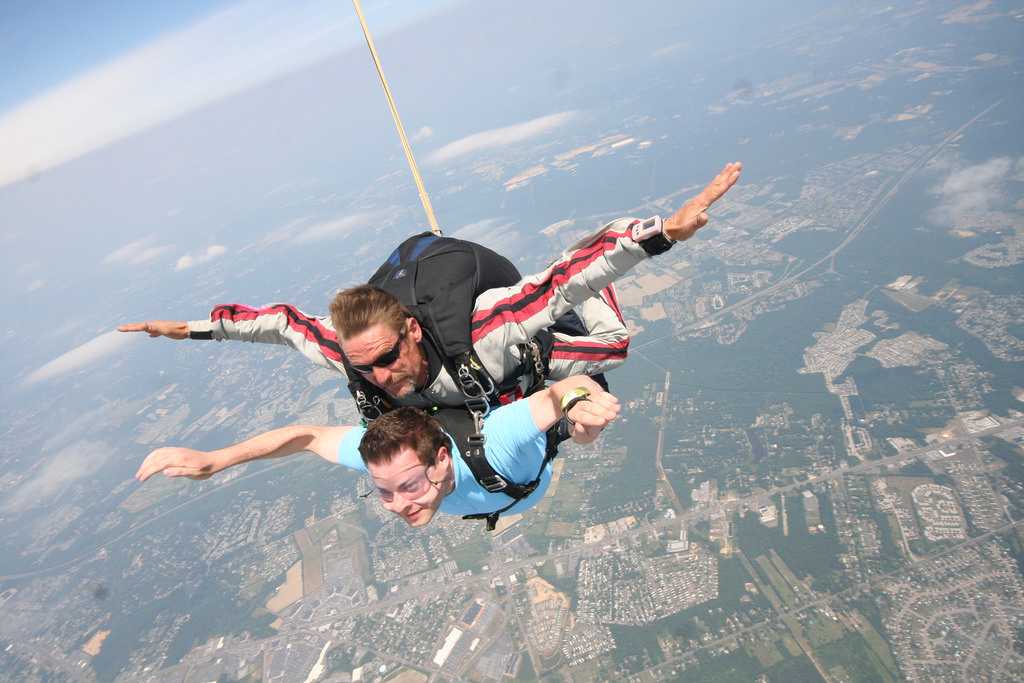 Source While Pondicherry is a popular tourist destination for multiple reasons, skydiving, being one of them. In this coastal beauty, you have the option of trying Tandem as well as Static Jumps. The free fall from the sky will give you a chance to enjoy the breathtaking landscape here. You can see the sea kissing the land from up above, gliding like a kite as the wind takes control of your ride. Operators organize frequent camps as suitable according to the weather condition for those who get high on adventure sports. For Static Jump, the minimum age is 16 years whereas for Tandem Jump is 18 years. The height of the fall for a Tandem Jump in Pondicherry is 10,000 ft.a and for a Static jump, it is 4,000 ft. So, plan a trip to this town with spectacular French Colonial settlement and dare yourself to rise and soar high.
Things To Know
The excitement that accompanies an unaided or aided flight from the sky is worth trying it. That dream of soaring high like a bird can be fulfilled through skydiving. The last necessary step in getting you ready for the thrill bound experience is that we walk you through the basic Dos and Don'ts of this extreme yet safe adventure sport.
The top places to sky dive in Asia including 10 countries
Skydiving is on the bucket list of many and there is little doubt why. It truly is an adrenaline-pumping, once in a lifetime chance for us mortals to see the world we live in from a completely different perspective. Although the social media posts of our friends (or acquaintances) skydiving in places like New Zealand or Switzerland may lead to an existential crisis, what you may not know is that there are plenty of drop zones right in our backyard which are safe, offer amazing views and usually cost much less.
So if you're ready to take the plunge but not willing to fly halfway across the world to do so, here are several places to go skydiving in Asia including 10 countries!
Map of companies that provide skydiving services in Asia
Best place to skydive in United Arab Emirates
Skydiving in Dubai
Dubai has quickly become one of the premier skydiving locations in the world, and also the place to sky dive in Asia. The city jump is run by Skydive Dubai who offer a tandem skydive over the Palm Jumeirah , an artificial archipelago and arguably the most iconic of the Palm Islands. Free fall and witness the incredible Dubai skyline with a view of the palm tree-like Palm Jumeirah to boot. There are other courses offered by Skydive Dubai, especially for those who wish to learn how to skydive solo.
Did you know that you can even ski and stay in an overwater villa in Dubai? It really does have everything.
Viewing stylish Dubai from above comes at a price though – the tandem jump with stills and video start at SGD$730.
Where to stay in Dubai | Al Bustan Centre & Residence on Agoda | SG$80 | Tripadvisor 4.5*
Best places to skydive in Thailand
Skydiving in Pattaya, Thailand
Yes, Pattaya may be well-known for its wild nightlife but if you want to take a break from the partying, why not head to Nong Kho Reservoir to dive with Thai Sky Adventures ? Take a 20-minute scenic ride up 13,000 feet and then free fall into the atmosphere for a minute before enjoying a 5-7 minute canopy ride where you get a bird's eye view of beautiful Thailand . The instructors are professional, knowledgeable and friendly – sure to ease your pre-jump jitters!
TSA also offers pick-up and return from the drop zone so what are you waiting for? Rates for a tandem skydive start at SGD$417.
Where to stay in Pattaya | Le Viman Resort on Agoda | SG$55 | TripAdvisor 4.5*
Bangkok is also close by, so whether you're planning a stag do, a couple's getaway or you just want to shop till you drop, skydiving would be a great addition to your Bangkok trip!
Skydiving in Rayong
One of the best parts about going skydiving in Thailand is the over 300 days of great tropical weather . So if you plan your trip right, you're almost guaranteed sunshine . Freefall Thailand is another company of experienced skydivers who want to push the sport in their country. They are hard-focused on creating a world-class dropzone and above all, they emphasise exceptional safety standards.
They are based along the coastal province of Rayong , 90 mins from Pattaya. And their service is top-notch, providing a free shuttle bus service for jumpers staying in downtown Pattaya. Freefall has also acquired their own private airfield with exclusive airspace. Take a jump and head over to the pristine Laem Mae Phim beach after, which is only a 10 minute ride away. While there are many places to go skydiving in Southeast Asia, this is one of the most beautiful places.
First time jumpers can expect to pay SG$530 when booking online. More rates here.
Where to stay in Rayong | Tree Roots Retreat on Agoda | SG$125 | TripAdvisor 5*
If you love adventure, here are exciting activities and places to go camping right here in Singapore!
Best places to skydive in Malaysia
Skydiving in Langkawi, Malaysia (closed until further notice)
Much closer to home, Skydive Langkawi offers Asia's highest skydive and only island beach landing. Take off from Langkawi's International Airport, fly over the most scenic parts of the island while witnessing glistening blue waters and lush forests before free falling and landing on the soft sand of Tanjong Rhu Beach .
Run by an Australian-certified company with thousands of jumps shared between its highly experienced instructors, skydiving here ensures a safe and amazing coastal skydive over Langkawi's emerald blue waters.
Skydive Langkawi does not offer online bookings at the moment but you can contact them to enquire about their Gold or VIP tandem skydiving packages. Details available on their website.
Skydiving in Johor
When jumping with Hawk Sports Skydiving Club, or Hawk Skydive, you know that you're in great hands. Founder, Haziq Azlan made his first tandem jump at the young age of 11 and is one of the pioneers of civilian skydiving . In fact, the instructors at Hawk have over 12,000 jumps under their belt and counting. And the best part, being based in Johor, it's nearby Singapore and a place for the best skydiving in Malaysia.
Beginners looking for a static line jump will have to gather a group of 6 in order to cover expenses. So it's a great idea for team building or generally having a good time with some friends.
Contact them on Whatsapp on +6013-3467968 or email at admin@skydivemalaysia.my to see their current rates and jumping times.
Where to stay in Johor | Icon Hotel Segamat on Agoda | SG$40 | TripAdvisor 5*
Skydiving in Malacca (Melaka)
Located in Malaysia's southwest coast, along beautiful shorelines and a city steeped in colonial history , Ace Skydive is also a quick journey away from the Little Red Dot. They offer a complete range of selections from first time jumpers including tandem and static skydiving, to more experienced skydivers like USPA AFF courses . They also provide paragliding, paramotor, aerial drones, sports & general aviation, aerocruise, helicopters, and aerobatics.
Malacca is also one of the best places in Malaysia to experience authentic Peranakan culture and food. Here's our guide.
Jumps start at 620 for a tandem jump. See more rates and services or reserve a booking here.
Where to stay in Malacca | The Settlement Hotel on Agoda | SG$60 | Tripadvisor 4.5*
Best place to skydive in Singapore
Skydiving in Sentosa
Skydiving outdoors is great but for a truly unique experience, why not face free-fall conditions indoors and right here at home ? iFly Singapore is located in Sentosa and allows its customers to experience falling 12,000 to 13,000 feet for just a fraction of the cost. Skydivers enter a wind tunnel almost five storeys high that provides unobstructed views of the surrounding South China Sea . It's the best alternative to skydive in Singapore.
Safety is ensured as it is in a controlled environment and flight criteria is much more lax – flyers can be as young as 7 years old and those with physical disabilities just need to book in advance for a weekday slot when the facility is less busy. This keeps in line with iFly's slogan – anyone can fly (reminds you of Air Asia doesn't it?). You could also take this as a "practice" before an outdoor jump!
Rates for first-timers range from SGD$89 to SGD$119 for 2 jumps, while flyers can also choose to jump 4 times in The Adventure package for just under SGD$200. For more information, click here.
Where to stay in Sentosa | Sofitel Singapore Sentosa on Agoda | SG$386 | TripAdvisor 4.5*
Here are some very interesting facts about Sentosa that you probably don't know.
Places to skydive outside of Singapore, with a local company
While you can't actually jump out of an airplane and go skydiving in Singapore, you can organise your Southeast Asia trip locally . Skydive Singapore are a professional bunch of skydivers with USPA rated coaches, examiners, and AFF and tandem instructors. If you're looking for a local team that you can trust, join the community so that you can check that jump off your bucket list.
Tandem skydives start from SG$450, but it's best to contact them for a full range of prices as your selected dropzone may be further than originally planned.
Where to stay in Singapore | Oasia Hotel Novena on Agoda | SG$194 | TripAdvisor 4.5*
Best place to skydive in Nepal
Skydiving in Mount Everest, Nepal
Yes, you saw that right – you can sky dive from the highest peak in the world ! It seems only right to add to this list of where to sky dive in Asia with the most daunting and possibly most extraordinary dive in the world . This surreal experience is held in Spring and Fall with an 11-day itinerary that includes sightseeing, treks and 3 jumps – one of which is an insane 29,500 feet jump in front of Mount Everest from a PC-6 aircraft (higher than the peak itself!).
Included in CNN's most thrilling experiences, one of the most, if not the most, elite skydiving experiences comes at a price – a whopping SGD$33,000 for a tandem skydiving package. It will definitely be a jump to remember and is definitely one of the best places to skydive in the world, let alone Asia.
Where to stay in Pokhara | Da Yatra Courtyard on Agoda | SG$120 | Tripadvisor 4.5*
If you're not jumping off a plane and plan to explore the Himalayas, here's a guide to base camp on the Tibetan side.
Best place to skydive in Indonesia
Skydiving in Pangandaran, West Java
Pangandaran Grand Canyon. Photo by Nusawiru Paracenter
For those who want the complete package , you can reserve a 2 day, 1 night stay with Nusawiru Paracenter that includes transport to the dropzone as well as lunch. It's a great addition that will compliment your travels to West Java . The drop zone is located at Nusawiru Airport in Pangandaran. The surf break in Pangandaran known as "Airports" has been compared to Kuta and Legian in Bali, so lovers of extreme sports can extend their adventures.
A tandem dive will cost you SG$458.
Where to stay in Pangandaran | The Arnawa Hotel on Agoda| SG$54 | Tripadvisor 4*
Here's a list of jam-packed itineraries for West and Central Java to inspire wanderlust on your skydiving getaway:
Skydiving in Banyuwangi, East Java
Banyuwangi from above. Photo by Skydive Adventure Flying Club
Although they are based in Denpasar, Skydive Adventure Flying Club does not officially operate in Bali. Yet it is the closest chance you'll get skydiving in Bali , as it's right on the coast of East Java. They offer a skydiving academy and even a 2-day package that includes a tandem jump, accommodation, meals and transporation from in Bali.
The area is also an infamous surf spot known as G-Land for adventure seekers. Thrill seekers would also love to add hiking Ijen crater in East Java with a beautiful turquoise lake. Here's our full 2 day itinerary.
The price is steep, at US$1000 per person, but keep in mind that it includes all of the above. Please reach out to Skydive Adventure at terjunpayung@gmail.com for further inquiries.
Where to stay in Banyuwangi | Bangsring Breeze Resort on Agoda | SG$128 | Tripadvisor 5*
Best place to skydive in Japan
Skydiving in Okegawa, Saitama Prefecture
For the closest drop zone to Japan's capital city , catch a ride with Tokyo Skydiving Club. If you're staying in Tokyo, it will take you roughly an hour's drive to arrive at your destination. From there, you'll embark on a spacious 19-seater plane until hitting 12,500 feet in the air. It's all downhill from there.
Although their website is entirely in Japanese, there are reviews on TripAdvisor stating that they offer English services. So it's best to contact them through email on info@tokyoskydivingclub.jp.
Where to near in Okegawa | Hotel Route-Inn Ageo on Agoda | SG$240 | TripAdvisor 3.5*
If you can't get to Japan, then pop into iFly Singapore and then stroll around Singapore to these fabulous destinations to experience Japan right here at home.
Skydiving in Toyooka, Hyōgo Prefecture
Skydiving Kansai is located in Hyōgo Prefecture, which shares borders with Kyoto, Kobe and Osaka . So you can include a jump on your visit to the famous temples, castles and culinary delights. The staff will pick you up from Tajima Airport depending on your time of arrival. As you'll be jumping at around 11,500 feet, you'll have spectacular views of the Sea of Japan and Tajima mountain range .
Tandem jumps start from around SG$620. Payment is cash only.
Where to stay in Toyooka | Mikuniya Ryokan on Agoda | SG$240 | TripAdvisor 4.5*
Skydiving in Tochigi
Tochigi is sandwiched between Tokyo to the south and Fukushima to the north . So travelers going on a road trip up north from Tokyo can stop for a quick thrill ride of a life time. The drop zone where Fujioka Skydive School takes flight is also home to a host of other sky sporting activities. If you're okay with heights, but not a fan of freefalling, you can always take a hot air balloon .
Rates vary per package, so it's best to contact Fujioka by email at webmaster@skydivefujioka.jp. Check their very active Facebook page here.
Where to stay near Tochigi | Hotel Route-Inn Kogaekimae on Agoda | SG$220 | TripAdvisor 4*
Best place to skydive in Philippines
Skydiving in Bantayan Island or Siquijor, near Cebu
Island view in Cebu. Photo by Skydive Cebu
It's no secret that the Philippines are filled with epic nature at every corner, so it's a no brainer to catch the view from the sky. Their skydiving companies are also top-notch and professional. Take the plunge with Skydive Cebu Adventures which stands out as the only USPA (United States Parachute Association) Member drop zone in the Philippines . If you take a tandem jump, you'll be happy to know that you're strapped to a USPA qualified instructor. They also offer certification to become a licensed skydiver .
Skydive Cebu offer drop zones from one of two locations. The first is Santa fe in Bantayan Island, off the coast of Cebu and the other is in Siquijor.
Prices start from SG$484 for a tandem dive and is probably some of the cheapest skydiving in Asia .
Note for experienced skydivers: If you're an experienced skydiver and are looking for someone to help you organise a flight in Cebu, you can also contact Cebu Sport Parachute Club, for help obtaining permits for your flight. Experienced skydivers can also contact Skydive Zambales for a jump outside of Cebu.
Where to stay in Cebu | Radisson Blu Cebu on Agoda | SG$200 | TripAdvisor 4.5*
When you're done jumping out of a plane, go island hopping to Mactan Island or scuba diving in Bohol.
Best places to skydive in China
Tuofeng Skydive is China's first drop zone that is USPA affiliated . They are also the first professional skydiving company in China, and were establishment in late 2013. So when you're taking the dive, you know you're in good hands. In total, they have 7 different drop zones throughout China that includes Guangdong Yangjiang, Hainan Danzhou, Xi'an Shanxi, Hebei Pingquan, Yunnan Pu Er, Chonqing Qianjiang, and Heibei Shijiazhuang.
Prices vary depending on location, so contact Tuofeng at info@tfskydive.com for prices and reservations.
Where to stay in Yangjiang | Vienna International Hotel Yangjiang on Agoda | SG$57
Where to stay in Xi'an Shanxi | Pucheng Xinglong Hotspring Mansion on Agoda | SG$47
Where to stay in Yunnan Pu'er | Jinjiang Inn Pu'er Zhenxing Avenue on Agoda | SG$39
Where to stay in Chongqing Qianjiang | Thank You Inn Enshi Xianfeng on Agoda | SG$25
When your feet are back on the ground, go and explore the poetic scenery of Hangzhou's West Lake or the Terracotta Warriors of Xi'an.
Best place to skydive in India
Skydiving in Aligarh, Uttar Pradesh
Based in the northern part of India and a two hour drive from New Delhi , Skyhigh is a foreign affiliate of the USPA . This means that they have stringent safety measures put in place. The head skydiving coach and owner, Rudra, has jump all over the world from Dubai to the US. His experience and expertise is sure to make you feel comfortable on your first jump.
Tandem jumps start from SG$470 without photos, but you get a cool Skyhigh mug!
Where to stay in Aligarh | Hotel MY Dream on Agoda | SG$60 | TripAdvisor 4*
Where to stay in New Delhi | Ahuja Residency Sunder Nagar on Agoda | SG$90 | TripAdvisor 4*
Skydiving in Mysore, Karnataka
This may be a little known fact outside of the skydiving community, but the heritage-rich Mysore is the skydiving capital of India. There are various companies and camps to participate in that will last anything up to 3 days. Although they receive fluctuating reviews on TripAdvisor for their service, Skyriders will get you from the plane to the ground safely.
A weekday tandem jump goes from SG$700 and SG$840 on weekends (may not include tax).
Where to stay in Mysore | Hotel MB International on Agoda | SG$54 | TripAdvisor 5*
Extra skydiving in India: Try contact adventure365 for alternative skydives in India, like in Aligarh, Uttar Pradesh or Baramati, Pune.
Skydiving in Dubai – A Guide to the Operators, Prices and More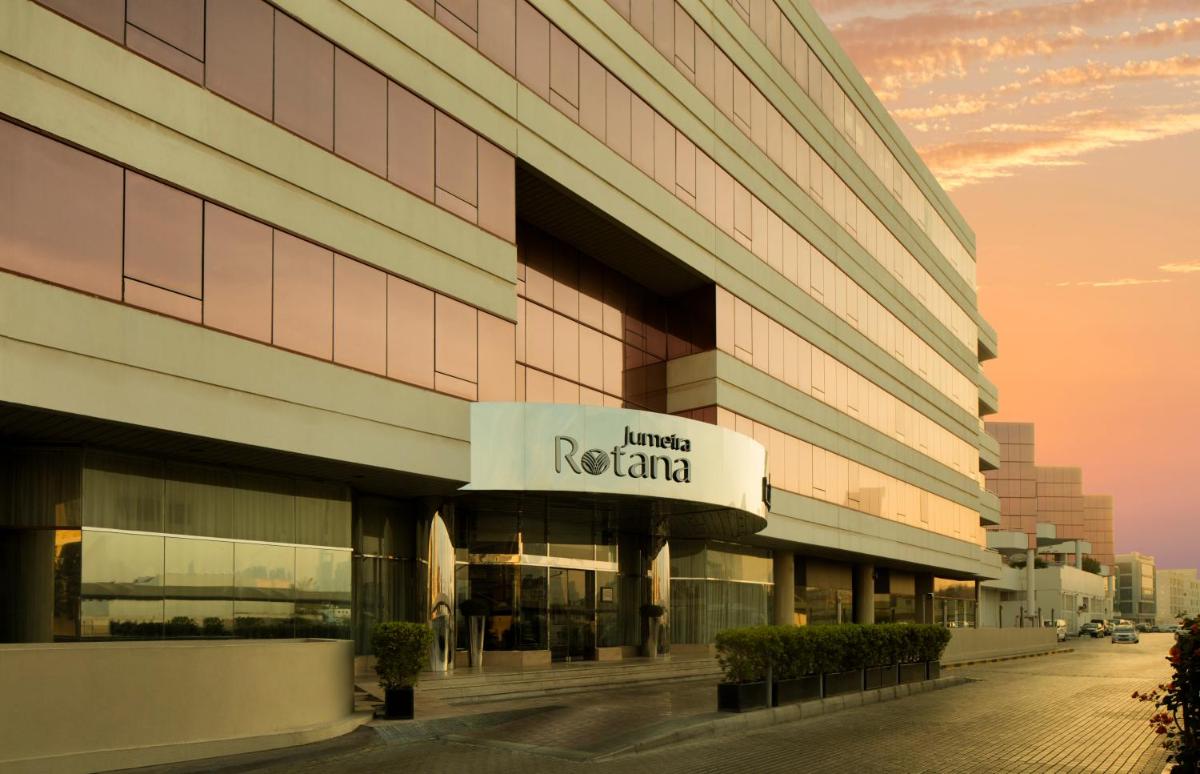 If you think Dubai produces the best experiences on land and sea – touring the incredible Burj Khalifa, extravagant Dubai Mall stretches of clean, brown deserts, tranquil sea cruise, and a lot more – you are wrong. Dubai also produces the best experience in the sky. Enter skydiving. What's more adrenaline-pumping than being thrown down from a plane at 13,000 feet above sea level and freefalling at 120 miles/hour? Fulfil your dream to fly by engaging in this intense activity on your next trip to Dubai. Here's what you need to know. With both indoor and outdoor options available, skydiving in Dubai is taken to another level. It is one of a kind experience that you won't encounter anywhere else in the world.
Types of Skydiving in Dubai
1. Outdoor Skydiving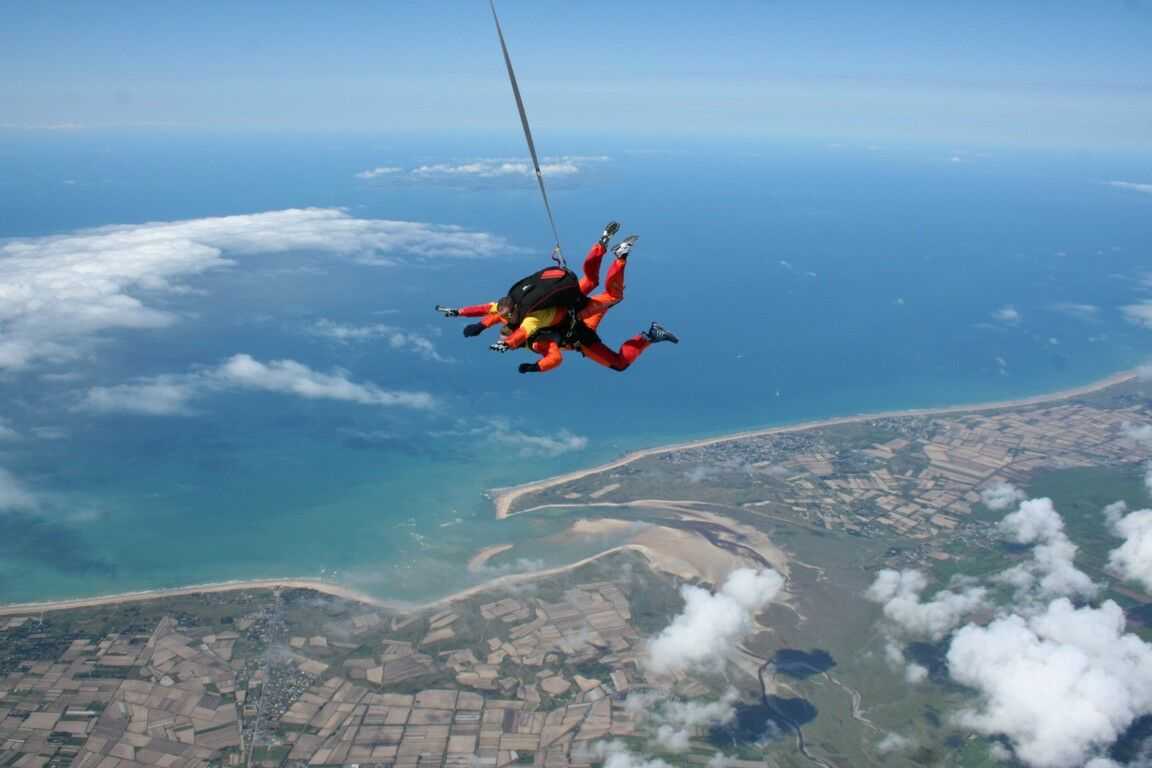 Source As the name suggests, outdoor skydiving takes place in the open. If you are a beginner, you will be a part of tandem skydiving, which means you'll be strapped to a professional skydiver during your jump. If you have a skydiving license, only then are you allowed to jump solo.
Once you are registered, equipped with all the safety measures and explained the whole process, you'll be taken up in the sky at a height of 13,000 ft. This is where all the action will begin. You'll take the leap of your life along with the professional instructor while another professional diver records your whole experience. You'll freefall for the first 60 seconds. As soon as you reach the height of 6000 ft your parachute will be deployed. Next up, simply enjoy the breathtaking view from up there for the next 4-5 minutes before you land on the ground (safely).
Operator for Skydiving in Dubai – SkyDive Dubai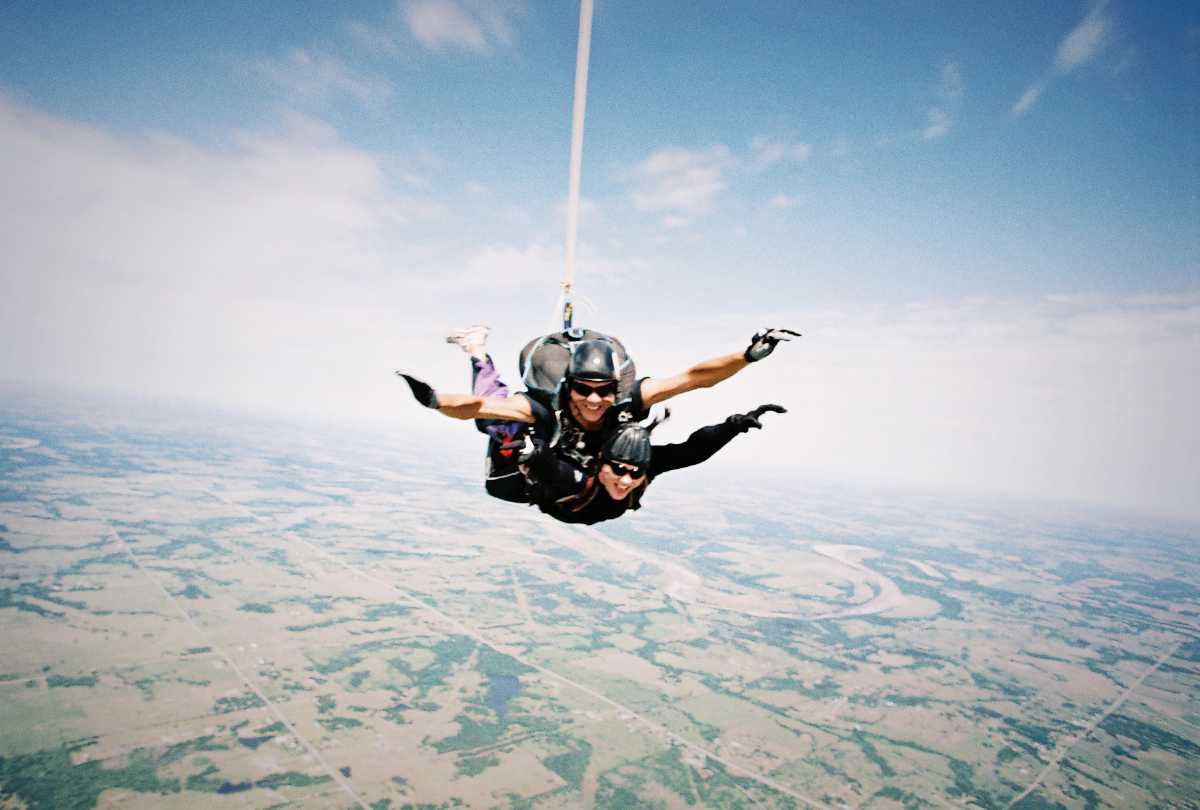 SkyDive Dubai is the only outdoor operator for skydiving in Dubai. With world-class trainers, divers, and safety measures, SkyDive Dubai are excellent at the work they do. Source
Locations of Outdoor Skydiving in Dubai and Price
1. Palm Zone:
A more premium location, The Palm Zone drops you just above the azure blue waters surrounding Palm Island. Here you will get to view the amazing Dubai skyline and prominent attractions of the city such as Palm Jumeirah Island, Burj Al Arab, Atlantis Hotel, and more.
2. Desert Zone:
Dubai lets you have the unique experience of the ocean on one side and desert on the other. Located just outside the city, on Al Ain Rd, the Desert Zone offers incredible views of the endless desert of the city. You'll see stunning sand dunes and the Dubai skyline in the distance.
In addition, you can also learn licensed professional solo diving at both locations.
Price: AED 1699
Address: Al Ain Road – Dubai
For timings and bookings: https://bookings.skydivedubai.ae/Slot/GetSlotsForDate
Few Rules and Tips for outdoor skydiving in Dubai:
1. The diver must be at least 18 years old to be able to skydive
2. No one should be under the influence of alcohol or drugs.
3. One should be in a reasonable state of health with diseases.
BMI requirements:
Male – Weight: 100.0 kg or less. BMI – maximum of 30.0
Female – Weight: 90.0 kg or less. BMI – maximum of 27.5
2. Indoor Skydiving in Dubai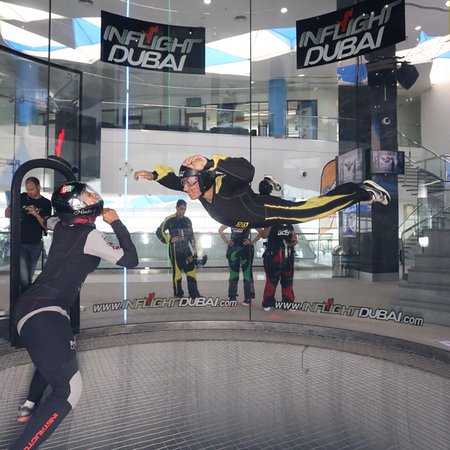 Source If you didn't know this, you can have a skydiving experience indoors as well, thanks to the development of technology. Prepare to defy gravity without having to jump out of a plane. A relatively new concept, this is ideal for those who don't want to shell out a large sum for outdoor skydiving or are too scared to try it.
The Experience
You'll be put into the world's first double vertical wind tunnel. With the help of powerful fans and air conditioners, you'll be floating in air 3 meters from the ground. Covered with acrylic glass, the tunnel is completely safe. A freewill simulation and state-of-the-art facilities will make you feel like you are skydiving in real life.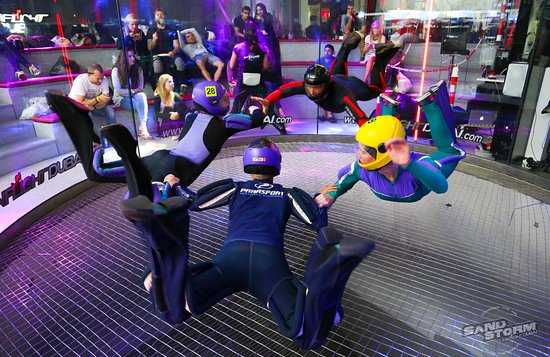 Indoor Skydiving Operators and Price:
Source 1. InFlight Dubai: Inflight Dubai's tunnel is sized at 16.5 diameters and is one of the largest in the world. Located at a prime spot near the desert zone of Skydive Dubai, divers can combine the fun of outdoor and indoor skydiving. They also host sports competitions from time to time. Make sure to check out their website (http://inflightdubai.com) for more details.
Price:
AED 262 for 2 mins
AED 497 for 4 mins
AED 706 for 6 mins
AED 889 for 8 mins
AED 1,048 for 10 mins
Address: E 66, Skydive Dubai Desert Campus The ideal time for first-time flyers is 2 to 6 minutes. You will learn the basics of indoor skydiving and also enjoy the whole experience.
2. iFly Dubai: iFly Dubai is the first indoor skydiving place to open in a mall. With 10ft Fly Chamber Diameter, the tunnel is part of The PlayMania, an entertainment complex. In addition to indoor skydiving, you can also enjoy indoor skiing, bowling, aqua park, football, bowling, and more.
Price: AED 220 for 2 mins
Address: Third Floor, Play Nation Area, City Centre Mirdif, Ghoroob, Sheikh Mohammed Bin Zayed Road.

Few Rules and Tips for Indoor Skydiving in Dubai:
1. The minimum age for the diver should be 12 years
2. Weight barrier: Under 180 cm: 105 kg max.
Over 180 cm: 115 kg max.
Things to Know Before you Go Skydiving in Dubai
Divers are expected to be above the age of 18 and must weigh less than 100 kg or less. BMI is also checked of the individual.
If the weather isn't considered safe (For example, if a sandstorm is approaching then) it is likely that the session will be called off and would re-scheduled.
One is expected to fill the liability waiver form.
The recommended time for the entire experience is around three hours although the dive is done in around 35-45 minutes.
First-time divers can enjoy the tandem session where they are harnessed to one of the instructors. When the divers complete 500 jumps, they can enrol in a professional course and pass out as professional instructors.
One can even purchase the Skydive experience as a gift for its premium location: The Palm Zone. This, however, needs to be purchased online. However, the rules and eligibility are still applicable.
People suffering from severe medical conditions are not allowed for safety reason.
Skydiving Dubai Price
How much does it cost for skydiving in Dubai? The price of skydiving starts from roughly AED 1700. On the other hand, the Palm zone skydive starts from around AED 2200. There is a package where you can select both the campuses, however, the prices for this differ.
The above-mentioned pricing packages include providing a safe experience, and professionally edited photos and videos. There will be professional divers as well with cameras so every moment of your sensational trip can be re-lived again with your loved ones!
The palm zone is equipped with state of the art equipment. There is also a café where divers come in after the landing to relax and reflect on their session.
Skydiving in Dubai Booking
The official website for Skydive Dubai is quite adequate for providing all the information about the entire process of booking. The booking can be done online using a card and even cash at the spot (having booked your slot before-hand).
Booking is perhaps the only hard thing about the entire Skydive experience! In order to get your favoured slot, you may have to try harder and start booking in advance. And by advance, we mean around one to three months in advance. This kind of waiting period is required to avoid any unforeseen circumstances, ensure aircraft availability, and to avoid over-booking during peak times.
What's the View Like When Skydiving in Dubai?
Source Skydiving is a spectacular adventure but in Dubai, the experience gets twice as enjoyable. The views of man-made islands hugging the Dubai shores, the expansive Persian Gulf, and the stretch of the desert at the back. All of this from an insane height! While you descend the thrill never descends.
Height and Speed of the Fall
Most of the Tandem jumps are done from 13,000 feet (which is approximately 4000 meters). The Tandem skydive is the quickest way to experience the real thrill when you're descending at about 120 miles an hour. Being securely attached to the instructor, Tandem Skydive also happens to be the safest and easiest way to enjoy skydiving. The Tandem skydives at the desert campus, however, happen from around 12,500 feet which is around 3810 meters.
Skydiving in Dubai is an enthralling experience whether you choose to dive indoor or out in the open. With excellent trainers and equipment offered at a cheaper price than other cities, get this adventure checked on your bucket list the next time you visit the City of Gold.
Source https://www.holidify.com/pages/skydiving-in-india-379.html
Source https://www.singaporenbeyond.com/skydive-asia/
Source https://www.holidify.com/pages/skydiving-in-dubai-1852.html