Tandem Skydiving Questions
If you've never been skydiving before, you probably have a large number of questions as you prepare for your tandem jump. You will find the answers to some of the most common questions below.
How old do I have to be to skydive?
The United States Parachute Association requires all skydivers to be 18 years old.
Unfortunately, NO exceptions can be made for this rule!
Is there a weight limit for skydiving?
All tandem skydivers must be less than 230 lbs to skydive. The weight limit for skydiving is determined by the manufacturer of the parachute system used for all of our tandem skydives.
Do you offer skydiving pictures and skydiving videos?
Yes! We encourage everyone to add the photo and video package to their tandem skydive. Your first skydive is something you will never forget, but sharing the images and video with your family and friends on your social media will make the experience even more special. Set your video to your favorite music that you will select before your tandem skydive. You can see examples of what your video will look like here.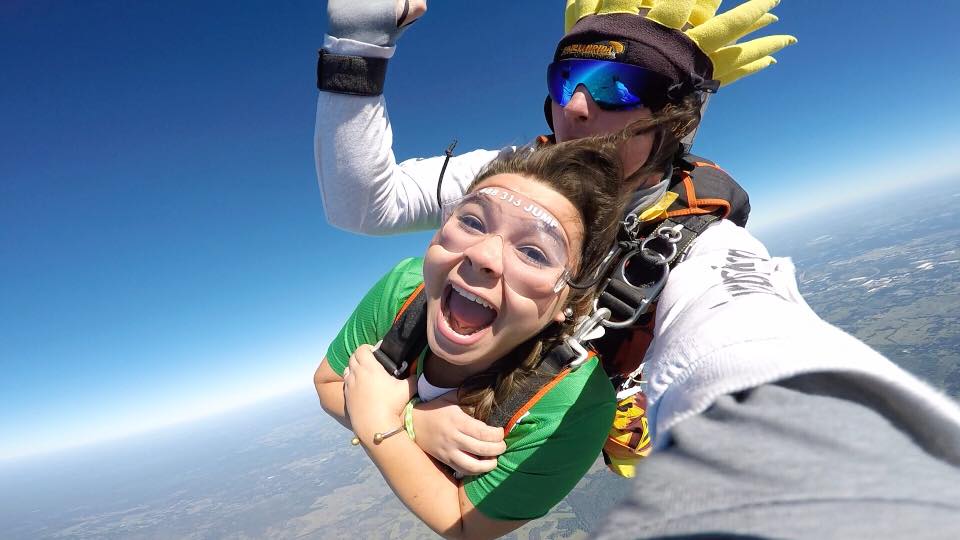 WHAT IS SKYDIVING LIKE?
It's very difficult to describe the sensation of the whole experience when you skydive for the first time. In truth, you will likely go through a whole range of emotions and end up with such a feeling of exhilaration that you'll find it difficult to put into your own words.
DO I NEED TO BE IN GOOD SHAPE TO SKYDIVE
You must be at least 18 years old, under 230 pounds, and be physically able to perform all requirements of the skydive. Your instructor will cover all of these items with you during your pre-jump briefing.
Remember no alcohol the night before and stay hydrated throughout your experience. If you're in any doubt, then it's a good idea to contact your medical professional.
WHAT SHOULD I WEAR TO SKYDIVE?
The basic attire for your tandem should be lace-up athletic shoes, shorts or long pants, t-shirt (long or short sleeve). If it's chilly outside, it will be much colder at altitude, so you may want to wear pants and a sweatshirt or light jacket. We do have jumpsuits available upon request.
HOW MANY PEOPLE CAN BE IN MY GROUP?
This is an adventure that is best experienced with family and friends. Much will depend on the size of your entourage, but we certainly encourage this type of group experience.
It may be necessary to spread certain large groups over a number of different flights, but as many as 10 tandem pairs can jump at the same time from one plane.
WILL WEATHER AFFECT MY JUMP?
Your tandem jump will take place only if the weather conditions are suitable for skydiving. If the weather that day is marginal you are certainly welcome to call the drop zone prior to leaving your home to check weather conditions.
When arriving for your jump, plan on spending at least ½ a day with us. Two things we can't control are weather and aircraft issues.
Can I bring my GoPro?
Unfortunately no you cannot. In compliance with USPA recommendations and for safety reasons we do not allow you to bring a camera on your jump. But you can purchase a video and pictures of your AFF jump so you can watch your progress.
Skydiving in Florida
Skydiving is an experience not quite like any other. Thrill-seekers, adrenaline junkies, daredevils, and those wishing to conquer their greatest fears all flock to this captivating sport that takes place thousands of feet above the ground.
Florida is an excellent location for both experienced and first time skydivers. With its idyllic weather, beautiful scenery, and multiple highly rated professional skydiving locations, it is one of the best places in America to wet your beak in this incredible sport.
While skydiving has become extremely safe and accessible with modern advancements in technology and safety equipment, you should keep in mind that it is still a very physical activity. Because of this, the beginning of your skydiving journey requires time, knowledge, and preparation before you ever step out of an airplane.
We put together a comprehensive guide explaining state and safety requirements for skydiving in Florida as well as some prime location recommendations.
If skydiving is something that has always been on your bucket list and you think that you're ready to give it a try, there are a few things that you should know before you jump into the sport. Let's get Started.
Florida Requirements for Skydiving
Age Requirements
You must be at least 18 years of age to complete either a solo or tandem jump in Florida.
Basic Health Requirements
Due to the unique stresses that skydiving places on the human body, there are some basic health requirements that must be met before a person can complete a jump in Florida.
While rare, a person may be turned away if they fail to meet certain health standards.
Safety Standards for Specific Illnesses
Some diseases, such as certain cardiovascular diseases and illnesses that cause fainting, are exclusionary.
A student jumper must be able to wear a minimum of 30 pounds of equipment and be able to withstand sudden temperature changes of up to 30 ° F.
Skydiving Weight Safety Standards
There are also some weight restrictions for both tandem and solo jumps.
A person with a weight of 230 pounds or more will not be able to complete a jump in Florida, as their weight exceeds the safety regulations of professional-grade parachutes.
Florida follows the United States Parachute Association (USPA)'s basic safety guidelines. As such, you will be required to take a short series of courses and tandem jumps before you are able to complete a solo jump.
How Safe is Skydiving?
While you may have heard some skydiving horror stories that have scared you off from the activity until this point, rest assured that these tragic accidents are very rare.
The rate of fatalities from tandem skydiving over the last ten years has been 0.002 per 1,000 jumps, or 7 fatalities out of 4.2 million successful skydives. In fact, statistically you have a better chance of being struck by lightning than to die in a skydiving accident.
So long as you go through a certified instructor, you can count on your skydiving experience to be one of the safest (and most thrilling) adventures of your life!
Where Can I Go Skydiving in Florida?
There are over two dozen skydiving destinations to choose from in Florida, so finding a location near you shouldn't be too daunting. The Play Hard Florida team visited Skydive Palatka last year – and documented the adventure on video. Some of the most popular and all around best venues to consider when skydiving in Florida include:
Want More Ideas for your Florida Skydiving Adventure?
To check our complete skydiving Florida adventure directory click the banner below.
Is It Illegal For A Single Woman To Go Skydiving On Sunday
You'll know a single married when you see her and you'll know if she's noticed you. Iskysoft video editor free download. Best way to find a single woman. Not sure how you'll know you can make your move?
Is It Illegal For A Single Woman To Go Skydiving On Sunday Night
Once in a while in the U.S. We hear about a bill or a law that seems like it must be a joke. For example, in Florida it is illegal for a single woman to parachute or skydive on a Sunday. This week in Montana, a legislator explained that he seriously wants to make it illegal for women to wear yoga pants in public. • In Florida it is illegal to fish while driving across a bridge. How does a single woman make money for retirement. • In Florida, a special law prohibits unmarried women from parachuting on Sunday or she shall risk arrest, fine, and/or jailing. • In Florida, men may not be seen publicly in any kind of strapless gown. • In Florida, unmarried women who parachute on Sundays may be jailed. Urban myths about UK law. It is illegal for a woman to be topless except as a. And skydiving on Sunday might have been illegal under blue laws. Illegal Affair with married woman:- if any man whether married or unmarried has sexual intercourse with a married woman without the consent of husband of that married woman, is guilty of offence of adultery, and shall be punished with imprisonment which may extent to five years or with fine or with both. It is a non cognizable and bailable offence. The world of illegal abortion today looks nothing like the way it did 45 years ago. When I first visited Chile, in 2008, it was one of a handful of countries in the world that banned abortion in.
GearHead Support for Home Users GearHead Support is a technical support service for NETGEAR devices and all other connected devices in your home. Netgear wireless routers for windows 10. Advanced remote support tools are used to fix issues on any of your devices. Last Updated:| Article ID: 26831 Was this article helpful? The service includes support for the following: • Desktop and Notebook PCs, Wired and Wireless Routers, Modems, Printers, Scanners, Fax Machines, USB devices and Sound Cards • Windows Operating Systems (2000, XP or Vista), MS Word, Excel, PowerPoint, Outlook and Adobe Acrobat • Anti-virus and Anti-Spyware: McAfee, Norton, AVG, eTrust and BitDefender.
Is It Illegal For A Single Woman To Go Skydiving On Sundays
"I'd always known I was going to skydive in this exact place. I wasn't nervous I was just so pumped to get up there and do it," she says. "When we jumped out I remember it was the most incredible feeling. The free fall is so peaceful, you are just so present in the moment." But the feeling of euphoria was short-lived for the 20-year-old backpacker. "When he pulled the parachute it was so confusing for me, I didn't know what to expect because I had never done it before," Ms Carey says. Pro 7 germany next top model. Single woman named caroline who live in arlington texas.
A Single Woman Rankin
"I felt us slow down a little bit but the chute wasn't above us where it should be and my instructor wasn't answering me. The closer we got to the ground, I realised something was really wrong." While they are still not 100 per cent certain what happened, it seems that the instructor pulled the parachute a little too late, and it got tangled with the emergency chute that had been triggered at the same time. The parachutes didn't open correctly and instead got tangled around the instructor's neck, strangling him until he passed out. Emma hit the ground, hard. She landed on her stomach and the instructor landed on her back. To a certain extent she broke his fall. Unlike the instructor, Emma never lost consciousness.
Source https://jumpfloridaskydiving.com/tandem-skydiving-questions/
Source https://playhardflorida.com/skydiving-in-florida/
Source https://helpmoving.hatenablog.com/entry/2019/02/18/024715