I went Skydiving and Lived to tell the Story
I love adventures, but I'm NOT an adrenaline junkie. Skydiving has been a cool thing to do for a while now; two of my best friends went skydiving about 5 years ago and raved about it. Personally, I wasn't particularly interested in jumping out of a plane at 10,000 feet. I like solid ground, thank you!
I've thought about skydiving on and off and decided that I would only do something as crazy as this if I was doing it with the best views. So, I picked Switzerland or New Zealand as the only two places in the world that I would skydive. It was half cop-out, half challenge. Cop out because I had no immediate plans to visit either place. Challenge in that if I did have the privilege of going, then I already had something I'd committed to. This was definitely one of the highlights of my most recent trip. I'm sharing my steps to skydiving as a non-adrenaline junkie, enjoy!
Set a Goal and Tell Your Friends
I went to Switzerland this year, didn't even consider skydiving. Then, New Zealand! Still unsure, I went through New Zealand and could've skydived in Fox Glacier or Wanaka but I didn't. Then I got to Queenstown! My last stop, last chance. My friends told me go to for it (WhatsApp hype groups are the best thing since sliced bread)!
Pay For It
Fear! I was afraid, but I also really hate regrets, and the dislike for regret slowly began to overtake my fear of the jump. So, I left the hotel and went to book it. As I chatted with the guy at the desk, something clicked and I decided I was going to go for it. While I was at it, I decided that I might as well jump higher at 12,000 feet.
I paid! If you pay and don't show up or cancel, you forfeit your money. It was not cheap, and we DO NOT waste money in my family. I was locked in to skydive in 48 hours.
Mind Over Matter
The weirdest thing happened to me: once it was locked in, I was not fearful anymore. I thought it was temporary but the day of the jump arrived, I waited for fear or panic. Nothing! We finally arrived at the zone and got suited up (the googles and hat were NOT cute). I checked my feelings: excitement, no fear. I met my dive master, cool dude. He apparently does this all the time, up to 10 jumps a day during busier times! That put me even more at ease! He told me we'd be jumping out of the plane first. In retrospect, I think this was a good idea, as I didn't have to freak myself out by watching someone else jump. Now the other ladies in my group…not so calm!
Enjoy The Views
Soon we taking off in the plane. I looked out through the window, and my goodness what a sight!! The view of the Remarkables (mountain range) on one side and Lake Wakitapu on the other! Wow! I knew the view was worth the wait. Plus, If I was jumping out of a plane for this view, it's absolutely worth it!
The plane ride was about ten minutes. In that time, we recorded some clips and the master attached me to himself. We were jumping together after all. He reminded me of where to keep my feet once we jumped off the plane, and when to spread my arms or just pose in general. I was ready. Once he said go. I pushed my head back over my shoulder and tucked my feet under the plane as instructed. Anndddd we were offfff!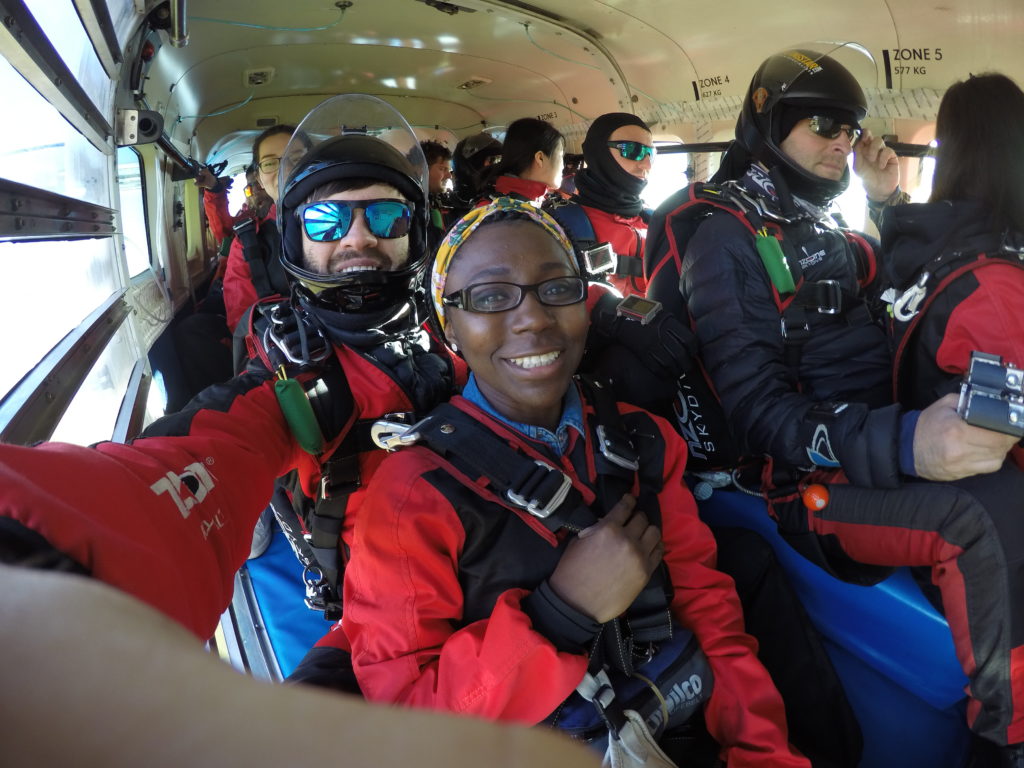 Free Falll but Keep Your Eyes Open!
FREEE FREAKING FALLL Y'ALL!! Your heart skips a beat or two or three as you well…fall out of the sky. I open my eyes wide and it was AMAAAZZINNGGG. Such a rush, better than any roller coaster ride! I got the tab to do whatever and I spread out my arms, did a dab and a shoki (dance moves) somewhere in there. The views, they were to LIVE for. Ahhhh. I kept saying 'Oh My gosh, this is amazing. ' And then…
The parachute was released and we were kinda dangling in the air slowly for a few minutes as we came down. Not going to lie, I didn't enjoy the first minute or so as we got used to being 'hanging' around and I can totally see how someone could get nauseous in this phase. The views though were absolutely amazing.
Soon…it was over and I was super duper excited. Its one of the coolest, out-of-my-comfort zone things I've done and I did not pee in my pants. I High fived my dive master, Did a little boomerang to celebrate, as you do, and I sent messages to let my friends and siblings know I made it down to earth.
What Lies On The Other Side of Fear?
Crazy thing though, is that fear is just that! But I (we) give it way too much power over us. I find it crazy that I was no longer afraid once I decided in my mind that I was going for it. This was a stark reminder to me to continue to step out and do things in spite of the fear I feel. Why? Because what lies on the other side of fear: the amazing, the miraculous, and by gosh, is it thrilling!
I also have to admit that having a dive master definitely made the world of difference, it gave me a sense of security having someone experienced attached to me, jumping with me, assuring me, and telling me to enjoy the ride. Isn't this how life with God in the driver's seat is supposed to be? I totes had a Isaiah 41:10 and Joshua 1:9 moment/epiphany.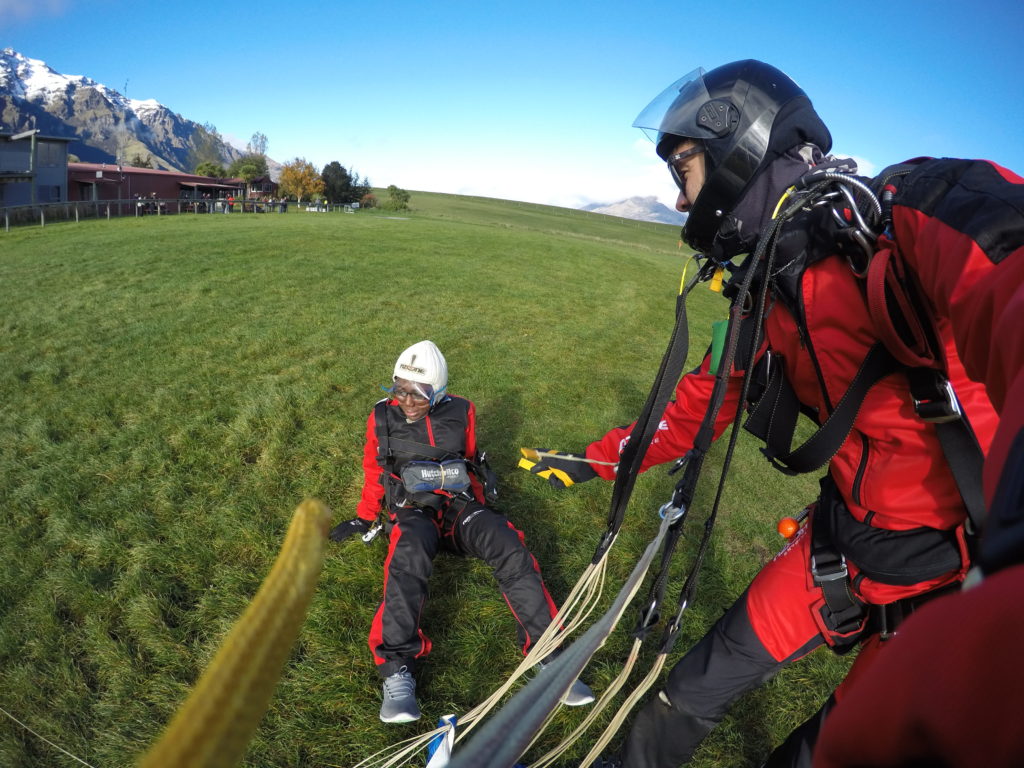 Have you been skydiving? How would you describe it? Is it on your list of planned adventures? As for me, I'd totally do it again, and this time from 15,000 feet!
PS.If you've enjoyed this and would like more of these, click here to subscribe to receive notifications of new posts, and to receive my monthly newsletter with insider tips and information!
How To Answer "How Did You Hear About This Position?"
If you're not prepared to explain how you heard about this job, it can start your interview off poorly and possibly cost you the job offer (first impressions count for a lot, and employers often ask this VERY early).
So in this article, I'm going to walk you through how to answer, "how did you hear about us?" with sample answers, do's and don'ts, and more.
Let's get started…
Why Employers Ask "How Did You Hear About the Position?"
Employers ask this question for a few reasons.
First, they honestly want to know. They're curious.
You see, employers post jobs in many different places, and if they find a candidate they like (you), they're curious how you found them.
For example, maybe they posted their position on two job boards, and also created a YouTube video about their hiring needs. They want to know which of their efforts are most effective, so they'll often begin an initial phone interview by asking a question like, "how did you hear about this job?"
There's one more reason they ask, too… And this is where you can make a mistake if you're not careful…
They're asking you how you heard about them because they want to hire someone who's being targeted and specific in their job hunt. Employers want to hire someone who knows what they want.
They don't want someone who will accept any job they can get. They'd much rather get someone who's excited for THEIR specific job… because they think that person will be more motivated, more energetic, etc.
So you need to make sure your answer shows that you have intent and purpose in your job search, and you didn't just stumble onto their job randomly, along with 1,000 other jobs you've applied for.
Because if you sound like that, you aren't going to a job offer from top companies. (FYI- if you want more help knowing why companies reject people, we have an in-depth article on 16 reasons you can't find a job).
Answering "How Did You Hear About Us?" – 10 Sample Answers
In most cases, it's perfectly fine to tell the truth when you explain how you heard about their job. If ANY of these reasons are true, you can simply tell the truth in the interview:
You were looking actively for jobs and found it on a job board, careers website, while searching jobs on LinkedIn, etc., and that's how you first saw their job
You have a colleague or friend in the company who suggested you apply or mentioned they were hiring
You have a colleague or friend who doesn't work in the company right now, but heard they were hiring and suggested you apply
You read an article, press release, or other news source saying they were hiring
You read an article or other news source that made you interested in the company in general, so you decided to look for job openings with them
You were contacted by a recruiter who put you in touch with the company or made you aware of the company
You were visiting their website for another reason and saw their "Careers" page
You like their company in general and went to their website and "Careers" page specifically to look for a job opening because you'd like to work for them
You saw an advertisement for a job opening (on LinkedIn, Facebook, etc.)
You were familiar with the company via previous work (for example, if they were a competitor of yours in a previous job)
Those are all really good reasons for how you heard about the job, and can help lead into your explanation of why you applied for the position too. It's a slightly different interview question, but closely-related.
So, that's how to answer this question easily and effectively. There are some things you need to avoid doing too…
Mistakes to Avoid When Answering "How Did You Hear About This Position?"
Now that you've seen some good sample answers for how you heard about the job, let's look at what NOT to say. These are all answers you should avoid giving:
Don't say you're not sure or don't remember (you'll seem scattered or disorganized in your job search – which will make it harder to get hired)
Don't do anything to make it sound like you are applying for every job you find, like a desperate job seeker who doesn't care what job they get as long as they get hired
Do not tell a lie that could get you caught (like saying you saw them on a job board if you're not sure they posted any jobs on a job board)
So the best way to answer "How did you hear about the position?" is to either tell the truth, or if you can't, use one of the 10 good reasons I mentioned in the previous section (after verifying that it COULD be true).
Also, the best answers are concise and to-the-point. So make sure you keep it brief too. If the interviewer wants more info, they'll ask.
I'd recommend keeping your answer to one or two sentences maximum. Nobody's trying to trip you up or catch you with a mistake when they ask how you heard about the position. It's not a trap. It's just an icebreaker or a way to get the interview started and find out a bit about your job search and how you're looking for jobs.
"How Did You Hear About the Position?" Full Sample Answers:
Now let's go through some sample word-for-word answers for how you found out about the position.
This will help you get comfortable and get some ideas you can use to create your own answer. We'll start with an example for active job seekers, and then I'll give you an example if you're a passive job seeker or are interviewing while you have a job.
Sample Answer for Active Job Seekers:
"I'm actively job searching right now, and found your job posting on LinkedIn while searching for Senior Engineer positions. I reviewed the job description on LinkedIn before applying and it seemed like a great potential fit so I wanted to apply and learn more about the opportunity to see if it's a good match."
Sample Answer for Passive Job Seekers:
"I wasn't actively looking for a job change, but a colleague mentioned that she saw you were hiring on your website, and said she had heard good things about your work environment. I went to your website and did some reading on the Careers page and liked what I saw, so I decided I should apply and learn more about the opportunity."
The bottom line is: The best and most impressive job seekers show that they're being careful in their job search and are looking for the RIGHT job, not just any job.
So that should be your goal when you answer, "how did you hear about the position?" – show the company that you're job searching with purpose and not desperately applying everywhere in search of any employer that will take you.
How to Stand Out from Other Job Seekers When Answering
The top job seekers focus on going into the interview to learn more about a job, have a conversation, and find out if it's a good fit for both sides. They're not desperate, and they're not even sure they want the job. They went to learn about it, ask the interviewer some questions, and then make a decision.
If you can do this, you'll get more job offers from better employers. Hiring managers love this, and very few people are doing it properly so you'll stand out right away.
You demonstrate this by having a clear, concise answer to, "how did you hear about the position?"
…And then by showing confidence and never acting desperate in the interview, and by asking great questions. Here are the best questions to ask recruiters. (You'll often hear interview questions about how you heard about the job in the first interview with a recruiter).
If you follow the steps above and read some of the additional resources I've linked to, you'll be on your way to standing out and getting a job offer in your next interview… and you'll have a great answer for when they ask, "how did you hear about this position?"
About the Author Biron Clark
Biron Clark is a former executive recruiter who has worked individually with hundreds of job seekers, reviewed thousands of resumes and LinkedIn profiles, and recruited for top venture-backed startups and Fortune 500 companies. He has been advising job seekers since 2012 to think differently in their job search and land high-paying, competitive positions.
Hold Up! Before you go on an interview.
Get our free PDF with the top 30 interview questions and answers. Join 10,000+ job seekers in our email newsletter and we'll send you the 30 must-know questions, plus our best insider tips for turning interviews into job offers.
Top 5 Skydiving Myths Explained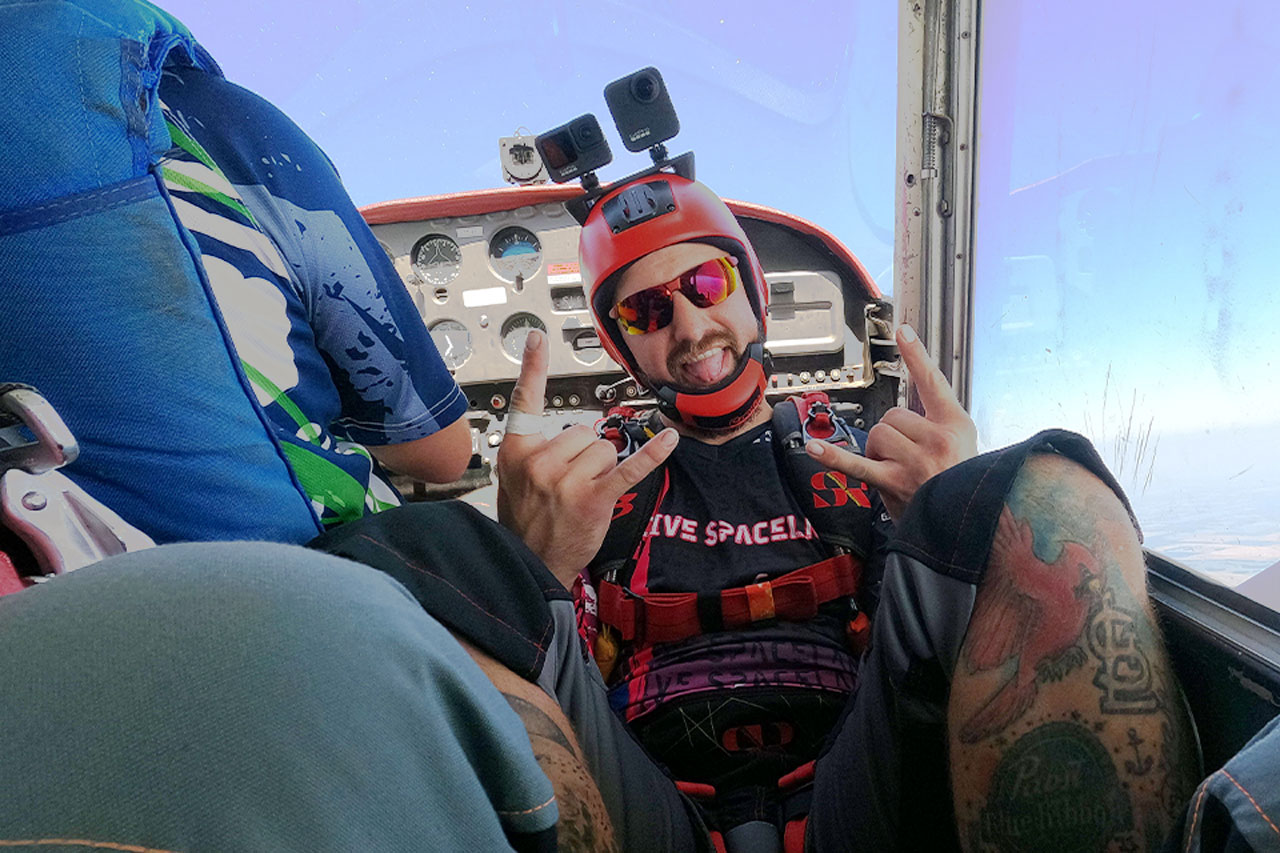 Ever wondered what it's like to go skydiving? You've probably heard lots of stories, maybe discussed it with people you know who've done it before. Perhaps you've seen skydiving on TV or in a movie.
Here at Ozarks Skydive Center, we make thousands of skydives each year, so we know what we're talking about! Here, we expel some common myths about skydiving to help you better understand what skydiving is all about.
Myth #1: Skydivers pull ripcords
You hear it quite a lot when people talk about skydiving; they discuss 'pulling the rip cord' and whether they'd be nervous of pulling their own ripcord.
Rip cords are, in reality, a thing of the past. Today's skydivers use more advanced equipment where, unlike the ripcord which deployed a spring which then opened the parachute, they use a pilot chute attached to a hackey.
The hackey is a small ball or handle which sits to the bottom right of the skydiver's equipment. It can easily be reached when it's time to deploy the parachute and by pulling that out, the pilot chute is released. So no rip cords, just pilot chutes!
Myth #2: You Can't Breathe During A Skydive
Skydiving is a high adrenaline sport and jumping from a plane often causes our heart rate to increase, making us catch our breath.
Some first-time jumpers report not being able to breathe at all. But there is actually no reason for this, and it's more a case of mind-over-matter needed to get that first breath despite the information overload you can experience when you haven't jumped before.
We encourage people to scream as they leave the plane, as this reminds you to breathe and proves that you can.
Myth #3: You Ascend When You Pull Your Parachute
Have you ever noticed how skydivers appear to ascend when they pull their parachute? If you've watched skydiving videos, you'll likely be familiar with this phenomenon, and many people believe that the release of the parachute does indeed make you 'go up'.
This isn't the case. The truth is that the camera person continues to fall at their terminal velocity while the person they are filming slows in speed as their parachute opens. They don't 'go up', but they do slow down.
Myth #4: You Can Speak To Each Other In Freefall
Point Break was a great movie! Entertaining, fun, and Patrick Swayze in his prime.
You may recall the skydiving scene in Point Break where the lead characters manage to have a conversation mid-fall.
As entertaining as it was, this is far from accurate. There's simply too much wind rushing by you for you to be able to hear your own voice, let alone other people's. Instead, we communicate through eye contact and hand signals.
Myth #5: We All Fall At The Same Speed
You've probably seen the cartoon where the coyote drops an anvil and then falls at the same speed through the air. Scientifically, this makes no sense! The coyote and the anvil have very different weights and surface areas, which means they wouldn't fall at the same speed at all.
The same applies to skydivers – we don't all fall at the same speed. Typically, people fall at around 120mph at terminal velocity, but this varies depending on the weight and surface area. Tandem skydivers will fall faster than a solo skydiver because there are two people.
We actually use this to our advantage in skydiving, as we are able to change our fall rate by changing our body position or, at times, wearing weight belts to speed us up.
Are there other skydiving myths you have questions about? If so, our friendly staff is happy to help! Give our team a call or you can learn more about the sport of skydiving on our blog.
Source https://www.wellwornheels.com/i-went-skydiving-and-lived-to-tell-the-story/
Source https://careersidekick.com/how-did-you-hear-about-this-position-answer/
Source https://www.ozskydive.com/about/skydiving-articles/top-5-skydiving-myths-explained/