How Much Experience Do Tandem Skydive Instructors Have?
Let's have some straight talk, shall we? If you're planning to make a tandem skydive, the guy or gal you're attached to
is responsible for saving your life, and by default, becoming your new best friend! (Whoa. No pressure!) The good news is your tandem skydiving instructor is also responsible for saving their own lives (and they have every intention of making many more skydives).
So, who are these modern day superheroes with occupations that save lives and give the gift of empowerment? They're definitely unique human beings and they're also highly experienced skydivers!
How Much Experience Do Tandem Skydive Instructors Have?
To become a tandem skydiving instructor, aspiring skydivers must meet the following criteria:
18 years of age
500 ram air jumps (read: non-round parachutes)
3 years in the sport
D-license or foreign equivalent
Hold an instructional rating, coach or higher
FAA class 3 medical certificate or foreign equivalent
Experienced a cutaway, real emergency or intentional
50 jumps within the last 12 months
4 hours of freefall time
So, exactly what does all of the above mean? It means you can't just waltz into the sport and just become a tandem skydiving instructor overnight – you have to put your time in! Accruing 500 skydives takes time and for good measure, you have to have made at least 50 jumps within the last 12 months which protects against those that made 500 jumps ten years ago and suddenly wish to get right back into it. Additionally, the Class 3 medical ensures that your new faithful freefall friend is in good health!
Tandem Instructor Dave Fulk with his student and videographer, Terry Hopkins
What's Involved in Becoming a Tandem Skydiving Instructor?
Good news here, folks! Even if you meet all of the prerequisites above, there's no guarantee that you'll earn that tandem instructor rating. You've still got to prove yourself and it's one of the more difficult skydiving instructional ratings to achieve because you're put through the paces!
To begin with, registering for a tandem instructor training course is neither quick nor cheap! The course is usually between two and four days in length and is completed in multiple phases. The first phase is all about classroom discussion based on theoretical topics (worst case scenarios and emergency scenarios included). After classroom theory, it's off to the sky for the "practical" testing phase which is completed across five skydives with a tandem instructor examiner. The tandem examiner works as a tandem passenger (a nervy job to be sure) and challenges the skills of the tandem candidate by doing everything wrong in free fall. This testing pushes a tandem candidate to use all of their skills and truthfully, it's stressful!
Not every candidate passes this course and many have to return for additional testing in order to acquire the necessary skills. That's phase one!
The second phase involves doing five tandem skydives with other licensed skydivers in order to gain more experience. I, (the author of this article), have served as a tandem passenger during this phase and yes, I was nervous, but my tandem instructor in training passed with flying colors!
Tandem instructor, Ashley deploys the drogue parachute shortly after exiting Skydive Carolina's Twin Otter aircraft
Skydive Carolina Pre-Requisites
At Skydive Carolina, all of our skydiving instructors have both the experience and training required to be licensed tandem skydiving instructors. Our most experienced instructors have more than 10,000 jumps while our newer instructors have closer to 1,000 total skydives. Additionally, we hire on personality and not just skillset alone! We recognize that we're in the hospitality industry, so it's important we have a team of individuals who are passionate about what they do and keen to deliver great service in addition to great skydives!
Come meet our qualified team and join us in the sky at Skydive Carolina!
How Safe is Tandem Skydiving? 6 Reasons to Trust Your Instructor
First-time skydivers don't take the plunge alone, they're strapped to a tandem certified instructor.
Many first-time jumpers wonder how safe tandem skydiving is. After all, how can you trust that stranger that is strapped to you will get you to the ground in one piece?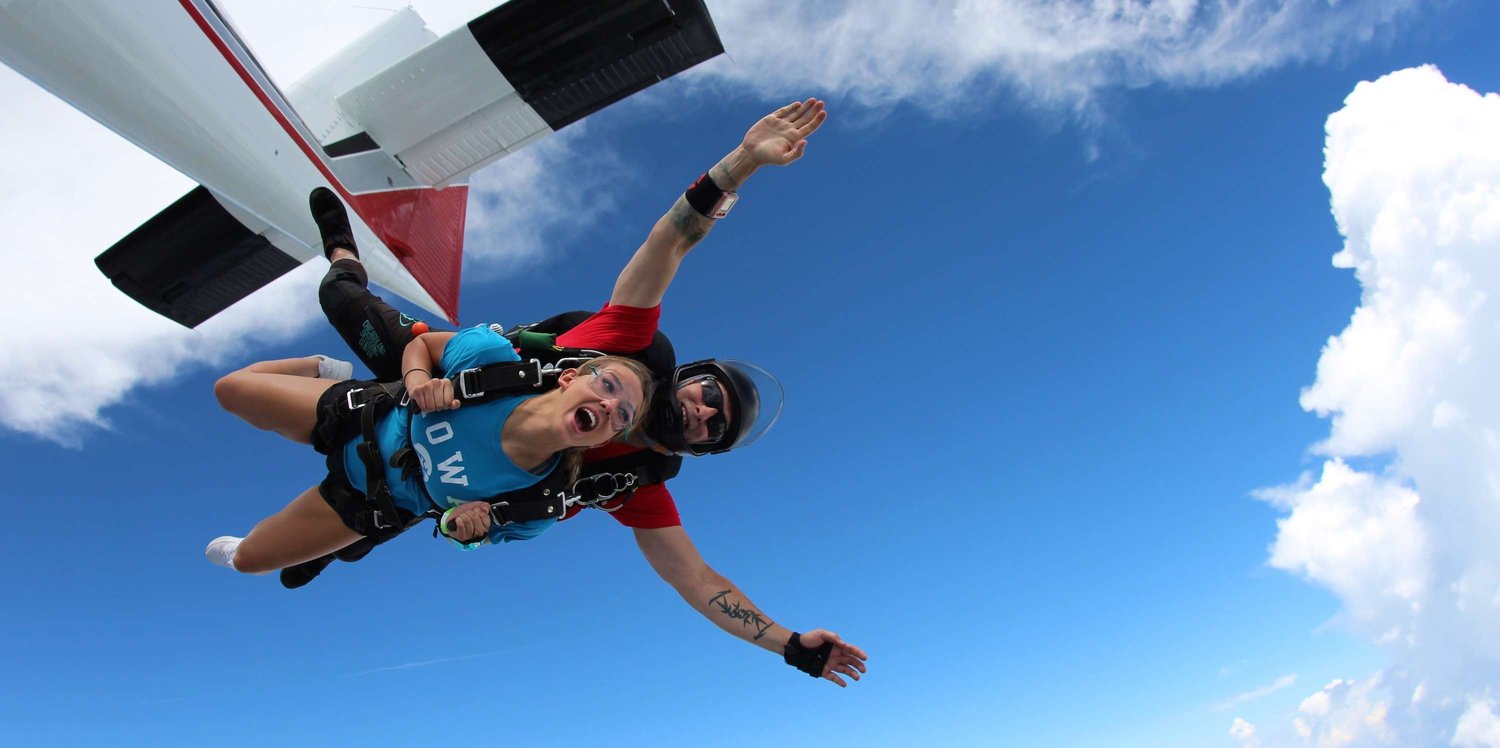 Just know that all novice jumpers are required to go tandem. That means a highly trained professional is responsible for you and all the technical aspects of the jump. Here are six reasons to put your faith in your tandem skydiving instructor:
1. Your tandem instructor made at least 500 jumps before jumping with you.
Any tandem skydiving instructor you'd be paired with for your first jump must have a proven track-record with a huge amount of jumps in order to get their tandem instructor certification.
Let's think about this… 500 freefalls. Really let that sink in. 500 jumps! That's an incredible amount of time in the air for your instructor perfect their technique.
2. Your tandem instructor spent a minimum of 3 hours freefalling.
If you were to choose our standard tandem skydiving package, you'd spend approximately 60 seconds in freefall. One jump for you equals about a minute of fall time.
Your tandem instructor spent three hours in freefall before getting their level D certification. That's a long time flying through the sky, and it's all for your safety.
"But wait, isn't a skydive longer than one minute?," Once your main parachute deploys when you near the ground, you'll spend about 5-7 minutes in slow descent as you parachute to the ground. So while your whole experience is only 6-10 minutes, remember, only 30 to 90 seconds of that (depending on the jump package you purchase) will be in "freefall."
3. Your tandem instructor made at least two jumps at night— in the dark!
When was the last time you stubbed your toe on your way to the bathroom in the middle of the night? Many of us can't even find our way around our familiar home in the dark, never mind to navigate, deploy a parachute and successfully land at night.
Any tandem jumper you'll dive with will have completed at least two leaps in complete darkness— and landed in one piece, within an exact targeted location. In fact, they really have to get quite precise! C-level certified skydivers had to land within seven feet of a target on at least 25 jumps.
These instructors are specially trained to function in the event of vision impairment and are ready to get you grounded safety, even with their eyes closed!
4. Your tandem skydiver knows how to safely land in water!
In the event of an emergency, tandem skydivers are trained to land in water. That's right! They purposely take a plunge into a body of water (parachute and all) to test their skills.
All talk aside, your partner will actually know what it was like to go for a swim and understand exactly how to get you to land safely, should you steer off course.
5. Your instructor passed four crazy hard exams.
Remember how hard the SATs were? Or those crazy finals in college? Yeah, your tandem instructor had to go through a couple of long tests themselves.
Tandem skydive instructors need to get four levels of licensing, with a written test after each level's "hands-on" training. Not only will your partner have all of the wild jump-time experience we addressed above, but they also need to study and pass a series of difficult United States Parachute Association license examinations.
6. At Chicagoland Skydiving Center, we have a perfect student safety record.
We've never had a student's life threatened since our doors opened in 1968. We're proud of our perfect safety record and assure you that tandem skydiving is safe as can be with CSC.
Check out our blog on tandem skydiving questions to learn more about our skycenter specifically, and what you can expect on your first jump.
Prepare for Your First Tandem Skydiving Experience
Never tried skydiving before? Tandem skydiving is the way any first-time jumper learns the ropes (more specifically, the pull ropes— skydiving pun fully intended!).
Read our Complete Guide to Tandem Skydiving to discover more about the safety features of your parachutes, instructor's qualifications and more. You can even download a copy of the guide, to read at another time!

Douglas Smith
Douglas Smith is CEO/President, and Guest Relations Associate at Chicagoland Skydiving Center. He has owned and operated the business since 2000. He has been skydiving since 1994, and in addition to leading the CSC Team, is currently an instructor, videographer and pilot for CSC.
The CSC Blog
Stay up to date on the latest news and happenings from CSC and the rest of the skydiving world.
Source https://www.skydivecarolina.com/blog/how-much-experience-do-tandem-skydive-instructors-have/
Source https://www.skydivecsc.com/blog/how-safe-is-tandem-skydiving-6-reasons-to-trust-your-instructor
Source