How Much Does It Cost To Go Skydiving?
Curious about the cost to go skydiving? Skydiving usually costs around the $200 range in the United States. This can vary in some markets from $150 through $250, but the most common price is $200 to an altitude of 13,500 feet not including video services.
It's important to note that not all skydiving experiences are the same. There are several factors to take into account before booking your jump. These factors include the airplane type the skydiving center uses, the exit altitude and the operation's reputation for both safety and customer service.
A good rule of thumb is to do your research. The most common error consumers make when purchasing a skydive is to make their decisions based on price. The cheapest isn't always best. Skydiving involves the use of expensive equipment such as airplanes and parachute equipment – both of which are costly to attain and maintain. Like selecting a heart surgeon, you want the most qualified, not the least expensive as skydiving is an activity that has a risk quotient that has the potential for injury or death (something we take very seriously).
How Expensive is Skydiving?
Altitude
Be sure that the altitudes are well stated when purchasing your skydive. There's a big difference between a 10,000′ jump and a 13,500′ jump. While 10,000 feet is high, the free fall time is nearly 30 seconds shorter than that of a jump to 13,500 feet. If you're looking to have the ultimate experience, altitude is definitely something to consider as the experience goes by very quickly.
*Buyer Beware: Watch out for skydiving centers that use the term "up to." This is a grey area term used by some skydiving centers who don't usually fly to the advertised altitude in order to cut on fuel costs.
Aircraft
Know your aircraft! The backbone of the skydiving industry has always been the Cessna 182. It's a workhorse, but it has its limitations for both space and altitude. The 182 aircraft holds four passengers plus the pilot. This can be restrictive if you're wishing to jump with a group as only two tandem pairs can go up at any one time. The exit altitude won't be more than 10,000 feet and it's a little bit tight on space.
For the ultimate experience, look for a skydiving center that uses a Cessna Grand Caravan, King Air (this is the aircraft type we use) or a Twin Otter. These planes can take groups and fly to 13,500 feet fairly quickly.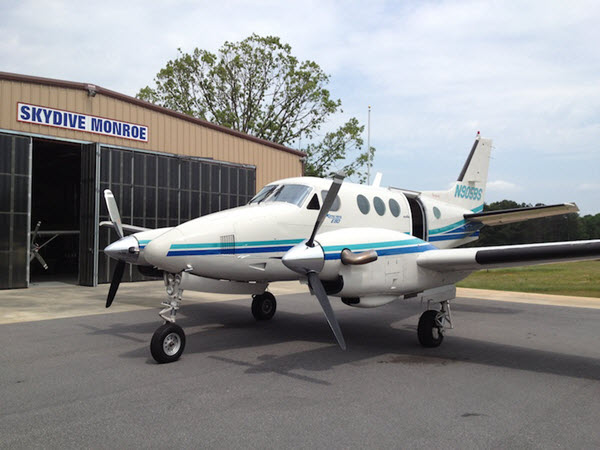 Customer Service
A fine dining experience can be soured if the service is poor. The same holds true for a skydiving center. While skydiving is a thrilling experience, some high volume skydiving centers are not unlike an amusement park whereby it's about getting people through the turnstiles as quickly as possible. This often leads to skydiving instructor burnout and a mediocre experience.
It's our view that skydiving is a momentous occasion in someone's life and we want to celebrate your achievement with you!
What's The Cost To Go Skydiving in Atlanta?
If you're looking for skydiving near Atlanta, there are four primary skydiving centers. Below are their various prices broken down by weekday, weekend and group rates.
| | | | |
| --- | --- | --- | --- |
| Dropzone | Weekday Rate | Weekend Rate | Group Rate |
| Skydive Monroe | $198 | $198 | $160 per person (5 or more) |
| Skydive the Farm | $199 | $199 | Not published |
| Skydive Spaceland | $199 | $219 | $20 OFF ($179 / $199) 5-9 people |
| Skydive Atlanta | $239 | $239 | Not published |
Buyer Beware – Third Parties
Quick pro-tip when scouting out your place to skydive – beware of third-party operators! You will generally pay significantly more dealing with third-party operators as opposed to booking directly with a legitimate skydiving center.
Within the skydiving industry, there is a well-known company that has built hundreds of websites throughout the US that try to portray themselves as legitimate skydiving centers. It's a clever funnel to drive phone calls to a call center that will sell a reservation to a skydiving center that may be different than where the consumer actually thinks they'll be skydiving.
Presently, there is a lawsuit pending by the Attorney General of Georgia against one of these companies – you can learn about it here.
Booking Your Skydive – What To Watch For
When doing your homework, be sure to verify a facility's physical address and that it's at an airport. Skydiving centers that show their locations in downtown areas should be scrutinized.
Additionally, be sure you can locate a price on the company's website and that you have the ability to book online or speak with someone directly at the physical location. If unsure, ask the individual if they're speaking with you from a call center – this should raise a red flag.
Read the Reviews
When selecting a restaurant, it's standard to read reviews on Google, Facebook or TripAdvisor – you should do the same for the skydiving center you're doing research about. The overall review score will give you a glimpse into what you're buying.
HAVE QUESTIONS?
Call us! It's our goal that you have the best skydiving experience possible (whether it be with us or someone else). We're happy to answer any of your questions about skydiving or the industry in general.
How Much Does Skydiving Cost for the First Time?
How Much Does it Cost to Go Skydiving?
Ready to go skydiving for the first time? Awesome! You're probably wondering how much does skydiving cost. As you might imagine, there are a lot of factors that influence the cost of a skydive, including whether or not you have a reservation, if you bring along a discount of some kind and if you decide to go skydiving with a group.
The Average Cost of a Skydive
In the USA, the average price of a skydive hovers around $250. That buys you a tandem jump out of an aircraft, attached to a highly experienced, rated and certified instructor via skydiving equipment that keeps you and your new best friend together for the entire experience. That might seem steep at first, but when you consider that this truly is the experience of a lifetime and you want it to be as safe as possible — well, it starts to make more sense. Right?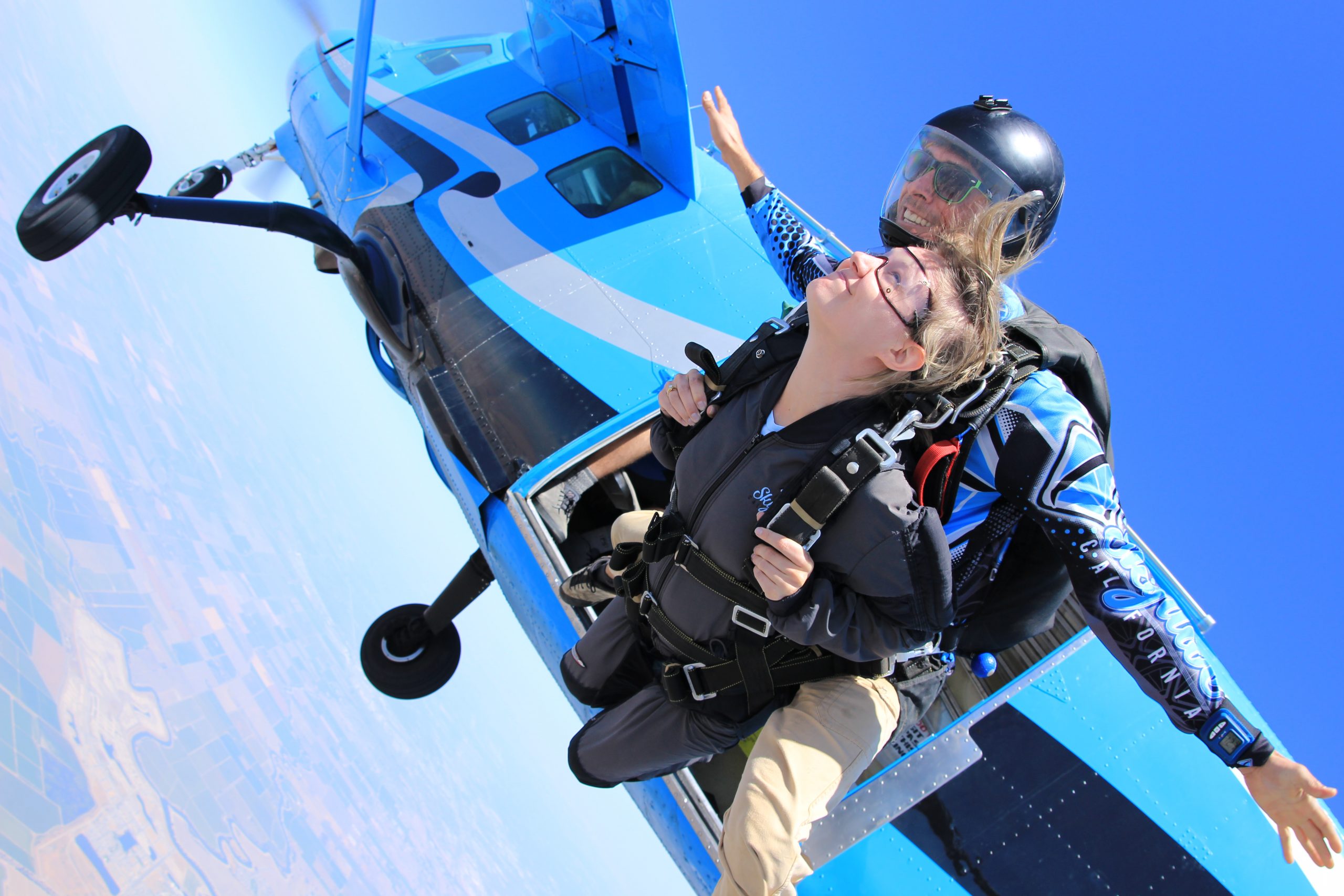 What's Included in the Price of a Skydive?
Let's get down to the specifics of what's included in that skydiving price, shall we? When you pay for a tandem skydive, here's what you can expect:
A highly experienced tandem skydiving instructor to accompany, instruct (and counsel!) you through the entire experience
A brief training session, during which you'll learn about the procedures of the skydive, about your responsibilities as a tandem student and about what you can expect during and from the experience
The use of all the skydiving equipment necessary for your jump (i.e. your harness, a jumpsuit, a pair of goggles)
A beautiful ride way up over the Bay Area in our skydiving airplane
Approximately 60 seconds in blissful freefall
Somewhere in the vicinity of 5-6 minutes of parachute flight
Awesomely, all those bullet points add up to far more than the sum of their parts. Check out our info and rates for the details. (Spoiler: Our prices are below the national average! If you're looking for skydiving near San Francisco, you'll be happy about that.)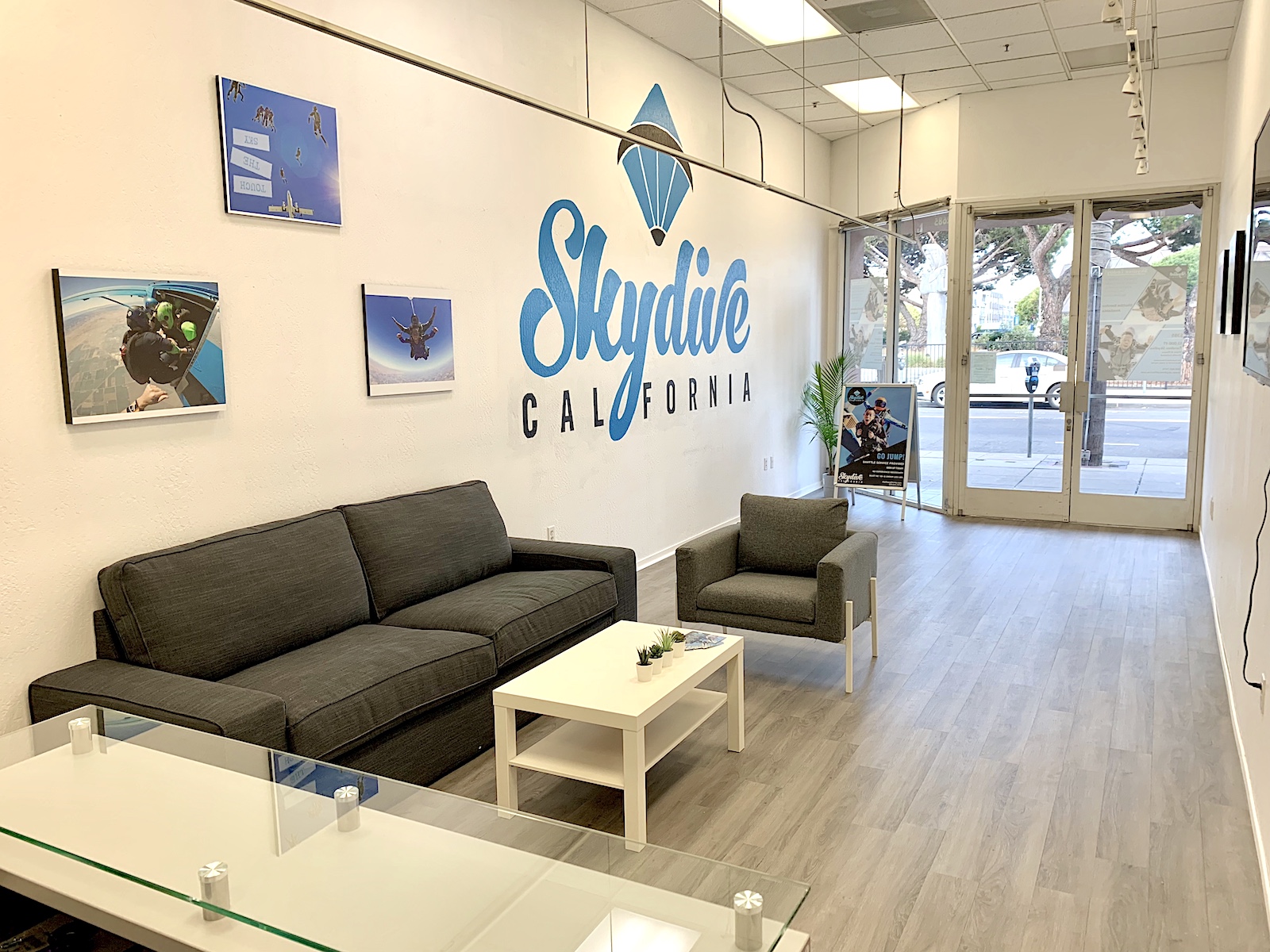 You might be wondering: If that's what you can reasonably expect from any given skydiving dropzone, what do we add to the mix at Skydive California? That's easy: heart. We're a United States Parachute Association member dropzone, which means we happily hold to the highest standards in the industry, and we do all that heavy lifting with a great big smile. We love to skydive from the tips of our freefallin' noses to the tips of our freefallin' toeses, and it shows in our general sparkle.
About the Optional Costs of a Skydive
As luck would have it, you can upgrade your jump to include a s kydiving photo and video package . Sure, it's a little more dough, but trust us — you want that! With one of our packages, you'll walk away from your first-time skydiving tandem with a huge smile on your face and a bunch of high-quality footage of your jump to capture your once in a lifetime skydiving adventure. Plus, you'll be able to easily share it with family and friends on Facebook, YouTube, and your other social networks.
So what do you say? Are you ready to skydive? Book your skydive today! We can't wait to meet you.
How Much Does It Cost To Skydive? (Price Breakdown & Ways To Save!)
Disclosure: Town & Tourist may receive a commission for purchases made through links in this article, at no additional cost to you.
Skydiving is a fantastic experience. Yes, it's a scary adventure, but one that leaves us relishing the adrenaline rush of every moment. So you've decided to go skydiving for the first time and wonder what it takes. One of the first things to consider is how much the whole skydiving experience will cost you.
Depending on different factors, skydiving costs range from $250 to $300. This price range covers the cost of buying you a tandem jump out of an aircraft attached to an experienced and certified instructor. It also covers the price of all the gear and equipment you'll need throughout the dive, especially as a first-timer that wants a memorable experience.
If you're looking to enjoy your skydiving experience, you'll need the right skydiving gear and equipment. These equipment come in different forms, from the obvious ones (parachutes) to the insignificant ones like vests and goggles. Each of these pieces of equipment can add to the total cost of your skydiving experience.
So, you'll need to consider your gear and equipment while calculating the total cost of skydiving, whether it's your first or tenth time. This article covers everything that affects the price of skydiving.
What's Included in the Price of a Skydive?
Before pulling out your credit card to pay for a tandem skydive, you want to know what exactly you're paying for. Skydiving is composed of many parts, and you'll need to cover the cost of each part for a safe, comfortable, and fun skydiving experience.
We know you're curious to know the skydiving necessities and how they sum up the total cost. Here's a quick breakdown to help you know where your money goes.
1. Gear and Equipment Needed for Skydiving
Skydiving is an extreme sport involving a high degree of risk. So, you'll need to have all the right equipment and gears on before attempting it.
Fortunately, most skydiving organizers include all the safety gear you'll need when calculating the cost. So, whether you're skydiving solo, with an experienced jumper, or in tandem, you'll get an estimate that covers it all.
These companies spend so much to purchase the equipment and to keep them to a suitable standard for your dive. So you should expect to pay a substantial amount for them. The equipment required includes harnesses, helmets, parachutes, and jumpsuits.
2. A Highly Experienced, Professional Skydiving Instructor
Whether you're skydiving for the first time or not, you'll still need a knowledgeable instructor to put you through basic and advanced instructions.
Most skydiving companies ensure that they employ an instruction team that has earned their chops in the sky over the course of many jumps. These instructors typically also have the correct paperwork to prove it.
Getting such a level of professionalism costs money. The companies would only recover the money they spend hiring the best by dividing it into little chunks. These little chunks are added to the cost of each skydiving experience.
While inquiring about the cost of a dive, note that the company will add the cost of hiring a professional instructor to put you through.
3. Aircraft and Facilities
Let's face the fact: anything related to aviation comes with an incredibly expensive price range. Skydiving companies often pay through their noses to buy and maintain safe and reliable aircraft.
Beyond that, they must work to keep the pilots and passengers safe, which means additional expenses on safety facilities.
These expenses automatically translate to a higher cost of skydiving on the skydiver's side. Don't be surprised when you see these things in your skydiving cost breakdown.
4. Jump Altitude
Depending on your jumping location, your skydiving company may give you the option to purchase lower or higher altitudes. Higher altitude jumps come with higher price tags in exchange for more freefall time.
Your choice here will typically boil down to the motivation behind your diving experience. Skydivers doing it for the adrenaline rush may choose higher altitudes, allowing them to experience more.
5. Professional Camera Flyer
Although this one is optional, most people still opt for it because it helps them capture all the memories they'll want to relish forever. If you're considering this option, rest assured that it'll quickly add to the overall cost of your skydiving.
Most companies have photographers and videographers specially trained for this. These professionals will typically dive with you, capturing every moment. You can always opt against it, but know it's something you want. So go on and capture your most beautiful moments at a little extra cost.
How To Reduce Skydiving Cost
We get it – $300 may seem like a lot of money. But if you look at the experience and everything you'll need to make it enjoyable, you'd see that it's just the right price.
However, some people still enjoy the same excitement at a lower price than the above-quoted price. You just need to learn a few cost-reducing hacks, and you're good to go. Here are some hacks you can follow to reduce the cost of your next skydiving experience.
Jump In A Group
Jumping in groups may not be the first thing that comes to mind when you think about skydiving, but it's still a great option. Most companies offer a discount of 10-20% to group members.
So, if you want to lower costs, you can create a group of willing skydivers. Don't forget that the discount you get will depend on the number of people in your group.
Choose A Weekday For Your Jump
Like most recreational activities, skydiving experiences a rush on weekends and public holidays. More weekend traffic means higher jumping costs during this period.
On the other hand, most companies offer discounts to jumpers on weekdays because of the almost nonexistent traffic. So, if you're looking to get a few bucks off your skydiving cost, we recommend booking on weekdays.
Bring Your Equipment
If skydiving is a once-in-a-lifetime adventure for you, then renting all you'll need for it is cool. But buying some of the gear and equipment you'll need won't be a bad idea if you intend to do it several times in your lifetime.
Yes, a complete kit of parachutes can be costly to buy. But if you consider its availability for the several times you'll want to dive, you'll realize that it's a worthy investment. Fortunately, most of the equipment comes in different brands and prices.
Choose what suits your budget, but ensure you're not buying substandard gears or equipment.
Book Another Dive After Your Jump
This may sound a bit awkward, but it's the way to go if you want lower diving costs. Skydiving is so enjoyable that you'll always find yourself coming back again. So, while it's true you just finished a jump, it's an excellent opportunity to book another dive.
Most companies will offer nice discounts for subsequent jumps if you book immediately after your first jump. You can use this opportunity to book subsequent jumps and adjust dates to suit your schedule.
Skydive In Lower-Cost Areas
Areas with lower living costs will naturally have skydiving companies offering lower prices for jumps. On the other hand, areas with high living costs will attract higher costs for jumping.
So one effective way to lower the cost of your skydiving is to move to areas with a lower cost of living. The moving process may seem stressful, but it helps you save some of the money you would have used for your jump.
Weight Less
Do we need to emphasize this? Most skydiving companies will charge you based on your weight. Skydivers weighing more than 200 lbs are typically charged more because of the extra fare and effort required to ferry them.
If you've fixed a date to enjoy skydiving, now's a good time to start working on your weight. The little pounds you lose may make the difference when the skydiving company calculates your fee.
Is Skydiving Worth The Money?
We get these sorts of questions every day from concerned skydivers. Whether it's your first time skydiving or not, skydiving is worth all the money you'll invest in it.
Remember that when paying for skydiving, you're paying for an experience rather than a product. You want to enjoy every moment of it, and that's why you should pay for everything that'll enhance the experience.
It's difficult to explain how skydiving feels, and that's why it's important you feel it for yourself. The sensations are usually far more exhilarating than many people think.
Whether you're skydiving to conquer your fear, to enjoy the adrenaline rush, or to fulfill a longtime wish, the memory of your dive is something you'll forever relish.
Is A Lower-Priced Skydive Safe?
Straight to the point – the cost of your skydive does not necessarily impact the safety of your jump. You don't have to hesitate to purchase a discounted ticket if you find one. However, ensure that you're buying from a reputable skydiving company.
Professional skydiving companies follow strict safety procedures. These procedures are set and enforced by the FAA, USPA, and cooperating dropzone. They typically have trained instructors to help you stay safe throughout your skydiving experience.
If you're unsure about a facility, you can always look them up on the USPA website before paying for a jump. You can also look up reviews from previous jumpers to get a clue about how they treat jumpers.
Conclusion
That's it, a detailed look at the cost of skydiving. So far, we've seen that it costs between $250 to $300 to get an enjoyable skydiving experience. We've also seen what's usually included in this cost and how to get a discount from any skydiving company.
The ball is now in your court. Go out there and have all the fun you can with your first skydiving experience.
Source https://skydivemonroe.com/blog/how-much-does-it-cost-to-go-skydiving/
Source https://skydivecalifornia.com/blog/how-much-does-skydiving-cost-for-the-first-time/
Source https://www.townandtourist.com/how-much-does-it-cost-to-skydive/