The Best Times To Go Skydiving (Day / Month)
Wanting to get the best skydive you can? Then it's important to jump at the right time!
Whether that's the time of day or time of year, there's some moments which are simply better to be in the sky.
In short, the best time to book a skydive skydive is in the morning. The best time to actually skydive is right before sunset, and the best month to skydive depends on your climate. So the best time to skydive really depends!
I've explained all of this in more detail below.
There's a few different 'best time' categories in skydiving, so I've covered each, one by one.
If that sounds good, then let's dive in.
The Best Time to Book A Skydive
If you're reading this after going to book a skydive – and wondering what time you should pick – then this one is pretty straightforward. Book the earliest time you can (which still allows you plenty of time to get to the airfield).
Skydiving is a super weather dependent sport, and you never know when a sudden wind will pick up, or a rain storm will fly over. If you book your skydive in the morning, you'll be higher up in the queue once the weather delay passes.
If you book your skydive for later in the day, you may find a ton of jumpers queued up in front of you before you can jump!
That said, don't pick a time that will be uncomfortable for you. If it's a long drive, it's better to pick a later time than force yourself up at 4am. This whole thing is meant to be enjoyable!
The Best Time to Actually Skydive
Want the short answer? Any time!
For real though, there's no "best time" to fly through the sky, but there's definitely a top 3.
Most skydivers will say sunset – and they're totally right. I've been lucky enough to do a few sunset jumps, and the beauty of the world truly takes your breath away. It's like nothing you've ever seen. Not only from the skydive, but looking at it from under canopy or in the plane with your friends. It's just stunning.
There's nothing in the world like being the sky at sunset.
That said, the best time to skydive is also when your friends are doing it! A sunset might be beautiful, but nothing beats playing around with your friends in the sky.
Last but least – the best time to skydive is when the weather's right. This is the more boring answer, but weather delays are a real thing. As someone who started their skydiving career in Scotland, believe me they can last a while! Sometimes the best time to skydive is when the weather's lining up perfectly.
If you've got a tandem skydive booked and the weather is looking miserable that weekend, try calling ahead and asking them about it. They may advise rebooking to save yourself waiting around all day.
The Best Time of the Year to Skydive
I'll also just touch on the best months to go skydive.
It's a surprise to no-one that skydiving is more of a summer sport. That's not because of temperatures (though they do help!), but more because the stronger winds and more rain of winter make it much harder to get a plane up there.
The perfect conditions for skydiving is warm, dry, and without much wind. Some climates enjoy those conditions year round, but for others these might be limited to the summer months only. In that case, the best time of the year to skydive is when your climate is suitable.
That said, if you ever get the chance to skydive in the snow – take it! It's freaking freezing, but the view is incredible. It's like someone's painted the whole world white. You can see for miles around you, and everything's been colored the same white. It's simply beautiful.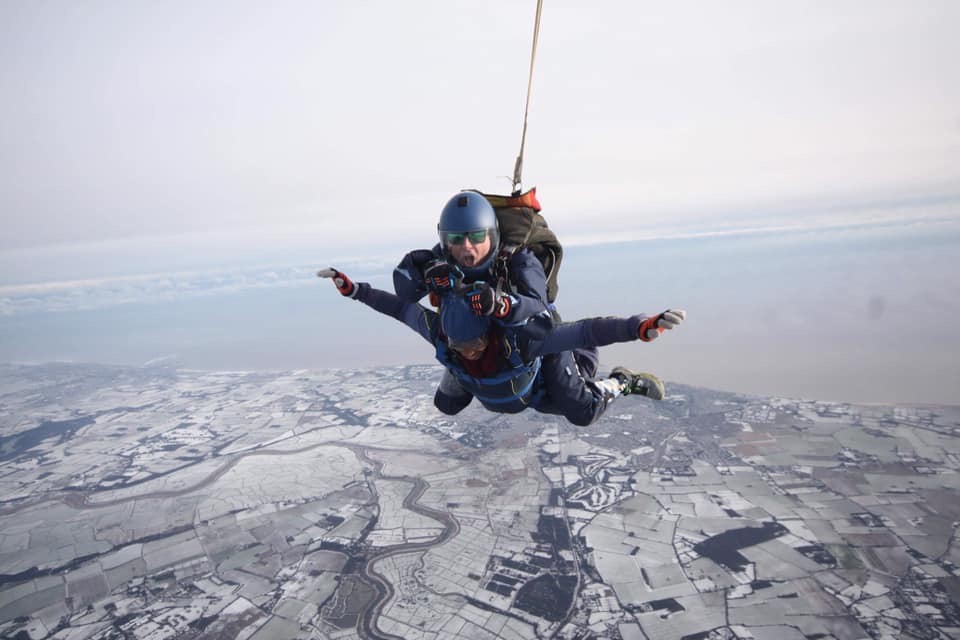 While it's ice-cold, skydiving above a snow-colored world is also beautiful
Wrap-Up
Well, that's about all there is on this one!
I hope I've answered your question today. Whether that's on when to book a skydive, when to go skydiving, and what time of the year is best.
If you've enjoyed this article, please consider checking out the related ones below. I'm trying to build a really useful resource for beginner skydivers.
First-Time Skydiving Experience
So you're ready to experience human flight? Awesome! You're going to love it! If this will be your first time skydiving, you'll be able to choose from two different methods at Skydive Tecumseh. Each method is sanctioned and approved by the USPA to assure the highest level of personal safety for you, the first-time skydiver.
No matter which method you choose, you can rest assured that you'll have the time of your life, and you'll have gained an experience that you'll never forget!
Tandem Skydiving – Jump With An Instructor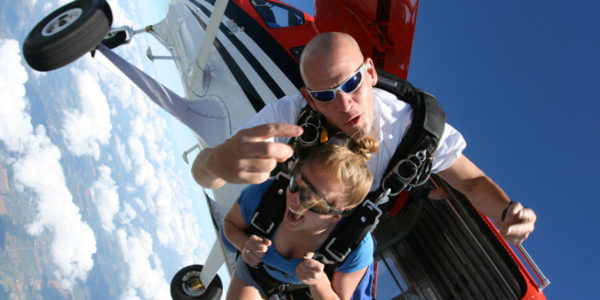 Tandem Skydive
Feel the rush of a skydive without the extensive training involved with becoming certified! Tandem skydiving is by far the most common and popular method for your first skydive and Skydive Tecumseh offers jumps from 9,000′, 14,000′, and 18,000′ altitudes.
A tandem skydive is our recommended method to experience human flight for the first time. With less than an hour of training, you will be ready to take your first skydive, harnessed to one of our USPA-Certified professional instructors! You (and all your friends!) will be able to do your training and jump in the same day.
A tandem skydive at Skydive Tecumseh can take you higher than any other dropzone in Michigan, up to 18,000ft! At that height, you'll get over a full minute of freefall!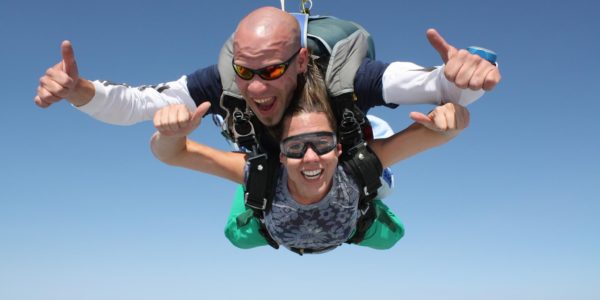 Video Packages
For many, making a skydive is a major life event positioned in the realm of getting married or even having a child! This event is one of life's greatest adventures that doesn't require months or even years of training.
If our guests ever have a regret, it's because they didn't purchase a photo or video package because they failed to realize how extraordinary the skydiving experience is… don't make this mistake!
Purchasing a media package is an added expense, but you'll not experience buyer's remorse. You'll see things in the video and photography that you weren't aware of during the experience which will go by very quickly! (120mph)
Allow our amazing camera flyers capture the entire experience for you! You'll be happy you did!
Learn To Skydive – Jump Solo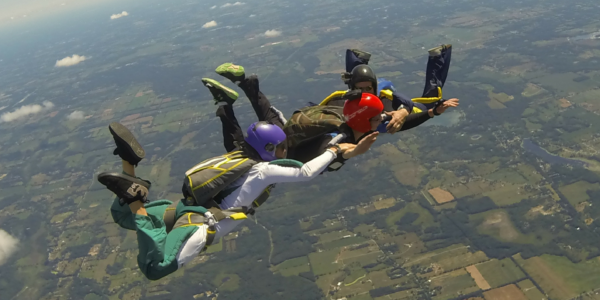 AFF – Accelerated Freefall
Accelerated Free Fall (AFF) is the best of both worlds. You will experience the thrill of freefall from full altitude and be able to control and land your own parachute! With an AFF jump, you'll exit the plane with two instructors who will help guide you through your jump, then fly your parachute back to the ground and land it by yourself.
An AFF skydive is also the first jump in the AFF Training Progression, should you decide to pursue your own skydive license! (First Jump Course req'd)
First Time Skydiving Tips: How To Go Skydiving
Skydiving isn't a run of the mill activity, so it's easy to get overwhelmed at the beginning. That, dear friends, is where we come in! We've compiled this list of first time skydiving tips as a road map to help you find your way through this exciting, uncharted territory.
Before we get into the list of first time skydiving tips, let's cover the two different skydiving options for beginner skydivers.
Tandem Skydiving and Accelerated Free Fall (AFF)
Tandem skydiving is the perfect introduction to the world of skydiving! On a tandem skydive, you are attached via a harness to a professional, licensed skydiving instructor. During the tandem skydive, your skydiving instructor will serve as your personal guide and will take on the majority of responsibility during the experience. For this reason, tandem skydiving is one of the most accessible forms of skydiving and is perfect for someone with little to no experience.
If you dream of flying solo, Accelerated Free Fall (AFF) is the way to go. The Accelerated Free Fall program at Wisconsin Skydiving Center utilizes the most modern methods of skydiving instruction to get you off the ground and on your way to becoming a licensed skydiver. Please note, to begin Accelerated Free Fall, you must complete at least one tandem skydive.
Now that you know a little about both, let's take a look at some first-time skydiving tips.
First-Timer Tips: how to go skydiving
Tip One: For Ease and Convenience, Schedule Ahead
Scheduling your skydive is often the best thing you can do to psych yourself up, calm your fears, and tackle that next life-changing experience. At Wisconsin Skydiving Center, we make it easy for you to take the first step on your skydiving journey by scheduling a tandem skydiving experience. On our website, in the top right corner and accessible from any page, is the "Book Now" button. With this button, you're literally just a click away from picking the best day and time to schedule your first time tandem skydiving experience. Or, if you prefer, we have helpful, customer service representatives just a call away!
It's best to schedule ahead, especially if you are bringing a group. Scheduling ahead helps us to staff appropriately and ensures you get the time slot that works best for you!
That's the biggest step! Get on the calendar and you're golden. Now take a look at the next few tips to make sure your first skydive is one of the most memorable moments of your life.
Tip Two: Dress for Success
Once you've got a skydive on the books, the next step is to pick out the right outfit. We aren't what you would consider a group of fashion experts, but we do know that figuring out what to wear your first time skydiving can be tough. The primary objective when picking out what to wear your first time skydiving is to center your choices around functionality.
It's important to dress appropriately for the weather on the ground. When the weather is warm, it's perfectly fine to wear shorts or other athletic bottoms and a t-shirt or tank top. If the temperatures take a turn for the cooler side, light layers are the way to go. Though it may be tempting to put on that parka to keep you warm and toasty, it's best to avoid any bulky clothing items. As an extra layer of protection, we will provide you with a jumpsuit to put on over your clothing. And, no matter the season, lace-up running or athletic shoes are a must!
Tip Three: Practice Punctuality
At a dropzone, our days run on a pretty tight schedule. In order to run our skydiving operation as efficiently as possible, we need your help! We do not ask much, just that you arrive on time for your skydive. Arriving on-time not only helps us, but it helps you too. We don't want your first time skydiving experience to begin with you feeling stressed and rushed because you're running behind. Please keep in mind, your scheduled time is your arrival time: it is not your jump time. We don't want you to wait any longer than you have to, so there is no need to arrive early. However, it does cause a bit of trouble if you're late. So, please, aim to arrive promptly at your scheduled time to complete your paperwork and receive training.
Tip Four: Capture it All On Film
Skydiving is unlike anything you've done before. This is what makes first-time skydiving videos so priceless. It's likely you've had a camera handy to capture most of the major landmark moments in your life. Why should a skydive be any different?
On the day of your first time skydiving experience, you're going to be caught up in a whirlwind of energy and emotion. With so much going on, it can be tough to take in each moment. Your first time skydiving experience will pass by pretty swiftly, about 120 mph to be exact! Before you know it, you'll be back on the ground wondering if it was all a dream. With a skydiving video package, you'll have proof it was real and can re-live each moment with your family and friends again and again.
What is it like skydiving for the first time? It's a remarkable experience that defies being easily summed up in a series of words. Skydiving for the first time is wonderful, exhilarating, life-changing. Even these words fail to express exactly what skydiving is like.
Why don't you come visit us to find out first hand? Simply schedule your skydive, get dressed, show up, and we'll show you a great time!
Source https://friendlyskydiver.com/skydiving-best-times-to-go/
Source https://www.skydivetecumseh.com/first-time-skydiving/
Source https://wisconsinskydivingcenter.com/blog/first-time-skydiving-tips/