First Time Skydiving: Everything You Need to Know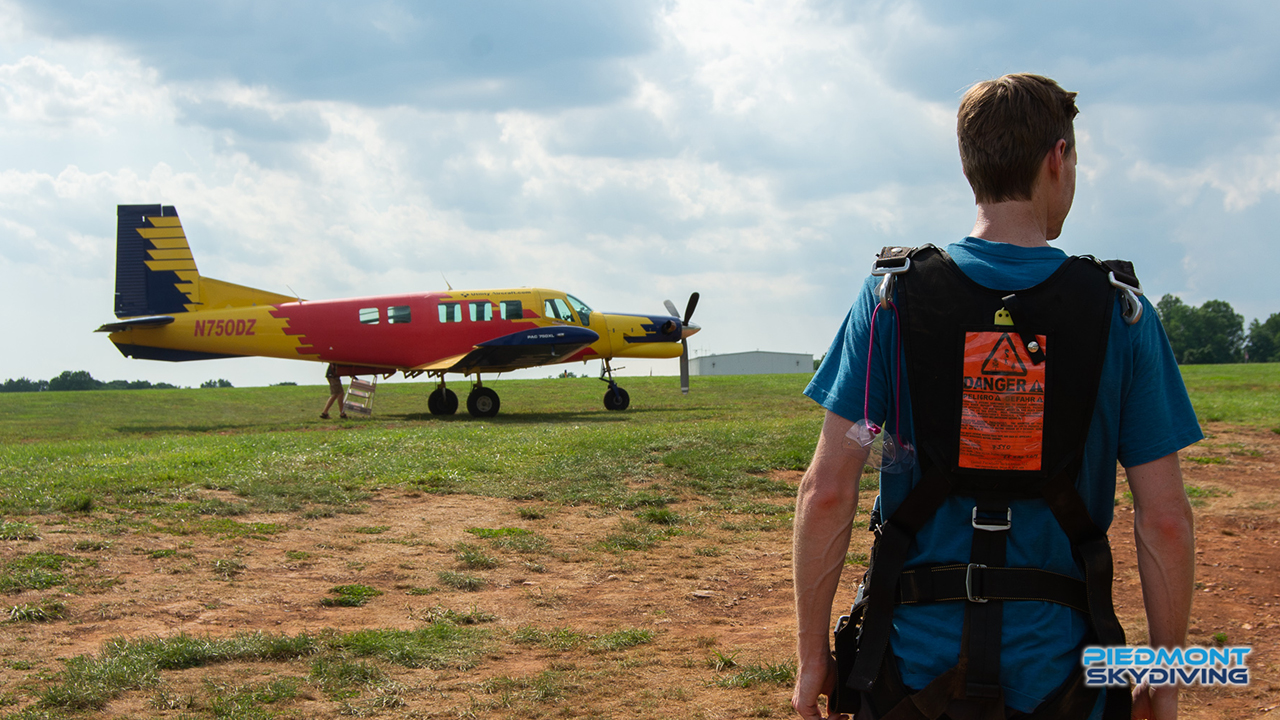 The first time you do anything can be a challenge, especially if you don't know much about it. If you've never been skydiving before, it's probably safe to say that you're not an expert… yet.
From selecting the right dropzone to getting the most out of your air time, there's a lot of information that can help improve your skydiving experience. In this article, we've laid out that information from basic principles to specific tips and tricks. It's our goal to make sure you have the best experience possible. Hopefully, this article will help you do just that!
About Tandem Skydiving
First and foremost, you won't be in this alone. To skydive for the first time, you must be with a tandem skydiving instructor. That means that you won't actually be the one doing the work. It's the job of the tandem instructor to keep you stable in the air, pull the parachute at the right altitude, and steer you back for a soft and safe landing.
If you're looking to level-up and skydive solo, you're looking for something called an Accelerated Freefall Program. These programs are designed to get you certified to skydive by yourself. Even these programs, however, must begin with a tandem skydive.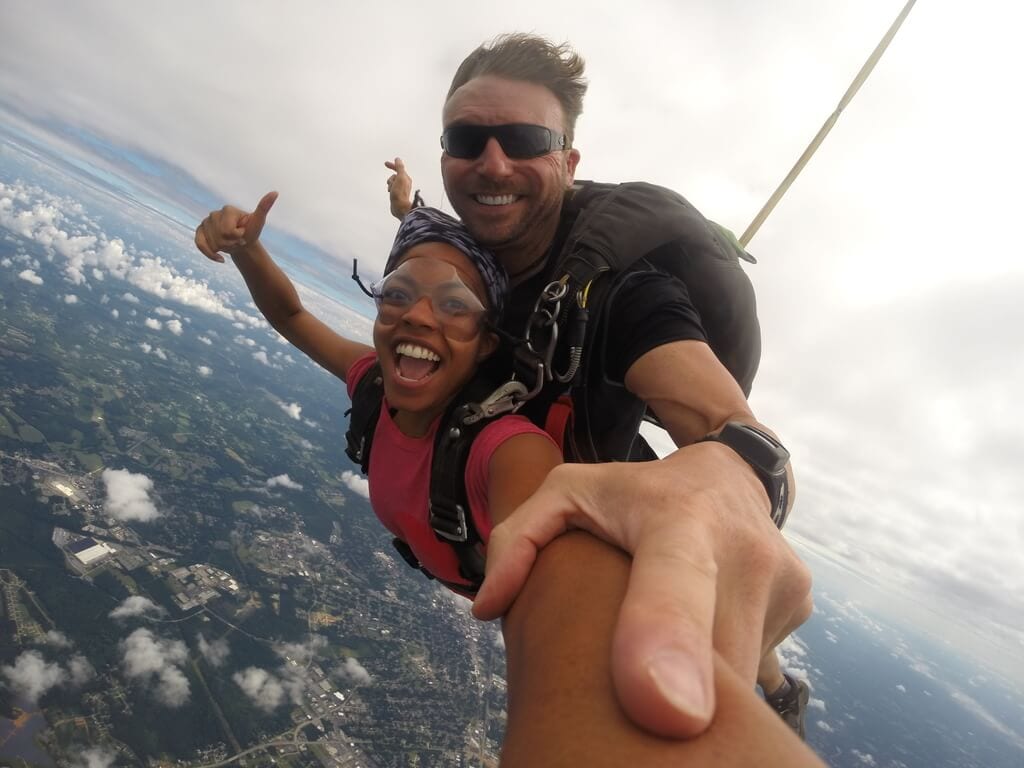 Tandem Skydiving at Piedmont Skydiving in Salisbury, NC
Who Can Go Skydiving?
The first step to a successful skydive is to make sure that you can skydive in the first place! Almost anyone can skydive, but there are a few requirements that exist for the safety of both the skydiver and the instructor. These may vary based on the dropzone, so be sure to double-check after you select one.
Age & Weight Requirements
The USPA requires that any skydiver within US territory must be at least 18 years of age. Most dropzones require a photo ID to prove your age, so make sure to bring one!
There's only one exception to this rule, and it's actually pretty sweet. Waivers CAN be granted to terminally ill patients under the age of 18 who want to check skydiving off of their bucket list before they're unable to do so. The Make a Wish Foundation even offers skydiving as one of their events, with over 100 Skydives taking place since 2011.
Weight limits may also exist for tandem skydivers. Many instructors can fly with a tandem passenger weighing up to 230 lbs. For the safety of both the passenger and the tandem instructor, passengers over 200 lbs. may also be required to be physically fit in order to jump.
Health & Fitness Requirements
Skydiving is the adrenaline-filled adventure of a lifetime. While high-speed fun can sometimes mean health limitations, skydiving is actually not as intimidating as it may seem. Skydiving only takes about as much physical exertion as jogging to your mailbox and back would. That being said, all participants in skydiving must still meet the USPA's Basic Safety Requirements for medical fitness.
Make sure that you're in good health and physical condition and not on any medications which could affect your judgment or performance. Also, make sure your instructor knows about any medical conditions that may affect your skydive. People who have recently gone SCUBA diving or donated blood should wait a period of time before skydiving.
Ask a physician If you're still concerned that you might not be healthy enough to skydive. However, as a general rule of thumb, don't go skydiving if you're not 100% confident you're healthy enough to do so. Better safe than sorry!
Skydiving with physical disabilities
One of the many awesome things about skydiving is that it's an adventure that doesn't discriminate. Because of the structure of a tandem skydive, many physical disabilities are either irrelevant or only a minor factor. Just make sure that the dropzone is aware of any physical disabilities that require accommodation before the day of the skydive.
Choosing Where to Skydive
Once you've determined that you meet the requirements to skydive, you need to select a dropzone. This is arguably the most important factor in a successful skydiving experience. Here are a few steps to make sure that you choose the right one:
Select a USPA Dropzone
An important factor for any dropzone is a USPA (United States Parachuting Association) membership. The USPA is the governing body for skydiving in the US. A dropzone that isn't a member of the USPA isn't required to follow their safety guidelines, which likely means they have more lenient, and therefore dangerous, policies.
Selecting a USPA dropzone will also ensure that the dropzone is, in fact, real. Believe it or not, there are a lot of dropzones that appear to exist online but aren't real skydiving centers. Your best bet is to select a dropzone from the USPA DZ Locator tool.
Check for consistently high ratings & reviews
One of the best ways to tell how good a certain dropzone is to take a look at their online ratings. Make sure you read both good and bad reviews from any dropzone you're considering for your first time skydiving. Look for a dropzone with a lot of reviews.
Comments about good instructors, picture/video quality, and overall experience are something to look for as well. Check ratings on dropzones facebook pages, google reviews, and yelp to make sure you get a full picture of how the dropzone is rated.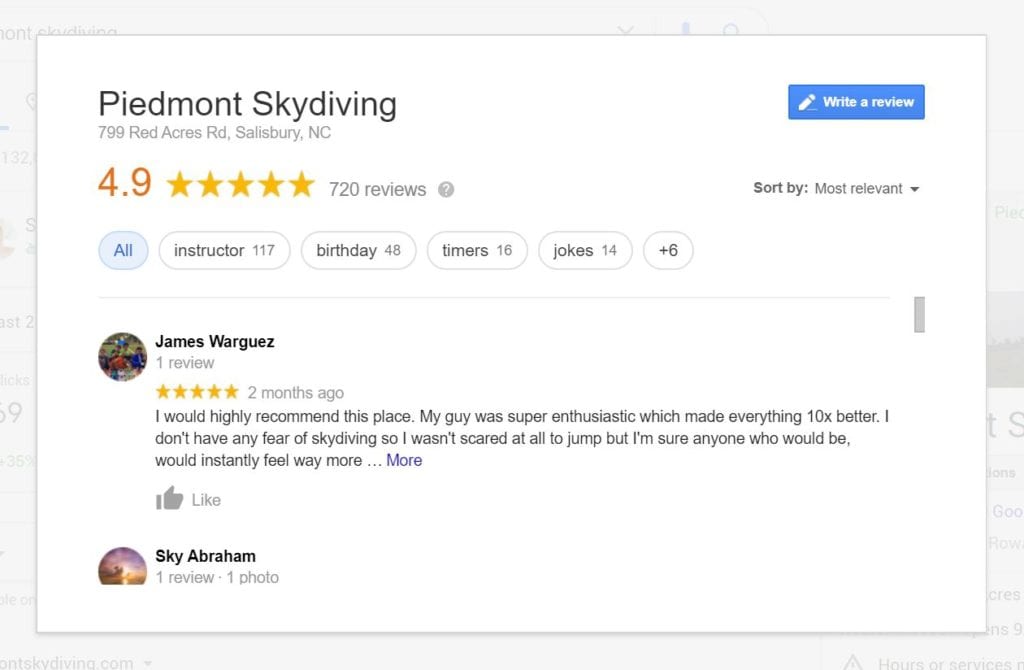 Check the skydiving packages and what they include
Pricing is always important, but it's important to look at what's included with that price as well. Check for a good price that includes all gear and safety equipment. Also, look for good photo and video packages that aren't at astronomical prices. Also, be sure to check for special skydiving deals that may only be available on certain sites.
Find out what skydiving options are offered
Even though a tandem skydive is required for the first time, you still have options for your skydive. You'll want to check for different types of skydives and photo and video options before you make a decision.
Skydiving Altitudes
A big difference in skydiving experience has to do with the altitude of the jump. The standard altitude for a sport tandem skydive is from 12,500ft (about 2.4 miles) above ground level. This means about 50 seconds of freefall before deploying your parachute. If you're looking for even more excitement, look for a dropzone that offers a "High Altitude" option. For example, a 17,500ft high altitude skydive can offer up to 80 seconds of adrenaline-filled freefall.
Photo & Video Packages
Different dropzones will have different options for photo & video packages. If capturing the experience is important to you, then make sure you select a dropzone with a good photo and video package at a reasonable price. Check if they have a youtube channel or if skydivers have posted videos from the dropzone. This will give you a good idea of the quality and style of content that they provide.
Once you've selected a dropzone, thoroughly look through their website or just give them a quick phone call. Make sure that all of your questions are answered and you know exactly what package you want. Then, book your adventure!
Preparing for Your First Skydive
So you've chosen a dropzone and booked a tandem skydive. As the day gets closer, you get more and more excited for your first skydive. Now it's time to think about preparing for the big day!
Make sure you know how long it'll take you to get to the dropzone and have your route mapped out. Plan to arrive a few minutes before the scheduled time. It's important to keep in mind that you'll likely be at the dropzone for around 2-3 hours. This number, however, could be much longer depending on the weather or other unforeseen factors.
Skydiving attire: what to wear
Tandem skydiving doesn't require you to purchase any fancy skydiving suit or special gear. Most drop zones will provide you with all of the safety equipment you need for a successful jump. Make sure you wear athletic clothing that's comfortable and snug. Wear closed-toed shoes that don't slip off and be sure to remove loose jewelry and accessories.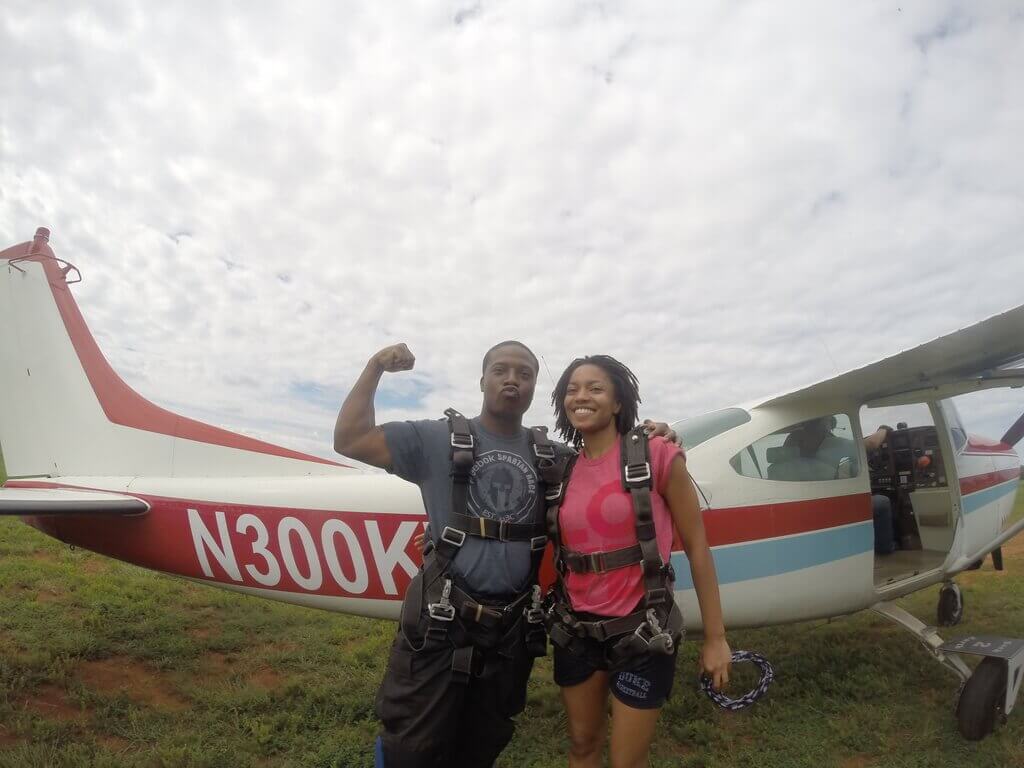 Skydivers preparing for a jump at Piedmont Skydiving
Wearing glasses while skydiving
Most drop zones will have goggles that can be placed over eyewear when skydiving. However, there is still a risk of losing them. If you have contacts or glasses with a smaller frame, opt to wear those instead.
Eating & drinking before a skydive
Make sure that you eat a good meal around 30 min before your scheduled time. Many dropzones have vending machines or snack bars, but double-check before you bank on them having one and don't bring any snacks of your own. Leave enough time for the food to digest, but not so much time that you're starving once it's time to skydive. You don't want anything to take your focus away from the experience!
It's also important to make sure that you're well-hydrated before your first skydive. Use the restroom before you get on the plane. Once you leave the dropzone, it'll be about 20-25 min until your feet are back on the ground, so plan accordingly!
Alcohol & Skydiving
Drinking alcohol the night before or day of a skydive is a terrible idea, trust us. The FAA and USPA both require a minimum of 8 hours after drinking to skydive but recommend a full 24 hours. On top of that, skydiving hungover can be an easy way to lose your lunch and piss off your instructor.
Many drop zones have strict policies against bringing alcohol onto the premises and attempting to skydive while under the influence. This is for the safety of the skydivers and the instructors. If these rules are broken, it's likely that the dropzone will not allow you to skydive and will not refund your money.
What to bring (and not to bring!)
When you're packing up for your skydiving adventure make sure you're only taking what's absolutely necessary. Make sure you have a form of payment and a photo ID to prove your age. You can bring your phone to the dropzone, but you likely won't be able to take it with you on the actual skydive. Many dropzones offer photo & video packages with equipment that they provide, so you won't have to worry about bringing a camera or gopro to capture the experience.
Friends & Fur Babies
Skydiving is even more fun when you have friends and family along to celebrate with you, so feel free to bring them along! If they're only there as spectators, as them to come around 35-45 min after your scheduled time. That way, they'll take a pass on the waiver/payment/instruction/gear-up process, but will be able to catch you coming in for a landing.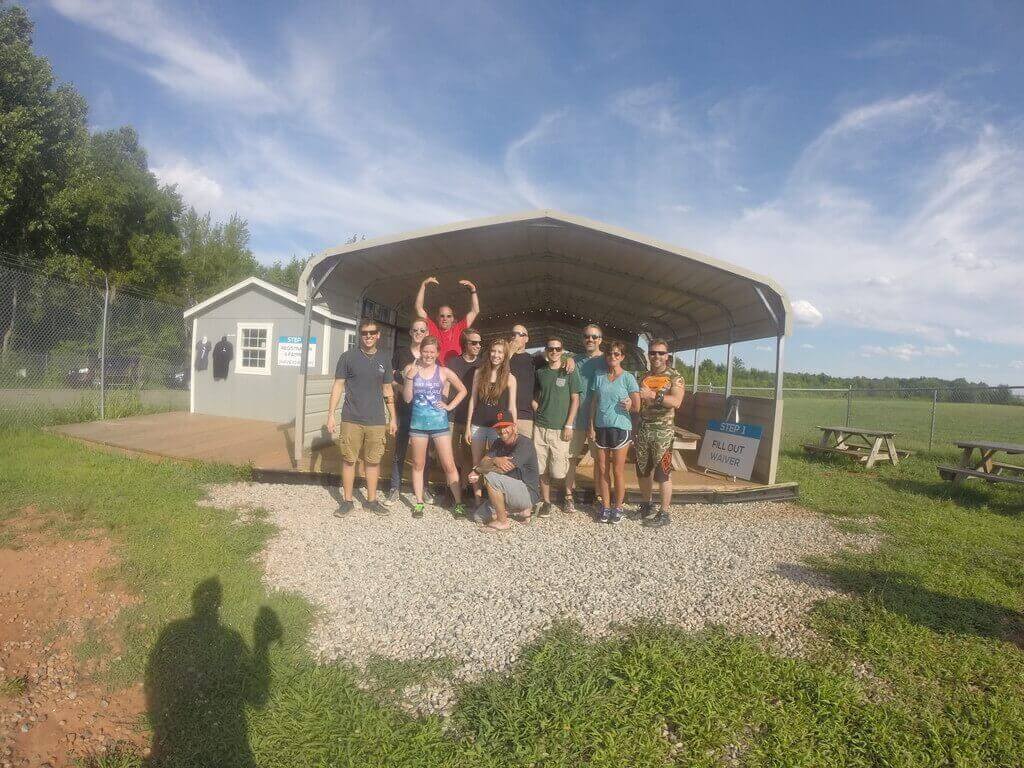 A "Ground Crew" at Piedmont Skydiving waits to watch friend skydive
In addition to your human friends, you might want to bring your animal along too. Unfortunately, dogs and dropzones don't mix. No matter how well-behaved the dog, an active airfield with a skydiving operation isn't a safe place at all for pups. This may differ from dropzone to dropzone, but as a general rule of thumb, it's a good idea to leave them at home. But don't worry, they'll enjoy the video later!
Before Your Jump
Once you get to the dropzone the excitement really starts to kick in! Policies and procedures upon arrival can vary quite a bit depending on the skydiving center. We've based the information in this section on what we do at Piedmont Skydiving, so keep that in mind if your first time skydiving is at another dropzone.
Registration & Liability Release
Once you arrive at the dropzone, you'll likely begin by filling out a registration form and signing a liability release. Make sure to read these carefully and understand that you're agreeing to everything in the document.
The purpose of most standard liability releases is to verify that you understand that there are risks involved in skydiving and that you agree to accept those risks. It'll also likely contain a contract in which you agree to not sue the skydiving center or anyone else if you're injured. These are standard for most companies that run physical activities.
Meeting your instructor & ground training
For your first time skydiving, you'll be paired with a tandem skydiving instructor. To become a skydiving instructor you need to be a member of the USPA and log 500 jumps and 3 hours of freefall, MINIMUM. To put that in perspective, the instructors at Piedmont Skydiving have made an average of 5,000 jumps each. That's 10x more than the minimum!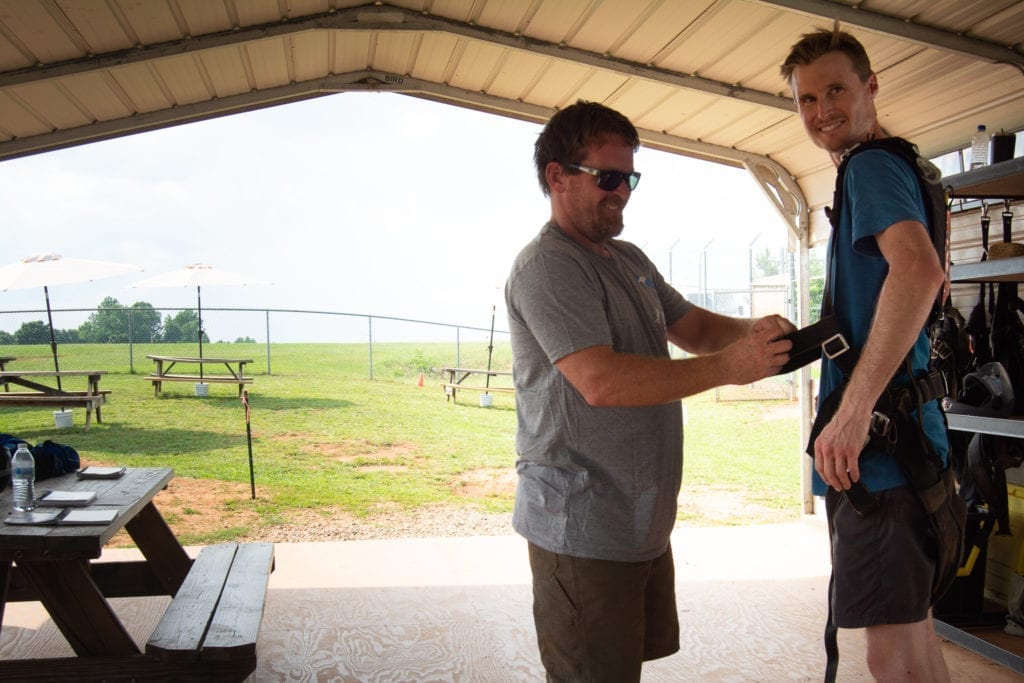 Skydiving instructor "JK" prepares a tandem student for his first skydive
These instructors are incredibly knowledgeable, experienced, and (at least here!) extremely charismatic! They'll take care of all of the hard work so you can enjoy your skydive. However, you still need to pay close attention to the safety briefing and ground training.
The Skydiving Experience
After you meet your instructor and are all geared-up, it's time to go! Our staff will make an announcement 5-10min before it's time to go so that you have time to use the restroom and prepare for your skydive.
When your group is called, your instructor will walk you out to the skydiving aircraft. Your instructor will ask you to sit on one of the benches directly in front of them where they'll strap your harness onto theirs and get you ready to go.
1, 2, 3… Jump! Exiting the Aircraft
As soon as you get to altitude (about 12,500ft for a normal skydive and about 17,500ft for a high altitude skydive), the pilot will give the "go" signal and one of our staff members will open the door. You'll feel a cold rush of refreshing air and your instructor will make sure one last time that you're excited and ready to go. They'll move with you towards the door, give you a thumbs up, and you'll jump out together!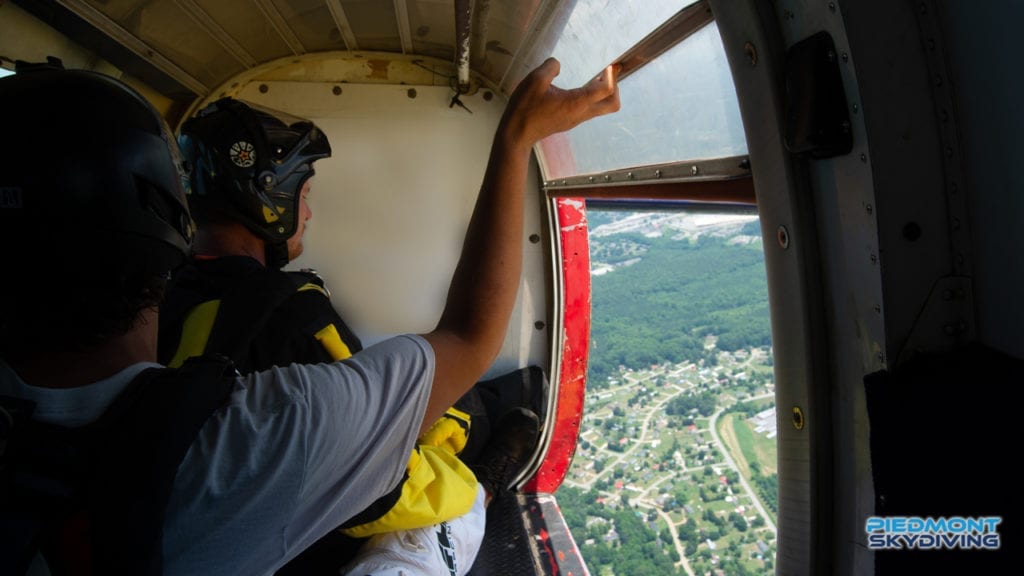 Two students in an Accelerated Freefall Progression Program open the door of the PAC 750 XL Skydiving Plane
Changing Your Mind
For the record… this almost NEVER happens. Here's what Andrew Karnowski, the Dropzone Manager at Piedmont Skydiving had to say about it: "Our instructors are really good at making you feel safe, confident, and excited. Once we get up there, if you change your mind, we definitely won't force you to jump out if you don't want to. We'll just take you back down on the plane, no harm no foul. But again… that never happens."
"I've taken almost 6,000 people up, and only 4 or 5 decided not to jump. Once that door opens, even if you're scared, you're gonna want to do it. Everyone does, and everyone ends up loving it."

– Jerry Blanton, Pilot at Piedmont Skydiving
So, even if you're scared, chances are you're going to want to jump once you're in the air. But, even if you DO change your mind, the pilot will just take you back down the long (and much less fun) way!
What it feels like to Freefall
When you jump out of the aircraft you won't feel that "rollercoaster drop" feeling in your stomach that most people expect. Instead, it's more like a turbo-jet engine full of adrenaline blowing straight at you as you fall through the sky for 45-80 seconds. And it… is… awesome. Your tandem instructor will take care of all of the hard work, so all you have to do is enjoy the experience.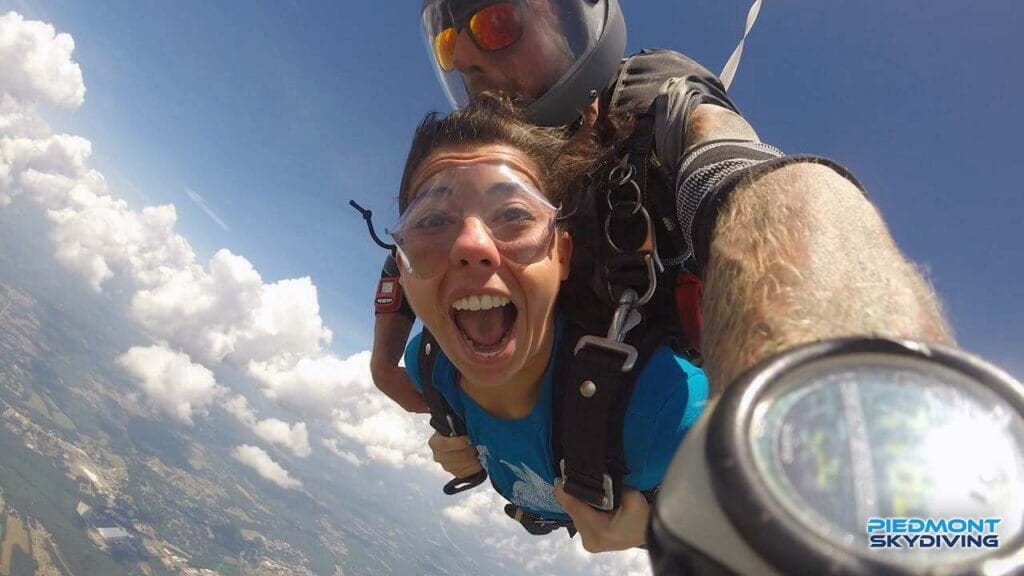 A tandem instructor and student during freefall
The Parachute Ride
Once you reach the correct altitude, your instructor will pull the parachute to bring you out of freefall. You'll feel a bit of a jolt, but it's typically nothing more intense than a quick stop at a stoplight or jumping off of a diving board. Once the chute is open, you'll get a 4-7min parachute ride back to the dropzone. You can ask your instructor for a calm, scenic ride back or an incredible rollercoaster ride thousands of feet in the air. It's up to you!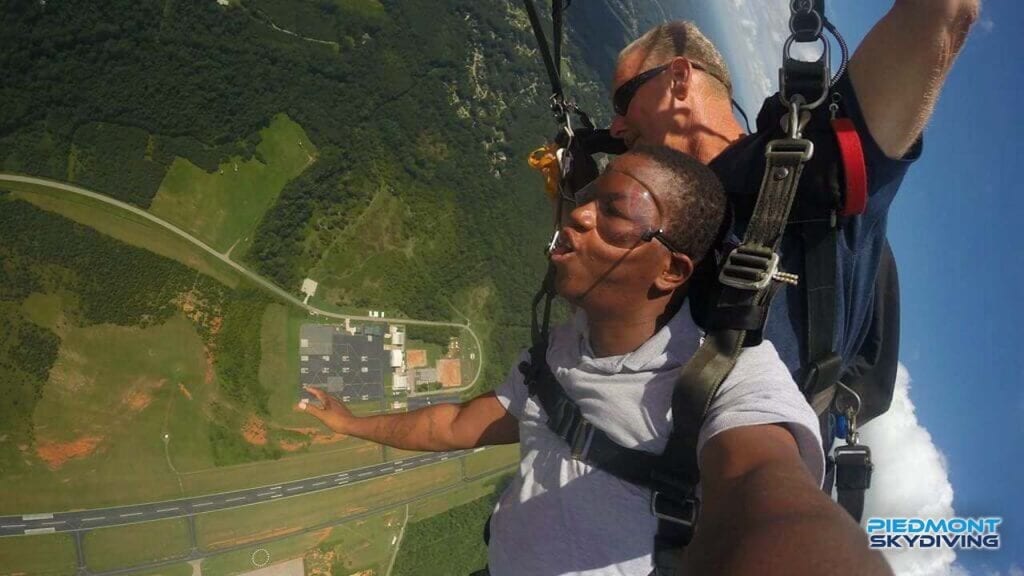 A man enjoys a parachute ride over Piedmont Skydiving outside of Charlotte, North Carolina
The Landing
Once you're close to the ground, your instructor will ask you to lift your feet and prepare for landing. Our experienced instructors will land you right back at the dropzone. The landing shouldn't be much harder than jumping down from a 2-4ft box. You'll be right next to the spectator area so that any friends and family who came to watch will be able to see you land!
And that's it! The whole skydiving experience! If you still have any questions, please feel free to reach out to the team at Piedmont Skydiving. You can also take a look at our Virtual Skydiving Experience, or read more about skydiving on our blog or our FAQs page.
Piedmont Skydiving
Piedmont Skydiving is a veteran-owned dropzone is located between Charlotte and Greensboro in Salisbury, North Carolina. Led by certified instructors from the U.S. Parachute Association, we specialize in tandem skydiving at affordable prices.
Recent Blog Posts
Check out these recent posts from our team members, regular jumpers, and first-time tandem skydivers!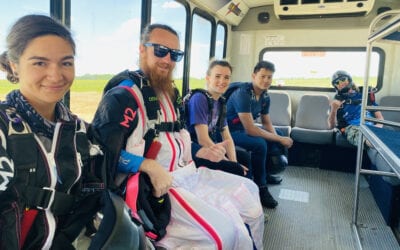 The 20 Minute Call [Fun Jumper Prep Guide]
The sun is shining, the birds are singing, and the wind is light. Time to jump! But wait! How will you prepare before loading the plane? Do you have enough time? Is 20 minutes enough time to check off everything you need to do to prepare for a jump? Yes! Broken down.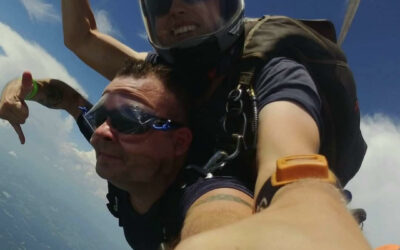 Celebrating life at 12,500 Feet
"I love adrenaline, speed, everything," Adam Carpenter shared. Bucket list items for him included bungee jumping and riding on an airplane. Little did he know how special that first plane ride would be. Adam received a kidney transplant from his sister in.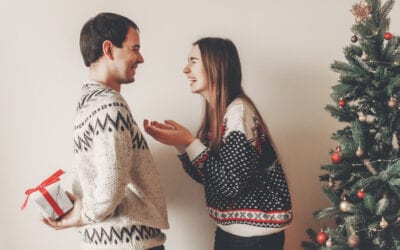 Why an Experience is the Most Important Gift for Loved Ones in 2020
Why do we give gifts? In addition to the social rituals connected with holidays and special occasions, we give gifts to show appreciation. We give gifts to express love. We give them to apologize. And we give because it makes us, the giver, feel good. Giving a gift.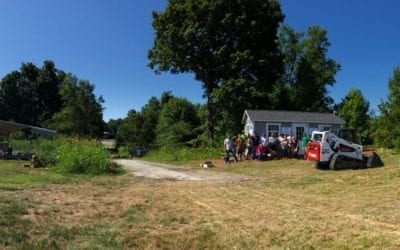 500 Airport Rd | A Bigger and Better Dropzone
Our goal at Piedmont Skydiving is to give you the best skydiving experience possible. To make that happen, we want the best facilities, aircraft, and staff possible. Recently, we upgraded our aircraft fleet when we added the newest skydiving airplane in North.
First Time Skydiving: What To Expect
Once you have decided that skydiving is a good idea and you've booked your first jump, you will likely move on to wondering what actually happens to make it all work. Sure, you have seen videos of people zooming through the sky and flying around under parachute – but as a brand new skydiver, here's what to expect when skydiving for the first time:
Before You Jump
Skydiving happens pretty fast. The plane ride to altitude takes around 20 minutes, freefall around 45 seconds, and the parachute ride a few minutes more. But – of course – there's paperwork to do first, and also an important pre-jump briefing that includes the information you need to help everything go swimmingly. With blue skies, you should expect to be with us for about half a day all told.
Skydiving operations are carefully scheduled to keep the plane flying and as many jumps happening as possible, and while you will have a pretty good idea of when you are due to go up – exact timings can vary a little.
For example, we are very good at studying the jumping conditions – but we do not control the weather and sometimes we have to wait for the wind to drop or clouds to pass by. The good news is that the dropzone is a cool and interesting place to hang out. Skydiving is a very involved and complex sport, and a bit of time spent with our team will reveal the depth of their enthusiasm – particularly when it comes to introducing new people to what skydiving is all about.
When It's Your Turn
Tandem skydiving means jumping while harnessed together with an instructor – piggy-back style. In back is your instructor, who handles the technical procedures such as deploying the parachute and navigating the way down to the ground. In front is you, who gets to enjoy the ride, soak up this spectacular view of the world, and savor the thrill of freefall. You do have some easy tasks to help everything go smoothly, such as arching your body in freefall to create stability – but these things are covered during the pre-jump briefing, reviewed by your instructor in the aircraft, and prompted at the times when they need to be done.
Air gets colder the higher up you go, and you might be given a jumpsuit to wear. If it is warm on the ground, you might be advised that jumping in your street clothes is fine. Remember that wearing the right clothing is important, and sportswear that covers your arms and legs is best. Sneakers are best for your feet, as your shoes need to lace up tight and be enclosed. Straps, dangly details and velcro are no good, and losing a shoe in the sky is both not cool and permanent.
Pre-Flight Jitters
It is normal to be nervous before your jump, but skydiving is a highly accessible and endlessly repeatable sport. Gone are the days when flinging yourself out of an aircraft was a stunt performed by "crazy" people – and parachuting is quite the opposite of how it is often portrayed. Skydiving is about managing risk and prioritizing safety, and you will see this in action as soon as you arrive at our facility.
What is important to hold in your mind, though, is that no matter how anxious the idea of plunging towards the earth is making you – when you are actually doing it the fear is completely and totally gone.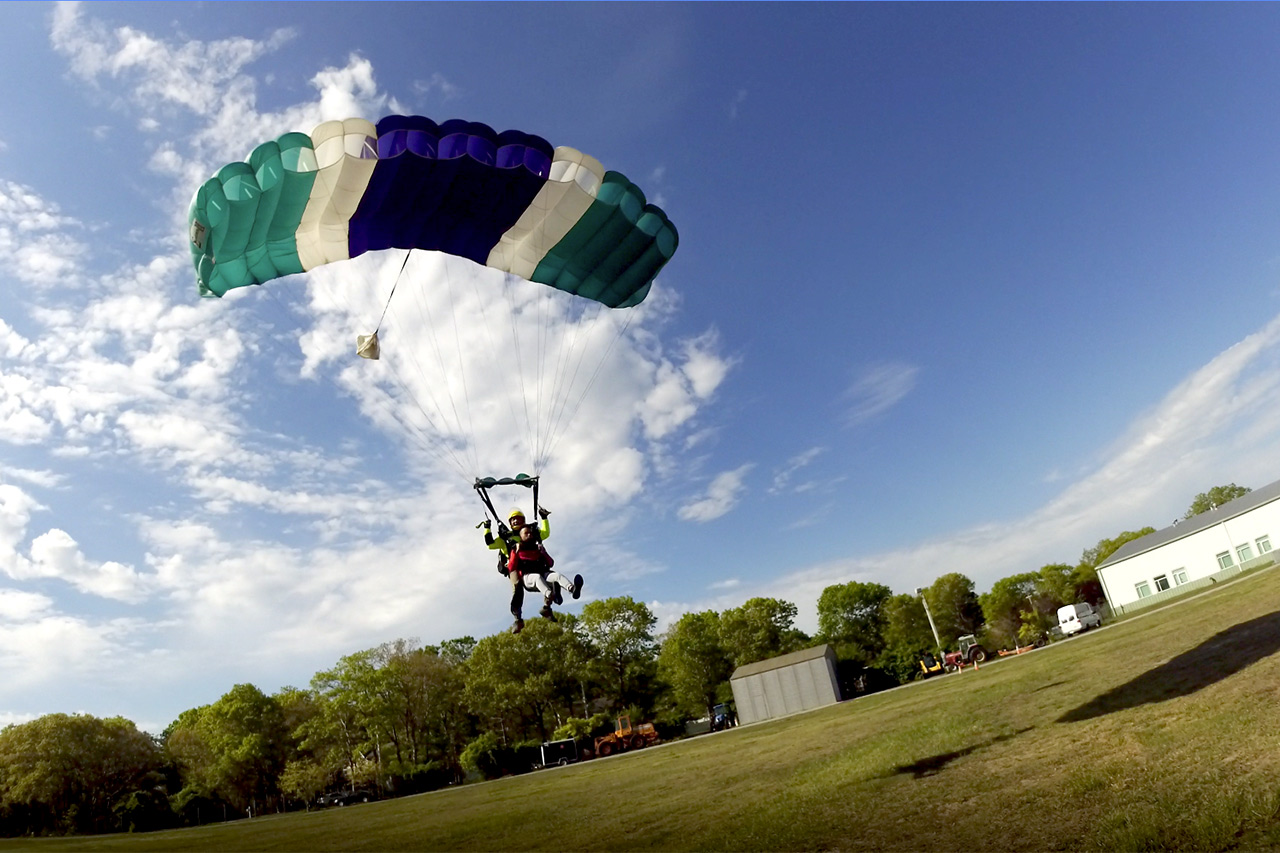 Once You Land
As soon as you are back in the landing area, you will probably want to go up again – like, immediately. And you will also probably be raring to view the video and photos of your jump. You only do your first skydive once, and having the media to share with your friends and family is a solid investment you shouldn't miss out on. (Did you get that? Get the video!!)
After the hugs and the high fives, you'll head back out into the world feeling amazing about what you have achieved. Skydiving manifests all the good chemicals in our bodies, and can have lasting positive effects on both your physical and mental wellbeing. Also, there is something about freefall that resonates inside a human being – which means that for many people jumping out of an airplane can be a profound, life changing experience. Once you have been skydiving, you can expect to feel good about it for a long time to come.
If you're ready for your turn in the sky, what are you waiting for? Let's go!
5 Pro Tips For Your First Time Skydiving Experience
Once you've chosen the very best dropzone (nudge, nudge), you still have a bit of work to do to prepare for the best possible tandem skydiving experience. It isn't all obvious stuff, which is why we put together our best skydiving tips for beginners. Here's a quick checklist you can work through that will deliver first time skydiving gold. You're welcome!
1. Prepare Yourself Mentally For Skydiving.
A lot of people insist that they'll pass out. They don't. A lot of people think it'll be easy for them. Sometimes, they're a lot more challenged than they thought. Loads of first-time tandem skydivers are sure they'll freak out in freefall. Usually, they're amazed to discover that not only are they fine , they love it–and some land only to sign up for a solo skydiving certification program straightaway.
Often, fear of skydiving just echoes fear of the unknown. Sure, skydiving is scary–but it's the kind of managed risk that's very, very healthy to face. Remember: Not knowing how you'll feel is okay. The important part is that you try. Statistically speaking, hear this: You're braver and more adventurous than you give yourself credit for.
The things you're worried about aren't going to happen, either: You won't experience a stomach drop; you won't feel like you're falling; you'll land infinitely more softly and smoothly than you imagine you will. Give yourself a chance to explore what's possible, and you'll automatically be giving yourself a chance to live more broadly and more adventurously in general .
2. Dress Appropriately For Skydiving.
Great news! Dressing for a skydive is super-simple.
Start at the bottom with comfortable, tight-lacing tennis shoes. (Bear this in mind: if your shoes are loose, the wind will grab them right off your feet, so double-check that they're nice and snug before you get on the plane.)
Next, wear the right pants. Ideally, the kind of pants (or shorts) you'd wear to the gym are the kind of pants you should wear on a skydive, because you need them to be reasonably stretchy, with more room to move than jeans usually bequeath.
For your top, choose to wear snug-fitting layers. (Bring a long-sleeved top layer even if it's warm, just in case.)
In general, wear clothes without any strings, metal grommets, rhinestones, pompoms or other details that might flap around painfully or be pulled off by the wind.

3. Eat Like A Skydiving Champ.
Eat normally, sensibly and moderately. Plan so that you don't show up for your tandem jump with a very full stomach or a very empty one. If your stomach is empty, your blood sugar will be bottoming out and you'll be lethargic and uncomfortable; if you're too full, your blood supply will all be swirling around your abdomen trying to get that food processed while you're frantically trying to summon it up to your brain, where it is direly needed for the task at hand.
Too nervous to eat? Dude, we get it. Take some nutrition anyway, with a high-calorie smoothie and if you're having a miserable time trying to eat, make do with a higher-calorie smoothie. That should do the trick. (The peanut-buttery-banana ones are our favorite for this.) There's a Jamba Juice right at the intersection of the 215 and the 60 if you're driving in from Los Angeles. Then, when you come to the dropzone for your jump, bring along a few healthy nibbles to make sure your blood sugar stays stable–or grab food from our on-campus restaurant, the Bomb Shelter .

4. Treat Your First Time Skydiving Experience Like The Landmark Event It Truly Is.
Your first-time skydive is the kind of moment that will leave a lasting impression on your life. Get the photos! Get the video ! Plan to spend the day! You've never done anything like this in your life, and–as it was for all of us at Perris–this first jump might be the start of a new era for you. Welcome it with open arms.
5. Don't Wait!
We're ready over here at Skydive Perris to walk you through everything you need to know in order to have the best first-time skydiving experience ever. Please don't be shy–call us up and ask us anything you want to know! We're stoked to answer all your questions, and to welcome you into the extended Perris "skyfamily."
Source https://piedmontskydiving.com/questions-about-skydiving/first-time-skydiving-everything-you-need-to-know/
Source https://www.longislandskydiving.com/blog/first-time-skydiving-what-to-expect/
Source https://skydiveperris.com/blog/tips-for-first-time-skydiving-experience/