How To Become a Professional Skydiver
What would you say if we were to tell you, you could skydive for a living? It's alright if you pause to wonder if we are off our rockers, but it's not as crazy of an idea as it may seem. All across the world, hundreds of people have chosen to "cut-away" from their day jobs to become professional skydivers. Now that we have your attention and your interest, allow us to explain the trajectory from everyday joe to a standout with a career as a professional skydiver.
Tandem Skydiving – Jump 1
The majority of people are introduced to the wide-open world of skydiving by a tandem skydive. This first jump will help you see if that single leap of faith is enough to last you a lifetime or if you'd like to explore the world of skydiving and body flight even more! Your foray with skydiving doesn't have to end after your first tandem skydive. In fact, it could be step one on a long and rewarding journey to becoming a professional skydiver.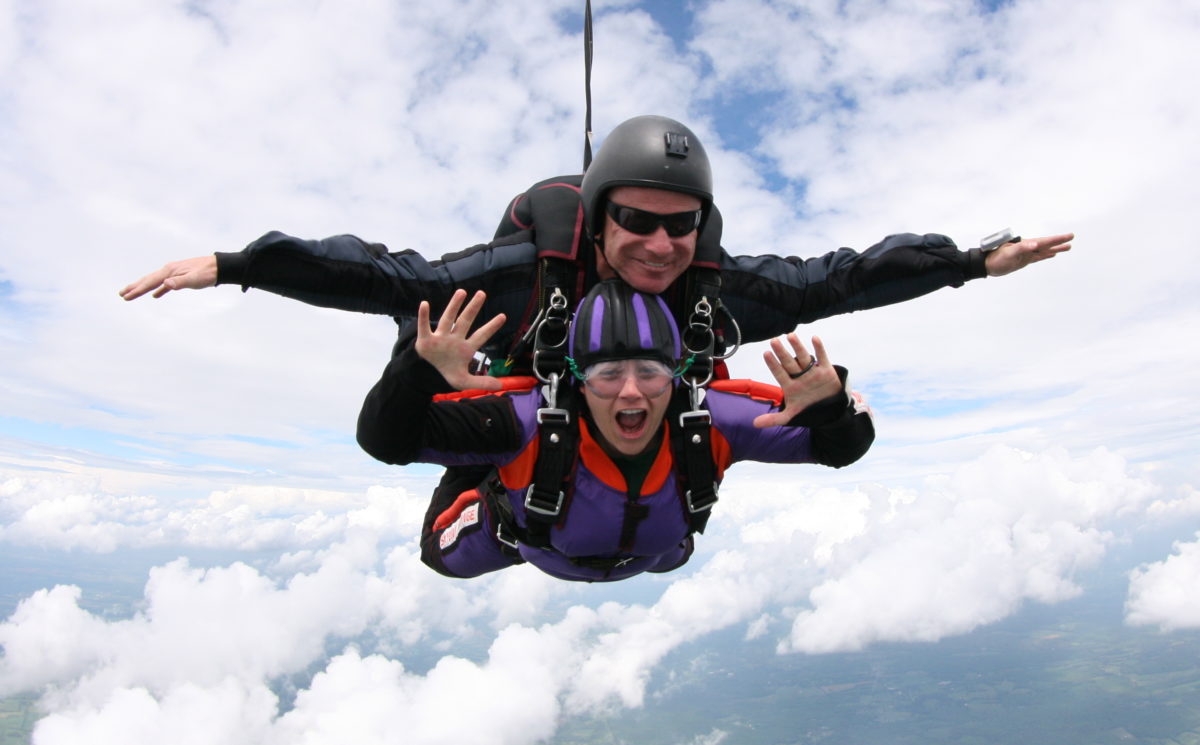 Learning To Skydive – Jumps 2-25
Before you learn to run, you've got to learn to walk. Similarly, you have to learn to skydive before you can become a professional skydiver! Your Accelerated Free Fall progression will teach you the fundamental skills you will need to master to become a licensed skydiver. Among other free fall skills, you'll learn how to maintain a stable body position, how to exit the aircraft, how to adjust your fall rate, and how to handle emergency procedures should they arise. To progress from Accelerated Free Fall student status to a licensed skydiver, you'll need to accrue 25 total skydives and complete a few objectives.
Coach Rating – Jump 100
The Coach rating is the first instructional rating a skydiver can receive. The coach rating serves as an introductory instructional rating. To qualify for the Coach rating, a candidate must have earned a USPA B License and completed at least 100 jumps. To actually receive the rating, the jumper must satisfactorily complete a USPA Coach Rating Course. During the course, a candidate will need to complete both a written evaluation and satisfactorily complete two evaluation jumps.
An individual with a Coach rating can conduct training in the non-method-specific portions of the skydiving ground school, like equipment familiarization and basic canopy control. The skydive Coach rating enables a skydiver to provide freefall skills training and complete jumps with students cleared by a USPA instructor and clears them to train and supervise certain skills within the Integrated Student Progression. In our program, coaches are provided compensation for each jump with a student they complete.
Videographer – Jump 200
To begin training with a camera set up a skydiver needs to accrue 200 skydives. And we promise you the effort is well worth it. Skydiving videographers can make a fair amount of money in a variety of ways. Some skydiving videographers specialize in capturing the experiences of first-time skydivers. Others enter into the national and international competition circuit to film skydiving teams. With enough training, skill, and gumption videographers may even go on to be used to capture aerial footage for media ranging from commercials to major motion pictures.
AFF Rating – Jump 200-500
Though other steps on the journey have a concrete number attached to them, the instructional rating to teach others to skydive is slightly different. In order to receive your AFF rating, you need to have a USPA C License. The minimum requirement for this license is 200 skydives. The additional requirements established by the USPA are if you haven't held your USPA Coach rating for at least 12 months, you'll need to have at least 500 jumps to attain this instructional rating. As with the Coach Rating, an AFF rating candidate will need to attend a rating course, pass both a written evaluation and satisfactorily complete evaluation jumps.
Once you have your AFF rating, you can begin to train and jump with student skydivers beginning their journey developing the next generation of skydivers. Instructors are compensated by dropzones for each AFF jump they complete.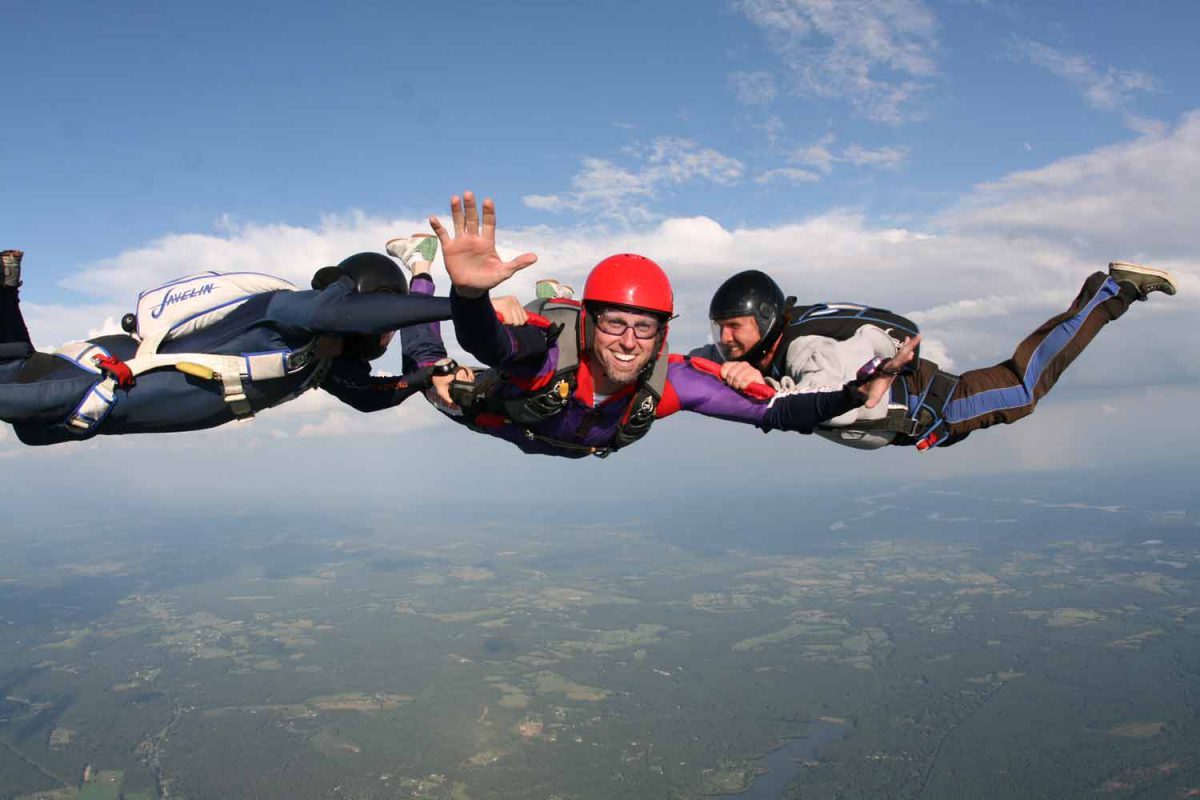 Tandem – Jump 500
The most lucrative position at many dropzones is that of a Tandem Instructor. The cool thing about choosing to be a Tandem Instructor as your skydiving profession is that, in part, your career is built around introducing the adventure of a lifetime to first-time skydivers. Because of the growing demand for Tandem Instructors, your position can open up opportunities around the world!
The role of a Tandem Instructor carries with it some serious responsibility. This is why pre-requisites to receive the rating require candidates to have a significant amount of experience. Candidates must have earned a USPA D License, must have held any of the other USPA instructional ratings, have logged 500 skydives, and have a minimum of three years experience in skydiving.
What Are You Waiting For?
" Professional skydiver" might not have been an option at your local career fair, but it is a career that can literally take you to new heights. Plus, it gets even better because Skydive Orange has everything you need to pursue a career as a professional skydiver! We've got you covered from your first jump as a tandem skydiver, through your Accelerated Freefall progression, and we even regularly offer rating courses to help you pursue your goals.
Want to know more about becoming a professional skydiver? Just give us a call today!
Becoming A Skydiving Instructor & Being Paid To Skydive
I'm sure high-end CEO's or luxury chef positions are up there, but so too are skydiving instructors.
These guys and gals get paid money to jump out of planes and have the time of their lives! What's not to love when the view from the office is 12,000ft up?
Aside from being able to make endless jokes about their job ("it has it's ups and downs"), skydiving instructors are generally pretty happy in their work. If you're curious about the steps you need to join them, then you're in the right place.
Below is every step you need to take to go from a newbie jumper to a licensed instructor.
If that sounds good, then let's dive in.
Note: This article is based around becoming an instructor in the USA, but generally it's the same journey anywhere in the world.
Step 1: Jump!
Requirements: A positive attitude!
It turns out that before you can teach something, you need to have experience in it!
The first step is to take your first skydive. Yes – I wasn't kidding. This really is a zero-to-hero style list.
The very first step is getting yourself into the sky solo
Step 2: Get Your Skydiving A & B Licenses.
Requirements: 25 & 50 jumps
Once you've flown through the air with the grace of a gazelle, it's time to get licensed. Your first 25 jumps or so will be a journey towards getting your skydiving license.
This is the passport you need to transition from student jumps to working towards real goals in skydiving. Be that wingsuit jumps, jumping at unique airfields, or learning to be a coach.
Step 3: Become A Skydiving Coach
Requirements: 100 Jumps + a B License
Once you've got your B License and 100 jumps under your belt, you can start working towards becoming a skydiving coach.
This is the first rung of the 'being paid to skydive' ladder. You'll help coach students alongside instructors, and generally get your first taste of being on the business side of skydiving.
Skydiving Coach Courses are typically a 3 day course. 1 day spent in the classroom on theory, with the other 2 days on jump practicing. Courses tend to be evaluated using 2 evaluation jumps plus ground tests to make sure you're capable of teaching the sport at a good level.
Step 4: Get Qualified to Teach AFF
Requirements: 200 Skydives + Coaching Rating
In skydiving, 200 skydives is like the sweet-spot of maturation. It's sort of like turning 21. It unlocks all the cool stuff (wingsuits, skydiving with a board, etc) – and also being able to teach Accelerated Free Fall (AFF).
However, if you've been a coach for less than a year, the requirement jumps up to 500 jumps to account for the relative lack of teaching experience. You also tend to need 6 hours of freefall time logged.
Before the course, there's some pre-requisites you need to complete on an AFF proficiency card you can get. This involves:
Assisting in two AFF first-jump courses
Observe AFF ground preps in all categories
Assist in two Cat C + Cat D AFF ground preps
Teach freefall stability and basic freefall maneuvers
Prepare an effective flight canopy plan and provide radio instructions to students
Pass the AFF Instructor Final Examination theory test
After all that's done, you can only then go get qualified to teach AFF fully! The AFF course typically runs for 5 or 6 days. As before this is 1 day in the class room, and the other days practicing the theory.
The course makes sure you're ready to cover things like hard exits, docking to students, stopping spins, and generally making sure out-of-control students are brought back to safety.
You then need to pass a couple of evaluation jumps and a written exam. This is one of the pricier courses, normally coming out to around $750.
Step 5: Get Qualified For Tandem Jumps
Alright – it's been a heck of a journey and we're at the last step!
I've not listed the requirements for this step above, because there's quite a few. To start your qualification process for tandem jumps, you need:
500 jumps
3+ years in skydiving
50 jumps in the last year
FAA Class 3 Medical Certificate
4+ hours freefall time logged
Once you've got that pretty huge list all sorted, you can finally take your tandem rating course. These cost around $1.5k-2k, and are a pretty rigorous course to make sure you've fully capable to fly with a scared student attached to you.
The course typically lasts around a week – which will familiarize you will with things like the tandem equipment, exists, drogue freefall, canopy flight and landing with a student. (All with your instructor strapped in front of you – no pressure!)
As well as learning to handle all sorts of tricky situations (bad exits, freefall spinning, delayed drogue deployments), it's canopy flight which can be the most tricky to master. If you're used to a smaller canopy, a huge tandem parachute will fly much straighter and slower than your normal kit. This sounds easy, but it often leads to completely overshooting your landing locations. Flying students into trees is typically frowned upon.
You can read more details about the course on the USPA website here.
Are You Suited To Be A Tandem Instructor?
While getting paid to skydive is almost a too-good-to-be-true type of deal, it's not all fun and games.
Before you start down this path, try to be sure you'll really be suited to being a tandem instructor. Here's a few of the "not so fun" responsibilities that come with the jump:
Inspecting & maintaining your gear
Chitchatting with nervous students
Briefing students on the jump and landing procedures
Managing student anxiety in the plane
Canopy flight is significantly different to your main chute.
Being a tandem instructor means you're also playing a significant part in someones life! No-one will ever forget their first skydive, so it's up to you to make sure that students are having the best time possible. A positive, upbeat, friendly attitude is just as important as excellent canopy handling and landing skills.
Conclusion
I hope this quick guide has given you a little bit of insight into how skydiving instructors got to where they are.
It's a huge journey, built step by step with tons of experience and regulations along the way. Despite how relaxed and fun-loving your skydiving instructors may seem, they all will have had to go through this rigorous amount of training and testing to get to where they are!
If you're a newbie jumper reading up on skydiving, be sure to check out the related articles below. I'm doing my best to try and cover all topics to help out beginner jumpers.
How to Become a Skydiving Instructor
Skydiving for a living. It is more than a pipe dream: it's a way of life. Around the world, skydiving instructors have turned a passion they love into a feasible way to produce an income. Honestly, can you think of any job that could be cooler than becoming a skydiving instructor?
If you haven't even made your first jump yet, this may seem like the stuff fantasies are made of, but we'll have you know, every one of our instructors started right where you are: they were interested in skydiving and wanted to see where it could lead. Since we've got a bird's eye view, here is the path you need to follow to become a skydiving instructor.
Step One: Your First Skydiving Jump
Every journey, no matter how arduous or lofty, will always begin with just one step. On your journey to becoming a skydiving instructor, your first step will be your first jump. For the majority of people, the first introduction to skydiving comes with a tandem skydive. On a tandem skydive, you are attached via a harness to an experienced skydiving instructor who will be in charge of the parachute equipment. If you have questions, ask away. Our skydiving instructors love to fan the flames when they sense someone housing a spark of passion for the sky.
A pro tip: enjoy this first time skydiving experience, it will remain a cherished memory long after you've attained your goal of becoming a skydiving instructor.
Step Two: Learning to Skydive
Just as your educational career was a progression from learning the alphabet and counting on your fingers to using a written form of communication and using those same numbers in increasingly complex ways, so too, will you progress as you learn to skydive. At Skydive Perris, we use a tried and true method of skydiving instruction called the Accelerated Freefall Program. The program itself consists of 7 different levels of proficiency that a student must attain. Before a student makes their first skydive in the AFF program, they will be provided with a 4-6 hour ground training and 2 flights in our indoor skydiving simulator.
Once the 7 levels are completed, the student will be cleared to skydive solo. From here the student will need to complete the following requirements to attain their A skydiving license:
25 total skydives (the 7 AFF jumps, coach jumps, and any previous tandem skydives can be counted toward this requirement),
at least 5 coach jumps completed with a USPA certified coach to develop advanced flying skills,
a low altitude skydive,
a parachute packing class,
and the completion of an oral and written exam.
Step Three: Get Those Skydiving Ratings
As a new skydiver, you will have a hunger for the sport that will seem like it can never be satiated. This kind of appetite for altitude is just what you need to work toward obtaining your various skydiving licenses and instructional skydiving ratings.
Before becoming a full-fledged tandem skydiving instructor, you'll need to build both your teaching skills and your skydiving skills. Both are achieved by attending a USPA Coach Course and earning your USPA Coach rating.
Remember those coach jumps that were mentioned above as a requirement for obtaining the A skydiving license? They are each completed with an individual who has this particular instructional skydiving rating. The USPA Coach rating allows an individual to jump with non-licensed skydivers who have been cleared for self-supervision to help them develop their flight skills and prepare them for their own skydiving career! Plus, this rating is a required prerequisite for becoming a skydiving instructor.
That's right: even after this monumental achievement, the journey isn't over. Being a skydiving instructor is a big responsibility, and because you'll be in charge of the well being of each tandem student you jump with, there are strict rating requirements. In order to become a tandem skydiving instructor, you will need to accrue 500 skydives, attend a tandem training course approved by the United States Parachute Association, obtain a USPA D- License, have 3 years in the sport, secure an FAA Class III Medical, and as mentioned above, obtain a USPA Coach Rating.
How long does it take to become a skydiving instructor?
We won't lie: the journey to becoming a skydiving instructor takes time (a minimum of three years if you want to be a tandem instructor), but you won't have to travel far. You can complete every step of your journey to becoming a skydiving instructor here at Skydive Perris. From a premier skydiving school to regularly scheduled rating courses, Skydive Perris is able to get your dreams of being a skydiving instructor off the ground and in the air.
Source https://www.skydiveorange.com/2020/02/25/how-to-become-a-professional-skydiver/
Source https://friendlyskydiver.com/become-skydive-instructor/
Source https://skydiveperris.com/blog/become-skydiving-instructor/