What To Wear Under a Rash Guard?
Unlike scuba equipment such as wetsuits and masks, rash guards are not a necessity.
However, if you prefer a safe and itch-free diving experience, we'd suggest you wear your rash guard.
This optional vest is thinner than your usual clothes, which confuses a lot of people on how to wear it. Can you wear it directly under your wetsuit, or should you have something under it? This guide will help you understand that.
What Are Rash Guards?
Rash guards or rashies protect you from the sun, salt, sand, and possibly dangerous creatures or obstructing items during water sports. As the name suggests, these guards prevent skin rashes by coming between your skin and the wetsuit.
Moreover, if you wear it during scuba diving, you can escape the annoying skin rub caused by your BCD straps. If you don't already know, open water tends to be a lot cooler than what you may experience in swimming pools. Thats why, you can use a rash guard to keep you warm as an additional thermal layer.
Depending upon your preference and use, you can get a rash vest or long-sleeved rashie. Also, you can choose between tight and loose-fitted options.
Reasons Why You Should Wear Something Beneath Your Rash Guard
Wearing something under your rashie is anything but compulsory. However, there are several reasons why you may want to avoid going commando under your rash guard. Check them out.
Personal Hygiene and Cleanliness
Most recreational divers and people who participate in other water sports tend to use the company's equipment or rent it from outside. What this essentially means is that several other people before you have used that particular gear.
For the sake of hygiene, it is best that you wear a layer of clothing beneath your scanty rashguard. This way, you can ensure it doesn't directly contact your skin, preventing you from contracting potential germs and bacteria from strangers.
Extra Safety
Being short pieces of cloth, rash guards don't usually cover your entire body. This makes it essential for you to wear an extra layer to cover your remaining body completely. This way, you can try and avoid sunburn and rashes.
What's more, additional coverage will help you avoid the trouble of attracting animals like sharks. This is because reflective diving equipment can scare away dangerous predators. Simply put on cycling gear with long sleeves, and you are good to go.
To Keep Yourself Warm
Unless you are a fan of cold water, you might want to wear an extra layer for warmth. Especially during winters, a thin layer of clothing under your rash guard can save you from shivering.
Even a thin layer underneath a rashie can insulate heat near your body. It can prevent developing potentially harmful conditions such as hypothermia.
What Should You Wear Under a Rash Guard?
Wearing a piece of clothing beneath your rashie comes with its benefits. It's now time to have a look at what you can wear.
Tight Swim Trunks or Cycling Pants
Typically, rash guards don't cover your lower body. If you need full-body protection from possible sunburns and rashes, wear something to cover your legs too.
During the summer months, a pair of cycling pants can work well. These pants make for a good fit because they are thin and body-hugging. This implies that you don't have to wait long for them to dry.
On the other hand, wearing loose-fitted board shorts and swim trunks under your wetsuit leggings is not suitable. Such clothes tend to cluster beneath the leggings, causing discomfort. This can even lead to chafing, more specifically between your legs.
During winter days, people are more inclined to wear thick leggings beneath their rashies. Though useful in fighting the cold, this means that your suit will remain wet for longer, despite stepping out of water. Instead, try wearing yoga leggings made out of thin material.
Bikini or Sports Bra
Rash guards seldom give any chest support, making it inconvenient for women to wear them directly. This is because it may cause them back pain and general discomfort.
The best option for females is to wear a tightly-fitted sports bra. This will guarantee sufficient support, allowing you to direct all your attention to the water sport. Also, since sports bras are mostly thin, your wetsuit will dry quickly.
Alternatively, many women go for a bikini suit. Both the options are good enough.
What you need to pay close attention to are the accessories such as metal rings, knots, etc. Though nice looking, such additions can pinch your skin while under a tight rash guard.
Do You Need Sunscreen Under Rash Guard?
While scuba diving helps you get your daily quota of vitamin D, it also puts you at risk of sunburn. The sun's UV rays tend to harm your skin, which results in sunburn.
You can avoid this by wearing good-quality rashguards that come with UPF 50+ protection. What this really means is that the fabric used in your rashie is tightly woven and is of premium quality.
Having said that, there are still areas that go uncovered. We'd suggest you apply a marine-safe sunscreen on your face, hands, neck, feet, and legs.
For the best results, apply it at least an hour before you jump in the water. This will allow it to soak into your skin entirely and offer better skin protection.
Wrapping Up
In a nutshell, wearing something under your rash guard is a matter of choice. But, if you are looking to have an excellent water adventure, you might as well wear it.
Generally, cycling pants or thin yoga pants are a go-to choice. Additionally, women often wear sports bras or bikinis for better chest support and comfort.
My unbounded love for the oceans and everything it has to offer motivated me to pursue my passion and become a professional scuba diving instructor.
I keep reading, exploring, and learning more about scuba diving and the underwater world all the time, so I'm excited to share my knowledge with fellow scuba enthusiasts and hopefully contribute a little to your development as a diver. I want people to fall in love with the oceans with as much passion as I have. Read more about me here.
What to Wear for Scuba Diving: Rashguard, Wetsuit or Drysuit?
Whether you are planning your next weekend trip or your next long diving holidays (to Komodo to see us of course!) you should be aware of what protection you need depending on conditions in the area of the world to which you are traveling.
As a diver, you should know that body heat is lost 20 times faster while diving than on land. This is the main reason we get cold underwater even in reasonably warm waters. Wearing an exposure suit will help delay this heat loss. Determining the type of suit will depend not only on water temperature but also diving time, weather conditions and personal factors (age, gender, body mass, …)
Nowadays this is also a personal choice as many divers prefer to feel free underwater by not wearing a wetsuit and being able to easily relief themselves underwater (yes, we must admit that everyone pees underwater like any underwater creature).
Lets recap here the three kinds of protection we can use underwater: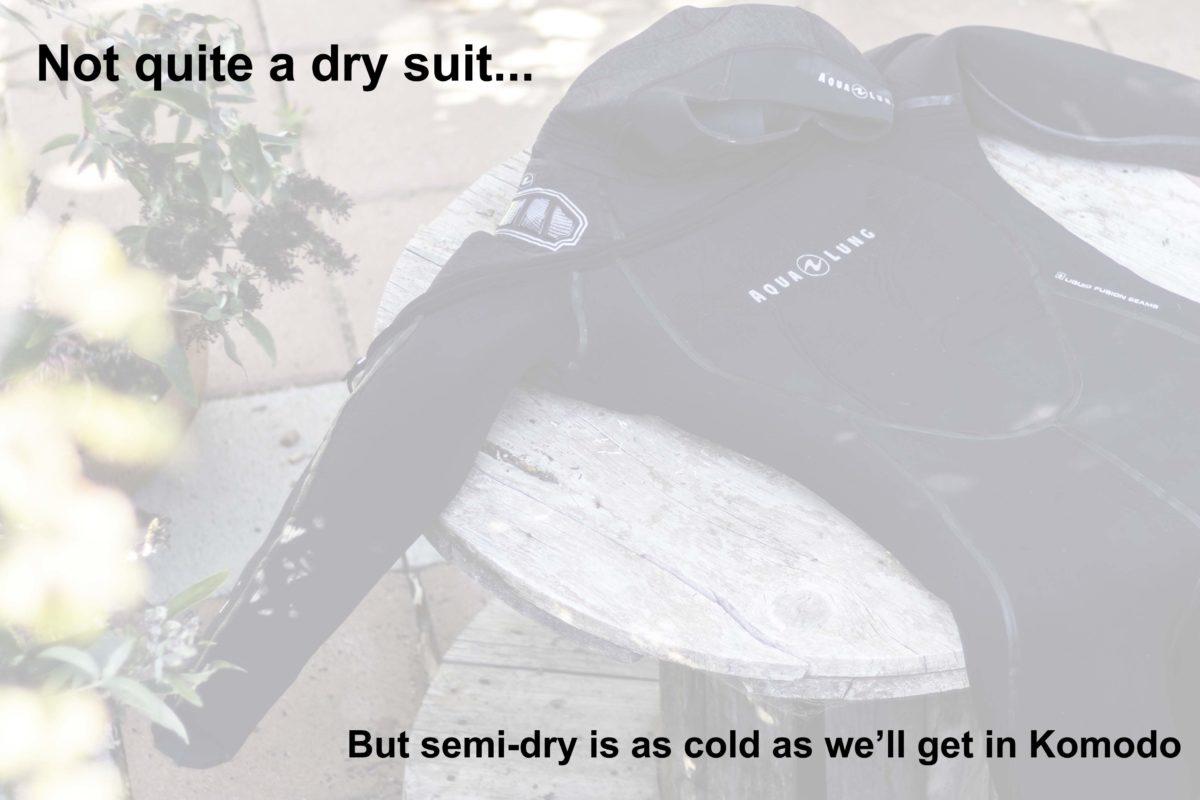 Drysuit
A good drysuit lives up to its name by not allowing water to get in. We can literally go underwater with our clothes on (I have seen people even wearing pajamas!), and the only thing in contact with the water will be your face and hands (unless you use dry gloves as well). Dry suits are recommended when the water temperature drops below 14 ºC (sorry fellow US citizens I still have not been able to memorize the conversion to your beloved Fahrenheit's). Downside? The dryness of the suit is inconvenient if you have the urge to pee, although latest models come with a system that allows the diver to do it without getting completely soaked in your own pee (nobody wants that ?). The other difficulty is that these suits have to fit you perfectly (mainly the seals) and zero holes, otherwise you get a leak and render the suit useless.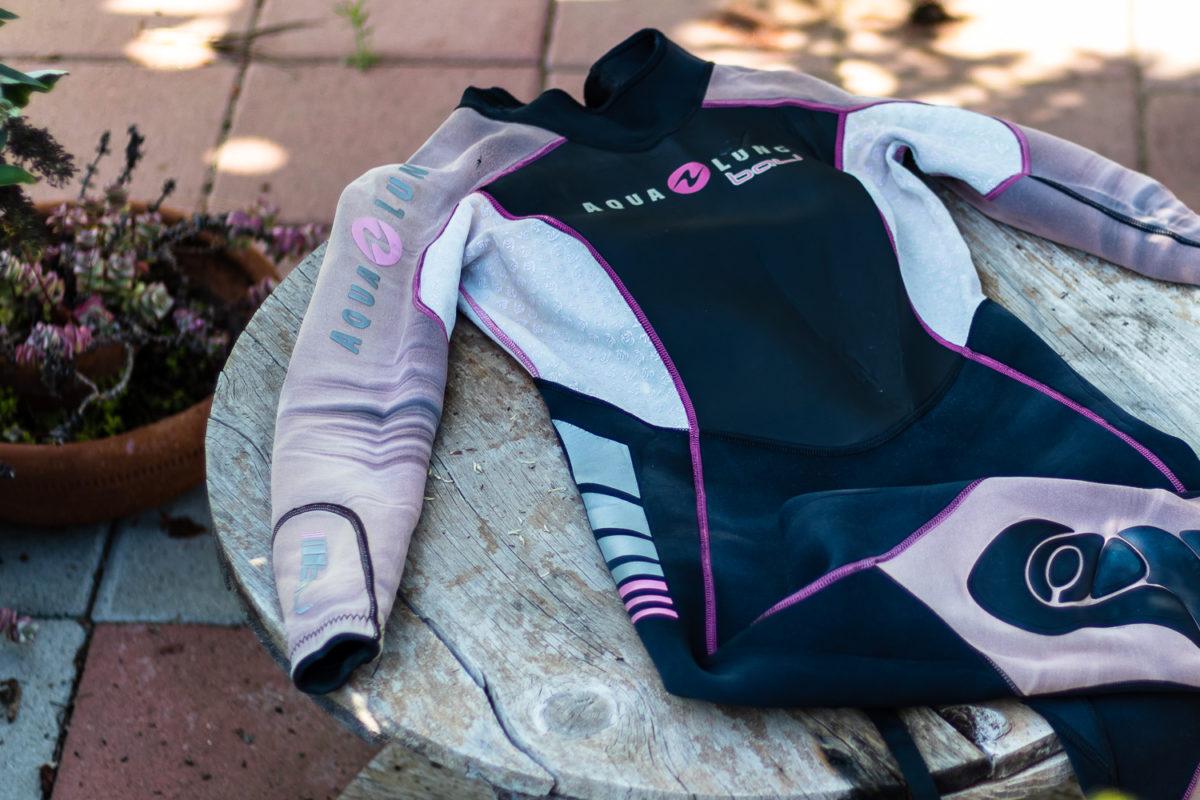 Wetsuit
Water gets inside. The isolation comes because our body is able to heat up the thin layer of water that lays between the wetsuit and our body. The market provides different options depending on the thickness and the type of wetsuit. You can buy from 7mm wetsuits down to 1mm ones, long or short, or even semidry suits (still a wetsuit though). The water temperature goes from 14ºC to anything warmer. The warmer the water, the less thickness you will need. As an example, I have to say that if I m doing 3 dives in tropical waters (about 28 ºC) I tend to use 3 mm long wetsuit but also it is a personal choice because I tend to get cold easily.
Some people have asked me if you need to wear your bathing suit when wearing a wetsuit. Well if it is yours you can do as you please, but if the wetsuit is rented please wear at least your underpants (I have had some guests diving commando before. )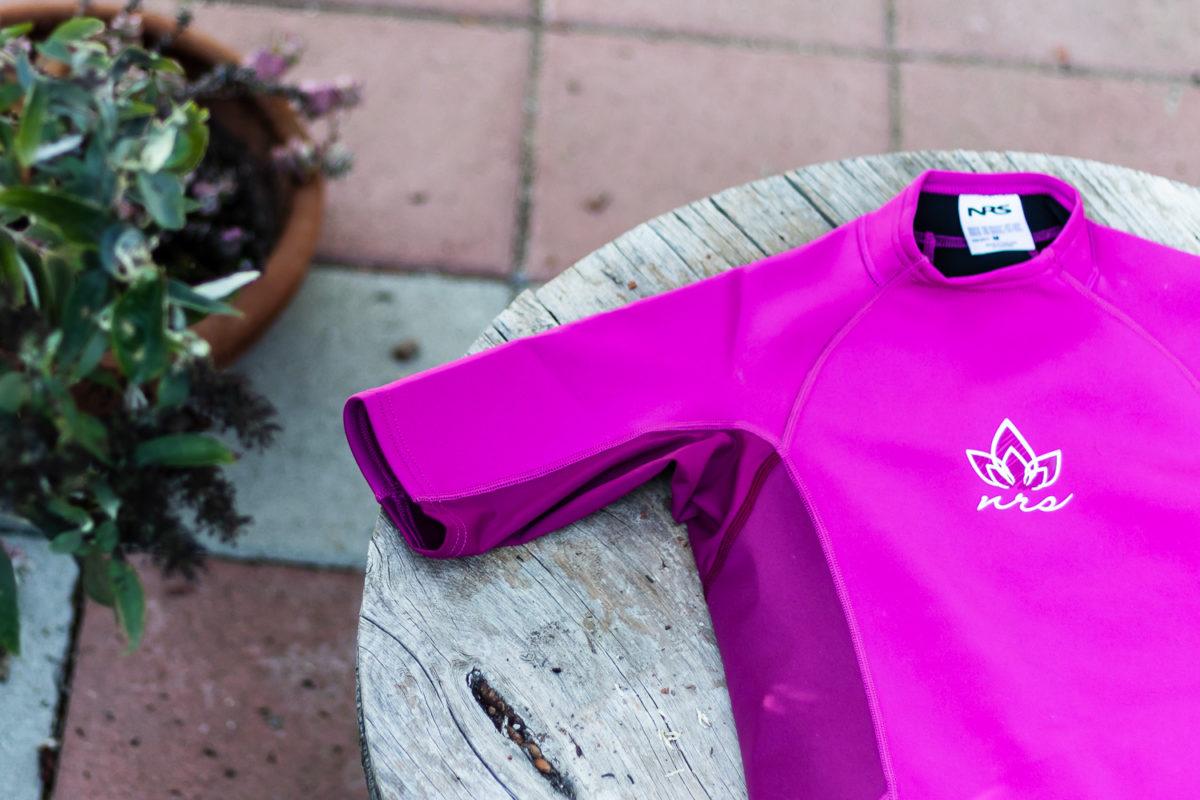 Rashguards or other protection
They do not offer much isolation but protect against other factors like the sun or scratches. This is my favorite option when doing one or two dives in tropical waters. I combine my rashguard with a 1mm neoprene vest. I love it because literally, I can get in the water with no weights on me!! Since your legs have no protection you may get stings from fire coral or jellyfish, but keeping aware of where your body is will help eliminate that possibility.
Do you need to buy a suit for diving?
Hmm, this is a tricky question. Some of you may dive only during your holidays, others may dive during the whole year but in different weather locations (making it difficult to choose the right all-around wetsuit) and let's be honest, we may gain or lose weight making wetsuits not to fit in a very short period of time. So, spending money on this piece of equipment would not make sense for some of you.
So what to do?
My advice is to buy your own wetsuit if you do more than 20 dives per year. Choose it depending on the diving conditions you will be diving in most. Also remember that wherever you are going to go diving they will offer you a wetsuit for a very reasonable price (except in the Maldives, sorry…) or it might be included in the dive price.
Some people do not like to use rental wetsuits as they do not know who has been using it or if they peed inside (we always wash the wetsuits after use, but that is the reality).
In this case, you have your answer, buy your own, but do not forget… there are two kinds of divers, those who pee in their wetsuit, and those who lie about it
Best Rash Guards for Scuba Diving
Scuba diving is a surreal experience. It's a peaceful, beautiful, exciting adventure. But the reality is, it requires a lot of gear. You'll want to make sure you're well-equipped when diving with the best diving accessories, especially true when it comes to diving suits or rash guards.
When selecting the right rash guard there are several factors to consider.
Table of Contents
Top 10 Best Rash Guards for Scuba Diving
Do you need long sleeves? short sleeves? Like most dive clothing will you be wanting it to fit like a glove or be a little bit looser? Are you wanting to blend in with the fish or stand out?
Whatever your needs are, you're sure to find the right one here, as we've gathered a list of the best rash guards for scuba diving.
1. SCUBAPRO Men's UPF 50 Long Sleeve Rash Guard
The Scubapro Long Sleeve Rash Guard is a great option that's able to block up to 98% of UV radiation.
The material of the Scubapro rash guard is durable but lightweight. Since it has long sleeves it gives you the perfect amount of warmth needed to keep you comfortable while diving. Remember to click here to find out how to get warm after a chilly dive to the deep.
If you're wanting your rash guard to be super tight, then the sizing will be fine for you. However, if you're someone that needs your clothing to be a bit lose, then you'll want to get a size bigger than you normally would.
Blocks up to 98% of UV radiation.
Abrasion-resistant
Comfortable
Durable
Flattering
Comes in black, Aegean, graphite and white
Long sleeves
Fits smaller than expected
2. O'Neill Men's Basic Skins UPF 50+ Long Sleeve Rash Guard
O'Neill's Basic Skins Long Sleeve Rash Guard is a very popular rash guard. It gives you 50+ UV protection and is a recommended product by the skin cancer foundation.
This O'Neill's Basic Skins Rash Guard comes in black, dusty blue, graphite, pacific, red, smoke, white, lunar, bright blue, navy, or khaki giving you many options to stay protected in the sun while you're diving.
This O'Neill's Basic Skins Long Sleeve Rash Guard does tend to fit on the smaller side, so when ordering, just make sure to size up, unless you're wanting it super tight.
Even though the Basic Skins fit is tighter than expected it's still very durable and comfortable. With the O'Neill's strategically placed seams, it can also make quite an attractive and smart choice for diving.
The white rash guard has a different logo design from the other colors
Fits on the tighter side, size up when ordering
3. Skyone Full Body Scuba Rash Guard Lycra UV Dive Skin
This Skyone Full Body Scuba Rash Guard is impressively cheaper in price when compared to most other full-body rash guards. This particular full-body rash guard also comes in two different styles for men.
One of the styles comes with a blue hood (to keep your head warmer in the water) and one without. For women, this full-body scuba rash guard comes in purple and blue.
All of them are made from lycra, spandex, and nylon, creating a comfortable but lightweight option. There's also a front zipper on all of the designs, making it super easy to put on and off.
You'll notice these rash guards tend to fit smaller like most. However, it can loosen up a little bit once you're in the water. Also, keep in mind that this rash guard is a more cost-effective option that will keep your whole body covered (and even your head if needed).
Full body coverage
Cheaper price compared to other full-body rash guards
Lycra, spandex, and nylon material
Lightweight
Front zipper
Fits tight, you might need to order one or two sizes bigger
Only one of the men's rash guards comes with a hood
Must be hand washed in cold water
4. O'Neill Women's Basic Skins Upf 50+ Long Sleeve Rash Guard
This O'Neill Women's Basic Skins Long Sleeve Rash Guard comes in several different colors: black, smoke black watermelon, dusk, fox pink, graph fox pink, graphite, mist white mist, sea glass, smoke black mist, Tahitian blue, graphic/berry, mist blue, light aqua, dusty blue, Hawaii black, light grapefruit, mist, and riviera.
The rash guard is made out of elastane, spandex, and polyester, giving it a smooth feel to your skin. It has 50+ ultraviolet protection and is a recommended product by the cancer foundation.
This O'Neill Women's Basic Skins Long Sleeve Rash Guard is overall a really comfortable, reliable option. The O'Neill brand continues to use high-quality material for their rash guards and they tend to be quite form-fitting.
However, like other rash guards, if you're not wanting your rash guard to be too fitted, you might want to get a size bigger than what you'd normally wear.
Made out of elastane, spandex, and polyester
50+ ultraviolet protection
Skin cancer foundation recommended product
Comfortable
Durable
Several colors to choose from
Reputable brand
The logo appears different depending on which color you choose
Form-fitting, you might need to size up
5. Scubapro Men's Eco Long Sleeve Rash Guard
This Scubapro Men's Eco Rash Guard is a very comfortable option for scuba diving. The material feels the higher quality with more substance compared to some others that are super thin.
This rash guards material has a very flexible four-way stretch allowing you to move several different ways without any issues. This Scubapro Men's Eco Rash Guard has flat stitching, making it smooth on your skin. It's also good if you have broad shoulders and need a rash guard that's going to be mobile with you.
This Scubapro Men's Eco Rash Guard might be one of the best since it's been designed specifically for scuba diving. However, you might find you'll get a little bit too warm since it has long sleeves and a higher neckline. So if you're diving it a hot climate just keep this in mind.
4-way stretching material
50+ UV protection action
Holes for your thumbs
Polyester fabric
Engineered for scuba diving
Flat stitching, making it comfortable on your skin
Good if you have broad shoulders
Well known scuba diving brand
Might get too warm with the long sleeves
6. Mares Men's Rash Guard Loose Fit, Short Sleeve, Black/White
Mares Men's Rash Guard is a good option for scuba diving when in a warm climate. This rash guard is made out of 85% polyester and 15% spandex. The stitching lies flat on your skin so there's no irritation when you're putting on gear or moving around.
This rash guard also looks quite flattering because of the color contrast with the black and white, along with the positioning of the black on the sides (making you appear leaner).
The company Mares is also well recognized in the scuba diving world. They're a company that's focused on creating high-quality products from those that love water activities, especially scuba diving.
Since the rash guard has 50+ UV protection, you'll be safe in the sun for your whole scuba adventure. However, this particular Mares Men's Rash Guard is short sleeve, like a t-shirt so it is best if you're wearing it in warmer water.
The only downside to this Mares Men's Rash Guard is that it tends to fit smaller than expected. However, this does seem to be the case for many of the rash guards, since they are supposed to fit tighter.
Sizes small to 3XL
White and black, flattering design
Mares brand specializes in water activities
Great for hot climate
Fast drying
UV protection 50+
Flat stitching
85% Polyester and 15% spandex
Not loose fitting
Fits smaller than expected
7. Cressi Camouflage Rash Guard for Scuba Diving
The Cressi Camouflage Rash Guard is a good choice if you're wanting to blend in with your surroundings in the water. The camouflage pattern on the rash guard makes it great for not scaring away sea life.
It comes in three different colors too; blue hunter, brown hunter, and green hunter.
This Cressi Camouflage Rash Guard will also provide more warmth than many of the other long sleeve rash guards. It has a 1mm premium neoprene that's built into the center of the rash guard, adding more warmth throughout. You can wear this rash guard on your skin or on top of your wetsuit.
Since the Cressi Camouflage Rash Guard can make you blend into your surroundings underwater, it might be better for advanced scuba divers. If you're a beginner you might want something that's brighter so that others can see you more clearly.
50+ UV protection
Three camo hunter colors to choose from
Attached hood
Chest loading pad
Made from lycra, nylon, and spandex
Camouflage isn't good if you're a beginner diver and want others to see you easily in the water
Fits tighter than expected.
8. Mares Shorts Sleeve Trilastic Rash Guard
This Mares Short Sleeve Trilastic Rash Guard is unique in its design. It's designed with extra attention given to the material and each thread in the stitching, making it one of the most suitable rash guards for diving in comfort.
Similar to the other Mares Rash Guard mentioned in number 6, this one is also a great option for a warmer climate. This one might be slightly more flattering though since it comes with a blend of different greys and black.
This rash guard like many will feel looser in the water but it does tend to fit quite snug. When choosing the right size for you just keep that in mind.
Overall, Mares is a respectable company, providing divers with many different options to stay protected and comfortable in the sea.
Short sleeve
Size small – 3XL
2" high and 8" wide
Flat stitching
Beautiful design
Black and grey colors
50+ UV protection
Fits smaller but will loosen a bit when in water
9. SCUBAPRO Rash Guard Womens Long Sleeve (UPF50)
This Scubapro Womens Rash Guard is an attractive option if you're wanting something that's sure to draw some attention and has long sleeves.
The colors available are; teal, flamingo, jewel, and shell with some funky details near the shoulders.
Scubapro is also another reputable scuba diving company that makes good quality dive wear. This rash guard also has excellent UV protection and has a UPF 50 which is the highest protection possible for a rash guard.
The Scubapro Womens Rash Guard doesn't lose its stretch or shape after being worn several times. The smooth stitching along with the polyester fabric makes for a comfortable dive.
The fabric for this Scubapro Rash Guard is also able to dry quite quickly so it will allow you to be in and out of the water for the whole day.
Bright and fun colors to choose from
Excellent protection UV rays (UPF 50, highest protection possible for rash guard)
Smooth stitching
Made from high-quality polyester fabric
Can wear under wetsuit comfortably
Doesn't loose stretch or shape
Dries quickly
10. Aqua Lung Mens Rash Guard Long Sleeve
This Aqua Lung Rash Guard is an attractive men's long sleeve. It comes in two colors: galaxy blue and camo (which can also help to blend in with your surroundings).
The best feature on this rash guard is that it has a stitched in loop on the front that can connect to your shorts to prevent the rash guard from riding up when you're in the water.
The neck collar on the Aqua Lung Rash Guard also helps to prevent the gear from scratching your neck when putting it on and taking it off.
Overall this Aqua Lung Men's Rash Guard is a very comfortable option for scuba diving. With the extra handy features, it can make all the difference when you're moving through the water.
Unique athletic design
Able to connect rash guard to your shorts so it doesn't ride up in water
50+ UV protection
Neck collar helps prevents you from your gear
Galaxy blue, galaxy camo
Durable material
For a very quick recap, Here are our top 3 Best Rash Guards;
OUR #1 PICK Cressi Camouflage Rash Guard
Elastic material
Camouflage effect
Soft durable pad
Designed in Italy
PROFESSIONAL SCUBAPRO Long Sleeve Rash Guard
Blocks 98% of UV
Made from Polyester
Comfortable yet durable
Abrasion-resistant
ENTRY LEVEL Mares Men's Rash Guard Loose Fit
Source https://www.divinglore.com/what-to-wear-under-rash-guard/#:~:text=Unlike%20scuba%20equipment%20such%20as%20wetsuits%20and%20masks,,lot%20of%20people%20on%20how%20to%20wear%20it.
Source https://azulunlimited.com/what-to-wear-for-scuba-diving-rashguard-wetsuit-or-drysuit/
Source https://oceanscubadive.com/best-rash-guards-for-scuba-diving/