The best scuba diving equipment bags
Photo: Alfie Minnaar
Owning a full set of dive gear is an expensive investment, so spending a little bit extra on decent carrying kit makes sense. Mark 'Crowley' Russell takes a look at some of the best scuba diving equipment bags on the market today
Over the years, advances in material technology have led to the robust, lightweight luggage designs we find on the market today, complete with handles, wheels and extra pockets. For long-distance international travel, a sturdy scuba gear bag can have advantages over a standard suitcase. Some have waterproof compartments to separate not-quite-dry dive gear from the rest of your luggage, and some have pockets specifically tailored for fins and other equipment. Wheels and retractable handles are great for travelling through airports but can be a bit of a hindrance when it comes to sand, rocks and wooden jetties. Depending on where you're travelling, a bag with extra handles and shoulder straps may be more practical.
Bear in mind, however, that such travel bags are often quite heavy even when empty. Short-haul economy flights with 20kg limits may well mean that you either have to travel very light or find yourself incurring extra baggage charges.
Duffel bags are a good option for both local and international travel, as long as you don't mind carrying your gear by hand or fighting with airport trolleys. Some may have internal waterproof compartments and some do not, but one that comes with an additional shoulder strap or backpack-style harness can be very handy if your dive travel involves more than chucking all your kit in the boot of your car. Mesh bags are great for hauling gear around once you've reached your destination – from hotel room to dive centre – and while many centres have their own bags or boxes, some do not, so a lightweight mesh bag which allows wet kit to be transported while drying is a useful addition to the main flight bag or duffel.
Hand-held bags including regulator bags and roll-top dry bags are exceptionally useful. Keeping your regulators secure and packaged in your hand luggage, with that extra bit of protection, helps to alleviate worries about one of your most expensive and essential bits of kit being damaged. Roll-top dry bags are essential on any dive trip that involves small boats. They have saved many smartphones, cameras, key fobs and surface interval snacks from certain soggy doom.
Tips for packing
Wrap as much as you can inside your wetsuit and BCD and use your fins for protection at the sides. Neoprene is like a posh version of Bubble Wrap and will provide protective padding for regulators, masks and computers. Use the box which came with your mask, that's what it's there for! Where possible, carry your regulators and dive computer in your hand luggage when flying. If you've ever watched some airport baggage handlers lobbing your precious cargo from the aeroplane to the tarmac below, it's reassuring to keep them with you.
KIT BAGS – LONG HAUL
Kit bags designed for long-haul flights where 'getting there' isn't even half the fun. Sturdy frames and tough wheels come with a weight penalty, however, so may not be the best option for avoiding excess baggage fees.
Akona Roller Duffel £129
Combining the best of both worlds, Akona's Roller Duffel offers good internal dimensions, with a steel frame, wheels, telescopic handle and shoulder strap packaged into a PVC-laminated 600 denier fabric.
Dimensions: 36x77x36cm
Capacity: 100 litre
Weight: 4kg
Cressi Moby 5 £211
Cressi's latest roller bag, the Moby 5, is made from a new 300/400 denier lightweight material, with a main compartment that opens up on three sides, two large bellows pockets and a small top pocket at the front and two side pockets for fins. The handle is fully retractable and the large-diameter wheels can be removed and replaced in case of breakage.
Dimensions: 76x40x28cm
Capacity: 115 litre
Weight: 3.9kg
Mares Cruise Backpack Pro £177
Mares' top of the line Cruise Backpack Pro has been – according to Mares – 'Air Travel Optimised', weighing 15 per cent less than its predecessor, with integrated front pockets to minimise its profile, a sturdy telescopic handle and wheels, plus padded shoulder straps for ease of transportation; all built around a respectable 127-litre interior and weighing in at 5kg.
Dimensions: 47x32x81cm
Capacity: 128 litre
Weight: 5kg
Northern Diver Voyager All Terrain £70
A large and rugged wheeled bag constructed from 1000 denier washable PVC fabric, which sacrifices a retractable handle for a decrease in both weight and price. The interior is split into two zippered compartments, the wheels are protected by corner guards and plastic runners on the base prevent damage caused by dragging. Carrying handles are present at both ends and also at the top of the bag, and a removable tow strap is included for those marathon hikes through the airport.
Dimensions (LxWxH): 81x40x42
Capacity: 136 litre
Weight: 4.1kg
Scubapro Porter Bag £172
Scubapro's Porter Bag comes with reinforced skate-style roller wheels plus a backpack harness, and hence can be rolled or carried wherever you wish to go. There is no retractable handle, but the top handle is extendable for ease of use. The large main compartment, two front pockets and two inside pockets provide plenty of packing options. At 2.55kg the Porter is one of the lightest airline-type bags on the market, and it folds down to almost half its size for storage.
Dimensions: 80x45x35cm (52x41x17cm when folded)
Capacity:125 litre
Weight: 2.55kg
Seac Equipage 1000 £169
Seac has a new luggage range for 2020 with the Equipage 1000 at the top of the line, a 140-litre wheeled bag with telescopic handle and backpack-style shoulder straps, weighing just 3kg. The outer shell is made from 1200 denier polyester with a rigid rear panel, while the interior has a large primary compartment with two large pockets for holding a wetsuit and boots.
Dimensions: 75x42x38cm
Capacity: 140 litre
Weight: 3kg
Stahlsac 34" Steel Wheeled Bag £245.95
The Steel 34 from adventure travel specialist Stahlsac is one of the largest available, with a massive internal volume of 148 litres. The bag features a wet/dry compartment with a waterproof bottom and a breathable top for drying out damp gear, multiple quick-access zippers and an 'add-a-bag' strap to attach backpacks or carry-ons. The frame is low-profile for easy storage and an optional battery power-pack can also be fitted.
Dimensions: 86×43.18×30.48cm
Capacity: 148 litre
Weight: 5.7kg
Tusa BA-0202 Travel Roller Bag (Large) £189
The BA-0202 is the largest of Tusa's travel roller bags, which also comes in a medium-size and a small, carry-on size priced at £169 and £139 respectively. Two carry-handles complement the rigid retractable handle, the bag has two internal zippered pockets and a third mesh pocket, with double-zippered large and small pockets on the outside.
Dimensions: 30x48x75cm
Capacity: 108 litre
Weight: 4.5kg
KIT BAGS – GENERAL PURPOSE
So many bags to choose from – a large, solid duffel or a super-light mesh bag for dunking, draining and drying on the go, or maybe pack the latter inside the former
Akona Collapsing Mesh Duffel £59
The Nylon reinforced mesh duffel collapses and zips into the end of the attached, padded 420 denier Nylon regulator bag, allowing for transportation of a full set of dive gear or just regulators and computers in the handy, easy to carry around container.
Dimensions: 30x36x74cm (extended), 30x36x10cm (collapsed)
Capacity: 80 litre
Cressi Gorgona £52
A lightweight polyester mesh travel bag which zips into a small holder for transport and packing; long enough to carry freediving fins, and large enough to carry a full set of dive gear.
Dimensions: 96x38cm
Capacity: 107 litre
Weight: 0.75kg
Hollis Duffel £89.95
Hollis is well known for its no-nonsense gear, which includes the Hollis Duffel. Made from a durable tarpaulin material, it features a single, main compartment and one internal zippered pocket. It has carry handles on each end of the bag, two straps with padded handles and backpack shoulder straps.
Dimensions: 71x41x35.5cm
Capacity: 95 litre
Mares Cruise Backpack Mesh Elite £49
A lightweight mesh backpack with an integrated handle, adjustable shoulder straps and a large internal capacity which can be folded into the external front pocket. The base is reinforced and fitted with a drainage hole, and an internal dry pocket provides storage for valuables.
Dimensions: 39 x 39 x 74cm
Capacity: 114 litre
Weight: 0.5kg
Northern Diver 80 Litre Mesh Holdall £22
The padded air mesh walls of Northern Diver's collapsible mesh holdall are designed to protect valuable dive gear while allowing it to dry at the same time, with a tarpaulin sleeve pocket providing a dry space for valuables and also to prevent soaking your dry clothes as you carry the bag. Nylon D-rings are included for an optional shoulder strap, along with the standard padded handles.
Dimensions: 74x34x32cm
Capacity: 80 litre
Weight: approx 1kg
Oceanic Mesh Duffel £34.95
Constructed from 600 denier polyester with a durable PVC backing for the side panels, Oceanic's mesh duffel is designed to transport gear between dive sites, before dunking it in the rinse tank and hanging the whole lot up to dry. An adjustable shoulder strap is included with the regular carrying straps.
Dimensions: 76×65.5×30.5cm
Capacity: 82.6 litre
Scubapro Mesh Sack £33
A lightweight nylon mesh backpack suitable for a set of tropical dive gear or snorkelling equipment, with a drawstring closure, front exterior compartment for small items, and padded shoulder straps. Folds into a compact shape for storage or packing with a larger bag.
Dimensions (HxD): 66x39cm
Capacity: 90 litre
Weight: 0.5kg
Seac Equipage 250 £45
A new 600 denier polyester holdall-style bag from Seac, with an adjustable shoulder strap, fin pocket with buckles, front pocket for smaller items, and an adjustable shoulder strap included.
Dimensions: 75x40x35cm
Capacity: 110 litre
Weight: 1.4kg
Stahlsac 40" Mesh Duffel £35.95
Stahlsac's 40" (102cm) heavy-duty mesh bag will accommodate even the longest of freediving fins, along with a full set of scuba gear. 22", 26" and 36" (56cm, 66cm and 91cm) models are also available; all come with a zippered accessory pocket for storing smaller items.
Dimensions (40"): 102x48x48cm
Tusa BA-0103 Mesh Backpack £62
Built with a heavy-duty, rubberized mesh with a generous main compartment, a large outer pocket and one internal zippered pocket for storing valuables. The extended main zipper allows for easy access to all areas of the bag, which is fitted with padded shoulder straps for transport.
Dimensions (LxWxH): 36x41x75cm
Capacity: 81L
Weight: 0.98kg
KIT BAGS – HAND-HELD BAGS
For protecting valuable computers and regulators, or keeping smartphones, car keys and sandwiches dry, compact waterproof bags are dive essentials.
Akona Pro Reg Bag £36.99
A fully padded regulator bag with interior Velcro straps to hold hoses in place, with reinforced D-rings on the exterior for attaching the included shoulder strap.
Dimensions: 30x36x10cm
Mares Cruise Dry T-Light £12 (5l), £15 (10l), £20 (25l)
Ultra-lightweight reinforced polyester dry bags weighing in at next to nothing – the 5-litre version weighs just 50g – the T-Light series is fully waterproof with heat-sealed stitching and a quick closure system. A 75-litre, backpack-style version is available for £44.
Dimensions/Weight: 15x48cm/0.05kg (5 litre), 20x35cm/0.06kg (10 litre), 24×57.5cm/0.11kg (25 litre)
Northern Diver Dry Seal Roll Top Bag £28 (10l), £35 (20l), £42 (50l), £58 (120l)
Northern Diver has revamped its dry bag range with a new watertight 'Dry Seal' for the opening, and an air purge valve to help compress the insides for easier sealing. Available in red or black in 10, 20, 50 and 120 litres, the 420 denier constructed bags are fitted with quick-release buckles and a detachable shoulder strap.
Dimensions/weight: 48×18 x18cm/0.5kg (10 litre), 60x23x23cm/0.6kg (20 litre), 76x28x28cm/0.8kg (50 litre), 103x37x37cm/1.2kg (120 litre)
Oceanic Regulator Bag £29.95
A simple padded regulator bag constructed from 1620 denier Ballistic Nylon with YKK self- healing zips and interior Velcro loops to secure hoses.
Dimensions: 30.5x11x30.5cm
Scubapro Regulator & Computer Bag £27.50
Reinforced regulator bag with accompanying computer bag constructed from 420D Nylon and 450D Rip-stop with a soft, padded 150D polyester interior and internal Velcro straps for securing regulator or console hoses.
Dimensions: 34x26x10cm (regulator), 10x7x14cm (computer)
Capacity: 9 litre (regulator), 1 litre (computer)
Weight: 0.42kg (regulator), 01.10kg (computer)
Stahlsac Storm Dry Sack £29.95 (12l) £34.95 (30l) £47.95 (60l)
Stahlsac's Storm Dry Sacks are available in 12-litre (pictured), 30-litre and 60-litre versions, depending on whether you need to carry just a phone, wallet and set of keys or a whole change of clothing. The standard roll-top design is constructed with a semi-opaque side panel, making it easier to find what you're looking for; all models come with a detachable shoulder strap.
Dimensions (DxH): 25x48cm (12 litre), 28x70cm (30 litre), 30x94cm (60 litre)
Tusa Drybag 1 £29
A tough, nylon-reinforced, PVC-constructed bag in the classic open-top, roll-down and quick-snap-to-close design, but with a rectangular-shaped base opposed to the circular design of some other brands, and available in one size only.
Dive Bag Buying Guide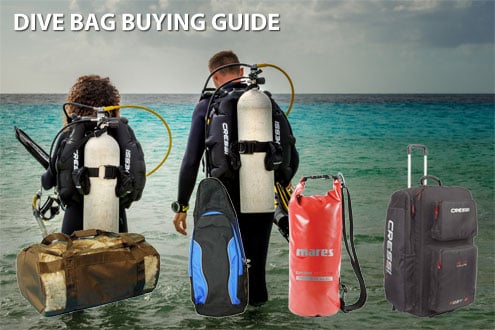 Dive bags come in a huge range of varieties from simple mesh bags to all singing and dancing roller bags and that is because a dive bag can mean something completely different from one diver to the next. Choosing the right bag for you will depend entirely on what YOU need it to do.
When looking at a dive bag it is surprisingly important to think about what you want it for and you might even find yourself with a selection of bags to suit different jobs. One might be your everyday general duffel style dive bag but you might have a lightweight wheeled bag for travelling and a drawstring mesh bag to store your bits and pieces on the boat.
Why You Need a Dive Bag
Even if you rent the majority of your diving gear, it is still a good idea to have a dive gear bag for your scuba supplies.
Most people are required to own a few pieces of scuba gear — fins, mask, snorkel, gloves, and boots — prior to taking an Open Water certification class. In addition to these items, is it a good idea to have a few replacement items (extra mask strap, spare fin straps, O-ring kit, anti-fog agent, extra batteries, etc.) on hand in case something should unexpectedly break or fail. Having all of your gear in one place, e.g. a dive gear bag, allows you to protect your gear and keep it organised, allowing you to find just what you need right when you need it.
Duffel Dive Bags
Duffel bags are your basic main dive bag and are usually designed around a simple main compartment with big zip access and two carry handle concept. It works well for fitting in plenty of dive gear at the end of the day and because of it's simplicity it is often a cheaper option and there isn't much to go wrong with it.
Climbing the price scale will get you some extra features, more pockets, some wheels maybe and of course there are lightweight and heavy duty variations on the theme.
Pros
Simple design keeps costs down
Wide variety of sizes, colours and material choices
No rigid framework or panels allows it to be squeezed into smaller places.
Cons
Can be heavy and awkward to carry over long distances when fully loaded.
Backpack Dive Bags
The main advantage of Backpack Dive Bags is that they are great for carrying your kit for a longer distance over a rough surface. The weight is more even spread over the shoulders unlike a duffel bag and dragging a wheeled bag over rough terrain can be challenging and destructive to the bag. More expensive models will sport roller bag type features like wheels and telescopic handles as well as more internal and external pockets.
Pros
Come is a wide range of sizes and materials
Typically soft sided making them easy to pack and travel with
Keeps your hands free
Cons
Needs to be sensibly packed as a full set of kit can weigh a lot
Can be more expensive compared to the same size duffel bag
Roller Dive Bags
Wheeled Roller Dive Bags are ideal for getting around airports or any where else with flat surfaces. A fully loaded bag becomes effortless to move over great distances, usually come with a telescopic handle as well as grab handles for lifting and often feature external pockets to organise your travel documents and other essentials. Roller bags are available in sizes designed for full diving kits for extended trips but also come in cabin size versions for those short trips.
Pros
Wide choice of sizes and weights
Easy to move
Most are designed to stand upright
Cons
Models with rigid panels can take up a lot of storage space
Some packing sense required to ensure heavy items are at the bottom when stood up
Hard Cases
Hard cases are simple, rugged and usually designed without any drainage hoses which makes them great for loading into the boot of the car and not having to worry about everything else getting wet after a dive. Some are simple stackable grates whilst others have more elaborate hinge designs, come with wheels or even pull handles.
Pros
Strong and rugged design
Protect your kit well
Keeps water in, keeping whatever you put them in nice and dry
Cons
Bulky. Even if they only have one item in them still take up the same space
Can be pretty heavy and difficult to carry over longer distances
Mesh Dive Bags
Mesh bags come in all sorts of shapes and sizes including duffel, backpack and simple drawstring bags. They make excellent boat bags for your accessories like mask, snorkel, fins, reels, etc. The mesh allows the kit inside to dry quickly so you could always just dunk the wash tank after a dive and set aside to dry whilst you enjoy a post dive beverage.
Regulator Bags
Regulator Bags do the obvious task of protecting your valuable life support equipment from knocks and bangs during transport. There aren't many ways you can design a regulator bag so you're looking at something with a large main compartment and a handle on the outside for carrying.
See Regulator Bags for our full selection.
Dry Dive Bags
Most dry bags are simple tube style bags with a roll down top that is clipped shut. They are perfect for keeping your clothes, keys and wallet dry on a boat. They do come is a range of capacities from tiny ones for just your keys and essentials to huge ones.
See Dry Bags for our full selection.
What You Need To Consider
Storage and Purpose
If you are a boat diver, you may want to consider a gear bag that will allow you to maintain your balance and keep your hands free. Therefore, a large backpack-style bag will most likely be the best choice.
A general purpose storage bag (a.k.a. not one intended for a great deal of travel) should have plenty of pockets that will allow you to organise your gear in a way that works for you. A large fin pocket keeps your fins together and keeps your regulator hoses from wrapping themselves around your fins and fin straps. Having another pocket that can be dedicated to repair and last-minute details is also a highly-desired feature. This allows you to know exactly where your extra fin strap, anti-fog solution, etc. are located right when you need them. Be kind to your dive buddy. Know where your items are in order to avoid delaying the dive unnecessarily.
Dive Bag Material / Weight / Construction
Dive Bags are often biased towards either durability or lightness. They will either be built with heavy duty materials, reinforced stitching and big chunky zips designed to withstand years of regular abuse, or they will be finished with lightweight materials and alloy framework that allows you to maximise the amount of kit you can fit in a flight weight allowance.
Dive Bag Size
If a dive bag won't hold all of your gear, it is a poor item to purchase. Take an inventory of your dive equipment and then think about what scuba gear you plan on purchasing in the next couple of years. Once you have a strong idea of how much room your gear will need, you'll know what size of bag to purchase.
A pair of fins, regulator, octopus, gloves, repair kit, mask, snorkel, BCD, gloves, hood, and boots will not fit in a compact backpack. To accommodate that amount of gear, a large bag will be required. If you plan on traveling from a cold-water location to a warm-water location, then you may only need your mask, snorkel, light, and gloves. If that is the case, then a more compact bag will probably be sufficient.
Be realistic about your needs and think about any problems you might encounter like flight size restrictions. A monstrously huge bag may fit all your dive kit in and still have space for the kitchen sink but can you still pick it up?
Strap and Handles
A lot of bags (especially those higher up the price scale) are fitted with multi-purpose or removable straps that allows the bag to be adapted to suit a number of uses or transport requirements.
Think carefully about what you want. Lugging a 20 kg duffel bag about is fine if you are just moving it from the back of the car a few steps to where you are kitting up but over a distance it's hard work. A couple of shoulder straps could make all the difference.
Dive Bag Wheels
Wheels are almost a necessity for airports. Trolleys aren't always available and you can often end up walking quite a distance between collection points.
They can be a hindrance as well though, adding weight to a bag and being next to useless over rough ground, loose sand or pebbles meaning you'll have to carry the bag anyway.
Dive Bag Compartments
Do you want plenty of separate pockets for your fins, regulators, documents and accessories or you happy with lumping everything in together. More pockets makes the bag more expensive but it does help to protect your equipment.
Some bags have external fins slots that allow them to act as rigid side panels, giving the bag structure even when empty.
Your Choice!
Ultimately it is only you that can weigh up the options and consider what you'll be using the bag for most, whether you want something that is satisfactory for all uses or want several bags that are specialised.
If you are overwhelmed, stuck between a couple of choices or have a question about a particular bag we are always ready to offer our advice so just give us a call, send us a message, or pop in and see us.
Top Dive Bags
Here is our selection of the best dive bags we have available in our extensive range.
Top Travel Dive Bag
Cressi Moby 5 Bag with Wheels – 115 lt
RRP: $399 , Our Price: $359, You Save $40 (10%).
This nicely sized and spacious dive travel bag features a large main compartment, side fin pockets, plus two smaller front compartments.
Top Dry Dive Bag
Fourth Element Drypack Dive Bag – 45 lt
RRP: $118 , Our Price: $112, You Save $6 (5%).
Adventurous diving is always going to need the right equipment to transport your gear. Designed to carry a wetsuit and other essentials, the Fourth Element Drypack is versatile and rugged enough to go with you wherever your diving takes you.
Top Fin Bag — Freediving / Spearfishing
Ocean Design Moana Long Freediving and Spearfishing Fin Bag
RRP: $60 , Our Price: $54, You Save $6 (10%).
This is a great fin bag for carrying your freediving and spearfishing long fins. It has a front pocket for your mask and snorkel, plus a shoulder strap to make it easy to carry.
Top Fin Bag — Scuba / Snorkelling
Trident Deluxe Snorkelling Bag
RRP: $108 , Our Price: $97, You Save $11 (10%).
Room for a mask, fins and snorkel with shoulder straps, carry handle and big front accessory pocket. This is also an awesome underwater hockey gear bag!
Top Mesh Dive Bag
If you want a wet bag, where you keep your kit together on a dive boat but it can drain easily after the dive, then go for mesh bag. This one is our favourite because it's spacious and tough. It also comes with carry handles and a shoulder strap for easy carrying. This is by far our best selling mesh dive bag.
Top Regulator Bag
The Scuba Doctor 5mm Neoprene Regulator Bag (Plastic Zip)
RRP: $59 , Our Price: $55, You Save $4 (7%).
Keep your regulators and expensive instruments separate from the rest of the gear. This protective padded bag enables you to transport and store your regulators and instruments safely. It's large enough to hold your 1st and 2nd stage regulators, gauges, and an octopus.
Dive Bag Accessories
Most people overlook the care of their dive bags. Some simple preventative maintenance, especially of the zips, will greatly extend the life of your dive bag.
Zip Care
Gear Aid Zipper Cleaner and Lubricant (59ml)
Our Price: $15
Prevent sand and grime build-up in your dive gear bag zippers. Protect and clean the zipper of you bag to make it last a long, long time.
For more dive bag product options, please see Dive Bags.
SALE and CLEARANCE [more]
New Products [more]
Brands [more]
Copyright © 2005-2022 by The Scuba Doctor Australia, ABN 88 116 755 170. All rights reserved.
tel. +61 3 5985 1700 :: email. diveshop@scubadoctor.com.au :: Web site by it'sTechnical 2022
Best Scuba Diving Bags
An experienced diver knows that you need more than just dive gear. Traveling divers know how important dive luggage is. Whether hauling your gear to the boat or hauling it across the world to your dream dive destination, these dry bags, backpacks, and dive luggage will help to complete your diving kit.
AKONA CHELAN LIGHT ROLLER BAG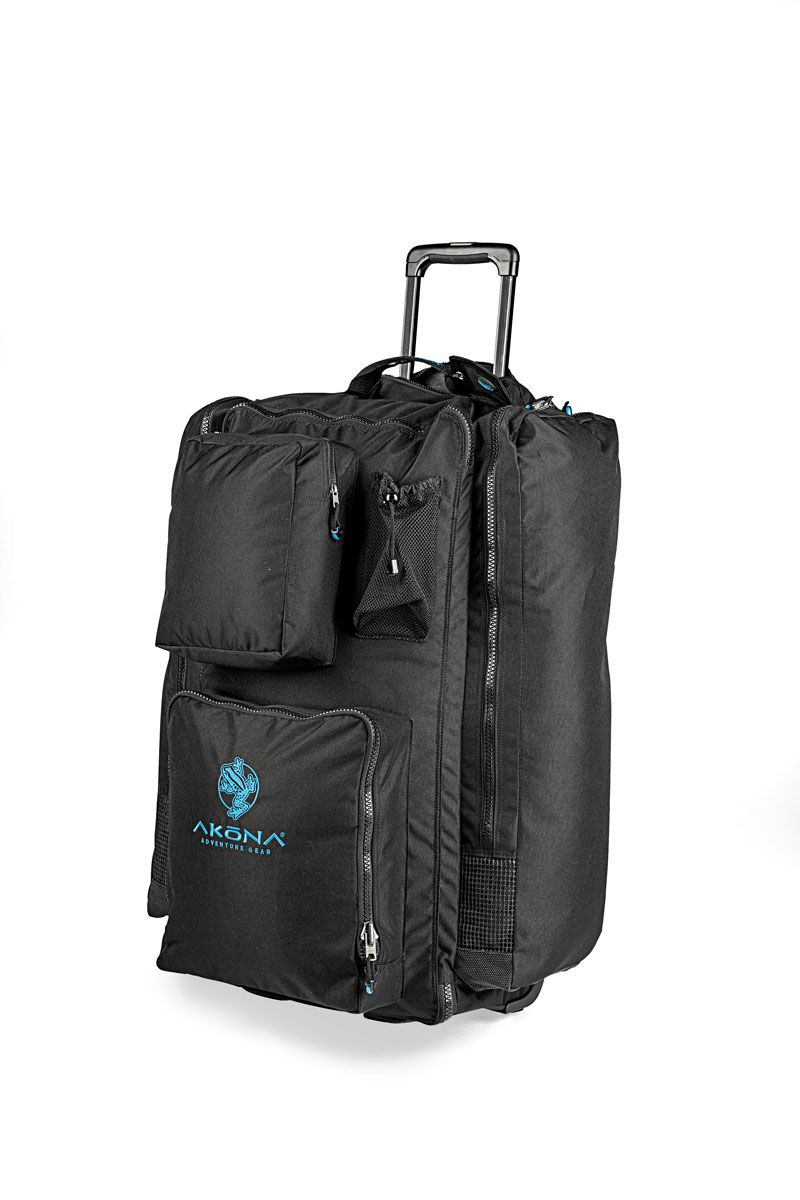 PVC mesh panels on fin pockets allow airflow. Credit: Jon Whittle
This roller bag is large enough—and light enough—to handle everything you'll need and still meet air travel weight restrictions. Weighing just 8 pounds, it's 31 inches tall with versatile exterior pockets that maximize internal storage and a removable protective regulator pouch on the front. Durable fabric, smooth-rolling wheels and heavy-duty zippers are made to last.
AKONA GEORGIAN MESH ROLLER BACKPACK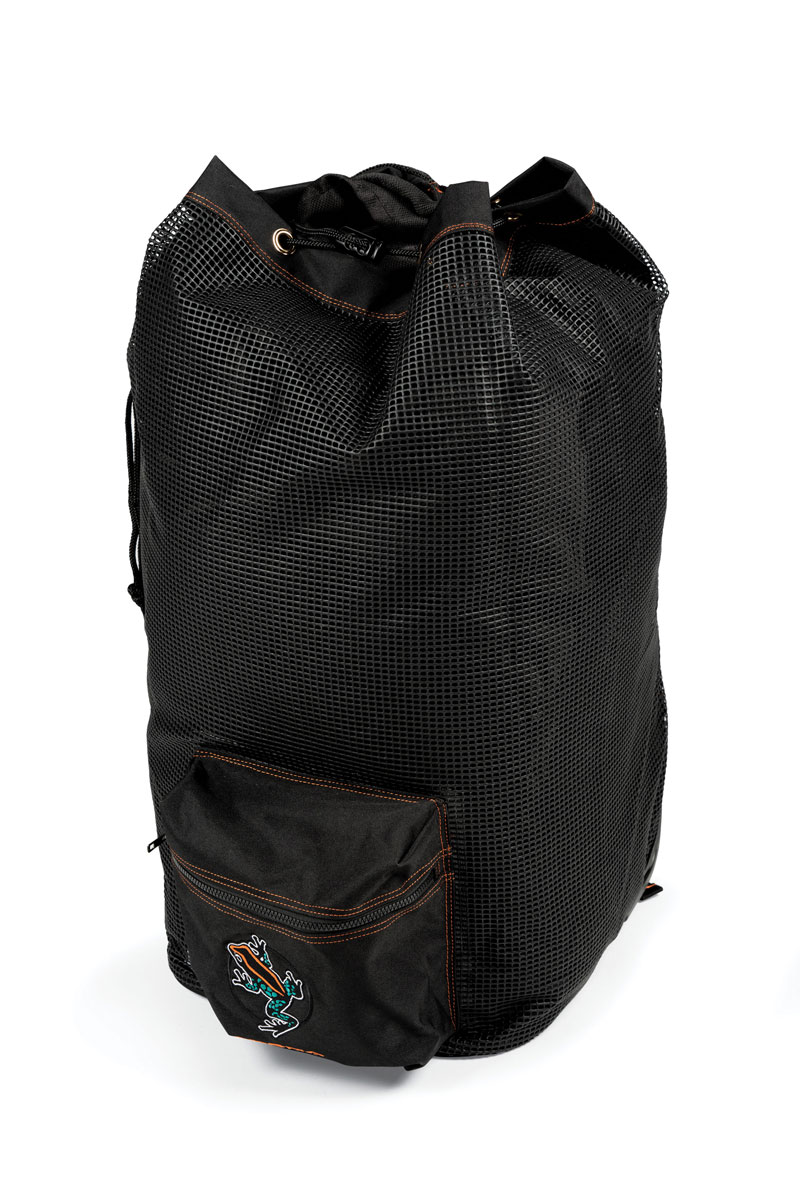 Large mesh bag that works as a roller or a backpack. Credit: Jon Whittle
This versatile roller backpack offers a convenient gear- toting solution whether you're on a boat, dock or navigating a parking lot. The adjustable web tow handle and roller wheels make it easy to pull when loaded, while the backpack straps help navigate steps or stairs. Made of reinforced mesh with generous 14-by-15-by-29- inch dimensions, it folds to fit even on a crowded boat.
akona.com | $115
AKONA SINALOA ADVENTURE BACKPACK
Comes with 21-ounce Akona stainless water bottle. Credit: Jon Whittle
With three roomy internal compartments, padded shoulder straps and tough, breathable ripstop nylon construction, the Sinaloa will be your go-to bag for daily adventures. The laptop compartment keeps your devices secure, and a secret bottom pocket provides a safe place for valuables. Generous 19-by-12-inch dimensions with two external pockets provide plenty of storage.
AKONA TANAMI SLING DRY BACKPACK
Water-resistant PVC fabric wipes clean. Credit: Jon Whittle
Made with welded-seam construction to block water entry, the Tanami can keep your clothes or other belongings dry whether you're on a boat or a beach. A generous 23 inches tall and 12 inches wide, the Tanami has a roll-top closure for quick packing and easy access. Side mesh pockets are perfect for water bottles, and the removable shoulder sling makes for easy carrying.
akona.com | $58
AKONA PANAMA DRY DUFFEL BAG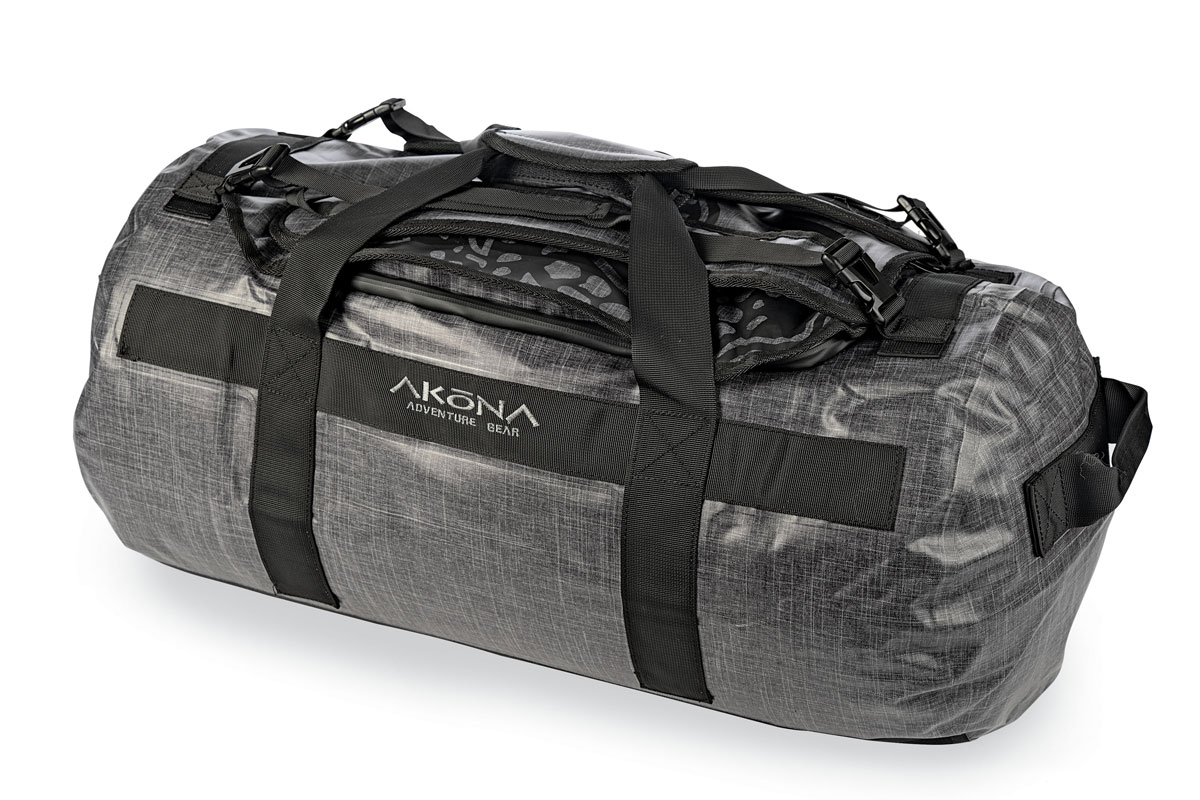 Available in desert tan or heather gray. Credit: Jon Whittle
At 24 inches long and 13 inches in diameter, the Panama Dry is big enough to protect all of your gear from the elements. Made of heavy-duty PVC fabric, this duffel has a long, U-shaped top zipper opening for easy access and a reinforced bottom for durability. Removable straps let you turn the versatile Panama into a backpack for easy carrying.
akona.com | $87
AQUA LUNG EXPLORER II DUFFEL PACK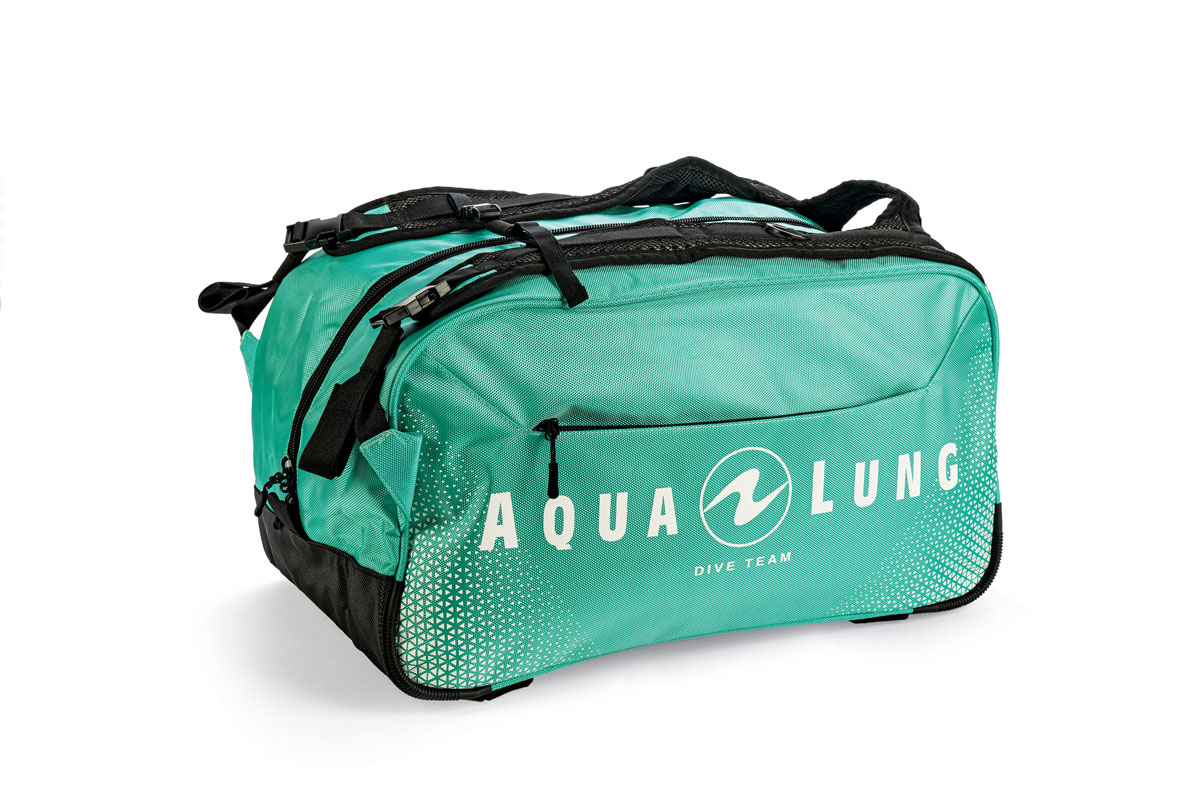 Compact, durable duffel/ backpack hybrid can fit a whole set of scuba gear. Credit: Jon Whittle
This carry-on-size bag is quite versatile thanks to stowaway adjustable backpack straps that double as duffel bag handles. Built with dive travel specifically in mind, the Explorer II duffel pack features a mesh drying pocket and exterior straps to hold fins of any size. The roomy interior is well-padded to protect your gear from rough handling.
aqualung.com | $75
CRESSI PIPER
Padded grab handles on top, side and bottom for easy grab-and-go. Credit: Jon Whittle
Solidly constructed with a durable coated fabric exterior, and solid reinforcements near the wheels and on the back corners, this carry-on-com- pliant bag is ready to fly. An overlapped zipper opens wide for easy access to the main compartment, which has small mesh pockets for organization. External compression straps make it a cinch to secure anything from a nearly empty load to one that's close to bursting. cressi.com | $169.99
IST FREEDIVING FIN BAG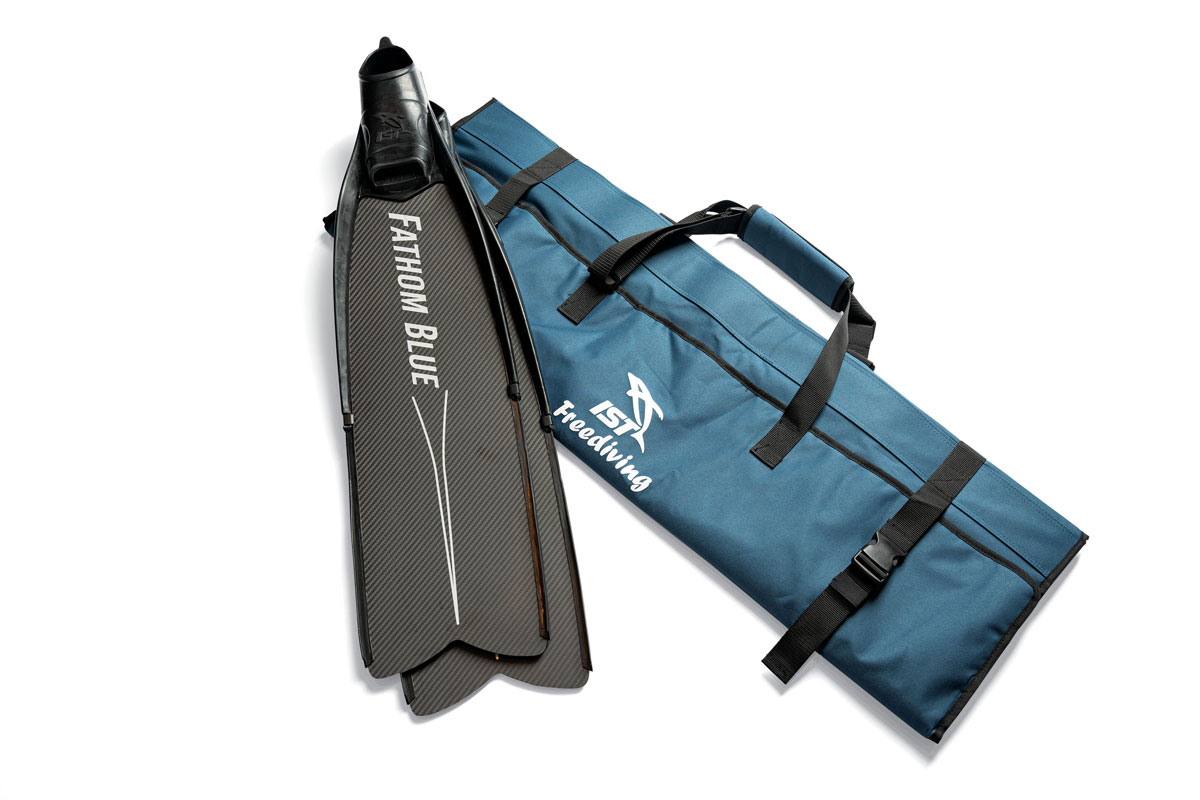 Keeps fins and other freediving gear together and protected. Credit: Jon Whittle
The long, flexible design of freediving fins makes them efficient in the water—but not so much when you're transporting them. The IST freediving fin bag is specially sized and shaped for freediving fins, and folds open for easy loading. A pair of nylon straps with Velcro fasteners keeps each fin in place, with a large internal pocket to stow a mask and other accessories.
istdivingsystem.com | $110
IST SPORTS ROLLER BAG BG03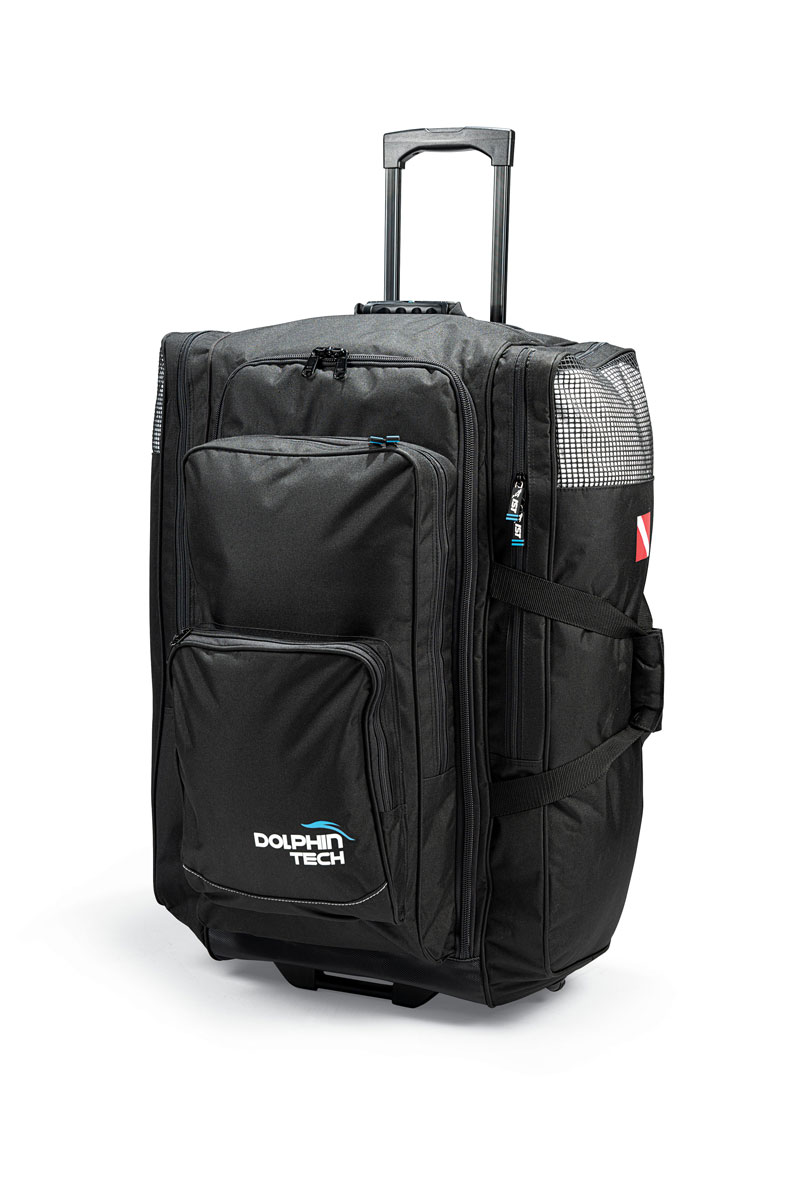 Big—and tough— enough to hold all your dive gear. Credit: Jon Whittle
This 32-by-15-by-13-inch bag has a place for everything. Large zippered side pockets have mesh vents to air out wet or damp gear, and there are three pockets on the front flap, which unzips wide for easy packing. Heavy-duty roller wheels and a stout aluminum telescoping handle make it a cinch to tow fully loaded, and backpack straps help you tote it when the road runs out.
istdivingsystem.com | $300
PADI DRY BAG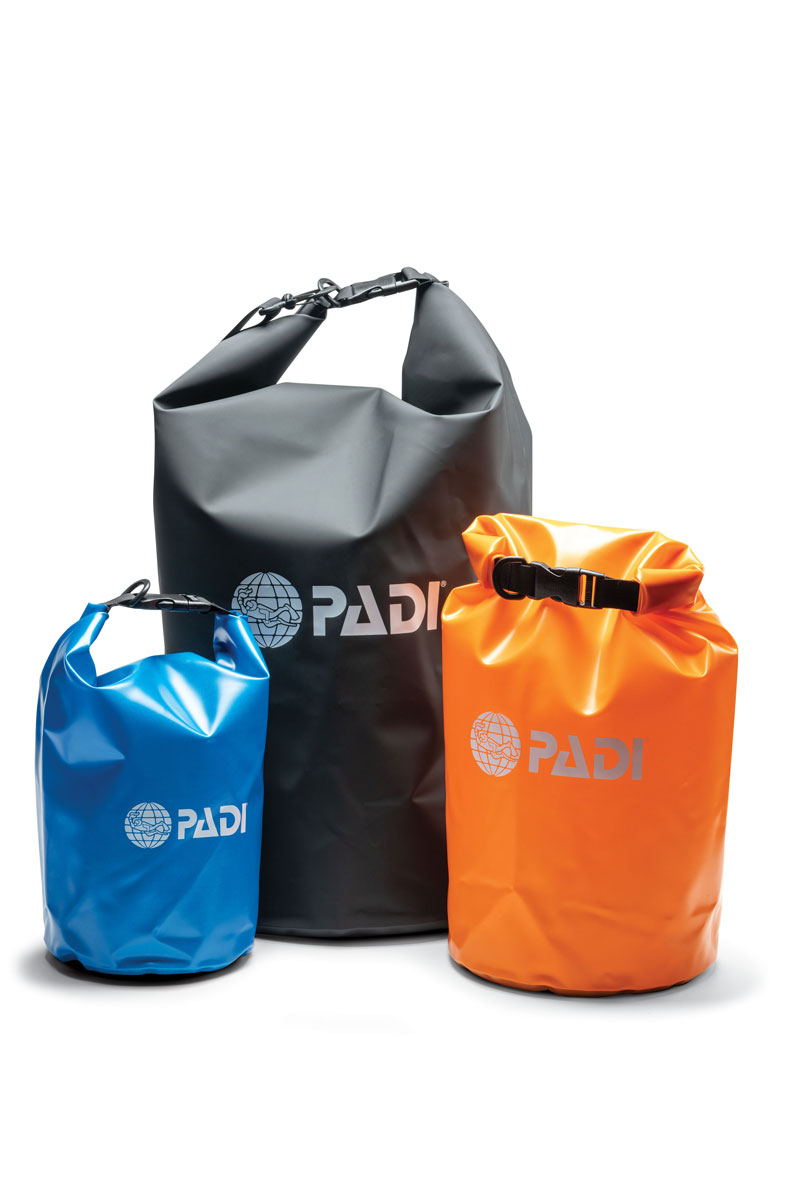 Keep your possessions safe and dry in tough conditions. Credit: Jon Whittle
Constructed of an exclusive 420-denier ripstop nylon with TPU coating, this dry bag is durable and eco-friendly. The watertight roll-top closure is secured by clips made from recycled plastic, and the adjustable sling strap is made of 100 percent recycled nylon. The tough, watertight bag is available in three different sizes and four colors to suit the needs and style of any diver.
padigear.com | $20 (5L), $30 (15L), $40 (45L)
SCUBAPRO DUFFEL BAG HD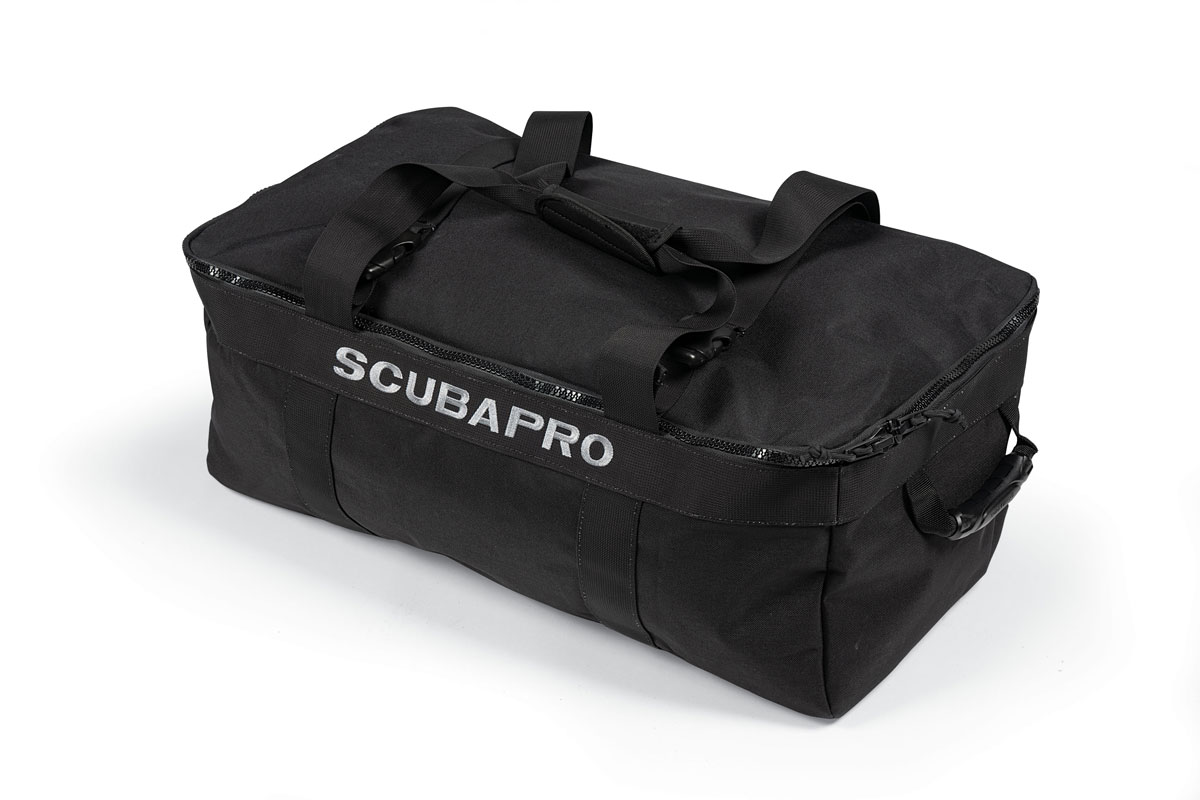 Durable, large-capacity dive bag makes it easy to travel with your whole kit. Credit: Jon Whittle
This traditional duffel-style bag is built from tough 100 D nylon with heavy-duty webbing reinforcements. The double zip opens wide to access the large interior, which easily accommodates a full set of gear. Beefy external compression straps cinch everything down nicely. A padded carry handle and strong molded side handles on each end make the bag easy to lift and carry.
scubapro.com | $125
STAHLSAC 22-INCH STEEL CARRY-ON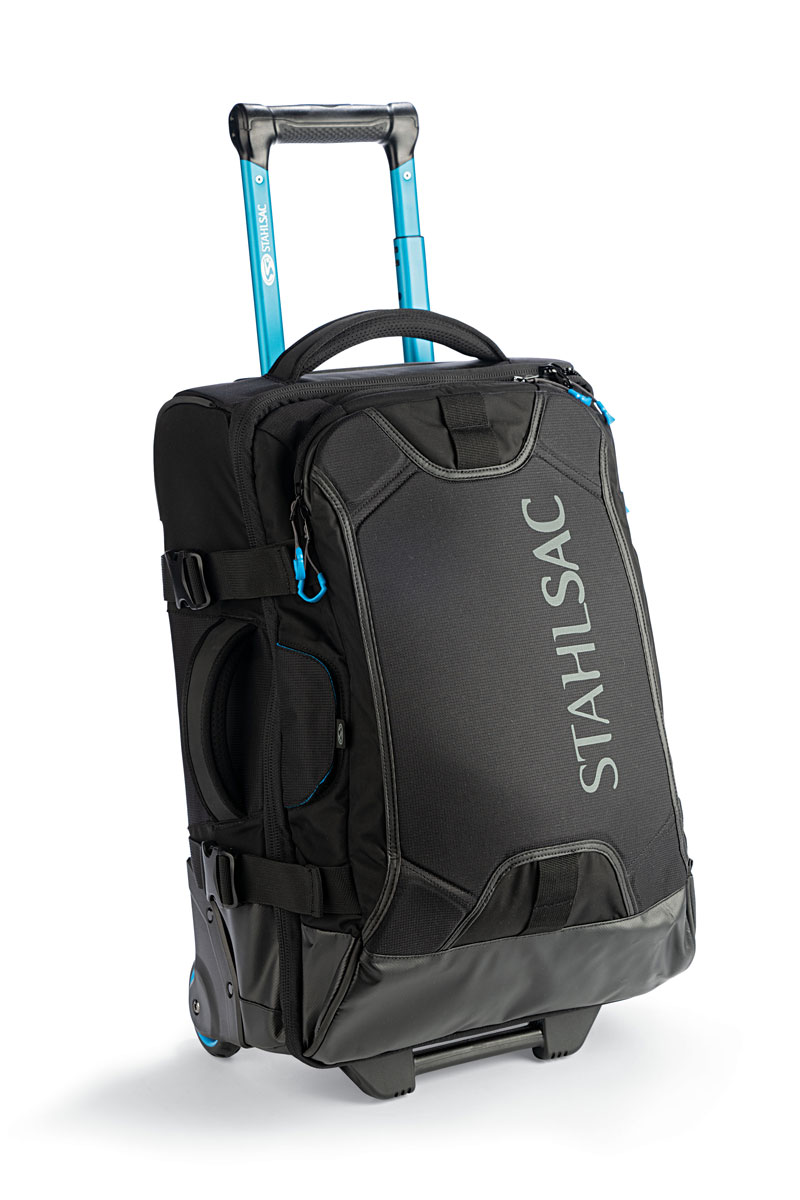 Keeps dry items separate from wet or damp ones. Credit: Jon Whittle
This premium roller carry-on has separate compartments to isolate wet gear from dry clothing, electronics or sensitive contents. Water-resistant zippers on outer pockets allow you to quickly access your belongings while protecting them from the elements, and the telescoping aluminum handle and padded side grips make it easy to wheel, hoist or carry with a full load.
Text and photos originally appeared in the March 2020 issue of Scuba Diving magazine.
Source https://divemagazine.com/scuba-diving-equipment/best-scuba-diving-equipment-bags
Source https://www.scubadoctor.com.au/dive-bag-buying-guide.htm
Source https://www.padi.com/articles/best-scuba-diving-bags