Scuba Instructor : How to Become a Dive Instructor
We gave our Gear Lovers one job:
Find the best and most popular products and review them.
Our review team always considers durability, price, quality, and value in their reviews.
Disclosure: We are reader supported, and earn affiliate commissions If you find a good deal on DIVEIN, you click to the retailer, and you buy the product, we get a commission of the sale. That's is how we pay ourselves. It does not make the product pricier for you. when you buy through us.
There are a lot of reasons to want to get your PADI instructor certification. You could be passionate about the sport itself, eager to educate the next generation of underwater recreators, or simply just can't tolerate working in an office. If you're contemplating a career as a dive instructor, you should know that you're signing up for more than just a job–you're choosing a lifestyle.
Working in the recreational scuba industry is similar to many other outdoor professional careers. You get to spend your days outside, promoting and advancing the sport that you love. You also have a good way to find work in remote destinations and facilitate a travel-based lifestyle.
The work itself is demanding, but rewarding. You'll be forced to grow as a leader and constantly be challenged by unique environmental and interpersonal problems. But with patience, teaching people to scuba dive and seeing your students' faces light up when they get their first glimpses of that alien aquatic world makes it all worth it. The tips don't hurt either.
The Perks
As a scuba instructor, you'll spend more time in the water in a year than most people will in their lifetimes. But the benefits of the job extend far beyond bottom time. Effectively, you'll be joining a global league of professionals with more experiences and resources than you'll ever be able to make use of. Here are adjust a few of the perks:
There's work anywhere there is diving, and the places where there's a lot of diving are usually pretty fantastic. Outdoor careers, and diving in particular, make it easy to travel and find a job.
As long as you're teaching up to standard, certifying agencies will back you up in terms of liability. Which means you're protected legally in the event of an accident that you couldn't prevent.
Instructor training goes far beyond just dive skills. You'll develop as a leader and educator, while gathering a host of other useful skills like basic emergency medical and professional sales training.
Pro deals provide access to heavily discounted gear. You'll be able to purchase the latest kits and find replacement parts oftentimes at nearly half of the market retail price.
There's a ton of opportunity to grow as both a diver and a leader. The more time and energy you invest into furthering your education and teaching capabilities, the more personal and fiscal return you will see.
You're joining a community. That means you'll be surrounded by a group of like-minded friends and mentors to support you in your journey.
The Drawbacks
Like any other job, there are parts of being a scuba instructor that you're not going to be thrilled with. That could mean hauling heavy tanks every day, having the limits of your patience tested by students, or just the inherent stress that comes along with being responsible for people who are new to being underwater.
Working in the outdoor recreation industry does not mean a leisurely career. Being an instructor is hard work physically, mentally, and emotionally. You should expect to be challenged on all of these fronts.
There's a big initial investment in terms of both money and time. In order to even sign up for the instructor course you need to be certified at least up to divemaster standards, and have a fair amount of hours underwater on your own time.
As with many outdoor jobs, finding year-round work can be a challenge depending on where you're located. New dive instructors oftentimes have to be creative and tenacious about staying employed during the offseason and be willing to do some work on the side to maintain the lifestyle.
It can be scary. Beyond just the inherent risks diving presents to your own person, you must stay vigilant and ready to respond to the needs of your students. If someone freaks out, or conditions aren't ideal, it's your responsibility to figure it out.
The Details
Ultimately, becoming a dive instructor is a lifestyle choice that almost certainly will lead to a very rich and interesting career. If you decide that it's right for you and want to start moving forward in the professional dive industry, here are your bottom lines.
You need to be at least 18 years of age
Certified up to Divemaster (Open Water, Advanced Open Water, Rescue Diver, Emergency First Responder, and Divemaster Course)
Have at least 100 logged dives
Have around $3000 to cover the cost of the course and the requisite materials
You must pass the Instructor Examination
If you're a seasoned recreational diver, chances are you've amassed at least some of these requirements. In addition, it's a good idea to take some of the specialty certifications offered after you complete your Advanced Open Water to become a more rounded diver.
It can seem like a daunting task when you're just starting out with your Open Water, but experience is crucial and it's way better to take your time and have a solid foundation than it is to rush headlong into a career you're unprepared for.
The rest of the guide will cover some of the intricacies of the PADI instructor pathway, and how you can move forward into a career teaching people how to dive.
teaching people how to dive. Instructor and the students in a swimming pool. This training intended to get a small taste of the demands of a scuba dive without committing to a plunge into the open water.
How Much Does a Dive Instructor Make?
As much as becoming a dive instructor is about the experience, at the end of the day you still need to be able to pay the bills. But, the question of how much money a dive instructor can expect to make isn't as straightforward as with other careers given the flexibility of the work, and the amount of variables that can determine your rates.
As a baseline, new Open Water dive instructors can typically expect to earn $20k USD in a calendar year. But, that's assuming your only skills are teaching beginner scuba classes.
If you continue to invest in yourself as an instructor, you can get certified to teach more advanced and specialty recreational courses such as nitrox and AVO. The more classes you are certified to teach, the more work you'll have, and the bigger asset you will be to the dive shop you work for.
If you're working through a resort or dive shop, you can make commission from selling gear and additional courses. If you're independent, you can pocket the entirety of your earnings but have to pay a lot in terms of overhead costs like renting equipment and pool space. It's not uncommon for new dive instructors to do some work on the side.
Some instructors go even further, getting into commercial diving, where the pay can be somewhat lucrative.
How Much Does it Cost?
The typical cost to progress from divemaster all the way to instructor ranges from $2000-3000 USD. But this isn't the bottom line.
Courses are often offered in modular components, meaning you sometimes have the option to knock out certifications like the EFRI (Emergency First Responder Instructor) separately, and sign up to do PADI's online learning components on your own time.
Prices and criteria will vary from center to center, but typically you can expect the following price breakdown in USD:
$1,200 for the IDC "course" itself
$350 for the Emergency First Responder Instructor certification and application
$900 for the Instructor Examination and application
$550 for PADI's online learning portion of the course
Oftentimes dive centers will offer package deals at a slightly discounted rate. These packages have been known to provide the required course materials and access to their dive facilities. This is a hefty investment on top of all of the previous time and resources you've used progressing through your recreational requirements, but there are ways to mitigate the price we'll discuss later in this guide.
there are ways to mitigate the price we'll discuss later in this guide.
Scuba dive Instructor and the students practicing to breath together with hand communication underwater
What Qualifications Do You Need?
In order to sign up for your IDC (Instructor Development Course) and start your career as a professional diver instructor, you first need to run the recreational certification gauntlet.
If you've been a PADI diver for some time, there's a good chance you already have your Advanced Open Water. Congratulations, that's the first big step towards your instructor candidacy.
After the AOW, you have to learn the skills to respond in the event of an incident through the Rescue Diver Course and the more general Emergency First Responder certification. The Rescue Diver Course is fantastic, and a worthwhile investment for any serious diver. Investing in a couple of specialty classes is a good idea too to round out your diving experience. Once you've completed these steps, you're ready to take your divemaster course and become a PADI pro.
As a divemaster, you'll learn best underwater leadership and guiding principles while assisting with classes and preparing for the responsibilities of an instructor. You don't need to work as a divemaster before you enroll in an IDC, you just need the certification which also requires at least 60 logged dives. However, you need at least 100 dives to qualify for the Instructor Examination.
Outside of technical qualifications, being a dive instructor means you have great customer service skills and the confidence it takes to lead students into the unknown. You should be comfortable in the water in variable conditions, and in good enough shape to assist students in need. A sense of humor, while not essential, definitely helps.
How Long Will it Take?
Depending on your resources and experience level, obtaining your dive instructor certification could take anywhere from a few weeks to a few years. For some perspective, the fastest you could possibly go from a brand new diver, all the way to OWSA is 6 months. The jury is out regarding whether or not that's a good decision.
While there's nothing inherently wrong with cranking through your certifications and getting a jump start on your career, that's a lot of information to process. Ultimately, only you know the limits of your own abilities. Turn a critical eye toward yourself and be honest about whether or not you feel like you can be responsible for the wellbeing of other people in an emergency situation. If you have prior leadership experience, there's a good chance you'll be able to adapt those skills underwater.
The IDC itself can run anywhere between five days to a week and a half, while the Instructor Examination usually runs around two days. There are many routes to becoming an instructor, and the path is going to look different for everyone. That being said, your IDC is a great opportunity to learn from your peers and long term scuba veterans. It's something to be enjoyed and taken advantage of if that's the experience you're seeking.
What Exactly is an IDC?
Think of the IDC as a sort of a capstone course for your diving education. It's just as much an academic endeavor as it is physical training. Before your IDC actually starts, PADI requires you first complete an online learning course to streamline the in-person training.
Instructor Development Courses are typically split into two parts. The Assistant Instructor course is a partial certification that allows you to co-teach with another, more experienced instructor. Candidates who make it through this initial training can choose to move on to the full OWSI certification which will allow you to teach autonomously. The majority of aspiring instructors push all the way through their IDC and go on to take the Instructor Examination shortly afterwards.
The bulk of the IDC is focused on giving you the tools to teach and assess core skills needed by any PADI open water diver. There's plenty of time for practice and drilling your demo and assessment skills, as well as the opportunity to practice teaching in a classroom setting. Above all, IDC courses are a fun, collaborative way to prepare for your Examination, and you should leave feeling confident in your ability to succeed.
In addition to the nuts and bolts of Open Water Courses, you'll also receive professional marketing and sales training, risk assessment techniques, and more about your role as an instructor in the world of scuba diving.
Choosing an IDC Center
If you're set on actually going for your OWSI, and have amassed all the funds and certifications necessary to sign up for the course, the next thing you'll want to do is decide where you're going to take it.There are benefits and drawbacks to every dive center, the trick is finding a five-star dive center that works for you.
IDC courses are offered all over the world, so when you're deciding where you want to go it's important to keep a few things in mind. The first and biggest constraint is going to be your own budget and timeframe. While the cold and murky waters of your hometown may not be as exciting as Bali, you'll learn all of the same skills locally as you would in distant, remote locations without having to pay for travel on top of the course. That being said, it's a great excuse to make a trip out of it.
You should also consider the kind environment you anticipate teaching in the most. The skills themself don't change, but factors like visibility, temperature, and general dive conditions do. Ideally, you'll be taking your IDC and your examination in a setting similar to the one you'll be teaching in. For example, if you belong to that small section of die-hard freshwater divers, you wouldn't get as much out of taking your IDC around a tropical reef. Specific considerations and tricks regarding new divers in these kinds of areas can be very helpful.
Ultimately Dive Centers that run IDCs are located pretty much everywhere you can dive, and a final but crucial consideration you should make is possible language barriers between yourself, your instructors, and your peers during the duration of the course.
Instructor Examination
You've completed your IDC, and you've practiced your skills and honed your teaching techniques. You've spent more time underwater than most people will in several lifetimes and are ready to take the final step in achieving your goal of becoming an Open Water Scuba Instructor–the Instructor Examination (IE). This roughly two-day test proves that you're worthy of representing PADI as an instructor, and are ready to take on the mantle of teaching.
After you've completed all your prerequisites and your IDC, you should feel well-prepared to tackle anything thrown at you over the course of the examination.
The IE is divided into four stand-alone sections. You need to pass each section to qualify as an instructor, but you can retry portions of the exam you didn't pass at a later date.
The four sections are a written exam where you prove your personal knowledge, a classroom teaching section where you demonstrate you can pass that knowledge along, a pool skills section, and an open-water skills section.
While the exam is generally regarded as "easy" there are some sections that are notoriously more difficult than others, particularly if you're asked to walk a faux student through a controlled emergency swimming ascent (CESA). Don't stress out too much about it though, ideally, the IE should be celebratory in nature, and you should feel good about yourself moving forward into your dive career.
Travel the World by becoming a Scuba Diving Instructor: Advice from a Diver
Want to travel the world by as scuba diving instructor? Look no further. This week I asked Talon, who is the man behind 1dad1kid, a blog where Talon chronicles his travels around the world with his son Tigger, to show you what it takes to live the dream of diving for a living. If you ever wanted to eliminate any excuse you have for not going after what you want in life – Talon does this while raising and educating his son and started with only $900 in the bank. I wanted to give you a real perspective on what being a dive instructor is really like, since my ADD would surely lead whoever I was guiding to a shark den or something, I will not be doing this job. Ergo, here's what it is like being a dive instructor by someone who has got love for the game.
Who you are and why are you traveling the world as a Scuba Diving instructor?
I had traveled a lot before I adopted a son and did some after. I wanted to raise my child in different countries and to get more living into my life. After looking at things, I decided I could work online, and we could lead a life as indefinite nomads. We started our journey with only $900 USD in the bank. I figured I could maybe teach English, and do some online language instruction to supplement our income as well. In preparation for our journey, I became scuba certified and realized that being a scuba instructor could also help us fund our travels.
Why did you become a scuba diving instructor and where have you traveled and worked as Scuba Instructor?
I have wanted to do scuba since I was a little kid. I finally got certified as an open water diver right before we left for our nomadic lifestyle. I loved it so much I knew I wanted to be an instructor, so when we were in Mexico I worked out a good discount to get my advanced open water and rescue diver certifications. After checking out locations, we decided to head to Utila, Honduras, where the divemaster and scuba diving instructor programs were much more financially reasonable, so we headed there. We ended up staying on the island for 8 months. I've done some teaching in Mexico and Malaysia but not a big level yet; mostly in Honduras.
How did become a Scuba Diving instructor and what are the requirements?
Utila, Honduras, is one of the cheapest places to become an instructor, and since I was familiar with diving there (because of doing my divemaster training), it seemed like a good idea to stay put. Utila is the #2 certifying location in the world for PADI, and they offer the instructor evaluation monthly, whereas other places may have it every few months. Having such a strong regular presence from PADI also means that the instructor preparation courses are high quality.
To become a scuba instructor, you have to be certified as an open water diver (for at least 6 months), advanced open water diver, rescue diver, divemaster, and Emergency First Response instructor (CPR and first), have logged 100 open water dives, and successfully complete the instructor development course (IDC), which is usually a minimum of a 10-day course.
After you have all the requirements, you can sit for the instructor evaluation (IE), which is a 2-day affair including presentations, mock instruction situations, multiple written exams, etc. PADI is a bit unique among diving organizations in that an instructor evaluator comes from headquarters to actually assess and certify instructors.
How much money do Scuba Diving Instructors make?
Scuba instructors typically don't make a lot of money on average, but it depends on the situation. Working at resorts and on live-aboards tends to pay better, especially since you can earn a lot in tips, and often they also provide lodging for staff (and occasionally some board as well). There are some travelers that work in a high-end dive operations for a few months during the high season and are able to save up enough money to be able to travel without working for the rest of the year.
Divemasters get much less than instructors on average, but they can sometimes supplement their income by doing underwater photography and/or videography during dives. Many people really enjoy having photos or video from their dives, and it can be a good money maker. [Turner sidenote – This is very true. I worked at a dive shop in Hawaii whilst in college and instructors were making $30-$50 per set they sold. However, it is more true for resort destinations vs Utila, Koh Tao etc which are full of cheapass backpackers. Likewise, if you are scuba diving in Cozumel you can also find great jobs].
In Utila, an instructor makes around $50 USD per student for a course (specialty courses are less). Depending on the skill level and comfort of your group, it can break down to about $5 or less per hour per student. When leading certified divers, you generally will earn around $3 per tank (most trips are 2-tank dives). If you lead a group of 6 divers on 2 dives, that means you will earn $36 for about 4 hours of work.
It is extremely rare to have any benefits such as vacation time, insurance, etc. Some of the high-end resorts in places like the Maldives do include one-way airfare after you finish your contract.
If you work in the office, you will generally get around $2.50 an hour in Utila. Some places that sell equipment will also give you a commission for items and classes you sell.
What is the social/life balance and lifestyle of Scuba Diving for a living really like?
The typical dive center lifestyle for instructors seems to involve a lot of partying. It is likely a bit less on live-aboards and at resorts, but it is a common sight. Since I'm a single parent, I didn't really participate in that side of the typical diving instructor lifestyle. Working in diving means you get to dive for free (as long as there is room on the boat), which is definitely an extra bonus. I worked at family-friendly places which were kind enough to allow my son to dive with me (he was certified after his 10 th birthday) when I wasn't diving as a staff member.
The work hours can be LONG. An 8-hour day is practically unheard of during the busy season. Your day starts at around 6 AM to get the boat loaded and gear ready. Then you have to travel to the dive sites. Most locations end up doing a surface interval at a dive site and a 2 nd dive before returning to the dive center. An instructor will usually teach more than 1 group at a time, so you dive with one group in the morning, come back, take a brief break for a meal, get with students to go over knowledge reviews, tests, etc., and then you go out with your 2 nd group. Often, after you get back you have to unload the boat, get gear put away, etc., and meet with another group of students to go over instruction. It isn't uncommon to not leave the dive center until around 7 PM or later. If the dive center has a bar or an activity going on for clients, you may be expecting to hang around and socialize with the clients, help staff the event, etc., on top of the diving.
Some dive centers also require you to spend some time working in the office on top of your instructor responsibilities, or you may be asked to lead a group of certified divers.
In addition to working long hours, you often work 7 days a week during high seaon. Some dive centers will work in one day off into your schedule. If you aren't on the schedule for a day, though, you could miss out on getting a larger group of students which means you missed out on a good chunk of money.
What kind of advice would you offer someone who wants to get a job as scuba instructor?
Some people consider becoming an instructor because they think it will earn them a lot of money. You don't become a scuba instructor to make lots of money. It is unlikely you're going to make 6 figures a year from scuba instruction. It's one of those jobs you do because you love diving and because it accommodates your lifestyle. It really is quite good for traveling, and if you're single you'll have a better chance of getting jobs that provide lodging and other money-saving benefits.
The least expensive places to get your instructor certification are Honduras and Ko Tao, Thailand (which is the #1 certifying area for PADI). You can find some comparably priced areas, but keep in mind that if you want to be able to get a job teaching right away, you may do better doing the IDC in an area like Utila or Ko Tao where the sheer volume of students gives you better opportunities to get certifications. In order to improve your chances of getting a job elsewhere, you're going to need at least 25 certifications under your belt. [Turner sidenote – Dahab Egypt is also one of the cheaper places in the world that also has a cool, social atmosphere like Utila and Ko Tao].
There are different levels of instructor certification. Open water scuba instructor (OWSI) is the entry level. Many dive centers are going to want you to be able to teach specialities and to have the master scuba diver trainer (MSDT) level of certification. In order to do that, you need to be certified to teach at least 5 specialties and have at least 25 student certifications. If the career development center where you do your IDC offers an MSDT program, I really encourage you to do it. It will enable you to be able to teach specialties faster and to get the MSDT rating sooner, which enhances your abilities to get a job.
Looking for more information on jobs and activities in Utila? Check out these other water sports reviews.
Travel Insurance
If you are going abroad or doing anything that would make your dear sweet mother cringe, I would recommend picking up some Travel Insurance. The hospital situation there can be sketchy, so pay a little to have the piece of mind. I recommend World Nomads – as that is what I get when I travel abroad. They have a ton of different coverage options for any situation. There are other companies online if you don't want to go with World Nomads, but I do recommend you get something so you can sleep like a sweet panda cub.
Disclosure: Please note that some of the links above may be affiliate links, and at no additional cost to you, I earn a commission if you make a purchase. I recommend only products and companies I use and the income goes to keeping the site community supported and ad free.
How to Become a Scuba Instructor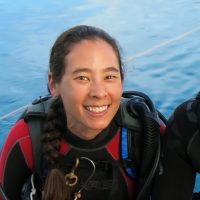 If you love sharing your passion for the underwater world and want to live an extraordinary life, why not become a scuba instructor? It's one of the most rewarding full-time or part-time jobs you can have.
Quite honestly, I'm a bit upset 'scuba instructor' does not commonly appear on the list of things you can be when you grow up. With all due respect to doctors, lawyers and firefighters, scuba instructors transform lives and play a vital role in environmental conservation.
Read on to learn how you can have a meaningful career, travel the world and make the most of your time on this ocean planet – as a PADI ® Scuba Instructor.
Steps to Become a PADI Instructor
The PADI IDC (Instructor Development Course) is the most recognized scuba diving instructor course in the world. The majority of the world's most successful dive instructors gained the knowledge, skills and confidence required to start teaching scuba during their PADI dive instructor course. In post-course surveys, 95% of student divers say they would highly recommend their PADI Instructor.
Step One: Meet the IDC Prerequisites
The first step to becoming a scuba instructor is enrolling in an IDC. To start your dive instructor training you must be at least 18 years old and meet the following requirements:
Be a certified diver for at least six months
Hold a PADI Divemaster certification (or qualifying certification)
Have at least 60 logged dives
Hold a current CPR and First Aid certification*
Have an in-date medical approval to scuba dive
* IDC candidates must have a current (within the last 24 months) Emergency First Response (EFR®) certification or hold a qualifying certification. EFR Instructor certification is required before you can start teaching.
How many dives do you need to become an instructor?
You only need 60 logged dives to enroll in a PADI IDC; 100 logged dives are required to receive your Instructor credential.
Step Two: Complete the IDC
The PADI IDC has two components: Assistant Instructor (AI) and Open Water Scuba Instructor (OWSI). You can complete them separately or all in one go.
As the name implies, the focus of the Instructor Development Course is learning how to teach, not perfecting your skills. By the time you start the IDC, you should already have excellent diving skills and professional-level knowledge of diving equipment, physics and physiology. In the IDC, you'll learn how to share your knowledge and experience with others.
During the IDC you'll learn:
How to give classroom presentations
How to work with students in confined water (a pool or pool-like environment) and open water
PADI's 4E's philosophy
How to market yourself as an Instructor
By the end of your PADI IDC, you'll have the knowledge, skills and confidence to train scuba divers through all of PADI's core recreational level courses as well as several specialties.
Here's something most people don't realize about becoming a scuba instructor: the things you learn in the IDC are helpful in other areas of life. In the PADI IDC, you'll learn how to explain complex ideas, give constructive criticism in a positive manner and improve your confidence in public speaking.
How hard is it to become a dive instructor?
Different parts of the IDC will be easy for some and challenging for others. For example, the classroom presentations were easy for me. I'm comfortable speaking in front of people and PADI's Guide to Teaching outlines everything you need to say. But others in my class were nervous and had a hard time at first. Meanwhile, I stressed out about the rescue exercise while other candidates (with long arms, I might add) completed it effortlessly every time.
It should also be noted that I started my IDC less than a year after I became a Divemaster. My skills were pretty sharp and I had only forgotten about half of my dive theory (oops!).
Other IDC students hadn't been active Divemasters for years. For them, the learning curve was a little steeper. The good news is: PADI is known for its high-quality instructional curriculum designed to accommodate students at various levels with different learning styles. It's one of the main reasons the majority of dive instructors are PADI Instructors. Furthermore, PADI's Instructor Trainers (known as Course Directors) are some of the dive industry's most experienced and elite instructors.
Everyone is different and some parts of the IDC will be easy for some and challenging for others.
By choosing PADI, you set yourself up for success.
If it's been more than a year or two since you became a Divemaster or assisted with classes, tell your Course Director. They might offer an IDC prep course or recommend ways to prepare for the IDC.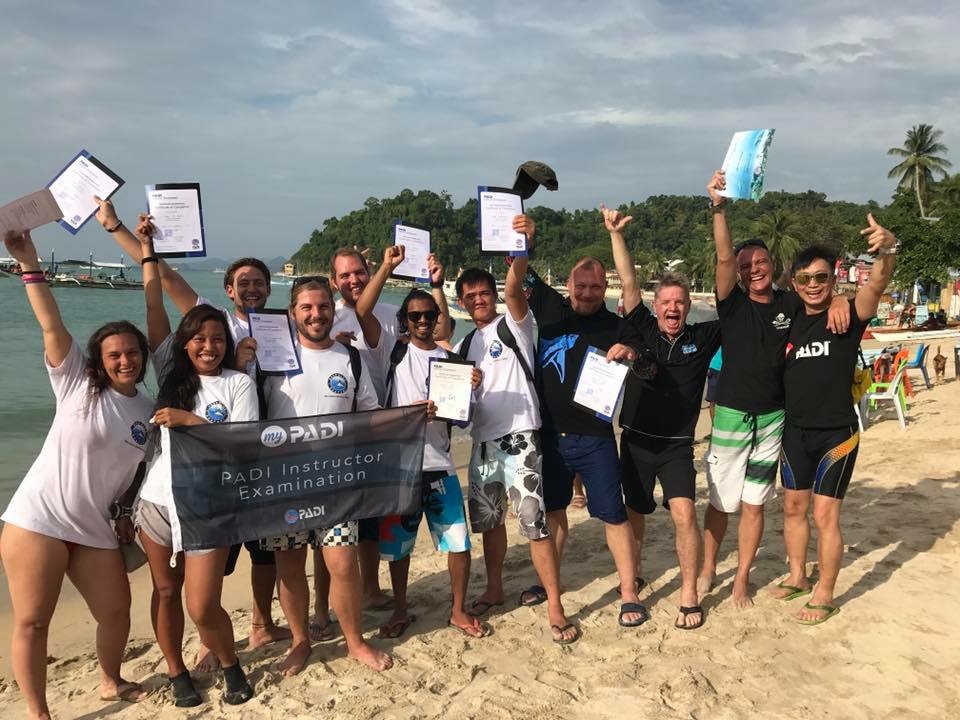 Step Three: Pass the Instructor Exam
After successfully completing the IDC, you'll be eligible to take the PADI Instructor Exam (IE). Instructor Exams are conducted by PADI Examiners, friendly, experienced Course Directors who work for PADI. Examiners follow standardized criteria to ensure instructor candidates have the knowledge and skills to become safe, effective scuba instructors. These independent evaluators ensure the evaluation process is objective, fair and consistent worldwide.
Once you're a PADI Instructor, you can apply for jobs on PADI's international Job Board and enjoy other benefits of PADI Membership.
How long does it take to become a dive Instructor?
If you meet all prerequisites, you can complete the PADI IDC in as little as 10-14 days. Not every IDC Center offers a consecutive day program, so be sure to inquire.
Prefer to take your time? Many IDC Centers scheduled scuba instructor training over the course of several weekends.
Step Four: Find Work (or not!)
PADI dive instructors are in demand – not just for teaching scuba classes. Check out the PADI Job Board to see the many scuba instructor jobs available around the world, or read this list of nine scuba diving jobs you may not have considered.
It's also totally fine to become a scuba instructor just so you can teach friends or family members to dive. You don't have to quit your job and travel the world; but once you're a scuba instructor, that option is always available.
Related Reading
Source https://www.divein.com/diving/scuba-instructor/
Source https://www.aroundtheworldin80jobs.com/scuba-instructor-in-utila/
Source https://blog.padi.com/how-to-become-a-scuba-instructor/