5 BEST Snorkeling & Scuba Diving Sites in Puerto Vallarta
Scuba diving & snorkeling in Puerto Vallarta is known for close encounters with giant mantas, dolphins, and schools of jacks. If you are lucky, swim with whale sharks, eagle rays, hammerhead sharks, and sailfish in the open ocean.
Below are some of the best places for snorkeling and the most popular scuba diving sites in Puerto Vallarta.
Best Snorkeling Spots in Puerto Vallarta
Snorkeling in Puerto Vallarta is a fun way to explore the area. You can find family-friendly adventures in the bay with any of the tour companies in the area. It is one of our favorite things to do in Puerto Vallarta with kids, and the best snorkeling spots are:
Los Arcos National Park
This rock formation is about 15 minutes south of Old Town, and it is well worth the trip. The scenery is beautiful and you can catch glimpses of Blue-footed Boobies, Humpback Whales (seasonal), dolphins, stingrays, pufferfish, and so many colorful fish!
Majahuitas
Grab a boat from Boca de Tomatlan to the beach of Majahuitas. It looks straight out of a postcard, and the amount of colorful fish makes it one of the best snorkeling spots in Puerto Vallarta.
Conchas Chinas
Just a 10-minute drive from Old Town, it is easily accessible. The best snorkeling is found slightly past the rocks where you will find all sorts of colorful fish swimming.
Las Marietas Islands
This protected marine preserve is full of marine life and home to the famous Hidden Beach. The boat ride can take up to an hour, but you'll be rewarded with turtles, dolphins, and maybe even whales! Also, keep an eye out for the famous blue-footed booby birds.
Best Scuba Diving Sites in Puerto Vallarta
Some say the best time for scuba diving in Puerto Vallarta is between November and May when sea conditions are calmest and wildlife encounters are at their peak (including humpback whales and their calves). It is also sunny, warm, and dry during these months, but the water temperatures can get quite chilly. The rest of the year is when water is the warmest and visibility is best, so it's never a bad time to go scuba diving in Puerto Vallarta. See the dive sites map below: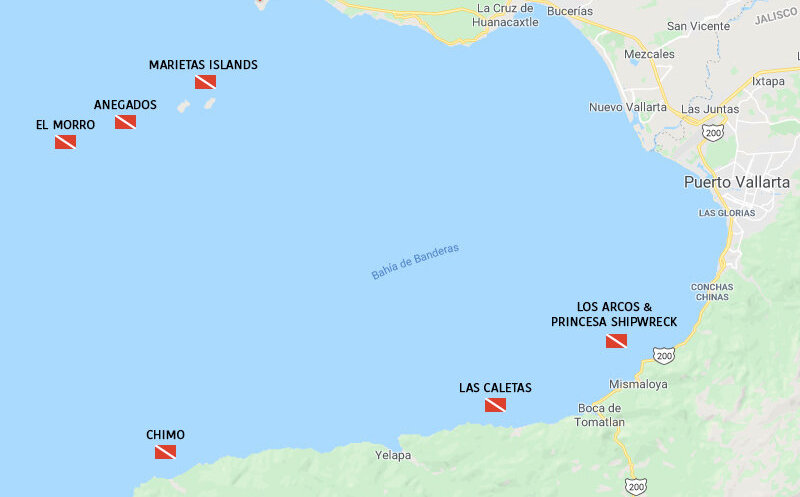 Best scuba dive sites map of Puerto Vallarta
Visit the best dive sites near Puerto Vallarta including hidden caves, tunnels, reefs with tropical fish, shipwrecks, and underwater mountain ranges – with many of them being suitable for beginners. We get a lot of people asking about Puerto Vallarta shark cage diving, but that type of tour is not offered in the area.
The 5 best dive sites in Puerto Vallarta include:
El Morro – a series of rock pinnacles extending above the surface. Due to its depths of up to 150 ft, El Morro offers wall diving, caves, and a 50 ft tunnel, giving experienced divers the chance to practice more technical diving (Advanced divers or 25 logged dives required).
Los Arcos National Marine Park – a cluster of granite islands that perch out of the water in the southern part of Banderas Bay. With depths ranging from 30-1600 feet, the waters surrounding Los Arcos are the deepest in the entire bay, offering experienced divers the perfect environment for night diving. See lobsters, octopuses, moray eels, rays, and all kinds of other colorful fish.
Las Caletas – an exclusive tropical beach hideaway on the south shore of Banderas Bay. There are underwater coves and a nearby natural reef wuth a diverse array of sea life, colorful tropical fish, turtles, manta rays, and some of the finest scuba diving on the Pacific coast of Mexico.
Marietas Islands Marine Reserve – one of the most popular sites on Mexico's pacific coast for scuba diving, and very close to Punta Mita. Since it is protected from fishing, there's an abundance of marine life here. It is part of an underwater mountain range that peaks above the ocean's surface, and they mark the entrance to Banderas Bay. See giant manta rays, sea turtles, dolphins, eels, and whales (in the winter months).
Chimo – find rock formations beginning at the surface with a reef going from 30 feet all the way down to 200 feet.
Scuba Diving Tours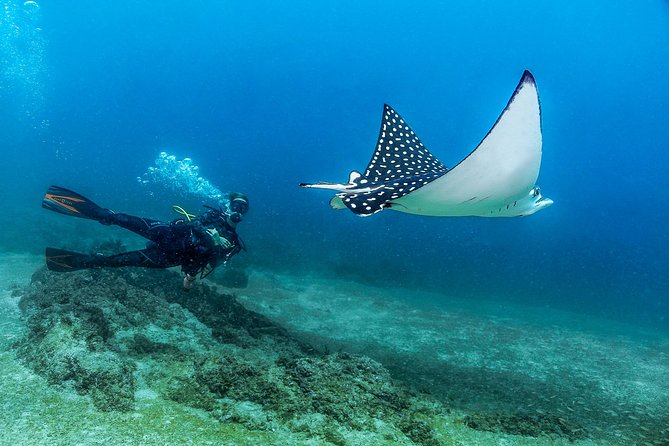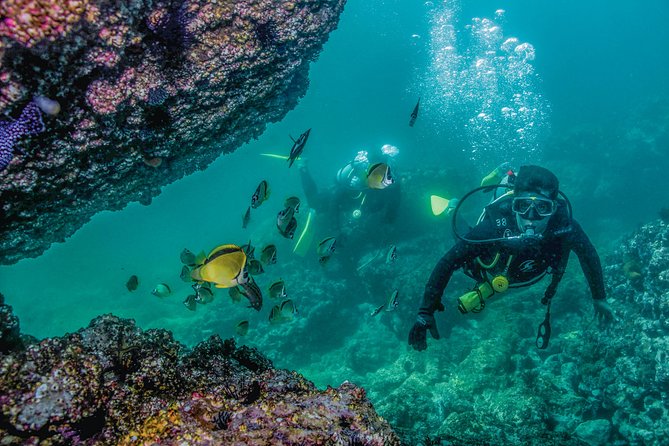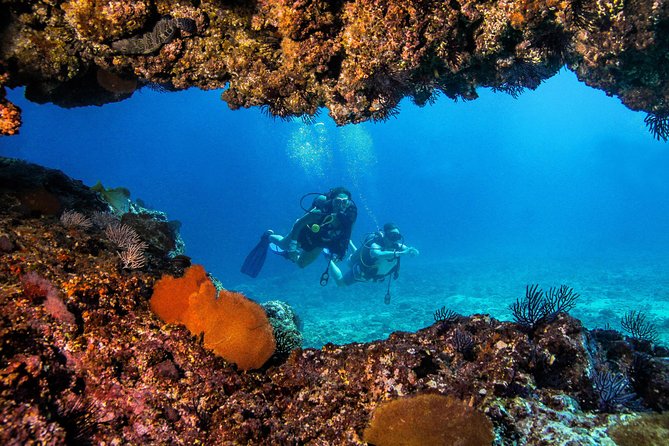 Choose from any of the above locations for a scuba diving tour in Puerto Vallarta that includes the following:
A PADI certified divemaster and top-of-the-line equipment
BCD
Wetsuit & fins
Regulator
Weights
2 Scuba Tanks
Lunch & Beverages
Scuba Diving Classes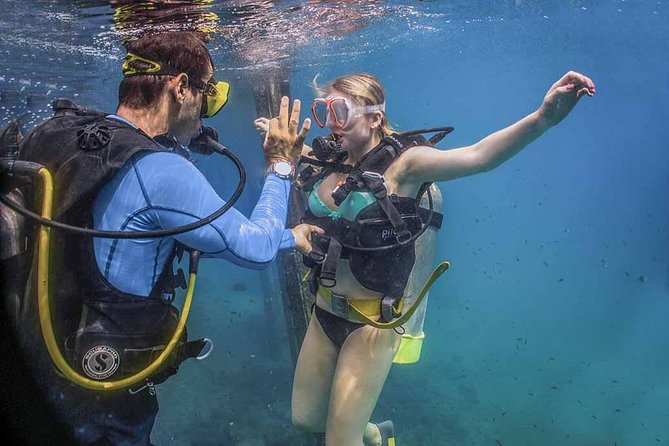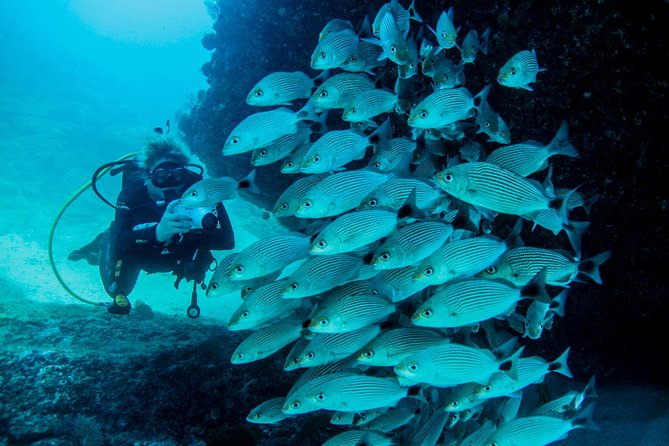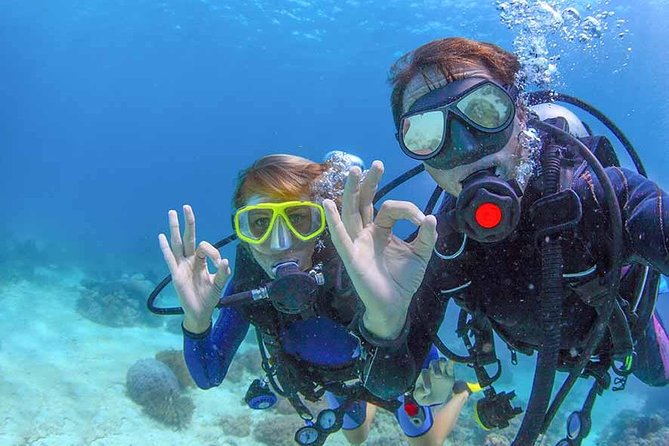 Learn how to scuba dive in Puerto Vallarta in the beautiful waters of Las Caletas, which is home to intricate reefs, sunken caves, and diverse sea life. There is also the option to take a PADI Scuba Diving Certification Course with flexible study options. Receive personal instruction from a PADI-certified divemaster. Las Caletas really is the ideal place to learn scuba diving in a controlled environment since there is abundant colorful marine life really close to the shore and to the private pier.
Marine Wildlife Calendar
Below is the Puerto Vallarta wildlife calendar from PADI, the Professional Association of Diving Instructors.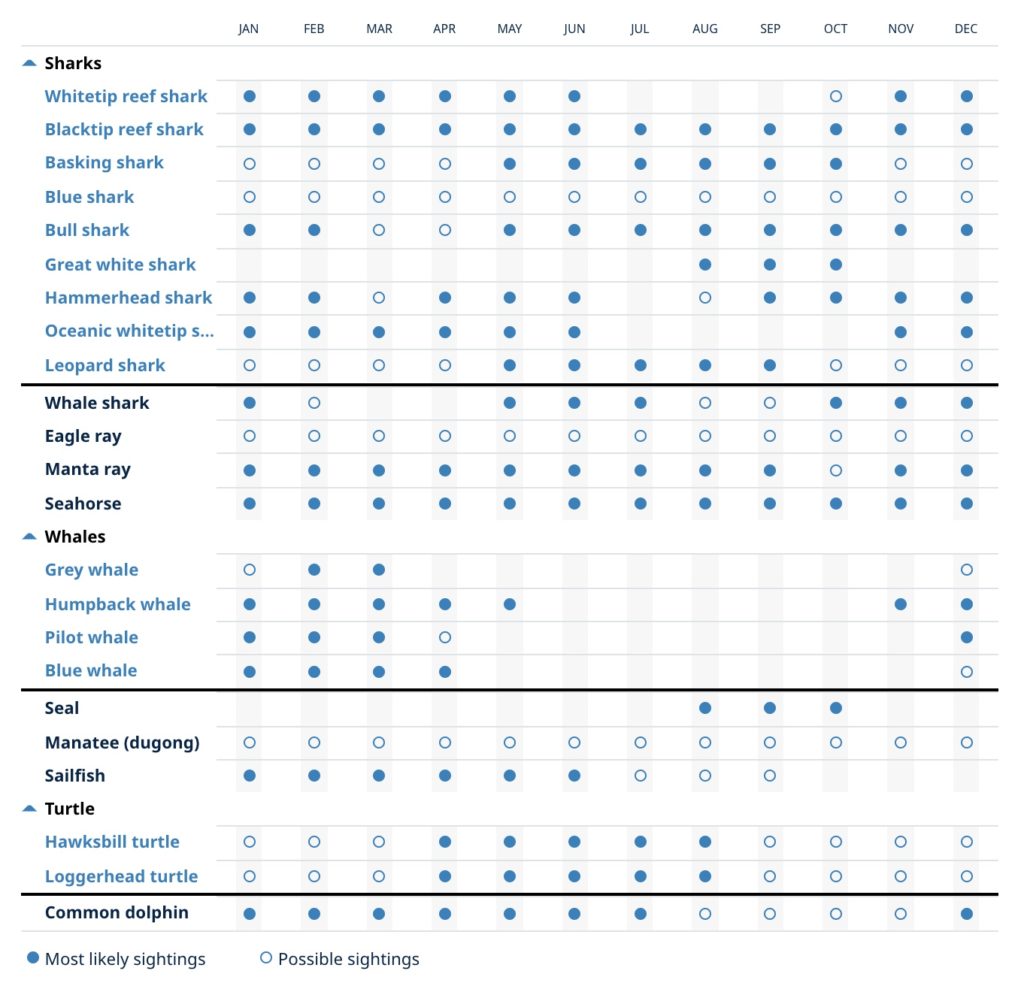 Beach Please independently selects & reviews the businesses, restaurants, tours, and expeditions we recommend on our website. If you purchase through affiliate links, we may earn a small commission at no extra cost to you.
Scuba Diving in Puerto Vallarta (Destination Guide)
Puerto Vallarta is an enchanting resort town on Mexico's west coast in the state of Jalisco.
With miles of coastline flanked by the forested Sierra Madre mountain range, it's a visually spectacular place to visit.
In addition to water activities in the Pacific Ocean, Puerto Vallarta is known for its authentic food, collection of art galleries, and artistic sculptures.
Jalisco is the birthplace of tequila and mariachi music, and there are frequent cultural festivals and events for visitors to participate in.
Local fishermen bring in fresh seafood daily, and rancheros offer horseback rides on the beach.
Whether you are looking for nightclubs, quiet beaches, family-friendly resorts, or adventures on the water, you can find it all in Puerto Vallarta.
Scuba Diving in Puerto Vallarta
Puerto Vallarta has a thriving scuba community made up of local guides, international instructors, and divers from all over the world.
Diving is possible year-round in Banderas Bay – one of the largest bays in Mexico.
There are many types of dive sites to choose from, including shore dives for beginners or discover scuba diving courses, and pinnacles for advanced divers.
Wrecks, tunnels, caverns, walls, and rocky reefs create a variety of landscapes all over the bay.
There are distinct seasons in Puerto Vallarta with different sea conditions that bring varying wildlife throughout the year.
Species that remain year-round include sea turtles, jacks, parrotfish, pufferfish, eels, lobsters, and eagle rays.
Sometimes lucky divers can glimpse a shy white-tip reef shark or an electric ray.
Octopuses like to hide in the rocks at almost every site, and macro fans can enjoy looking for tiny nudibranchs and arrow crabs.
In the warm summer months from July to October, the sea temperatures can be as high as 30°C (86°F) with up to 30 meters (100 feet) of visibility.
The average visibility is probably closer to 15-20 meters (50-65 feet). Seahorses hang out in the shallow sandy sites, while sea lions are sometimes sunbathing and swimming at the more remote boat ride sites.
Most divers comfortably dive without a wetsuit during the summer.
The winter season from December to March brings migrating humpback whales that put on a spectacular show visible from the dive boat.
If they're close enough, you can even hear their songs underwater during your dive.
The colder sea temperatures attract stingrays into shallower waters, so you can spot them swimming together or resting in the sand.
The water temperature averages about 23°C (73°F) in the winter, but can drop as low as 19°C (66°F).
There are usually one or more thermoclines where water of different temperatures forms layers, so the temperature can vary wildly during a dive.
Cold arctic currents bring nutrient-rich water to the bay, which attracts larger marine life like giant manta rays but also reduces visibility.
Visibility averages 5-15 meters (16-50 feet) in the winter. Most divers wear a 5-7 mm wetsuit in the winter.
Dive sites closer to shore usually have mild conditions and little current, especially in the summer when sea conditions are calm.
These sites are ideal for beginners or student divers.
Dive sites farther out into the bay frequently have strong currents that change rapidly and are reserved for experienced divers.
Best Diving Spots
Marietas Islands: The two Marietas Islands form a protected marine park and bird sanctuary.
Thousands of birds fly and nest around the islands, including the famous blue-footed booby.
Marietas usually offers calm conditions because the dive sites are protected from currents by the islands, so it's a great place for newly certified divers.
There are sandy shallow areas with bright corals and abundant tropical fish as well as deeper areas with swimthroughs.
The wall on Island 1 features a long swimthrough at 18 meters (60 feet) and a large cavern. Green morays love to hang out in the rocks all over Marietas.
Since Marietas is a protected area, only certified divers are allowed to dive there with a guide.
Los Arcos
Los Arcos ("The Arches") are impressive rock arches close to the shore at the southern end of Puerto Vallarta.
There are multiple sites at Los Arcos for beginners and advanced divers. Currents and conditions are usually mild.
The Aquarium
This shallow site has a maximum depth of 10 meters (33 feet) and is one of the best dive sites for students, beginners, or divers looking for a refresh.
The sandy bottom slopes down from the rocky island and provides a protected area where schools of grunts gather and lobsters hide in the rocks.
Devil's Canyon
Moving deeper from The Aquarium, divers will pass through a tunnel to a spectacular wall to dive deep that drops over a thousand meters into the Banderas Trench.
Open water divers can remain at 18 meters (60 feet) while advanced divers can explore 30 meters (100 feet) along the wall.
This is a great place to spot turtles or an elusive manta ray.
Bajo de Cristo ("Christ Shallows)
This site features both shallow and deep areas covered by rocky reefs and huge boulders. In the shallows, rays often lay in the sand, while the occasional turtle or white-tip reef shark rest in alcoves.
A tall pinnacle reaches from 25 meters (82 feet) almost to the surface.
El Morro
El Morro is a rocky pinnacle on the edge of Banderas Bay that can take 40 minutes to an hour to reach by boat.
El Morro features a large cave at 30 meters (100 feet) depth that leads to a long tunnel. Some parts of the tunnel are completely dark and require a flashlight to navigate.
Inside the tunnel, divers can sometimes find schools of snappers and sleeping turtles. The walls of the pinnacle are sheer and covered by corals and urchins.
Large rocks around the pinnacle create even more swimthroughs to explore. I've personally seen sea lions and manta rays at this site, and other instructors have seen whale sharks there. It tends to have better visibility than sites closer to shore, but the conditions can be extreme. Currents are strong and unpredictable, so only advanced divers can book a trip here.
Anegados
Anegados is a collection of rocky reefs and pinnacles 38 kilometers (24 miles) off the coast. The large rocks create a dynamic landscape of crevasses, arches, and swim-throughs on the sandy bottom.
Divers can sometimes see nurse sharks resting under rocky overhangs. Since this site is farther from shore than other sites, the visibility can occasionally be better – up to 30 meters (100 feet) – but usually an average of 15 meters (50 feet). The maximum depth is 24 meters (79 feet) and currents can be intense, so this site is best for advanced divers.
Caletas
Caletas is a relaxing dive close to Caletas Beach south of Vallarta. It's a popular spot for beginners to try diving for the first time because of its sandy bottom and lack of current. Divers enter the water from stairs on a wooden dock.
There are 2 small submerged boats, schools of pufferfish, and plenty of seahorses.
The maximum depth is 12 meters (40 feet). Tours to Caletas include access to the restaurant and hammocks along the beach.
Princesa Wreck
The Princesa was sunk in 2017 and is slowly turning into an artificial reef. It's a 24-meter (80-foot) long ship resting on the sandy bottom.
Divers can enter and explore the ship so it's a great place to get your wreck certification. With a maximum depth of 27 meters (90 feet), it's a site for advanced divers.
Chimo
Chimo is a small fishing village south of Puerto Vallarta accessible only by boat. The dive site by the town features tall pinnacles called Las Iglesias that resemble the towers of a cathedral.
There are large rock formations and sheer walls dotted with corals. Since this is a more remote site, there's a greater chance of seeing large pelagic species like mantas or loggerhead turtles.
With a maximum depth of 25 meters (80 feet), it's a great site for advanced divers.
La Corbeteña
La Corbeteña the most remote dive site that Puerto Vallarta has to offer. El Sequial is another nearby seamount normally done on the second dive. Divers can spot schools of jacks and potentially large pelagic species.
From the boat, you may be able to spot pods of dolphins cruising near the surface.
Since the area is unprotected from wind and ocean currents, the conditions can be difficult and unpredictable.
With a maximum depth of 30 meters (100 feet), an advanced certification is required to scuba dive there.
El Sequial
There is an underwater tabletop rock formation here hundreds of meters long at 18 meters (60 feet) of depth. The walls around the tabletop drop off for kilometers, making this landscape a unique sight.
Majahuitas
This hidden beach in a small bay is a beautiful destination for snorkelers and divers alike. Some tours will take you to the beach where you can do a discover dive from the shore, whereas dive tours drop certified divers directly over the reef.
Sloping rocks descend to a sandy bottom where garden eels peek out from the sand. This site is great for divers of any experience level.
Advanced divers can descend down to 24 meters (80 feet), while open water divers can stay in the shallower areas.
How to Get There
Puerto Vallarta has a busy international airport that receives flights from the U.S., Canada, Central America, Europe, and the U.K.
The airport is centrally located, making it easy to get to any part of the city.
Many popular cruise lines arrive at Puerto Vallarta's cruise terminal, including Royal Caribbean, Princess, and Carnival.
Dive operators are familiar with cruise ship schedules and will be able to book a day trip to accommodate cruise ship passengers.
It's possible to drive to Puerto Vallarta from anywhere in Mexico, the U.S., or Central America. Some roads are mountainous, but adventurous travelers make the journey all the time!
Where to Stay
Zona Romántica: The Romantic Zone at the southern end of the city is bustling and energetic. With cobblestone roads, restaurants, and galleries, the Romantic Zone is a favorite for many young or first-time visitors. This is the most LGBT-friendly area in Vallarta, although the whole city is very welcoming to visitors of all kinds. The Los Muertos pier and beach are top attractions
Downtown: The Centro ("Center") of Vallarta is a charming area featuring colonial-style architecture and the famous boardwalk. Called the "Malecón", this boardwalk features a seawall, sculptures, and an amphitheater for events. Most large nightclubs are right off the Malecón, as well as the central plaza and cathedral.
Hotel Zone: The Hotel Zone features large beachfront hotels and shopping malls. It's less walkable than the downtown areas, but taxis and buses are easy to find. There are many lodging options here, from standard hotels to luxury, all-inclusive resorts.
Marina: The Vallarta Marina is close to the airport and has upscale residences and resorts. This area features high-quality restaurants, a golf course, and beautiful views of the boats at the docks.
Nuevo Vallarta: Nuevo Vallarta is a quiet resort area and features the nicest beaches in the city. The beaches here are long and wide with soft sand. This area is less dense and features upscale hotels, resorts, golf courses, and beachfront fine dining. It's north of the airport and farther from the action of downtown, so visitors will need taxis or a rental car to get around.
Budget: Zona Romántica
Dive Shops
Vallarta Adventures: Vallarta Adventures is the largest puerto vallarta diving tour operator in the area and they offer trips to most of the dive sites in the bay. Many of the instructors have been working there for decades and know the dive sites extremely well. Vallarta Adventures has large tour boats that visit Caletas as well as smaller dive boats for the other popular sites. They offer fun dives and courses.
Banderas Scuba Republic: Banderas Scuba Republic is a small dive shop dedicated to personalized service on fun dives and courses. Their shop is located close to downtown and offers a selection of dive gear for sale. Their boats depart from the Los Muertos pier.
PV Ocean Tours: This dive shop offers courses, trips to popular dive sites, and private charters. They focus on safety and provide computers to buddy teams so everyone can monitor their dive.
FAQs
Is it safe to scuba dive in Puerto Vallarta?
Scuba diving in Puerto Vallarta is a very popular and safe activity.
All extreme sports come with risks, but as long as you follow your dive guide's instructions and stick to your limits, diving in the bay is a fun and rewarding experience.
There aren't any animals that pose a threat to divers aside from the occasional jellyfish.
Sites like Marietas and Los Arcos have considerable boat traffic, so it's important to always inflate a surface marker buoy before surfacing. Your guide will certainly have one on hand for your group.
Some sites feature caves and long tunnels, so staying calm and using a flashlight will help you navigate them. Remote sites like El Morro can have extreme currents, so divers will need to follow their guide's instructions and stay close to the group.
What's the best time of the year to dive in Puerto Vallarta?
While scuba divers enjoy Puerto Vallarta all year round, the conditions vary considerably from season to season.
If you prefer warm and clear water, it's best to scuba dive in the summer between June and November. The air temperature in the summer can reach a high of 32°C (90°F) with high humidity.
During the rainy season runs from July to October, rain and thunderstorms pass by the bay, but the sun still shines most of the day.
Rainy season also correlates with hurricane season, with August and September seeing the most hurricanes. While it's unlikely that a hurricane makes landfall in Vallarta, even passing hurricanes can cause damaging winds and rains.
The dry season lasts from December to May. During this time, the skies are clear and the air temperature drops to an average of 22°C (72°F) but can reach as low as 17°C (62°F).
The sea temperatures drop, and cold currents bring nutrients to the ocean, clouding visibility.
December and January are considered the high season when prices are highest and most tourists visit the area. December to March is also the time when humpback whales visit the bay.
The shoulder season from March to May is a good time to visit Vallarta if you want to avoid the crowds, price increases, and rain.
How much does diving cost in Puerto Vallarta?
Scuba diving is affordable in Puerto Vallarta. Beginner dives without certification, known as discover dives, start around $140 U.S., and 2-tank guided dives for certified divers range from $100 to $200 depending on the dive site.
Open water and advanced courses are usually about $500. If you're looking for private tours or luxury charters, you can find them starting at $500 up to thousands of dollars.
Tipping anywhere from 10-20% is customary in Mexico, so prepare to bring extra cash for your captains and guides. Most tour operators accept Mexican pesos and U.S. dollars.
Do you have to be certified to dive in Puerto Vallarta?
You don't have to be certified to dive in Puerto Vallarta. Many dive shops offer complete beginner courses like discover scuba and open water, including pool sessions.
It's also easy to find dive shops for specialty courses like deep, wreck, nitrox, and photography. If you're looking to become a professional diver, you can even take your divemaster course in Puerto Vallarta!
Many dive sites in the bay are beginner-friendly. Other sites cater to advanced divers and specialty courses.
Conclusion
Puerto Vallarta is a well-rounded scuba destination that has something to offer every diver.
I featured Puerto vallarta in the best diving in mexico guide as well.
Do you have a question or another dive site you would add to the list? Leave a comment below!
10 Things to KNOW Before Going Whale Watching in Puerto Vallarta
This blog may contain affiliate links. Read our disclosure policy for more info.
Puerto Vallarta is one of the best spots in Mexico for whale watching! Nature lovers flock from far and wide to see these amazing creatures swimming in the calm waters that surround the beautiful resort town.
Going out on a boat to see whales up close is easily one of the best tours to do in Puerto Vallarta. You get out on the water for the day and the feeling when you see a whale is pure excitement – it's like you're a little kid again!
Every year, whales come to the Bay of Banderas to mate and give birth – meaning if you time it right, you could see adorable baby whales. The bay's natural shape offers them protection from predators, while the warm waters are perfect for raising little ones.
Humpback whales are the most commonly seen whale in Puerto Vallarta, but you might also see blue and grey whales too if you're lucky. Dolphins, turtles, and orcas are also sometimes spotted close to the bay, so you have a great chance of spotting some of them too.
We're super passionate about whales and LOVE whale watching, so this was an incredible experience for us. Whale watching is one of the top things to do in Puerto Vallarta and it's one of those activities I never get tired of.
Whether this is your first trip to spot whales or you've been before, we've put together this guide of 10 things to know before you go whale watching in Puerto Vallarta. It will help you get the best experience you can!
1. About the whales in Puerto Vallarta
While you're out looking for whales, which ones can you spot? Humpback whales are the most common, but these are the top four types of whales you can see in Puerto Vallarta.
Humpback whales
Humpback whales are the stars of the show! They're the main species of whale that you will see on a whale watching tour in Puerto Vallarta.
Around 500-700 humpback whales visit the Bay of Banderas every year to mate and raise their young. The shape of the bay protects them from predators, and the warm waters are ideal for pregnant females to give birth.
Although humpback whales spend around half their lives in the cold waters around the poles, whale calves are not born with the layer of blubber that adults have to protect them from the cold. This is why whales migrate to warmer waters to give birth and raise their babies for the first few months of their lives.
Humpback whales generally range from 14-17 meters (46-56 feet) in length and weigh around 35 tons. This means that they're roughly half the size of a blue whale, which is the largest mammal on Earth.
They're popular with whale watchers because they breach more frequently than other types of whale, so your chances of seeing one are much higher.
In whale-watching terms, "breaching" means rising almost completely out of the water and then falling back in with a big splash. It's quite a sight to see!
The name "humpback whale" comes from their unique body shape, because they have a small fin on their back that resembles a hump. It's a fairly unimaginative name, but it fits!
Humpback whales don't live in big groups. They tend to travel alone or in pods of two to three whales. It's thought that they live between 50-80 years and they're very gentle non-aggressive animals. We love them!
Blue whales
As mentioned, blue whales are the largest mammals on Earth. They're also the loudest animals on our planet, with a vocal range that can reach up to 188 decibels.
To give you some context, that's the same volume as a jet engine! They use these loud noises to communicate with other blue whales, and they can be heard up to 1,000 kilometers (620 miles) away.
Pretty impressive, huh?
There's no guarantee that you'll see a blue whale in Puerto Vallarta – in fact, the chances are pretty slim. However, it has been known to happen, so keep your fingers crossed and your eyes peeled!
Grey whales
Grey whales are slightly shorter than humpback whales, although they weigh roughly the same. Their bodies are also more streamlined, with no dorsal fin. They have a mottled gray coloring, which is where they get their name.
These whales are gentle giants, and they're often seen close to the shoreline. They tend to travel in small groups, and can sometimes be seen "logging", which means lying motionless at the water's surface for up to 30 minutes at a time.
Bryde's whales
Every now and then, you might see a Bryde's whale in Puerto Vallarta. These whales are similar in size to humpback whales, but they're much less common. They're also known as "tropical whales" because they prefer warm waters. In fact, they're the only species of whale that spends its entire life in tropical waters.
This type of whale has two blowholes (instead of one, like most other whales), and they often travel in pairs. You're not likely to see them breaching, but they are known to "spyhop", which means rising vertically out of the water to take a look around.
2. When is whale watching season in Puerto Vallarta?
How cool is this?!
December to March is when the vast majority of whales come to the Bay of Banderas, so if you want to see them, this is the best time to do it.
The Mexican authorities regulate whale watching and determine the season. The official whale watching season in Puerto Vallarta is December 8 – March 23, although this may be subject to change.
So if you're visiting Mexico in December, plan to go whale watching from the middle of the month onward for your best chances of spotting these fascinating creatures.
If you're in Puerto Vallarta in March, try to go earlier in the month to ensure that you don't miss out in case the whales leave the area earlier than expected.
The winter months are also the dry season in Mexico, so you're less likely to experience rainfall, which is always good news when planning a boat trip!
Related read: If you're here during peak season, watching for whales is one of my favorite things to do on the Malecon (Boardwalk) in Puerto Vallarta!
3. What is the best month to go whale watching in Puerto Vallarta?
You're likely to spot whales in Puerto Vallarta from December to March, but the best months are said to be January and February. This is smack dab in the middle of whale watching season, so you're pretty much guaranteed to see whales if you go during this time.
The government regulates whale watching season, so it's important to check before you go to make sure that you're not going outside of the exact dates from December to March. If you go whale watching within this time, many tour companies will provide a money-back guarantee if you don't see any whales.
However, during January and February, the whale population is at its peak. The water is warm and the whales are most active, meaning that you're more likely to see them breaching, spy hopping, and swimming close to the shore.
We went whale watching in mid-January, and it was absolutely incredible! The water was teeming with whales, and we even saw a few breaches. It was definitely an ideal time to go.
If you're keen to see baby whales, then February or early March is the best time to come. This is when most of the calves are born, and you can see them swimming alongside their parents.
All in all, January and February are the best months to go whale watching in Puerto Vallarta. Not only are you guaranteed to see humpback whales, but you're also likely to see their babies, too!
4. What time of day is best for whale watching in Puerto Vallarta?
Seeing them this close is such a surreal experience!!
Most tours tend to last between 3-4 hours and leave at either 9 am or around midday. The whales are active throughout the day, so it doesn't really matter what time you go in that regard.
With that being said, we recommend taking a morning tour to avoid the heat of the midday sun. The water also tends to be calmer in the mornings, making for a smoother ride.
5. What are the best whale watching tours in Puerto Vallarta?
There are several excellent whale watching tours in Puerto Vallarta, so you can choose one that fits your budget and preferences. Whether you're planning your honeymoon in Puerto Vallarta or a family trip, there's a tour for you! We've listed some of the best options below.
Whale and dolphin watching with a biologist
This 4.5-hour tour allows you to see humpback whales up close, as well as a variety of other fascinating marine animals including orcas, giant mantas, and several different types of dolphins.
Your tour guide will either be a marine biologist or a professional wildlife photographer who has worked for National Geographic and Animal Planet, so you're in good hands!
This tour company also runs research programs for whales and dolphins, and during the trip, you'll learn more about their efforts and how you can get involved. This is a great option for anyone who is passionate about marine research and conservation.
The price starts from $87 USD per person, and the maximum group size is 15, so this is a pretty budget-friendly option as whale-watching tours go. The tour company guarantees that you'll see whales, or they'll give you your money back.
Private whale watching tour
This private tour gives you the chance to ask your marine biologist guide every question you can think of! It's a really special experience for those who are passionate about whales and other marine mammals.
The price of the 3.5-hour tour is $654 USD per group, and the maximum capacity is 10. If you're traveling with a group of friends or as a family, this is a great option as you'll get to enjoy the experience together without having to share with strangers.
The great thing about this tour is that it also includes lunch, so your private boat turns into a floating restaurant with a view!
Small-group half-day whale watching tour
This is a budget-friendly tour with a maximum group size of 10. It's ideal for anyone who doesn't want to spend too much money but would still like a smaller group experience.
The tour lasts for 4 hours and you'll learn all about whale behaviors and ecology from your expert guide, as well as how to whale-watch responsibly. It costs $98 USD per person, and it's best to book in advance because these tours fill up pretty fast!
Whale encounter Puerto Vallarta
At $79 USD, this tour is one of the most wallet-friendly whale watching options in Puerto Vallarta!
There's a maximum group size of 14, so the boat won't be super crowded, and there's a hydrophone on board that you can use to listen to the whales singing underwater! You'll also be helping researchers identify whales for conservation projects to protect them – so neat!
Related read: Another top tour is the spectacular Rhythms of the Night Show in Puerto Vallarta! If you're lucky, you might even spot whales on the boat ride over to the island where the show is held.
6. Are Puerto Vallarta whale watching tours eco-friendly?
Whale-watching tours are heavily regulated by the Mexican government. It's not like just anyone can start offering tours. There are rules in place and only companies that follow these rules are granted an official license.
All of the tours we have listed above are eco-friendly, and the companies make a conscious effort to minimize their impact on the environment. Many of them also support research and conservation initiatives.
They also follow responsible whale watching practices, which include viewing the creatures from a respectful distance to avoid disturbing them.
The companies also do not chase whales or approach if another vessel is already nearby, since this can be stressful for the animals. If a whale seems distressed, the boat will slowly leave the area.
7. Can you see other wildlife on a whale watching tour in Puerto Vallarta?
The dolphins are around all year!
Although whales are the main attraction, there are lots of other amazing animals that you can see on a whale watching tour in Puerto Vallarta.
Dolphins are another huge attraction. It's possible to spot bottlenose, spotted, spinner, and rough-toothed dolphins in the waters of Banderas Bay, and you might even see an orca (killer whale) if you're lucky!
You might also spot a false orca, which is a different type of dolphin that closely resembles an orca. These creatures are actually very friendly and are known to enjoy human contact. In fact, they often approach boats to say hello!
Giant manta rays are another type of animal that you might see while whale watching in Puerto Vallarta. These massive creatures can grow up to 20 feet (6 meters) in width, and they're absolutely stunning to see.
You may also spot marine turtles swimming near the boat, which is a pretty awesome experience.
Your guide will help you to spot all of the different animals, and they'll also be able to tell you more about their ecology and behavior. A whale watching tour is a super educational experience as well as a lot of fun!
8. Are whale watching tours suitable for kids?
If your kids love whales, they'll love a whale watching tour!
Children of all ages are welcome on whale watching tours. A whale watching tour is an amazing experience for all the family and kids will love getting up close to these incredible creatures.
All of the tours we have listed in this blog post are stroller-friendly, and infants must sit on an adult's lap during the boat ride.
If you are traveling with kids, it's probably better to book a small group or private tour because this will give you more space and flexibility. You'll also be able to ask the guide lots of questions about the animals, and they can tailor the tour to your family's needs and interests.
It's also better to opt for a morning tour if you're traveling with children to avoid the heat and enjoy the calmer waters.
Related read: If you're looking for more fun adventures for the whole family, check out the best day trips from Puerto Vallarta for ideas!
9. What should you wear/bring whale watching in Puerto Vallarta?
A hat is a great idea!
Make sure to bring some cash with you, as some tours have a dock fee of 40-50 pesos (around $2.50 USD), which you'll need to pay on the day.
It's also important to wear comfortable shoes with rubber soles, as the deck of the boat may get wet and slippery. You'll also spend quite a lot of time standing, so it's best to wear shoes that won't rub or give you blisters.
Hopefully, you'll stay dry, but wear comfy clothes that you don't mind getting wet just in case. A whale watching tour is not the time to don your fanciest outfit!
It's also a good idea to bring a light jacket because the morning breeze can be cold.
If you're prone to seasickness, it's a good idea to take some medication before getting on the boat. The water tends to be pretty calm but you never know, so it's best to be prepared. Dramamine is one of the most popular sea sickness tablet brands, and you should take this 30-60 minutes before you set sail.
The Mexican sun is strong, so wear a hat and sunscreen to protect your skin. And remember, you can still burn even if it's cloudy!
You'll also want to bring a good pair of sunglasses to protect your eyes, especially because the sun will be reflecting off the water. Polarized sunglasses are ideal when you're facing a lot of glare because they reduce the amount of light that enters your eyes.
A camera is a must on a whale watching tour! There are plenty of opportunities to take really great photos and videos, so make sure your camera (or smartphone) is fully charged before you get on the boat.
Last but not least, if you own a pair of binoculars, bring them along as well. They'll come in handy when you're trying to spot animals in the distance.
Related read: If you're hoping to capture more amazing photos from your trip, take a look at our top travel photography tips!
10. Is whale watching in Puerto Vallarta worth it?
Worth it!
One hundred thousand percent yes.
We've been all around the world and this is honestly one of the coolest things that we have ever done.
Banderas Bay is filled with whales and we saw SO many that we lost count. Several times, we saw multiple whales breaching at once.
It was incredible.
We went in mid-January, which is one of the best times to go whale watching in Puerto Vallarta, and we highly recommend that you try to go during this time too if you can.
Where to Stay in Puerto Vallarta
This adults-only resort is pure relaxation! Photo Credit: Grand Fiesta Americana
Now that you know when to go and where to go to see whales, it's time to find a place to stay!
The hotel options in Puerto Vallarta seem endless, there is so much to choose from for every budget! That's why deciding where to stay in Puerto Vallarta can be so challenging.
Here are some of the best hotels you should consider in Puerto Vallarta:
Low-Budget Hostel – Oasis Original Hostel
This hostel offers dorm beds as well as private air-conditioned rooms (for less than $30 USD!) It's in a great central location, the staff members are incredibly helpful, and breakfast is included! You can book it on either Hostelworld or Booking.com.
Low-Budget Hotel – Posada de Roger
We love this hotel! It is located in the heart of the Romantic Zone and is super affordable. All rooms have air-conditioning and they even have a pool that gets tons of sun. There is a shared kitchen that guests can use too which is a huge bonus. Honestly, this is our go-to place to stay in Puerto Vallarta. If you want to stay here, be sure to book in advance because it is almost always fully booked.
Me, swimming in the pool at Hotel Posada de Roger.
Mid-range Budget – Amapas Apartments Puerto Vallarta
This adults-only hotel offers self-contained apartments. It is located in my favorite area (Zona Romantica) and is very close to the beach, restaurants, nightlife, and shops. They have a pool on-site and all rooms are air-conditioned. A studio apartment goes for less than $100 USD a night, but book quick, this place almost always books up!
Luxury – Grand Fiesta Americana
This all-inclusive adults-only resort has it all! It is located right on the beach and also offers an outdoor pool and on-site restaurant. They also have a late-night club with a DJ, tennis court, and gym. The reviews are impeccable and the location is still close enough to town to easily access!
For even more choices, browse all hotels in Puerto Vallarta here! Or, read our blog about the best areas and hotels in Puerto Vallarta for a ton of detailed info!
Thanks for reading!
Thanks for reading!
I never get tired of going whale watching in Puerto Vallarta! After living and visiting Puerto Vallarta, it's one of my favorite places in Mexico, and seeing the whales here is ALWAYS a highlight. The tours are overall really affordable and you shouldn't miss out if you've never had a chance to see these incredible creatures.
If you're in the midst of planning a beachy getaway, make sure to check out our other blogs about Mexico. We've traveled across the country in search of the best experiences – from restaurants to tours to hidden gems. We'd love to help you plan your dream trip!
Source https://beachpleasemexico.com/scuba-diving-snorkeling/
Source https://divingcorner.com/puerto-vallarta/
Source https://destinationlesstravel.com/whale-watching-in-puerto-vallarta/