Scuba Diving in Panama – Everything You Need to Know
In this ultimate Panama dive guide, we'll discover this country's unique dive sites, marine life, dive conditions, and which coast wins top spot for your next diving holiday!
Panama Scuba Diving – The Basics
Panama is located south of Costa Rica, and north of Colombia. It is sometimes known as the "Miami" of Central America. The country has a tropical climate with hot and humid weather. Its rainiest season is between May and September, and driest season between January and May.
Panama City hosts the country's main international airport (Tocumen International Airport – PTY), and there are many other airports providing inbound flights for easy access from coast to coast.
Diving in Panama – Pacific or Caribbean?
Panama's two coastlines provide a mixed variety of marine life, along with suitable diving conditions for any level of experience.
Located on the Caribbean coast is Bocas Del Toro. This small Archipelago provides an array of dive operators, accommodation, and lovely food experiences for a variety of budgets. Bocas del Toro is located outside of the Atlantic Hurricane Zone, meaning it avoids the large Caribbean storms other dive locations get.
Looking for a secret tip from a Bocas Del Toro expert? Visit in May, September, or October for ultimate Caribbean sunshine and great visibility.
What marine life can I see diving in Panama?
Panama is not the most well known dive spot, so you won't find it on most scuba diving bucket lists. However, due to its two contrasting coastlines, diving in Panama has a lot to offer!
The Pacific coast is a lot more dramatic when it comes to marine life. Your diving experience begins the moment you step onto the boat. Humpback whales can be seen breaching, and their beautiful song can be heard underwater during your dive. Dolphins are almost guaranteed to be seen on your boat ride.
Manta rays also call Panama their home. There is a variety of reef sharks, along with turtles, barracuda, and eagle rays. If you're lucky, orcas and pilot whales are also known to swim through this area.
On the Caribbean coast the marine life is a lot more relaxed, although still breathtakingly beautiful. There are a lot more colourful fish, lobsters, and octopus. For all you small marine life lovers there are seahorses, flamingo tongue snails, and Spanish dancer nudibranch!
Although this coast is home to the smallest of species, don't be fooled into thinking that's all there is. There are also dolphins, spotted eagle rays, fevers of mobula rays, barracuda, and reef sharks. There have also been lucky sightings of hammerhead sharks, and even whale sharks!
What are Panama's scuba diving conditions like?
Panama's Pacific and Caribbean coast have different conditions, but both provide excellent scuba diving.
The average water temperature is 26-28ºC (79-82ºF). For morning dives, a short wetsuit or even rash-vest is suitable. By the afternoon it is recommended to wear a long 3mm wetsuit for more warmth as the sun begins to set.
The Pacific coast is slightly cooler, but provides larger wildlife and more extreme diving with perhaps trickier conditions. This coastline does have a gentle drift and much deeper waters. The diving here is mostly boat diving and focused on the largest island off this coast, Coiba.
The Caribbean coast is a lot calmer and shallower, which are perfect conditions to learn in. The main area for diving off this coast is Bocas del Toro. The archipelago's structure provides shelter from any strong current. Most dive sites start at around 5m (16ft) and progressively get deeper, with an average depth of 15m (49ft).
Best Scuba Diving in Panama
The total number of dive sites in Panama is unknown, however, Coiba alone has 30 beautiful spots to dive. With there being so many to choose from, here are the top spots we think you should add to your scuba itinerary!
Coiba
Coiba is the largest island in Central America, which also shares the name of the Coiba National Park. The park includes Coiba and 38 smaller islands, all off the southwest coast. As a UNESCO World Heritage Site, Coiba benefits from protected status.
Isla Pachequilla
This island has multiple dive sites. Amongst the volcanic rock, you can find many colourful fish. You may even see manta rays in the island's warm waters!
Isla Ladrones
Around this island there are many beautiful coral reefs, reef sharks, and sea turtles.
Bocas del Toro Diving
The main island in Bocas del Toro is Isla Colon. This is home to the archipelago's main town, airport, and several different dive operators. When diving in Bocas del Toro, you will see some of the most diverse coral reef systems in the world, as 95% of hard and soft corals are found here.
Bocas del Toro is home to some amazing dive spots. Expect sunken ships, deep ledges, cavern formations, and an abundance of coral reefs. There are 15 dive sites in total – here are our recommendations!
Barco Hundido
Meaning "sunken ship", Barco Hundido is a sunken ferry just off the coast of Isla Colon. This boat rests between 8-10m (26-33 ft) and is home to a variety of sea creatures including a small family of seahorses! This site also has a beautiful coral reef and is perfect for beginner and experienced divers alike.
Buoy Line
This sunken catamaran off Isla Solarte is quite difficult to navigate, so make sure you have an experienced guide with you. The catamaran lies between 12-18m (39-59 ft), a perfect depth to enjoy the wreck without worrying about your no decompression limit.
It has an abundance of marine life including octopus, barracuda, spotted eagle rays, and nurse sharks. It's also common to see mobula rays breaching. This site also makes a great spot for a night dive!
The 8 Best Diving Spots in South America
Want to experience some of the best diving the world has to offer? South America is home to an incredible variety of scuba diving – from frigid cold waters filled with whales to tropical reefs and submerged volcanic ridges. This paired with a vibrant culture and some jaw-dropping terrain makes South America a must on any scuba diver's bucket list. Whether you're a beginner diver or an experienced diver looking for a challenge, South America has something for everyone. This post is here to share with you some of the best scuba diving sites in South America.
QUICK ANSWER: THE BEST SCUBA DIVING SPOTS IN SOUTH AMERICA
1. Malpelo Island
2. Galápagos Islands
3. Fernando de Noronha
4. Peninsula Valdes
5. Abrolhos Marine Park
6. Easter Island
MALPELO ISLAND – COLOMBIA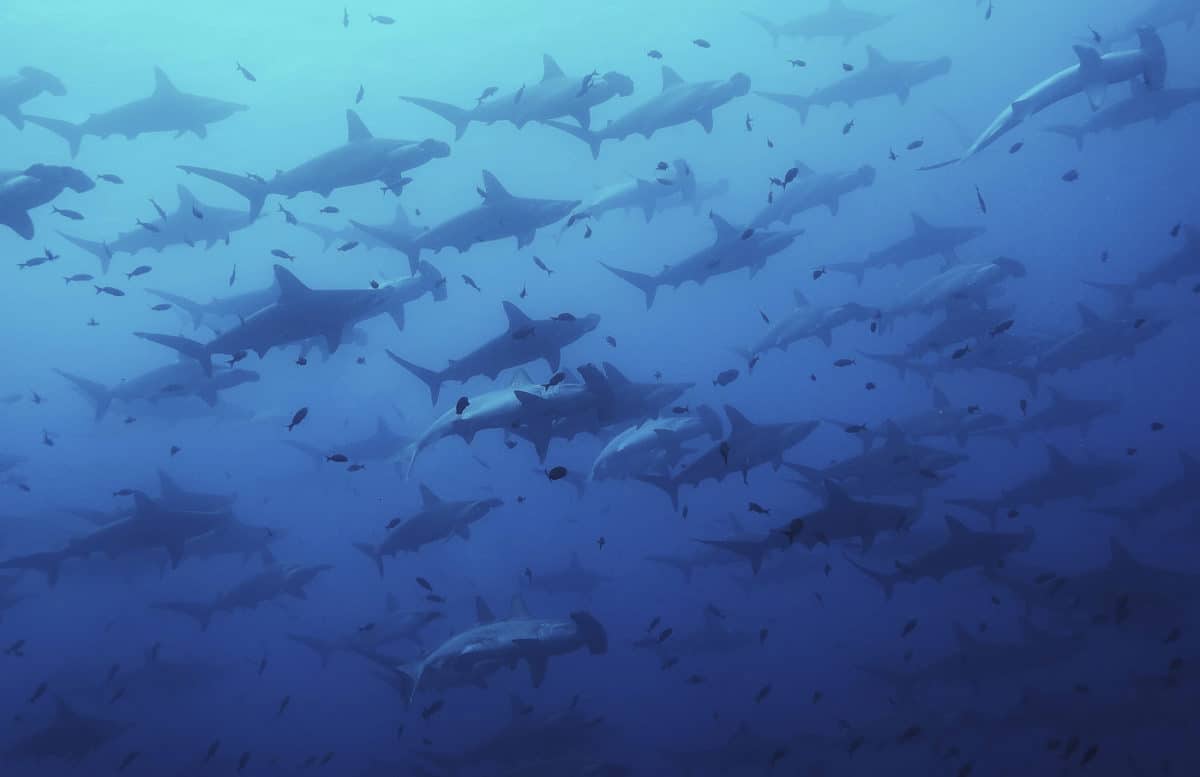 Photo by istockphoto.com/portfolio/montgomerygilchrist
Often compared to Coco's and the Galapagos Islands, Malpelo is famous for its abundance of large marine life, yet without the crowds. Far off the coast of Colombia, the island itself is only 8 square kilometers. It's the 300km underwater volcanic ridge paired with the convergence of currents that attracts the sheer amount of marine life. Enormous schools of silky sharks, hammerheads, and pelagic fish circle the island. Sometimes the marine life is so dense, it blocks the sunlight!
Malpelo is not a dive destination for beginner divers, and advanced open water certification is mandatory. Each diver must have his own surface marker buoy and dive computer. There is no decompression chamber for hundreds of kilometers, so stay conservative while diving.
GALAPAGOS ISLANDS – ECUADOR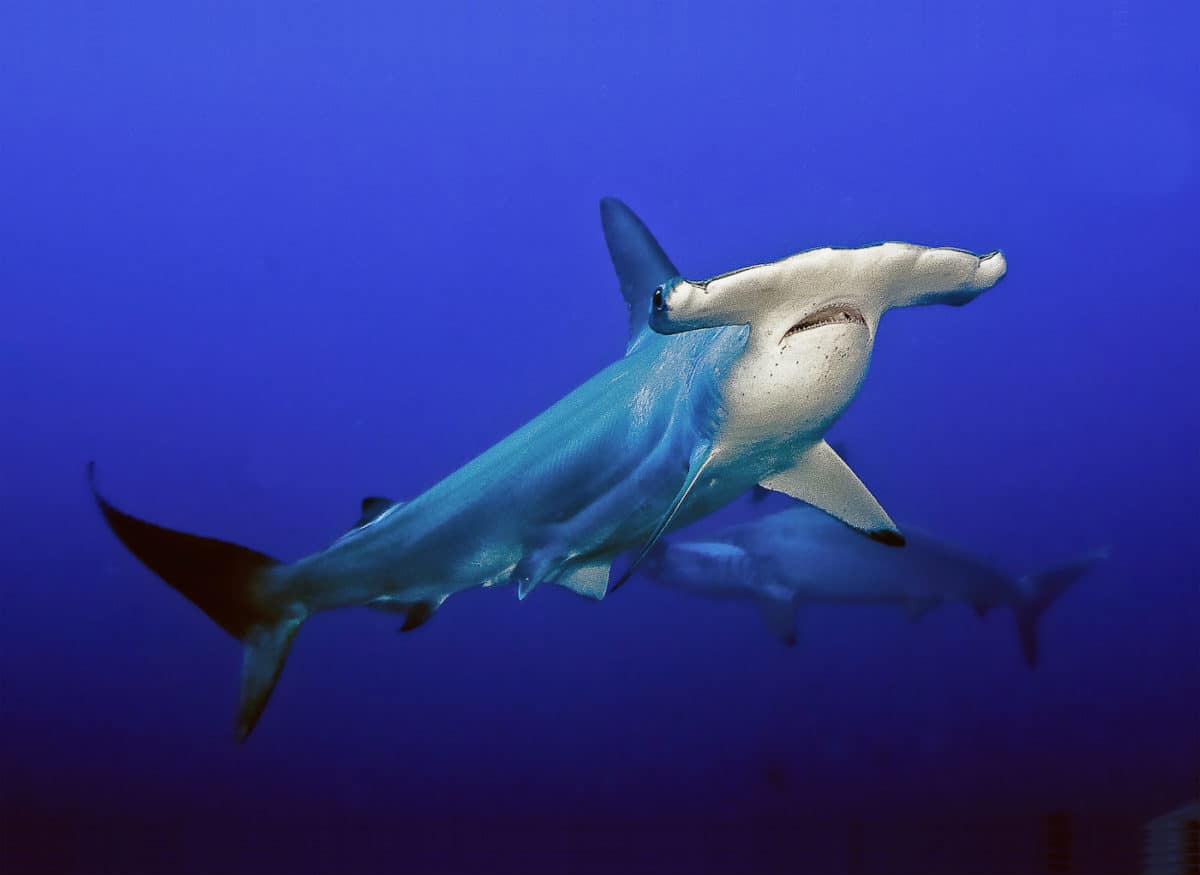 Photo by istockphoto.com/portfolio/burnsboxco
Often referred to as a pilgrimage trip amongst the diving community, the Galapagos has it all. A unique convergence of islands in the Pacific west of Ecuador, these islands have become renowned for its biodiversity and conservation. Nearly 20% of life found here is found nowhere else in the world! The deep sea upwellings fill the waters surrounding these volcanic islands with nutrients, attracting a unique community of life.
Almost the entire region is preserved as a national park. Picture shoaling Galapagos sharks, sea lions, turtles, whales sharks, dolphins, rays and the iconic marine iguana. Though day trips are possible, the best sites are accessed only via liveaboard.
FERNANDO DE NORONHA – BRAZIL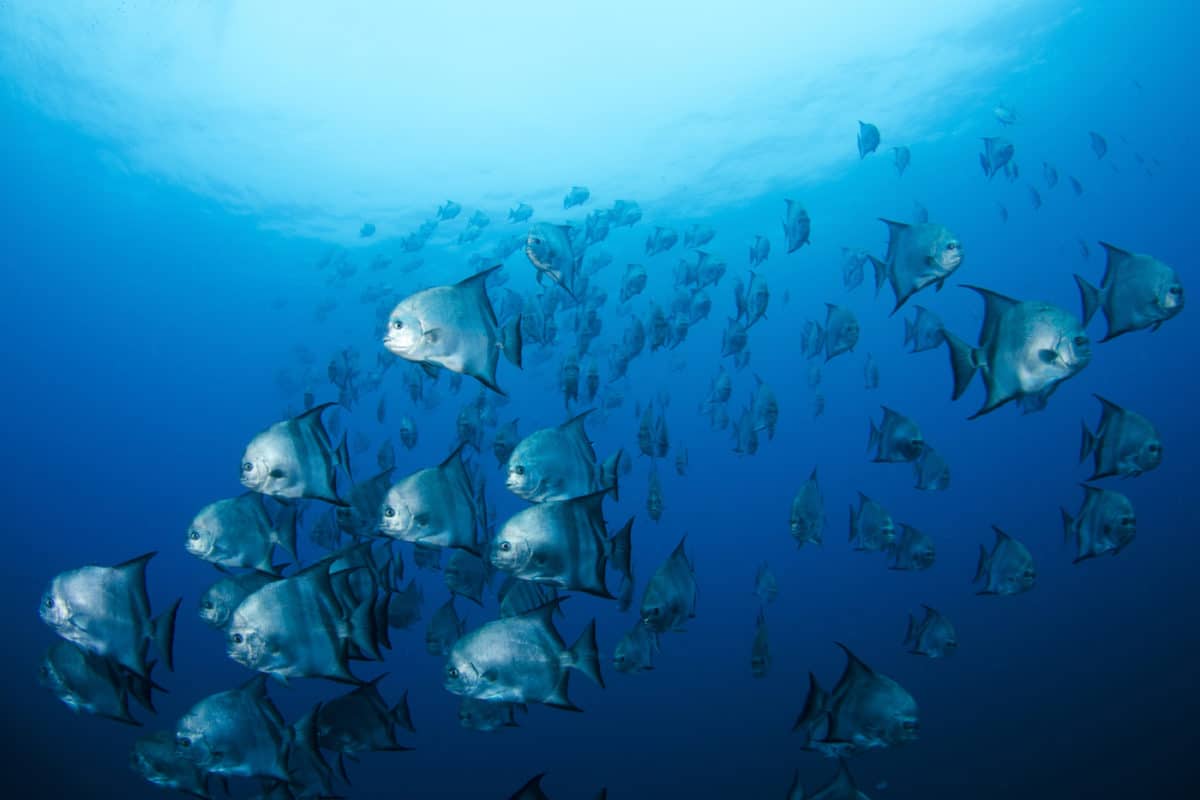 Photo by istockphoto.com/portfolio/leofrancini
One of Brazil's better kept secrets, the island of Fernando de Noronha is a divers dream. A two-hour flight from the mainland, this little island is Brazil's first marine park and a UNESCO World Heritage Site. It boasts some of the best visibility in the region, averaging at around 164 feet (50 meters).
A plethora of marine life inhabits these crystal clear waters. From tropical fish species to manta rays, sea turtles and reef sharks. Fernando de Noronha is also home to one of the biggest spinner dolphin colonies in the whole world as well as Brazil's largest sea turtle colony. Preservation is strict, and only a limited amount of tourists are allowed on the island at a time. There is also a hefty tourism tax. Worth it, though.
PENINSULA VALDES – ARGENTINA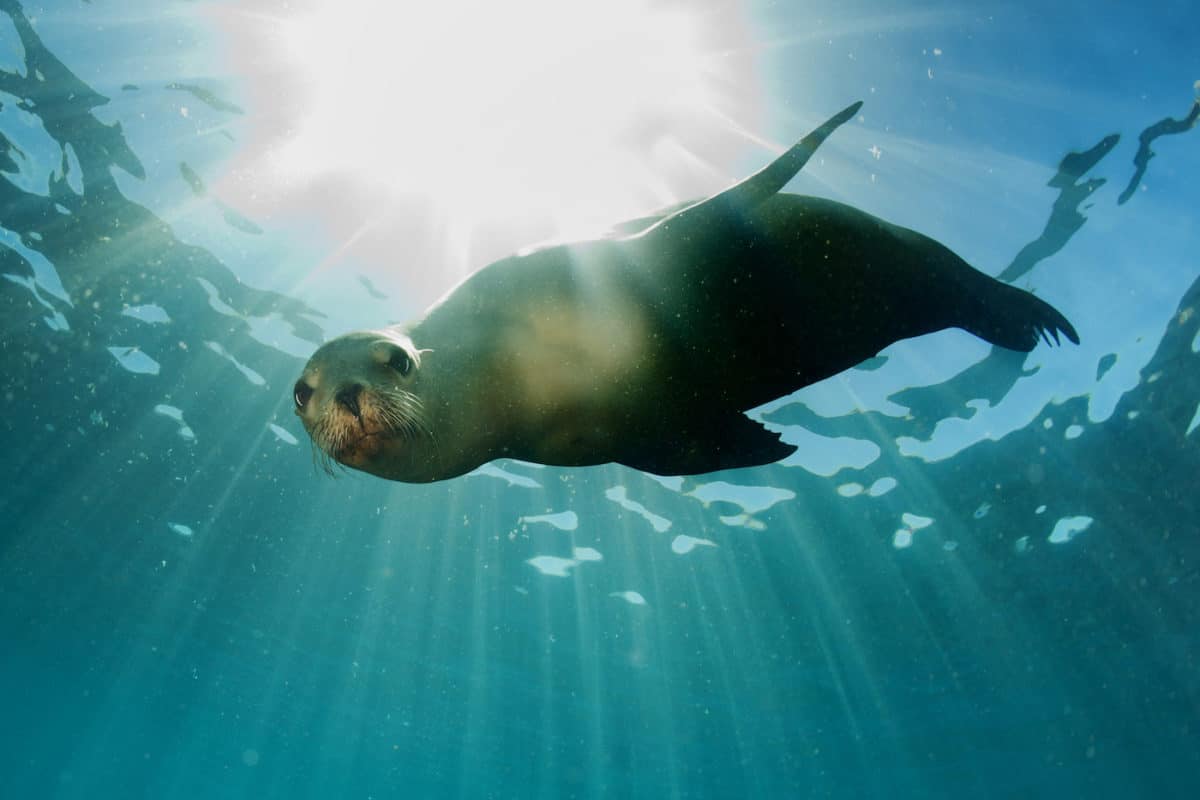 Photo by istockphoto.com/portfolio/izanbar
For those who don't mind bearing the cold, the Valdes Peninsula in Argentina is one magical place. It is a UNESCO World Heritage site and a mecca for special marine life encounters. Fur seals, southern right whales, penguins and sometimes even orca's grace these frigid waters. The city of Puerto Madryn is the gateway to this cold wonderland. Plan your trip according to what you hope to see, as life is migrational here.
ABROLHOS MARINE PARK – BRAZIL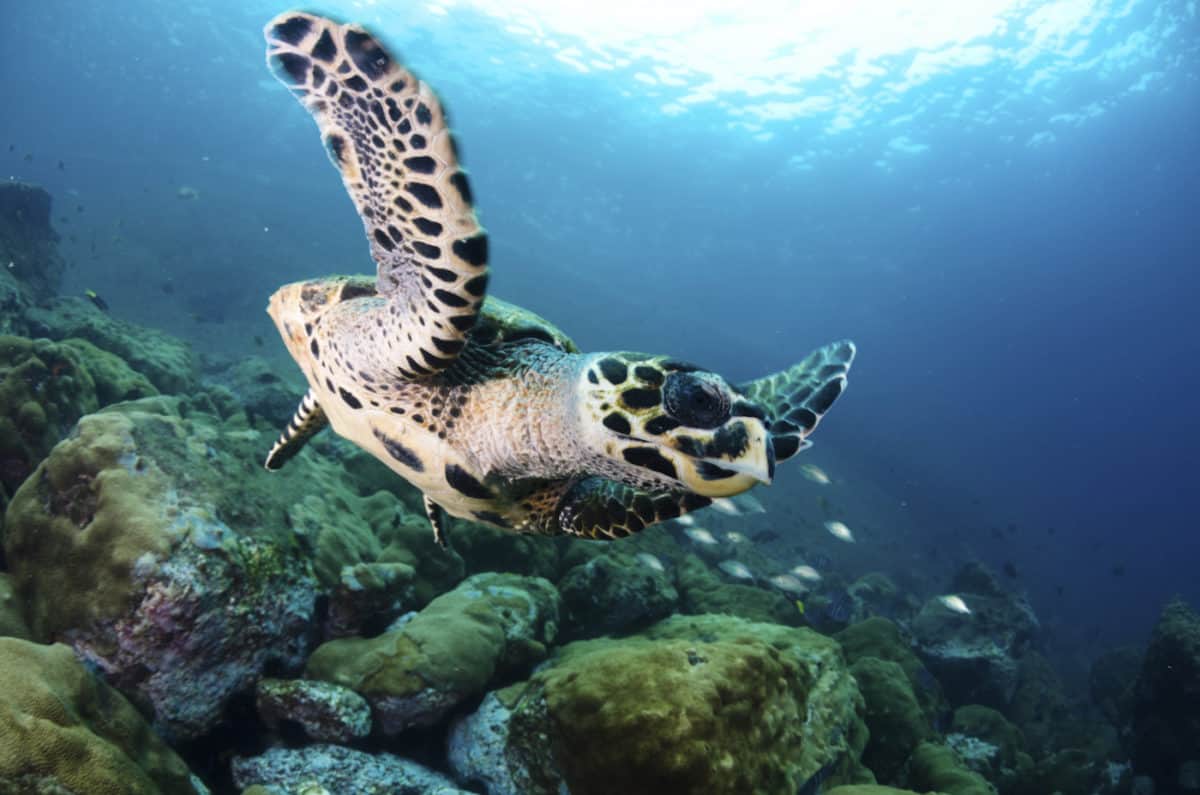 Photo by istockphoto.com/portfolio/leofrancini
43 miles (70 kilometers) off the Brazilian coast is a desert-like island archipelago known as Abrolhos. Don't be deceived by the barren top side look of the island's; marine life thrives just under the surface. This area is uninhabited except for a few park rangers and is only accessible via liveaboard boat.
The water is bath warm and is home to around 270 species of fish. Sea turtles, dolphins and manta rays are also frequent visitors. If you happen to come during the months of July and November, you might be lucky enough to have an encounter with Humpback whales!
EASTER ISLAND – CHILE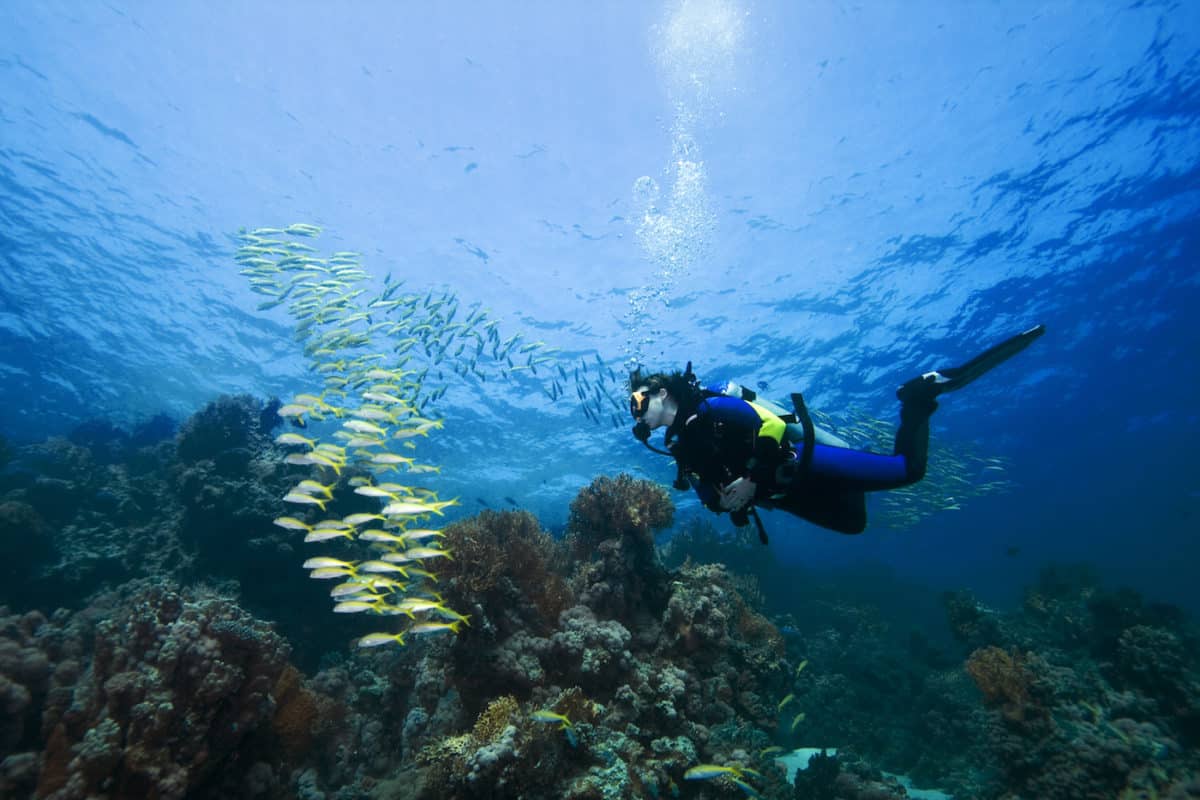 Photo by istockphoto.com/portfolio/DJMattaar
When people think of Easter Island, diving is not normally the first thing that comes to mind. In fact, Easter Island is home to some incredible diving. The average visibility is around 60 meters. Lacking regarding reef life, the main underwater attractions include vast rock formations, arches, and caves. A popular underwater attraction is a fake Moai statue placed on the seafloor. Though there is diving year-round, the best time to dive here is between the months of September and May.
LOS ROQUES – VENEZUELA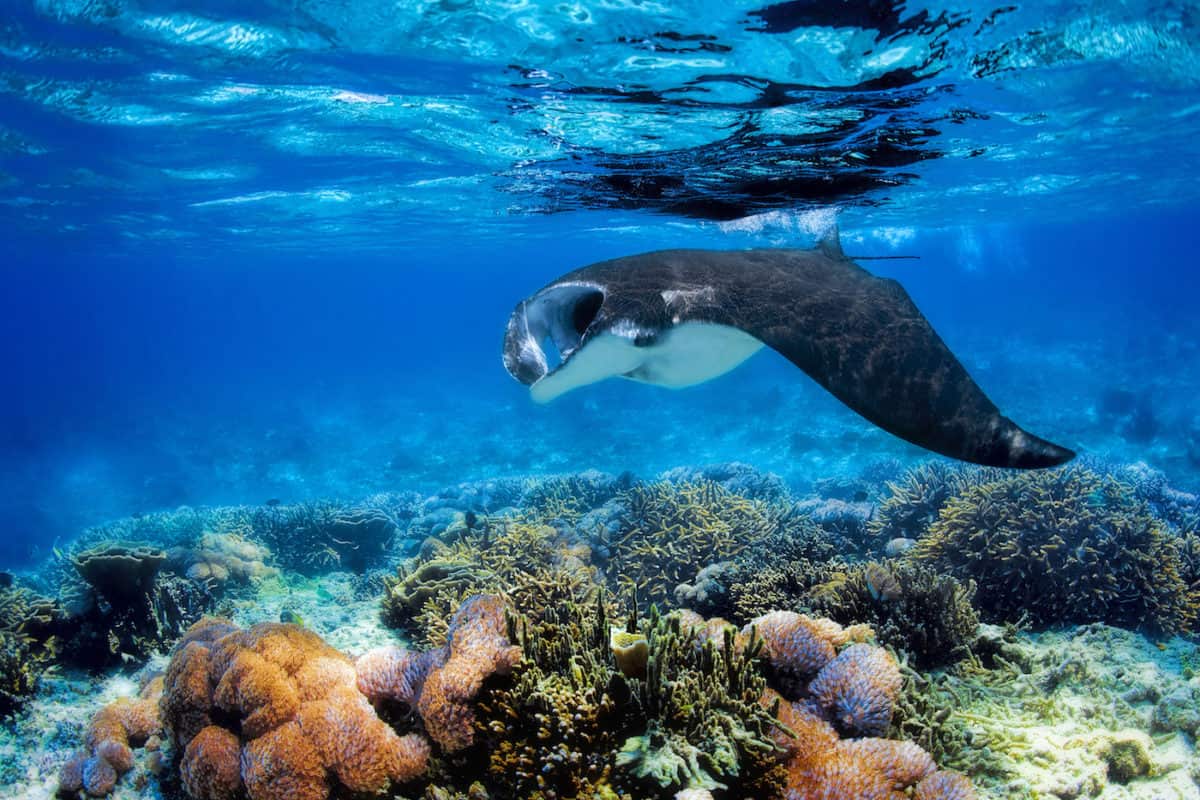 Photo by istockphoto.com/portfolio/kjorgen
An island archipelago of 350 islands, Los Roques, is a must for any diver visiting Venezuela. A national park with a population of 1500 residents, the area has remained pristine. The reef life here is thriving, and the crystal clear water is a dream come true for divers. Along with the variety of tropical fish, nurse sharks and even the cheeky manta ray can be spotted here. There are numerous dive sites all around the archipelago. From shallow reefs and seagrass beds to steep walls and caverns, there is something for everyone at Los Roques.
PROVIDENCIA – COLOMBIA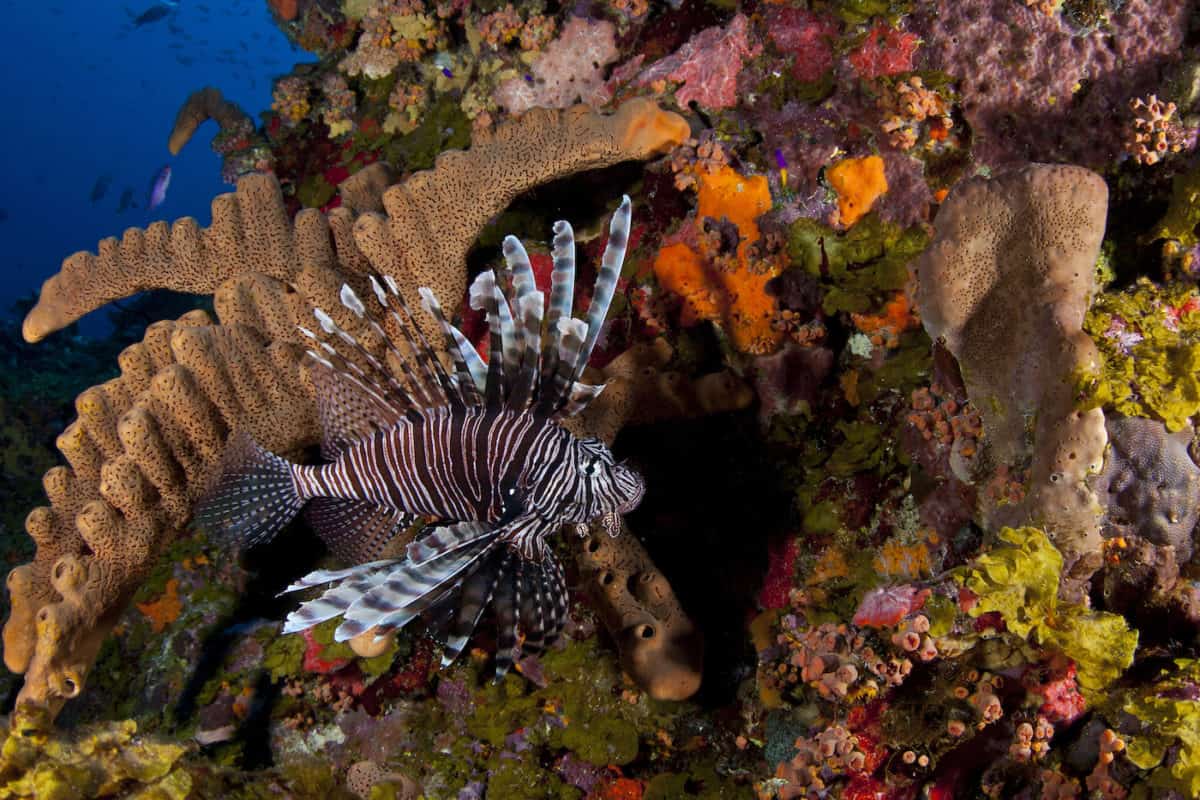 Photo by istockphoto.com/portfolio/Matt_Potenski
The islands of Providencia and Santa Catalina in Colombia are home to the 3rd largest coral barrier reef on the planet. This vast reef boasts over 40 dives sites. From blue holes, caves to even wrecked pirate ships, the variety of sites is awe dropping. A UNESCO protected area, diving here means diving amongst some of the most beautiful corals in all of South America.
READ MORE
For more of our top scuba diving gear recommendations, check out these popular buyer's guides:
5 Of The Best Diving Spots In The United States
The United States is home to some of the best diving in the world. From the warm waters of Hawaii to the chilly waters of Alaska, there is a dive spot for everyone.
If you are looking for a place to dive that is full of history, then you should check out the Great Lakes. These massive lakes are home to shipwrecks that date back to the 1800s.
If you are looking for a place to see some amazing marine life, then you should head to one of the many coral reefs off the coast of Florida. These reefs are home to thousands of different species of fish and other marine creatures.
No matter what your diving goals are, there is a spot in the United States that is perfect for you. So, what are you waiting for? Get out there and start exploring the underwater world!
From the East Coast to the West Coast, we've compiled a list of the top 50 scuba diving locations for this weekend. Sea lions, octopuses, wolf eels, and soft corals can be found on Alaska's Wall of Life. It is the ideal location for all that come to the Channel Islands from the open ocean: sharks, seals, and giant sea bass. HMCS Yukon, part of San Diego's Wreck Alley, is shown. The West Coast's most stunning scuba diving destination is Catalina Island. The Manta Night Dive takes place three miles off the coast of Kailua-Kona, on the Big Island. The Hebe is 115 feet deep, and it attracts a wide range of creatures.
The main commercial port on Hawaii's west coast is also home to a diverse array of endemic species, including octopuses, frogfish, and other fish. Lake Tahoe has visibility that can reach 75 feet, making it an excellent place to dive. Tracy Peterson, diving instructor at Anacortes Diving, says the Strawberry Wall is breathtaking. The Bonne Terre Mine is a former lead mine with a 100-foot-wide open pit. The Cornelia B. Windiate is a three-masted ship with a depth of over 180 feet and a length of 138 feet. Divers can look out over the machinery on the aft deck, pilothouse, and wheel. It's a great place to dive in Monterey Bay during Squid Mating and Death Frenzy.
Angelfish, grouper, and nurse sharks can be found on Sombrero Reef, a Florida Keys National Marine Sanctuary. A grouper that lives at Deerfield Beach's Aqua Zoo will become visible when it contracts its swim bladder. Alligator gar swarms this prehistoric and creepy site, and the number of them is astounding. Divers trained to operate under caution can explore the engine room, 11 elevator shafts, and cargo hold shafts. Batfish, flying gurnards, and snake eels can be found in this muck paradise during a high tide. The Texas Clipper, the third largest sunken vessel in the United States, is located in the waters off the coast of Maine. You can see a variety of cool macrolife in the structure, including blennies, crabs, and other organisms.
La Jolla Cove is best known as a haven for sea lions and seals, which live in thick kelp forests. If the water temperature falls below 85 degrees Fahrenheit, visibility will be very good; whale sharks and hammerhead sharks meet up at Flower Garden Banks National Marine Sanctuary, 100 miles offshore, from August to May. A crevice crack can be found on the ocean floor off the coast of U.S. territory of Micronesia, named after the island. There is usually a lot of fun at the pool, which is 50 to 70 feet deep and can be difficult to navigate.
What Is The Dive Capital Of The World?
Image Source: https://scubadiving.com
In Florida, scuba diving is referred to as "scuba gear." The BCD (belayment compensator device) is made up of a mask, snorkel, fins, and a snorkel. You can see underwater by wearing this mask. snorkels allow you to breathe in water with your mouth above the surface. It's simple to swim without using your hands with fins, thanks to this article on Wikipedia. Divers can easily access many of the dive sites because there are so many to choose from. Florida's Keys are located on the third largest barrier reef in the world.
Bonaire is the most popular dive destination in the world. There are more than 60 dive sites along the shore and in crystal clear blue waters. Renting a pick-up truck is the best way to get around the island. Drive's dive packages provide you with unlimited diving time. The Caribbean island of Bonaire is the ideal vacation location, whether it's for a short trip or a long vacation. The TOP 10 list is made up of some of the most incredible dive sites that you should not miss. You might want to consider diving on Bonaire's pristine reefs as well.
The Best Places To Scuba Dive
What are the best countries to scuba dive? Indonesians: you are welcome! In total, more than 13,000 islands in the country have their own distinct identity, as distinct from one another as the water. Many refer to Grenada as the wreck diving capital of the Caribbean, with 12 wrecks discovered throughout the island's south-west corner. Which state has the most scuba diving enthusiasts? Colorado is well known for its vast mountains, but it is also a popular tourist destination for scuba divers who enjoy the lakes scattered throughout the state or the oceans that surround the planet. Colorado has the highest rate of certified scuba divers per capita of any state in the country. The United States is the best place in the world to dive, so if you're looking for a safe and fun place to dive, look no further.
Which State Has The Most Scuba Divers?
Image Source: https://abcnews.com
There is no definitive answer to this question as it largely depends on what criteria is used to measure the number of scuba divers. However, some estimates suggest that Florida has the most scuba divers, with California, Hawaii, and Texas also having large numbers of divers.
Which state has the most scuba divers? For scuba divers, the opportunity to learn new skills can be extremely rewarding. It's all about meeting new people and traveling, and you get to work in some of the world's most exotic settings every day. Some diving instructors can earn as little as $500 per month, while others can earn as much as $600. You must consider a few things in order to become a scuba diving instructor. In Maine, a factor presence standard is not used to calculate corporate income taxes. Wyoming's sales tax is 4% on purchases of goods and services. If you purchased an item or service outside of New Jersey that is taxable, you are legally required to pay Use Tax.
The Best Place In The World To Scuba Dive
Colorado is ranked first in the country in terms of certified scuba divers per capita. Divers in this state enjoy exploring the numerous lakes and oceans that surround the planet, as well as the many lakes that dot the state. Although Florida is the world's most popular scuba diving destination, the Indonesian Republic is widely regarded as the best place in the world.
Best Diving In U.s. Territories
Image Source: https://pinimg.com
There are many great places to dive in the United States Territories. The best diving in the US Territories is in the Virgin Islands. The Virgin Islands offer some of the best diving in the world. The clear water and abundant marine life make the Virgin Islands a great place to dive. There are many dive sites to choose from in the Virgin Islands. There are also many dive shops and schools to choose from. The Virgin Islands are a great place to dive for all levels of divers.
Americans looking for a relaxing vacation can take a scuba dive in the Virgin Islands. There is no passport required, and you can easily access the island from the mainland. The pilothouse and cockpit of the WIT Shoal II are located 30 feet apart. A few of Pinnacle's rock spires can reach a height of 40 feet above the ground. The Butler Bay Wrecks are one of the most well-known and well-kept secrets in Wall Diving. The macro life teeming along the shoreline of Frederiksted Pier is one of the most fascinating things to see on St. Croix's western shore. The Cathedral, a large, open space with multiple entrances, is one of Congo Cay's most well-known attractions. You do not need a passport to visit the British Virgin Islands, but you might need one if you do not have a passport. The weather on the islands varies significantly from 70 degrees in the winter to mid-80s in the summer.
Why The Virgin Islands Are The Best Place To Go Diving
Divers can explore a variety of diving destinations in the Virgin Islands, making these trips simple to plan. The islands are surrounded by underwater reefs teeming with coral and are home to beautiful walls as well as hulking wrecks. Turks and Caicos Islands are a haven for scuba diving in the Caribbean, with a diverse range of marine life to be seen. There is a healthy and vibrant environment beneath the surface, with coral visible everywhere. In addition to the 12 wrecks discovered in the south west corner of the island, diving in Grenada is also enjoyable.
Best Places To Scuba Dive In The U.s. For Beginners
There are many great places to scuba dive in the United States for beginners. Many of the best places are located in Florida, including the Keys and the Panhandle. Other great places to scuba dive for beginners include Hawaii, California, and Puerto Rico.
There are several water-based activities to enjoy, but scuba diving and snorkeling are two of the best. Dry Tortugas National Park is regarded as one of the best places in the country to scuba dive. The Point Lobos State Marine Conservation Area is located in Monterey Bay and was established by the state in 1964. Flower Garden Banks are about 100 miles offshore from Freeport in the most northern section of the United States' coral reef system. The site's spawning coral polyps, which attract hundreds of fish to feed, bloom in late summer after the first full moon of the year. After an algae dinner, this excursion will allow you to observe these incredible fish as they swoop into the air. Every scuba diver in the Florida Keys has a chance to explore some of the most stunning shipwrecks and reefs in the world. If you're interested in diving for the first time, these are the best dive sites to visit for on-site instruction. If you're ready, make an appointment right away.
Scuba Diving: An Easy, Safe Activity For Everyone
To become a competent scuba diver, you must first complete an Open Water course. Throughout the eight-day course, students will learn everything from how to dive safely and correctly to explore the underwater world. To begin, you must be at least 12 years old. The course can be completed at a depth of 12 meters (40 feet) for junior divers (10 to 12 years old).
Despite the fact that you are not likely to dive to great depths, scuba diving is a fun, safe activity that can be enjoyed by anyone. After completing an Open Water course, you'll be ready to dive deeper and deeper. This is a simple and enjoyable course that teaches you how to dive.
Best Scuba Diving East Coast Usa
The best scuba diving east coast usa is in the Florida Keys. The Keys have some of the best diving in the world with clear waters and a variety of marine life.
The United States has over 12,000 miles of coastline, as well as some of the world's largest freshwater lakes. Blue Heron Bridge in Miami is a diving destination that is both well-known and well-loved. The USS Oriskany is distinguished by its artificial reef and nearby wrecks in shallow water. When the water is clearest, take advantage of it. The USS Oriskany, which is the world's largest artificial reef, is located in the United States. This channel divides Skagit Bay from the Strait of Juan de Fuca, creating dramatic views of the ocean. Sombrero Reef, located in the Florida Keys, is a living coral reef that can be found in abundance.
There is a unique swimming experience at the site, thanks to what is known locally as the arch. Deception Pass should only be attempted by those who are familiar with tides and who are well-versed in the specific challenges and hazards that exist. There are few marine wonders as magnificent as the San Juan Islands. Windjammer is a vivid example of the Dry Tortugas National Park, which is home to a variety of wrecks. The Farnsworth Bank in contrast to the Leeward Islands is as good as it gets in terms of pinnacle diving. The best times to go diving at Casino Point are early to mid-fall, when visibility is generally excellent. Diver with a sharp eye should look for a more drastic variation of scorpionfish.
Divers on the Schoodic Peninsula can expect some of the most exciting diving along the East Coast. You should only try shore diving if the weather is calm and there is no surge. It is notable that the Nubble Lighthouse dive is accessible to people with disabilities, as opposed to other shore-accessed dives in the region. Fox Island Spit is a great dive site because of the rich marine life it provides, as well as the fact that a wreck can be easily found just feet beneath the surface. The Flower Garden Banks, a remote, accessible liveaboard trip, is one of the world's most beautiful coral reefs, sitting atop massive underwater salt domes. They aren't what you'd expect from Texas, but they are. Fish Rain is one of the country's most popular shark sightings spots.
Hammerhead, tiger sharks, whale sharks, and the endangered monk seal are among the species that frequent the area. It is the largest of the two submerged lava tubes that make up the Second Cathedral. Colorful shrimp, trumpet fish, and eels are just a few of the creatures found at each site. Since 1989, the YO-251 has served as a haven for marine life on the ocean floor. A white tip shark, an octopus, and a moray eel are among the invertebrates that will be present. Swimming through the structure requires no additional effort because it has numerous holes punched in.
The Outer Banks: A Diving Mecca
It's a great place to scuba dive all year long in the Outer Banks area, thanks to a variety of dive operators. Because of the warm water and variety of diving sites in the area, the area is extremely popular for diving. The Outer Banks of North Carolina are a group of barrier islands that are surrounded by the Atlantic Ocean. The Outer Banks are part of the Cape Hatteras National Seashore in North Carolina.
Best Place To Scuba Dive In The World
There are many wonderful places to scuba dive in the world, but some stand out above the rest. The Great Barrier Reef in Australia is one of the most popular diving destinations and for good reason. With an incredible variety of marine life, stunning coral gardens, and clear turquoise waters, it is easy to see why this is a top pick for divers. Other great spots include the Red Sea in Egypt, the Galapagos Islands in Ecuador, and the Maldives in the Indian Ocean. No matter where you choose to dive, you are sure to have an amazing experience.
Here is a list of the world's best scuba diving locations. Please keep the rest of the information private. If you want to share a top dive, please click on the Other Comments link. To be specific, see the Best Wreck Diving in the World list or the Top Divers in Europe. The Yongala became an official shipwreck in 1981 as part of the Historic Shipwreck Act. The ship has a 109-meter-long bow and lists to starboard from the north. The Thistlegorm (Blue Thistle) was attacked from the air in 1941 and sank while carrying war supplies from Germany to the United Kingdom.
Coral, anemone, and gorgonians all contribute to the encrusted structure of the USAT Liberty. It's a good idea to keep an eye out for hawksbill turtles on the Liberty. Despite the fact that the wreck is extremely difficult to navigate, there is a cargo hold. The ocean is magnificent no matter how much you dive for wrecks or sealife. Richelieu Rock in Thailand is well-known for whale shark sightings, but it is also a good place for pelagic fish such as jacks, barracudas, and batfish. The Whitetip Reef Shark, Australia, is a great place to photograph macro creatures like ghost pipefish, harlequin shrimp, frogfish, and seahorses.
The Best Scuba Divers In The World
Anyone who can master the art of scuba diving is one of the best in the world. They have the opportunity to learn new dive sites and dive deeper than anyone else because they have the desire and skill to do so.
Best Scuba Diving In Florida
The best scuba diving in Florida can be found in the Keys. There are many dive sites to choose from, and the water is warm and clear. The Keys also offer a variety of other activities, such as fishing, snorkeling, and kayaking.
It's safe to say that Florida has some of the best scuba diving in the world, from the Panhandle's Oriskany to the Keys' reefs. The peninsula is distinguished by its iron-clad grip on the Gulf of Mexico and the Atlantic Ocean. The largest artificial reef in the world is located in Pensacola. The charming Panhandle city of Destin is home to some of the Panhandle's best beaches. The Vortex Spring is one of the state's most popular freshwater diving spots. A large basin, two 55-foot-long artificial caverns, and a large cave system can be accessed by scuba divers. At $25, you can fill an air fill for the entire day, while at $4 each, you can fill an air fill for the entire day.
Diving a landing craft such as the 327-foot Casablanca in Jacksonville can take up to 110 feet of water. The Bay Ronto wreck is an ideal location for fish to congregate and live in a vast desert sand. If there is a 10-foot average visibility, prehistoric choppers can easily be seen at the bottom. The ancient river bed off Venice is known as the shark tooth capital of the world. It can be visible from up to 50 feet away, but visibility can be greater at remote offshore sites in the summer. The Santa Fe River is fed by three smaller springs and Ginnie Springs, a 100-foot-diameter depression, as well as warm and clear water. manatees have a long history in the Crystal River area, and they spend the majority of their time there in the winter and spring.
Sharks and tropical fish live in the Living Seas aquarium at Epcot's Living Seas theme park. The Rainbow River in Dunnellon, Florida, has an average speed of 1.5 knots and a visibility of 200 feet. The world's second-largest ocean current flows only a mile offshore in West Palm Beach, and it can reach speeds of 70 miles per hour. At Miami's Wreck Trek, dive sites can be accessed in a single tank, and there are several different dive sites. The Spirit of Miami is a retired Boeing 727 that made its final landing off Key Biscayne. It's not hard to see why Key Largo is a popular destination for visitors because of the colorful reefs and the astounding array of fish. Among the wrecks in the waters off Key Largo are the Cannabis Cruiser, Eagle, and Adolphus Busch Senior. During the Mariel boatlift in the 1970s and '80s, a former buoy tender called Cayman Salvager transported Cuban refugees. Divers can get a close look at the 520-foot artificial reef built from the former USNS Vandenberg.
Scuba Diving Sites
There are many scuba diving sites around the world that offer divers a chance to explore the underwater world. Some of the most popular scuba diving sites include the Great Barrier Reef in Australia, the Red Sea in Egypt, and the Galapagos Islands in Ecuador. Each of these scuba diving sites has something unique to offer divers, and they are all worth exploring.
There are several ocean sinkholes around the world, but none larger than the Great Blue Hole. This is one of the Caribbean's most unique diving spots, located off the coast of Belize City at Lighthouse Reef. A qualified diver can find anything from very large formations to breathtaking landscape features in depths ranging from 110 to 270 feet. Belize's Barrier Reef is the world's second-largest and one of the largest in the Northern Hemisphere. It is located on a partially submerged atoll near the southern coast on the southwest coast of Glover's Reef Marine Reserve. There is a coral triangle located in Malaysia, which includes Barracuda Point. This is one of the world's most popular diving spots.
There are a variety of marine life found here, including canaries, turtles, reef sharks, parrotfish, and a variety of other species. Charles Darwin was inspired to start studying natural selection after visiting the Galpagos Islands. Divers explore a vast array of marine life beneath the surface in the same way that they do on land. Darwin's Arch is a small islet in the middle of the ocean that is teeming with life. There is a high demand for liveaboards to plan six or more dives here. The kicker rock is ideal for wrasse, angelfish, marine iguanas, and sea lions. The best diving conditions come in the months of January to April, when temperatures are at their most pleasant.
In the early months of the year, whale sharks and manta rays can be seen along the coastline. The Andaman Sea between the Similan and Surin Islands is teeming with life. Richelieu Rock is located on the Surin Islands and is a part of the Surin Islands National Park. This is one of the best dive sites in Thailand for fans of the manta ray. Our favorite scuba diving location is Cozumel in Mexico. Because of the fast currents and dramatic landscape, it's a fantastic drift diving destination. Cozumel is a diving destination on the world's list of top diving destinations.
Drift diving along the Santa Rosa Wall or gliding along the top of it is both feasible. The C-53, also known as Felipe Xicotencatl, was a minesweeper in the Mexican navy during World War II. The wreck of the SS Thistlegorm is an ideal diving spot in the Red Sea. Depending on the season, the best times to scuba dive are March to May or September to November. The SS Yongala wreck is located on the Great Barrier Reef in Australia. Reefs such as Shark Reef and Yolanda Reef have an abundance of over 220 different coral species. During the year, the visibility in the area is typically about 15 meters.
Divers are not permitted at the wreck because bubbles from oxygen can corrode the structure if they are allowed. A dive in the Yongala wreck is ideal for experienced divers. A shark reef and a Yolanda reef can be found in Ras Mohammed National Park in the Egyptian Red Sea. There is no shortage of great white sand beaches in Bundaberg, but the southern Great Barrier Reef is worth a visit. In addition to the dive sites on Heron Island, there are 20 other dive sites in the area. Bonaire is currently ranked among the top ten scuba dive bucket list destinations in the world. The name 1000 Steps comes from the limestone steps that lead to the beach.
The island's most popular wreck dive is at Hilma. The Southern Caribbean's water is warm and refreshing all year. In 1984, Bonaire officials discovered 25,000 pounds of marijuana hidden inside a boat. Locals tried unsuccessfully for months to sink the boat so that they could build a new dive site. Because the boat was being used as evidence in an active case, it was not possible to sink it.
The Florida Keys: A Divers' Paradise
Diving is a great way to unwind from the stresses and strains of everyday life. It's also an excellent way to learn more about some of the world's most beautiful ecosystems. Because there are so many great dive sites accessible from the mainland, Key Largo is regarded as the world's capital for scuba diving. Divers can explore some of the world's most beautiful reef systems along the world's third largest barrier reef in the Florida Keys.
Source https://www.girlsthatscuba.com/panama-scuba-diving/
Source https://www.theadventurejunkies.com/best-scuba-diving-sites-in-south-america/
Source https://www.desertdivers.com/5-of-the-best-diving-spots-in-the-united-states/