How Long Does Scuba Certification Last
There are hundreds of dive training agencies all over the world and each one will have its own way of being the best at something. Each agency will train differently so do your research and you will find what is best for you.
While PADI might be the most popular and most widespread training agency all over the world, their style might not necessarily be the best for you. For all you know, PADI scuba diving courses might not even be available in your region or your language. So these are the things you might want to consider.
Many divers also advise that rather than choosing any dive agency, find a great scuba diving instructor who will guide and mentor you into becoming the best scuba diver that you can be.
A lot of students quit their scuba diving lessons not because of the agency but because of instructors. So find one who is compatible with your learning style and personality.
Check out this interesting video by Divers Ready on what to ask your potential dive instructor before you do your scuba diving certification.
Remember that you are hiring dive instructors to teach you how to scuba dive properly and safely. So at least do a brief interview with them before handing over your money to them.
Familiarize Yourself With The Equipment And Start Getting Comfortable Breathing Underwater
Your first in-water session will take place in either a pool or confined water site . This is where you will begin to familiarize yourself with the equipment and start getting comfortable breathing underwater. Your instructor will spend several hours in the pool with you, teaching you the basic skills of scuba diving including proper buoyancy control, proper finning techniques, mask clearing, regulator clearing, how to ascend and descend, and emergency procedures. The confined water is where all skills should be practiced until they are second nature and can be done comfortably while neutrally buoyant. By the time you head out to the open water, you will no longer be learning new diving skills, just practically applying them in the real world. By this point, you should be comfortable hovering motionless while maintaining a constant depth in the water column and performing basic skills such as mask removal and replacement and regulator recovery while neutral. If you do not feel 100% confident with your skills in the water, be sure to speak up and let your instructor know that you do not feel ready for the open water yet.
First Things First Should You Scuba Dive
This is an honest question you need to ask, and for some, a discussion that you need to have with your physician. Diving is a physical activity where you are relying on specialized equipment and skills to survive in a foreign environment. A wide variety of people can dive successfully, but it takes training, is inherently dangerous, and needs to be taken seriously. If you can answer yes, or even maybe to any of the questions on the medical questionnaire found HERE, seek advise from your family doctor before signing up for class.
Some Signs You Need A Refresher
You cant remember the dive hand signals
You dont remember how to set up and check your diving equipment
You dont know the Buddy Check
You cant remember what to do if you or your buddy run out of air
You feel anxious or nervous about getting back into the water
Remember, you might feel comfortable in the water but ultimately it will be your instructor and the dive center to decide if you need a scuba refresher or not. This is because how you act in the water will also impact the safety of your dive leader and the rest of the dive group.
What Is A Scuba Diving Certification
A scuba diving certification, also known as a C-card, is proof that you have completed and passed a scuba diving course under a scuba diving agency.
There are many scuba diving courses that you can take that will teach you to dive safely and properly in different underwater conditions and environments.
If you want to become a recreational scuba diver, you will want to get your Open Water Certification first.
When Do I Need To Take A Refresher
The general rule is that if you have not dived for 6-12 months, then it is a good idea to take a refresher course. Dive agencies will differ in their recommendations, but there is no law or strict rule about this. It will be up to the dive center or your instructor to decide if you need to take a refresher course. This will be based on your past diving experience, any factors that may have changed your diving capabilities, and exactly how long ago you last went on a dive.
For example: If an Open Water diver has 4 dives, and has not dived for 7 months, they may need to refresh their diving skills as they do not have much experience.
However, if a Rescue diver has 50 dives but has not dived for 13 months, then they may not need to do a refresher based on their experience level and the number of dives they have.
Does Scuba Diving Hurt The Environment
A scuba certification teaches respect for the ocean and its creatures and corals. Dont touch anything and dont leave anything behind is taught. Take only pictures, leave only bubbles, we say.
A properly trained scuba diver knows the Dos and Donts of scuba diving. When a diver is a witness to damage or destruction, it is mourned. Read more about a divers impact on a coral reef for more guidelines on how to avoid harming the ecosystem.
We are also guardians of the sea, picking up trash and able to report when something is amiss like overfishing or illegal drilling.
Being a responsible diver is self-evident and requires very little brainwashing to generate respect. We are visitors and quickly learn to behave appropriately. Coral reefs, for example, are not to be touched nor harvested for souvenirs.
The one time I accidentally scuffed my arm against a wall in a cave, I had to tangle with a stubborn wound that just didnt want to heal. That was the last time I touched anything other than an anchor line while diving.
Becoming A Certified Scuba Diver Will Change The Way You Think About Travel
There's a big payoff for getting certified. Remember that part about exploring 71% of the planet that is underwater? Nowadays, I can't even consider traveling somewhere new and not at least searching whether there's a great dive site in that destination.
During my open-water dives and subsequently afterward, it felt like a whole new world had opened up forget the fact that "Under the Sea" from "The Little Mermaid" was practically playing itself out right in front of me.
I've witnessed colorful, striped, and spotted fish swim in schools a turtle graze for food at the bottom of the ocean floor and eels poke their little heads out of a coral reef where they're hiding. There were a few moments of overcoming fear, too, like when a family of sharks came to check out my dive buddies and me.
But beyond that, learning to scuba dive has also been a great way to meet new people, join a new community, celebrate something truly spectacular, and see firsthand why the ocean is so worthy of our protection.
Getting a PADI certification on vacation changed the course of my trips forever in the best possible way. I now have something to look forward to anywhere I go in the world, whether that's a beach destination or a cold-weather spot like Iceland, where, with some advanced dry suit certification, you can even dive in frigid water and touch two continents at the same time. I know what's next on my list.
How To Keep Diving Without Diving
If you do not get the chance to dive often, thats ok. You can continue practising diving without even getting wet!
When you were scuba certified you will have received either a hardcopy or digital copy of the dive theory. This is usually a textbook treasure trove of diving knowledge physics, physiology, the name of different parts of the dive equipment , information about the aquatic environment, and characteristics of marine life!
Our recommendation is to regularly go through and review your scuba materials so that you keep that knowledge fresh in your mind. You can also go online and use a resource like Down to Scuba for the latest information on diving and any new scuba updates!
What Scuba Diving Equipment Do I Need
Word to the wise: wait at least until youve tried an open water dive or two before investing in equipment.
Youll have a better feel for what you need and what you like. All dive shops provide gear for rental when you take your scuba diving lessons, giving you the insight you can use later.
However, many people cant help themselves, tempted by the allure of gadgets and gear. When you get your scuba license, youll start to think a lot about the wonderful world of scuba gear & dive equipment.
Youll want A well-fitting scuba mask and fins are great because you can also use them as snorkeling gear.
Underwater photography can create pictures to salivate over when not diving, but you should, again, wait a bit before buying a camera. Instagram isnt going anywhere. Just enjoy being a scuba diver for a spell or two first.
Dive computers and dive watches have become so central to planning and logging our dives. Some first-timers invest in these gadgets early on in their scuba career.
The great part about having your own computer is the accuracy of your dive it captures. Most dive computers measure dives conservatively. They will warn you if you approach a depth or length of time that might be dangerous, giving you peace of mind.
Still, planning a dive using the analog techniques from open water training should not be given up.
Otherwise, heres a quick summary of the gear youll strap on when scuba diving. Weve added some reviews of some solid kit on the market.
Are There Ways For Me To Dive If I Don't Have Time To Do A Whole Certification Course
If you have limited time but you still want to try scuba on your next vacation, the PADI Scuba Diver course may be the perfect choice for you. The PADI Scuba Diver course is a subset of the Open Water Diver course. Instead of completing 5 classroom sessions, 5 pool dives, and 4 open water dives, Scuba Divers complete 3 classroom sessions, 3 pool dives, and just 2 open water dives. Although Scuba Divers are allowed to dive only under the supervision of a PADI professional and only to depths above 40 feet, most students can complete the course in as little as 2 or 3 days. Call Aquatic Adventures at 938-6827 to discuss this option.
How Many Years Does A Scuba Tank Last
How many years does a scuba tank last? Making sure your equipment is in working order is every certified divers responsibility. The cylinder holds your air, so it is natural to want to verify its integrity.
Lets have a look at how divers do this. We will also learn the possible lifespans of scuba cylinders.
Want to know how long a scuba tank will last for a dive? Read More: How Long Does a Scuba Tank Last?
Jobs That Involve Scuba Diving
One great reason to get a PADI dive certification is to gain access to scuba-diving jobs. A Divemaster certification will open up a world of opportunities.
As a dive pro, you could become a scuba-diving instructor in a remote and beautiful location. You could also find diving work as part of a marine research and conservation team using your skills to contribute to science. Or, you could run your own dive shop.
Earn your PADI certification while contributing to marine conservation efforts around the world. Explore GVIs range of dive internships and volunteer opportunities today.
We understand that you may have questions about how COVID-19 will affect your travel plans. Visit our FAQs page which explains our latest safety protocols in response to COVID-19.
Disclaimer: The images in this article were taken pre-COVID-19
The Average Longevity Of A Scuba Tank
Quite a few factors come into play when calculating how long your scuba tank will last when you are scuba diving.
As I mentioned before, for an average size and physical health diver, using an average-sized tank at an average depth , a scuba tank should last between 35 and 60 minutes.
However, no one is just average, so you should expect these values to differ depending on who you are and the environment you dove in. Still, for our purposes, taking the averages will give you a baseline to go off of, so lets discuss the most common, average scenario for scuba tanks.
Who Can Take The Padi Open Water Certification Course
Anyone 15 years of age and older can qualify for The PADI open water certification. There is even a Junior Open Water course that is suitable for children as young as 10 or 12 years of age, depending on the country offering the course.
Kids certified as junior open water divers are upgraded to the standard Open Water Diver level when they reach the age of 15 and complete the other parts of the course required.
In general to enroll in the PADI open water scuba certification course the scuba diving certification requirements state that you should be in good health, without any major health issues that would impede you from being able to dive safely. In some cases, even being physically handicapped is no contraindication for scuba diving! Just consult your doctor beforehand and find a suitable dive center.
What Is Padi Reactivate
PADI Reactivate is a comprehensive refresher program designed to remind you of the core principles and skills from the PADI Open Water Course. It involves two components, theory and an optional in-water session.
The theory session can be completed easily online or from your mobile device with PADI eLearning. It takes between 2 6 hours to complete.
Although the in-water session is optional, you are strongly advised to complete a session with an instructor. Although the Reactivate theory is interactive and will provide you with videos, its not the same as actually doing it for yourself. Its always better to be over-prepared rather than under-prepared when diving. With your instructor, youll assemble your gear and practice vital skills, including buoyancy control and emergency out-of-air procedures.
Dive centers love to see a recent Reactivate date on your record too! Check out the refresher experience here.
Guide To Getting Certified Including Cost Time It Takes Requirements Types And More
Your scuba diving certification. Once you get it, you won't regret it. A whole new world has just opened up to you. Welcome to the world of diving!
If you are thinking about becoming a scuba diver, we have put together a guide for you which contains all the basics about getting certified. It is a fairly straightforward process and we give you all the details here.
If you have any questions after reading this introduction, don't hesitate to contact us.
Is It Hard To Get Scuba Certified
There are five scuba certification levels youll need to learn, with inquiries toward the finish of each segment, and your plunge educator will control you through this. This may appear to be difficult for the beginner.
However, its truly not so illegal, particularly with your teacher there to help with anything you dont comprehend! PADI will offer several scuba online courses if you want to do the diving coursework at home. After youre comfortable with those five areas, the swimming starts in a pool or pool-like condition.
Is it challenging to decide out how to scuba dive and how to get scuba certified? As dynamic recreational leisure activities go, scuba plunging is one of the most effortless to learn. While youre coasting around getting a charge out of the submerged sights, youre occupied with just three essential abilities like skimming, kicking, and relaxing. The essential abilities are not extreme for the vast majority to ace. The PADI Open Water Diver composed test isnt difficult to do. Indeed, you are allowed to see the inquiries in your books audit segments in some structure.
Some Shops Require Refresher Training
I note that once you have started diving, some shops may also require you to take a test dive or a refresher course if it has been a long time since your last dive . If you are getting your scuba diving certification from a local dive center, this can take several weeks as lessons are often held once or twice a week.
Choosing to take your scuba diving certification on site can mean it can take several weeks, as diving schools usually run classes on a weekly basis. In general, the process of obtaining a certificate can take from 4 days to several weeks, depending on how the logistics of the course are organized.
The course can be scheduled for a minimum of four days, or up to five weeks, or something in between, depending on the needs and logistics of the students. Although scuba divers can only dive under the supervision of a PADI professional and only to depths greater than 40 feet, most students can complete the course in as little as 2-3 days.
While the PADI Scuba Diver course is one way to avoid any training during your trip, you may want to consider taking the reference course if you live in a cold climate and cannot dive in open water during the winter.
Scuba Diving Certification:
Welcome to a World of Fun!
Your scuba diving certification. Once you get it, you won't regret it. A whole new world has just opened up to you. Welcome to the world of diving!
If you are thinking about becoming a scuba diver, we have put together a guide for you which contains all the basics about getting certified. It is a fairly straightforward process and we give you all the details here.
If you have any questions after reading this introduction, don't hesitate to contact us.
OK, so what exactly does getting certified mean? And what are the requirements for taking a dive course?
When people say they are certified to go diving, it means they have taken and passed a scuba diving course given by one of the accredited scuba certification agencies (such as PADI or NAUI).
This means that they are now able to fill their own tanks to go diving on their own (most shops require that you show a certification card before they will fill a tank) or, alternatively, they can now go diving with pretty much any dive shop worldwide without further training (see below for further comments on this).
As far as requirements for taking a course, there aren't many.
Basically for a dive course you should be in good physical shape and be comfortable in the water. A clearance from your doctor would be a good idea if you have any doubts. You will have to fill out a medical questionaire before you begin your course.
During the certification course you will have to be able to swim 200 yards. However, you can use any stroke and there is no time limit on how long it takes. You also have to tread water and/or float for 10 minutes. Again, you can use any methods you want.
As far as age requirements, for PADI you must be 10 or older to take the course. Students younger than 15 will receive the PADI Junior Open Water Diver certification. It can then be upgraded to PADI Open Water Diver certification upon reaching 15.
For Naui, you also must be 10 or older to take the course.
That's about it. You're good to go.
As far as the course itself, the training usually consists of 4 parts:
Book work
Written exams
Pool training
Open water dives
The book work and written exams for your scuba diving certification can be taken in a classroom or online. You will have a textbook and/or DVD's to help you learn the basics of diving.
If you opt for the taking the book part online, PADI estimates it will take 12-15 hours to complete this portion of the course. Currently the online course costs $190. (Note: You must be at least 10 years old for the elearning portion; some regions have a higher minimum age.)
After the written portion, you will then do learning in a pool or pool-like environment. You will practice basic scuba skills you will need to complete your open water training. This includes such things as putting on your gear, taking off your mask, sharing air, etc.
Once you pass this portion of the course, you will then have to complete 4-5 open water dives. During these dives you will demonstrate the skills you learned in the pool portion of the course.
Once you have passed all 4 parts, you will receive your scuba diving certification card (or license). A certification card is more commonly known as a c-card.
The two main certification agencies are PADI and NAUI. Other agencies, such as SSI, also offer scuba diving certification but NAUI and PADI are the most widely recognized.
The dive shop (or other entity) that you take your training from will be affiliated with one of these agencies. The agency is who you will receive your card from.
How much time does it take to get certified?
The amount of time it takes to get your scuba diving certification or dive license depends on what avenue you take.
There are intensive weekend courses where you can do all your book work and pool work in one weekend. This option usually involves advance reading.
certification classes in Manhattan, New York . The first part of the night involved the classroom (about 1 1/4 hours) followed by pool work (about 1 1/2 hours).
As I noted above, there are on-line certification courses which allows you to do the book portion of your scuba diving certification from anywhere. Using this option could cut down on the time it takes you to complete the course.
After you successfully complete the book and pool work, you then get a referral to do your open water dives. These are usually done in a lake, quarry or ocean. You typically do these dives over the course of 2 days.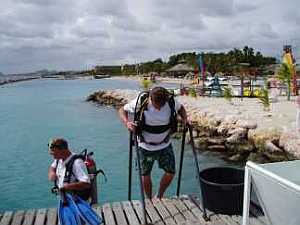 Just be aware that a more expensive course does not necessarily mean a higher quality course. And this is not the time to go bargain hunting. You want a well qualified instructor. After all, this is your life and you really need to be properly trained.
How long does certification last?
The good news is that once you receive your card, you are certified for life. There is no other mandatory training. As I'll explain below, there is other optional training you can do, but nothing more is required before you can start diving.
Having a c-card means you have passed the basic skills needed to go diving. Dive shops will now let you go diving with them and rent equipment.
I will note though, that some dive shops make you do a checkout dive. This is to satisfy themselves that you are a competent diver.
scuba diving resort courses . Resort courses only allow you to dive at that particular resort and only for the duration of that stay.)
What are the types of dive certifications?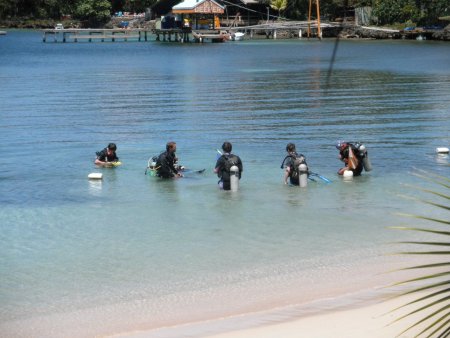 Where can I get certified?
If you don't know where to go to get your scuba diving certification, the first place to look would be your local dive shop. Most dive shops offer certification courses and can be very convenient. University and community colleges may also offer training. You can also check the yellow pages and online for listing of dive operators in your area.
Quite a few people get certified while they are on vacation. Most dive shops worldwide, including the Caribbean, offer certification courses. Just be aware that if you decide to take this route, you will be spending a large portion of your vacation in training.
An alternative would be to complete the book and/or pool portion prior to traveling and finish the certification with your open water dives at your destination.
We did the book and pool part of the course in NYC and the open water portion of the course in Antigua. So you really can get certified anywhere.
Once you have received your open water c-card, there are additional courses you can take to add to your scuba diving certification. These include:
Cave diving
Deep diving
Ice diving
Wreck diving
Search and recovery
Night diving
Drift diving
So, no matter how far you want to go with your scuba dive certification, just get started. You won't regret it.
How Long Is Scuba Certification Good For?
How Long Is Scuba Certification Good For? Your scuba diving certification is good for life. Once you are certified, you do not need to renew your certification or take another scuba diving course. You can dive anywhere in the world, with any dive operator that accepts certified divers.
Of course, there are a few exceptions. If you let your certification lapse for more than a year, you will need to retake a scuba diving course. And if you want to dive with a certain operator or in a certain location that requires special training, you will need to get certified for that specific activity. But other than that, your scuba diving certification is good for life.
So dive often and dive safe! And don't forget to show off your certification card whenever you book a dive trip or rent scuba gear. Your certification is your ticket to a lifetime of underwater adventure.
Scuba certification cost
The cost of scuba diving certification varies depending on the training agency and the location. Generally, you can expect to pay between $200 and $500 for a scuba diving certification course. The price usually includes the cost of equipment rental, materials, and certification fees. Some courses may also include the cost of boat dives or other activities.
The 3 Best Scuba Diving Certification Programs of 2022
If you're looking to get scuba diving certified, there are a few things you should know. First, there are many different agencies that offer scuba diving certification, and not all of them are created equal. Second, the cost of scuba diving certification can vary depending on the agency and the location. And finally, the time it takes to get scuba diving certified can also vary depending on the course you take.
With that in mind, here are the three best scuba diving certification programs of 2022:
1. PADI Open Water Diver Course
PADI is the world's largest scuba diving training agency, and their Open Water Diver course is the most popular scuba diving certification course in the world. The course takes three to four days to complete, and the cost is typically between $200 and $500.
2. SSI Open Water Diver Course
SSI is another well-known scuba diving training agency, and their Open Water Diver course is a close second to PADI's course in terms of popularity. The course takes three to four days to complete, and the cost is typically between $200 and $500.
3. NAUI Scuba Diver Course
NAUI is a smaller scuba diving training agency, but their Scuba Diver course is still one of the best options for getting scuba diving certified. The course takes two to three days to complete, and the cost is typically between $100 and $400.
So there you have it, the three best scuba diving certification programs of 2022. No matter which program you choose, you'll be on your way to exploring the underwater world in no time.
What is the highest level of scuba certification?
The highest level of scuba certification is instructor certification. To become a scuba diving instructor, you must first complete an Instructor Development Course (IDC). The IDC is a week-long course that teaches you how to teach scuba diving. After completing the IDC, you will need to pass an examination to earn your instructor certification.
How long does it take to get scuba certified?
The time it takes to get scuba certified depends on the course you take. Some courses, like Open Water Diver, can be completed in as little as three days. Other courses, like Divemaster, can take several weeks or even months to complete.
Scuba certification is not just a one-time thing. You will need to renew your certification every few years to keep your skills sharp and up-to-date. And if you let your certification lapse for more than a year, you will need to retake a scuba diving course.
Is it worth it to get scuba certified?
Yes, it is definitely worth it to get scuba certified. Scuba diving is a great way to see the underwater world and meet new people. And once you are certified, you can dive anywhere in the world. So if you love the ocean and want to explore it, getting scuba certified is a great way to do it.
No, you cannot scuba dive without a scuba certification. Scuba diving is a dangerous sport, and it requires training and experience to safely dive underwater. If you do not have a scuba diving certification, you will not be able to rent scuba gear or book dives with most dive operators.
So if you want to scuba dive, make sure you get certified. It's the only way to safely enjoy this amazing sport.
No, it is not hard to get scuba certified. Scuba diving is a relatively easy sport to learn, and most people who complete a scuba diving course will earn their certification. Of course, like with any activity, there is a learning curve involved. But as long as you are willing to put in the time and effort, you should be able to earn your scuba diving certification without any problems.
Source https://www.certificatetalk.com/how-long-does-scuba-certification-last/
Source https://www.scuba-diving-smiles.com/scuba-diving-certification.html
Source https://www.watersportsaloha.com/how-long-is-scuba-certification-good-for/