How Much Does It Cost to Go Scuba Diving?
Scuba diving has become so popular these days as an interesting and exciting sport, making more and more people interested in the activity.
These newbies may have numerous questions in mind about this adventurous sport, and "how much does it cost to go scuba diving?" is one of the top concerns.
This question often does not have an exact answer. Rather, it depends. You may have to pay for a diving course or at least a coaching to learn the necessary skill when getting started. You also need to spend on equipment, gear, and more.
So, How much does it cost to go scuba diving? What do you have to pay for? Which factors may affect these costs? Here is a price range with a detailed explanation for your reference. Let's get started now!
Table of Contents
How Much Does a Scuba Diving Course Cost?
Obviously, scuba diving is an exciting but challenging sport. If you go diving without necessary skills and adequate understanding, you may risk your life. Therefore, the first thing to do is take a course and learn how to dive properly.
Currently, the demand for participating in training courses is increasing. Thus, tons of diving training courses are widely available.
Most beginner training programs go through three stages:
Learn diving theory
Practice skills in shallow water
Open water diving
For theory, you can choose to study online or offline. Most centers are providing e-learning courses at a lower price than offline classes. You'll normally pay around $70 to $190 for online class materials.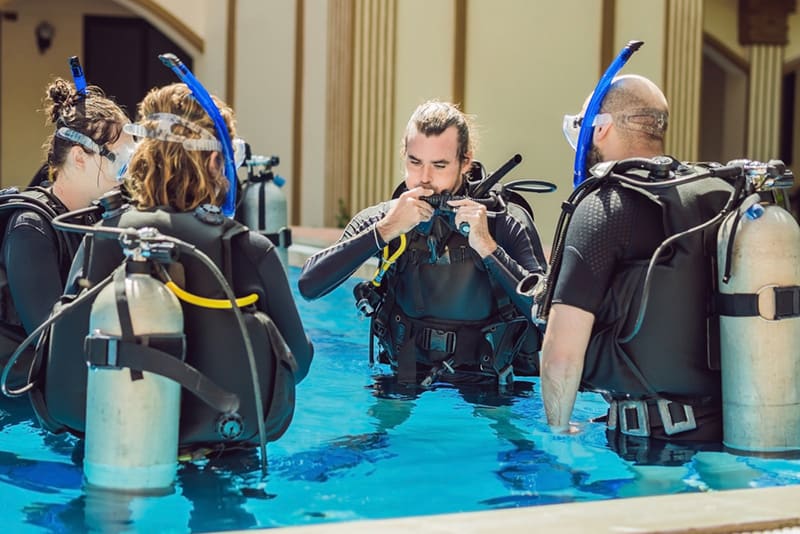 Together with the theoretical class, you also have to pay for practicing. Therefore, when adding the payment for shallow water and open water diving, the cost is estimated from $250 to $350.
To become a professional or qualified diver, you may need a diving certificate. You often need to pay additionally for the certificate, which will cost differently depending on the center and region.
For example, it will cost you $325 or $345 for 4 certified dives in Grand Cayman. If you're in Cozumel, you'll pay between $297 and $325. Going to Roatan, Honduras, will cost you about $220 – $280 to get the certificate.
Thus, to get 4 certified swims will cost you about $220 – $345. This price may change seasonally and annually, depending on many factors like the center you take tests in, your chosen area and some other elements.
So, to complete a course and get a certificate, you will have to pay between $450 – $650.
You can also save money by practicing at a local or family pool. However, as no instructor will assist and give you feedback, the risk of inaccuracies or accidents probably increases.
This can be life-threatening if you dive into the real sea. So, you're better off making a well-deserved investment once.
You can learn more about the difference between some diving courses here: NAUI vs. PADI or SSI vs. PADI.
How Much Does Diving Equipment Cost?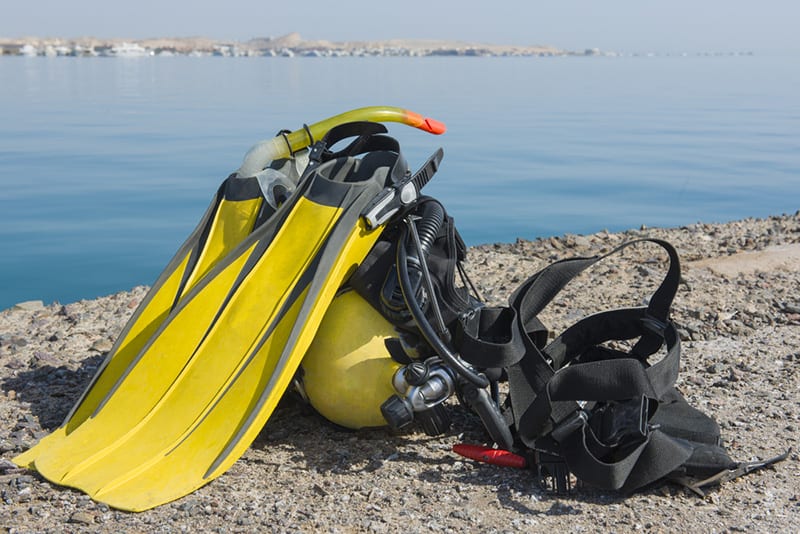 In addition to learning, diving equipment is also an indispensable factor you need to prepare well before entering the water. Some of the most essential items may include dive watches, dive computers, scuba BCD, scuba regulator, mask, scuba fins, etc.
Among them, the scuba mask and fins are the things you have to invest in first as they're not too expensive. Specifically, the mask will cost $20 – 200, while the fins range from $20 – $25.
Therefor, you will spend $40 – $225 for the above 2 items, depending on the quality, brand, professionalism and other factors. Of course, very cheap items are not recommended, instead, you'd better consider the higher-quality and usable equipment. You can check out my review on some good full-face masks here.
The next important device that you must have is the scuba BCD. Normally, divers spend between $130 – $1300 on this item. If you don't aim at becoming a professional diver, a good-quality BCD of around $500 could be a smart option.
Want to get a good BCD for your next scuba diving trip? Check out my article on some of the best travel BCDs here.
In addition, a dive computer is an indispensable safety device that is well worth the investment. You can buy a high-quality computer for $2000 or a mid-range one for $150-$500. Learn more about How to use a dive computer here.
Such diving equipment may seem expensive, but you must be aware that your life in the water depends significantly on those items. So, don't prioritize price over quality.
If you have a limited budget, find a way to buy them as a set to get a better price. If possible, you can also try to hunt for discount codes from e-commerce stores for reasonable prices.
In case you have more budget to spend, you can invest in high-end items with excellent quality. You may also consider buying supportive devices or accessories like a GoPro for a better experience.
However, there is no need to worry too much about the cost even if you don't have any money for equipment since there are also many places to rent these items now. A new dive computer can be several thousand dollars, but the rental price is only around ten dollars.
This is quite a small amount, and you will have the opportunity to experience high-quality equipment. Also, you can take the chance to get used to the equipment and try different types. In that way, you'll know which items best suit you.
With masks and fins, you'd better buy yourself a set because the apparel directly touches your skin or covers your body.
Additional Costs to Go Scuba Diving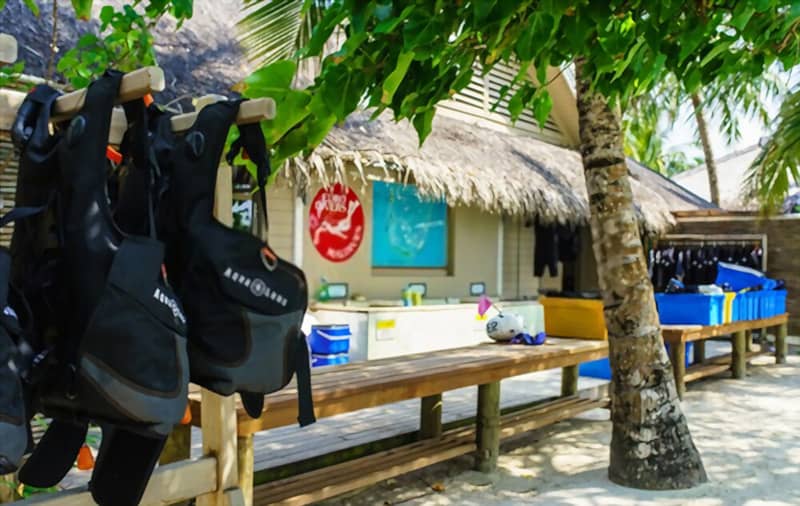 Besides the above costs, your scuba diving trip will cost a little more if you use a boat, stay at a hotel and use high-class services.
Many group divers often hire boats to go diving. Therefore, you will have to pay an extra fee to rent a boat. The price per rental will depend on many factors, but normally the price range is as below:
Sailboats: $10,000 – $200,000 for size 80 – 150ft.
Catamaran: $10,000 – $100,000 for size 50 – 80ft
Motor yachts: $20,000 – $500,000 for 80 – 150ft.
The above price also varies depending on factors like the quality or luxury of the boat. Plus, in the peak diving season, the rental price can be many times higher.
Besides, the cost for accommodations is also considerable. It's hard to estimate exactly the amount you need to spend on accommodation because it depends on the quality and location of the hotel you choose.
The time and length of your stay may also affect the price of the room. Typically, a normal and average place will cost about $99 – $125.
Meanwhile, finer hotels will cost you $325 – $475. This is the rental price for 1 week, and of course, not the price of luxurious places.
FAQs
To give you more insights into the cost of scuba diving, I've gathered and answered some common questions that beginners often ask.
Is Scuba Diving an Expensive Hobby?
Scuba diving is indeed an expensive hobby. As mentioned above, you have to spend around $450 – $650 to get a certification to dive around the world. After that, you need to pay $200 – $2000 on scuba diving equipment. Besides, each dive will cost you about $50 – $70.
Thus, the total cost of a perfect scuba diving trip is $700 – $2720, which is a lot of money for a sport. Overall, though, you'll find it worth the money.
In addition, certification and diving equipment cost only one time. The next time you only spend about $50 – $70. So, if you look at the long-term direction, diving is completely suitable for everyone.
Do I Need to Buy My Own Diving Equipment?
Diving aids are essential, but you don't necessarily have to own them. Advice for beginners is that you just need a mask, air hose, fins, and a wetsuit. These need to fit your body and, when diving in tight positions like a liveaboard, they are very convenient.
For more expensive and advanced machines, you can rent them easily when you go diving. However, if you are a professional diver and make a living by this profession, there is no reason not to prepare these items.
How Much Does It Cost to Get Scuba Certified in Florida?
In Florida, they offer a full range of diving equipment for you to rent from $5 to $50, depending on the item. You can choose to rent each item or the whole set.
Their one-time scuba diving price in Florida will be distributed as follows:
Bubble Watcher Adult: $60
Bubble Watcher children under 12 years old: $55
2 tank diving trip: $80
Night diving trip by tank: $65
Tank tech dive trip: $85
3 tank diving trip: $120
How Much Is Scuba Diving in California?
It will cost you $100 – $150 per person on a 1-tank dive and $200 – $250 for a 2-tank dive in California.
How Much Is Scuba Diving in Miami?
Prices in Miami are quite similar to those in Florida. So you can check the prices in Florida before you want to go on diving trips here.
Conclusion
How much does it cost to go scuba diving? A rather large amount of money, but it has long-term benefits. So, instead of confusing yourself with tons of questions, start learning and preparing today!
If you find my content below useful, please share it with your diving friends. Also, don't forget to encourage me by supporting the related articles!
Why Do Scuba Divers Dive Backwards?
How Deep Can You Scuba Dive?
Do You Need to Know How to Swim to Scuba Dive?
About Scott Maldonado
Hi, I am Scott Maldonado, the founder of diveaeris.com. You are welcome to this website. Diving is so much fun, and I've got a flair for it. With many diving sessions under my belt, I have transformed from just an experienced diver to a professional instructor.
I will love to contribute to your development as a diver. Therefore, I will be engaging my years of experience by discussing anything related to diving on this website.
Read more about me.
Scuba Diving Certification Cost, How Much Does It Cost to Get Certified?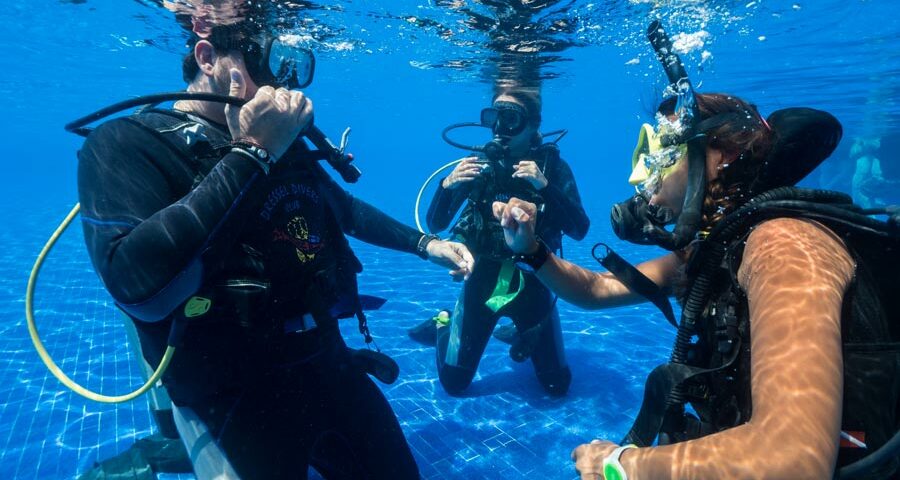 You want to know the scuba diving certification cost, but you have doubts. Keep calm and read this article, we will solve them.
Beatriz lives in New York and loves to travel. Now that the pandemic restrictions are relaxed, she is planning several trips. The first trip will be to the Riviera Maya, but there are many more destinations on her itinerary; Corsica, Egypt, maybe even Indonesia. In other words, she wants adventures, and diving is on her bucket list. So, she is planning on getting PADI open water certified in the NYC area in advance of her trips. The investigation starts.
Beatriz opens the internet in the Google search box she types "scuba diving lessons near me." The first result is a Diving Shop in Manhattan, so she calls the number listed to ask for prices.
How much does it cost to get scuba certified? – Beatriz asked.
PADI Certification Cost in NYC is about $185 for the online learning part,
$400 for a one full day pool session, and roughly $600-700 for two days (4 sessions total) open water training.
Beatriz already has her answer. We might think the investigation is over, but no. This is the moment when the doubts really appear.
Does the PADI open water diving certification cost in the NYC area seem reasonable or too expensive?
What if I don't do it with PADI? Which diving certification is the best?
Should I do eLearning at home and the certification abroad? Or should I do it all in advance of my trip?
How much does scuba certification cost in the Riviera Maya?
Is scuba Equipment use included in the PADI Certification cost?
How much is the price of a scuba diving license with other agencies? is PADI certification worth it?
Do these questions remind you of something? I bet you're wondering about the same things. Let's solve all these questions with this content.
· The certification you want to obtain.
· The type of training you want
· The place in the world where you are getting your scuba diving license.
· The dive center with which you are going to certify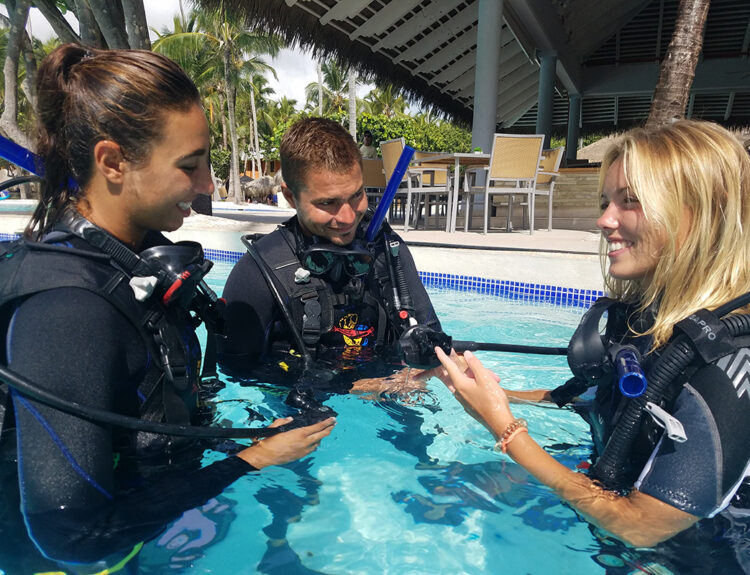 1. Is Scuba Diving Certification Worth It?
Of course, the scuba certification cost is worth it. If you get your scuba diving license, you will be able to:
– dive safely. You will know how to prevent and react to problems that can happen to you underwater;
– dive with a buddy independently. In other words, you will not need to be accompanied by an instructor;
– get more value for your money. A dive is cheaper than a Discover Scuba Diver DSD program. If you are not certified, you will need to do a DSD every time you want to dive;
– dive wherever the action is. In a DSD you can't dive deeper than 12m (which makes you miss out on some great dives);
– be a diver forever. The certification has no expiration date. It's for life.
2. Which Scuba Diving Certification Is the Best?
In Dressel Divers, we work with SDI, PADI, CMAS, SSI, NAUI. IDA, NASDS, YMCA, ACUC, CMAS, y PDIC.
We know them well, their quality standards, requirements, and worldwide recognition.
We will tell you that there is no simple answer to that question. The truth is almost all agencies follow the World Recreational Scuba Training Council (WRSTC) training standards. So, you can rest assured about the quality of your training.
Some of the organizations are larger and more experienced. Others have better-known teaching methods.
The 5 best known are:
1. PADI Professional Association of Diving Instructors
The PADI scuba certification is known all over the world, they have a solid educational system. With PADI, the student progresses at his own pace.
2. SDI Scuba Diving International
This agency belongs to International Training, a group of diving organizations where Technical Diving International (TDI) is also included. Many of its instructors are technical divers. It is considered an agency with innovative teaching methods.
3. SSI Scuba Schools International
SSI is also known worldwide, in some locations even more than PADI. It offers training materials in up to 30 languages.
4. CMAS Confédération Mondiale des Activités Subaquatiques
Jacques Cousteau was one of its founders. It regulates the training of national federations in up to 130 countries.
5. NAUI National Association of Underwater Instructors
NAUI is an American agency.
Its claim is "Diving safety through education".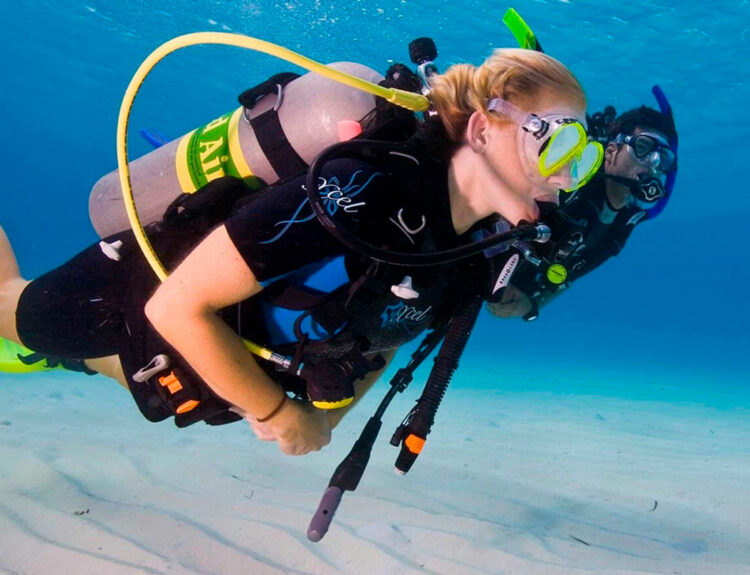 3. What does the scuba diving certification cost depend on?
The scuba diving certification price depends on:
1. The certification you want to obtain. Prices vary. It is not the same if you are interested in certifying as an Open Water Diver or if you want to be a Dive Instructor . PADI has 12 certification courses from Zero to Hero. You can know all the PADI certifications by reading the article 12 Scuba Diving Certification Levels From Beginners To Professional .
2. The type of training you want. For the academic part of the training, you can opt for classroom training, or e-learning. This could vary the scuba diving certification cost. Not with Dressel Divers, but yes with other operators. Realize, they have to dedicate an Instructor just to control and correct your exam.
In the same way, there are diving centers with different prices depending on if the scuba diving certification is junior or senior. They assume that the junior scuba diving certification cost is higher than the senior one because children need smaller groups and more Instructor care. This distinction does not affect the certifications imparted by Dressel Divers, our groups are always small, and our students have highly qualified Dive Masters and Dive Instructor caring for them.
3. The place in the world were getting your certification. Taxes are normally passed on to scuba diving certifications. A certification in the Maldives can cost 900 USD, while doing it in the Caribbean with Dressel Divers is less than half.
4. The dive center with which you are going to certify. The scuba diving certification cost varies between one dive center and another. It will depend on aspects such as:
rental price of the equipment;
cost for the center which they have to pass on, such as the rental of facilities and swimming pools;
if they are the owners of their boats or have to rent them,
own air or nitrox compressors, or if they have to purchase air fills or mixtures, etc. (It is even more expensive if we are talking about helium)
number of students per certification course.
staff salaries, etc.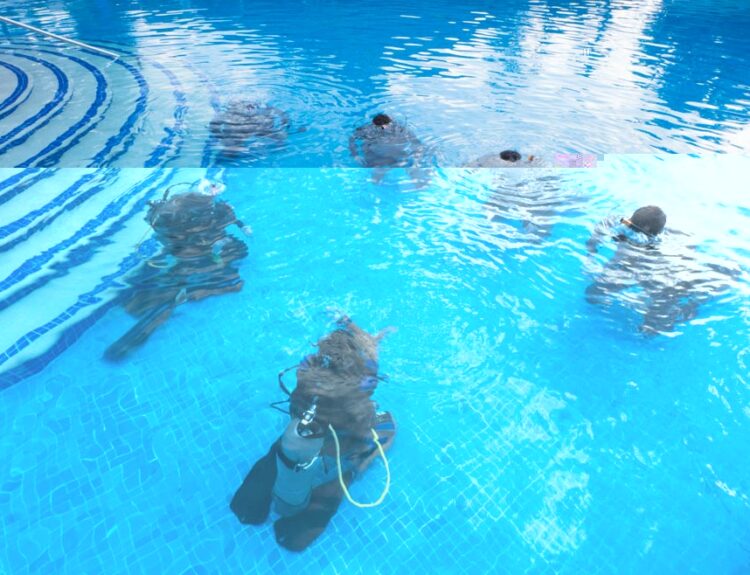 4. The Cost of a Scuba Certification: Should I Do A Scuba Diving Certification Near Me or Abroad?
The answer to this question is: it depends.
If the cost of scuba certification is the only variable to consider, of course, do it abroad.
The prices Beatriz received in New York are higher than what we offer at Dressel Divers in the Caribbean. The open water certification has three parts:
Academic learning,
Confined water training (pool dives),
Open water training.
As Beatriz wanted to travel to the Riviera Maya anyway, she can save money doing that:
Contact a Playa del Carmen operator. (Purchasing in New York and then being referred is more expensive).
E-learning the academic part at home to save time.
Do the rest of the training in Playa del Carmen.
Obtain certification with the Playa del Carmen operator.
However, if the only purpose of the Riviera Maya trip is the certification, forget about it. You would have to add flights, transportation, and accommodation to the scuba diving certification cost. Too much.
5. How Much Does It Cost to Get Scuba Certified with Dressel Divers?
The Open Water Diver certification cost (academic part, scuba diving lessons in confined water, and open water training) with Dressel Divers is less than half the price Beatriz got.
Open Water Scuba Diving Certification Cost from $550*.
Included in the price of the diving course is the so-called "Crew Pack" which consists of:
– Digital PIC of the certifying agency of your choice and access to the digital services of the same;
– the scuba diving license cost, issuance, and shipment of your certification card to your home,
Diving Certification In Williston Florida
Diving is a great way to see the underwater world and get some exercise, but it's important to be safe while doing it. That's why it's important to get diving certification from a reputable source. Williston, Florida is a great place to get certified, as there are many reputable instructors and diving schools in the area. When looking for a diving instructor, it's important to find someone who is certified by a reputable organization, such as the Professional Association of Diving Instructors (PADI). It's also important to make sure that the instructor has experience teaching people of all levels, from beginners to those who are already certified. There are many different diving schools in Williston, Florida, so it's important to do some research to find one that's right for you. Once you've found a school, you'll need to take a written exam and a skills test. Once you've passed these tests, you'll be able to get your diving certification.
Here's what you need to know if you want to get a scuba certification in Florida: You should go to the right dive shop. Finding the right dive shop, as well as the research required to do so, is at the heart of my journey here. My mom was the first person to inspire me to take scuba diving lessons, so I decided to give it a shot. As a teen, I daydreamed about scuba diving, but I had to wait until my lupus was well under control before I could do so. After a long time of being concerned about my health, I decided it was finally time to dive and stop daydreaming about it. PADI is regarded as one of the world's most renowned recreational diving and diving training organizations. PADI 5 Star Dive Centers offer a comprehensive range of PADI scuba diving education programs.
Divers can rely on these businesses for professional service and a high level of quality. Real Girl's review of both dive shops shows you which one is better. Shop XXXX is a PADI 5 Star Center that received an overall positive review on Trip Advisor. Snorkel tours have a positive reputation, but diving training has a negative reputation. We were immersed in water that was 72 degrees Fahrenheit for 5 hours straight, not the 80s as was previously reported. I remember trembling uncontrollably as I lay at the bottom of the pool. All of them were aware of this.
We went swimming after the instructor told my sister and I that we needed to stay in the pool because our lips were purple and we must be really cold. After contacting PADI, we learned that hypothermia develops after 2.5 hours of exposure to 72 degree water. Florida is one of the deadliest states for wildlife. Birds Underwater Diver Shop, Crystal River, Florida – SUCCESSFUL! Additionally, the dive shop provides snorkeling tours at Manatee Reef, and what I've heard and seen from others is that they are very professional. I'm not sure if the tour at the first dive shop, where customers touch manatees and sell photographs of their interaction, is as good as the first one. We chose not to go diving with the other shop again, for our own safety.
We were supplied with wetsuits that were the correct size (as opposed to the previous shop), and Jeff made every effort to ensure that we were properly fitted. He spent a significant amount of time explaining how the equipment worked and how it was configured. When you're in the water, make sure to only breathe. If you can master your breath control, you will be able to master your buoyancy. A scuba adventure allows you to gain access to an underwater world that you would normally be unable to access. You will feel more confident and accomplished as a result. Divers go through the same journey at various points during their careers.
You will be able to do everything you can to become stronger as a result of it. You'll feel badass after you overcome the obstacles that stand in your way. I'm so excited to get back out on the water after getting my certifications.
How Do You Become A Certified Diver In Florida?
Image by – https://deepbluediving.org
A PADI dive center, the center of many of PADI's diving courses in Florida, is where recreational scuba divers begin their scuba diving journeys. https://en.wikipedia.org/w/p/1960/Florida_ In Florida, there are a total of 125 PADI dive shops, each with their own filter options.
The PADI certification process is divided into three phases. First, you'll learn how to scuba dive. These skills can be taught in a pool or in confined water – a body of water with similar conditions to a pool. During the second phase, you'll be able to dive into the depths of the ocean as part of an open-water adventure. You can complete your confined and open water dives in three or four days if you want to. Your PADI instructor will work hard to make you feel at ease while scuba diving. Pricing can vary by location, class size, and other factors.
When it comes to scuba diving, you must be responsible for selecting and using your scuba gear. When purchasing your course package, make sure to check with your nearest PADI Resort or dive shop to see if there is any extra equipment included. When you first start your scuba course, you should buy all of your scuba equipment yourself. You'll need different types of gear depending on the conditions you're in when you dive the most. People with paralysis, amputations, and other disabilities frequently obtain certificates. During the course, a personal set of learning materials is required; after the course, any reference materials should be in their possession. Your options can be determined by your learning style and technology preference.
In addition to a logbook and a dive planning device such as a dive computer, RDP table, or eRDPML, you'll need a dive camera. You can get help arranging a great dive vacation or local diving experience by visiting a PADI dive center or resort. It's not really important where you dive, just that you've received extensive training and experience. Doctors may consult with the Divers Alert Network (DAN) to determine whether or not they are ready to dive. Recreational scuba diving is limited to 40 meters/130 feet above sea level, but some of the most popular dives are deeper than 12 meters (40 feet). Modern scuba masks are available in translucent models, which you may prefer if you feel trapped in them. As your scuba instructor, you will be responsible for mastering all of the skills required to become proficient scuba divers.
If you have previously completed an entry-level certification from a diving organization and have open water experience, you may be qualified to enroll in the PADI Advanced Open Water Diver course. There are no simple formulas for equivalency or crossover. If you want to continue pursuing your education, take the next step.
It's a popular activity to dive in Florida, and there are numerous dive sites throughout the state. In Florida, scuba diving is not required to be certified. However, almost all scuba divers have concluded that diving without the necessary knowledge is extremely dangerous.
The PADI Open Water Full Course is the best way to learn how to dive in Florida. Students learn all of the diving fundamentals in this course, from equipment knowledge to diving safety. A portion of the course fee is also used to pay for all rental equipment for the duration of the class.
If you're planning to dive in Florida but don't have the certification yet, you can take the PADI Open Water Diver Referral course. You will learn the fundamentals of diving as well as learn the necessary equipment during this course, which is a great introduction to diving. There is also a mask rental, snorkel rental, and certification fee if you take the course online.
Regardless of whether you're a beginner or a professional diver, the PADI Open Water Full Course is the most convenient way to get started in Florida.
How Much Does The Padi Open Water Diver Certification Course Cost?
A PADI Open Water Diver Certification Course will cost you $550. All rental equipment, such as masks, snorkels, fins, and dive computers, are included in the course fee. The course is only available online, and if you have not already completed it, you must pay $550 plus a $275 referral fee. You will be required to pay $85 in addition to the mask, snorkel, fins, and dive computer rental fees. The course can be completed in three or four days. Following the completion of the course, you will be ready to dive in open water. Nonetheless, the vast majority of the information that we now possess cannot be described. Open water diving can be done with a guide, but many dive sites require further certification to dive in the water. If you want to dive deeper, a PADI Advanced Open Water certification may be worth considering. It may take up to two years for you to pass this certification, and you may have to pay an additional $1,000.
How Much Does It Cost To Get Scuba Certified?
Image by – https://deepbluediving.org
How much does it cost to be certified scuba diver? It will cost you $350 to $500 USD per person to receive a scuba certification, but the cost varies by location and country. You should pay this price for all course materials and rentals.
PADI, NAUI, SDI, and SSI are among the most popular scuba diving training organizations. A certified diver must first complete a certification process run by each agency, followed by a certification fee. The more comprehensive a training program is, the more it will cost. The NAUI is the National Association of Underwater Instructors. The NAUI has been certifying students in the United States since 1959, making it the world's oldest certifying agency. SDI is a recreational division of Technical Diving International and is known for its scuba diving equipment. SDI has grown significantly since 1999, putting it just behind NAUI as the largest manufacturer of lighting equipment in the world.
The Open Water Diver course typically consists of three parts. The theoretical component of the course is made up of learning dive theory through materials such as books and videos. If you want to scuba dive safely, you must first clear any existing medical conditions with a medical professional. In a pool, you will get your first taste of diving and breathing underwater with your dive equipment and breathing apparatus. You will be able to demonstrate your scuba skills in PADI's Discover Scuba program, which will help you get a PADI Open Water Certification. In Europe and North America, the cost of scuba diving certification ranges between $500 and $350, while in Asia, it ranges between $400 and $500. If you want to become a professional scuba diver, you should read on to learn some useful tips.
To become a scuba certified, you'll need to pay between $400 and $600. The cost of a room in Hawaii or the Caribbean is expected to range from $30 to $150, depending on where you live in Asia and the Caribbean. Once you have obtained your Open Water Diver Certification, there are numerous opportunities for you to explore the amazing world beneath the waves. A mask and a wetsuit are two examples of personal protective equipment that a new diver should have on hand. If you want more gear, you can rent it from the dive center before purchasing it.
There are various levels of certification available, each with its own set of benefits. The PADI Open Water certification is the most comprehensive and covers everything that is important in scuba diving. Following that, you can obtain PADI Advanced Open Water certification, which is the next level of certification. More advanced diving skills, such as confined space diving and diving with weights, are required for this certification. If you want to dive more extensively and explore more remote areas, PADI Divemaster certification is the way to go. This certification includes in-depth diving management training, as well as training in diving safety. Once you've obtained this certification, you can lead dive trips for others, do dive research projects, and teach diving at dive schools. The bottom line is that you can get a certification level from any level of scuba diving, and the more you dive, the more enjoyable you'll be. If you want to get started, now's the time to enroll.
How Much Is It To Get Scuba Certified In The Us?
It costs between $400 and $600 to become a scuba certified instructor. In addition to the Open Water Course, you may need to go through additional scuba training, such as the Advanced Diver Course, which costs more or less but is also slightly less expensive.
Is Getting Scuba Certified Worth It?
Even if you don't have certification, scuba diving can be a death sentence. Most people who have received certification advise you not to go swimming unless you have prior knowledge of how to dive properly, how to resurface, how to communicate, and so on.
Is It Hard To Get Scuba Certified?
Depending on your requirements and schedule, an Open Water certification can take three days to a year to complete. In your area, dive centers may offer a variety of training options, including classroom training, home-based computer training, pool sessions, and local open-water checkout dives.
Scuba Diving Near Ocala, Fl
There are many scuba diving locations near Ocala, Florida. Some of the most popular locations include the Rainbow River, Silver Springs, and Blue Grotto. All of these locations offer scuba diving for all levels of experience.
The Alexander Springs recreation area, part of the Ocala National Forest, does not have a diving center. Most scuba divers must stop by a diving center to rent and/or fill their air cylinders. Because the lake is fed by spring water, it has clear waters with a visibility of more than 200 feet. Alexander Springs is a rocky bottom with a few kelp-like plant growths, as well as a few small caverns along the lake's edges. Divers can take in the sights with family and friends who aren't diving. Divers are typically drawn to the springs by the swimming beach in the recreation area.
How Much Does It Cost To Go Scuba Diving In Florida?
We have a full line of rental equipment, which includes more than a hundred masks, fins, and snorkel sets that fit all ages and groups. The price per trip was determined by the airline. The price of a tank dive trip varies from person to person, but the price of a tank night dive trip ranges from $72.50 to $92.50; the price of a tank tech dive trip ranges from $92.50 to $125.00; and the price of a tank dive trip ranges from $125.00
Is There Good Scuba Diving In Florida?
You can explore the best scuba diving in Florida in your own vehicle or rent a car, either in one trip or on a multi-state road trip. Divers and snorkelers from all over the country can dive in many areas near Florida.
Diving In Florida: What To Expect
In Florida, there are numerous dive sites to be found, including the Gulf of Mexico, the Indian River Lagoon, and the St. Martin River. Each has its own set of diving conditions and attractions to keep visitors coming back. It is critical to conduct research prior to your trip to ensure that you enjoy your diving experience.
It is best to dive all year in Florida, but the peak hurricane season is from August to October. Before you plan your diving trip to Florida, make sure to check the weather forecast for the week leading up to the trip.
Can You Dive At Weeki Wachee Springs?
This is the ideal place for a leisurely swim in the crystal-clear waters, as well as a family picnic. Weeki Wachee can also be used for snorkeling, canoeing, kayaking, paddleboarding, and waterslides in addition to diving.
Beaches Near Weeki Wachee
Weeki Wachee is close to a number of beautiful beaches where you can surf and sand. If you want to stay close to the water or discover new places, there are plenty of options within driving distance.
Scuba Certification Crystal River
Scuba diving is an activity that allows you to explore the underwater world. In order to scuba dive, you must be certified. Crystal River is a great place to get scuba certified. The Crystal River is a seven-mile long river that is located in Citrus County, Florida. The river is a popular spot for scuba diving because of the crystal-clear water. There are many scuba diving schools in Crystal River that offer certification courses.
Padi: The Most Popular Choice For Scuba Diving In Florida
PADI is widely regarded as the gold standard for scuba diving course in Florida. With Padi courses, which are instructor-led and can be taught on their own, an instructor-driven Q&A system ensures quality and eliminates the need to hire external instructors. The SSI course is designed for dive shop lead instructors, and instructors can only teach in a dive shop that monitors and surveys the quality of the equipment. There is something for everyone in Crystal River's dive and snorkel area. It's the perfect time to get out and snorkel with the playful manatees in the 72 degree water at Crystal River Florida Springs. Take a dive after snorkeling. Divers can enjoy a variety of coral colors as well as fascinating marine life at the dive sites, which are located just a few minutes away by boat. If you want to take your diving skills to the next level, PADI offers a wide range of courses that will take you deep within the ocean. Anyone who wants to try scuba diving should take the Open Water Diver course. From beginners to advanced divers, this course will assist you in developing your diving skills. A scuba diving and snorkel trip to Crystal River is the perfect place for families looking for a family-friendly adventure. The dive shop has everything you need for a successful dive experience, and it has a wide range of courses for everyone in your group.
Scuba Certification
To be certified to scuba dive, you must first complete a training program with a certified instructor. During the program, you will learn about the basic principles of scuba diving, safety procedures, and dive equipment. You will also have the opportunity to practice your skills in a controlled environment. Once you have completed the training program, you will be able to obtain a scuba certification card, which will allow you to dive anywhere in the world.
For over a century, scuba diving certifications have been in contention. In the world of recreational diving, there are around 100 agencies offering certification, but only a few have certified over 90% of all certifications. What do I need to know about using it everywhere? It is critical to select the right scuba diving certification program in order to remain safe while engaging in the sport. The major training agencies adhere to ISO standards or the European equivalent. Choosing one involves a number of factors, but there are a few that you should keep in mind before making your final decision. A scuba diving certification will cost you more or less depending on the program you choose.
There are several free and paid programs available, but others can cost thousands of dollars. For an entry-level course in the United States, the average cost ranges between $600 and $1,000. To learn more about scuba diving, please see the Beginners Guide.
There are two types of scuba certifications: open water diving and advanced open water diving. Because open water scuba diving is permitted, you can dive as deep as 60 feet. To become certified, you must pass a written and practical exam. Is scuba diving without a certification possible and safe? The skill sets required to dive are not the same as those needed to swim. If you are interested in diving but are unsure whether you have the technical knowledge to do so, a free beginner's course may be beneficial.
Getting Certified To Scuba Dive
Beginners learn to scuba dive in three simple steps: float, kick, and breathe. To begin diving, you do not need any special equipment or training; your PADI certification does not expire once you have completed it.
It is critical to select a certification from one of the other 100 agencies to ensure that you are up to par when it comes to diving. Finding a good company to work for is a simple process due to the wide range of options available.
Florida Scuba Diving Requirements
To be eligible, students must be under the age of 18, as well as be 10 years old. Swimming 200 yards continuously and treading water for 10 minutes will suffice.
In 2018, a record-breaking 126.1 million tourists visited Florida, making it the most visited state in the country. Millions of people travel to Florida each year to scuba dive in the warm waters. Divers can explore a wide range of diving sites in the Florida Keys. During the months of August and October, the peak of the hurricane season in Florida. The waters of Florida are at their warmest in the months of March to November. Warm-blooded mammals that migrate, the manatees are classified as a migrant species. Diving locations with more advanced certifications are required. Bird's Underwater, Inc. offers a diverse range of diving sites.
Never, no matter what you've been told, hold your breath while diving. The most common mistake people make while learning scuba diving is to make the same mistake over and over. Breathing while diving can cause a variety of problems, such as:
Underwater black outs are caused by a loss of air pressure.
The rapid increase in carbon dioxide levels, which can cause you to pass out. Swimming or breathing are two symptoms of this condition. To enjoy and safely dive, you must first understand scuba diving terminology. Learning how to breathe properly is the first step in this process. This is accomplished by gradually breathing in through your nose and out through your mouth. Keeping your breath out of your mouth is never a good idea; instead, you should keep your nose open.
Once you master breathing techniques, you will be able to dive. You must first learn how to adjust your air pressure and dive with proper buoyancy control before you can attempt this task. This is all you need to know before diving.
Why You Should Get Scuba Certified In Florida
The first step toward a career in open water diving is to complete an open water course. Diving courses are designed to cover topics such as diving plans, first aid, navigation, and so on.
In order to be eligible, you must be at least 18 years old.
While the state of Florida has more than 100 scuba diving sites to choose from, there is no requirement for a scuba diving certification in order to take part. Although you will need basic swimming skills, you will be able to swim comfortably if you have them. To dive legally in Florida, you must first complete an Open Water Diver course, which consists of two days of lectures covering topics such as dive planning, first aid, and navigation. To take the course, you must be at least 18 years old.
Source https://www.diveaeris.com/how-much-does-it-cost-to-go-scuba-diving/
Source https://www.dresseldivers.com/blog/scuba-diving-certification-cost/
Source https://www.desertdivers.com/diving-certification-in-williston-florida/