Scuba Diving and Skydiving with Filmmaker Claude Evangelista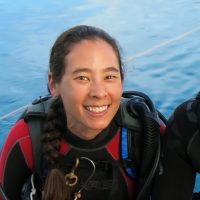 Claude Evangelista is a filmmaker who's both a PADI® Diver and a USPA Skydiver (United States Parachute Association). His unique skill set makes him an in-demand videographer specialising in adventure sports and exotic travel. Learn more about Claude and the similarities he sees between his favourite sports, scuba diving and skydiving.
Want more? Check out Claude's 2019 highlight reel.
From Open Water Diver to Professional Videographer
In 2016 I had a meeting with Cebu Pacific Airlines (a Philippine Airline company) about creating travel destination videos. They asked me if I was a PADI Diver because they wanted underwater shots. At that time, I didn't know how to dive, but was eager to learn and didn't want to miss the opportunity to shoot content for them.
Immediately after the meeting, I asked my brother to introduce me to his dive instructor so I could learn how to dive right away. I completed the Open Water Diver course® and spent most of my weekends diving, learning from my instructor, and working on my buoyancy.
Here's the video Claude shot for Cebu Pacific.
The more I dived, the more awesome marine life I saw. I was slowly falling in love with the ocean, its creatures and the art of underwater cinematography.
My first underwater videos were filmed with a GoPro, but pretty soon I invested in more serious underwater camera equipment. I got my PADI Advanced Open Water Diver, and today I specialise in underwater cinematography for brands/companies that need underwater content such as liveaboards and scuba companies.
What was your most memorable scuba dive and why?
I've had so many memorable scuba experiences, so it's really tough to choose. If it can only be one, it has to be my first visit to Tubbataha.
I was shooting for a liveaboard and hoping to see a shark; just one shark would have made me happy. We went to a site called "Shark Airport," where I saw a school of 37 blacktip sharks. They headed right towards us, so I aimed my camera at them and watched in awe as they passed by.
I will never ever forget that life-changing moment. I felt overwhelmed, happy, stoked, amazed and truly connected with the ocean. It made me want to learn more about sharks and dive with more species of them and bigger ones!
How are scuba diving and skydiving similar?
Skydiving and scuba diving are similar and very different at the same time. Both sports give you that "high," but in a different way. If you want loud, heart-pumping, adrenaline-fueled adventure that gives you a sense of awe, amazement and a feeling of serenity, then skydiving is the way to go. If you want to experience discovery, exploration and wonder in quiet solitude, then scuba diving is the go-to.
Scuba gives you slow-motion adventure, while skydiving gives you fast-paced adventure. Falling from the sky at a rate of 220 km/136 miles per hour, to be exact.
Skydiving has an organisation similar to PADI called USPA (United States Parachute Association). If you decide to do your first skydive, make sure the dropzone is a USPA accredited skydive centre to ensure your safety, since all USPA instructors follow a high level of standards and safety practices.
Just like scuba diving, you can't be complacent. Anything can happen in the sky or beneath the ocean, which is why you always need to be aware of your surroundings and have training in emergency procedures.
Scuba divers should try skydiving because…?
You get to experience the best of both worlds. You don't get to see majestic creatures in the sky like you do when you're scuba diving, but you get that same feeling of adrenaline and awe like when you see a shark or a manta ray.
To be honest, it's really hard to explain, but just like scuba, skydiving is something that you need to try to truly understand. You will not regret it!
When you jump out of a plane, what does your self-talk sound like?
My first ever skydive was in Dubai on my 21 st birthday. I didn't feel nervous or scared until I was in the plane and we were already taking off. I remember saying to myself, "don't back out and regret it on the way home!"
I told myself that if skydiving was really as dangerous as people made it seem, then this activity wouldn't have been open for the public. People skydive every day and these instructors have been skydiving professionally for years and taking people on thousands of jumps. So I should be in good hands.
After that first jump, I couldn't stop thinking about the experience. I had to know what it felt like to skydive by myself. My curiosity went out of control and, after a lot of research, I did my AFF [accelerated freefall] training and eventually earned my license.
What was your most memorable skydiving experience and why?
Just like with diving, choosing just one experience is hard. Once I went skydiving over the island of Mati, Davao with some friends. We jumped out with only our boxers (underwear) on, soared through the island and landed on a stretch of white sand.
It was such an epic moment, to jump out at 3,962 metres/13,000 feet, soar through the sky, then land and hit the water. It felt so surreal, like a dream. I never ever thought I would do something so crazy and awesome in my life. I landed in between the waves and the beach and it took me three days to clean the saltwater out of my parachute and dry everything up, but it was so worth it.
The best of both worlds…
Both scuba diving and skydiving make life truly worth living. When you combine both of these sports, it makes you feel like the world is literally your playground, and you get to experience the best of both worlds. Soaking in all the joys and wonders life has to offer.
Knowing both skydivers and scuba divers also expands your perspectives can inspire you to create your own amazing stories. As a PADI AmbassaDiver, I'm looking forward to sharing stories with other PADI Divers.
I'm also working with a liveaboard company filming expeditions to Apo, Tubbataha, Visayas and other destinations. I want to use my skill set to raise awareness about the world's oceans, and inspire people to protect and preserve the incredible animals that live there.
Connect with PADI AmbassaDiver Claude on Instagram @evangelistaclaude, Facebook, or YouTube and check out his work on Vimeo. Visit PADI.com to learn more about our PADI AmbassaDiver programme.
Bonus content! In case you thought this article was going to be about a guy who jumps out of a plane and goes scuba diving, here ya go:
Scuba Diving Jobs & Opportunities for Trained Divers: A Guide
SCUBA diving jobs and commercial diving jobs are very different. As a professional SCUBA diver, for example, you work in the recreational diving industry, helping students and tourists learn the skill. In commercial diving, however, you deal with challenging and demanding underwater jobs. After you are properly trained and certified at an accredited professional commercial diving school, your career can begin. Each type of commercial diving requires a unique set of skills. Additionally, each industry offers different benefits and risks, salaries, certifications requirements, and more. Before choosing which professional diving career path to pursue, it can help to learn a little bit more about each facet of diving. This will help you determine the diving category best suited for you and your lifestyle.
SCUBA Diving vs. Commercial Diving: What's the Difference?
There is a very distinct difference between these two types of diving. Simply put, SCUBA diving is recreational and requires less training and different licensing. Conversely, commercial diving is paid or professional diving and requires years of rigorous specialized training and certification.
We should note that there are some instances in which SCUBA diving is used in commercial jobs. For example, SCUBA can be used, rather than hard hat diving, in ships husbandry, anode replacement, inspections, working under houseboats. However, generally speaking, it is understood that SCUBA is recreational and commercial diving is paid work.
Types of SCUBA Diving Jobs: Overview
Within the recreational dive industry, there is a broad spectrum of scuba diving jobs. Each job type within this industry requires a different level of training and experience.
As a SCUBA diver, you may work as any of the following.
Divemaster/Dive instructor
Dive boat manager
Underwater journalist
Dive center assistant
Dive equipment manufacturer
Underwater photographer/videographer
Dive retail sales associate
Dive travel manager
As mentioned, some positions, such as a divemaster or dive instructor, require a high level of experience, training, and certification. Others, such as a dive boat manager or dive center assistant, require only minimal dive experience and an interest in recreational diving. Many people find jobs in dive retail sales or dive travel to be a great way to make a paycheck while focusing on a subject that they love.
For many diving jobs in the recreational industry, on-the-job-training is available. For example, operating a dive boat in the United States requires a U.S. Coast Guard captain's license. To gain the experience you need to obtain that license, working as a deckhand on a dive boat is a great start. In another example, an individual with hands-on technical ability might learn the skills of dive equipment repair through assisting at a dive center to legally work as an "authorized maintenance technician."
Other opportunities can be found with dive equipment manufacturers, helping with engineering, design, testing, and manufacturing to public relations and sales. Recreational diving also offers opportunities in advertising, marketing, and communications as an underwater journalist, photographer, or videographer. It is important to note, however, that it can be challenging to find work in these roles, but opportunities do exist for people with the skill and drive to make it happen.
Types of Commercial Diving Jobs: Overview
For someone who wants to spend their career underwater, but doesn't necessarily want to work in dive travel, retail, or sales, the field of commercial diving is the best option. Commercial diving encompasses two main industry sectors: offshore and inland diving. Within these two sectors, there are three types of careers : HAZMAT, salvage, and saturation. Each type of commercial diving career requires different training, equipment, and skills.
What is offshore diving?
Offshore diving refers to the fact that the work takes place on vessels and platforms in the open ocean. The majority of this work supports the oil and gas industries. However, it can also include major salvage operations and subsea construction. Jobs in offshore diving are often available globally, including locations such as the Gulf of Mexico, Mexico, the North Sea, Southeast Asia, and West Africa.
Offshore divers perform maintenance, repair installation, and removal of abandoned oil-related structures and salvage operations. As a result, the skills needed to perform this work include rigging, underwater welding and burning, and using hydraulic tools sets including guillotine and diamond wire saws. Many of these dives use underwater robotics called Remote Operated Vehicles (ROVs).
What is inland diving?
Inland divers often deal with underwater construction, in-water inspections including the use of Non-Destructive Testing (NDT) procedures, pier and pile installation and repair, ship's husbandry, power plant and nuclear plant inspections/maintenance, and dam and bridgework. Given the high demand in this sector of the industry, determination and tenacity are very important to succeed.
Divers Institute of Technology & Your Future Career
While SCUBA diving jobs typically revolve around the tourism industry, a rewarding commercial diving career may offer even more unique and challenging opportunities. At Divers Institute of Technology, we don't just train a single type of diver. We focus on creating a well-balanced diver who can succeed in the many aspects of commercial diving. You will gain real-world experience with professional diving, benefit from an intensive, hands-on curriculum, and make connections within the diving industry. To learn more about training at DIT, contact us today . You can also fill out an application here.
Upcoming Class Starts
12 Dec
Get Started Today
Scuba Instructor : How to Become a Dive Instructor
We gave our Gear Lovers one job:
Find the best and most popular products and review them.
Our review team always considers durability, price, quality, and value in their reviews.
Disclosure: We are reader supported, and earn affiliate commissions If you find a good deal on DIVEIN, you click to the retailer, and you buy the product, we get a commission of the sale. That's is how we pay ourselves. It does not make the product pricier for you. when you buy through us.
There are a lot of reasons to want to get your PADI instructor certification. You could be passionate about the sport itself, eager to educate the next generation of underwater recreators, or simply just can't tolerate working in an office. If you're contemplating a career as a dive instructor, you should know that you're signing up for more than just a job–you're choosing a lifestyle.
Working in the recreational scuba industry is similar to many other outdoor professional careers. You get to spend your days outside, promoting and advancing the sport that you love. You also have a good way to find work in remote destinations and facilitate a travel-based lifestyle.
The work itself is demanding, but rewarding. You'll be forced to grow as a leader and constantly be challenged by unique environmental and interpersonal problems. But with patience, teaching people to scuba dive and seeing your students' faces light up when they get their first glimpses of that alien aquatic world makes it all worth it. The tips don't hurt either.
The Perks
As a scuba instructor, you'll spend more time in the water in a year than most people will in their lifetimes. But the benefits of the job extend far beyond bottom time. Effectively, you'll be joining a global league of professionals with more experiences and resources than you'll ever be able to make use of. Here are adjust a few of the perks:
There's work anywhere there is diving, and the places where there's a lot of diving are usually pretty fantastic. Outdoor careers, and diving in particular, make it easy to travel and find a job.
As long as you're teaching up to standard, certifying agencies will back you up in terms of liability. Which means you're protected legally in the event of an accident that you couldn't prevent.
Instructor training goes far beyond just dive skills. You'll develop as a leader and educator, while gathering a host of other useful skills like basic emergency medical and professional sales training.
Pro deals provide access to heavily discounted gear. You'll be able to purchase the latest kits and find replacement parts oftentimes at nearly half of the market retail price.
There's a ton of opportunity to grow as both a diver and a leader. The more time and energy you invest into furthering your education and teaching capabilities, the more personal and fiscal return you will see.
You're joining a community. That means you'll be surrounded by a group of like-minded friends and mentors to support you in your journey.
The Drawbacks
Like any other job, there are parts of being a scuba instructor that you're not going to be thrilled with. That could mean hauling heavy tanks every day, having the limits of your patience tested by students, or just the inherent stress that comes along with being responsible for people who are new to being underwater.
Working in the outdoor recreation industry does not mean a leisurely career. Being an instructor is hard work physically, mentally, and emotionally. You should expect to be challenged on all of these fronts.
There's a big initial investment in terms of both money and time. In order to even sign up for the instructor course you need to be certified at least up to divemaster standards, and have a fair amount of hours underwater on your own time.
As with many outdoor jobs, finding year-round work can be a challenge depending on where you're located. New dive instructors oftentimes have to be creative and tenacious about staying employed during the offseason and be willing to do some work on the side to maintain the lifestyle.
It can be scary. Beyond just the inherent risks diving presents to your own person, you must stay vigilant and ready to respond to the needs of your students. If someone freaks out, or conditions aren't ideal, it's your responsibility to figure it out.
The Details
Ultimately, becoming a dive instructor is a lifestyle choice that almost certainly will lead to a very rich and interesting career. If you decide that it's right for you and want to start moving forward in the professional dive industry, here are your bottom lines.
You need to be at least 18 years of age
Certified up to Divemaster (Open Water, Advanced Open Water, Rescue Diver, Emergency First Responder, and Divemaster Course)
Have at least 100 logged dives
Have around $3000 to cover the cost of the course and the requisite materials
You must pass the Instructor Examination
If you're a seasoned recreational diver, chances are you've amassed at least some of these requirements. In addition, it's a good idea to take some of the specialty certifications offered after you complete your Advanced Open Water to become a more rounded diver.
It can seem like a daunting task when you're just starting out with your Open Water, but experience is crucial and it's way better to take your time and have a solid foundation than it is to rush headlong into a career you're unprepared for.
The rest of the guide will cover some of the intricacies of the PADI instructor pathway, and how you can move forward into a career teaching people how to dive.
teaching people how to dive. Instructor and the students in a swimming pool. This training intended to get a small taste of the demands of a scuba dive without committing to a plunge into the open water.
How Much Does a Dive Instructor Make?
As much as becoming a dive instructor is about the experience, at the end of the day you still need to be able to pay the bills. But, the question of how much money a dive instructor can expect to make isn't as straightforward as with other careers given the flexibility of the work, and the amount of variables that can determine your rates.
As a baseline, new Open Water dive instructors can typically expect to earn $20k USD in a calendar year. But, that's assuming your only skills are teaching beginner scuba classes.
If you continue to invest in yourself as an instructor, you can get certified to teach more advanced and specialty recreational courses such as nitrox and AVO. The more classes you are certified to teach, the more work you'll have, and the bigger asset you will be to the dive shop you work for.
If you're working through a resort or dive shop, you can make commission from selling gear and additional courses. If you're independent, you can pocket the entirety of your earnings but have to pay a lot in terms of overhead costs like renting equipment and pool space. It's not uncommon for new dive instructors to do some work on the side.
Some instructors go even further, getting into commercial diving, where the pay can be somewhat lucrative.
How Much Does it Cost?
The typical cost to progress from divemaster all the way to instructor ranges from $2000-3000 USD. But this isn't the bottom line.
Courses are often offered in modular components, meaning you sometimes have the option to knock out certifications like the EFRI (Emergency First Responder Instructor) separately, and sign up to do PADI's online learning components on your own time.
Prices and criteria will vary from center to center, but typically you can expect the following price breakdown in USD:
$1,200 for the IDC "course" itself
$350 for the Emergency First Responder Instructor certification and application
$900 for the Instructor Examination and application
$550 for PADI's online learning portion of the course
Oftentimes dive centers will offer package deals at a slightly discounted rate. These packages have been known to provide the required course materials and access to their dive facilities. This is a hefty investment on top of all of the previous time and resources you've used progressing through your recreational requirements, but there are ways to mitigate the price we'll discuss later in this guide.
there are ways to mitigate the price we'll discuss later in this guide.
Scuba dive Instructor and the students practicing to breath together with hand communication underwater
What Qualifications Do You Need?
In order to sign up for your IDC (Instructor Development Course) and start your career as a professional diver instructor, you first need to run the recreational certification gauntlet.
If you've been a PADI diver for some time, there's a good chance you already have your Advanced Open Water. Congratulations, that's the first big step towards your instructor candidacy.
After the AOW, you have to learn the skills to respond in the event of an incident through the Rescue Diver Course and the more general Emergency First Responder certification. The Rescue Diver Course is fantastic, and a worthwhile investment for any serious diver. Investing in a couple of specialty classes is a good idea too to round out your diving experience. Once you've completed these steps, you're ready to take your divemaster course and become a PADI pro.
As a divemaster, you'll learn best underwater leadership and guiding principles while assisting with classes and preparing for the responsibilities of an instructor. You don't need to work as a divemaster before you enroll in an IDC, you just need the certification which also requires at least 60 logged dives. However, you need at least 100 dives to qualify for the Instructor Examination.
Outside of technical qualifications, being a dive instructor means you have great customer service skills and the confidence it takes to lead students into the unknown. You should be comfortable in the water in variable conditions, and in good enough shape to assist students in need. A sense of humor, while not essential, definitely helps.
How Long Will it Take?
Depending on your resources and experience level, obtaining your dive instructor certification could take anywhere from a few weeks to a few years. For some perspective, the fastest you could possibly go from a brand new diver, all the way to OWSA is 6 months. The jury is out regarding whether or not that's a good decision.
While there's nothing inherently wrong with cranking through your certifications and getting a jump start on your career, that's a lot of information to process. Ultimately, only you know the limits of your own abilities. Turn a critical eye toward yourself and be honest about whether or not you feel like you can be responsible for the wellbeing of other people in an emergency situation. If you have prior leadership experience, there's a good chance you'll be able to adapt those skills underwater.
The IDC itself can run anywhere between five days to a week and a half, while the Instructor Examination usually runs around two days. There are many routes to becoming an instructor, and the path is going to look different for everyone. That being said, your IDC is a great opportunity to learn from your peers and long term scuba veterans. It's something to be enjoyed and taken advantage of if that's the experience you're seeking.
What Exactly is an IDC?
Think of the IDC as a sort of a capstone course for your diving education. It's just as much an academic endeavor as it is physical training. Before your IDC actually starts, PADI requires you first complete an online learning course to streamline the in-person training.
Instructor Development Courses are typically split into two parts. The Assistant Instructor course is a partial certification that allows you to co-teach with another, more experienced instructor. Candidates who make it through this initial training can choose to move on to the full OWSI certification which will allow you to teach autonomously. The majority of aspiring instructors push all the way through their IDC and go on to take the Instructor Examination shortly afterwards.
The bulk of the IDC is focused on giving you the tools to teach and assess core skills needed by any PADI open water diver. There's plenty of time for practice and drilling your demo and assessment skills, as well as the opportunity to practice teaching in a classroom setting. Above all, IDC courses are a fun, collaborative way to prepare for your Examination, and you should leave feeling confident in your ability to succeed.
In addition to the nuts and bolts of Open Water Courses, you'll also receive professional marketing and sales training, risk assessment techniques, and more about your role as an instructor in the world of scuba diving.
Choosing an IDC Center
If you're set on actually going for your OWSI, and have amassed all the funds and certifications necessary to sign up for the course, the next thing you'll want to do is decide where you're going to take it.There are benefits and drawbacks to every dive center, the trick is finding a five-star dive center that works for you.
IDC courses are offered all over the world, so when you're deciding where you want to go it's important to keep a few things in mind. The first and biggest constraint is going to be your own budget and timeframe. While the cold and murky waters of your hometown may not be as exciting as Bali, you'll learn all of the same skills locally as you would in distant, remote locations without having to pay for travel on top of the course. That being said, it's a great excuse to make a trip out of it.
You should also consider the kind environment you anticipate teaching in the most. The skills themself don't change, but factors like visibility, temperature, and general dive conditions do. Ideally, you'll be taking your IDC and your examination in a setting similar to the one you'll be teaching in. For example, if you belong to that small section of die-hard freshwater divers, you wouldn't get as much out of taking your IDC around a tropical reef. Specific considerations and tricks regarding new divers in these kinds of areas can be very helpful.
Ultimately Dive Centers that run IDCs are located pretty much everywhere you can dive, and a final but crucial consideration you should make is possible language barriers between yourself, your instructors, and your peers during the duration of the course.
Instructor Examination
You've completed your IDC, and you've practiced your skills and honed your teaching techniques. You've spent more time underwater than most people will in several lifetimes and are ready to take the final step in achieving your goal of becoming an Open Water Scuba Instructor–the Instructor Examination (IE). This roughly two-day test proves that you're worthy of representing PADI as an instructor, and are ready to take on the mantle of teaching.
After you've completed all your prerequisites and your IDC, you should feel well-prepared to tackle anything thrown at you over the course of the examination.
The IE is divided into four stand-alone sections. You need to pass each section to qualify as an instructor, but you can retry portions of the exam you didn't pass at a later date.
The four sections are a written exam where you prove your personal knowledge, a classroom teaching section where you demonstrate you can pass that knowledge along, a pool skills section, and an open-water skills section.
While the exam is generally regarded as "easy" there are some sections that are notoriously more difficult than others, particularly if you're asked to walk a faux student through a controlled emergency swimming ascent (CESA). Don't stress out too much about it though, ideally, the IE should be celebratory in nature, and you should feel good about yourself moving forward into your dive career.
Source https://blog.padi.com/scuba-diving-and-skydiving-with-filmmaker-claude-evangelista/
Source https://www.diversinstitute.edu/scuba-diving-jobs/
Source https://www.divein.com/diving/scuba-instructor/