Antigua Diving:
Unfortunately, it's not because of Antigua diving.
Antigua was where my boyfriend (now husband) and I got our scuba diving certification. And a few years later, it was where we got married.
So I have very good memories of Antigua. But I don't have great memories of Antigua scuba diving during our first two trips here.
However, we have recently been back and got a chance to dive down by English Harbour which is on the south – southeast side of the island.
We enjoyed our dives much better this time around and saw a fair amount of marine life. We were pleasantly surprised since we weren't expecting much but we wanted to get back in the water.
I am glad we did.
The first two times we dove here our Antigua diving was done in the northern part near Dickenson Bay and off the western coast near Jolly Harbour. On these two trips, I thought it was overfished and there was not alot to see. It was also damaged by hurricanes and humans.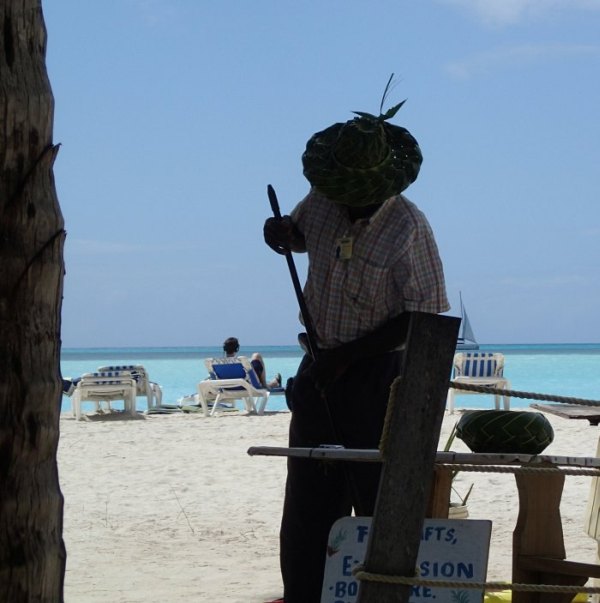 Worker with his palm frond hat and bird on Jolly Beach, Antigua. I love the colors.
Of course, like all places, some sites will be better than others, but when I go back again I will make an effort to dive on the S-SE side of the island again.
Looking on the bright side though, no matter where you dive we can just enjoy being underwater and not go with very high expectations. After all, you are scuba diving, so how bad can it be?
At the worst, you can always use your Antigua diving time to work on some your scuba diving skills such as buoyancy control or air consumption.
And Antigua diving is a good break from all that beach lounging and Wadadli (national beer) drinking.
Nothing tastes better than a nice cold Wadadli when you are done diving. I will say we enjoyed quite a few of these on several different beaches in Antigua.
Besides the diving, Antigua itself is worth a visit IMHO. It lays claim to 365 beaches so if you are a beach lover, this might be the Caribbean island for you. Enjoy the island, its' history and its' beaches and do a dive or two to get back underwater.
No matter what, you are on vacation so have a great time and enjoy the break from the everyday.
Lay of the Land

The nation of Antigua is actually made up of three islands – Antigua, Barbuda and the uninhabited island and nature reserve of Redonda. It has a population of approximately 69,000 people and is the largest English speaking nation of the Caribbean Leeward Islands.
Antigua's capital, St John's can be found on Antigua Island, which is 14 miles long and 11 miles wide and approximately 108 square miles in area.
Antigua is mostly quite flat, unlike other Caribbean islands, but has a range of hills in the south western part of the island which includes Boggy Peak, at a height of 1319 feet.
Street scene in St. Johns, the capital of Antigua. I loved wandering around the city and taking in the sights, sounds and smells (only the good ones of course).
The island is surrounded by coral reefs with the shoreline made of rocky coast and beautiful beaches. In fact, Antigua claims 365 beaches – one for each day of the year. And all are open to the public. Most of the beaches are found on the protected Caribbean side of this island.
As a rough guide, the more developed beaches are generally found on the north-western coast, quieter beaches on the southern coast and great family beaches, protected by reef, on the eastern corner of the island.
Location
Antigua is in the West Indies, in the middle of the Leeward Islands in the Eastern Caribbean. Which pretty much places it right in the middle of the Caribbean.
It is 290 miles southeast of San Juan, Puerto Rico and about 1300 miles southeast from Miami.
Islands nearby include Montserrat, Guadaloupe, St. Kitts and Nevis.
(Check out our page of Antigua maps for more details. We even have a couple of interactive maps of Antigua for you to play with. You might also find our other Caribbean maps helpful.)
Antigua Resorts

Once you decide to go to Antigua, with all it's beautiful beaches, you'll need to decide on a place to stay. And with all the options available, it can be a bit overwhelming.
Search for Antigua resorts and hotels, and you will find many options for your stay. From a small boutique hotel to a high end private resort to a mid-range resort, they are all available on Antigua.
No matter where you choose to stay, Antigua has some great beaches and is a nice place for some relaxation and sightseeing.
In fact, it lays claim to having 365 beaches, one for each day of the year,
When we first went to Antigua, many moons ago, we stayed at the Barrymore Beach Club on Runaway Bay. We loved this Antigua hotel since it was on a quiet beach but within walking distance of Dickenson Bay where Sandals and other resorts are located. Thus it was easy to get more action if you wanted it.
Since we have been there though, the Barrymore Beach Club has been redone, renamed and it is now a more upscale lodging choice. Since I haven't been there since the renovation, I can't comment on it but I'll give a thumbs up to the beach and location.
The next time we went to Antigua, we got married at Club Antigua (70 of our friends joined us, but that is a whole 'nother story; rest assured it was a great time).
But guess what? This Antigua resort has also been redone and is now known as the Jolly Beach Resort. Things can change quite a bit in the Caribbean.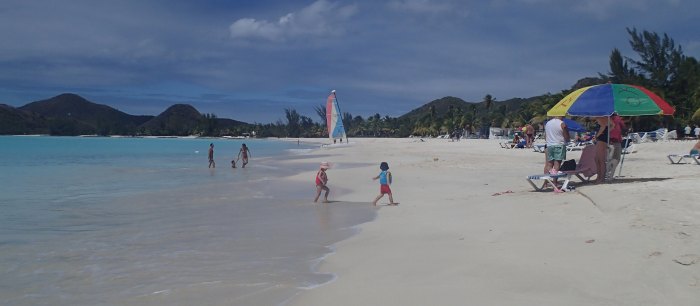 Beach at Jolly Harbour. We got married at the then Club Antigua. Now it is called Jolly Harbour Beach resort. Had alot of fun times on this beach.
Again, I won't give my review since I haven't seen the renovation but I will say it was a nice beach and good location.
My sister, though, has since been back to Antigua and stayed at the Pineapple Beach Resort and gave it very good reviews.
Another popular place to stay on Antigua is the St. James Club. We have friends that have been there several times and can't say enough good things about it.
We will warn you though that this is one of the more expensive Antigua resorts.
These, of course, are just a few of the many accommodations available to you. Your choices are pretty much limitless!
Weather
Antigua has a wonderful tropical climate cooled by the breezes of the north-eastern trade winds. Perfect for when you're done with Antigua diving.
Temperatures on Antigua range from an average low of 73ºF in January and February to an average high of 87ºF between July and September. Minimum night temperatures in the cool season are 60-65ºF.
Antigua is said to be the sunniest island in the Eastern Caribbean, with an average rainfall of only 45 inches. Its dry climate and its lack of natural rivers mean that it is prone to drought but desalination of sea water helps to combat this problem.
As far as hurricanes are concerned, like the rest of the Caribbean, hurricane season is from June 1st to November 30th. The riskiest times for hurricanes in Antigua is August to mid October.
Statistics show that Antigua is affected by hurricanes or tropical storms every 2.6 years but only suffers from a direct hurricane hit every 12.5 years.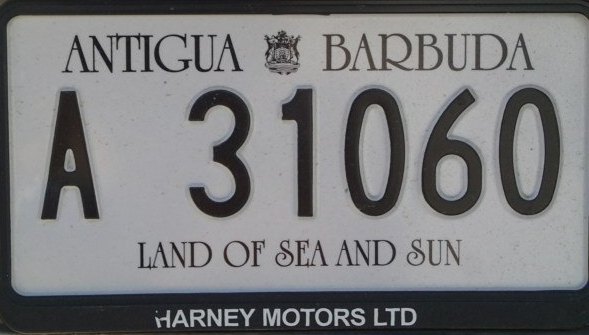 Antigua license plate. It says it all.
Water Temperatures
The water temperature around Antigua averages approximately 80ºF year round with a range of about 78ºF to 84ºF.
For most people a 2-3mm wetsuit should be sufficient for this temperature. However, if you get cold easily or are doing alot of Antigua diving, you might want to use a full wetsuit.
Underwater visibility usually ranges from 50 to 100+ feet. Unfortunately, when we were there our first time our average visibility was only around 20 feet. Hopefully your visibility will be much better.
However, our last time doing some Antigua diving we had much better visibility – ranging from about 45′ on one dive to about 75′ on another dive.
Reefs and Rides
Antigua is pretty much surrounded by a barrier reef so there are lots of shallower dive sites. Most dive operators take you to do some Antigua diving off of the southern and western coasts.
Ride times to the site depends, of course, on where you are diving. There are quite a few sites close to shore so your boat ride will be in the 5-15 minute range. Sites further out can take from 30-45 minutes.
If you go with a dive operator that takes cruise ship passengers, you will most likely be diving closer in to shore.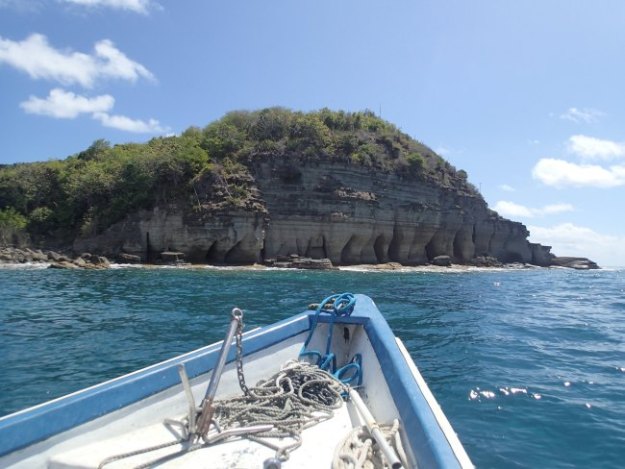 We are approaching the Pillar of Hercules dive site outside of English Harbour. There were some wonderful formations here as you approached the point.
Antigua Diving
As you may have figured out, Antigua is not exactly a hot spot for its' diving. Rather it is more popular as a topside destination with its 365 beaches and many historical sites. So it is a good place to go with non-divers.
But while you are there, I would say do some Antigua scuba diving anyway. It's always good to get some bottom time.
Sign up for a dive, see what you think and go from there. Who knows, maybe you will be pleasantly surprised by Antigua diving. As I said before, we were during our last trip there. I will definitely be diving again next time I go to Antigua.
It would be an appropriate spot for beginner divers since there are many shallower dives and usually no current.
We did our certification in Antigua and weren't very impressed, despite these being our first open water dives. Visibility was also poor – averaging about 20 feet. We dove at Sandy Island (including the barge there) and Boon's Reef.
However, I will say that since we were doing our certification dives they took us to shallower sites that see alot of scuba traffic. Other sites are probably somewhat better for Antigua diving.
After our initial trip, we went back to Antigua and did some more scuba diving a few years later. Ufortunately, we came away with the same impression. Although we did see a nurse shark and a couple of lobsters.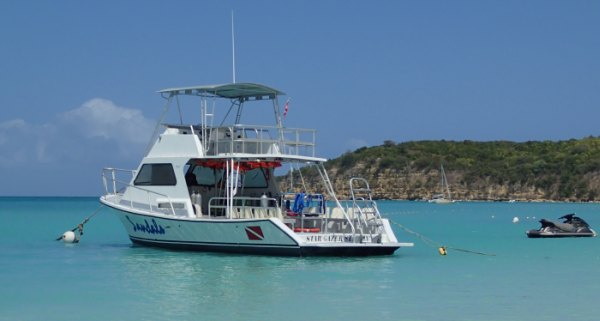 A dive boat from Sandals, a popular all-inclusive resort for couples, anchored off of Dickenson Bay in Antigua.
I had heard that the south/south eastern sides were reputed to have the more impressive dive sites. However, many dive operators dive the western/southwestern coasts since those are closest to most of the hotels.
The last time we were there, we were staying on a sailboat and later, an apartment, in the English/Falmouth Harbour area. So we got the opportunity to dive on the south eastern side of the island.
And, as I have stated, we enjoyed our Antigua diving much better this time around. We saw quite a bit of marine life including rays, lobster, arrow crab, blue shrimp, big jacks, garden eels, spotted drums, yellow tails and more.
The formations at the Pillar of Hercules dive site was also a highlight.
I am not going to say Antigua diving is spectacular but diving this part of the island was enjoyable.
You might want to check out the dive shops that dive in this area for your best chance of a good dive.
Topside
One of the more popular things to do (after your Antigua diving) if you are in a party mood is to go to Shirley Heights on Sunday afternoon for some reggae music, BBQ, rum and beer (not necessarily in that order). There are gorgeous views from up top and it is a fun afternoon.
We've had a great time at Shirley Heights and will be going back. Take heed though, it can get crowded and just be aware of what's happening around you.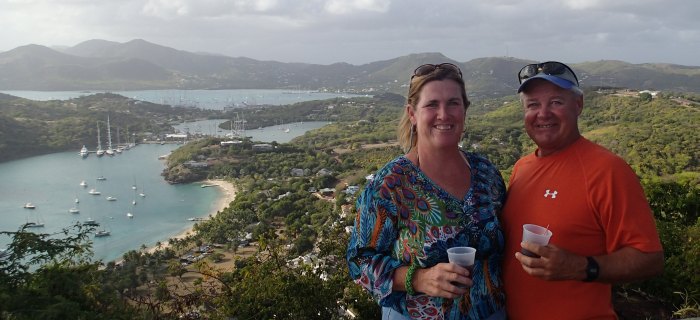 Enjoying the view and some refreshments on Shirley Heights in Antigua. Sunday afternoon/evening there is good music to keep you going.
If you can't bear to leave the water, you can always opt for the Pirate Ship – another rum and beer soaked party. Have fun dancing, doing the limbo, jumping off the rope swing and pretty much anything you want. (The ship we went on, the Jolly Roger washed up in a storm, but there is another one that has taken its place.)
If you want a more relaxed day, you can always enjoy lazing on one of its 365 white beaches (yes, it'll take you a year to get round them!), while being cooled by a trade wind (hopefully).
Give Antigua diving a shot – we'd love to hear what you think!
For more information, you can take a look at our other pages on Antigua:
Want to stay down longer and improve your buoyancy control and other diving skills? Our free report "Increase Your Bottom Time" along with our practical, weekly actionable tips will have you looking like a seasoned diver in no time. So come join us and see improvement on your very next dive!
(Click on the photo to join us now!)
Pineapple Beach Club, Antigua
Whether it's practicing your serve on one of our tennis courts, playing a game of beach volleyball, or taking to the water to learn one of our many water sports, there's always something to do at Pineapple Beach Club. Craft the vacation of your dreams and simply relax by one of three freshwater pools, or seek underwater adventure in an all-inclusive snorkeling experience off the shores of our gorgeous coastline.
Do it all or nothing at all – it's all included!
Water Activities
Just because you're at the beach doesn't mean you have to take it easy. Explore the vibrant undersea world in an all-inclusive snorkeling experience, or seek adventure at the helm of a Hobie Cat catamaran – it's all included in the price of your stay.
Enjoy stand-up paddle boards, kayaks, Hobie Cat catamarans, snorkeling, and more! Our expert Water Sports team will be happy to show you how to get the most of our water sports offerings at Pineapple Beach Club, Antigua.
Land Activities
Stay active at Pineapple Beach Club Antigua! Achieve all your fitness goals on island time in our expansive, on-site fitness center, or get your heart pumping with an exciting game of beach volleyball.
At Pineapple Beach Club, we set the vibe for the vacation of your dreams. Whether that involves lounging poolside, hunting for souvenirs, or exploring the island on one of our amazing tours and excursions, we've got you covered!
Scuba Diving – An Underwater Adventure
Take your undersea adventure one step further and head over to Mamora Bay Divers at St. James's Club & Villas for a world-renowned scuba diving experience. With more than 20 local dive sites, ranging from depths of 30 to 130 feet, you'll be surrounded by tropical coral reefs, shipwrecks, and vibrant marine life.
To make a reservation or inquire about pricing, please email Mamora Bay Divers at mamorabaydivers@sjcantigua.com.
Email Sign Up
Sign up and be the first to receive exclusive offers and updates from Pineapple Beach Club.
Contact Us
Awards
Thank you for visiting us online! By using this site, you agree to our Legal Notice, Privacy Policy, and Booking Terms & Conditions. Now let's make your vacation dreams come true! ACCEPT
Privacy Overview
This website uses cookies to improve your experience while you navigate through the website. Out of these cookies, the cookies that are categorized as necessary are stored on your browser as they are as essential for the working of basic functionalities of the website. We also use third-party cookies that help us analyze and understand how you use this website. These cookies will be stored in your browser only with your consent. You also have the option to opt-out of these cookies. But opting out of some of these cookies may have an effect on your browsing experience.
Necessary cookies are absolutely essential for the website to function properly. This category only includes cookies that ensures basic functionalities and security features of the website. These cookies do not store any personal information.
pINEAPPLE BEACH CLUB, ANTIGUA
Your perfect all-inclusive, exclusively-adults Caribbean beachfront escape begins at Pineapple Beach Club, Antigua. Kick off your sandals, put your toes in the sand, and relax…it's vacation time!
Putting the "all" in all-inclusive, Pineapple Beach Club combines wonderful dining and drinks with unlimited opportunities for relaxation and adventure. Craft the Caribbean vacation of your dreams with word-class, all-inclusive dining, unlimited drinks by the glass (alcoholic and non-alcoholic), resort amenities, non-motorized water sports, land activities, entertainment and more! This tropical island paradise pairs excellent value with all of the upscale luxuries you deserve.
* Kindly note that a Resort Fee of US$24.00 per room, per night and a statutory tourism levy of US$5.00 per guest, per night applies to all bookings and is payable locally at the resort during your stay.
Dining
Daily Breakfast, Lunch, Dinner, Snacks & Afternoon Tea
Pineapple Beach Club offers a wide variety of restaurants, beachfront grilles, and an assortment of tropical-themed bars. There is no shortage of wonderful local and international flavors and true Caribbean comfort.
Your all-inclusive package includes breakfast, lunch, and dinner, as well as afternoon tea, snacks throughout the day, and unlimited alcoholic and non-alcoholic beverages by the glass; all of which can be enjoyed at a variety of locations throughout the resort including:
Topaz Restaurant – Satisfy your hunger for authentic Caribbean cuisine and international favorites as you feast your eyes on picturesque seascapes.
Chef Pietro's – Indulge in delectable Italian specialties in an elegant and tranquil beachfront setting.
Pineapple Grill – Enjoy a selection of International and Caribbean fare at this culinary island staple.
Pelican Snack Grill – Pair your poolside cocktail with a light lunch or snack featuring all the Antigua flavors you crave.
The Outhouse – Savor mouth-watering Caribbean barbecue, ice cold beer, and fantastic sea views at our world-famous Outhouse BBQ restaurant. A fun, rustic atmosphere for a perfect afternoon!
WATER SPORTS
Sail, Kayak, Snorkel & More
Enjoy one of the Caribbean's most stunning white-sand beaches with brilliant turquoise water, just steps from your room or suite! Explore the vibrant undersea world in an all-inclusive snorkeling experience, or seek adventure at the helm of a Hobie Cat catamaran – it's all included within the price of your stay.
Choose from a wide assortment of water sports activities like kayaking, stand-up paddle boarding, pedal boating, swimming, or just relaxing in a water hammock.
FITNESS & WELLNESS
Fitness Center & Group Classes
All-Inclusive dining tastes even better when it's guilt-free. Achieve all your fitness goals on island time in our expansive, on-site fitness center. Equipped with Cybex cardio equipment, weight training machines, and free-weights, as well as group exercise classes, you'll have everything you need to maintain your workout regimen.
BARS & ENTERTAINMENT
Unlimited Drinks & Evening Entertainment
Famous for its wide variety of signature blended cocktails, Pineapple Beach Club offers five terrific bars serving cocktails, beer, wine, and non-alcoholic beverages. Evening entertainment includes live music, island-themed performances, DJs, karaoke, fire dancers, stilt walkers, and beach "street" parties.
Sly Mongoose Bar – Find a seat at our spacious main bar and enjoy evening entertainment and specialty cocktails.
Aqua Bar – Raise a glass to unlimited cocktails beside a colorful, Caribbean-style beachfront bar.
Pineapple Grill Bar – Take the party inside for colorful cocktails, ice-cold beer, and a terrific selection of wine, along with non-alcoholic beverages in air-conditioned comfort.
The Outhouse Bar – Toast to bottomless beer and stunning sunsets from our scenic and wonderfully rustic hilltop bar overlooking the turquoise sea.
Tickled Turtle Bar – You don't have to be staying in a Pool Terrace Room to enjoy this bar, but the short walk back to your island-inspired guest room after an evening of cocktails with friends is definitely a plus!
ACCOMMODATIONS
IncludES sales tax & local Service Charges
Located on 30 private acres, your stay at Pineapple Beach Club Antigua includes your choice of beautifully appointed accommodations from one of five room categories including: Pool Terrace, Gardenview, Oceanview, Beachfront, and Waterfront. You can also choose to stay in our exclusive Chairman's Suite for the ultimate in luxury accommodations.
Your home away from home features all the modern amenities you've come to expect, as well as some that are included as an added bonus, like your private balcony or shared veranda.
You'll find your beach towels, housekeeping service, as well as your porter and concierge services to be up to our resort's widely recognized and exceptional standards. This, as well as your gratuities, sales taxes, and statutory service charges are all included in your nightly rate, so there are no surprise charges or additional fees at the end of your stay.
* Kindly note that a Resort Fee of US$24.00 per room, per night and a statutory tourism levy of US$5.00 per guest, per night applies to all bookings and is payable locally at the resort during your stay.
ON-RESORT TRANSPORTATION
Guest Shuttles
Pineapple Beach Club offers complimentary intermittent golf cart shuttle service throughout the property. Experience all that our resort has to offer and then some when you visit our neighboring property: The Verandah Resort & Spa.
* Please check with Reception for shuttle service availability.
Source https://www.scuba-diving-smiles.com/antigua-diving.html
Source https://www.pineapplebeachclub.com/experiences/activities/
Source https://www.pineapplebeachclub.com/all-inclusive/