PADI DISCOVER SCUBA DIVE KOH TAO
Never tried diving? Curious how it is to go scuba diving? Try it with our Discover Scuba Diving program!
PADI DISCOVER SCUBA DIVING CRYSTAL DIVE
A one day program which will start in our pool & take you on a dive in Koh Tao bays.
ENJOY THE UNDERWATER WORLD OF KOH TAO
If you're short on time or simply want to try then Discover Scuba Diving is perfect!
PADI DISCOVER SCUBA DIVING
give scuba diving a try and discover the underwater world of Koh tao with crystal dive!
You may have always wondered what it's like to be able to breathe underwater… but maybe you weren't too sure if you like it or you simply didn't have the time for a full certification course.
The PADI Discover Scuba Diving experience at Crystal Dive is the perfect introduction into scuba diving for you!
It only takes one day, doesn't contain much theory and starts off in the shallow waters of a pool to take your first breaths underwater.
Once comfortable, we will go on our spacious dive boat in the afternoon, where you can enjoy one or two dives with your personal instructor for the day.
Within just a day you can get the taste and if you like it, you can upgrade to the full PADI Open Water Course on site & save time and money!
Start your adventure today with us!…
START your adventure today at Crystal dive!
ThE PADI DISCOVER scuba diving experience will introduce you to the underwater world in just 1 day
The PADI Discover Scuba Diving is a 1 day program to introduce you to the underwater world & these are the parts of your experience:
display:none
Your content goes here. Edit or remove this text inline or in the module Content settings. You can also style every aspect of this content in the module Design settings and even apply custom CSS to this text in the module Advanced settings.
Part 1: Intro & Briefing
To start the PADI Discover Scuba Diving program you are going to meet your Instructor, introduce yourself to each other and go over some necessary paperwork.
Your Instructor will get you sized up for your equipment and give you a detailed briefing about some techniques, safety procedures, equipment use and handsignals that we use as divers. He will also tell you a bit about how to handle the marine environment and the options you have after this program as a diver.
You will get to fill in a small knowledge review after this, just to make sure you understand all the points.
Part 2: Swimming-Pool-Dive
Your instructor will set the equipment up for you and help you to put it on and get used to it.
You will enter into water first shallow enough for you to stand up in. Here you are going to practice what it's like to breathe underwater and 5 other skills that you may need on your dives.
Once you mastered those skills your instructor will help you to practice swimming with your fins around into the deeper end of the pool.
Once you exited the pool you will have some time for lunch and then we go on the boat!
Part 3: Open Water Dive(s)
In the afternoon we will go onto our spacious dive boat, where your instructor will again prepare the equipment for you and you have some time to relax and enjoy the view, while we take a short trip to one of the shallow dive sites around Koh Tao.
Once we arrive, your Instructor will give you a briefing, go over the safety rules with you and explain the techniques for your first Open Water Dive. He will also show you what you can expect to see once you are underwater.
You will enter the water from our dive boat with a big step out and go on your dive with your personal Instructor (for this program we take a maximum of 2 divers per instructor) and explore the marine life Koh Tao has to offer.
Once you are back from your dive you can choose to either relax on the boat for a little longer or decide to join us for another dive, as we always go out for two dives on a trip.
For this program you will get a small certificate, if you decide to upgrade to a full certification course with us, this program can be credited towards it.
Discover Scuba Diving
DSD, stands for Discover Scuba Diving, is meant for those who would like to try scuba diving but are not yet ready to get a diving certification course. In this program you will learn what scuba diving is all about. This is also a great way for you to start your underwater adventures.
This program is well known as a product of PADI. An equivalent of Discover Scuba Diving in SSI is Try Scuba Diving (TSD).
How do we do DSD
Normally, dive guides from dive centers will guide a maximum number of 2 people doing DSD. The dive guide accompanying you will then guide you all the time under the water. There is a chance a dive guide will give you some autonomy under the water, depending on whether or not you can adapt quickly.
Even if you are not a good swimmer, you can still do a DSD. This is the reason why guides will stick by your side under the water.
Before going down with the diving equipment though, your scuba diving guide will tell you some basic theories about scuba diving. How you breathe & move underwater, how to use certain equipment, and the safety measures you need to take when you are diving.
These theories will then be practiced in a practice pool where you will try to get used to all the equipment and the pressure underwater.
Requirements to do DSD
There are not many requirements to do Discover Scuba Diving. Depending on which dive center you go, some will ask a minimum age of 10 year old and set a maximum number of DSD can be done to 2 dives per day.
Depth Limit
Both SSI and PADI have the same depth limit for their beginner program. New divers joining this program are only allowed to dive in a maximum 12 meters (40 feet) depth. Meanwhile if you are interested in taking your license with an Open Water course, the maximum depth you are allowed to dive in is 18 meters (60 feet).
Discover Scuba Diving and Open Water Diver: What's the Difference?
As a PADI professional, I am often asked by my non-diving friends and family about the best way to start their underwater adventures. With thousands of PADI dive centres and resorts across the world, and many different courses to take, it is important to understand the entry-level options available.
The PADI Discover Scuba Diving and Open Water Diver programs will teach you how to be safe and have fun while you do it! Whether scuba diving is your life-long dream, or you're curious to see what it's all about, there's an option here for you.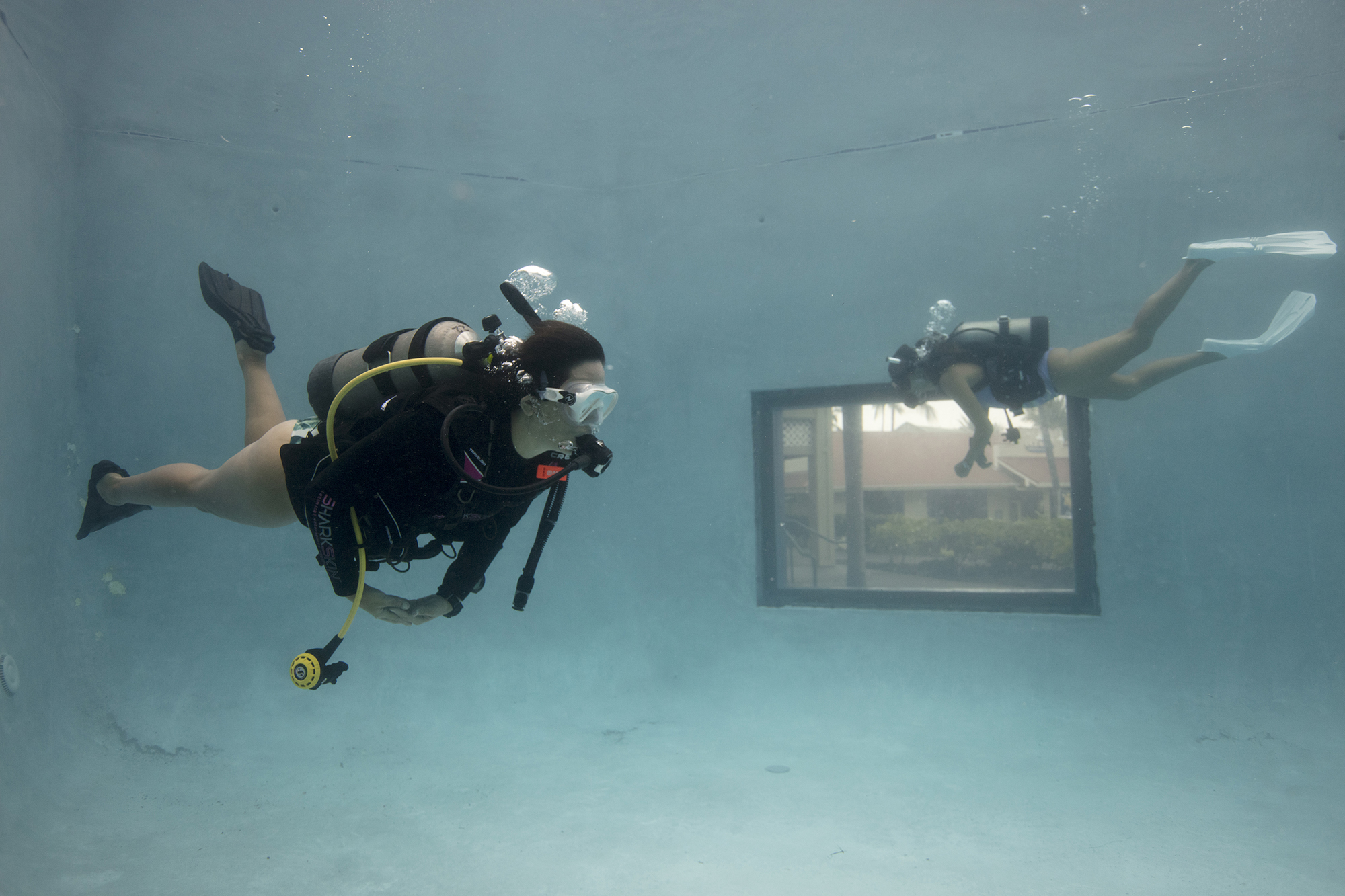 Discover Scuba Diving Program
The PADI Discover Scuba Diving (DSD) is a short try-diving experience for adults and children aged 10+. This course introduces you to the basics of scuba diving without certifying you as a diver. The DSD program is a single-day activity, so is ideal for those interested in trying scuba, but lacking spare time.
The PADI DSD program typically involves a detailed briefing on the effects of water pressure, underwater communication, equipment use, and diving safety. Then, you're ready to go!
The first session involves confined water practice in a swimming pool or pool-like area. During this time, candidates get to grips with breathing through a regulator and swimming efficiently in diving gear. You'll also be shown a few simple skills from the Open Water Diver course.
When you're ready, the second session involves an open water dive. This will take place at an easy, shallow ocean dive site – this is what it's all about, after all!
During the DSD program, you will become familiar with the use of basic scuba gear including a mask, snorkel, fins, regulator, buoyancy control device (BCD), dive gauges, and a scuba tank. You will also receive information about how to become part of the PADI community upon completion of the program. Most importantly, you will build the self-confidence required to fully immerse yourself in the diving world through the PADI Open Water Diver Course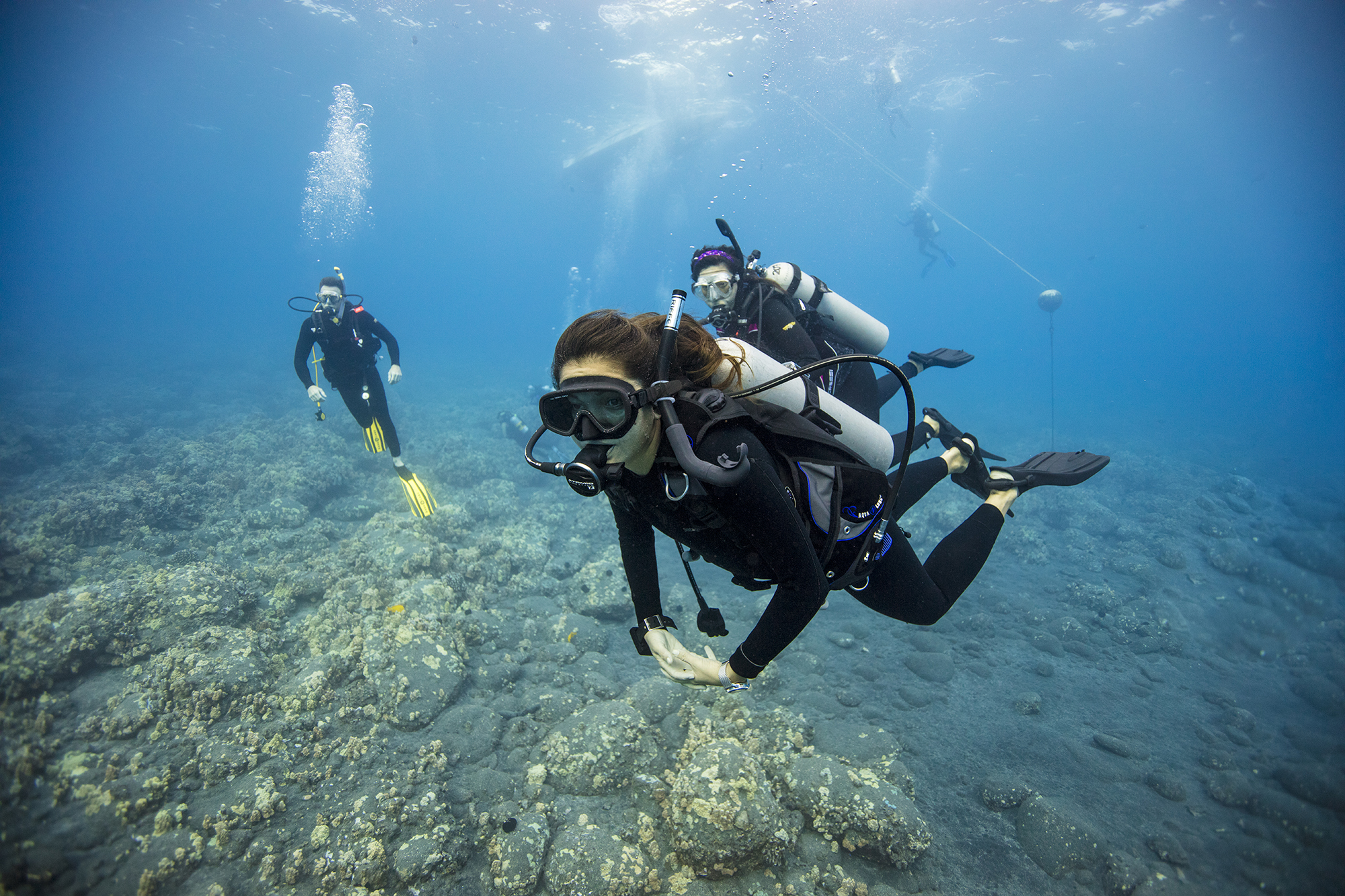 Open Water Diver Course
So you've completed a PADI Discover Scuba Diving program, and loved it! What's next? To get certified, of course!
After completing the PADI Open Water Diver Course, you'll be certified to dive independently up to 18m/60ft, anywhere in the world. This course is longer than the DSD but highly informative and very rewarding.
The PADI Open Water Diver course is typically 3-4 full days, and consists of three key elements:
Knowledge development, comprising video lessons, knowledge reviews, quizzes, and a final exam
Confined water dives in a pool (or pool-like environment)
Open water dives in an open water environment (the ocean, a lake)
You'll also learn how to assemble and disassemble your own kit, and how to care for it properly. Throughout both the confined and open water dives, candidates will master a series of essential skills such as mask clearing, which your instructor will teach you step-by-step.
There's nothing quite like breathing underwater for the first time. Ready to take the leap?
Interested in what comes after the PADI Open Water Course? Read about our Advanced Open Water Course here.
About the Author
Originally from the UK, Liz Wilkie has been working, writing, and diving her way around Asia, Australia, and Europe since 2010, and is currently a PADI MSDT in Cyprus. She is trained in Thailand, the Philippines, and Indonesia, and teaches the English Language during the off-seasons. Find out more about Liz here and here.
Source https://www.crystaldive.com/padi-discover-scuba-diving/
Source https://www.aruslaut.com/scuba-diving/discover-scuba-diving/
Source https://blog.padi.com/discover-scuba-diving-and-open-water-whats-the-difference/