Mauna Loa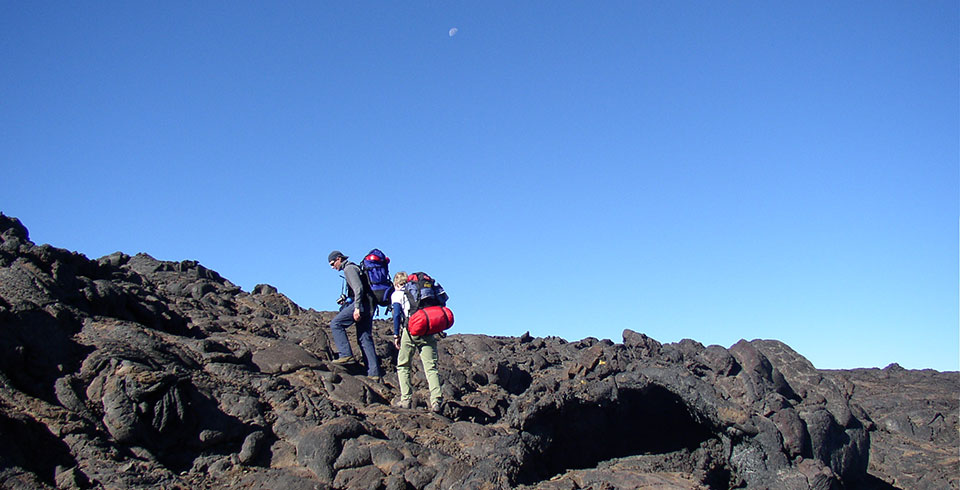 Hiking Mauna Loa
NPS Photo / Katja Chudoba
A hike up the 13,678 foot (4,170 m) Mauna Loa can be rewarding, but poses a significant challenge. The summit is high altitude and the trail is over rough, jagged, and often loose lava. The trail is marked with ahu (stacked rocks) and can be very easy to lose in times of low visibility.
The summit area of Mauna Loa may be accessed from two trailheads:
Mauna Loa Road: 7.5 mi (12.1 km) from Mauna Loa Lookout to Puʻuʻulaʻula, 11.6 mi (18.7 km) from Puʻuʻulaʻula Cabin to Summit Cabin. Elevation gain is significant.
Mauna Loa Observatory Road: 5.9 mi (9.5 km) from Mauna Loa Observatory to Summit Cabin, 6.4 mi (10.3 km) from Mauna Loa Observatory to actual summit.
Stays are limited to 3 consecutive nights per site. Backpackers to Mauna Loa should be adequately equipped, experienced in wilderness/high altitude trekking, and physically fit.
GPS coordinates for Mauna Loa Road Lookout Shelter: 19.49283, -155.38551, Pu'u Ula'ula – Red Hill Cabin: 19.53034, -155.46440, Mauna Loa Summit Cabin : 19.46647, -155.58201
Register
All eight backcountry campsites (Ka'aha, Halapē, Keauhou, 'Āpua Point, Nāpau, Pepeiao Cabin, Red Hill Cabin and Mauna Loa Cabin) require a permit. See the Backcountry Hiking page for instructions on how to obtain your permit.
Be Prepared
Facilities
A total of 24 hikers are allowed per night at the Pu'u 'ula'ula (Red Hill). The cabin has 8 bunks with thin foam pads. A total of 28 hikers are allowed at the Mauna Loa summit cabin area. The summit cabin has 12 bunks with mattress pads. Cabins have attached water catchment tanks. Check on current water levels when obtaining your permit. Treat all water before drinking. Composting toilets are provided; please use them. Do not put trash in the pit toilets.
There is no drinking water at either the Mauna Loa Observatory or Mauna Loa Road trailheads. Both are accessible by one-lane paved roads. Neither has public telephones or public transportation. It takes about an hour to drive from the Kilauea Visitor Center via Mauna Loa Road to the trailhead, and two hours to drive to the Observatory trailhead via Saddle Road.
Leave No Trace
Hikers are required to pack out everything they pack in. Do not bury or discard trash in pit toilets – Pack it out. Practice "leave no trace" camping
Essential Equipment, In Addition To Regular Winter/Cold Weather Gear:
First aid kit
Trail map
Emergency food supply, cookstove, fuel, utensils (Open fires are prohibited)
Flashlight & extra batteries
Biodegradable soap, toilet paper
Signaling device (mirror, etc.)
Minimum 3 to 4 quarts/liters water per person/day
Tent/bivy sack
Broken-in sturdy boots, moleskin
Sunglasses, sunscreen, hat
Sleeping bag (0 degree or better)
Rain pants and jacket (Poncho will not keep you dry)
Hazards
Weather Hazards
Be prepared for severe winter conditions, including blizzards, high winds, and whiteouts. Snow or driving rain are possible at any time of year. High altitude storms can occur without warning. Temperatures are below freezing at night all year round.
Health Hazards
You will be hiking at high altitudes under rigorous conditions; altitude sickness is common. The only cure is to descend. Pace yourself, drink plenty of water. Pack extra clothing and your sleeping bag in plastic for waterproofness. Stay warm and dry; hypothermia (low body temperature) is a killer. Be prepared to treat injuries caused by falls on sharp, glassy lava.
SCUBA divers MUST wait at least 24 hours before ascending Mauna Loa to avoid getting the BENDS. This means that if you were diving less than 24 hours ago, you should not be hiking on Mauna Loa.
There are serious and potentially fatal consequences of hiking at high altitude. Mauna Loa IS HIGH ALTITUDE.
Children under 16 years of age, pregnant women, and individuals with severe health problems including, but not limited to, pulmonary and cardiac problems, high blood pressure, or a severe overweight condition SHOULD NOT HIKE on Mauna Loa without first consulting with their own personal physician.
Be familiar with the following symptoms of Acute Mountain Sickness (AMS), High Altitude Pulmonary Edema (HAPE), and High Altitude Cerebral Edema (HACE). If you have had AMS, HACE, or HAPE before, you are very susceptible to getting it again — check with your personal physician before hiking on Mauna Loa. The only appropriate treatment for altitude-related illnesses on Mauna Loa is evacuation to a lower elevation., preferably to sea level. If symptoms do not get better at sea level, the individual should be admitted to a hospital for observation and treatment.
Acute Mountain Sickness (AMS): mild to severe headache (which responds to aspirin), nausea (and/or vomiting), lack of appetite, sleeplessness, malaise, altered muscular coordination (ataxia), altered mental state, dizziness, fainting, extreme shortness of breath, possible swelling in hands and face.
High Altitude Pulmonary Edema (HAPE): headache, nausea (and/or vomiting) lack of appetite, dizziness, weakness and fatigue, increasing anxiety, unable to catch breath (even at rest), very rapid pulse, gurgling sounds in the lungs, very rapid respiration rate, dry cough at first then becoming wet (possibly pink), incoherence or hallucinations, blue coloration in lips and under finger nails.
High Altitude Cerebral Edema (HACE): headache (which doesn't respond to aspirin), nausea (and/or vomiting), loss of balance (ataxia), loss of muscular coordination, altered mental state, decreased mental functioning, psychological withdrawal, disorientation, confusion, hallucinations, weakness or numbness on one side of the body, being unable to talk, being unable to make sense while talking, coma.
IF MORE THAN ONE OF THESE SYMPTOMS IS PRESENT, DO NOT WAIT – DESCEND IMMEDIATELY. IF SYMPTOMS PERSIST AFTER DESCENT TO SEA LEVEL, SEEK MEDICAL ATTENTION WITHOUT DELAY. THIS IS A MATTER OF LIFE OR DEATH!
Fire Hazards
The Mauna Loa Road traverses areas which contain very flammable grasses and brush. Open fires are prohibited.
Give Us Your Feedback
Let us know about trail, cabin, or campsite conditions. Did you notice anything damaged or dangerous conditions that rangers should be aware of? File a Trip Report
Additional information:
Mauna Loa information from the Hawaiian Volcano Observatory
Mauna Loa Observatory Road for information on the road to the observatory
Mauna Loa Observatory – timeline
Volcano National Park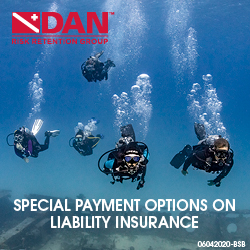 Welcome to ScubaBoard, the world's largest scuba diving community. Registration is not required to read the forums, but we encourage you to join. Joining has its benefits and enables you to participate in the discussions.
Benefits of registering include
Ability to post and comment on topics and discussions.
A Free photo gallery to share your dive photos with the world.
You can make this box go away
Joining is quick and easy. Log in or Register now!
heehee62
Contributor
We are doing the pelagic magic dive that we don't return from until 9 pm tonight. We were planning to go to Volcano National Park tomorrow.
Tom Winters
Contributor
I'm looking at this and kinda scratching my head. Are you grounded or something and looking for a get around?
And when you're going through the lava fields and maybe you start twitching pretty good, everyone else there will get some really memorable vacation shots. It's pretty cool walking where Mark Twain observed a lake of liquid fire.
Dr. Lecter
Contributor
Figure out the elevation to which you'll have to ascend in the park, the length of your SI, and answer your own question. My thought is that it's a very shallow dive, and only one tank, you should be fine. Use nitrox if you can. But since I couldn't care less if you get bent, I wouldn't rely on my gut feeling if I were you.
We that go down to ships in the sea.
And if you can find my junk . . . I'm going to give you a reward, 'cause I can hardly find it myself.
LeadTurn_SD
Contributor
Figure out the elevation to which you'll have to ascend in the park, the length of your SI, and answer your own question. My thought is that it's a very shallow dive, and only one tank, you should be fine. Use nitrox if you can. But since I couldn't care less if you get bent, I wouldn't rely on my gut feeling if I were you.
This is a late response, but we get asked this several times a year, so here goes:
I'm with the good doctor on this one. Sounds like "tough love", but his point is important, and we do get asked this type of question (and I often answer it) fairly frequently.
Here is the information you need in order to answer the question for yourself, which is the only prudent thing to do. NEVER trust anyone else do decompression calculations FOR you:
1. What altitude do you plan to ascend to?
2. What will your dive profile be (number of dives, depth and time of each dive).
3. What will your surface interval be prior to ascending to altitude?
I use the tables in the U.S. Navy Diving Manual, specifically Table 9-7 "No-Decompression Limits and Repetitive Groups"; Table 9-8 "Residual Nitrogen Time for Repetitive Air Dives"; and finally Table 9-6 "Required Surface Interval Before Ascent To Altitude After Diving".
You do need to know how to use these tables, and you can't mix the Group Designator from the PADI RDP for example with the Navy Ascent to Altitude tables. You need to use the Navy tables.
You can ascend to the altitudes in Volcano after a "typical" shallow single tank dive, but the longer surface interval you can take the better. After multiple dives on the same day, you definitely want to consult the dive tables to determine an adequate surface interval.
Remember, multiple shallow dives, due to their longer bottom times, can still leave you with a high nitrogen load, even though you did not exceed no-decompression limits. You do need to consider this. Shallow and long can result in higher loading than deep and short.
Finally, Dr. Lecter answered the OP's question in his 2nd sentence. After a surface interval of many hours following a shallow single dive it should be "fine" to ascend to the altitude of Volcanoes National Park (around 4,000 feet).
All my life I've wanted an excuse to wear a knife, and here I have found a sport where it is actually encouraged ~ Dave Barry
"Diving is safe as long as you remember it is dangerous" ~ Mark Powell
Can you go to volcanoes national park after scuba diving
A giant manta ray circling the cleaning station of "Mawan" in Komodo National Park
The best time to witness these majestic animals cruising the waters of Komodo NP, is during the so-called Manta Season. From December through February water temperatures drop significantly (no worries it's still warm enough to dive) and plankton bloom is in full swing which attracts a lot of manta rays.
They regularly come to shallow waters to circle "cleaning stations" and get rid of parasites. These areas are perfect if you wanna observe manta rays from up close.
Best Time to Dive with Oceanic Sunfish / Mola Mola
There are only a few dive sites in the world where you might be lucky enough to come across an Oceanic Sunfish, better known as Mola Mola, and Komodo is one of them. Every year in in August, these alien-like creatures come to the surface to float in shallow waters and literally sunbathe.
If diving with Mola – Mola is your priority, August definitely is your best bet.
Which Dive Center to choose in Labuan Bajo
Ready for the first dive at Siaba Besar from the beautiful dive boat of Manta Rhei Dive Center
When tipping "Dive School Labuan Bajo" into the Google search bar, you'll be prompted with at least 20 different results. It feels like every second shop in Labuan Bajo is either a dive school or some kind of "tour agency" more than willing to hook you up with a dive shop.
Since Labuan Bajo isn't the most attractive town ever, most people just use it as a base from where to explore the islands and underwater world of Komodo National Park. In case you also don't really plan on spending too much time in town to shop for the best offer, then this is hopefully helpful.
So how do you find the right dive center? Well, there's a few basic points you can keep in mind and utilize to narrow down the overwhelmingly large selection.
Comfort / Safety
Putting on gear on the brand-new, custom-build dive boat of Manta Rhei Dive Center
Feeling comfortable and safe with your dive guide is, in my opinion, the most important criterion. No matter how incredible the experience of diving in Komodo is, you won't enjoy it as much, if you don't feel comfortable around your guide and the crew. This is a very subjective and personal choice of course, and thus I'd highly suggest, you visit a handful of dive schools and personally talk to the staff, instead of solely relying on online reviews.
Just to give you an example: We did quite a lot of research in advance, but after talking to 6 dive centers, decided to go with one, that wasn't even on our short-list in the beginning.
At least during off-season there is absolutely no need to book in advance. Thanks to the large amount of dive centers it's possible to arrive in Labuan Bajo and hop on a dive boat the next morning.
Do you like this post? Pin it to your favorite Travel Board on Pinterest.
Dive Sites in Komodo
Most of the dive schools list about 32 dive sites scattered all over Komodo National Park. Some sites are too far away from Labuan Bajo to visit them on a day trip though, and the only way to dive them is to join a multi day liveaboard tour.
Approaching Siaba Besar, the first dive spot of the day.
Despite the huge amount of available dive sites, the abundance of dive schools in Labuan Bajo still makes it necessary to coordinate the daily trips, so that individual dive sites don't get completely overrun with divers. Therefor, most dive centers post a board outside the shop that announces the dive sites for the next day(s). Although this isn't set in stone, and ultimately depends on the weather conditions and changing currents, it mostly holds true. Just be aware, that it might be subject to change.
Popular Dive Sites in Komodo
Manta Point: Makasar Reef
The Nr. 1 site to see Manta Rays. Be aware that dive centers have to apply for a limited amount of permits every month and can't go there as they please.
Mawan
Close to Manta Point, this cleaning station is the second best spot to dive with giant manta rays.
Siaba Besar
A great site for all levels of divers. Siaba Besar is also called turtle heaven due to the incredible amount of turtles that live in the coral gardens.
Tatawa Besar
A nice, easy drift dive along a beautiful soft coral slope, which turns into one of the healthiest hard coral reefs in the park.
Batu Bolong
Steep rocks, canyons and coral blocks are home to small critters and nudibranch. You can also see giant trevallies, tuna and turtles cruise by.
More in depth information about dive sites in Komodo National Park can be found on the websites of: Manta Rhei Dive Center, Dive Komodo and Blue Marlin.
Type of Dive Trips
Cruising through Komodo National Park with Manta Rhei
In terms of fun dives, almost all the diving schools offer two general types of trips. There's day trips with one, two or three dives and there's multi day, liveaboard trips, where, you already guessed it, you live on a boat for one or more nights. It goes without saying, that these multi day trips are significantly more expensive. However, it certainly is an awesome way to explore some of the more hidden corners and far-away dive sites of Komodo National Park.
Liveaboard excursions follow a certain schedule and don't start every day. During high-season you're likely to find a dive center to go with, no matter which day. But during off-season it isn't as easy. So keep that in mind and make sure you're a little flexible with your schedule in case you're planning to join one.
In addition to that, dive schools offer a confusing myriad of different tours and packages. Some include accommodation in Labuan Bajo, others are a combination of diving and trekking. A good example is Manta Rhei's "Jurassic Day" where you do 2 scuba dives before visiting Komodo dragons on Rinca Island.
These packages are especially interesting if you only have a limited amount of time to spend in Komodo.
Prices for Fun Dives
Diving at Siaba Besar. Can you spot the turtle?
Though this shouldn't be the deciding factor, the price obviously plays a role, especially when you're traveling on a backpackers budget. We definitely compared prices beforehand online and also on the ground once we arrived in Labuan Bajo. And I can put your mind at ease, there's really not too much of a difference in pricing. Here is example prices (March 2020) from some bigger dive centers in Labuan Bajo for you to compare:
Source https://www.nps.gov/havo/planyourvisit/hike_maunaloa.htm
Source https://scubaboard.com/community/threads/volcano-national-park.471854/
Source https://travelpixelz.com/blog/diving-komodo-national-park