GoPro for scuba diving (everything you need to know in 2022)
The GoPro for scuba diving remains one of the best options for filming underwater. As a simple and compact action camera, it provides everything you need for amateur shooting and will provide the best shots for b-rolls out of the water.
So, let's have an in-depth look at the GoPro for scuba diving and lay down everything you need to know.
** Disclaimer: We've added affiliate links to this post for you to easily find the right products for you. Using the links below comes at no cost to you and helps us run OceanVibration through affiliate commissions. We only suggest products that we use and love ourselves! **
Is the GoPro good for scuba diving
Yes. The GoPro is the best entry-level underwater camera you can get for scuba diving. Armed with the diving case, the GoPro reaches a max depth of 60 meters and its body alone is waterproof to 10 meters. Therefore, even if you get a leak in the diving case, the GoPro will remain safe with water penetrating inside.
The GoPro for scuba diving also provides very good image quality, shooting in 4k at 30fps and even high frame rates. The video stabilization is also a great help for new underwater videography or when struggling with the current.
All in all, the GoPro is one of the best options for amateur underwater videographers and the best option for making holiday dive trips videos.
I shot my first videos on the GoPro 8 Black and have been happy with the result. Check out my last one:
And have a look at the one shot at Tubattaha Reef.
Why is the GoPro the best beginners camera for scuba diving
The GoPro is the best beginner's underwater camera for scuba diving videos. On top of the image quality and simplicity of use, the GoPro provides the following essential advantages for beginner divers and underwater videographers:
It is light and easy to manage during your dive;
The one button press to shoot and advanced AI removes unnecessary stress for you;
It's lightweight and compact, allowing you to learn using your lungs for boyancy while filming;
The GoPro configuration and wide angle allows you to work on your approach towards marine life;
Makes it simple to learn safety procedures while diving with a camera (ascent, checking air, deco, buddy);
It will allow you to understand and manage air consumption while filming underwater;
It is the easiest way to learn how to kick and stabilize for shots;
Allows you to learn shooting angles and movements.
Which GoPro is best for scuba diving in 2022
The GoPro Hero 9 remains the best value for money GoPro for scuba diving. With the recent release of the GoPro Hero 10, you may think that it will be the best option but it is not.
Let us lay down what are the essential specs of the camera that we need when filming underwater:
Image quality
| GoPro Hero 10 | GoPro Hero 9 | Discussion | Conclusion |
| --- | --- | --- | --- |
| Resolution | 5k / 4k | 5k / 4k | 5.3k will give you the cropping option in post-production. But to what cost? |
4k is already a pain when it comes to post-editing now 5.3k will make it even worse.
Higher fps allow slowing-down fast-moving shots like a big fish passing close-by but are rarely used.
When using a GoPro for UW filming, I recommend keeping the ISO on Auto.
Hardware
| GoPro Hero 10 | GoPro Hero 9 | Discussion | Conclusion |
| --- | --- | --- | --- |
| Shutter speed | Auto | Auto | The shutter speed required for underwater videography is always twice the frame rate. For example, 60fps = 1/120 shutter speed. |
Removing the shakiness of a shot is crucial to a good visual experience. That said, a good diver should manage that without having to rely on electronic image stabilization.
Conclusion
To sum up, the GoPro 9 has everything you need for amazing underwater footage. However, do get the GoPro 10 in the following cases:
It is your first GoPro and you have the budget;
You want to upgrade from a GoPro 8 or lower;
You will make extensive use of the GoPro for other action packed videos;
Buy if you just having the latest and shiniest piece of gear.
Is the GoPro good for taking pictures underwater
Grabbing a frame of my favorite moment on the GoPro.
No. The GoPro is an action camera that was made with shooting videos in mind. Not many people will get a GoPro for shooting stills. Its' handling in itself is not made for that, let alone its sensor and depth of field.
The best option when it comes to taking pictures with the GoPro is to content yourself with 'grabs' from shooting either 5k or 4k with 5k providing 19.6MP images.
If you are looking for the best entry-level compact camera, I would highly suggest getting the Olympus TG-6. And it shoots amazing videos too!
Disadvantages of the GoPro
Whilst being a really good easy to use action camera for shooting videos when diving. The GoPro comes with many downsides as follows:
Small sensor: it does not provide as good image quality and details as a DSLR at the same resolution;
Depth of field: forget about bokeh when using a GoPro;
Focus: there is no way to focus on the GoPro. In other words, playing around and moving back and forth before hitting the sweet spot; if ever.
White balance: being a key aspect of filming underwater, it is not possible to manually change white balance whilst underwater.
The best setup for scuba diving with a gopro
The key elements to shooting the best videos whilst scuba diving with a GoPro are the same as for any dive camera. You want to be looking for:
Good lighting;
Steadiness
Easy handling.
Consequently, your GoPro set up for scuba diving will look a lot like a professional setup; just more lightweight.
This scuba diving GoPro bundle is everything you need for your GoPro. It will allow you to shoot at any depth with its different filters and lights. Furthermore, it gives you the versatility to shoot both macro (pygmy seahorse) and wide (thresher sharks) with the lens switch system and lights.
Add this macro/snoot light to your system for mind-blowing macro shots!
The GoPro Hero 9 is a great action camera for scuba diving as mentioned above. The GoPro Hero 10 is needed but if it is within your budget, definitely go for it.
I shot my underwater scuba diving videos with the GoPro Hero 8 Black, so the 9 will be as good as it gets for the underwater action. Check out my YouTube video of Tubbataha Reefs shot on the GoPro 8 Black with a similar setup as recommended here.
A good scuba diving case for your GoPro 9/10 is essential as the depth rating of the GoPro on its own is only 10m (33ft). T-Housing Action Cam Underwater Video Housing For GoPro Hero 9/10 Black brings your GoPro to a depth of 250 meters!
Keep your hands free when you need it with this BTS – Coil Lanyard for GoPro. It provides a great system to have it either close (when not using) or at arm's length (when shooting). Do not dive without a way to secure your camera.
Are GoPro sticks good for scuba diving
Not at all. GoPro sticks are any other kind of sticks or poles are a poor choice for filming underwater with a GoPro. And that is for the following reasons:
Lack of steadiness: a shaky shot can be stabilized in post or with Hypersmooth on but the stick makes your footage rock left and right which is doomed to go in the trash can.
Non-leveled shots: perfectly horizontal shots are a must for good underwater footage. Despite the new GoPro Hero 10 providing a decent horizon leveling, the underwater landscape still makes it hard to balance it right.
Poor framing: the LCD is tiny on any GoPros and having it at a stretched arms length plus the length of your pole makes it hard to grab a properly framed footage.
Body position: Above all, scuba diving with a stick is the worse as tends to make divers forget their bouyancy and trim when at depth.
GoPro filters for diving
GoPro filters are essential to scuba diving with a GoPro. In other words, the lack of white balance capacity on the go requires you to be able to adjust the warmth of the image another way. And that is using filters.
The best all-in-one solution for using filters with the GoPro is the Flip9 which attaches to the dive housing lens and allows you to change filters depending on dives.
Best overall filter solution
The Flip9 with fit your GoPro 9 and 10 dive housing. It includes a shallow (3-20ft) dive filter, a normal dive (20-50ft) filter, and a lens for grabbing those most sought-after macro shots.
This will allow you to have the right image color at all depths during your dive with a simple filter flip!
Other GoPro filters
The perfect deep (50ft+) dive filter for the Flip9 system. Just remove the shallow one and dive with both the dive and deep dive one.
If you will be diving in green water or the water is green at the shallow end. Make sure to attach this filter to your Flip9 system.
Grab the most rad footage of fluorescent underwater life with this GoPro night dive filter for the Flip9 system.
Best settings for shooting underwater with your GoPro
You can definitely produce some jaw-dropping videos with the GoPro when scuba diving. All you need is the right setting and good video editing software.
Heavy post-editing
Light post-editing
ProTune
On
On
Color
Flat
Flat / Natural (GoPro 10)
White balance
Native
Native
Shutter speed
Auto
Auto
Max/min ISO
400/100
Auto
EV Comp
-0.5
-0.5
Sharpness
Medium
High
Resolution
4k
4k
FPS
60
60
Field of vision
Wide
Wide
Hypersmooth
On
On
Best alternative to GoPro for diving
Yes! There is a definitive GoPro killer! Whether it is the GoPro 9, 10, or any to come in the near future. And that is the Olympus TG-6.
The Olympus TG-6 is a beast of a compact camera. As it stands on its own, it is waterproof to 50ft (15 meters), shoots 4k30 videos with focusing and zooming abilities.
Above all, it also shoots some of the best pics you'll ever get on a compact camera, and that includes macro photography.
The perfect GoPro set up for scuba diving will cost you USD 1,600 whereas a similar setup with the Olympus TG-6 will cost you USD 1,900. That is to say, USD 300 for a world of difference in quality and performance; the choice is yours.
Below is a similar setup to the GoPro for Olympus TG-6.
Camera and housing for diving down to 45 meters.
A minimal and dive-friendly setup that includes, the dive tray, handles, flex arms, and lights.
When it comes to full photography/videography setups, do not rely on the usual Amazon or other quality products. A solid and reliable lanyard with stainless steel clips and a reinforced coil is a must.
You don't want to watch your expensive camera gear sink to the bottom of the ocean while on your safety stop!
3 Comments
[…] Time flies when you are having a good time! And so is the air in your tank! Scuba diving with a camera increases substantially your air consumption (thus the fact that I always recommend starting off with a GoPro setup). […]
How to Scuba Dive: A Guide for Beginners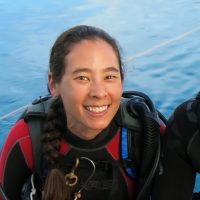 Interested in learning how to scuba dive? You've come to the right place. In this article, we'll cover everything you need to know about becoming a scuba diver.
The Open Water Diver Course
If you want to call yourself a scuba diver, you need a scuba certification. The first certification you can earn is called Open Water Diver and it's issued upon successful completion of the Open Water Diver course.
A scuba certification allows you to get air tank fills, rent dive gear and book scuba diving adventures anywhere in the world. It also puts you in an exclusive club of underwater explorers and celebrities.
Why are scuba certifications required?
Scuba diving requires specific knowledge, skills and training – just like driving a car. During the Open Water Diver course, you'll learn how to assemble a scuba unit, respectful ways to observe and interact with underwater life, how to manage your air supply, and other essential skills.
Start Your Scuba Lessons Online – FREE!
The fastest way to become a scuba diver is to start the Open Water Diver course online. It's free to get started, no credit card required.
Try Scuba Diving Before Committing to a Certification Course
It's hard to describe what scuba diving is like, so if you're interested in scuba diving but not ready to commit to a class, try a Discover Scuba Diving ® Experience. You'll get to try on scuba gear and take your first breaths underwater under the supervision of an experienced scuba professional in a pool or pool-like environment.
A Discover Scuba Experience isn't required, just an option for those who are unsure about a multi-day scuba certification course. If you're hesitant about learning to dive, check out the Top 10 Myths About Scuba Diving.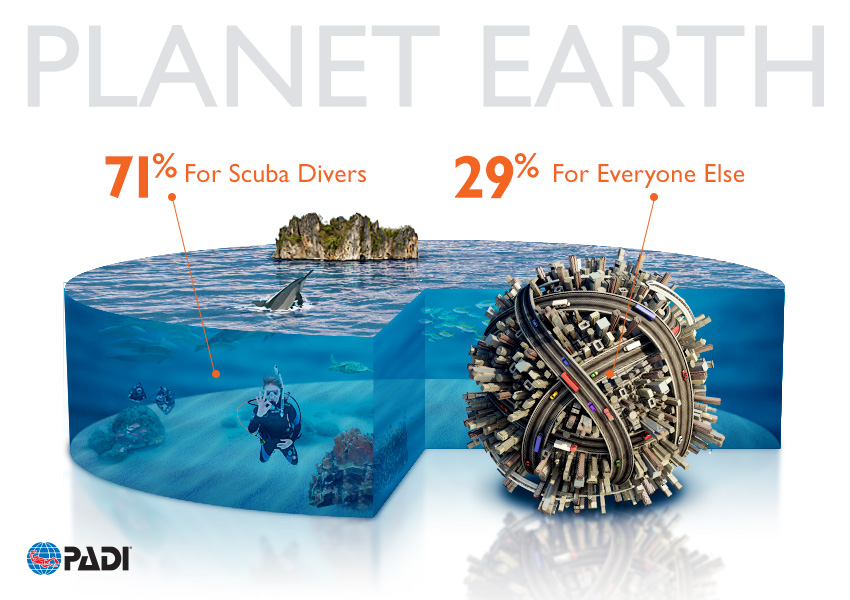 Ready to start exploring the other two-thirds of our ocean planet? Read on to find out what equipment and skills you need to scuba dive and the steps leading up to scuba certification.
How to Prepare for Scuba Diving
You don't have to be an excellent swimmer to be a scuba diver, but you do need to be comfortable in the water and know how to swim. During your scuba certification course you'll be asked to:
Float or tread water for 10 minutes – you can lie on your back, on your front, tread water, 'dog paddle', or anything else to stay afloat without using any flotation aids.
Swim 200 meters/yards (or 300 meters/yards wearing a mask, fins and snorkel) without stopping. There is no time limit, and you may use any swimming strokes you want.
There are many adaptive techniques that allow individuals with physical challenges to meet the waterskills requirements. People with paraplegia, amputations and other challenges commonly earn PADI Open Water Diver certifications. Speak to a PADI Instructor, Dive Center or Resort for more information. Certain medical conditions require a doctor's approval to participate in scuba diving activities. In some countries, a physician's signature is required for diving regardless of how healthy you are. Avoid disappointment, download and review the medical questionnaire.
Basic Scuba Diving Equipment
When you're enrolled in a class, most dive shops will provide all the scuba diving equipment you need either as a loan or rental including a:
or dry suit (buoyancy control device) and or Dive Computer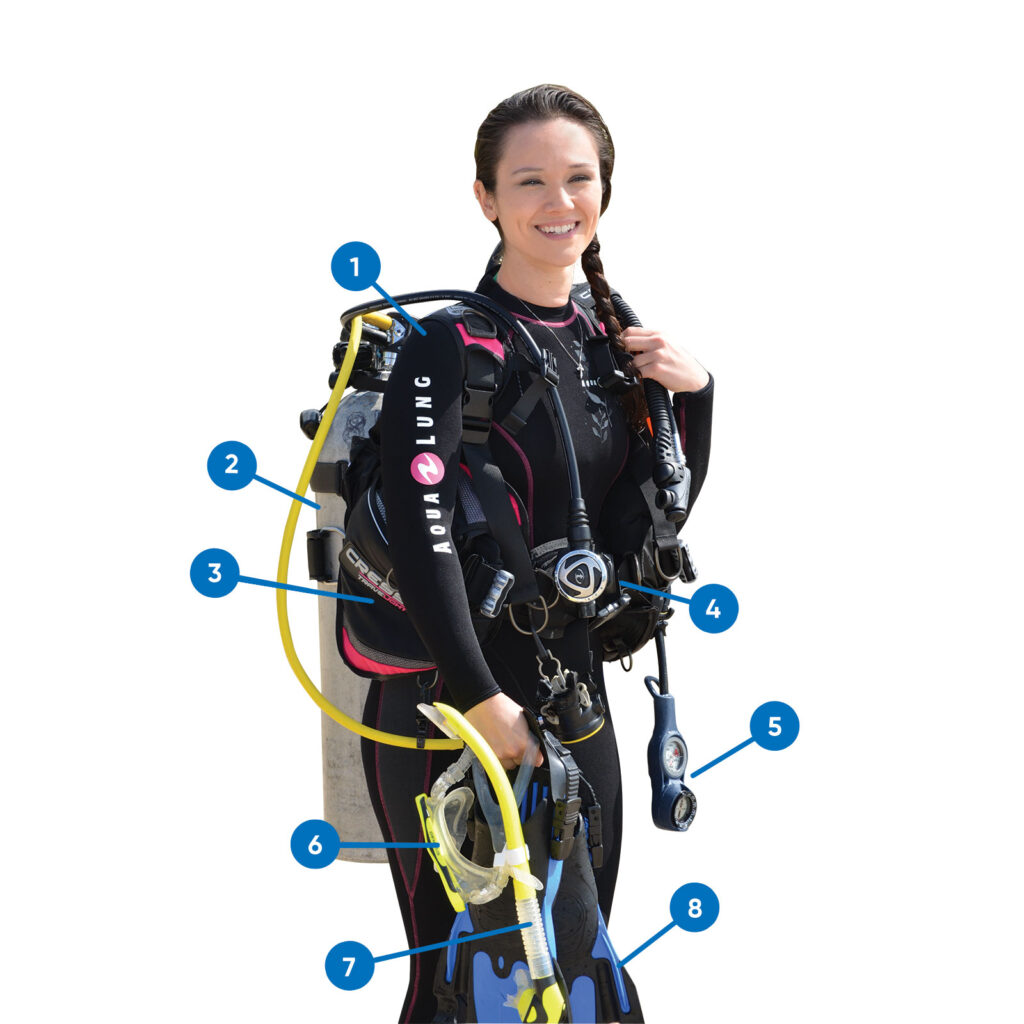 Most dive shops will ask you to provide your own:
If you already own a snorkel set, bring your snorkel, mask and fins to the dive shop before your first in-water session. Most high-quality snorkel masks can be used for scuba diving, but most snorkel fins are too flimsy. Check out these tips for buying a mask that fits.
If you're learning to dive in cold water, you may also need to bring (or purchase) gloves and a hood. If you get cold easily (like I do), they're well worth the investment!
Scuba Certification: Step-By-Step
Step 1: Consider Your Learning Preferences
If you don't like tackling new skills while being surrounded by strangers, a private class may be preferable. If, however, you enjoy meeting new people, a group or semi-private class can be a lot of fun.
Step 2: Choose Where You to Do Your Training
There are three ways to earn your scuba certification:
Do all your training close to home
Start at home, finish on vacation (Open Water Referral)
Learn to scuba dive away from home
You can earn a scuba certification in as little as four days, but that can be a lot of pressure. Read more about each of the options above on our learn to dive page.
Step 3: Sign Up for a Class
From start to finish, it takes 4-7 days (on average) to earn a scuba certification.* You'll spend some of that time studying on your own, but most of the time you'll be working with an instructor.
In post-class surveys, more than 95% of student divers say they would highly recommend their PADI Instructor, but if you have a lot of PADI Dive Shops to choose from, here are some tips on:
* You can take up to one year to complete your scuba certification course.
In case you're wondering, how much does a scuba certification cost? That's a tough question to answer. All PADI Dive Centers and Resorts are independently owned and operated, so prices vary depending on location, class size and other factors.
Generally speaking, a scuba certification course costs about as much as a full day of surfing lessons, three hours of private golf lessons, or one amazing night out! If, while researching prices, you see a rate that's drastically lower than all the others, ask what it includes. Some dive shops include everything for one price, others may list a price that only covers the course tuition and charge separately for online training, boat fees, etc.
Step 4: Knowledge Development
There are three main parts to a scuba certification:
Home study online or classroom learning (knowledge development)
Skill practice in a pool or pool-like environment (confined water)
Open water scuba dives
Most people start their scuba course with knowledge development. During this part of your training, you'll learn all about scuba equipment and terminology and watch videos of diving skills. If you choose PADI eLearning ® , you can complete this portion of your course at home, at your own pace using a computer or mobile device.
Some dive centers offer in-person knowledge development with regularly-scheduled classroom sessions. You'll purchase a book and DVD for home study between classes. If you're not sure whether you'll like online training, don't forget you can start your scuba certification class online for free. Give it a try, and if you don't like it, ask your dive shop about going the book and classroom route.
Step 5: Confined Water
You'll take your first breaths underwater in a pool or pool-like environment. Your instructor will demonstrate scuba skills one at a time, then help you practice each one until you've mastered it.
The PADI Open Water Diver course is mastery-based and designed to help new divers build confidence in their skills. For example, you'll first practice clearing a small amount of water from your mask. Once you're comfortable, you'll work your way up to filling your entire mask with water and clearing it out.
Confined water sessions are also where you'll practice putting together a scuba unit. You'll do this many times until it becomes second nature.
Step 6: Open Water Dives
Once you've mastered basic scuba skills in confined water, you'll go scuba diving in open water. 'Open water' can be the ocean, a lake, a quarry or even hot springs. Your PADI Instructor will be by your side the entire time.
Your first dives will be to 12 meters/40 feet or shallower. The maximum depth allowed for any dive during the open water course is 18 meters/60 feet.
You'll make four open water dives in total, usually over two days. During each dive you'll:
Complete a predive safety check
Practice maintaining your position in the water (buoyancy)
Perform skills you learned in confined water
Explore the dive site
On the final dive, you and your class (or buddy) will create a dive plan. Under the supervision of your instructor or a qualified assistant, you'll dive your plan, paying attention to your air pressure and other safe diving practices. This final exercise helps ensure you're ready to make dives on your own.
Step 7: Congratulations, You're a Diver!
Depending on where you live, you'll either receive a certification card in the mail or a digital PADI eCard™.
Your scuba certification is good for life, and if you ever want to refresh your skills, you can take a scuba refresher program.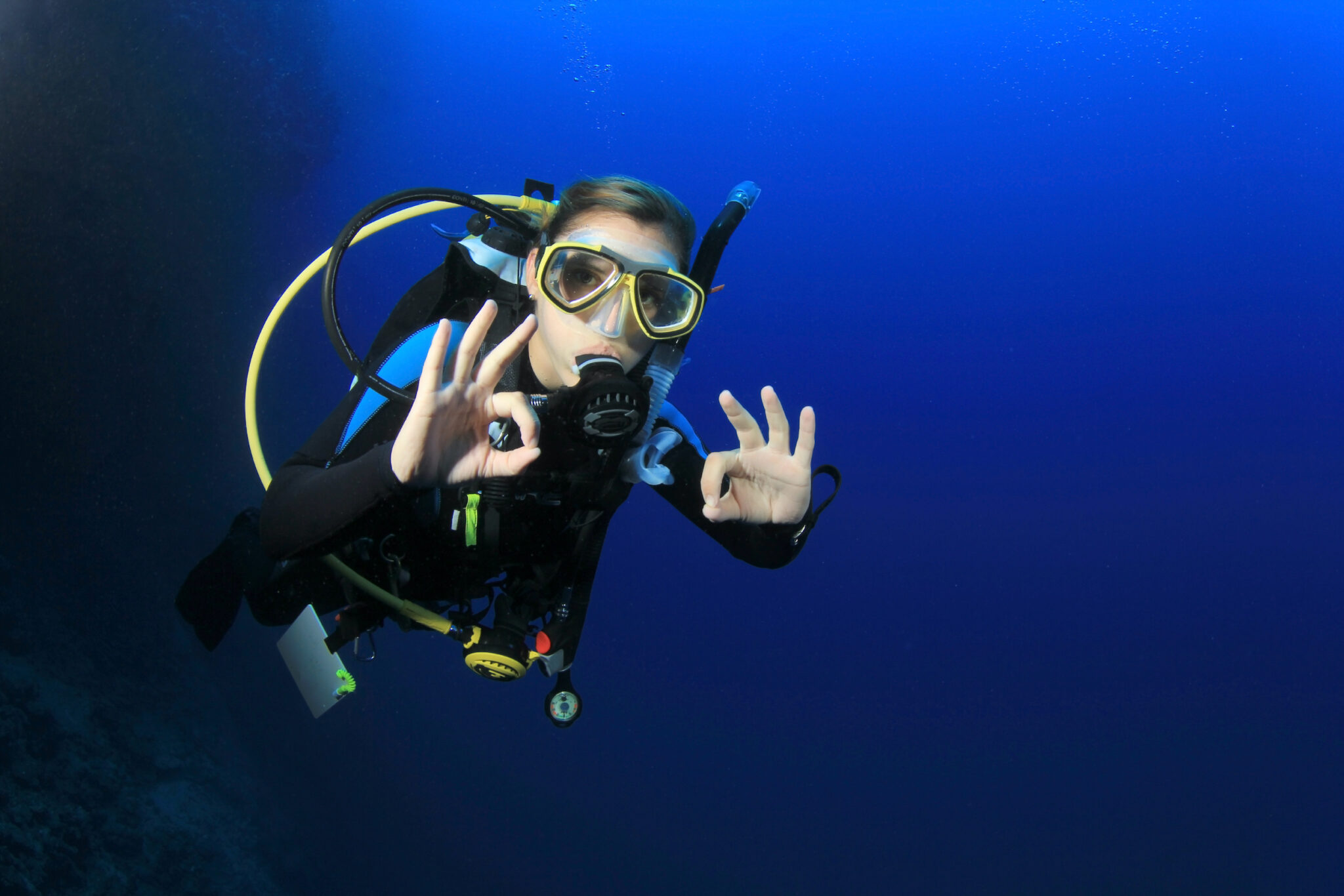 Seek Adventure. Save the Ocean.
The PADI Open Water Diver course is the world's most popular and widely recognized scuba diving certification. PADI Instructors and Dive Shops issue more than one million certifications every year as part of our collective mission to restore ocean health. When you choose PADI, you support independent businesses committed to ocean conservation and like-minded, mission-driven organizations. Learn more on our conservation page.
What Is Scuba Diving – Everything You Need To Know
Scuba diving is one of those activities that everyone says they want to do one day, but often never get the chance to experience. If you're reading this right now, you are one of the lucky ones attempting to put their money where their mouths are and give scuba diving a try to explore the underwater world to explore unbelievable dive sites. But before you dive into deep waters or off dive boats, we must cover the basics of what recreational scuba diving is and how you can do it.
There are many ways to describe scuba diving. Some people think of it as a sport or lifestyle while others think of it as a tourism activity or a meditative experience. In general, you may think of scuba diving as an underwater experience. At its core, scuba diving is an activity where you dive underwater to experience the beauty and nature that lie beneath the ocean.
There are various aspects and sub-branches of what scuba diving entails. However, in this article, we will keep things simple, short, and easy to follow and tell you about recreational scuba diving. We will talk about the basics you need to know about scuba diving as a beginner. So, if you are new to the world of scuba diving, keep reading so that we can dive into all you need to know to get started.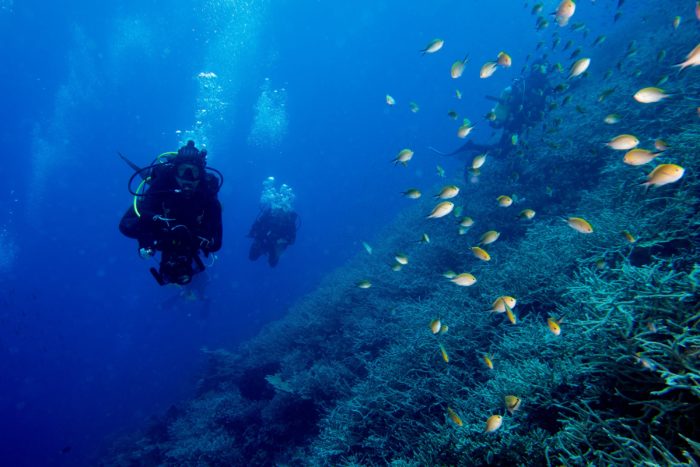 What Is Scuba Diving?
Scuba is a term that almost everyone has heard of. It is actually an acronym that stands for Self-Contained Underwater Breathing Apparatus.
Scuba diving as a sport is when a person dives underwater to explore the ocean. There are various types of scuba diving. However, for most people, scuba diving is an activity they do recreationally as tourists while on vacation or holiday. Recreational scuba diving often is done off dive boats to experience unbelievable dive sites. Recreational divers put on a scuba tank to breathe underwater to see the beauty of the ocean and interact with sea creatures.
Scuba diving is a common hobby among people of all ages. You may have heard how some people do yoga or Zumba to de-stress. Becoming a certified diver and going Scuba diving has become another meditative activity that many general people do to destress. The experience of being weightless and "flying" through the water while watching marine life, exploring spectacular reefs, underwater caves, or even diving into sunken wrecks is something unlike anything else in this world.
Many people also progress from being recreational divers to making scuba diving a profession or lifestyle. There are multiple types of professional Scuba diving careers including becoming a dive instructor or even a marine biologist or archaeologist to help with underwater research. As of yet, 80% of the ocean around the globe is still unmapped, and becoming a professional scuba diver allows you to help advance your knowledge of the underwater world.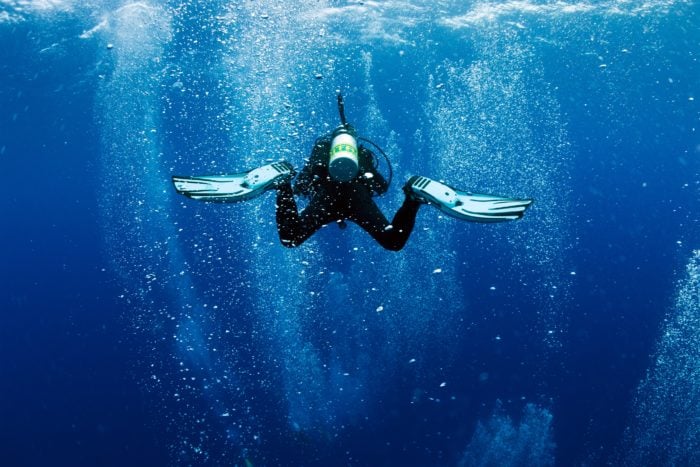 Is Recreational Scuba Diving Dangerous?
There are certain risks to scuba diving but ultimately it's a very safe sport to enjoy. Millions of recreational divers go diving every year and there are very few accidents.
The primary rule any certified diver learns is to never dive alone. Always dive with a buddy, not only for safety but it's always better to share the experience of experiencing unbelievable dive sites together.
You should research how to become a certified diver with a comprehensive diving program like PADI, NAUI, SSI, or BSAC. You should also research your scuba instructor, your dive school, and any dive locations you want to dive. Ultimately being prepared will make you a better diver.
If you are scuba diving as a tourist, there is very little risk involved. Recreational divers usually only travel in the safer parts of the ocean. Additionally, you will have an instructor or experienced divers (called divemasters) who will teach you everything you need to know before diving. You will not be allowed to go diving off dive boats or experience marine life on dive sites until you prove that you know all the basic moves and safety signals.
In the end, you are immersing yourself in an unbreathable liquid using equipment for life support and diving in an environment where wild creatures inhabit so like any activity you need to be a properly certified diver and respect the underwater world.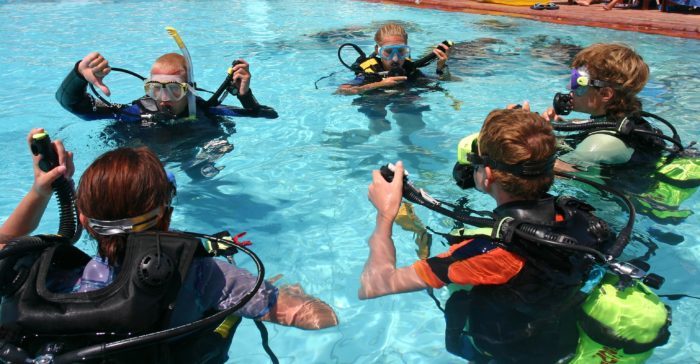 Do You Need A Certification To Scuba Dive?
Technically, it is not illegal to scuba dive without a certification. However, if you want to scuba dive safely, you will need to get certified by a scuba diving instructor. As previously mentioned. If you are recreational diving, you will need to train under an instructor. The instructor will give you lessons just like a regular class.
After the lessons, you will have to prove your knowledge by taking a test. If you pass the test, you will be certified as a beginner scuba diver. Almost every institution around the world will need you to show your license or certification before letting you dive into their premises or onto their dive boats. So, if you want to scuba dive properly, you need to have a scuba diving license.
In general, scuba diving isn't something you can learn on your own. Even if you learn the principles of everything online, putting them to practice is a whole other issue. Thus, if you want to learn scuba diving properly, and get access to a wider territory, getting a scuba diving license is essential.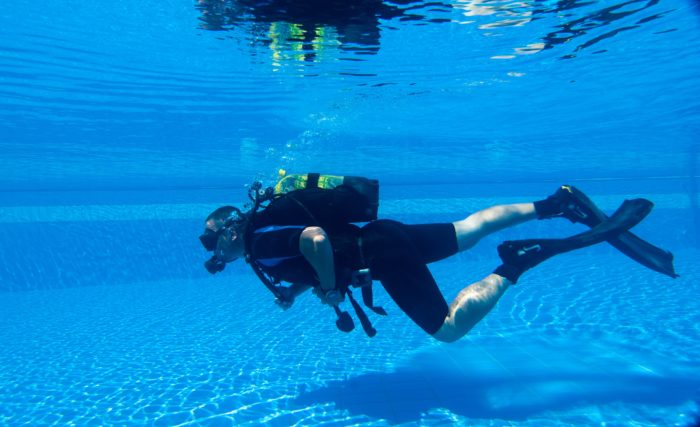 How To Get A Scuba Diving Certification?
To get a scuba diving certification, you need to enroll in a scuba diving class. Various agencies around the world offer scuba diving courses. If you complete these courses with positive results, you will receive a scuba diving certification. Some of the most popular scuba diving agencies include PADI, BSAC, SDI, NAUI, etc.
However, before getting a scuba diving certification you have to make sure you meet the physical requirements. In most places in the world, you have to be at least 12 years old to get scuba diving lessons – although there are some taster or discovery dive programs with most agencies starting from 8 years old.
You also cannot apply for a scuba diving certification if you have medical issues. Before starting any certification course, you need to fill out a medical form that declares you fit for diving, assuming you are. If you have some type of medical condition, you will need your doctor to sign off on it.
Aside from medical issues, almost anyone can enroll in scuba diving lessons. There are even special organizations that help disabled people learn how to scuba dive. Additionally, scuba diving certifications do not have any expiration dates. So, if you are certified once, you are certified for life. However, it is good to brush up on skills if you haven't dived in a while as although it is like riding a bike it's always better to get your skills refreshed.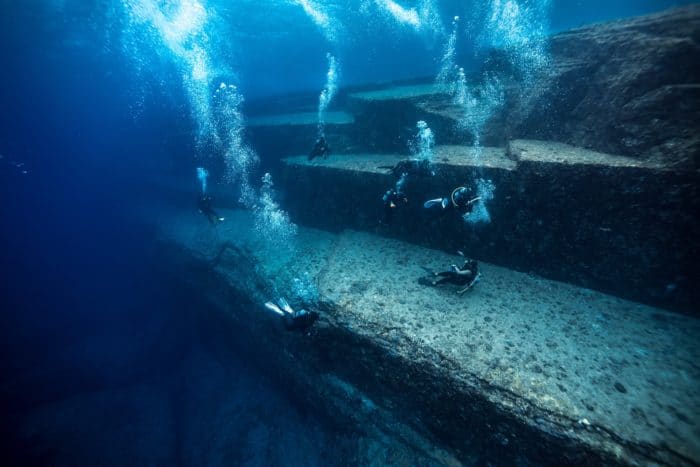 What To Expect From Scuba Diving Lessons?
Scuba diving lessons are pretty simple and uncomplicated. For recreational diving, you can receive a beginner's certification – like PADI Open Water – in three to four days after completing the lessons often taught at the dive shop. If you are traveling you can do something called a "referral" where you complete your theory training and exam online or via a local dive shop, then you do your pool training and open water dives at your destination.
However, in more advanced courses, it can take four to six months for you to receive a scuba diving certification. Since the skills taught in advanced courses are more difficult, it takes longer to get certified.
In a beginner's scuba diving class, you will learn the basics of scuba diving. Most of your lessons will be about planning your dive, and using your underwater breathing apparatus and other equipment properly. You will also learn the techniques, procedures, and safety drills for simple dives as well as basic underwater hand gestures. Additionally, you will also receive some physical training by diving in a swimming pool or shallow waters.
A beginner's scuba diving class won't complicate things with technical jargon. The main focus will be on safety protocols. For instance, what to do if you run out of air, and how to control your buoyancy in the water. Or, how to tell your instructor that you need help. So, if you're a beginner diver, rest assured that the initial courses will be easy and guarantee your safety.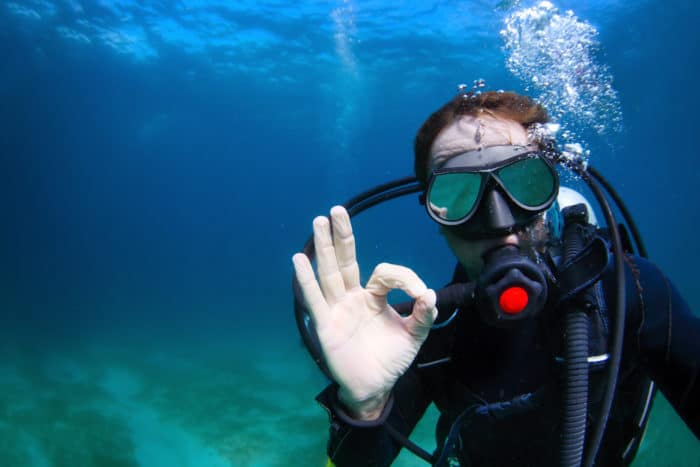 Tips for Staying Safe while Scuba Diving
Here are some tips that can help you enjoy your dives while staying safe while scuba diving.
Ensure that all components of your diving equipment are in good working condition before you embark on a dive. If you discover any problem with the equipment, don't use it and inform your instructor immediately. Any scuba equipment that has been tampered with or is faulty should not be used for scuba diving.
Never hold your breath underwater while diving because many people instinctively do this. Even if you are an experienced diver, you could get into trouble if you hold your breath underwater.
Diving more than 30m/100ft below sea level can cause the nitrogen in the air to affect your body, because of which you might experience a 'bends' situation where nitrogen bubbles start appearing in your blood and joints. This is a serious condition that requires immediate medical attention.
Never go on a dive if you feel sick, have a fever or a cold. Many people often ignore their symptoms and end up going scuba diving, but this is a very dangerous thing to do as it can lead to further complications such as a ruptured eardrum.
Never panic underwater because this will only make the situation much worse. Panicking is common among untrained divers who are trying to ascend too quickly.
Don't dive alone if you are not an experienced scuba diver because there might be problems that you may not deal with on your own. So, diving should always be done during a buddy dive or in pair of divers.
Never go on a night dive without proper training because it is very dangerous, and you could lose your way in the dark if you are not adequately equipped with navigation gears.
How to Get Started With Scuba Diving
People of all ages and sizes may learn to scuba dive safely due to technological developments in diving equipment, medicine, and training. scuba diving is possible for the majority of individuals who have a basic level of physical fitness and feel comfortable in the water.
Choose a Scuba Diving Course
Different diving courses are available like open water certification, advanced open water certification, rescue diver courses, etc. These can be completed by anyone ready to take up the challenge. Even people with no previous experience in scuba can undertake these certifications and become certified divers within a short period.
Buy or Rent Dive Gear
You can rent or buy equipment, which makes it more feasible for your budget.
Enroll in a Scuba Diving Course
Typically, this type of training is conducted in groups, but you can go in solo if you prefer—several scuba diving certification organizations to choose from like PADI , NAUI , BSAC , etc.
Learn Essential Dive Theory
Theory classes teach you about diving equipment, physiology, decompression calculations, and dives. You will also learn to deal with dive emergencies like running low on air or getting lost underwater.
Practice Simple Skills With an Instructor
You can practice beginner skills with an instructor to get a good grip on the basics. You need to pass a few simple tests before going in for your first scuba dive.
Go On Your First Dive
Your first-ever dive is something that you will never forget! After passing all the tests, you will go for a drive along with your instructor. Several scuba diving certification agencies ensure that you get the most out of your time and money invested in this course.
You will be certified as an open water diver when completed the training process
Are you ready to become a Scuba Diver and explore the underwater world?
Scuba diving is a fun activity that can help you destress and momentarily escape from your mundane life. Though there are minor risks involved, they can be easily overcome through proper training and getting a scuba diving certification.
We hope this article helped you learn the basics of scuba diving. Now that you know the fundamentals, we hope you will continue your journey and give scuba diving a try.
Source https://oceanvibration.com/gopro-for-scuba-diving/
Source https://blog.padi.com/how-to-scuba-dive/
Source https://www.deeperblue.com/what-is-scuba-diving/