How Does Scuba Diving Work?
Scuba diving is a form of diving in which the diver uses a compressed air scuba, rebreather or helmet to survive underwater. In contrast to Apnea diving, the artificial breathing gas supply makes it possible to dive for several hours. Unlike surface diving, the scuba diver carries a supply of breathing gas during the dive.
Normally this is compressed air, but other mixtures such as Nitrox, Trimix or Heliox are also used. A scuba diver moves freely in the three-dimensional space offered by the water, driven by their buoyancy compensator and fins or diving scooter. Scuba diving is practiced in various forms: in recreational diving as a pure leisure activity, in professional diving as a profession.
How does scuba diving work: are there rules to follow?
Scuba diving is a leisure sport that must go hand in hand with pleasure! But to have fun without risk, a few safety rules must be respected. If you want to get into practice, it is essential to follow a training course. Many clubs and structures exist all over the World to allow you to start with peace of mind. As a general rule, never dive alone and always use well maintained equipment. Your life depends on it!
To avoid negative effects on the body, the monitors teach you to respect the maximum recommended depths according to your level and above all, the respect of the different decompression stops. Did you know that in the hours following a dive, it is strongly discouraged to fly or climb to altitude. So remember to get organized.
Scuba Diving Benefits
As a discovery sport, the benefits of diving are above all psychological. Seascapes, the beauty of the underwater fauna and flora, the exploration of wrecks in complete freedom: the change of scenery is total! The particular atmosphere of the funds envelops you completely and transports you away from the hustle and bustle of everyday life. You are totally relaxed.
Diving is not a very physical sport compared to running or cycling, but it's practice still brings you benefits both in terms of muscle development and endurance. Diving regularly will also help you to better control your breathing and manage your stress. Scuba diving requires a good basic physical condition. Feel free to prepare your body with swimming, running or mountain biking, which are beneficial for cardiovascular and pulmonary functions.
Scuba diving, is it for you?
Do you want to discover and want to discover a quieter sport? Then yes, diving is for you. It is a gentle sport that can be practiced by anyone, but only if they are in good physical condition.
As some parts of the body are not yet sufficiently developed before this age, diving is not allowed for children under 8 years of age. Beyond that, they are advised not to go below 6 meters in depth, while remaining accompanied by an approved instructor.
Scuba Diving Equipment
The mask: opening your eyes in the water is not very pleasant, the mask is absolutely essential to see underwater.
Fins: they will allow you to evolve underwater.
The combination: your body cools 25x faster in water than in air. A neoprene suit is therefore recommended to fight against the cold while diving. Its thickness will vary according to the temperature of the water in which you dive.
The stabilizer vest: manage your buoyancy, carry your gear and keep your tank in place, these are the advantages of the stab vest that make it a must for divers.
The regulator: Unless you are an experienced freediver, it is an essential accessory connected to your diving block.
Safety equipment: parachute, dive computer, etc….
Conclusion
If you are thirsty for discovery and attracted to the aquatic environment, diving may well be your new favorite sport. With more than 25,000 clubs and organizations throughout the globe, it is easy to start in good conditions.
And you, how did you discover diving? What do you like about this sport? Would you like to share an anecdote? The floor is yours in the comments.
Choosing a Regulator Mouthpiece
Torben traveled around South East Asia for scuba diving and almost didn't come back. His affinity for gear that works and his generosity for guiding people on their own path match his energy as editor of all things travel-related
Disclosure: We are reader supported, and earn affiliate commissions If you find a good deal on DIVEIN, you click to the retailer, and you buy the product, we get a commission of the sale. That's is how we pay ourselves. It does not make the product pricier for you. when you buy through us.
Being comfortable in the water is a big thing for me. I believe that not only does it make diving more enjoyable but can have an impact on my air consumption too. And having a good mouthpiece is a simple but really important thing on a good long dive.
There's nothing worse than have jaw fatigue, or being sore form a mouthpiece that doesn't fit.
Here, I would like to share my experiences with you to help you make the best choice to suit your mouth needs.
Basic/Standard mouthpiece
These are often supplied with rental gear and the cheaper new regulators. You bite down on two plain ordinary tabs. I often feel that I need to bite down hard to keep it in place, which sometimes results in chewing through them really quickly.
They tend to be the cheapest ones so replacing them isn't too bad, all in all, this is a very basic mouthpiece that will fit almost all, but not everyone will be a fan.
So, if you are looking for a basic mouthpiece, I found this one to be great and long-lasting.
Long bite
Long and somewhat textured tabs give you something a bit more substantial to bite. I have a short mouth and find they can be a little uncomfortable, but many divers love them.
They are usually pretty cheap so would be a good choice to start with. Check it out here.
Cushioned
These have soft grips on the bite tabs which prevent bite-through and provide a good degree of comfort.
I cannot deny that they were very comfortable and a real treat. One of the best I've used so far and worth trying out. Usually, they are in the price range of 10-15$ so you still won't break the bank on them.
If you want to try it out, you can find some here on Amazon.
Bridged, winged and tooth-covering
These designs help to lock the mouthpiece into place. Especially good if you tend to twist around a lot or catch your hoses on stuff like some of my students. The Bridged model connects the tabs together and can cause discomfort if they rub inside your mouth.
Likewise winged and tooth- covering designs grip your gums on the inside of your mouth and may rub there. If they fit you properly then definitely go for it.
If this is your option, you can buy it right here on Amazon.
Custom fit regulator mouthpiece
I am still using my custom fit mouthpiece on my primary regulator. You trim the mouthpiece to the desired length and then immerse it in boiling water before biting down to mold around your teeth. It takes no effort to retain this mouthpiece and I have yet to damage it despite using it for over a hundred dives.
I did have to do a couple of tries to get the fit right, as if you heat it too long or bite too hard they might not shape properly.
I did not install this on my alternate because it would not provide the same level of comfort or fit properly for my buddy which may increase their risk in an emergency situation.
If you're looking for a custom fit regulator mouthpiece, I found a great one here.
Final thoughts
Try to find a mouthpiece made from good quality materials. This might mean not always buying the cheapest thing. Not every mouthpiece fits every regulator second stage and it is a good idea to check the fit before purchase. Once you find one you like, grab a spare to keep in your dive toolkit.
Best Scuba Mouthpieces
It would be easy to take for granted what an important piece of scuba diving equipment and part of your whole diving set up your scuba mouthpiece is. We are firm believers that if you want to have an enjoyable time under the water, you need to be comfortable and if there is one thing that will hinder how good your dive is, it's jaw fatigue. Talking about being comfortable.. make sure you protect your fingers with the best diving gloves.
Table of Contents
Top 10 Best Scuba Mouthpieces
If you are new to diving or are just looking for a better mouthpiece, you've come to the right place. We have scoured the market for the best available and highlighted 10 below.
Click here to find the best hoods to accompany your Mouthpieces.
Before we look at those products, though, we felt it was a good idea to discuss the different types of mouthpieces and what you can expect from each.
Have you ever wondered how to change a mouthpiece but have never had the right guidance? Click here to unlock a bowl full of knowledge.
1. SeaCure X Type Mouthpiece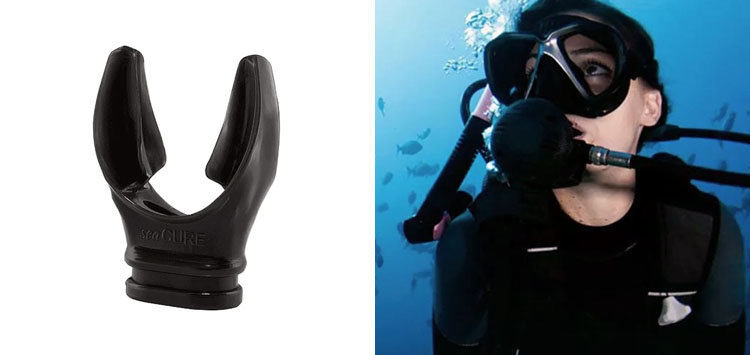 The first mouthpiece we think you should consider is this option from SeaCure. This features a moldable design that will help it to fit precisely your jaw, teeth gums, and mouth.
Which in turn means it will reduce and even eliminate the problem of jaw fatigue. The X-shape of this model helps to reduce the bulk while improving the feel and fit of the mold and reducing gagging to a bare minimum.
2. Mares Jax Moldable Scuba Mouthpiece
If you have a Mares regulator then it is only natural to choose this Mares Jax scuba regulator mouthpiece. This way you can be sure that it fits perfectly and you are guaranteed the top Mares quality.
Jax is a very special custom scuba mouthpiece. Inspired by dental technology, you can form its personalized shape from a single imprint of your jaws and teeth.
All you have to do is soak the scuba mouthpiece in boiling water for just a few seconds then bite down like you would at the dentist. Voila, in less than 30 seconds you have your very own custom dive mouthpiece.
3. Atomic Aquatics Regulator Mouthpiece
From Atomic Aquatics comes the next product in our guide. The award-winning designers and reputable engineers have come up with a mouthpiece made from two layers of different kinds of silicone.
It is one of the most comfortable to wear on the market while being one of the most durable too.
4. Trident Comfort Bite Mouthpiece
The first thing you will notice about this mouthpiece from Trident is the rolled edges and the roof of the mouth bridge.
These features make it an extremely comfortable mouthpiece to wear and as it's made from a hypoallergenic material, it is suitable for all. If you are searching an alternative, try this dry snorkel.
5. Edge Moldable Mouthpiece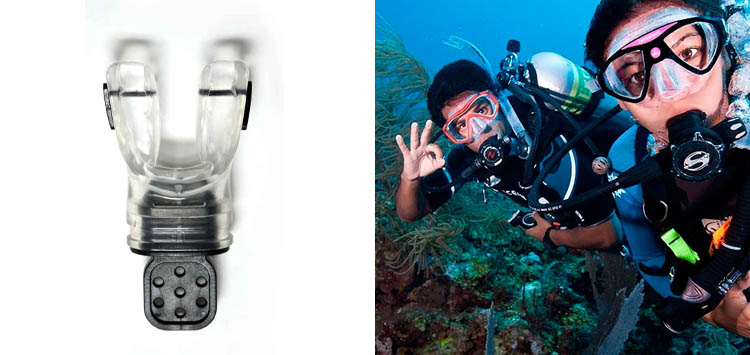 Next up, from Edge, we have another moldable and customizable mouthpiece. The unique design has been used to avoid it rubbing unnecessarily against your gums.
Another aspect worth noting about it is the fact it has a smaller width than others, making it easier to form a seal between your lips and the mouthpiece.
6. Scubapro Mouthpiece and Hose Protector Sleeve Kit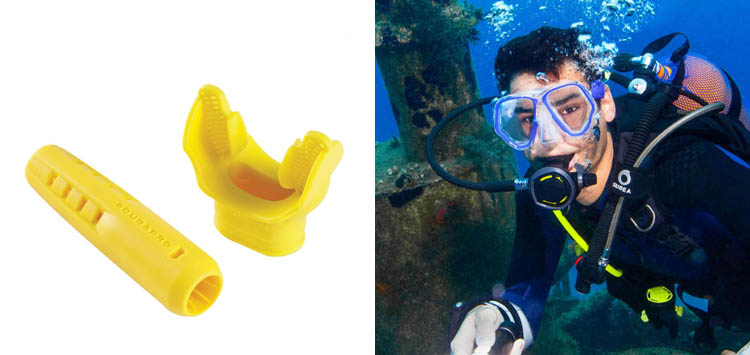 From the diving accessories and equipment experts, Scubapro comes our next pick.
This vibrantly bright yellow is a second-stage mouthpiece and comes with a first-stage hose protector to allow for easier differentiation between mixes when technical diving.
7. Scuba Choice Silicone Long Bite Mouthpiece
Made from soft and comfortable to bite silicone, this high-quality mouthpiece has a much longer width than standard to fit those of you with bigger mouths.
8. IST Ortho-Conscious Mouthpiece for Scuba Diving
Jaw fatigue is a real issue with scuba divers but you will find some relief with this scuba diver mouthpiece by IST. This bite silicone scuba mouthpiece is specially designed for reducing jaw pain and preventing chafing from the bite tabs.
The IST Ortho-Conscious is one of the better replacement mouthpieces that you can order today. It fits the regulator from almost every diving manufacturer.
9. Maluan 6-Pack Regulator Mouthpieces
A good divers regulator mouthpiece doesn't have to break the bank, as Maluan proves with this 6-pack. You can also share these with your friends as a snorkel mouthpiece if there are a few non-divers in the group.
This silicone mouthpiece is designed to fit most brands in the diving equipment industry. Just make sure you follow the instructions on how to securely attach this mouthpiece for scuba diving.
10. OMGear Silicone Mouthpiece
To round out our list, the last product we have is this OMGear model made from FDA-approved food-grade silicone. It has been designed to be easy to use and fits most snorkels and regulators.
For a quick recap, Here are our top 3 Best Scuba Mouthpieces:
OUR #1 PICK Octopus Snokel Mouthpiece 2 Pack
Easy to install
2 Available colors
Soft silicone
High quality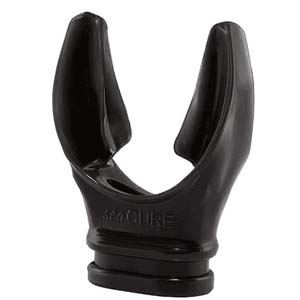 PROFESSIONAL Seacure X Type Scuba Diving Mouthpiece
Type SeaCure
Latex Free
Great quality
Durable wear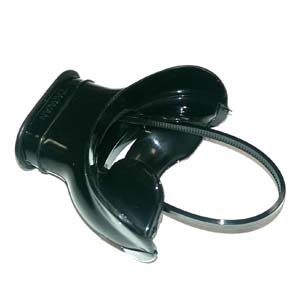 ON A BUDGET Trident Comfort Bite Scuba Diving Mouthpiece
Comfort Bite
Hypo-allergenic
long lasting
Rolled Edges
Different Types of Scuba Mouthpieces
Standard/Basic
You will find basic and standard sized mouthpieces are the kind that comes with cheaper regulators and rental gear. As they generally feature two very ordinary tabs, you need to bite down a lot harder on them than other options, which means they don't last nearly as long as others.
If you don't dive as regularly as you would like, this might be a cost-effective option, though if you are going to be diving regularly, you might want to invest in something a bit better.
Cushioned Mouthpieces
As the name suggests, these mouthpieces have soft grips over the tabs you bite down on to increase the level of comfort and protect them against bite-through. Although a tiny bit pricier than standard models, these are extremely comfortable and allow you to concentrate on enjoying your time under the sea.
Long Bite Mouthpieces
Long bite mouthpieces (that often feature textured tabs too) offer you a bit more to bite into. Although many divers swear by them, if you don't have a particularly long mouth, you may find they are not the most comfortable to use.
As a start mouthpiece, they are ideal because they are not usually very expensive.
Tooth Covering, Winged, and Bridged Mouthpieces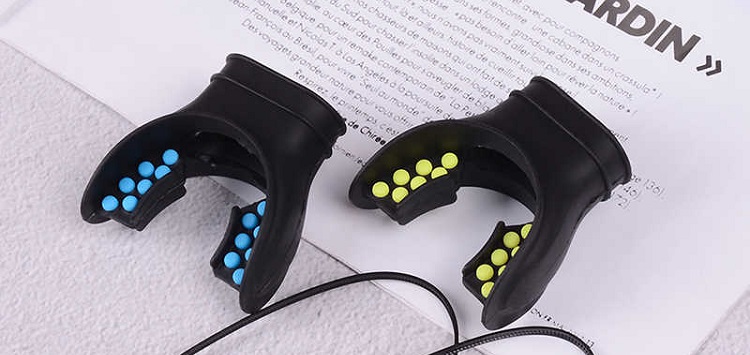 All these mouthpieces, bridged, winged and tooth-covering are designed to help secure your mouthpiece snugly in place. These are ideal for divers who like to or are in the habit of twisting around a lot. One issue with bridged-style mouthpieces is that the tabs are connected and when they rub on the inside of your mouth, they can be uncomfortable.
Similarly, with tooth-covering and winged-style mouthpieces, they grip onto your gums and can rub against the insides of your mouth. However, if you find one that fits you well, then they are worth it.
Finding it tricky to pack away your mouthpiece and other equipment in a timely manner? Click here to read this article to help ease the packing away process.
Custom Fit Mouthpieces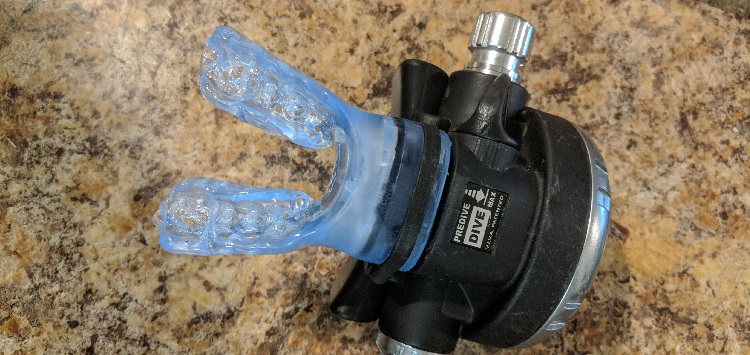 A customized mouthpiece is one that you can trim down easily to the length that suits your mouth best. You then need to place it in boiling water and then bite down on it to form a mold of your bite shape.
It can be a bit fiddly when you are first using one, but when you get it right, you have a mouthpiece almost perfectly molded to fit the size and shape of your mouth, making it incredibly comfortable to use.
Frequently Asked Questions about Scuba Mouthpieces
What is the mouthpiece called scuba diving?
The mouthpiece used in scuba diving is called a diving regulator mouthpiece. Regulator mouthpieces allows scuba diver to breath in air from their tank.
There are di different types of dive regulator mouthpiece. Some are made from basic silicone in a universal shape while others are a moldable scuba mouthpiece that creates a custom fit.
Is it worth buying your own scuba gear?
Buying your own scuba gear is an investment but one that is worth it. Most scuba diving equipment is meant to have a snug fit and can feel quite uncomfortable when it doesn't suit your face and body just right.
Over time, buying your own gear will prove more affordable if you are a frequent diver. On the other hand, if you only occasionally dive then it might make more financial sense to rent the equipment.
Why do scuba divers wear snorkels?
Scuba divers mainly wear snorkels to be able to breathe at the surface level without using their air supply. This saves more of the air supply for when they are deeper underwater.
How do you change a regulator on a mouthpiece?
Carefully cut off the zip tie on the old mouthpiece using a side cutter. Slide the cutter under the zip tie and then snip without damaging the mouthpiece or regulator.
Pull off the old mouthpiece from the regulator.
Slide the new dive mouthpiece into the same position.
Take a zip tie and secure it exactly where the mouthpiece ends and the rest of the regulator tube starts.
Pull the piece where the zip tie feeds through to left or right side of the mouthpiece so that it doesn't bother your field of vision.
Secure the zip tie tightly but it should not be so tight that the mouthpiece shape changes.
Using the side cutter, cut off as much of the excess zip tie as you can.
If the part where the zip tie feeds through feels too large, you can cut off a small piece using a box cutter. Make sure you are not loosening the zip tie by doing this.
Scuba diving is more than a passion to me, it's a part of who I am. Now, I travel and dive as much as I can, exploring the world, trying new dive gear, discovering dive destinations and reviewing them here for you. All while educating people of the threats our marine life and oceans face every day and what we can do to help defend it.
Source http://www.gearbyposeidon.com/how-does-scuba-diving-work/
Source https://www.divein.com/diving/regulator-mouthpiece/
Source https://oceanscubadive.com/best-scuba-mouthpieces/