How to Get a Scuba Certification on Vacation, In 4 Steps
Many people dream of getting a scuba certification in an exotic destination. It makes sense: If you're going to spend days, even weeks, learning to dive, why not see some cool stuff in the process?
But there's a lot to consider when learning to dive on vacation. From the "where" to the "how much," here is everything you need to know to get scuba-certified while traveling.
1. Decide where to get your diving license
There are two ways to go about choosing a destination.
The first, more methodical, way would be to decide what kind of dives you are interested in experiencing. Certain destinations are known for certain things: Belize has the Blue Hole, Grenada has drift diving, Australia has the iconic Great Barrier Reef, Curacao has the Superior Producer wreck site, and Southeast Asia has endless, isolated islands. Perhaps your personal preferences and ambitions can lead you to a specific dive destination, be it specific geology, like holes or shelves, or scenery, like wrecks, reefs, and sea life.
But this train of thought can get technical really fast. In reality, most destinations offer a little bit of everything, especially for beginners. Since you'll have plenty of free time above water, the easiest way to choose your destination is to think about what you'd like to do when you're not diving. Is the sunny, laid-back Caribbean your cup of tea? Do you want to experience a foreign culture in Southeast Asia? Logistics and budget also play a part. From the East Coast, for example, it's very easy to reach the Caribbean, whereas Southeast Asia or Australia would be a hefty, and pricey, haul. Diving as a beginner is going to be great anywhere, so choose a destination that excites you and fits your budget.
2. Choose the best scuba certification program for you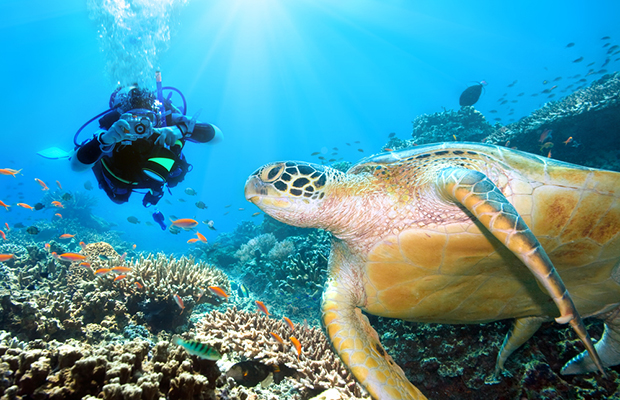 Courtesy Shutterstock / PADI
There are three ways you can get your diving license.
The most comprehensive way is to sign up for a pre-existing package tour from a pre-picked destination. These packages charge a set price and have arranged all the details for you, including accommodations, meals, certification/dive schedules, and extracurricular activities, like sunset cruises, rum punch parties, and SNUBA lessons. Most times, the dates are limited to a specific week or weeks of travel. All that's left to do is pay for your airfare. These tours are also typically group oriented, so you'll be able to meet other like-minded, scuba cert hopefuls. Pro-tip: Make sure that you go through a reputable dealer, like PADI, to be assured that the tour has been properly vetted.
The opposite approach would be to do your certification "a la carte," meaning you select your destination, hotel, and dive shop independently of each other. All officially licensed PADI dive shops are aggregated in a search engine on its website. So, if drift diving in Grenada is your dream trip — you can search all the shops that offer a certification program on the island. This gives you the flexibility to pick your dive shop based on the price, courses offered, reputation, and location. In this scenario, you would locate and contact the dive shop directly to arrange your certification.
The third way would be to combine the two above approaches by choosing a destination and then a specific hotel that offers a scuba-cert package. Suppose you pick Grenada because of its drift diving, but your preferences are limited beyond that. In this case, you could forgo an all-encompassing package (like the ones mentioned in the first paragraph) for a smaller, more compact scuba-cert program offered by a resort or hotel. For example, Sandals La Source, and all Sandals resorts, offer a scuba cert package and free dives to certified guests, so you can dive for free after passing your cert.
3. Know what to expect during your program
Facebook / PADI
The entry-level course to become scuba certified is PADI's Open Water Course. If you were doing this at home at the local community dive center, the program would entail classroom sessions, pool instruction, and then four "open water" dives, typically conducted in the local reservoir or lake.
Since many people have found this process somewhat laborious and unrealistic for their lifestyles, "accelerated" programs were created that allowed a scuba-cert hopeful to complete the coursework at their own pace from home. Then, a brief review, along with the pool session and open water dives, can be completed in a weekend. This second approach is what's usually followed by destination dive programs. Once you sign up for a course, you will be shipped the textbook and are expected to be prepared to take the final written exam upon arrival at your scuba destination. The material is important but pretty straightforward and can be reviewed with your instructor before taking the exam.
So, if you've heard that things are "more chill" in the Caribbean, it's true. According to PADI's website, it's possible to complete your dives in three or four days by completing the knowledge development portion online or at home with materials provided by your local dive shop or resort.
When vetting dive shops, simply ask them how long the certification process typically takes the average person to complete. If you complete your coursework at home, it's usually two to four days: one day of pool dives and two days of open water dives. It's possible that these days could even be half days; pool training can be completed in a few hours, for example. The final exam is written and takes one to two hours to complete.
This all adds up to a good thing: If you pencil in a week's vacation, you can, in theory, get your certification and still have half your trip left to dive and explore the destination (a week is also good in that it allows a few days' buffer in case of bad weather). You also won't be involved in scuba training all day. Most likely, you will have a morning and an afternoon dive, each only about 30 minutes, with a total commitment of two to three hours for paperwork, Q and A, and boat transfer. This means that you can truly have a well-rounded vacation while you get your certification.
Note: Despite the convenience of learning the material at home and the joy of a flexible certification program, the information and skills you will learn are vital to your life and survival, and so they should be taken with the utmost of seriousness.
4. Compare scuba certification costs
Galapagos Islands / Facebook
Given that PADI scuba certifications are for life — meaning they never expire — the cost is pretty reasonable. Each PADI dive shop is independently operated, so the price varies slightly, but you are usually looking at $400 to $600 for the written exam, pool sessions, and open-water dives.
Package tours and resorts offering PADI certification often include other perks, such as free dives post-certification, to sweeten the deal. Be sure to ask the dive shop if there are any extras included. It is everything around the actual certification — flights, hotels, extra dives, and entertainment — that make a scuba-cert vacation add up, so you'll want to shop around.
But remember, the certification process will only be half your trip; you're still paying for a legit vacation, one you will surely never forget, leaving with skills you will enjoy for the rest of your life.
How can I get my kids scuba certified?
The biggest regret many scuba divers have is not starting soon enough. Which means, for many diving moms, getting their kids certified is simply a no-brainer. After all, according to DEMA, over half (54%) of adult divers have kids between the ages of 11 and 17.
But are your kids ready? What learning method will they benefit from most? And what are all the options for getting them certified? From assessing a child's interest and aptitude to choosing the method and timing for training, diving moms have a lot of decisions to make.
How old do they have to be to qualify?
Each training agency has their own requirements and prerequisites for certifying minors. PADI, NAUI, SDI, and SSI all offer classes to divers as young as 10 and issue a Junior certification that can be upgraded to a traditional certification when the diver reaches 15. Even BSAC recently dropped their minimum age from 12 to 10. Other agencies may have different standards. Prerequisites (such as a swim test) for classes are often the same for both junior and adult divers. There may also be additional paperwork or educational materials your child will go through before certification.
Junior certifications have various limitations that moms should be aware of. These often include depth limits, limits on what specialty certifications they can earn, and the promise that they will always dive with a parent or adult. Check with the shop you're certifying with to understand which certification your kids are getting and the limitations associated with that certification level.
Are they even interested in scuba diving?
Learning to scuba dive is a big commitment and a serious responsibility. If your child has been talking about the ocean for years, snorkels during all your diving adventures, and dreams of being a marine biologist, it's pretty clear they would be interested in scuba. But it's always best to have an open, no-pressure conversation with kids about it.
As an instructor, I've heard more than one junior student say the reason they are in class is because of a parent and not their own interest. One of the best ways to gauge interest is by having them try scuba without the commitment to a full course. Most stores, resorts, and agencies have a "Try Diving" program of some sort. This type of course is ideal for all kids, regardless of their interest, because it will also help assess their readiness.
Are they ready to scuba dive?
Physically? Mentally? Emotionally? Maturity-wise? There are a lot of factors that go into assessing a child's readiness or aptitude to complete a full scuba certification course—and age isn't always one of them! I've had 10-year-olds who were better ready to be divers than teenagers.
Physically, kids should be confident swimmers. It's ideal if they can lift and stand in their gear and that they can spend several hours in the water (with a wetsuit) without getting cold. Mentally, they need to be able to concentrate and have good listening skills. Emotionally, they need to have a vested interest in the course. And maturity-wise, you need to be able to trust them as your buddy if you're having an underwater emergency.
External factors, such as the timing of and conditions for classes, can also impact readiness. Taking a course during the school year might overwhelm some kids when coupled with the academics and time needed for both school and scuba. At the same time, some kids "turn it off" during summer and would have difficulty concentrating. You'll also want to consider local conditions, such as the water temperature and clarity during different parts of the year. Analyze these external factors and make sure there are no additional obstacles that might be a barrier to your child's certification.
How to get your kids certified
Now that you've assessed your child's interest and aptitude for scuba, it's time to choose how to get them certified. The right environment and method can make all the difference in their enjoyment and success within their program. Here are a few of the options available for youth certifications.
What kind of class should I choose?
Perhaps the most practical option, a traditional scuba class from your local scuba store can certainly get your children certified. One factor to consider would be whether the academic portions are completed online or in person. With pandemic-era learning, most kids are used to both methods, but they likely have a preference so it's best to ask them what they would like if they have the choice.
Also, class size and pacing can make a big difference. Confident kids, those well-versed in interacting with adults, and kids used to rigorous learning (be it in the classroom or in an extracurricular activity) might do just fine in a weekend-length class with mostly adults. Other kids would benefit from a smaller class size, more students their own age, and more or longer sessions.
Vacation Courses
If you want to get away from it all or you're worried the local diving won't be the ideal conditions for your kids, vacation courses are also available. Many agencies offer the chance to do online learning, pool sessions locally, and then checkout dives on holiday. Breaking up the training in this way helps kids not feel overwhelmed with what they're learning and how fast.
Kid's Camps
Many kids thrive in and better enjoy scuba classes when they participate with students their own age, and there are many types of kid's camps available. Ask your local dive store if they have any special classes reserved just for junior divers. Or look for summer adventure camps that offer scuba. Some of these, like Kid's Sea Camp, offer opportunities for the whole family. Other programs, such as Broadreach or Odyssey Expeditions, combine scuba with sailing, hiking, and community service projects. I've even taught at a military summer camp that offered scuba to the campers. Kid's scuba programs are everywhere.
Academic Programs
Though not common for lower grade levels, some schools and extracurricular programs may offer academic credit for taking a scuba diving course. For example, the American Council on Education assigns varying continuing education credits for different certification courses. Organizations such as scouting groups may also offer credit for courses and can help find options to get kids certified.
Private Lessons
There are many reasons to choose private lessons for your kids. Personalized attention can help with in-water comfort and overcoming any learning obstacles. Families with multiple kids getting certified can do so as a private group, allowing everyone to be there in support of each other. Not every child needs a private lesson, but it's something to look into, especially if your child has tried traditional methods and been unsuccessful so far.
Scuba diving opens up a whole new world of adventure and possibilities for kids—just like it did for Grace and Indigo. Yet, getting them certified is a serious endeavor and it's important for moms to stop and consider all the factors and possible paths to certification. Check out what other Mums that Scuba say in our Facebook group. And work with your local dive shop to plan a certification course for your kids that will work best for everyone. Then go and enjoy your new dive buddies!
Jeanette Smith is a freelance writer and editor based in Dallas, Texas. She is the Curriculum Director for DIY MFA and Contributing Editor to Rare magazine. She holds a BA in English literature from Smith College. When not at her keyboard, you can find her teaching a scuba diving class, making a craft, or posting pictures of her cats on Instagram (@jeanettethewriter).
Going Scuba Diving? Here's What You Need to Know to Get Certified.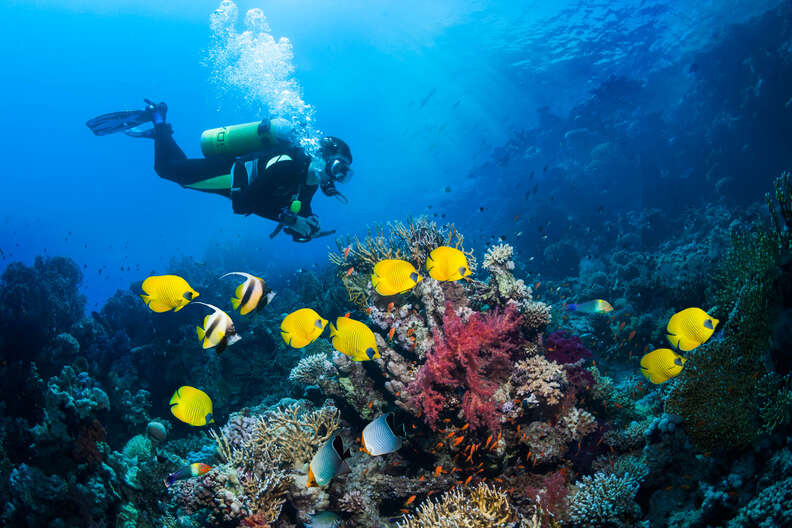 So you want to learn to scuba dive. Congratulations! This is an excellent decision — not as good as going to therapy, but at least on par with getting a dog. Diving is pure magic, a word I almost never use because it causes that cringey face you're doing right now, but anyone who's ever found themselves suspended, weightless, in the middle of a gazillion fish, will get it.
To get properly certified you'll want to go through PADI, which stands for the Professional Association of Diving Instructors, but nobody calls it that and I actually had to look it up. In most places you can get scuba certified as young as 10. To get started, you don't need to be anywhere near the ocean, or near any body of water in particular — all you need is a free weekend and a few hundred bucks. Here's what you need to know.
Do I need to get certified?
It's not illegal to dive without a certification. It's a lot less safe, though, and according to probably every certified diver I've met, a lot less fun. Certification — like a diploma — represents an education you've achieved; it's not just a title on a piece of paper.
"Everybody has to ask themselves how much their life is worth," says renowned underwater photojournalist Brian Skerry, who's been a contributing photographer for National Geographic for the past two decades. "Whenever you engage in a potentially dangerous activity, you're betting your life that it's gonna work out OK. If you jump out of an airplane without the proper training you're literally betting your life that it's gonna work out OK. It's the same with diving."
But is it still OK to dive without getting fully certified… sometimes?
"If you go to some shallow coral reef, with 20 or 30 feet of water where it's warm and tropical, it's easy to just take a resort course in the pool where they just tell you not to hold your breath," Skerry says. "And 99 times out of 100 — much more than that probably — you're going to be fine. But something could go wrong; you could get claustrophobic, a barracuda could swim by and you panic and spit out your regulator. At the end of the day, those resort courses probably work fine, but if you're going to dive on any sort of regular basis, you should definitely get certified."
How much does it cost to get scuba certified?
First, you'll take an online course that will cost somewhere around $185. The second part, where you'll go diving in a pool, will be another $200 or so. The cost of the third and final open water course varies more, since it depends on your proximity to the nearest ocean. You might be going to a beach five minutes from your house, or booking a week-long trip. Remember, as travel-related activities go, scuba diving is expensive, because you're usually incurring incidentals like gear rental and a guide and, y'know, a boat.
How physically hard is scuba diving?
You need to be able to swim several hundred yards continuously, and you need to be able to tread water for at least 10 minutes. That's the bulk of it — the tanks are heavy when full and can be kind of a bitch to stand up in, but there'll be someone to help hoist you up if you need it.
What gear do I buy and what gear do I rent?
If you're bothering to get certified I assume it's because you intend to dive more than once, so believe me, it's worth buying your own properly fitting mask and snorkel. Fins are good too, but that's pretty much it. Vests and tanks you'll always rent on-site, and it's overkill to buy your own wetsuit since you'll need different ones for different locations (bc water temperature). Don't spring for those mask defogging drops, either — spit works fine.
Anything else I should have?
A buddy! You'll learn this during the online course, but diving is built around the buddy system. You'll never dive alone — you want someone to know where you are and that you're OK at all times, and to share their oxygen reserves in an emergency. You can get paired up with the instructor or another single from your certification group if necessary, but it's much more fun to do all this with a friend.
OK, talk me through this — where do I start?
The first thing to do is look up your nearest PADI dive shop, which you can search for here. Click your chosen location's "Sign up for eLearning" option and enroll in the online course. This is essentially the book-learning phase of the process (though you'll watch a lot of videos), where you'll get familiar with safety protocols, terminology, and generally what to expect. You can complete it from home at whatever pace you like. It's more or less like a high school textbook where you have a light review and quiz after each chapter, and at the end there'll be a written exam. Don't stress about that; remember, 10-year-olds pass it all the time.
Once you've passed the exam, you're ready for Phase 2: confined water diving, which just means diving in a pool. The instructors at your dive shop of choice will familiarize you with the gear and help you start practicing all the stuff you just learned about online. Do not freak on Day 1 if breathing through the regulator feels weird and like you're not getting enough air. It will, but by Day 2 you will have gotten used to it. And just as importantly, don't be embarrassed by how ridiculous you will look while you learn how to control your buoyancy, and find yourself helplessly zooming up to the surface feet-first, like in that elementary school experiment (the purpose of which was never fully clear) where you put raisins in 7-Up and watch them bob up and down.
Those first two phases can be done in a weekend, and once you've completed them you're technically certified to dive… but in a pool only. And nobody wants to be restricted to that. To truly complete the course, you need to do some open water diving. This final phase will typically take another two days, with a morning dive and an afternoon dive on each day. You can start it as soon as you complete your pool lessons, or choose a later date to fit your schedule.
OK, I'm open-water certified. Now what?
You can keep logging hours and work your way up the ranks in terms of certification level. After Open Water Diver you'll hit Advanced Open Water Diver — at which point you're pretty much qualified to do what you like — and eventually you'll reach Divemaster. There are also a bunch of specialty qualifications you can pursue, when and wherever you like. There are certifications for wreck diving, cave diving, ice diving, and so on. I got my Rescue Diver certification at a quarry in Virginia, and Navigator certified at my Colorado hometown's entirely unremarkable local reservoir (which was ideal because it's so polluted you're forced to rely on your compass due to not being able to see your hand in front of your face).
It has come to my attention that we need to save the oceans. How do I help?
"The majority of the 7 billion people on this planet are not divers, will never go into the ocean, and if you're even a casual tourist diver you're seeing things most people never will," Skerry told me. "If you're a diver — at any level — then you're really an ambassador for the ocean. What people can do on a big scale is to elect politicians who understand that protecting the environment is in our own best interests. And when you go on vacation and take a dive I do think it's important to ask questions of your dive operator, the charter, the people on the boat — ask what they do in terms of protecting the reef, protecting their own backyard, and not adding more plastic to the choked up oceans. If they don't get those questions, they think tourists just want an adrenaline hit and don't really care about the environment.
The government will listen to dive operators as an industry, because it brings in revenue, and ultimately it's commerce that drives progressive initiatives. Even if you're on your one vacation a year, ask those questions and beat the drum a little louder."
Last thing. Sharks?
"Contrary to popular belief, most divers will never see a shark," Skerry says. "You think the minute you go in the ocean you're gonna be attacked by a shark, but they're shy. They stay away from people."
Sign up here for our daily Thrillist email and subscribe here for our YouTube channel to get your fix of the best in food/drink/fun.
Kastalia Medrano is Thrillist's Travel Writer. You can send her travel tips at kmedrano@thrillist.com, and Venmo tips at @kastaliamedrano.
Source https://www.shermanstravel.com/advice/how-to-get-a-scuba-certification-on-vacation-in-4-steps/
Source https://www.girlsthatscuba.com/kids-scuba-diving/
Source https://www.thrillist.com/travel/nation/how-to-get-scuba-diving-certification#:~:text=To%20get%20properly%20certified%20you%E2%80%99ll%20want%20to%20go,can%20get%20scuba%20certified%20as%20young%20as%2010.