10 Great Places to Scuba Dive in Florida
Drift dives along miles of spring-fed river. Shipwreck trails in the Atlantic and Gulf of Mexico. Delicate, vibrant coral reefs. Gin-clear freshwater springs and underwater caves.
When it comes to scuba diving, Florida has it all.
Here are 10 of the best places in the Sunshine State for scuba diving.
Maritime Heritage Trail, Biscayne National Park
The many shipwrecks along the Maritime Heritage Trail of Biscayne National Park, south of Miami and north of Key Largo, make it an idea place to see explore nautical history of South Florida. The oldest of the wrecks date from the 1800s to the 1960s. Tropic Scuba offers scuba and snorkeling charters to the Maritime Heritage Trail and other locations within Biscayne National Park.
SS Copenhagen, Lauderdale-By-The-Sea
The steamship SS Copenhagen ran aground on a rocky ledge in the Atlantic Ocean and sank at the turn of the century. Now the 325-foot vessel's wreckage is part of the coral reef, which scuba divers can explore three-quarters of a mile offshore, 3.6 miles south of Hillsborough Inlet. The vibrant reef is relatively shallow at 15 to 30 feet deep and is home to a variety of marine species including sponges, tropical fish, eels, and hard and soft coral. Gear rentals are available through South Florida Diving Headquarters.
Florida Panhandle Shipwreck Trail
Besides having brilliant, blue-green water and miles of pristine beaches, the Emerald Coast is a treasure trove for wreck diving in the Gulf of Mexico. Twelve shipwreck sites offshore between Pensacola Beach and Port St. Joe in Northwest Florida make up the Florida Panhandle Shipwreck Trail. Five of the wrecks are near Pensacola Beach, one is off the shore of Destin, five off Panama City Beach, and one is near Port St. Joe. Dive shops along the coast can provide rentals and boat charters to wreck sites.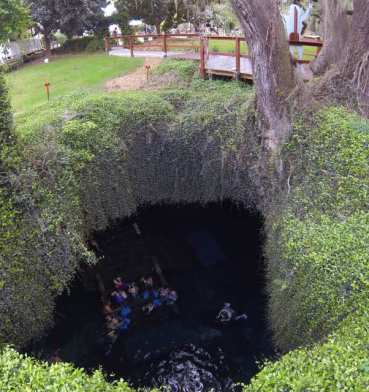 As unique as it is breathtaking, Devil's Den in Williston is unlike anywhere else in Florida.
– Kevin Mims for VISIT FLORIDA
Devil's Den, Williston
From above, there isn't much to see of Devil's Den in Williston—until you step down the steep staircase that leads to the glowing blue spring within the surrounding prehistoric cave. The privately-owned spring is 120 feet in diameter at the surface with a maximum depth of 54 feet. There are campsites and cabins available on the premises for divers and snorkelers who want to stay for more than the day. Rental equipment is available on site. Be sure to arrive with a dive buddy—it's required.
Ginnie Springs, High Springs
Ginnie Springs is synonymous with freshwater scuba diving and cave diving in Florida. The property has seven springs, a full dive shop with rentals, hot showers, a large campground full of tent camping sites, and one rental cottage. Depending on skill and certification level, divers can explore the Santa Fe River, Ginnie Cavern, and the Devil's spring system, made up of three springs (Little Devil, Devil's Ear, and Devil's Eye), which is open to swimmers and scuba divers alike. Not certified to dive? Ginnie Springs has instructors who can provide training and certification.
John Pennekamp Coral Reef State Park, Key Largo
For many, the thought of diving Key Largo likely conjures images of the famed Christ of the Abyss statue submerged in the clear waters offshore, but there's much more to see in the coral reefs of John Pennekamp Coral Reef State Park, the nation's first underwater park and one that spans 70 nautical square miles in the Florida Keys. To see the best spots on the coral reef, book a scuba tour directly at the park.
Neptune Memorial Reef, Key Biscayne
For anyone who has ever dreamed of seeing the Lost City of Atlantis, Neptune Memorial Reef should be at the top of the diving wishlist. An artist's interpretation of the lost city, this artificial reef 3.25 miles east of Key Biscayne is both a massive work of art and an active cremation memorial site. It sits at a depth of 40 feet and features statues and structures—from the lions that guard its gates to intricate pillars and columns—that create an otherworldly atmosphere and unique scuba diving experience. Divers can get there with their own or rented boats (there are buoys at the site) or book a tour with one of the reef's dive partners.
Phil Foster Park, Riviera Beach
Phil Foster Park in Southeast Florida offers easy access shore dives, where an artificial reef stretches on for 800 feet and marine life abounds. Parrotfish, angelfish, sergeant majors, rays, starfish, octopus, and more can be seen in water averaging six to 10 feet deep, with maximum depths of 20 feet. Guided tours and equipment rentals are available through Blue Heron Bridge Scuba and Pura Vida Divers.
Rainbow River, Dunnellon
A drift dive with the current along the clear, spring-fed Rainbow River in Dunnellon is among the best freshwater scuba diving experiences in Florida. With visibility up to 200 feet, it's easy to observe the flora and fauna of the river system, from gar and turtles to otters and anhingas catching their dinner. Guided drift dives are available though Mac's Sports Inc.
Wreck Trek, Fort Lauderdale
It's possible to see several wrecks in one drift dive along the Wreck Trek in Fort Lauderdale, which is made up of the Jay Scutti, Merci Jesus, and Tracey wreck sites. The vessels, which vary in size, were sunk in the 1980s and 1990s to depths between 50 and 72 feet. If the conditions are right, a diver can cover all three sites in a single dive, which can be arranged through South Florida Diving Headquarters.
Can You Scuba Dive Without a License?
Scuba diving is a thrilling activity that several people want to try. However, not everyone has the knowledge of how to go about it. Can you scuba dive with no experience at all? The answer to that question would be both yes and no.
Scuba diving does not require you to have any prior experience, but in that case, you will need to have a professional instructor with you at all times. However, the main question is whether you can scuba dive without a license? In this case, the answer would be no since you need a license, or in other words certification, to scuba dive.
Technically, it is not illegal to go scuba diving even if you do not have a license. It may be dangerous though, since you will have absolutely no knowledge of what you are about to face. Even new certification holders have no experience and would require professional instructors with them in the beginning. So, people with no certification and zero experience would be putting their lives in danger. Same as you would if you wanted to scuba dive without knowing how to swim, it just doesn't make sense to even try.
In current times it is not hard to get information online. However, online education is limited and will provide you with incomplete knowledge. That is why it would be better to enroll in one of the scuba agencies for a certification.
Can You Scuba Dive With No Experience?
Yes, you can scuba dive with no experience, but you will need to be certified. The correct training is necessary if you want to enjoy the activity without facing any dangers to your life. During your training, you will be taught the things you need to master to become a scuba diver.
Without first-hand knowledge, it would be hard to enjoy the activity to the fullest anyway. Moreover, it is natural that the first time you venture into scuba, you will have no knowledge at all. Experience is gained through several attempts, and some take more time than others.
In the beginning, you will need professional assistance so that you can remain calm underwater. The first time can be very overwhelming for some people and also scary. That is why having professional help would ensure that you are safe and calm. After having a professional by your side for the first few times, you can then enjoy diving alone.
What Do You Need To Scuba Dive?
You cannot go scuba diving without the necessary equipment. Proper scuba diving gear is essential to remain safe and enjoy this sport to the fullest. Below is a list of the essential dive gear that you should have with you.
Air cylinder
Regulator
Buoyancy Control Device
Scuba wetsuit
Weights with quick-release belt
You will get to know about this equipment in your certification courses. The instructor will inform you of the gear you need and the proper use for each.
You should always listen to your guiding instructor when you go on a dive. Even though this is a very safe sport, you will need to follow every instructions carefully. You can only remain safe if you are attentive to the tips that have been given to you. You must understand the functionality of every piece of equipment before you get underwater.
How Deep Can You Dive Without a Certification
In current times there is no shortage of good scuba diving classes and newcomers who want to enter the underwater world can get certification very easily.
If you are uncertified, you should never go diving without professional assistance. Even though there is no legal limitation to the diving depth, your driving instructor will set one for you. When uncertified, no driving instructor will take you more than 30 feet in depth. This is to maintain their control over you and prevent any life-threatening scenarios.
Even if you convince someone to take you deeper, you need to be very cautious. There have been many experience divers who have faced dangerous situations in shallow waters. Moreover, it is hard (near impossible) to find diving shops that will let you rent scuba gear without a C-Card.
Why is a Scuba Diving Certification Advisable?
Scuba diving certification is not necessary, but it is always advisable to get one. Not only can you freely enjoy the sport, but there are many other benefits to it. You will face certain limitations when you don't have one. However, these limitations are not present when you have a diver's license.
Scuba diving is not just about wearing the right gear and venturing into the water. There are many technicalities involved that you need to understand. Without the proper knowledge, it would be dangerous and not such a good experience. Check out the major benefits you get if you have a diver's certificate.
Safe experience
Safety is necessary, and this can be fully achieved when you have a scuba diving license. Diving is done mostly with a partner. If you have no basic knowledge about the activity, you are putting yourself and your partner in danger. There can be many emergencies while you are diving, and you need to handle these situations expertly.
If you drop your mask, do you know how to clear water from it and put it on again? Can you take care of your partner's diving suit if something goes wrong? Do you know how to use your gear properly? Many different issues can arise when you are underwater, and you cannot just depend on your partner to take care of those.
If your partner's gear has any issues and you do not know how to take care of it, then you will put their lives in danger. When you take the certification course, you will be taught how to handle each of these problems and many more. Learning about diver safety will save you and your partner's life underwater.
You cannot derive these invaluable lessons from the internet alone. You will need a professional scuba diver to teach you this first-hand. Instructors will also give you practical training on how to tend to your partner or correct your gear in emergencies.
Life-Saving Approach
You will be surprised to see the statistics related to scuba diving accidents and deaths. This is not just for amateur divers but even for professional divers. Most of these accidents happen due to no training or poor training. In ten years, almost 41% of scuba diving deaths were a result of insufficient air.
Since most local authorities have little knowledge about the sport, it is hard to tell what lead to the drowning. However, most cases could be a result of stress. Panicked breathings cause the air capacity of the tank. When you are trained properly, you will know how to handle these situations calmly.
More statistics show that death due to insufficient air was about 41%, whereas 20% of the deaths resulted from entrapment. Equipment malfunctioning also contributed to 51% of the deaths, along with 90 % of the deaths caused when divers were wearing weight belts.
About 85% of divers died when they were separated from their partners or were diving alone. Lack of buoyancy compressor inflations also resulted in 50% of the death in a ten-year study. Some even faced technical difficulties even before they ventured into the water, which led to their death.
When you have unknown emergencies, proper training is what will keep you calm. You will be in complete control of the situation since you will know what today to save your life.
Explore Underwater Without Harming the Marine Ecology
Underwater pictures and videos do not do justice to what is really beneath the water level. The view underwater is breathtaking and will leave you completely overwhelmed in a good way. That is why scuba diving is said to be a great stress-buster.
Many people make scuba their lifestyle and use it as a good stress-relieving exercise. You will find many rare creatures that you may not know about. When underwater, you will be exposed to another world that you need to venture into safely.
During certification training, you will be told how to approach life underwater. There may be certain creatures that you need to stay away from. Not every creature you see underwater will be harmless, and you need to know how to get past them. However, the main thing the instructors will tell you is not to touch anything.
Many divers touch everything they see underwater, which negatively impacts the wildlife and reefs. That is why you should take only pictures and do not destroy the sanctity of the underwater world with your touch.
Final Word

Scuba diving certification is necessary so that you can have a fulfilling experience. It also exposes you to important information about the equipment, precautions and underwater environment that you cannot get from the internet. Scuba diver's certificate gives you the freedom to explore the world beneath the water level with the necessary safety procedures.
My unbounded love for the oceans and everything it has to offer motivated me to pursue my passion and become a professional scuba diving instructor.
I keep reading, exploring, and learning more about scuba diving and the underwater world all the time, so I'm excited to share my knowledge with fellow scuba enthusiasts and hopefully contribute a little to your development as a diver. I want people to fall in love with the oceans with as much passion as I have. Read more about me here.
How To Go SCUBA Diving Without Being Certified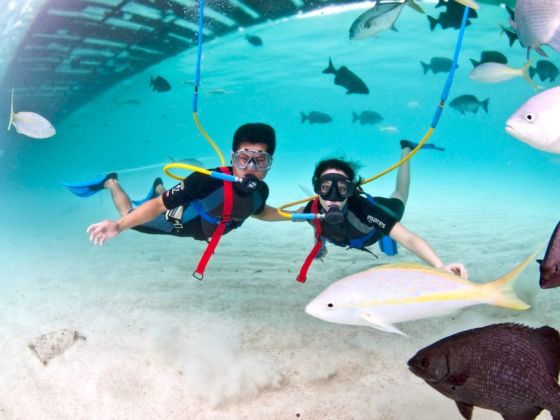 P erhaps you've found yourself in Australia, about to visit the Great Barrier Reef, but you didn't have time to get that certification to SCUBA dive before you left for your trip. Or you're nowhere near the ocean, but curious what it's like to breathe underwater.
SCUBA, Self-Contained Underwater Breathing Apparatus, lets you explore the underwater world and encounter extraordinary marine life in their own environment. However, since SCUBA diving can be very risky, you need to be certified to do it. That process can involve multiple classes and a few open water dives.
One thing you should not do is take up a casual offer to go diving, unless it's through a legitimate, instructor-led program for non-certified divers. That said, if you haven't had the time or the bandwidth to get certified, and still want to swim alongside sea creatures, here are a few safe options.
Introductory or Trial Dives
Also known as resort dives or discovery dives, most dive operators can offer curious first-timers an introduction to diving, which combines a guided "fun dive" with a preview of some the skills you'll learn on Open Water course.
These start with on-land training to orient you with the equipment and safety procedures, and to teach you the hand signals you'll need to communicate with your fellow divers. Then you'll get your first taste of what it's like to breathe beneath the surface, in either a pool or 'pool-like' conditions. Then you'll head to a shallow dive spot for an instructed-led tour of the reef and the local marine life.
Ocean Frontiers on the Cayman Islands offers a half-day "Resort Course" for anyone who can swim, is at least ten years old, and has completed a medical form. It starts with a training video and a quick quiz, followed by a shallow reef dive with no more than four students per each PADI-certified instructor. The four-hour session costs $149 per person.
In Hawaii, Maui Undersea Adventures offers introductory dives at the Four Seasons Maui, and you don't have to be a hotel guest to sign up. Instructors start with a 45-minutes lesson on the basics by the pool and, once you're ready, take you to the reef for a shallow dive. The costs is $129 per person, for people 12 and up. If you have a 10- or 11-year-old in your group, you'll have to shell out $258 per person for a private lesson.
Matador's Newsletter
Subscribe for exclusive city guides, travel videos, trip giveaways and more!
You've been signed up!
Follow us on social media.
Aquarium Dives
Many of the world's major aquariums offer dive experiences, giving you the chance to get up close and personal with the local residents from the other side of the glass. A unique aspect of aquarium diving is the fish are often completely fearless and used to approaching people closely, which can be pretty exhilarating – especially when the big guys come to the party!
The big guys being, well, sharks. Aquariums love to lure in thrill-seekers with these dives. At Deep Sea World in Scotland, anyone 16 and over can get instruction from PADI-certified instructors before going underwater to hang out – and probably keep very, very still – alongside a slew of ten-foot-long sand sharks. It costs £185 ($218) per person. There's also a £95 ($111) program for kids 8 to 15, which keeps them near the sharks, but not right next to them.
Another bonus of aquarium dives is that you can do them even if you're a thousand miles from the actual ocean, like in Denver. At the Denver Downtown Aquarium, non-certified divers aged 10 and up can breathe underwater for the first time in their Discover Scuba Diving program. For $205 per person, you get the basic training and then hang out alongside groupers and rays in their exhibit modeled on coral reefs.
Diving in an aquarium is still different to diving in open water. You're in an enclosed space, where bumping into walls and other objects is a genuine hazard. To prevent this, you'll generally go without fins and given a little more weight than normal, so rather than swim, you sink to the bottom and walk (or more accurately, bounce) around the aquarium floor. The feeling of weightlessness might be what it's like to walk on the moon.
SNUBA
SNUBA involves breathing air via a long hose connected to an air source floating on the surface. In SCUBA, on the other hand, your air supply comes from a tank strapped to your back. In SNUBA, you'll never descend below a comfortable six meters (20 feet), but most SNUBA locations are on tropical reefs where you don't need to go deep to see colorful corals and marine life.
While SNUBA is generally safe, it still involves breathing compressed air – so SNUBA sessions start with mandatory briefings on how to do so. The golden rule whenever you're breathing compressed air applies to both SCUBA and SNUBA. Never hold your breath and make a rapid dash for the surface, as lung expansion injuries can occur even in shallow water.
SNUBA is growing in popularity in resort destinations worldwide. The official SNUBA website lists SNUBA operators in over thirty distinct locations. You can SNUBA all over the Caribbean, Fiji, Hawaii, California, Florida, Australia, and the Canary Islands off the coast of Africa.
Green Island Reef Cruises offers SNUBA expeditions to the Great Barrier Reef at Australia's Green Island National Park, which is home to hundreds of types of hard and soft corals, as well as coral trout, angelfish, parrotfish, and dozens of species of underwater plants. Green Island Reef Cruises offers SNUBA for healthy swimmers 12 and older, at $159 per person.
In the Florida Keys, SNUBA Key West, will take adults and kids eight years and up on a SNUBA dive, following a safety introduction. Prices are $109 for adults and $89 for kids. You'll likely see stingrays, tarpon, and maybe a barracuda or two.
Source https://www.visitflorida.com/travel-ideas/articles/outdoors-nature-great-scuba-diving-in-florida/
Source https://www.divinglore.com/can-you-scuba-dive-without-license/
Source https://matadornetwork.com/read/go-scuba-diving-without-certified/