5 Cave Diving Horror Stories
My name's Austin, and I created OtterAquatics to help readers become better divers, help them buy their first gear, and plan their next dive vacation!
Last Update : August 2, 2022
Table of Contents
That being said, cave diving comes with heightened risk.
According to CaveDivers.com.au, 368 cave divers died between 1969 and 2007.
Cave diving is for the most adventurous of scuba divers. For those who are willing to push boundaries to the absolute limits.
It's technical diving at its most technical.
When things get more technical, more accidents happen.
This type of diving combines the claustrophobic subterranean exhilaration of caving with perilous aquatic scuba diving.
It might be risky, but it exists for a reason. It's exciting and exhilarating, and the people who do it, absolutely love it.
So if you're going to get involved with cave diving, do it safely.
In this article, we're going to talk you through 5 cave diving tragedies you should know about, as well as some tips on how to stay safe during your cave diving adventures.
#1 – A Recovery Gone Wrong
You might have read about Boesmansgat Cave AKA Bushman's Hole if you're a scuba diving fanatic.
It's the deepest underwater cave in the world, found in South Africa, laying low at 271 meters.
You may have also heard about Dave Shaw.
He's set world records, including deepest cave diving on a rebreather (equipment that lets you recycle air), in the cave that would later take his life.
During his first dive there, he came across the remains of Deon Dreyer, who was taken hostage by the cave in 1994.
He tried to recover the remains but it was impossible. He promised Dreyer's dad he'd try again.
In January 2005, Shaw embarked on his promise. It took him a mere 10 minutes to drop 271 meters to the cave's base.
In video footage taken by Shaw, it's evident that Shaw joined Dreyer in a fatality just 25 minutes into the dive.
He filmed his own death…
Shaw went down first to send up the remains. Shirley, his dive buddy, dropped shortly after, but there was no sign of Shaw. He dropped to 250 meters in search.
But Shirley's computer systems were breaking down, and he had to ascend.
A support diver couldn't find Shirley at their 80-meter meeting point, so he dropped another 40 meters.
He received a message on a slate saying "Dave's not coming back".
Days later, divers went to retrieve Shaw's equipment and discovered both bodies just 20 meters deep.
Attached to the nylon line Shaw had attached to Dreyer's remains, and become tangled in.
#2 – Tangled And Panicked
In 2014, two divers were taken hostage by a 100-meter deep cave system in Norway called Steinugleflaget cave.
In this tale, it was a case of entanglement and panic which lead to fatalities.
The start of the cave is simple. You enter the pond Plura and swim underground for 500 meters to the first cave.
It's well known as a beautiful dive for recreational diving. But there's more, for the less faint-hearted.
Go deeper, through narrow channels, pitch-black, ice-cold water, and you reach Steinugleflaget cave. A recipe for only very skilled cave divers!
A group of five set out to dive that day.
Only three returned.
At 110 meters deep, the leading diver, Gronqvist, realized the second, Huotarinen wasn't behind him. He turned and found Gronqvist tangled in the cord.
He was using his torch to alert of his distress. Gronqvist gave him a cylinder of gas to reduce his carbon dioxide exposure.
But while he was changing his mouthpiece, he swallowed water uncontrollably. Huotarinen died in front of his eyes.
Gronqvist couldn't free the body, despite his best attempts. He had to carry on.
Due to this delay, Gronqvist had to add a few hours to his decompression stops. He eventually surfaced safely.
Three more divers followed. Rantanen was next, and he managed to negotiate moving past Huotarinen's dead body.
Uusimaki panicked at the scene.
Rantanen was the final diver and tried to assist Uusimaki but without success. He returned the way he came, unfortunately having to leave his two friends' bodies.
#3 – Trapped In A Blue Hole
Shane Thompson became a victim of New Mexico's Blue Hole in April 2016.
He was a member of the ADM Exploration Foundation, who were given rare permits to explore the underwater caves which were sealed for 40 years.
At the bottom of the spring, there's a metal grate that stops divers going too deep. It was placed in 1976 after two training divers died. Beneath the grating, there's a maze of twisting, turning caves.
The Foundation came to the Blue Hole in 2013 in an attempt to further explore the Blue Hole beyond the grating. It took many attempts before they could remove the rocks above the grating.
On a fateful day in question, Thompson was supposed to be on safety duty, outside of the cave, while fellow cave diver Young entered. For unknown reasons, Thompson went in too.
Young tried to exit following a safety line, but silt had been stirred and there was no visibility.
Thompson pulled the line so hard that Young let go. Then as he was feeling for the line, Thompson became wedged against Young in a narrow passage about 35 meters deep.
After freeing themselves, something went wrong and Thompson started to panic.
He took a wrong turn and ended up in an unmapped offshoot leading nowhere. He was trapped.
Young eventually found Thompson, but he was already dead.
Although a tragedy, Thompson's family said they knew he died doing what he loved. He started diving at a very young age and spent his life working in the industry.
He'd worked for over 20 years as a technical rebreather diver, and was an instructor for the Navy – it was his life.
After the Thompson's death, Young announced the caves too unsafe and said they should be sealed for good. He said they were the most dangerous caves the Foundation had ever dived.
#4 – Decompression Disturbances
In 1991 there was a mysterious cave diving tragedy.
Two dive buddies, Turner and Gavin were mapping caves in Indian Springs in Florida, but only one came back.
During the dive, currents stirred silt and sand. Vis dropped from 30 meters to about 15 centimeters (80 feet to six inches).
They tried to ascend, but the passage out of the cave was blocked. Gavin managed to force his way out but when he returned for his buddy, he was nowhere to be seen.
Four divers who had already exited the water saw the water level bizarrely seemed to have abruptly dropped. Then kick up the silt and sand.
Following the disaster, the diving and geological communities were in tiffs about what exactly had happened.
Having spent years designing a scientific experiment to explore all of the possibilities. In September 2015, over 20 years after the incident, Doron Nof (Professor of Physical Oceanography at Florida State University) concluded what had happened.
The problem arose when the divers were doing their decompression stops. They were ascending within an air pocket, causing gas bubbles to rise to the upper surface of the cave.
The bubbles caused the buoyancy levels in the cave to change. It affected the stability of the rock and sediment in the walls and ceiling of the cave.
So loose limestone, which weighed more, fell from the walls and ceilings of the cave, blocking the narrow passage below.
Imagine a mudslide but underwater.
This is what caused the blocking of their passageway, and of course, the stirring up of the bottom, causing total visibility blackout.
#5 – Stirred Up Silt
Agnes Milowka, a stunt diver, tragically died in an event strangely similar to that she had acted in the movie 'Sanctum'.
Agee just 29, the labyrinth of tunnels at Tank Caves in Australia, took her life in February 2011.
Milowka was an adventurous cave diver, who loved exploring to an obsessive degree.
Her skilled cave diving abilities led to her involvement in many documentaries and diving projects.
Mount Gambier in South Australia is famous for its complex combination of sinkholes, caves, and kilometers of underground waterways.
Tank Caves requires expert navigation, through tight restrictions and often limited visibility.
A lot of the cave system is very fragile. The walls and ceiling are soft, and you have to breathe carefully.
If you exhale too hard, the bubbles displace the ceiling, which falls on you!
Causing bad vis, or worse, small restrictions to become even tighter.
Milowka dived at Tank Caves many times and knew it well. Yet, somehow during her last dive, she became separated from her dive buddy.
She became lost after stirring up silt from the cave walls and floor. She wasn't quite able to find her way out of the cave and ran out of air while doing so.
Evidence suggests she remained very calm until her last breath.
On the day she died, no one's sure of exactly what happened. She appeared to leave her buddy and never returned. They identified the location she was last seen, but never what caused her to die.
The following day, her body was recovered about 500 meters from the entrance of the cave.
4 Florida Diving Accident Tragedies
Devastating Scuba Accidents Off the Florida Coast That Have Caused Catastrophic Injury or Death
Few Florida tourists expect to be involved in a tragic accident during a dive or snorkeling excursion. Unfortunately, these accidents happen and result in unimaginable pain and suffering for their family. Scuba accidents can happen for several reasons, including operator inexperience, inattention, or negligence.
If you or someone you love has been involved in a diving accident in Miami or along the South Florida coast, contact Mase Mebane Seitz for a free consultation. Our experienced trial lawyers have obtained millions of dollars on behalf of injured parties and their families. Call our office at (844) 627-3529 to discuss your legal options.
Fatal Palm Beach Dive Accident
On March 29, 2020, a 37-year-old woman was killed on a dive excursion when she was sucked under the boat and into the propellers, according to the Orlando Sentinel. Her widower is now pursuing a wrongful death claim against the scuba company that operated the dive trip. It was only the third time that the operator had taken the boat out, which had mechanical problems on both of the previous trips.
The incident occurred just after the couple had completed their dive and signaled for the dive boat to retrieve them. The operator, who allegedly had previous difficulty maneuvering the boat, put it in reverse causing both divers to become "entangled in the propellers."
2 Killed and 1 Injured During Florida's Lobster Mini-Season
Two men were killed and one was injured while diving for spiny lobsters during the 2021 mini-season. As reported in the TCPalm, a 35-year-old man died after struggling in the water just before a planned dive.
Another man died after going into cardiac arrest, and a third person was severely injured while diving for lobsters after the diver was hit by a boat's propeller. The man had to be airlifted to a nearby hospital due to the severity of the leg injury.
Missing Diver's Body Found Near Vandenberg Wreckage Off Key West
In March 2021, the body of a diver was found near the Vandenberg shipwreck off Key West. Jordan Jay Fisher of Rockport, Texas was scuba diving with her husband, two other divers, and a divemaster when the tragedy occurred. She was missing for a day before her body was found.
NBC Miami reports that the group of divers lost sight of Fisher after the dive master signaled for them to return to the surface. The shipwreck has been the site of numerous fatal dive accidents, including the recent death of a 50-year-old man.
Woman Dies in Florida Keys Snorkeling Accident
A 61-year-old woman died during a snorkeling excursion in the Florida Keys, according to the Patch. Despite lifesaving efforts, the woman died after becoming unresponsive during the trip.
In an unrelated matter, a 21-year-old diver had to be rescued after returning to the surface unconscious and not breathing. She was later transported to the hospital as a result of her injuries.
Injured in a Diving Accident? Contact Mase Mebane Seitz for a Free Consultation.
Diving is a popular tourist activity in South Florida, but there are several dangers that divers must be aware of. Diving accidents can be caused by several factors, including equipment failure, operator negligence, and inadequate safety measures.
If you were seriously injured or lost a loved one in a diving accident, contact Mase Mebane Seitz for a free consultation. We may be able to help you obtain compensation for your losses. Call (844) 627-3529 to get started.
Why do Diving Accidents Happen and How to Avoid Them?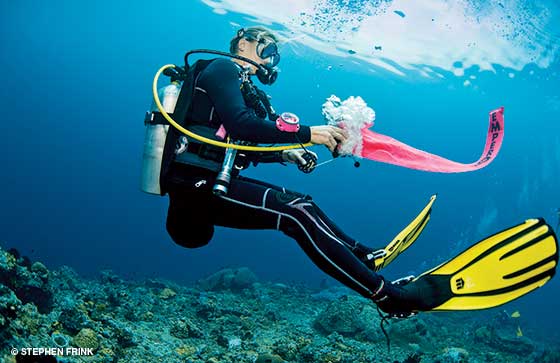 deploy smb
Diving accidents happen but they could often be prevented. On June 16, 2015 a diving accident occurred in Dutch Spring, Pennsylvania. A 41 year old scuba diver was found in the water unresponsive at the Dutch Springs Recreational Area.
The cause of death has not been released, however, that did not stop the local newspapers from claiming the area is dangerous and making calls for an investigation of the business.
The recreational area is a converted quarry with a 50 acres (20 hectare) land area and an equal sized water area. The quarry has sloped sides with an assortment of underwater attractions and has a maximum depth of 100 feet.
Most of the items placed as underwater attractions which includes trucks, buses and an airplane are around 50 feet deep. The park is one of the most popular diving locations on the east coast and is frequently used for training. There were an estimated 70,000 dives done last year at the park. The park has had 16 deaths in the last 30 years.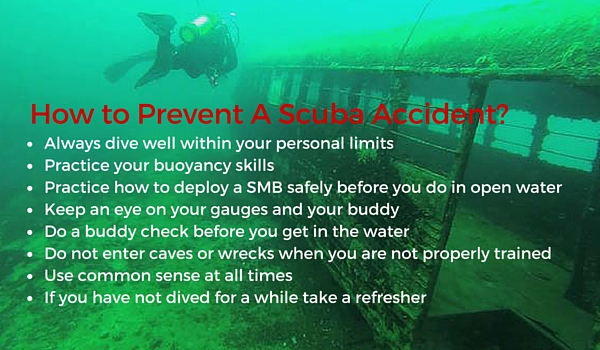 Follow these rules to prevent a scuba diving disaster
The opening line of the newspaper article – "In the thrill-seeking world of scuba diving" – alerted me that the article would be negative about dive safety.
Later in the article was a statement – "a recreational diver from Bethlehem, said Dutch Springs should post signs indicating the number of fatalities it has had as a way to drive home warnings about the dangers" – that further showed the journalist knows nothing about diving.
Quarries seem to have a higher numbers of accidents, but the high concentration of dives is a reasonable explanation. I cannot image 70,000 dives a year on my favorite reef.
Scuba diving is a prime example of proper risk management.
Diving is an inherently dangerous sport and yes, diving Accidents do happen. However, advancement in equipment design and proper training has brought the risk to a level that recreational scuba diving is no longer considered an extreme sport but a family sport.
When you make comparisons between sports using serious injuries and death as the measurement, Scuba diving falls slightly below horseback riding and golf and just above that ultra-dangerous sport, table tennis.
Why do Diving Accidents Happen?
Due to the environment and the lingering believe it is dangerous, scuba diving accidents are investigated and reported more deeply than other sports. Organizations like the Diver Alert Network (DAN) and the British Sub-Aqua Club (BSAC), maintain records and statistics of diving accidents with the goal of avoiding future incidents. Both of these organizations provide annual reports on their websites.
While the BSAC report covers a smaller group, BSAC divers and dives within UK waters, it provides a broader look at diving incidents including dive related surface events. I highly recommend all divers review the reports.
As you read these reports and other items that talk about diving accidents especially fatal ones, clear patterns emerge. Panic plays an important role in the majority of the accidents and very often divers going beyond their limits is the trigger.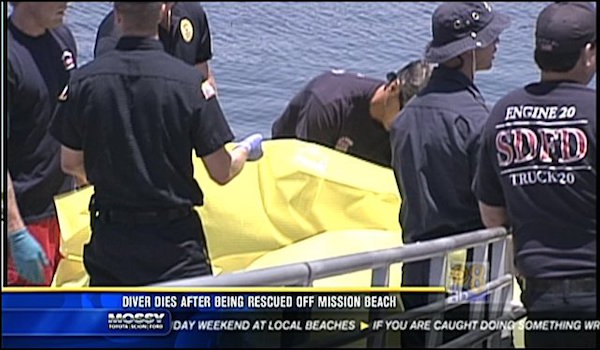 Dive Safe and Avoid Diving Accidents from Happening
Rapid Ascents Cause Diving Accidents
In accident investigation and management, the term trigger is often used. The event trigger is the first thing that occurred in the chain of events that lead to the actual accident. It may have been a seemly minor item, such as a leaking mask, however, it led to the next step and onward until all control was lost. In reality, you can say a definition of an accident is the total loss of control of an event.
A rapid ascent is the largest cause of injury and death in scuba diving. DCI (decompression illness) and air embolisms are the largest two groups of injuries. Rapid ascent is the main factor in DCI when a cause is known. In an estimated 36% of all the incidents, the rapid ascent was the result of a panic reaction.
A reported death illustrates the power of panic.
A father and son were diving a wreck with the son being a newly trained diver. The father diving around 90 feet was slightly above the son and was watching him. Unfortunately, he was not paying attention to his gauges, and he was diving into a current.
The father ran out of air, but instead of clear thinking and relying on training, the father bolted to the surface. As the father ascended, the expansion of air in the tank gave him a few extra breaths. Around the 30 foot depth, the father seemed to recover from his panic and realized he had added a pony bottle to his equipment.
In his panic, not only did he forget about his dive buddy's octopus, but he also forgot his alternate supply. The son joined him, and together they made it back to the surface. However, prior to boarding the boat the father lost consciousness and died. The cause of death was an air embolism.
In this case a trigger of failing to monitor his gauges lead to running out of air that created a panic reaction that lead to a rapid ascent and death. The diver had two options that would have resulted in no injuries if he had not panicked.
Poor buoyancy control can lead to death
Poor buoyancy control is the second leading cause of rapid ascents accounting for 27% of the accidents.
As a diver ascends the air in his jacket expands and increases the rate of ascent. Many divers that start a minor uncontrolled ascent fail to take actions before the momentum make it more difficult to do so.
Their body position also may make it difficult to vent all the air from the BCD. Flaring your body to increase drag while dumping air can assist you in regaining control. These are skills learned in OWD training but often forgotten and seldom practiced.
If the situation were caused by the diver being underweight, they should have recognized the problem occurring as the cylinder started becoming more negatively buoyant. Aborting the dive early, notifying the dive buddy of the problem and returning to an anchor line if there is one can help control the situation, so it does not become an emergency.
Learn how to deploy your Surface Marker Buoy
The third major reason in this group surprisingly deals with the incorrect deployment of a DSMB. 26% of the incidents involve the deployment of a Delayed Surface Marker Buoy (DSMB). While not a skill that is taught in detail, it is a task that is becoming more common.
If You are not well trained or are careless, it is easy to become entangled in the line and pulled to the surface. Practice deploying a DSMB at a depth that the device cannot pull you to the surface.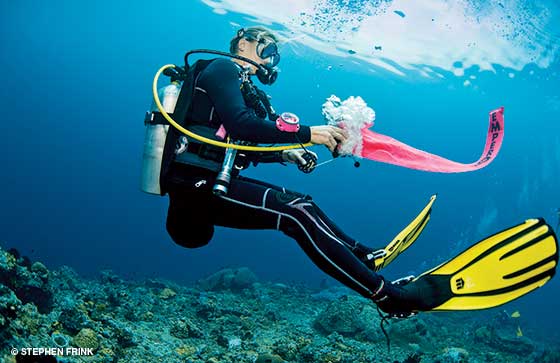 Know Your Limits
When we take our open water training, we are taught how to react to a variety of situations. It is a good foundation to grow our diving skills and become more comfortable and confident underwater. It does not make us experts, though, by repeated diving and slowly challenging ourselves we become better divers.
However, open water divers are limited to 66 feet/20 meters varying slightly between agencies. The reason is that once we descend past this mark the additional risks become more important to understand.
Nitrogen narcosis is a mere mention in OWD training, but a very important risk to understand and recognize as you approach the 30-meter mark. Exceeding your bottom is not likely to happen in less than 60 feet. Most divers will run out of air first.
An Australian study a few years ago showed hookah divers a.k.a SNUBA with a DCI rate ten times greater than scuba divers. No one told them the dangers of staying down and the surface supply air came as long as the pump was running. Advance open water training is a must if you want to go deeper than OWD depths.
Many accidents can be traced back to a diver being in conditions they were not able to handle. Often they were in situations they were not trained for like; Deep diving, penetration of wrecks, and advance conditions such as low visibility and currents.
Many recreational divers do not know that diving in a dry suit requires skills not taught in other courses and are not something you just go out and try. Finding themselves in situations beyond their understanding and ability to respond to is another trigger that can lead to a panic response. There is no clear answer what causes diving accidents because it involves so many factors.
Panic is clearly a major component. Training, muscle memory and clear understanding of your diving environment can help us overcome a panic reaction. The more frequently we dive using good practices, the better we become at our responses and avoiding panic.
Key take aways to prevent a diving accident from happening
Always dive well within your personal limits
Practices makes perfect! Practice your buoyancy skills
Practice how to deploy a DSMB safely before you do so in open water
Keep an eye on your gauges and your buddy
Do a buddy check before you get in the water
Do not enter caves or wrecks when you are not properly trained to do so
Use common sense at all times
If you have not dived for a while take a refresher to practice the basic skill for safe diving before you take the plunge.
What are your thoughts about how to prevent diving accidents? Did you ever witness an scuba accident? Let us know in the comments below
This article is published by The Scuba Page, the online magazine for Scuba Dive lovers around the world. The Scuba Page is part of RUSHKULT: the online booking platform for adventure sports. Visit the RUSHKULT platform to book your next Scuba Dive training, guided trip and accommodation.
Source https://otteraquatics.com/diving/cave-diving-accidents/
Source https://www.maselaw.com/news/4-florida-diving-accident-tragedies/
Source https://rushkult.com/eng/scubamagazine/scuba-diving-accidents/