Rafting in Yosemite
Rafting in Yosemite may not be the first thing that comes to mind when planning a visit. However, there are plenty of places to try it out for people of all levels.
While most visitors to Yosemite come to see the stunning waterfalls or take photos of the breathtaking views on one of Yosemite's many hiking trails, there is still an array of other experiences that many may not be aware of!
Rafting in Yosemite is a great experience for any age, background, or fitness level. In fact, it is fun and exciting for all types of people. Rafting in Yosemite can be arranged through many different companies or even on your own.
It's easy to find the right trip or tour to suit each visitor even if it is only for one day. The most popular rivers are the Tuolumne River and the Merced River.
They are both in stunning locations with rapids that are perfect for anyone adventurous and many visitors choose to stay nearby. In fact, there are plenty of hotels and RV parks nearby.
The Tuolumne River flows through scenic meadows, waterfalls, steep granite cliffs and offers panoramic views of Half Dome, Cathedral Peak and Cloud's Rest.
The Merced River on the other hand has an easier river grade with small rapids that can be navigated by anyone who has not rafted before.
These rivers produce amazing memories that will last a lifetime. In fact, rafting in Yosemite should be added to everyone's itinerary even if it is for 3 days. This guide runs through the best places to raft, what to pack, the best time to visit and whether they are kid-friendly.
Yosemite Rafting: Best Time to Raft
It is not possible to go rafting in Yosemite all year round, the best time is in April May June and July. This is because rapids are caused by the snowfall melting. Just like the waterfalls when the snow melts at the end of winter, the rivers are flowing.
When the snow melts at the start of the season, the rivers run fast and the rapids are high. As the months go on the rapids start to decrease. There are still a few rapids in July, but as it gets closer to fall the rivers start to calm down.
To give a better idea of the kind of rapids to expect, the Merced River is Class III-IV. The classes decrease as the snowmelt decreases.
That being said, this information is just a guide as it all depends on the amount of snowfall and the weather. Always check before setting off.
The Tulhome River is Class IV all season. This is the river guests should head for if they have a bit of experience under their belt. If they want to test the waters then the Merced River is the better choice.
The Merced River is also a great choice for those that want to combine rafting with their trip to Yosemite.
Rafting at Yosemite Valley
One of the most popular places to raft is in Yosemite Valley. It is possible to rent a raft at Curry Village right by the river.
At the moment it is not possible to reserve a raft online or over the phone. All reservations must be made in person. Due to this and the demand, many visitors can be disappointed.
To avoid this bring your own raft and then there are no reservations needed. Before putting in your raft, there are a few things to remember.
First, all rafts must be put in at Stoneman Bridge and taken out at Sentinel Beach, as it is not possible to do this anywhere in between.
The gauge height is taken at Pohono Bridge every day and it dictates whether or not the river will be open for boating. If the level is below 7 feet at 8 am then the river is open.
Another point to remember is always have a personal flotation device. These must always be nearby but worn if the gauge height at Pohono Bridge is above 4 feet at 8 am. All kids under the age of 13 must wear one at all times.
If visitors are travelling to Yosemite with kids, note that this activity is not suitable for small children.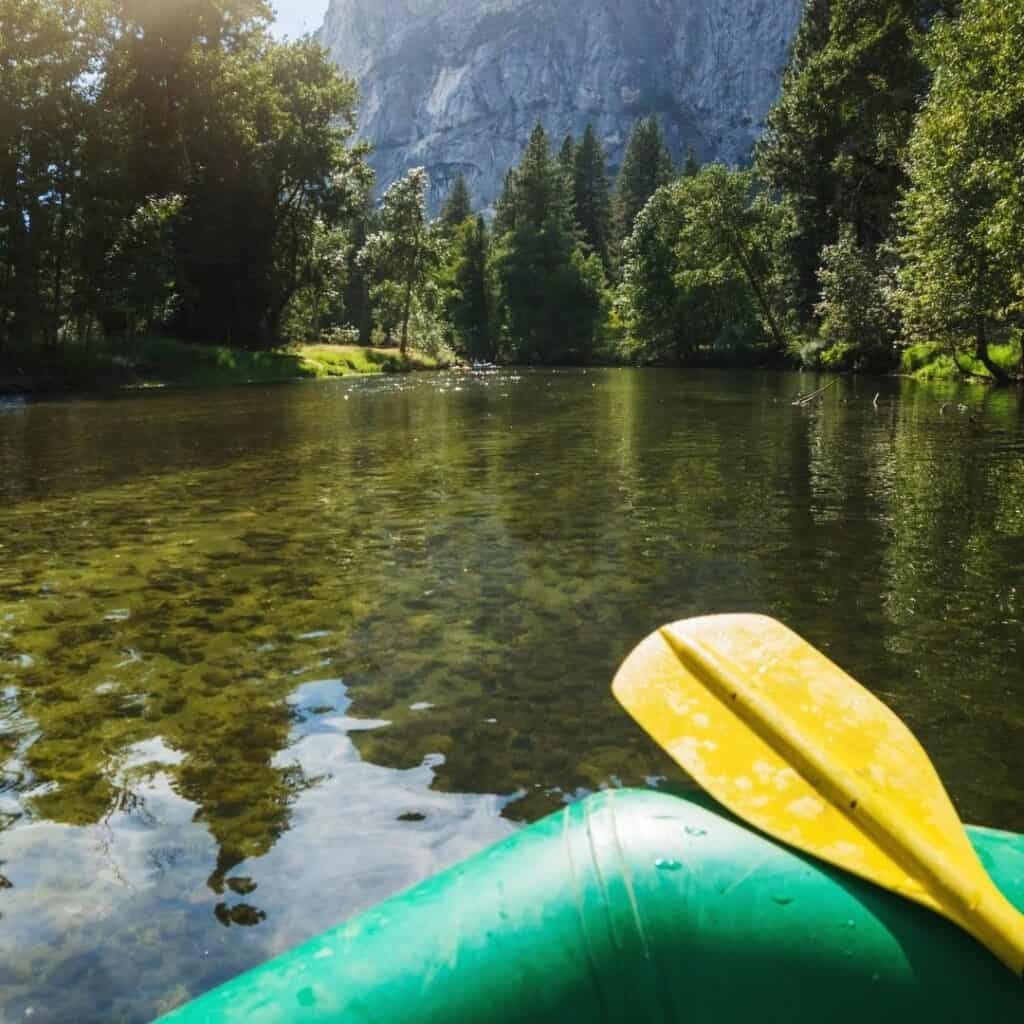 Rafting in Yosemite
White Water Rafting Yosemite
As the Merced River leaves the Valley, the rapids start to increase. This makes it great for some white water rafting.
Just over an hour from the Valley are plenty of places to hop on a raft and head out on an adventure on the Merced River. Many of the tours leave from El Portal or close by.
Zephyr Whitewater Expeditions is one of the oldest and most popular places. There are several tours to choose from including a full day, morning half-day and also an afternoon half day of rafting in Yosemite.
All of the tours include wetsuits, helmets and life jackets. The full-day trip includes lunch. Older kids can join, however, it is not considered kid-friendly as there are age restrictions depending on water levels. As a guide, kids as young as seven may be able to participate.
Rafting in Yosemite
Rafting Yosemite
One spot on the Merced River to try rafting is with Sierra Mac River Trips. It is about an hour and a half from Yosemite Valley and around 11 miles east of Mariposa, California. This makes it a great choice for visitors to Yosemite.
Again, there are three types of trips to choose from. Full-day or half-day, morning or afternoon. No matter the type of trip, a safety talk is given on arrival. After guests put on their wetsuits, the shuttle takes them to the river.
On a full-day trip guests raft for 16 miles, with a stop for lunch in the middle. For half-day trips guests raft between 5 miles and 11 miles, depending on the time of year. Trips at the start of the season being the longest.
The age restrictions are the same and the minimum age is 10 years old in the spring. This lowers to age 7 in summer as the water drops.
Rafting in Yosemite
River Rafting in Yosemite
A trip with Oars promises to be a thrilling experience when rafting in Yosemite. The trip starts at The Cedar Lodge, which is located just outside Arch Rock Entrance in El Portal.
Guests raft for nearly 18 miles and there are some beautiful spots to see along the way. Right at the start of the trip, at The South Fork, there is a beautiful display of wildflowers.
As guest manoeuvre their rafts along the river, the rapids change from Class IV to Class II (in April and May) at various intervals. This gives guests plenty of chance to catch their breath throughout.
Guests also stop for a picnic lunch on a sandy riverside beach. Wetsuits need to be worn at the start of the season as the water is very cold. However, add it to a packing list as they are not included on the trip.
The age restrictions are slightly different on this trip. In high water, only kids aged twelve and over are allowed and kids as young as 9 can join in when the water level drops.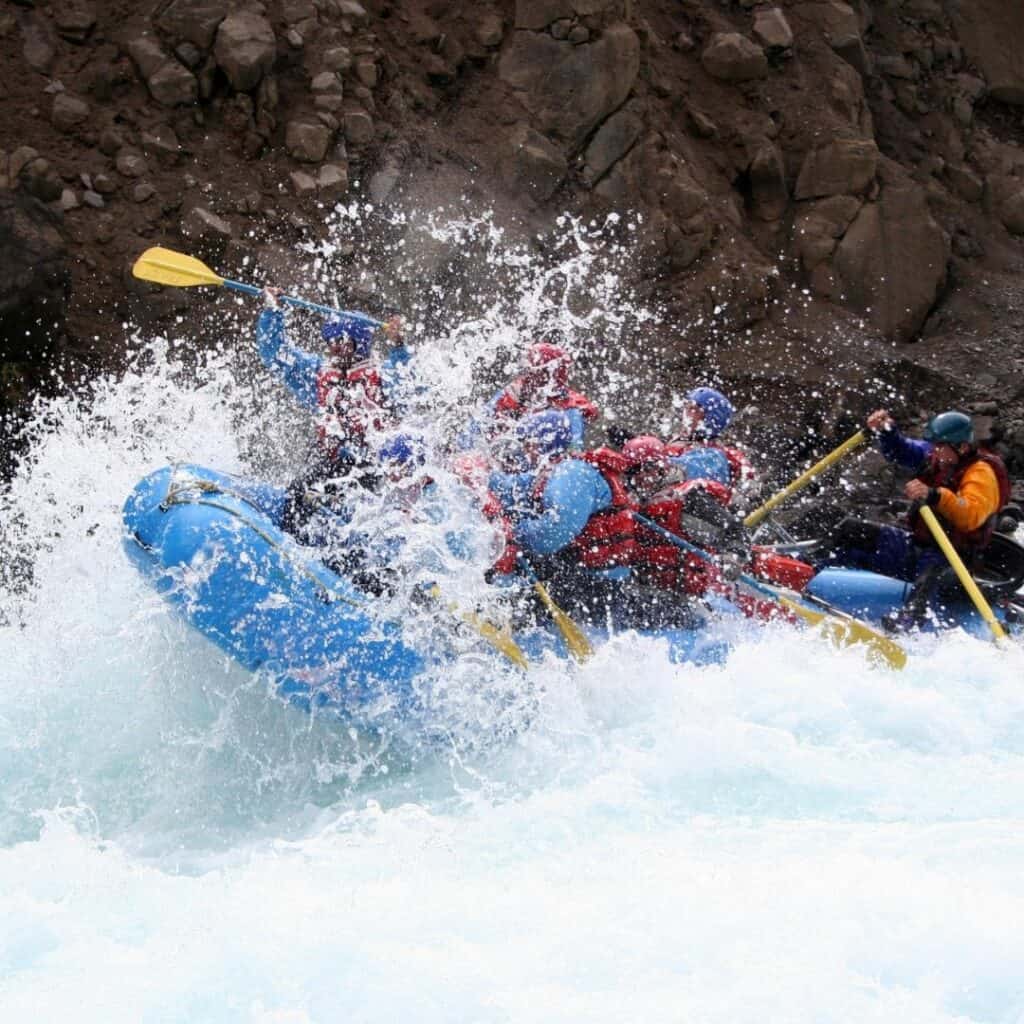 Rafting in Yosemite
Yosemite Kayaking
If rafting seems too adventurous then kayaking might be a more suitable activity for an itinerary. Kayaking is available on the Merced River and Tenaya Lake. Currently, there is nowhere to rent kayaks in Yosemite, visitors must bring their own kayak.
Just like rafting, the starting point on the Merced River is Stoneman Bridge in Curry Village. Visitors also finish at Sentinel Point Beach. This is a great place to finish as there is a beautiful picnic area nearby.
Bring a packed lunch along to end the trip along the river. If the park is busy, it might also be a good idea to bring a picnic blanket in case all the seats are occupied.
The Merced River is a great place for rafting in Yosemite but if visitors are looking for somewhere a little more peaceful, then head to Tenaya Lake. The lake is usually quiet and offers some stunning views.
Kayaking is usually available until September, but this is again dependent on the weather and snowfall.
Before jumping into a kayak, always make sure that it is safe to do so. There can be times when the river is too dangerous. Have a look around for signs, or ask a ranger.
Anyone who uses a kayak whether it is on the Merced River or Tenaya Lake must wear a life jacket.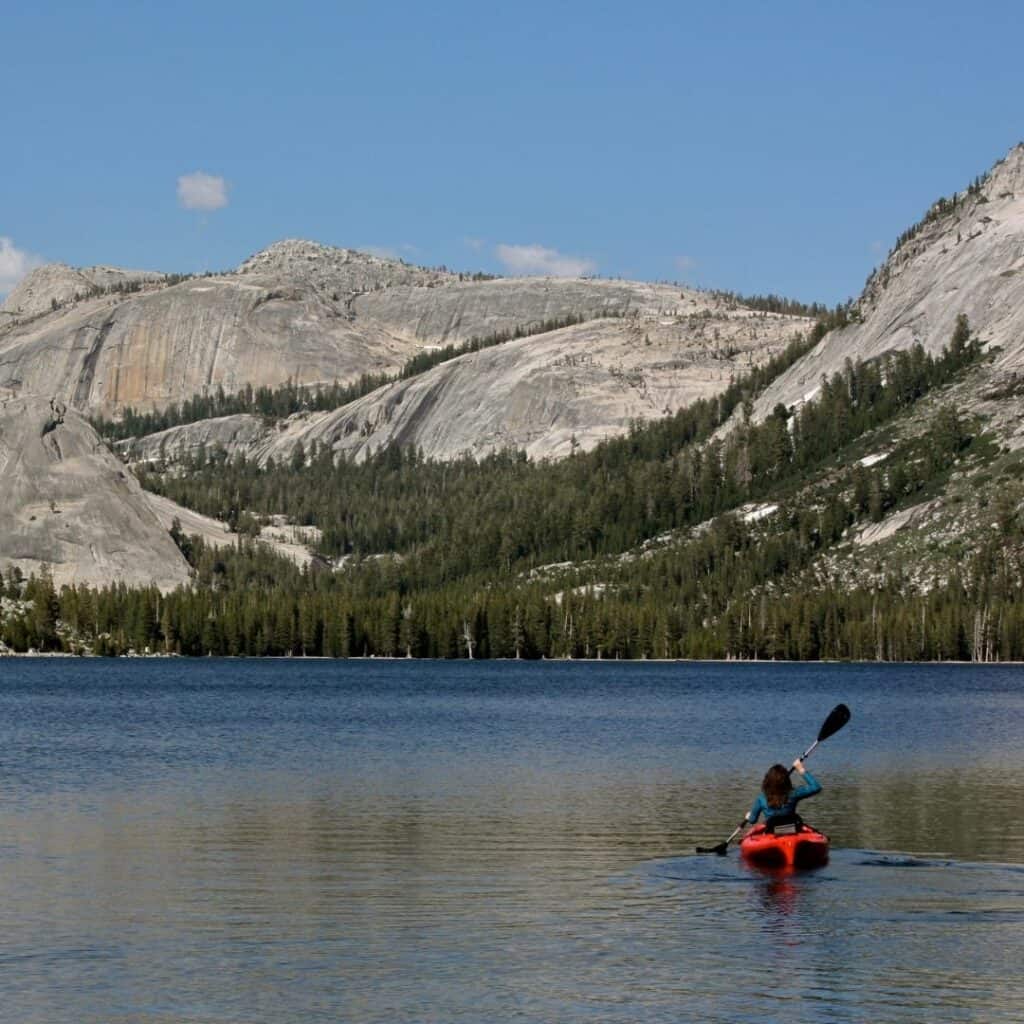 River Rafting Near Yosemite
If visitors would like to take their adventure to the next level when rafting in Yosemite, they can choose to raft on a Class IV river. A trip on the Tuolumne River gives visitors the choice of turning their one day trip into two or even three days.
As well as an exciting day on the river, visitors can add on hikes to nearby waterfalls or a craft beer tasting session. Trips with Oars start 8 miles east of Groveland and many run from march until early fall.
Whitewater rafting on the Tuolumne River is not for the faint-hearted. While the majority of the season the river is Class IV, at times it can reach Class V.
Children aged 14 and over are welcome to join, however, if the water levels are high then it is only suitable for those aged 16 and over.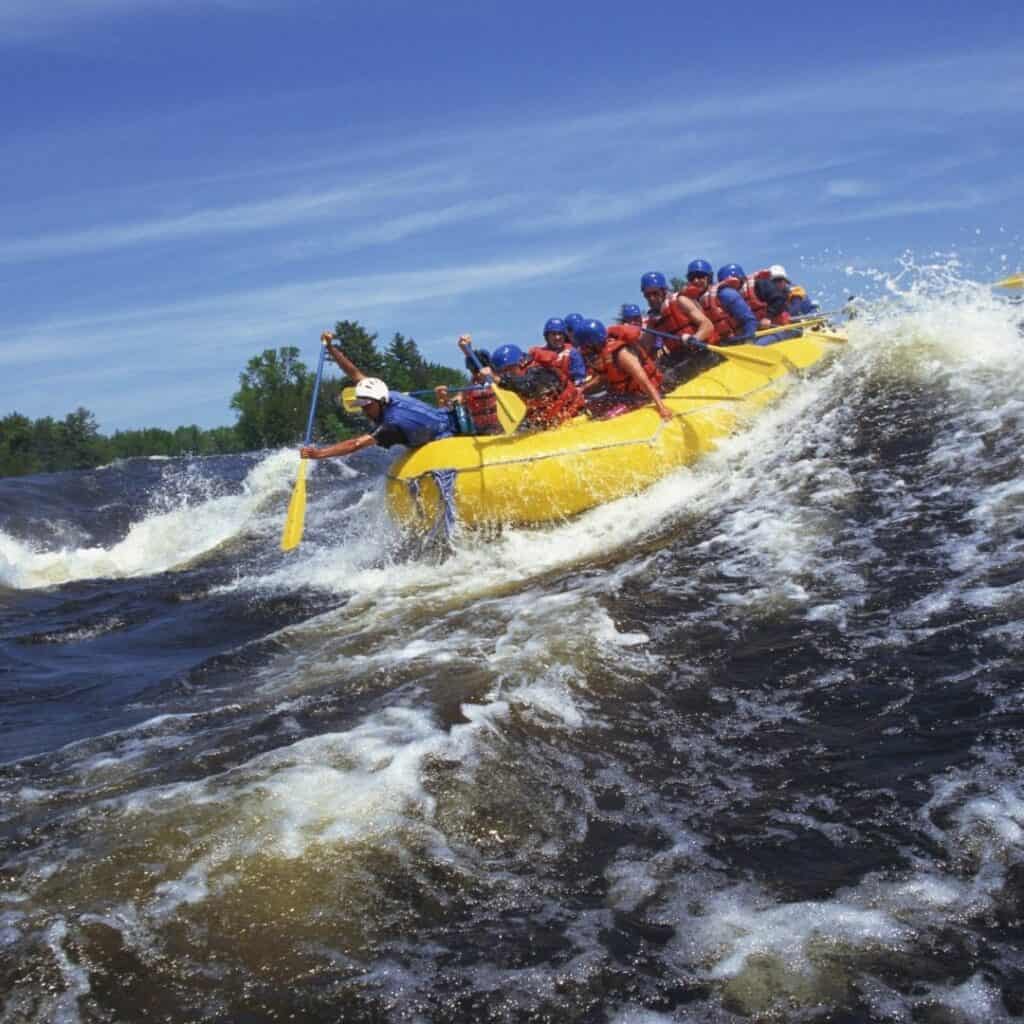 Rafting in Yosemite
Yosemite Valley Rafting & More
Rafting in Yosemite is just one of the many activities visitors can enjoy when visiting. As the summer months, July and August can be very hot, there are plenty of places to cool off in Yosemite.
Many visitors either dip their feet in the river or go for a swim. Throughout the park and around the Valley are many beaches and swimming holes.
While it is possible to swim in many places, there are a few exceptions. Check out the website for a list or keep an eye out for signs.
In fact, it is important to always be aware of signs as the rivers can change day to day and maybe dangerous at times.
When the water levels are less than 6.5 feet at Sentinel Bridge, it is possible to float down the Merced River on an inner tube float.
With the water at this level, it can be very relaxing and it is popular with families. It is possible to rent a raft or bring an inner tube float along.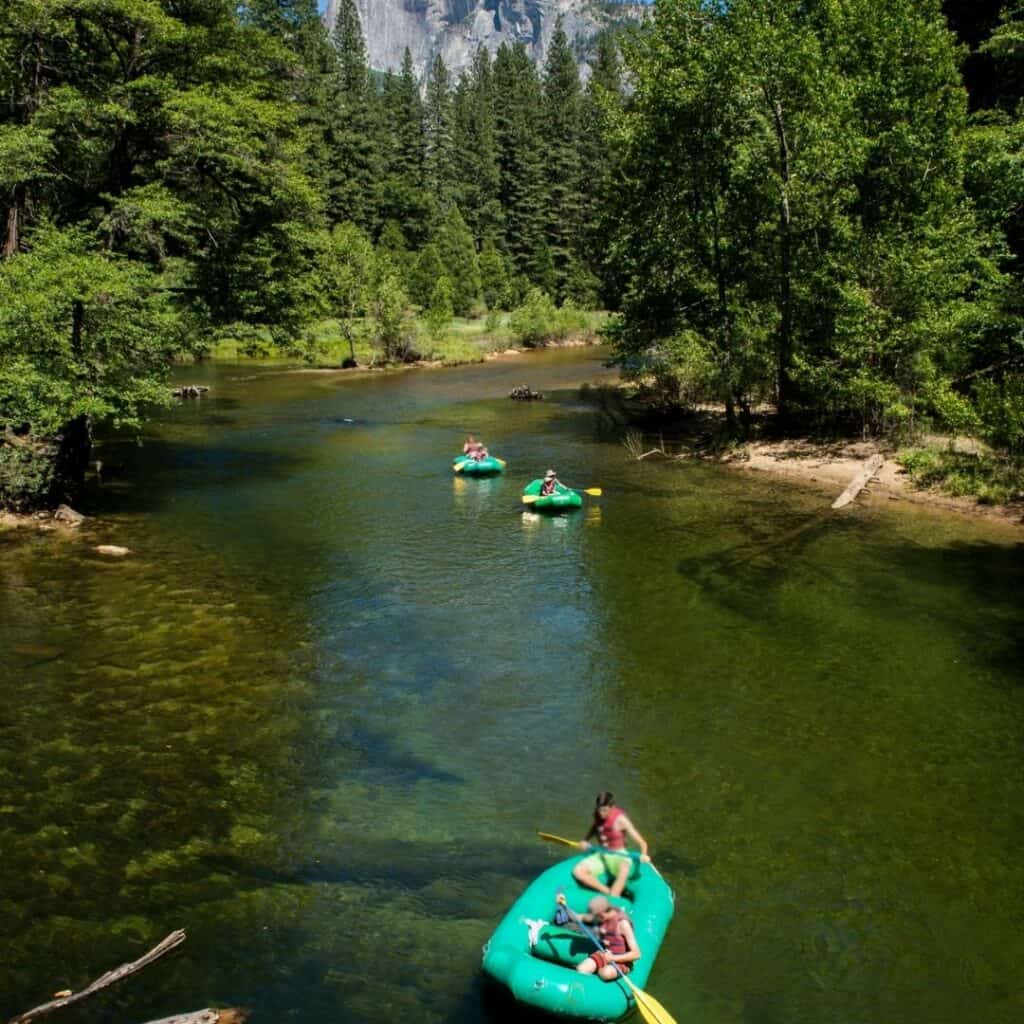 Rafting in Yosemite
Near Yosemite National Park Kayaking & Paddle Boarding
A few hours from Yosemite Valley is Lake Tahoe. This area is very popular and many people add kayaking and paddleboarding to their Lake Tahoe 3 day itinerary. Unlike Yosemite, there are plenty of places to rent a kayak.
Paddleboarding is another option and it has become increasingly popular in the last few years. It is easy to learn and visitors can rent a paddleboard in Lake Tahoe.
Complete beginners might want a helping hand and to learn the ropes from a professional. Lake Tahoe Kayaking or Paddleboarding Tour is the perfect choice.
After the lesson, take a tour of Lake Tahoe's pristine coastline. A professional guide is with visitors at all times to offer paddling tips as well as discussing the scenery on the crystal-clear waters. With the Sierra Mountain range in the background, it is the perfect spot to try out a new skill.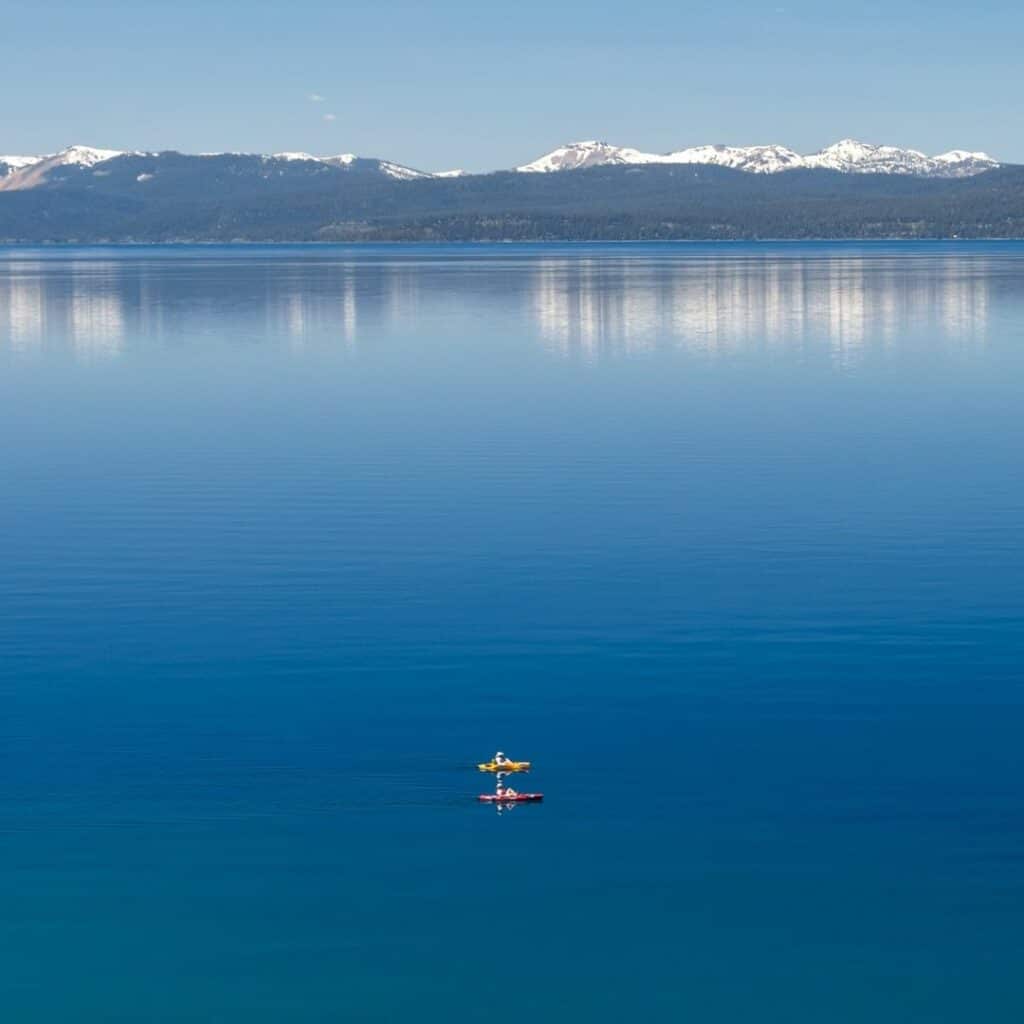 Rafting in Yosemite
River Rafting Near Yosemite
Yosemite is not the only place in the area where rafting can be enjoyed. The American River is north of Yosemite and is a fantastic tour from San Francisco.
This all-day adventure lasts 10 hours and it picks guests up from San Francisco at 7 am and takes them to the American River for the trip of a lifetime. This river rafting adventure is 8-10-miles and is full of twists and turns along the way.
This River Rafting trip has class III rapids. This means that no experience is needed and it is suitable for kids aged eight and over. Wetsuits, lunch, snacks and bottled water are all included in the trip.
Camping When Rafting in Yosemite
Most visitors to Yosemite choose to camp or stay in an RV park. As this is the most popular option, it is difficult to make a reservation. However, there are a few campgrounds that allow walkins, perfect for a one day trip.
Staying around Yosemite Valley is a great option when rafting in Yosemite. North Pines Campground is one of the most popular places to stay.
It has breathtaking views and the location is perfect for hopping on and off the shuttle. The Merced River isn't too far away either.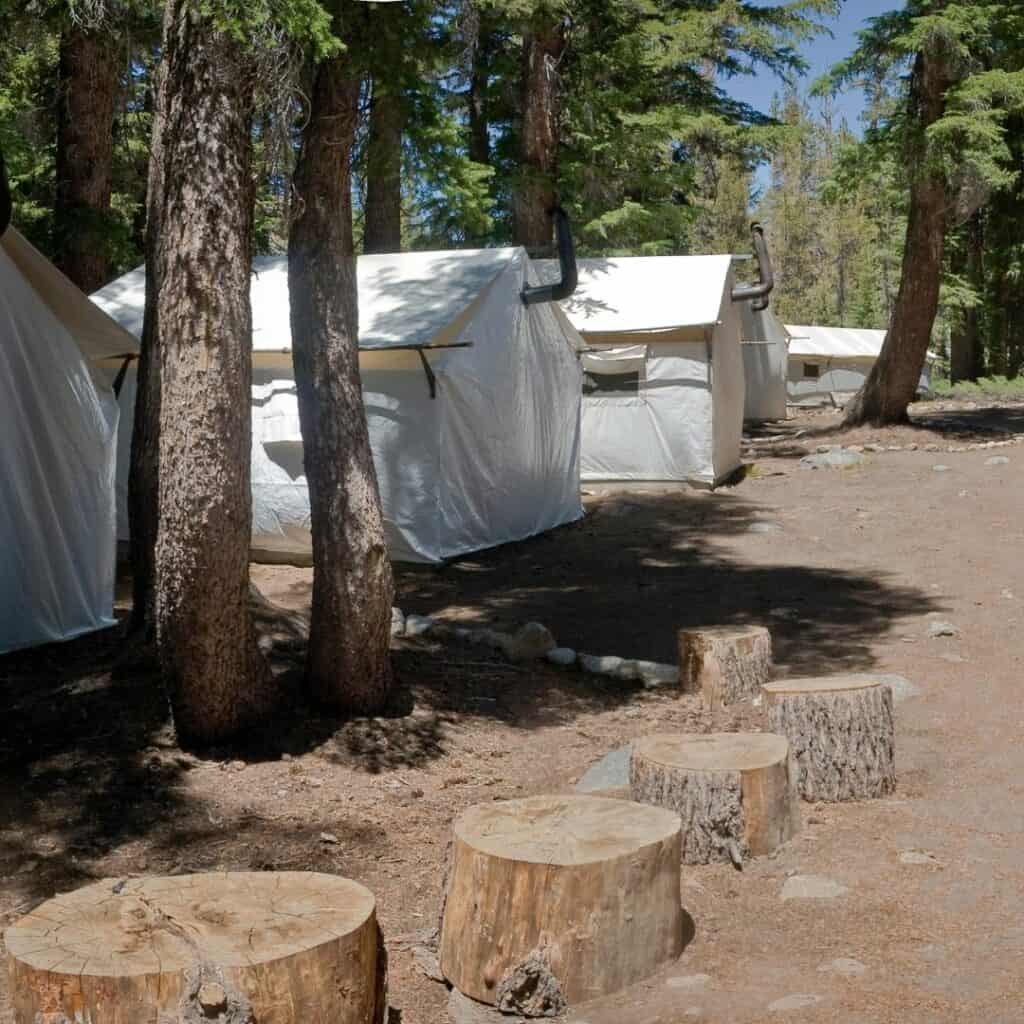 Rafting in Yosemite
Hotel When Rafting in Yosemite
Yosemite Valley Lodge is 750 yards from Yosemite Valley. This makes it a great base to head to if visitors plan on spending a lot of time rafting on the Merced River.
The hotel also offers spacious rooms and a restaurant on site. If visitors are rafting in Yosemite then it is also the best time to see the waterfalls.
Yosemite Falls is right beside the hotel and guests can enjoy spectacular views. The hotel is in high demand so make a reservation early.
Rafting Near Yosemite National Park
For those who want to go rafting near Yosemite then consider staying in El Portal. The Merced River runs through the town and many of the private tours start nearby.
Yosemite View Lodge has four pools and even a hot tub on site to relieve those tired muscles after rafting in Yosemite.
Many of the rooms have fantastic views of the river and it is only a ten-minute drive to Yosemite National Park.
Things to Know Before Rafting in Yosemite
Rafting in Yosemite can be a fun and exhilarating experience. However, before setting off there are a few points to consider.
In Yosemite, it is important to always read the signs. The water levels are measured every morning and the rangers make decisions about whether rafting or kayaking is allowed. If for any reason visitors are unsure of whether to go in the water, ask a ranger.
A life jacket is required for everyone when rafting in Yosemite. While it can be sitting beside visitors in the raft, it should be worn at all times for children under the age of thirteen.
If visitors decide on a tour they should be aware of the meeting point. Phone coverage is not good in the area, so it is best to know where to go before hitting the road.
The information is usually sent out with the ticket confirmation so it is important to scan this before leaving.
This is due to the fact that the meeting point is not always at the office so please be sure where to go before leaving. If visitors are unsure, then contact the tour company a few days before.
Unfortunately, it is very common for visitors to go to the wrong place when rafting in Yosemite and this then leads them to miss their tour. If this happens then the company will not offer any refunds.
Even if the plan is just to go rafting in Yosemite, visitors still need to pay an entrance fee when they enter the park.
Prices vary at different times of the year. However, the entrance price remains the same. It costs around $35 to enter the park with a vehicle. The America the Beautiful Pass is also accepted at the park.
In fact, this annual pass allows holders to visit over 2000 sites around the US. It is relatively inexpensive and a great investment as it can be used to visit federal sites and national parks throughout the year.
When people hear of white water rafting, most think of the rapids and the thrill it provides. Just remember that if rivers are divided into classes; the higher the class the more rapids to expect.
While it is a thrilling experience, there are many other reasons to give it a try especially in Yosemite.
White water rafting in Yosemite is a very popular thing to do for many reasons. Unsurprisingly, the scenery is awesome.
There are plenty of beautiful views and incredible natural landmarks that visitors can catch glimpse of as they go past on their raft.
Many of the visitors to the park have seen these landmarks before. However, when they hop on a raft, visitors can experience these from a different perspective.
This makes them even more interesting, compared with the usual views from one of the trails.
In fact, visitors might see something new or appreciated the view even more from the raft when rafting in Yosemite.
Even if whitewater rafting is not suitable, there is always the option of kayaking or paddleboarding. If visitors have ever wanted to try these then Yosemite is the place to do it.
They may not have the thrill of whitewater rafting as it is a lot slower. However, it gives visitors the chance to go at their pace and stop and start without having to worry about what is around the corner.
As long as visitors to the park follow the safety rules and are prepared before their visit, then rafting in Yosemite is sure to be an experience that will stay with them forever.
You may also like:
Will you be needing travel insurance, flights, rental cars, or hotels for your trip?
Disclaimer: This post may contain affiliate links. By using them it will not cost you any extra, we will receive a small percentage of the sale.
Yosemite Valley & Merced River Rafting Fun: Top Drops
Whitewater or flatwater, heart-pumping or slow-flowing, the Yosemite rafting experience covers all your floating needs with epic aplomb. Solo or accompanied by experienced guides from expert local outfitters, and surrounded by dramatic, waterfall-decorated cliffs, the fun takes place on one dynamic stage: the Merced River.
Beginning in April and running through early summer, the Merced River offers a range of rafting experiences. Winding through the flatter, smoother waters of Yosemite Valley, rafters can admire what Ansel Adams deemed "a vast edifice of stone and space" as they bounce downriver. For a more challenging whitewater rafting trip, the Merced gets attitudinal during peak snowmelt as it leaves Yosemite Park and drops dramatically through the narrow canyons near the town of El Portal. If dangling your feet in cool water is more your thing, then summer provides ample opportunity to beat the heat as you float lazily from pool to pool staring up at the deep blue Sierra sky. Whatever your thrill level, Mariposa County has you covered.
Merced River Canyon (Highway 140) Whitewater Rafting
A fun romp through Class II through Class IV whitewater on the Merced River just outside Yosemite National Park. Photo courtesy Sierra Mac River Trips.
Thrill-seekers thirst for the haystacks, funnels and hairy drops of Yosemite whitewater rafting. Located just outside the Park in the steep Merced River Canyon, a Merced River rafting trip is the ultimate choice for edge-of-the-raft excitement. In spring these Class II to Class IV rapids are all the rage with names such as Nightmare Alley, Stark Reality and Corner Pocket. As the summer heats up and the flow decreases, much of the river becomes easy Class I ripples perfect for sun-bathing on calm backwaters and chilling with friends.
The fun starts in El Portal along all-season Highway 140, and features nearly 30 miles of navigable river all the way down to Lake McClure. Another popular put-in is the Briceburg Suspension Bridge, where the nearby campgrounds and beaches of the Wild & Scenic Merced River Recreation Area provide their own picnic-worthy destinations. Check out this mile-by-mile guide to help get a feel for the flow.
Merced River Rafting Guides
The Merced River ranges from calm, self-guided Class I waters for a chilled-out raft trip, to the turbulent rapids of Class IV. For these more expert runs, Mariposa County is home to some of the best whitewater rafting guides working (and playing!) today.
Whitewater Excitement
Since 1978, Whitewater Excitement has been all about stress relief. Founder Norm Schoenhofff believes "it is about more than the rivers, white water rafting, and wild rapids (however, these are the paths we use), it is about sharing ourselves and sharing experiences with people we do not yet know, but who we will know after a very short time." This philosophy is evident in their single-day trips down the Merced River. The 16-mile run begins at Red Bud Picnic site with 3.5 miles of non-stop rapids such as Nightmare Island and Grand Slam (Class IV).
Zephyr Whitewater Expeditions

Since its inception in 1973, Zephyr Whitewater Expeditions has gone from Levi cutoffs and military surplus boats to hi-tech sandals and self-bailing rafts. As the largest whitewater outfitter in the Yosemite area, Zephyr has remained committed over the years to helping guests experience the magic of paddling the twists, turns and drops of the Merced River. With full day (16 miles/7 hours) and half-day (11 miles/4 hours) options beginning in April, trips include wetsuits/paddle jackets, helmets, life jackets and a "river gourmet" lunch (full day only). Zephyr also has in-house photographers to capture your wild ride.
Sierra Mac River Trips
The closest rafting company to Yosemite National Park, Sierra Mac is also the oldest. Founded in 1965, Sierra Mac fought to have the Merced River bestowed with "Wild and Scenic" status by the US Congress for its outstanding whitewater and superb scenery. Their respect for Yosemite's natural splendor infuses their whitewater catalogue. One-day trips meet at the Midpines staging area where guests are outfitted then shuttled to the river put-in for a 16-mile delight hitting such rapids as Gauge Hole (Class III) and Corner Pocket (Class IV). Lunch is included on all one-day trips. Half-day trips cover 11 miles and meet in Midpines at 8 a.m. (morning) and 1:30 pm. (afternoon) leaving plenty of time to explore Mariposa County's surrounding attractions.
Founded by river pioneer and conservationist George Wendt in 1969, OARS continues to be a family-run business offering day trips down the Merced River. The 18-mile run slices through challenging rapids such as Ned's Gulch (Class IV) and Split Rock (Class IV), stopping for a deli-style lunch (provided) on a sandy beach. The perfect complement to your Yosemite mountain getaway.
Yosemite Valley Rafting
Take a fun and relaxing scenic float on the Merced River through Yosemite Valley.
While spring snowmelt can bring some serious flow, Yosemite river rafting during the summer months is typically a calmer — and warmer — experience. Surrounded by the granite grandeur of such massive rocks as El Capitan and Half Dome, not to mention the arcing mist of Bridalveil, Sentinel, and Yosemite Falls, the Merced River follows a meandering path through the flat, wooded majesty of Yosemite Valley.
For self-guided floats, Curry Village Raft Rentals provides life jackets and raft rentals (2-4 people). The 3-mile trip winds through the heart of Yosemite Valley requiring only the ability to paddle and a love for the surrounding nature. The rafting season in the Valley depends on snowmelt and river depth so call ahead. Reservations required. A shuttle bus is available to bring you back to your starting point.
Rafting in Wawona
Located along Highway 41 halfway between Yosemite Valley and Yosemite's South Gate, Wawona is situated at 4,000 feet elevation and offers a beautiful respite from the summer crowds. Here, you can find some nice ripples in the South Fork of the Merced River. Fed from the High Country and Chilnualna Falls, the South Fork allows rafting below the Swinging Bridge (some nice seasonal swimming holes, too!) and for visitors seeking backstory, the Pioneer Yosemite History Center awaits. Post-float, try some refreshments at the landmark Wawona Hotel!
Whitewater Rafting Tips
A splash of excitement for all ages along the Merced River in Yosemite Mariposa County.
Essential gear: PFD (personal flotation device); sunglasses with a strap; eco-friendly sunblock; helmet (whitewater) or hat (flatwater); shorts/swimsuit; comfortable tennis shoes or river sandals (no flimsy flip-flops, please!); waterproof camera/phone; reusable water bottle (help the planet by avoiding single-use plastic); and of course a reliable raft/kayak with sturdy paddles!
Water welfare: Safety is a function of experience, time of year, and flow. Per the National Park Service, every rafter must have a personal flotation device (actively worn, or immediately available) depending on current conditions. Children under 13 must PFD-up at all times. If you're rafting with a guide, pay attention to their safety requirements, and be sure you're listening to your guide for instructions on what to do if you or another guest were to fall out of the raft. The pros know what they're doing!
Flow Factor: Rafters have to know how much water they're riding for both safety and fun. Check out the current water levels in the Merced River for a pro-outlook before your next rafting adventure.
Where to stay: From world-class family resorts to primitive campsites, and retro motels to vacation rental homes, Yosemite Mariposa has you covered!
Where to eat: Craft beer to BBQ, and local wineries to gluten-free, Yosemite Mariposa has you covered (again)!
Rafting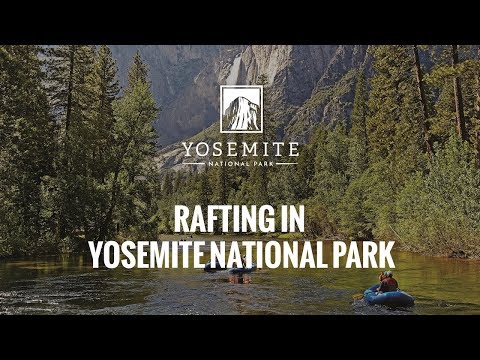 Spend the afternoon rafting in Yosemite–you'll have tons of fun while cooling off and taking in some amazing views. Your trip will include a 3-mile float down the Merced River in a raft that holds 2-4 people.
The Yosemite rafting season varies from year to year and depends on factors such as the depth of the rivers, the temperature of the water and the seasonal snowmelt. With a good snowpack year, the season can last anywhere from the middle of July to the end of August.
Rafting Information
$30.50 per person
NOTE: Two capable paddlers are required per raft, including at least one adult per boat, and children under 50 lbs. are not permitted in rental rafts. For safety reason, we cannot make any exceptions to these rules.
ADA Rafters
Our rafting staff will assist special needs visitors at the raft entry point, transport their device or chair to the river exit point, and provide transportation for the return trip in an accessible tram.
Rafting Cancellation Policy
Cancellations must be made at least 2 hours prior to scheduled session in order to receive a full refund. Any cancellation made less than 2 hours from rafting session time will be nonrefundable.
Rafting Rules and Safety Checklist
Please be alert and cautions during your trip. Have fun and enjoy Yosemite.
Rafting is not recommended for non-swimmers. Life jackets must be worn at all times in rental rafts.
Children weighing less than 50 pounds are not permitted in rental rafts. Rafting is considered unsafe for small children due to swift and cold water.
Two capable paddlers are required in each boat. A capable paddler is at least 5 feet tall and 12 years old. An adult is required in each boat.
Glass containers and alcoholic beverages are prohibited on rental rafts.
Be cautious and alert! Trees and rocks do exist in the Merced River, creating obstacles requiring your attention. Rafts may not be tied together.
Do not take valuables unless properly secured and waterproofed.
Purchase price includes raft, paddles, life jackets, and shuttle ride. Shuttles return every 30 – 40 minutes. The last shuttle departs at 6:00 pm.
Only paid persons may ride in rental boats.
Do not enter roped off areas on riverbanks. Please respect these sensitive areas.
Do not tie rafts together at any time.
Please beach rafts on sand or rock areas only; don't disturb the natural vegetation around the area.
Rental Reservations
No experience is necessary to rent a raft and experience the delight of rafting down the river at Yosemite National Park. Life jackets are provided and wearing them is mandatory.
Reservations are currently unable to be made over the phone or online and must be made in person on the day of your desired rafting trip.
NOTE: All raft rentals depart from Curry Village.
Using Your Own Raft & Innertube
If you'd like to use your own raft, you have the option of purchasing a ticket for the shuttle bus back to Curry Village at the end of your rafting journey for $5.00 per person. You can bring your deflated inner tube or raft back with you on the bus, as long as it fits in your lap. We also rent life jackets and paddles for $5.00 each. Life jackets are required for children younger than 13, and rentals are good for one trip down the river.
Source https://travelmadmum.com/rafting-in-yosemite/
Source https://www.yosemite.com/yosemite-rafting-fun-top-drops/
Source https://www.travelyosemite.com/things-to-do/rafting/