Best time of the year to raft the grand canyon
What is the best time of year to go Colorado River rafting in the Grand Canyon?
Temperatures can vary throughout the year but the best time to go rafting is April and October. Clear skies and high temps make for a nice contrast to the 50-degree Colorado River. Milder weather is expected in April and September/October. The desert often experiences a dramatic monsoon in July and August. Even with a regular monsoon, Arizona typically has very low humidity and dry heat. We have some tips and tricks on how to keep on cool on a river trip when temperatures soar.
Is the trip strenuous?
Most of our trips are moderately strenuous, with exposure to the elements. We encourage guests to participate in as many activities as possible. The more you put into it, the more you'll get out of it. The guides will assess the difficulty level before beginning a side hike so you can choose whether to participate. They'll also demonstrate how to set up your campsite and wash your dishes when you're at the bottom of the Grand Canyon. This includes side hikes, setting up your campsite, and getting yourself on and off the rafts multiple times each day.
Best Time for Big Whitewater when Rafting Grand Canyon
The Colorado River's water levels through Grand Canyon are regulated every 9-12 hours and determined by the Colorado River Management Plan Big whitewater in Grand Canyon is not during spring runoff like most other rivers as this river does not rely on the melting of the snow and ice for its water flow. The more electricity is needed in the surrounding states, Las Vegas, for example, the more water is let down the river. The commercial rafting season in the Grand Canyon National Park operates from Spring through Autumn.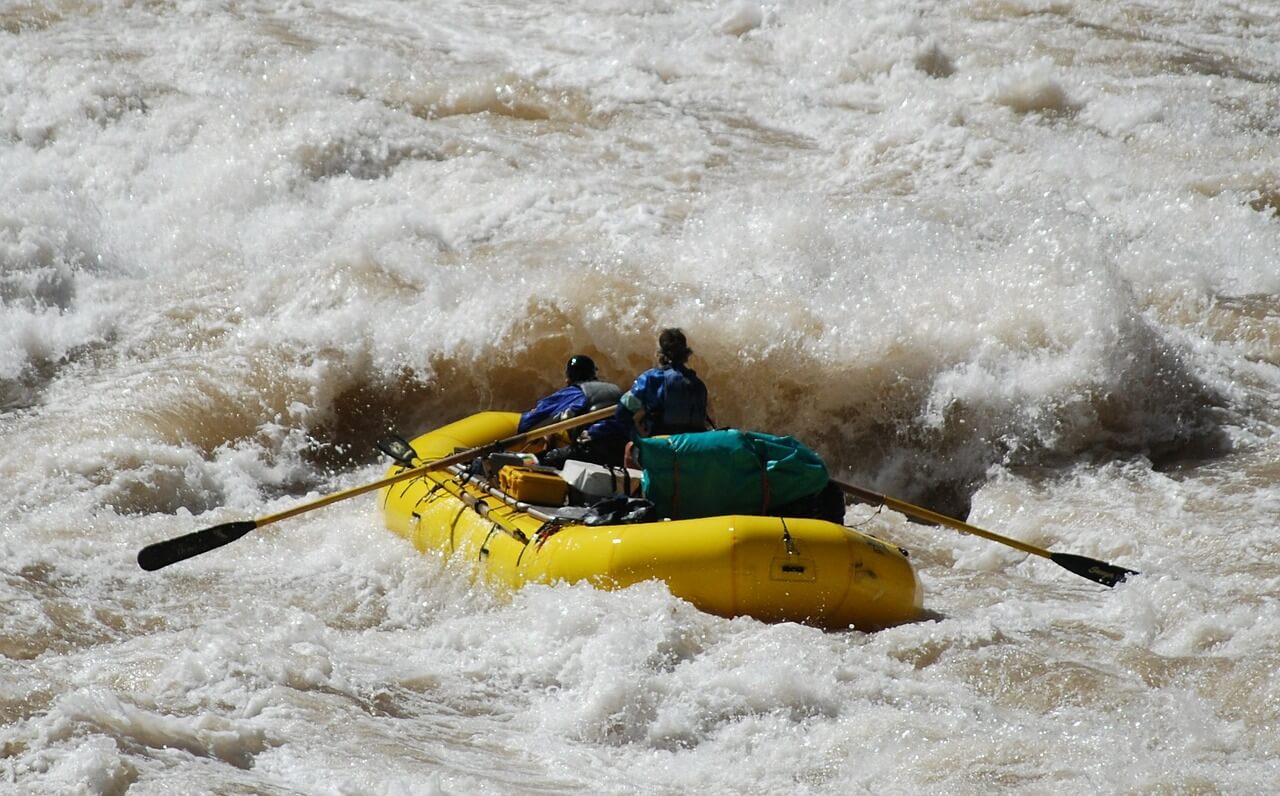 What the best months to do Grand Canyon rapids rafting?
June until August is a hot month with an average daily temperature of more than 100 degrees F. That means summer brings about the worst heat along the canyon's floor on the Colorado River.
In July, the hottest temperature can reach an average of 105 degrees and the highest at 115 degrees. At this time, the currents in the river become strong and dangerous. This is because water rapids are in range to cool off from summer rain brought about by the monsoon season. Because of this, many people book a rafting trip making July to August the busiest months. If you do not want to be jammed with a lot of people, it is suggested to take rafting trips from April to mid-June or mid-September until the end of October.
Grand Canyon National Park Weather & Fall Time Whitewater Rafting Trips
Is autumn really the best time to visit? Always consider the weather in the Grand Canyon as it varies from summer when it's very hot and cools down during spring or autumn. Temperatures can fall to 50 degrees low and can rise to as hot as 115 degrees during the summer season. Nevertheless, regardless of the season, you have to take note that the Grand Canyon itself has its own temperature differences as you go along the way. For example, if you come closer to river mile 0, the temperature becomes cooler but it gets hotter when you go towards the west.
If you are planning a rafting trip, remember that there is also a temperature difference of 20 degrees from the river at the top of the rim. This is also another reason why tourists are advised to bring extra clothes appropriate for both warm and cool temperatures.
There is actually no wrong time to get that rafting experience you've always been dreaming of during the Grand Canyon commercial rafting season. However, if you want to go rafting during moderate weather, then you should go in September. During this month, fall brings optimal weather conditions that can keep you relaxed as you take time to raft with your family or friends.
On the other hand, moderate weather conditions for a water rafting trip can be done in April and May. You only don't get to go white river rafting but you also get to see blooming flowers alongside your trips. In October, the environment becomes more colorful as the leaves change colors marking the beginning of fall. Longer trips can also be planned as autumn is also the start of the white rafting season. If you're lucky, you will be able to see the California Condors or the Bald Eagles. Grand Canyon River visitors are also permitted to stay longer during this season as these months have earlier sunsets.
Planning Springtime Rafting Trips
If you want to go out on an 83 degrees F temperature, then April is the best for you. If you want to enjoy the highs of May at 93 degrees F, then you can enjoy hiking down the Grand Canyon aside from doing rafting.
For those who do not want to take extreme rapid challenges, going rafting in a low water season is the best idea. This happens during spring or autumn so be sure you've got your schedule booked.
But don't worry about not getting your whitewater experience due to less water at this time of the year. Remember that the Canyon has a lot of faces to offer its prospective visitors no matter what time of the year. If your main goal is getting to the Colorado River for a whitewater experience, then spring offers the bliss for that rapids adventure.
Visiting Grand Canyon all year round
Still can't decide which season to go and visit the Grand Canyon river? Don't worry! You can do so at any time of the year. Winter can be shivering for you but it can certainly offer great picturesque scenes where the grand canyon is covered with snow. If you want to go during the heat of summer, you can enjoy side canyons and hiking.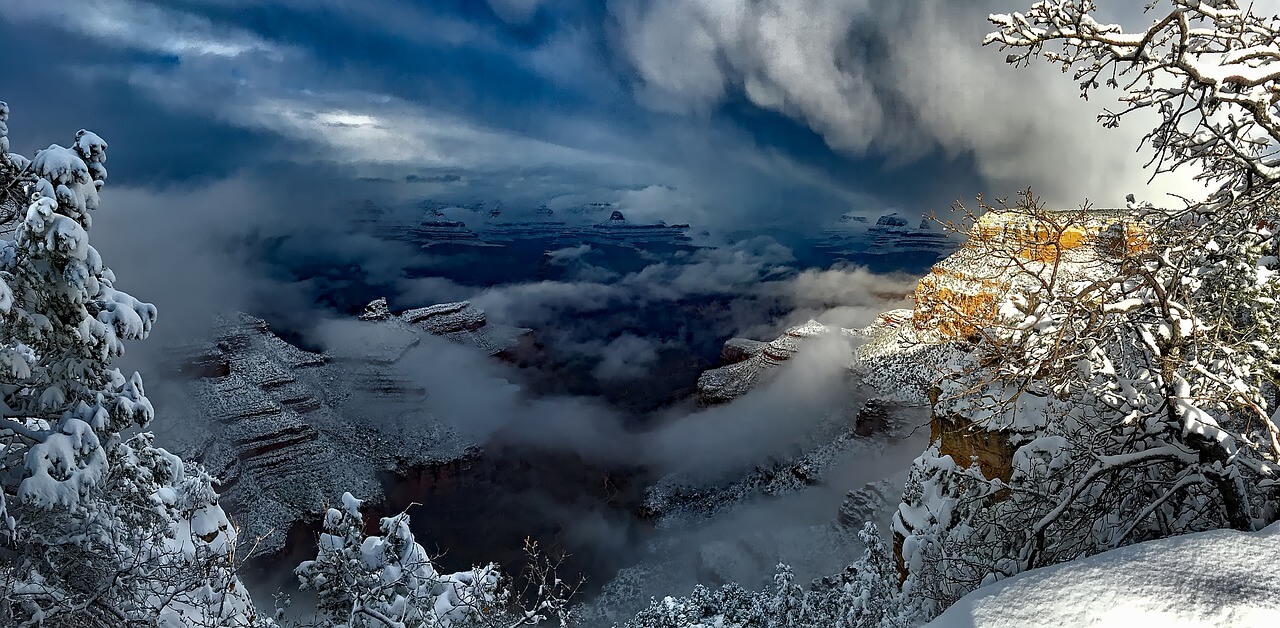 Take note that the park service is heavily crowded during peak seasons including spring, summer, and fall. However, not a lot of people come to visit during the cold season.
Excitement seekers looking for the best raft experience can book their visits between the spring to autumn seasons. This will guarantee your Glen Canyon Dam holiday with cold waters awaiting you at 48 degrees F. Meanwhile, those who are looking for quiet and peaceful multi-day holidays can visit the Grand Canyon from December to February. At this time of year, the weather tends to be chilly so don't forget to keep yourself warm against the frosty temperatures.
To be able to ensure a fun experience at the canyons, be prepared and have your booking ready in advance. Check the local weather as this will help you know what to expect and the best time suitable for you to come.
Is There a Bad Time For A Rafting Trip?
There isn't any bad timing to raft down the Colorado River. In fact, the water flows are regulated that can have motorized and non-motorized trips to operate throughout.
Did you know that water levels became so high sometime in 1983? This resulted in passengers taking a hike around crystal rapid. However, this was also the same time when Glen Canyon Dam received a lot of spillover from Lake Powell. The waters were released at 100,000 cubic feet every second. This turned Glen Canyon Dam to increase its water levels.
Well, this happened a long time ago and if you don't want to go for a high water level adventure, then the months of September to October offer slow-moving waters for your trips. The amount of water released at a specified time of the year also varies which is why it is difficult to guarantee water levels. Nevertheless, commercial river raft season will make it a good time to schedule your trips.
Frequently Asked Questions about whitewater rafting at the Grand Canyon Park
Did you know the Grand Canyon in Arizona is one of the most studied landscapes in the world? The erosion created of the river Colorado makes the Grand Canyon as we know it today. The rim has been visited by more than 5 million tourists each year to look at its edge and see the immensity of the place. But to truly experience its majesty, you need to experience its hidden treasures.
Visiting the place for a day, taking pictures, visiting the gift shop, and grab some ice cream afterward would not be enough. Seeing the Grand Canyon might be a popular thing to do but if you want to complete your iconic American road trip, a planned whitewater rafting on the flowing waters at the bottom of the canyon will be one of those once in a lifetime adventures you should not miss.
How dangerous is it to raft the Grand Canyon?
Different guides offer unique experiences of the grand tour of the river Colorado. They vary in terms of itinerary, provided gears, and raft type. You can narrow down from their offering what suits you best. Some outfitters may offer 3-4 days motorized raft trips, some have a 5-7 days oar-powered raft trip with experienced guides that do more than just provide safety while on the water.
They also will cook and spice it up with their knowledge of geology, astronomy, and the local canyon folklore. Backpacking and pitching tents after your daily adventure on the water will be a thing to brag about in the years to come.
Rafting seasons run from April to October. But anytime is a good time as the river can provide the type of excitement that you seek. Mild weather rafting can be done in April, May, early June, September, or October. During the monsoon season, expect more dramatic desert thunderheads while navigating the waters.
Safety is one of the top priorities of The National Park Services. They regulate the outfitters' numbers of departures thus limiting the rafting outfitters' inventory as the park is operated in a controlled environment.
Since more people are spending more on experience and less on things, the increased demand for outdoor recreation has risen, and more generational trips with families are being booked in advance. The age requirement will determine if families will be qualified to book for Upper (minimum age of 12) or Lower (minimum age of 9) Canyon trips.
How long does it take to raft down the Grand Canyon?
Lower Grand Canyon Trips
Starting on the Phantom Ranch, your outfitter will guide you on a thrilling water experience for 4 ½ days to 6 ½ days. You may see waterfalls and Indian ruins along the way while rafting. Communing with wildlife can also be possible.
Upper Grand Canyon Trips
Depending on your outfitter, the Upper Grand Canyon Trip will be a thrilling 3 ½ day to 5 ½ days trip that will take you 86 miles from Lee's Ferry to Phantom Ranch located deep within the GrandCanyon.
On your last day of water adventure, both upper and lower canyon trips will conclude with a ten-mile hike from the Colorado River to the Grand Canyon Rim, which will complete your Grand Canyon experience.
Is rafting the Grand Canyon worth it?
Some adventurers who had experienced the best of Grand Canyon rafting said that it is an experience of a lifetime. Each day of your trip offers a different kind of adventure.
Waking up to the sound of rushing water and the smell of coffee, having breakfast with your group, forming a "bucket line" to help load the gears onto the boat as the Colorado River beckons you to continue your ventures once more. You will gain lifelong experience and friendship with your group while enjoying the spectacular white water rapids and stretches of calm waters after.
At the end of the day, while setting up for camp, you will witness the gorgeous canyon sunset and relive your day during dinnertime. The camaraderie and conversations will leave their mark on your memory for years to come including how you fall asleep on your sleeping bag under the blanket of stars.
What is the best Grand Canyon rafting company?
There are a lot of companies that offer unique Grand Canyon rafting trips for their customers. Given the variety of options, there are criteria of selection that can guide you in choosing the best Grand Canyon rafting company.
When is the best time to go there?
Timing refers to the number of days to hike and explore the different areas of the Grand Canyon both on the water and side canyons. There should be time allotted to explore the area after the white water rafting trips.
How much will it cost?
Costs refer to the affordability of the trip, as well as, the quality of the experience. It also includes ease of travel to and from the trip as well as the location where the trip starts and ends. If you're lucky, you might just win a free rafting trip.
White Water Rafting Season: Best Time for Rafting Grand Canyon
Best Time for Big Whitewater when Rafting Grand Canyon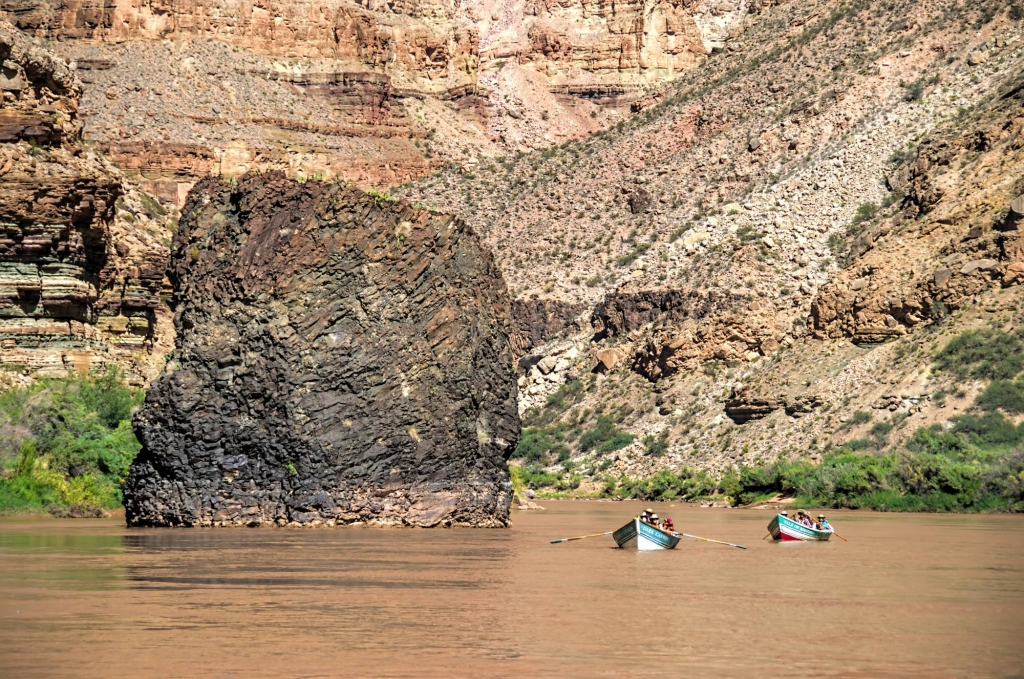 The Grand Canyon attracts tourists because of its unique and intriguing geology. However, beyond its famous red and orange walls and winding crannies, it is a perfect white water rafting spot as well. Rafters not only get an inside look at the canyon but they are also rewarded with Class IV to V rapids for an adrenaline rush filled ride and enjoy the big whitewater during the high water season.
The Colorado River's water levels through Grand Canyon are regulated every 9-12 hours and determined by the Colorado River Management Plan (CRMP). Big whitewater in Grand Canyon is not during spring run off like most other rivers as this river does not rely on the melting of the snow and ice for its water flow. Instead, white water rafting season in the Grand Canyon is generally during the warmer months when air conditioning becomes a necessity in the Southwest, and more water is needed downstream for agriculture. The more electricity needed in the surrounding states, Las Vegas for example, the more water is let down the river. The Glen Canyon Dam is responsible for producing this electricity and holding back the enormous amount of water collected at Lake Powell.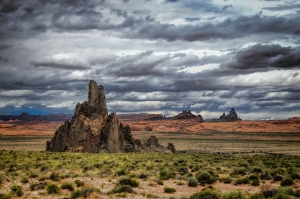 The commercial rafting season through Grand Canyon National Park operates from April through October. Each month has fluctuating water flows and every day the water is released within the predetermined water flow amount. These water levels are determined by the amount of moisture, snow melt and rain that the Upper and Lower Colorado River Basin receives. Once the amount of water is estimated, hydrologists determine the amount of water released on a monthly basis to meet the goals outlined in the CRMP. The water from the Colorado River is shared amongst 7 states and Mexico. The CRMP helps to meet the distribution goals and regulations in place to properly distribute the water amongst these areas. What does this mean for big whitewater in the Grand Canyon? It means that every year the water flows are different, and every month there is a team of scientists determining the amount of water that will be released downstream of Glen Canyon Dam.
When to Raft Grand Canyon for the Big Whitewater Experience?
The decision of when to raft Grand Canyon or the best time to visit grand canyon comes down to personal preference. If you are someone hoping for the chance of experiencing big whitewater in the Canyon, your best bet would be to travel during July or August. Coincidentally and historically, this is when most people visit grand canyon and the rims. This is when the hydroelectric needs in the Southwest are at their peak, and the most water is released. Typically, the water flows during July and August are being released between 12,000-18,000 cubic feet per second. Many of the renown rapids in the Grand Canyon, such as Crystal and Lava Falls, get larger and become more exciting during higher water flows, and are at their peak for big whitewater.
If you are hoping to not have the big whitewater rafting experience in the Grand Canyon, you will want to consider rafting during slightly lower water season. April, May, September and October all tend to have lower water flows being released and this slower water means just about 1 mph slower then June/July/August. Trends show that April has the lowest water levels. Typically in April you can expect to see steady flows, where there is minimal fluctuation of water levels being released. Generally, these flows are between 5,000-8,000 cubic feet per second. May, September and October tend to have more fluctuation than April, meaning the CRMP allows the water to be released between 8,000-16,000 cubic feet per second during these months.
Key Points to Keep In Mind
All of this information is useful if you understand water flows and cubic feet per second. But it can mean very little to someone who has yet to learn about water flows on high volume rivers, such as the Colorado River. If you don't understand fluctuation or the Colorado River Management Plan, no need to worry. Your guides will educate you on this during your trip. At this time, here are the key points to keep in mind when considering the best time to visit the Grand Canyon:
The higher the water level (cubic feet per second) being released, the larger many of the "big" rapids in Grand Canyon become. The big whitewater tends to be in late June, July or August. On the same note, the lower the water level, many smaller rapids become larger or rated at a higher level, due to additional waves created by rocks or obstructions in the water, or they become more technical to run. This means that anytime you raft in the Grand Canyon, you will have exciting rapids and get to experience some big whitewater.
Regardless of the water flow speeds, there is one constant and that is the fact that towards the mouth of lake mead, when nearing the end of your full or lower canyon raft trip, the water does slow down. Couple this with some headwinds that occur in certain parts of the river and the non-motor rafts can be a bit more challenging to keep pace. Have no fear however, your guides are prepared for this and any slower rafting is already anticipated in any given itinerary or trip length that he outfitters offer.
Those who have visited the canyon rim tend to ask how big is the grand canyon and this is a question that is not so easy to answer. The total length of the river is 280 river miles as the start of Grand Canyon begins in Marble Canyon at Lees Ferry and ends at Pearce Ferry near the mouth of Lake Mead. Along the way, the canyon walls fluctuate in height answering another often asked question of how high is grand canyon. The tallest part of the canyon is at the north rim with an elevation of 8,297 ft. The south is 7,522 ft in elevation. Often, it's easier to answer this question of how big is Grand Canyon, by simply saying "you need to see it to believe it".
Weather & Fall Time Whitewater Rafting Trips
When looking at water levels, also consider Grand Canyon weather, as the weather can be very hot in the summer, and cool in the spring or fall. Temperatures fluctuate from a low of 50 degrees during the shoulder seasons to a high of 115 during the summer months. On the other hand, regardless of the month, visitors should note that there are temperature differences along the way. The further east you go, or the closest to river mile 0, it is normally cooler but they pick up as you travel downriver, or towards the west. There can also be a 20-degree variation between temperatures at the river and at the top of the rim. This is why tourists are advised to bring clothing appropriate for both warmer and cooler days. There's really no wrong time to visit and raft the Grand Canyon during the commercial rafting season, but if moderate weather is a factor, the fall season might be the right time for you.
April and May are popular months because of the moderate weather, as well as the chance to see some blooming flowers. However, Autumn is an optimal time to visit the Grand Canyon, with similarly mild weather. The environment starts to look even more colorful in October when yellow vegetation begins to bloom. It is also the best month to see California Condors and Bald Eagles. Visitors must be prepared with clothing for both cooler and warmer temperatures, as they may expect to have both during their trip. Another advantage is, as fall whitewater rafting season begins, longer trips can be planned. They are normally permitted to be longer during these months due to the earlier sunsets.
Springtime Rafting Trips
If you prefer a more comfortable outside air temperature, April averages 83°F highs and 53°F lows while May averages 93°F highs and 67°Fs, making for some ideal hiking and rafting conditions down in the Canyon. Also, if you prefer an adventure with less extreme rapids challenges, take a rafting trip during a low water season in either spring or fall. Don't fret, you'll still get your whitewater, but with the river carrying slightly less water during this time of the year, your overall experience will be more laid-back.
Though spring is a blissful and comfortable time of year to raft your way through the Grand Canyon, you will unquestionably experience the Canyon in all of its many faces of glory no matter what time of the year you decide to visit.
There Is No Bad Time For A Rafting Trip
In other words, you can't choose a bad time to raft down the Colorado River. To date, the CRMP has regulated water flows that are always run-able for both motorized and non-motorized trips. There was a time in 1983 when the water levels were so high, that the National Park Service required passengers to hike around Crystal Rapid. This however was during a time when the water from Lake Powell was spilling over Glen Canyon Dam, and being released at around 100,000 cubic feet per second. There has not been a time when too little water was released, forcing rafters to hike around rapids. If you are hoping for the lowest water levels and slowest moving water on your trip, consider rafting in April, early May, late September or October. Every year the amount of water being released changes with the amount of moisture gained in the winter, due to this rafting outfitters cannot guarantee any water levels during any time of year. Having said this and as touched on above, one important fact to consider whether choosing to raft the full length or partial canyon beginning at the south rim, slower and lower water levels sometimes make certain rapids react more aggressively and contrastingly some larger rapids react less aggressively during higher faster water flows, so really any time during the commercial rafting season is a good time to visit Grand Canyon for a raft trip.
What Happens In The Whitewater Rafting Off-Season?
Wondering what everybody is up to when the whitewater rafting season in the Grand Canyon is over? Rather than rest and relaxation, we and our operators are doing the hustle and bustle, making sure everything is perfect for the next season Grand Canyon whitewater rafting trips. Our operators use every moment they can during the tourism lull, excitedly preparing behind the scenes.
First and foremost on the off-season chore list for all operators is equipment maintenance, and they all take this extremely seriously. As you can imagine, all of the rafting equipment (rafts, oars, motors, dry bags, tents, cots/sleeping pads, chairs, coolers, life jackets, etc.) sees a lot of use during the commercial Grand Canyon rafting season. Constant upkeep is imperative and regularly performed during the season. Yet, operators use the off-season to scour every inch of their equipment in their warehouses fixing any dent, ding or potential problem. Everything gets cleaned and repaired. If something cannot be easily remedied and carefully revamped, our operators choose to purchase brand new equipment. Safety first!
In the operators' offices, staff is hard at work organizing details, updating menus general paperwork including risk waivers and medical forms for the upcoming season. They update trip packets that have specific details on every aspect of every trip to help better prepare rafters for their vacations. Seasoned guides go through training courses to stay fresh on their knowledge and CPR/First Aid, and new guides get put through the training wringer. Here at Advantage Grand Canyon we're busy adding the new whitewater rafting trips that our operators have meticulously crafted. If you've already booked your trip, check out our blog and FAQ to prepare yourself for the adventure that awaits. If you haven't booked yet, contact us today!
We are a team of experts, having voyaged every route in every raft down the Colorado River in the Grand Canyon and are ready to help you plan your trip!
Best Grand Canyon
Rafting Trips
With over 100 different options, one question we often hear is "what is the best Grand Canyon rafting trip?" In this post we break down what makes for a quality white water rafting experience and discuss our favorite trip options for rafting the Colorado River within Grand Canyon National Park.
Criteria for Selection
Our criteria focuses on time in the Grand Canyon, cost, and quality of the experience. While the number of days is a major variable regarding time, the time to hike and explore side canyons is equally valuable. We selected rafting trips that were not rushing through a section of the Colorado River. Our belief is you are better off covering a little less of the canyon with more time to explore than vice versa. We also value the more affordable trips and the quality of the experience. This last variable includes the ease of travel to and from the trip, the location where trips start and end as well as how the trip accesses the river.
In addition, all of these rafting trips have availability throughout the summers of 2023 and 2024.
Our Top 5 Grand Canyon White Water Rafting Trips
– 2nd Best for Families – Best for Families!
Why Certain trips didn't make the Cut
Dory and other specialty trips being more costly do not make the cut. You'll also notice a lack of all-paddle rafting trips on the list. While many people think they will be bored if they aren't paddling all day every day, we find many end up preferring to hang out on an oar raft or motor raft while taking in the views and get more than enough exercise with all the hiking and scrambling to waterfalls.
Best Grand Canyon White Water Rafting Trip
1. Full Grand Canyon 7-day Motorized Rafting Trip
While there are purists out there that say you have to use a human-powered raft to run the Grand Canyon, the 7-day motor trip is the most common tour for a reason. The trip allows rafters to see the entire Grand Canyon and run all the rapids while having time to stop at many of the side-attractions, all in just over a week. This trip provides the best overall value and is the most popular rafting trip for families. Kids as young as 8 can go one these trips. Depending upon the outfitter, trips costs around $2800 per person which comes out to about $400 per day.
If you are looking to spend less per day check out the runner-up one-day or 14-day trips. Importantly, Full Grand Canyon rafting trips do not require the 7.5 mile hike in or out of the canyon unlike the Upper and Lower trips. We also recommend the full canyon motor that ends at Whitmore Wash with a helicopter ride out of the canyon. This trip can meet and end in Las Vegas making for simplified logistics.
Find Your Grand Canyon Rafting Adventure…
Download Grand Canyon Trip Planner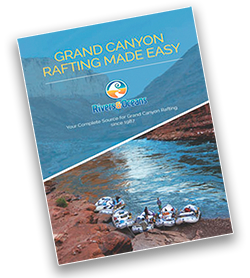 Call Us!
We find a phone call is the easiest way to find your best trip.
Email
Have a question, send us a note. We're here to help.
Find Your Trip
Request a trip search, we'll find tours meeting your criteria.
*** Our service is free to you and paid for by our partner outfitters. We guarantee the same price as booking directly with the outfitter.
Runners-Up
2. Full Grand Canyon: Colorado River 14-day Hybrid Rafting Trip
This is the best deal on a per day basis with the cost being around $320 per day. The total trip costs around $4400 per person. Kids must be at least 12 year old for these tours.
The best full Canyon hybrid trips run from Lees Ferry to Diamond Creek providing even more time to explore the canyon than on the 7-day motor. The problems with this trip is many people can't get away for two-weeks. Others can't imagine 2-weeks without a shower and sleeping on the ground.
Hybrid trips have mainly oar rafts with one paddle raft. We find this to be the best combination for human-powered trips. Most people don't want to paddle every day and others prefer paddling on days with easier white water.
In addition, many people who expect they will want to be in the paddle boat end up preferring the oar raft. While, other people who initially think they will not want to do the paddle raft at all end up loving it! Having the flexibility to be or not be in this craft is ideal. An additional advantage of a small subset of hybrid trips is they also bring a dory.
On a 14-day tour there are abundant opportunities for lengthy side canyon hikes, discovering the Canyon's secrets, and soaking in the scenery. Finally, there is no requirement to do the hike in or out at Phantom Ranch on a Full Grand Canyon rafting trip, making this trip more accessible.
Paddle Raft on Hybrid Trip
3. Upper Grand Canyon 6-Day Hybrid Rafting Trip
For those not wanting the motor raft experience and do not have two weeks for a full Grand Canyon experience. While the lower is known for Lava Falls and Havasu Creek, the Upper section rapids increase throughout the trip ending with the largest rapids on the last full day of rafting.
Starting at Lees Ferry means seeing each rock layer up close as you gradually descend through geologic time. Both the Canyon walls and whitewater build in size as you float downstream, giving you time to gradually take in the experience.
This trip includes a hike out of the canyon at Phantom Ranch, the deepest point in Grand Canyon. The hike covers 7.5 challenging miles along the Bright Angel Trail. This stretch of the Colorado River includes exciting rapids (class II-IV), tranquil flows, archaeological sites, and side canyon explorations. You will camp out on beaches in the bottom of the Grand Canyon. If you enjoy the trip come back and do the lower canyon next!
4. Western Grand Canyon 3-Day Motorized Rafting Trip
Those that want to spend a bit of time camping along the Colorado River, rafting Western Grand Canyon is a great option. The 3-day tour is the best Grand Canyon rafting trip that meets and ends in Las Vegas. They also include a helicopter flight into the launch point for the trip at Whitmore Wash. There is an option to spend a night at the Bar 10 Dude Ranch on the North Rim before starting your trip.
The 3-day trip runs fun rapids but still has some time to explore. It floats to the end of Grand Canyon at Pearce Ferry within the Lake Mead National Recreation Area. We see many people do this stretch and then decide come back to do the full canyon motor trip.
5. One-day Motorized Grand Canyon Rafting (Best Family Rafting Option)
This is the only way to spend one day rafting whitewater rapids in Grand Canyon. There is a one-day flat water run just below Lake Powell but it doesn't have any whitewater. Also, this trip is the most affordable. Depending upon when you go the 1-day motor will run around $350 to $400 per person. You can spend more for a helicopter ride out of the canyon and a stop at the Hualapai Skywalk. There is also no required hiking with this trip. Conveniently, this trip is the closest white water rafting to Las Vegas.
Some people say this isn't the "real" Grand Canyon because it is below where many companies end there trips at Diamond Creek. However, the one-day tour runs the lower Granite Canyon of Grand Canyon passing the spot where the Powell Expedition in the late 1880's decided to split because they were worried they would never make it out of the canyon!
The canyon is still deep, the views incredible and there are many memorable Class II and III rapids (Grand Canyon Class 4 through 7). The most challenging rapid is class III+ Killer Fang Falls which historians believe led to the demise of the Honeymoon Couple, Glen and Bessie Hyde in 1928. The trip even has time for a short side-hike to Travertine Falls. We see excellent reviews for this trip. Plus, all the guides are members of the Hualapai Nation, bringing a unique cultural perspective to the area.
The Family Rafting Option
The one-day Grand Canyon rafting trip is best for families due to the price-point being lower than other trips and kids as young as 8 years old are able to go on the trip. Doing a one day trip also makes for an excellent introduction to rafting and requires way less work for parents. While this is the best Grand Canyon rafting option for kids we feel the Rogue River in Oregon, the Salmon River in Idaho and Lodore Canyon in Utah are all even better river trips for families with kids.
Concluding Thoughts
Any rafting trip in Grand Canyon will be an amazing experience. However, the list above shows the best Grand Canyon rafting trips for most people. Our collection has a variety of lengths from one-day to 14-days with different types of craft and seeing different sections of the canyon so as to meet everyone's needs. One important variable is availability, all these trips are common meaning it will be easier to find you preferred date.
Those looking for more information may also want to read our posts about the different types of Grand Canyon crafts and how rafting the Grand Canyon varies by season.
Interested in us finding available trips for you, please contact us. Our service is free and covered by the outfitters. We guarantee the same rate as you would pay going directly with an outfitter. One call to us gets you availability for all 17 Grand Canyon rafting companies.
Source https://www.advantagegrandcanyon.com/best-time-of-the-year-to-raft-the-grand-canyon/
Source https://www.advantagegrandcanyon.com/rafting-grand-canyon-the-best-time-for-big-whitewater/
Source https://www.riversandoceans.com/best-grand-canyon-rafting-trips/