What to Wear White Water Rafting
Deciding what to wear on your white water rafting trip depends primarily upon the type of river trip and the time of year. However, almost no matter where you raft it is best to bring river attire for sun and cold. Even during the summer, a splashy day of rafting can turn cold when the sun goes behind some clouds.
In this post we try to help you understand how to best use the items on your packing list and steer you towards some of our preferred gear options. We've broken down our list into essential items and later discuss additional options that can improve your rafting experience.
River Rafting Essentials
There are essentials you will want to bring on any whitewater rafting trip. Key apparel includes protection for your feet, some sort of swim suit to wear on its own or under a wetsuit, and clothing for protection from the sun. Having the wrong gear can be a safety concern. Rafting clothes need to protect you from the elements (sun, hot or cold) while not impeding swimming incase you find yourself in the river. Many outfitters provide wetsuits and splash jackets for colder trips.
List of Essential Clothes and Gear to Bring Rafting
PFD (Personal Flotation Device)/Lifejacket
helmet (PFDs and Helmets are provided by outfitters on commercial trips)
shoes or sport sandals
bathing suit
sunscreen (see our post on best sunscreens for water sports)
sun hat
sun glasses with strap
long sleeve non-cotton shirt or sun hoodie
water bottle
waterproof jacket or splash jacket (colder trips, sometimes provided by outfitters)
thicker fleece top (colder trips)
wetsuit (colder trips, sometimes provided by outfitters)
change of clothes
For rafting the ideal PFD has at least 22 lbs of flotation and can be adjusted to sit low on your torso. Lifejackets should be type III or V and in good shape with no tears or faded material. Commercial outfitters provide PFDs and helmets on their trips, many times they will not let you us your own PFD if you bring it. Read our in-depth post on PFDs.
Fix billed helmets are best for kayaking and dangerous for rafting.
Helmets
A helmet needs to fit snuggly enough so that it doesn't shift around. Look for a helmet that provides coverage of the temples and ears. Helmets with fixed bills (see photo above) can cause injury if the wearer is thrown forward into the neck of another person, avoid these types of helmets. With a new helmet be sure to test it out in a controlled swim before using it. I've seen multiple people take a bad swim in a new helmet because it fell in front of their face.
Rafting River Shoes
Choosing the right river shoes requires considering numerous factors, so we've written an entire post on selecting rafting footwear. The synopsis is wear rafting shoes that protect your toes, dry quickly, secure well and have soft rubber soles. Save flip-flops and crocs for when you are off the water. Currently the most popular river footwear is old running sneakers followed by the Astral Brewer river shoe and Chaco river sandal.
Astral makes some of the best rafting shoes.
Bathing suits
Boardshorts work well for men and women. Ladies prefer a two-piece swim suit or board shorts and a sports bra to make going to the bathroom during the day easier. I'm a fan of long boardshorts that cover my knees. During spring trips it is nice to have a swimsuit that doesn't bunch up under a wetsuit making it easy to put on your wetsuit. In this case lighter weight and shorter bottoms work best.
Ready for Sun and Fun!
Sun Protective Clothing + Sunscreen
When rafting on hot sunny days in June, July and August the common places to burn include the head/face, feet, knees, arms and hands. While sunscreen helps with prevent sun burns, covering up works better. When rafting you are getting wet all day so sunscreen needs to be reapplied regularly which is difficult when you are wet. Here is what we wear on hot summer days of rafting.
Sunscreen for Rafting
Unless you cover your entire face you'll need to use some sunscreen. The best sunscreens for the aquatic environment are ones that use non-nano zinc oxide. All other types seem to cause problems for coral and other aquatic animals. Avoid bringing spray-on sunscreen on the river, everyone else on the trip does not enjoy breathing sunscreen into their lunges. Spray-on sunscreens also contain agents that have been shown to cause cancer in rats when inhaled.
Sun Hats
Wide brimmed hats are ideal for rafting trips without helmets. Yes they are dorky but dorky usually means works well! Be sure the hat has a good chin strap to keep it on in rapids and if you swim. A hat with a solid strap also helps keep sunglasses on your head.
If you are wearing a helmet on your rafting trip, a baseball cap works well under the helmet. However, sometimes the hat bill can fall in front of your face when swimming. Test out your set-up to be sure you can swim with it. Also, use baseball caps without the little button on top if possible. They work best with helmets.
Floppy hats can be worn under helmets but baseball caps work best.
Sun Glasses with Retention Strap
Polarized sunglasses dramatically reduce glare off the water compared with regular sunglasses. Be sure to use a quality retention strap like croakies or chums. While chums seem to stay on sunglasses better, they stay wet much longer and end up rotting. Sunglass arms pull out of older croakies but they are lower profile and seem to last longer in the water environment. By far the best way to secure your sunglasses is to use a pair of chums and then wear a hat with a chin strap on top of the chums.
UPF Buffs/Neck Gaiters
Neck Gaiters protect your neck and face well when the sun is lower on the horizon with rays bouncing off the water to sneak under your wide brimmed hat. Be sure to purchase a 50+ UPF rated neck gaiter. Warning, they can be hot and if you pull it up over your nose there is a good chance your breath will fog up your sunglasses. Overall it is a cheap piece of gear that can serve multiple purposes including holding hair out of your face and worth the cost and space.
Sun Hoodies – Best Shirt to Wear Whitewater Rafting
Potentially the most popular summer whitewater gear, sun hoodies allow you to stay cool when in the beating hot sun with their breathable material and superior body coverage. It is rare to see a Grand Canyon rafting guide not wearing one during the heat of the summer. Shirts typically have a thumb hole to help pull the sleeves over your hands. The hood covers much of what the buff covers when pulled over a baseball cap under a wide brim hat or a helmet.
The biggest problem is most sun hoodies are made with synthetics and get smelly quickly. Free Fly makes one out of bamboo that doesn't stink as much but it is also not as durable. Watch out for sun hoodies that advertise 50+ UPF due to an applied coating (Columbia does this). In the river environment coatings don't last long. Here are a cheap men's sun hoodie and women's hoodie options on amazon. If you want a hood that can fit over a helmet check out this large hooded sun shirt. We have a separate detailed article about sun hoodies.
Rafter on the right using a sun hoodie over his helmet.
Sun Gloves
If you are paddling or just hanging out on a raft it is nice to have something to protect your hands from the sun. A light weight pair of 50+ UPF gloves will do the trick. The palms on the gloves get beat up pretty quick but the backs of your hands will still be well protected.
Knee & Thigh Sun Protection
The knees and lower thighs are common places to see turn red after a day of rafting. The two best options are wearing longer capris style shorts (they do have men's capri options) or sun tights (there are men's surf tights as well). Capris style shorts stay wet longer than regular shorts but are less annoying than wearing full length pants on the river. Sun tights dry quickly and seem to be growing in popularity. Some people wear shorts over their tights while others do not. The "man-pris" may not seem that cool but they are ideal for multi-day rafting trips in the middle of the summer.
Zippered Pocket
When rafting a zippered pocket is nice for storing chapstick or any other small need that you don't want to loose. Ideal the pocket is on a pair of shorts or a shirt. Just be sure the pockets doesn't interfere with your ability to sit, wear your PFD or paddle. Even if you have a zippered pocket, don't bring your keys on the river if possible.
What to Wear Cold Weather River Rafting
Rafting on a cold or splashy day can still be fun as long as you have the right gear. First we'll look at splashy rafting days and then discuss what to wear while rafting on those colder spring (April, May) and fall (September, October) trips. Note that some outfitters provide wetsuits and splash jackets on colder trips so check your packing list to see what you are responsible for. Be sure to bring an extra set of clothes to change into after the trip.
Rainy Day Rafting
Waterproof Outer Layer
For splashy trips with cold water it is nice to have a waterproof splash jacket with gusseted wrists and neck to keep the water out. A waterproof womens or mens rainjacket with sealed seams will also work pretty well and is usable in more situations after your trip. Waterproof mens or womens rain pants also keep rafters much warmer. Rain pants, if big enough, can also be worn over wetsuits dramatically improving comfort. If you raft often you'd probably be better off with some splash pants. For most summer time trips a rain jacket and a thin synthetic top will be more than enough for cool day of rafting.
Rafting Splash Jackets keep the water out better than rain jackets.
Thermal Layers
Under your rain suit or paddle suit you'll want some long underwear insulation. Luckily, most sun hoodies are made with polyester and make good thin layering. Avoid cotton since it is better at cooling than keeping you warm. Pricier wool long underwear works similarly to polyester without being so stinky. On colder days it is nice to have a thicker fleece layer (womens or mens) to wear over a sunhoodie or long-underwear top. On the bottoms having some thin synthetic long-underwear (which can double as UPF tights under shorts) and a set of thicker fleece pants will keep most people comfortable. However, if you are wearing a wetsuit you will not want to wear the fleece pants.
What to Wear Under a Rafting Wetsuit
Wetsuits on mainly used on colder trips in the spring and fall. If required most outfitters will provide farmer-john & jane style rafting wetsuits which cover your legs and torso but not your arms. Many times outfitters also provide a splash jacket but you will still need something to wear under the jacket. Using a thin synthetic top under the wetsuit helps prevent irritation from the shoulder straps of the wetsuit. Avoid wearing shorts over your wetsuit, it adds significant drag when swimming rapids.
"Do I need a Wetsuit?"
A common question is "Do I need to wear a wetsuit?" Yes, on many rivers you are required to wear a wetsuit. Wetsuits help protect you from getting hypothermia if the weather and water are cold. They also provide additional padding for swims in rapids on rocky, treacherous rafting trips. I wear a wetsuit on Class V runs for this reason. Note that farmer john/jane wetsuits can be 2 or 3 mm thick. The 3 mm seems to be the better all around option for warmth and padding. Outfitters typically provide wetsuits if they are required.
Surfing Wetsuits on River Trips
Surfing wetsuits also work well for rafting. In general I find 4/3 mm long sleeve wetsuit to be ideal for most colder trips. It is still nice to be able to wear a rain jacket over the top on cooler windy days. Also, some people have problems with rashes in the arm pits using older wetsuits so make sure you have a rash guard. Surfing booties however tend to have soles that are too thin to work well on rafting trips.
The classic combination of cotton t-shirts and farmer john wetsuits means they are probably wearing the wetsuits for padding or it isn't too cold.
Staying as Warm as Possible in a Wetsuit
On the coldest days a thick fleece layer under the splash top and a wool or synthetic cap helps maintain core temperature. Wearing paddling pants or rain pants over the wetsuit significant reduces evaporative cooling and splash cooing from rapids. Finally river shoes with neoprene socks keep feet way warmer, be sure to tuck the tops of the socks inside your wetsuit bottoms.
I've known people that only had wool socks so they wore plastic bags over their socks inside their shoes and tucked into the legs of their wetsuit. This vapor barrier keep their feet much warmer. A pair of cheap dish washing gloves also are nice for keeping hands warmer without loosing too much dexterity. You can even wear thin knit gloves under the gloves.
What Not to Wear Whitewater Rafting
Below is a list of items that do not meet most rafting dress codes even for a float trip.
flip flops, crocs, cowboy boots, high heals, bare feet, heavy boots & shoes
cotton on cold days
jewelry, keys, cellphones, wallets, anything that can't get wet or you'd be super bummed if you lost it. Fingers shrink in cold water and rings have been lost.
jeans, leather, cotton sweatshirts
tight and restrictive clothing making it hard to swim or paddle
scarfs or anything similar that could get caught on equipment creating an entrapment hazard
Drysuits
Drysuits work wonderfully on cold weather trips or if you will be spending a bunch of time in the river. They have latex gaskets at the wrists and neck. For the feet there are either latex seals or even better Gore-Tex water proof socks. Drysuits make it easy to layer with fleece and poly-propylene long underwear according to how cold the day will be.
Many people don't like how tight drysuit gaskets are around their necks. Also, the gaskets break fairly easily and degrade quickly over time particularly when exposed to sun. A broken gasket mean instead of being dry and warm while rafting, water can get inside the suit soaking what should be dry undergarments. The other problem with drysuits is they restrict mobility much more so than a wetsuit does.
Drysuits are expensive to buy and require ongoing maintenance. However, there are companies that rent drysuits like Immersion Research and Pacific River Supply. They ship the drysuit to you and after your trip you ship it back to the company in the same box.
Video: What to Wear Rafting under a Drysuit
Illinois River) or an early season guide school consider a drysuit. While many outfitters provide a small drybag to use for personal stuff, depending upon the trip you may also want to bring a drybag to keep certain items dry. Finally remember the clothing you will need depends upon the trip so check-in with your outfitter or someone who has been on the river before.
You Might Also Like
Recommended Guidebooks and Reading
April 10, 2018
Whitewater PFD (Life Jacket) Flotation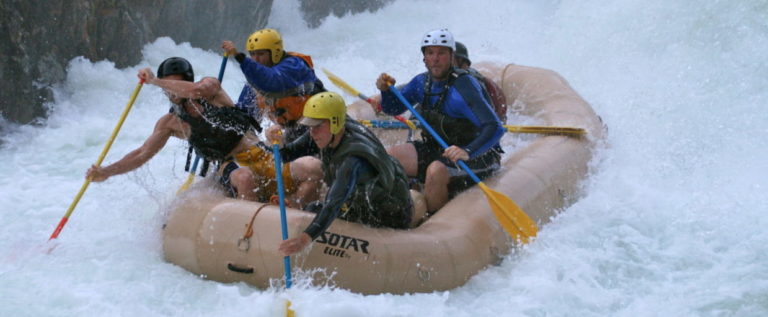 September 21, 2020
What to Wear for River Rafting: The Complete Guide
White water rafting or river rafting is an exciting sport and an excellent outdoor recreational activity.
It allows you to navigate through the river rapids water using an inflatable boat.
As you go up and down the river rapids, the thrill is often accompanied with risks and challenges so rafting requires a great deal of teamwork.
While you don't have to be a professional swimmer to enjoy rafting. All it takes is a simple set of instructions from the outfitters and you are ready for the ride.
Yes, you are ready for the adrenaline rush and thrill, but are you dressed properly?
Many people plan a rafting trip with their friends and family. They search for the best outfitter with an experienced guide and reliable equipment. It is obvious that people want safety on this bumpy ride.
So they go for the company which offers the highest levels of safety, have a first aid kit and other necessary equipment on board.
While some do their research for choosing the best and most reliable outfitter, many people are confused about how to dress up for rafting. If you are one of them, this guide is for you.
It includes all the information you need about rafting clothing. Whether you want to go for river rafting in summers or winters, having the right gear will allow you to make the most of your ride.
Below you will find out what to wear and what not to wear. Though the type of dress you choose for rafting clothing is critical, choosing the right material is equally important.
So if you are confused about the right type of material for your rafting clothing, you can find out relevant information here.
Let's get started with a few tips using which you can make your rafting trip a trip to remember.
Significance of Dressing Appropriately for Rafting
River rafting is a wet sport.
Whether you stay on the boat or you dive into the river, you are bound to get wet.
And for this very reason, you need to dress appropriately for rafting. Below, you will find out what to wear and what not to wear for river rafting.
What do you wear for river rafting?
All outfitters provide the equipment necessary for rafting. You will get a helmet, life jackets and paddles.
However, you will need to take care of other essentials such as clothing, shoes and sunglasses.
Though most outfitters provide these rafting essentials on rent, it is always a good idea to bring your own stuff. Let's have a look at what you will need on your rafting adventure.
Rafting Clothing
Wet suit
Wet suit is a special type of swimsuit which keeps you warm. It is water proof and is designed to insulate the body.
Swimsuit
Swimsuit is a must. Regardless of the season, you need a swim suit which you can wear under the wet suit or along with your shorts or pants.
Shorts or Pants
Always go for synthetic material when choosing pants or shorts. Avoid denim or cotton pants or shorts as they retain water, become heavier and do not dry quickly.
Almost all outfitters rent good quality pants or shorts for your rafting ride, but bringing in your own pair will give you all the comfort you need on your rafting adventure.
Shirt
Many people prefer to wear a shirt over their swimsuit. If you are one of them, choose a tightly fitted shirt. It works best under wet suits.
Choose the shit you are most comfortable in keeping in mind the weather.
If you are comfortable with the sun and want a tan, go for a tank top but if you want to protect your hands from the sun, a long-sleeved shirt is ideal.
Extra Layers
Keeping a light weight jacket along is always recommended on your rafting ride.
A light wear jacket made from a synthetic material such as polypropylene or neoprene is ideal. It dries up quickly and provide you all the warmth you need when you are wet and cold.
Shoes
While most people still manage to take care of their clothing, footwear is often the most neglected area.
Many people do not realize that they need proper footwear because they are required to walk through the shallower parts of the river and the river bed is full of rocks which are often sharp and slippery.
So as you are boarding on the raft and getting off it, it can be very painful to walk if you are not using the right footwear.
So always keep in mind that the right footwear can make a whole lot of difference.
When choosing the footwear for rafting, always remember,
Do not Wear Slippers or Flip Flops
Rafting is an extreme water sport.
Though many people choose flip flops as they come off easily but keep in mind that they can fall of the raft as easily.
In case that happens, you will not have the protection against the rocky, river bed and you might end up hurting your feet.
Go for Strapped Sandals
It is best to go for strapped sandals. Secured by Velcro, these straps allow you to adjust the grip of your shoe according to your comfort.
They also provide adequate grip and safety as you walk into the shallower parts of the river while getting on the raft and coming off it.
An added advantage! Strapped sandals dry quickly. So you can wear them as you leave your home, go rafting and come back in the same pair.
Crocs Can Be an Option
Crocs are often an option. They stay on your feet most of the time and they dry up quickly. While they give the perfect outdoor look to your attire, they do not have the best grip.
So as you walk in the river, there is a good chance that you might slip. Also, since they are designed to be worn slightly loosely, they can float away as you enjoy the river rapids.
If You Have No Other Option, Go for Sports Shoes
Jogging or sports shoes is something most people prefer. You can wear jogging shoes as they provide full coverage to your feet. However, they can slip easily on wet surfaces.
So before you walk in the river, it is possible that it might even slip in the wet surface of the raft. Also, sports shoes do not dry up easily.
So if you are planning to wear sports shoes to your rafting adventure, make sure you have an extra pair of shoes to drive back home as coming back home in wet shoes can be quiet uncomfortable.
Don't Forget the Socks
Socks is probably the last thing on your mind when planning rafting. But they can be a life saver.
So if you are rafting during the cooler months, woolen socks can help keep your feet warm during the trip. However, you don't need socks if you are rafting during warmer months of the year.
Sunglasses
If you are planning a rafting trip on a bright sunny morning, then you need a good pair of sunglasses. Certainly you don't want to be stuck with the sun all day.
But at the same time, you wouldn't want to lose your favorite pair of glasses on your rafting adventure. So go for glasses which provide a comfortable fit even during the most rough rapids.
At the same time, provide protection to your eyes from the harmful UV rays of the sun.
Accessories
Towel
As you head out to the river, don't forget to keep a dry towel. You will definitely need one at the end of your trip. You don't have to go for a bath sheet.
All you need is a regular sized towel which is enough to dry up after you are all wet. At the same time, it should be small enough to fit in your bag.
Sunscreen
You would certainly not want to get stuck with the sun for a few hours and tan your skin. As you head for the river, lavishly apply a good quality sunscreen.
It will not only save you from tanning but will also protect your skin against the harmful effects of UV rays. But sunscreen is something you won't need on the raft.
So apply it well before your rafting adventure begins.
What Not To Wear?
Now that you know what to wear, it is equally important to know what not to wear. This information will prevent you from carrying unnecessary baggage to your rafting trip.
Denim/Jeans
Jeans/denim retains water and dries up slowly. As since you are bound to get wet on our rafting trip, opting for jeans can make you really uncomfortable.
Cotton Clothing
Similar to denim, cotton takes up a lot of time to get dry. Though it won't get as heavy as denim, it is definitely not comfortable to be in an outfit which takes so long to dry.
Inappropriate Footwear
Don't go for slippers, flip flops and any other type of footwear which can slip on wet surfaces. Also avoid wearing jogging or sports shoes as they can take very long to dry up.
Jewelry and Other Accessories
Taking care of jewelry and other accessories can be very difficult as you go rafting on the river rapids. Also wearing jewelry on rafting can increase the risk of injury or scratches on the skin.
Plastic Poncho
Don't bring a plastic poncho on your rafting trip. It won't keep you dry if it is rainy. Plus plastic ponchos are water resistant but not water proof so at the end of the day, you will be dampened.
A Few Considerations When Heading Towards the River
Take Weather into Account
Weather is one of the key considerations when choosing gear for river rafting. Weather conditions on the river change seasonally so it is important to dress accordingly.
If you are rafting in warmer weather, you should dress lightly. Remember to bring along a bathing suit, some old sneakers or water shoes if you have a pair.
You might also need to bring in a pair of shorts, a t-shirt (quick dry), a hat and sunglasses. Since the river rafting trip is usually a few hours long, it is important to wear a lot of sunscreen.
On the other hand, if you are rafting during the cooler months of the year, it is recommended that you go for heavier clothes. Make sure you dress up in layers which will definitely keep you warm, if not dry.
Adding a fluffy fleece jacket over the swimsuit will give you insulation. Wearing a woolen cap will protect your head from the cold air and water.
Type of River
All rivers are classified into six categories based on the type of rapids. River rapids are sections of river characterized by increased water turbulence due to steep gradient.
Category one is the easiest with limited or no rapids. This is generally safe and you are not expected to wear a helmet or other safety gear as the flow of the river is relatively stable.
But in case of higher categories of river where there are more extreme and dangerous rapids, it is risky to go without a helmet. So decide your gear keeping in mind the type of river you are rafting in.
Type of Material
For some people, it is given that they need a swimsuit and a pair of strapped shoes as they head towards the river. But many people choose the wrong material for their outfit.
It is important that you always go for synthetic material which is not waterproof but dries up quickly.
So always go for woolen, fleece, neoprene, polyester or any other quick drying fabric instead of cotton or any other pure fabric material.
What is Neoprene? – The Best Material for Rafting Clothing
As mentioned earlier, synthetic material is ideal when choosing the material for your rafting outfit. But there are many types of synthetic fabrics to choose from. One of the best choice is neoprene.
It is a brand name of polychloroprene, which is a synthetic substitute of rubber. It is produced by a process called polymerization. Chloroprene is polymerized to produce neoprene.
Due to its distinct properties, neoprene has wide commercial application.
It is commonly used as orthopedic braces, for electrical insulation and as laptop sleeves. However, one of the most important uses of this material is in swimwear.
Should You Wear Neoprene Clothing to rafting?
Neoprene is considered as one of the best materials for rafting outfits. There are a few reasons for that
Neoprene is Impermeable
Neoprene is impermeable. It forms a barrier between the skin of the person and all other elements.
Though this makes neoprene a piece of fabric with zero breathability, it provides insulation from external conditions.
This property makes neoprene an ideal material for rafting clothing as it protects the body from cold water making it completely waterproof.
It is Elastic
While neoprene provides a perfect barrier against river water, it provides a great stretch. The elasticity of this material allows swimmers to get into their swimsuit easily.
Neoprene Retains Heat
Most synthetic materials are sensitive to heat. They can melt as the temperature slightly increases. However, neoprene is heat resistant. Also, this property prevents the water from escaping the suit.
This triggers another action. As your neoprene swimsuit gets wet, the water gets absorbed in the cells of the fabric.
This retained water gets heated due to body temperature. In turn, your body stays warm even when your swimsuit is wet.
It is Not Woven
Unlike most other types of fabric, neoprene is not woven. Instead, it is formed. It can also be pre-made literally into any shape and size. So it saves a lot of work in terms of customization.
In all, neoprene is the best material for swimsuits because it keeps the divers warm and waterproof even when they are fully submerged in river waters.
Ready, All Set!
A well thought out and the appropriate outfit is critical when planning river rafting.
It can make all the difference as you head out for your adventure. But an outfit is not all that you need.
As you head out to the river, you need a dry set of clothes, wear appropriate footwear, sunglasses and a dress made from the right material.
So if you follow the tips highlighted above, there is no doubt that you won't enjoy your rafting adventure.
How to Dress for a River Trip + River Fashion
Wearing comfortable, functional clothing is important in a wild environment, but dressing fashionably (AKA, looking "steezy") is also important.
stee·zy adj. 1. a combination of style and ease 2. wearing appropriate clothing for a frolic in the woods and looking proper 3. dressing fashionably for a wilderness adventure without much effort v. steezing, -ify [example: "Ryan looks steezy wearing that pataguch hoody"]
Dresses, Tank tops, Shorts & Skirts are Great Warm-Weather Options for Camp
On the River: Base Layers
First we'll start with the functional part of your wardrobe. Your very first layer could be a swimsuit or quick-drying underwear (I suggest Exofficio). In cooler temps, you'll want long pants or leggings paired with long sleeves. However, for most of the rafting season, shorts and a tank top will work well.
Swimsuits for Men & Women with Quick-Drying Shorts & Shirts for Hot Days
Pro Tip for Women: If using a swimsuit as your first layer, I recommend wearing a 2-piece style for ease in changing and taking bathroom breaks during the day.
My favorite warm-day-on-the-river outfit would be comfortable longer shorts or capris (or these Prana Mojo Shorts for men) with a quick-drying tank top (think anything you might wear to the gym), paired with a long-sleeve top. Long sleeved shirts like this guide-favorite from Patagonia help keep the sun from burning your arms and shoulders, and on really hot days, you can dip your shirt in the water and put it back on to cool down.
Lightweight, Long-sleeves Paired with Shorts for Sunny Days
Don't forget to bring extra socks! They don't take up much room, and you can always layer wool socks with your sandals if your toes get cold on the raft. Socks also help protect feet from the sun. (Although wearing socks with sandals isn't recommended fashion if you're not on a backcountry trip…) Dry, clean socks feel great after your feet have been wet and sandy all day.
On the River: Extra Layers
On cooler days, you may want to bring along some extra layers in case you get cold. We will give you a day bag (small dry bag) to keep near you on the raft that you can keep your clothes in, or anything else you may need throughout the day.
Items people put in their day bags include: rain jacket, extra shirt to put on at lunch, sunscreen, camera, extra hat.
Wearing Neoprene Wetsuits & Splash Jackets are a Great Way to Stay Warm in the Spring & Fall
Splash pants and a splash top are most useful for cold, wet days, but if you don't want to buy them, an extra set of quality rain gear will work well. Pair this layer with a long sleeved fleece shirt to stay warm. On our trips, we can also provide wetsuits and paddle jackets upon request.
On the River: Footwear & Accessories
There are a few styles of river shoes that work well on the river: sandals, river shoes, and booties. Popular river sandals include Teva, Chaco, and Keen. Our other favorite river shoes are multi-functional shoes from Astral Designs.
Our Favorite River Shoes, from Left to Right: Astral Brewers, Keen sandals, and Chaco Sandals
Having sunglasses makes bright, sunny days much more enjoyable. You'll want to bring along some Chums so that they don't fall off during splashy rapids. Most guides wear ones from Smith Optics because they're steezy.
A wide-brimmed hat is great to have to protect your face from the sun. You may also want to bring a ball cap for the river or in camp. Make sure to bring lots of sunscreen, a sunburn on day one will make for an uncomfortable next few days.
Wide Brimmed Hats, Ball Caps and Sunglasses Are Great for Sunny Days
Camping Outfits
Once you get to camp, you'll probably want to change out of your wet clothes as soon as possible. This is where you have more freedom in what you want to wear. Some folks want to go super casual and wear comfy sweatpants and a t-shirt. Others may be happy to get out of their gym clothes and feel more comfortable changing into something dressier, more how they would dress in their day-to-day lives.
Warm Nights at Camp Mean Colorful T-shirts, Shorts, and T-shirts
On warm evenings, my go-to camping outfit is a cute and comfortable dress. This soft and stretchy one from Prana is my favorite.
Pro Tip for Women: Use your dress as a "changing room." You can slide out of your wet rafting shorts underneath the dress. Try this one from Patagonia— it also doubles as a long skirt.
Wear a Dress to Make Changing Clothes Throughout the Day Easier
On cooler evenings, I like wearing soft pants like fleece or yoga pants and a stylish, but comfortable cotton top. If it's a chilly evening, I like my camp clothes to double as sleepwear so I don't have to change a second time.
For men, plaid, long-sleeved shirts are a warm and comfortable way to look classy. Snap button shirts are extra steezy.
Long Pants and a Lightweight Jacket or Hoody are Great for Cool Evenings
For men, our favorite thing to put on are a pair of canvas shorts, pants if it is cold, and a cotton t-shirt. Cotton doesn't kill, it is comfy. As it cools down I like to put on a flannel shirt or a half zip long sleeve. In the morning, you can add a puffy jacket for while you're eating breakfast and packing up.
Camp shoes
You need to wear shoes in camp. We recommend wearing closed toe shoes to protect your toes as you walk around on sand and rocks. The most common injury on the river happens in camp — twisted ankles and injured toes. Other folks choose to wear flip flops or continue to wear their river shoes.
Hiking Boots (or Trail Running Shoes) Or Flip Flops are Typical Camp Footwear
How many changes of clothes should I bring?
Quite often people (myself included) bring too many clothes on river trips. It's nice to have some clean clothes to change into, but you will find yourself going back to the same outfits for your days on the river. Here is a packing list that I would suggest for a 4-6 day trip.
2-3 sets of river clothes: 2 base tops, 2 base shorts/capris, plus 1 set of pants and long sleeves in case you are cold
2-3 sets of camp clothes: 2-3 tops and 2 bottoms (eg. 1 pair of shorts or skirt, 1 pair of pants)
2 jackets: 1 rain jacket and 1 fleece jacket + warmer jacket for spring and fall trips
2 sets of quick-drying underwear/sports bra or swimsuits
3-4 sets of cotton or other underwear/bras for when in camp
4 pairs of wool or synthetic socks
2-3 pairs of shoes: 1 for the river, 1 for camp, optional hiking shoes (could double as camp shoes)
hat, sunglasses, and bandana or Buff
Beauty Tips
I typically leave my make-up behind, but if you are more comfortable wearing some, a tinted moisturizer with SPF paired with a tinted lip balm or gloss would work well on the river. You could also bring a waterproof mascara, but don't forget to also bring make-up removing wipes for ease of washing your face at night.
Guide Chrissy Looking Lovely with a Headband and Simple Jewelry
Some women choose to bring a couple of pieces of simple costume jewelry to feel feminine while they are away from their normal beauty routine. Don't forget to bring your hairbrush.
Pro Tip: If your hair is unruly, throw on a Buff head wrap. In addition to being a headband, there are 11 other ways to wear it.
Guide Teal Wearing His Adorable Headwrap at Camp
If you arrive with painted nails, know that they will probably be chipped by the end of your trip. If you want to get your nails done before your trip, go for a light or translucent polish color. Consider trimming your nails shorter so they don't break or snag.
Kids and guides enjoy having their nails painted, and an extra bottle could double as an in-camp activity.
These are my ideas and suggestions, but let me know what you think I left off! What are your favorite items and brands to wear on the river? Let us know in the comments below!
Source https://www.brexpeditions.com/what-to-wear-white-water-rafting/
Source https://raftthecanyon.com/rafting-clothing/
Source https://www.nwrafting.com/articles/how-to-dress-for-a-river-trip-river-fashion