What to pack for white water rafting?
The most comfortable clothing to wear on the river is a pair of shorts which are not too short so that they're not hiking up on you all day, a quick drying t-shirt (rashguards for surfing are a great option) and shoes that strap onto your feet. Your shoes can be tennis shoes (they'll get wet) or river sandals.
A swimsuit under your clothing is an optional choice some people prefer. It is very important to bring sun block as you'll be in the sun and in the water all day. If you wear glasses either prescription or sunglasses you'll want to have croakies or a strap of some sort to secure them to you head.
For after the river, you need to bring a day pack that will stay on the bus. In this day pack you'll need: a full set of dry clothes to change into after the river, a plastic bag for your wet clothes, a wind breaker, sweat shirt or light weight jacket and a towel. You may also choose to bring a very small amount of cash for a beer or soda at the take out.
For Overnight Rafting Trips to Rios Tropicales Lodge
For the overnight Pacuare River trip on the Costa Rica River and Rain Forest Adventure participants will need to pack three groups of "stuff". The first set will be river gear which will be worn in the raft and will be wet the whole trip. The second set of "stuff" will be dry clothes to wear at camp as well as personal toiletries needed for the night at camp. The third group of "stuff" will be left on the bus so that participants will have clean, dry and warm clothes at take out. Please be sure to take with you on the river only those things that are truly needed. Each person will receive one dry bag to accommodate his/her belongings.
For Overnight Rafting Trips to Pacuare Lodge
Guests on Pacuare Lodge Adventure trips will have their luggage limited to the Lodge´s inside dry bags (shown in the image below). These bags have a limited capacity and the size and weight of the luggage must be restricted according to the following dimensions:
Maximum weight: 20 lbs/10kgs
Maximum Size: height 22in /width 8in /length16 in
Amount: 1 piece of luggage per passenger
Must fit in a dry bag as seen in the images
Bags over the size or weight allowance will not be transported to the lodge.
The following link includes a list of equipment which should be packed separately from the rest of your luggage at the time of pick-up in your hotel for the Pacuare Adventure
If you are returning to San José and your drop off point is the same hotel as your pick up then please store your extra luggage at that hotel. In case you are not traveling back to San José we will gladly store the rest of your luggage in our warehouse in Siquirres during your tour.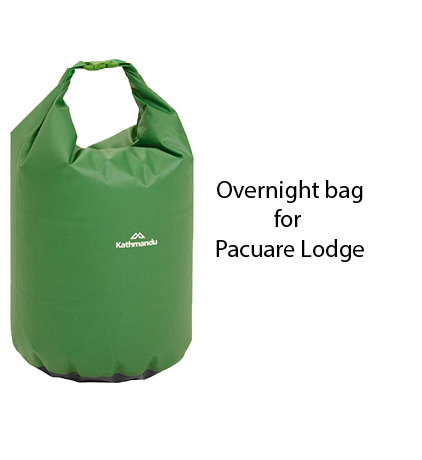 Need to Talk to Your Travel Specialist?
TOLL FREE: 1-800-608-0043
Office Hours: Monday – Friday 9:00am – 6:00pm CST
Privacy: Costa Rica Expeditions respects your privacy and security.We will never disclose email addresses or personal details to a third party.
All images and text are the exclusive property of Costa Rica Expeditions and cannot be used by other persons or organizations without written permission from Costa Rica Expeditions. Problems on the site? Please contact: [email protected] .
White Water Rafting in Costa Rica: Where to Go & What to Know
Are you looking for adventure in Costa Rica? Do you want a thrill with a little bit of relaxation on your vacation?
Let's talk about the amazing white water rafting you can experience in Costa Rica, whether you are a level I rafter (beginner) or a level 6 (Expert).
In this article, we want to allow you to learn how to flow down the stream that will touch your heart and soul.
What Is The Best Place to White water Raft in Costa Rica?
Rafting the Mighty Rio Pacuare
"Rio Pacuare!" members of the Costa Rica Escapes team will collectively and enthusiastically answer! Travelers that want to take full advantage of their limited time in this country must experience white water rafting on the Pacuare (Pah-KWAH-ree) River. Overall, this paddle-sport adventure leaves people in awe and provides an unforgettable white water experience.
Pacuare River rafting is one-of-a-kind and offers visitors an incredible and genuine look into the primary rainforest of Costa Rica. So naturally, and as Mother Nature intended, is the way that paddlers will experience this world-renowned river.
No vacation is complete without a white water rafting adventure on Costa Rica's famous Pacuare River!
Kayaking or rafting Costa Rica's Rio Pacuare is ideally spent as an overnight trip to enhance visitors' adventure. The overnight trip breaks the rafting into two portions and allows paddlers to sleep at one of the river's eco-lodges and riverside campsites. With this experience, travelers get a million-star experience as they truly feel it is like to sleep in the rainforest.
Gorgeous Rainforest Lodge Camping on the Pacuare River
Hands down, the best place to white water raft in Costa Rica is the Pacuare River. This excellent river basin starts at over 9,000 feet (3,000 meters) above sea level in the Talamanca Mountain Range and travels for over 400 feet (130 Km ) until it reaches the Caribbean Sea. Since 1985, the land alongside the river has been protected as a forestry reserve, making this river one of the most beautiful sights in the world.
As you travel the river waters, you can enjoy impressive small waterfalls, canyons, and a dense rainforest home to a lot of wildlife. Travelers have seen jaguars and tapirs on the side of the river, but those sights are very rare. Instead, it is common to see toucans, raccoons, monkeys, sloths, anteaters, peccaries, iguanas, hummingbirds, and many butterflies like the blue morpho.
It is common to see indigenous people using and enjoying the river since a considerable population of the Cabecar Indigenous Community lives in the area.
The first white water adventurers to enjoy this river only did it in 1980, but multiple experts and companies have rafted down its waters since then. Today there are over 20 companies that offer white water rafting tours in the Pacuare.
The Pacuare River has three main sections that offer different rafting experiences:
Lower Section
Upper Section
Upper Upper section
The most commonly rafted section is the Lower Section, a 230-mile (37 Km) stretch of river with multiple class III and IV rapids. The Upper Upper Section and the Upper Section are much more technical, and only the Upper Upper Section can be rafted. In addition, there are level IV and V rapids in the Upper Section that kayaks can only run.
Where Else in Costa Rica Can You Go White Water Rafting?
Suppose you are looking at the map of Costa Rica. In that case, you will notice many white water rafting adventures in the provinces of San Jose, Cartago, Alajuela, and Heredia. In addition, there are some in Puenteras province, closer to Manual Antonio and Limon province, closer to Panama, but those are not as popular.
Let's talk about a couple of rivers located in Costa Rica that may spark your interest, but we have some incredible rivers that we will break down even further.
La Fortuna Rapids
La Fortuna is a famous town in Costa Rica, as you will hear people say, "The Gateway to Arenal Volcano." The volcano has two active volcanos in Arenal but let's talk about La Fortuna Rapids. From this town, many white water rafting companies will take you out on the many entrances of La Fortuna. You will have to travel to get to these spots for La Fortuna.
Rio Balsa
Another incredible place to go white water rafting in Costa Rica is close to La Fortuna, about 45 minutes, called Rio Balsa, which is perfect for the whole family.
If you are brand new to rafting, this is a great river to go. You will have some great movements of pure joy on the rapids, but then you will be able to experience and see the landscapes, possibly see the monkeys and many birds.
Penas Blancas River
Are you looking for a river that you can take the family down? Well, Penas Blancas River is it. The Penas Blancas River is in Puenteras Province, under 2 hours from the San Jose Airport.
You can enjoy the river's flow without worrying about trying to paddle your way out. If you and the family are lucky enough, you will be able to enjoy the wildlife, such as monkeys, sloths, crocodiles, and many birds, to name a few. Don't forget to grab that camera!
Rio Toro
The Rio Toro, which means "Bull River," is not for the gentlest of heart, as the name says it all. Instead, this river is for experienced rafters who experienced white water rafting rapids, such as class III and IV. So, taking the kids would not be ideal, but if you want the blood pumping, then we highly recommend it.
The Rio Toro is in the Alajuela Province and about 3 hours from the San Jose Airport.
Sarapiqui River
If you want to head north of the San Jose Airport for only 2 hours, you can experience the Sarapiqui River, as many white water rafters will head here. Why? They have many multi-day adventures.
The beauty of this river is that you can experience class III and class IV rapids, especially during the rainy season, which is June to October. Still, you can also experience some safari tours for the family.
How Much Is Rafting In Costa Rica
Long story short, it will depend on how long you will be rafting. Are you looking to do a day trip or a multi-day trip? Are you adding other adventures to it, such as zip-lining, lunch, or rappelling?
If you are looking at a one-day trip, we have seen prices starting at $65/person up to $130, including zip-lining or lunch or hanging bridge hikes.
If you are looking for a multi-day trip for whitewater rafting, you will have to contact the tours as the tours will be based on how many people will be joining the journey to fuel the heart and soul on the white water rapids in Costa Rica.
How Dangerous Is White River Rafting in Costa Rica?
We wouldn't suggest white water rafting in Costa Rica if it weren't safe for us, Costa Rica Escapes, so we want you to feel at ease that it is one of the safest activities for visitors to Costa Rica.
We also want you to make sure you feel comfortable on the rafting tours, so if you are looking for a specific tour, tell us how comfortable you are, and we will do the rest.
How Far Is Pacuare River White Water Rafting From San Jose Costa Rica Airport
If you fly into San Jose (SJO) International airport, the Pacuare River takes approximately 2.5 hours to get to the Pacuare River.
The Pacuare River (or Rio Pacuare), a class III & IV river, runs from West to East through the Talamanca Mountains and ultimately ends in the Caribbean Ocean. This river is most easily accessed from the Costa Rican adventure capital of the East – Turrialba. Turrialba has numerous commercial outfitters that have been running this river for years.
The Pacuare River has numerous put-in points. While the river is accessible from the capital city of San Jose and other population and tourism hubs around the country, the easiest way to take a guided trip on this river is out of Turrialba.
The most often used put-in is located in a town just outside of Turrialba, called Tres Equis. In addition, commercial outfitters use numerous put-in spots further upriver from Tres Equis, but these are generally reserved for special paddling trips or kayak tours.
Where Is The Best Whitewater Rafting For Children In Costa Rica?
Let's talk about the basics of kids and whitewater rafting. It is suggested that kids should not be under five years old when rafting and starting at a level I (see below). Still, some of the whitewater rafting that we see in Costa Rica for the family are Penas Blancas River and Rio Balsa, to name a couple.
When looking for rapids for the kids, look for Levels I and II, but many white water rafting companies will have restrictions, so make sure you check into that before you book.
What Level/Class Is White Water River Rafting In Costa Rica?
There are levels/classes to white water river rafting in Costa Rica and around the world, and Costa Rica has all the levels.
Let's discuss what the levels are all about:
Level I: You want to go tubing? Here is your class.
Level II: This level is for the novice, and you may have to deal with some obstructions, such as rocks, trees, etc.
Level III: Expect to get wet on this one, as you are dealing with some rapids, obstructions, and working on your boat control.
Level IV: This is an advanced level, as you may have to make quick moves so you don't flip the raft.
Level V: This level is for expert rafters.
Level VI: OOFF, how good are you with white water rafting? These are unpredictable and very dangerous.
For the most part, here at Costa Rica Escapes, we see many levels III and IV but then, of course, the ones for the family, at the levels I and II.
What To Wear White Water Rafting In Costa Rica
Expecting for the best and preparing for the worse would be our mantra for white water rafting in Costa Rica, but it shouldn't be that hard to figure out what you need, whether you are hitting the Level I rapids or the IV.
Let's break it down for you:
Clothes: Shoes, such as Tevas or tennis shoes, that you don't care about will get wet. A swimsuit. Maybe a long sleeve wicking t-shirt to help block the sun or an SPF top. Don't forget to grab some dry clothes for the car ride home when you are leaving. If you are rafting as the sun goes down, sometimes it can get chilly, so maybe have a light jacket.
Essentials: Waterproof sunscreen, 50 SPF or higher, insect repellent, if you are someone who gets bit, and any medications that you need personally. Sunglasses with a strap to make sure you don't lose them! A water bottle, preferably not plastic, as we don't want to pollute our rivers.
Additional: Of course, a camera, and it could be your phone. Binoculars to look for those cute sloths, potentially a flashlight, AND if you are overnighting it, maybe an additional charger to charge your phone for more photos the next day.
Summary: White Water Rafting in Costa Rica: Where to Go & What to Know
Are you ready to experience those streams and Leonard di Vinci's river beautifully described in Costa Rica? We think you are.
Many rivers in Costa Rica will do white water rafting, and while we couldn't name them all, we wanted to share our top ones for you to plan out your trip.
If you are looking to experience more than whitewater rafting, reach out to us, so we can help you plan the trip of a lifetime!
John Rabenau has been working in the eco-tourism & adventure travel industry in Costa Rica since 2002. He has worked in a variety of capacities from Outdoor Educator & Principle Guide to Itinerary Design Manager & Business Owner for numerous organizations. He has grown Costa Rica Escapes into one of the most reputable Costa Rica travel agencies since its creation in 2006, hosting more than 5,000 people with custom vacation itineraries.
What to Wear for River Rafting: The Complete Guide
White water rafting or river rafting is an exciting sport and an excellent outdoor recreational activity.
It allows you to navigate through the river rapids water using an inflatable boat.
As you go up and down the river rapids, the thrill is often accompanied with risks and challenges so rafting requires a great deal of teamwork.
While you don't have to be a professional swimmer to enjoy rafting. All it takes is a simple set of instructions from the outfitters and you are ready for the ride.
Yes, you are ready for the adrenaline rush and thrill, but are you dressed properly?
Many people plan a rafting trip with their friends and family. They search for the best outfitter with an experienced guide and reliable equipment. It is obvious that people want safety on this bumpy ride.
So they go for the company which offers the highest levels of safety, have a first aid kit and other necessary equipment on board.
While some do their research for choosing the best and most reliable outfitter, many people are confused about how to dress up for rafting. If you are one of them, this guide is for you.
It includes all the information you need about rafting clothing. Whether you want to go for river rafting in summers or winters, having the right gear will allow you to make the most of your ride.
Below you will find out what to wear and what not to wear. Though the type of dress you choose for rafting clothing is critical, choosing the right material is equally important.
So if you are confused about the right type of material for your rafting clothing, you can find out relevant information here.
Let's get started with a few tips using which you can make your rafting trip a trip to remember.
Significance of Dressing Appropriately for Rafting
River rafting is a wet sport.
Whether you stay on the boat or you dive into the river, you are bound to get wet.
And for this very reason, you need to dress appropriately for rafting. Below, you will find out what to wear and what not to wear for river rafting.
What do you wear for river rafting?
All outfitters provide the equipment necessary for rafting. You will get a helmet, life jackets and paddles.
However, you will need to take care of other essentials such as clothing, shoes and sunglasses.
Though most outfitters provide these rafting essentials on rent, it is always a good idea to bring your own stuff. Let's have a look at what you will need on your rafting adventure.
Rafting Clothing
Wet suit
Wet suit is a special type of swimsuit which keeps you warm. It is water proof and is designed to insulate the body.
Swimsuit
Swimsuit is a must. Regardless of the season, you need a swim suit which you can wear under the wet suit or along with your shorts or pants.
Shorts or Pants
Always go for synthetic material when choosing pants or shorts. Avoid denim or cotton pants or shorts as they retain water, become heavier and do not dry quickly.
Almost all outfitters rent good quality pants or shorts for your rafting ride, but bringing in your own pair will give you all the comfort you need on your rafting adventure.
Shirt
Many people prefer to wear a shirt over their swimsuit. If you are one of them, choose a tightly fitted shirt. It works best under wet suits.
Choose the shit you are most comfortable in keeping in mind the weather.
If you are comfortable with the sun and want a tan, go for a tank top but if you want to protect your hands from the sun, a long-sleeved shirt is ideal.
Extra Layers
Keeping a light weight jacket along is always recommended on your rafting ride.
A light wear jacket made from a synthetic material such as polypropylene or neoprene is ideal. It dries up quickly and provide you all the warmth you need when you are wet and cold.
Shoes
While most people still manage to take care of their clothing, footwear is often the most neglected area.
Many people do not realize that they need proper footwear because they are required to walk through the shallower parts of the river and the river bed is full of rocks which are often sharp and slippery.
So as you are boarding on the raft and getting off it, it can be very painful to walk if you are not using the right footwear.
So always keep in mind that the right footwear can make a whole lot of difference.
When choosing the footwear for rafting, always remember,
Do not Wear Slippers or Flip Flops
Rafting is an extreme water sport.
Though many people choose flip flops as they come off easily but keep in mind that they can fall of the raft as easily.
In case that happens, you will not have the protection against the rocky, river bed and you might end up hurting your feet.
Go for Strapped Sandals
It is best to go for strapped sandals. Secured by Velcro, these straps allow you to adjust the grip of your shoe according to your comfort.
They also provide adequate grip and safety as you walk into the shallower parts of the river while getting on the raft and coming off it.
An added advantage! Strapped sandals dry quickly. So you can wear them as you leave your home, go rafting and come back in the same pair.
Crocs Can Be an Option
Crocs are often an option. They stay on your feet most of the time and they dry up quickly. While they give the perfect outdoor look to your attire, they do not have the best grip.
So as you walk in the river, there is a good chance that you might slip. Also, since they are designed to be worn slightly loosely, they can float away as you enjoy the river rapids.
If You Have No Other Option, Go for Sports Shoes
Jogging or sports shoes is something most people prefer. You can wear jogging shoes as they provide full coverage to your feet. However, they can slip easily on wet surfaces.
So before you walk in the river, it is possible that it might even slip in the wet surface of the raft. Also, sports shoes do not dry up easily.
So if you are planning to wear sports shoes to your rafting adventure, make sure you have an extra pair of shoes to drive back home as coming back home in wet shoes can be quiet uncomfortable.
Don't Forget the Socks
Socks is probably the last thing on your mind when planning rafting. But they can be a life saver.
So if you are rafting during the cooler months, woolen socks can help keep your feet warm during the trip. However, you don't need socks if you are rafting during warmer months of the year.
Sunglasses
If you are planning a rafting trip on a bright sunny morning, then you need a good pair of sunglasses. Certainly you don't want to be stuck with the sun all day.
But at the same time, you wouldn't want to lose your favorite pair of glasses on your rafting adventure. So go for glasses which provide a comfortable fit even during the most rough rapids.
At the same time, provide protection to your eyes from the harmful UV rays of the sun.
Accessories
Towel
As you head out to the river, don't forget to keep a dry towel. You will definitely need one at the end of your trip. You don't have to go for a bath sheet.
All you need is a regular sized towel which is enough to dry up after you are all wet. At the same time, it should be small enough to fit in your bag.
Sunscreen
You would certainly not want to get stuck with the sun for a few hours and tan your skin. As you head for the river, lavishly apply a good quality sunscreen.
It will not only save you from tanning but will also protect your skin against the harmful effects of UV rays. But sunscreen is something you won't need on the raft.
So apply it well before your rafting adventure begins.
What Not To Wear?
Now that you know what to wear, it is equally important to know what not to wear. This information will prevent you from carrying unnecessary baggage to your rafting trip.
Denim/Jeans
Jeans/denim retains water and dries up slowly. As since you are bound to get wet on our rafting trip, opting for jeans can make you really uncomfortable.
Cotton Clothing
Similar to denim, cotton takes up a lot of time to get dry. Though it won't get as heavy as denim, it is definitely not comfortable to be in an outfit which takes so long to dry.
Inappropriate Footwear
Don't go for slippers, flip flops and any other type of footwear which can slip on wet surfaces. Also avoid wearing jogging or sports shoes as they can take very long to dry up.
Jewelry and Other Accessories
Taking care of jewelry and other accessories can be very difficult as you go rafting on the river rapids. Also wearing jewelry on rafting can increase the risk of injury or scratches on the skin.
Plastic Poncho
Don't bring a plastic poncho on your rafting trip. It won't keep you dry if it is rainy. Plus plastic ponchos are water resistant but not water proof so at the end of the day, you will be dampened.
A Few Considerations When Heading Towards the River
Take Weather into Account
Weather is one of the key considerations when choosing gear for river rafting. Weather conditions on the river change seasonally so it is important to dress accordingly.
If you are rafting in warmer weather, you should dress lightly. Remember to bring along a bathing suit, some old sneakers or water shoes if you have a pair.
You might also need to bring in a pair of shorts, a t-shirt (quick dry), a hat and sunglasses. Since the river rafting trip is usually a few hours long, it is important to wear a lot of sunscreen.
On the other hand, if you are rafting during the cooler months of the year, it is recommended that you go for heavier clothes. Make sure you dress up in layers which will definitely keep you warm, if not dry.
Adding a fluffy fleece jacket over the swimsuit will give you insulation. Wearing a woolen cap will protect your head from the cold air and water.
Type of River
All rivers are classified into six categories based on the type of rapids. River rapids are sections of river characterized by increased water turbulence due to steep gradient.
Category one is the easiest with limited or no rapids. This is generally safe and you are not expected to wear a helmet or other safety gear as the flow of the river is relatively stable.
But in case of higher categories of river where there are more extreme and dangerous rapids, it is risky to go without a helmet. So decide your gear keeping in mind the type of river you are rafting in.
Type of Material
For some people, it is given that they need a swimsuit and a pair of strapped shoes as they head towards the river. But many people choose the wrong material for their outfit.
It is important that you always go for synthetic material which is not waterproof but dries up quickly.
So always go for woolen, fleece, neoprene, polyester or any other quick drying fabric instead of cotton or any other pure fabric material.
What is Neoprene? – The Best Material for Rafting Clothing
As mentioned earlier, synthetic material is ideal when choosing the material for your rafting outfit. But there are many types of synthetic fabrics to choose from. One of the best choice is neoprene.
It is a brand name of polychloroprene, which is a synthetic substitute of rubber. It is produced by a process called polymerization. Chloroprene is polymerized to produce neoprene.
Due to its distinct properties, neoprene has wide commercial application.
It is commonly used as orthopedic braces, for electrical insulation and as laptop sleeves. However, one of the most important uses of this material is in swimwear.
Should You Wear Neoprene Clothing to rafting?
Neoprene is considered as one of the best materials for rafting outfits. There are a few reasons for that
Neoprene is Impermeable
Neoprene is impermeable. It forms a barrier between the skin of the person and all other elements.
Though this makes neoprene a piece of fabric with zero breathability, it provides insulation from external conditions.
This property makes neoprene an ideal material for rafting clothing as it protects the body from cold water making it completely waterproof.
It is Elastic
While neoprene provides a perfect barrier against river water, it provides a great stretch. The elasticity of this material allows swimmers to get into their swimsuit easily.
Neoprene Retains Heat
Most synthetic materials are sensitive to heat. They can melt as the temperature slightly increases. However, neoprene is heat resistant. Also, this property prevents the water from escaping the suit.
This triggers another action. As your neoprene swimsuit gets wet, the water gets absorbed in the cells of the fabric.
This retained water gets heated due to body temperature. In turn, your body stays warm even when your swimsuit is wet.
It is Not Woven
Unlike most other types of fabric, neoprene is not woven. Instead, it is formed. It can also be pre-made literally into any shape and size. So it saves a lot of work in terms of customization.
In all, neoprene is the best material for swimsuits because it keeps the divers warm and waterproof even when they are fully submerged in river waters.
Ready, All Set!
A well thought out and the appropriate outfit is critical when planning river rafting.
It can make all the difference as you head out for your adventure. But an outfit is not all that you need.
As you head out to the river, you need a dry set of clothes, wear appropriate footwear, sunglasses and a dress made from the right material.
So if you follow the tips highlighted above, there is no doubt that you won't enjoy your rafting adventure.
Source https://www.costaricaexpeditions.com/resourcelibrary/what-to-pack-for-white-water-rafting.php
Source https://www.creescapes.com/white-water-rafting-costa-rica/
Source https://raftthecanyon.com/rafting-clothing/