How to Pack for a Multi-Day Rafting Trip
The how to's of packing for a multi-day rafting trip are like preparing for the best camping trip ever. First of all, you're going on a boat. And that boat will be inside the far reaches of a wild river canyon. And that wild river canyon will be loaded with beaches, brilliant precipices, more canyons, wildlife, unbelievable stories in the making— cue "awwws". And, as a guest it doesn't involve any extensive planning get there.
It sounds a little crazy, but you'll actually bring less on these excursions than you would on a regular camping trip. Since the guides take care of all the rafting and camping equipment, all you're responsible for are the things that are just for you, like pillows and underwear, if you so choose to bring underwear that is.
There are a few other things you should bring, which we've listed below for your convenience, along with some tips on how to pack those belongings into our special river suitcases.
Day Bag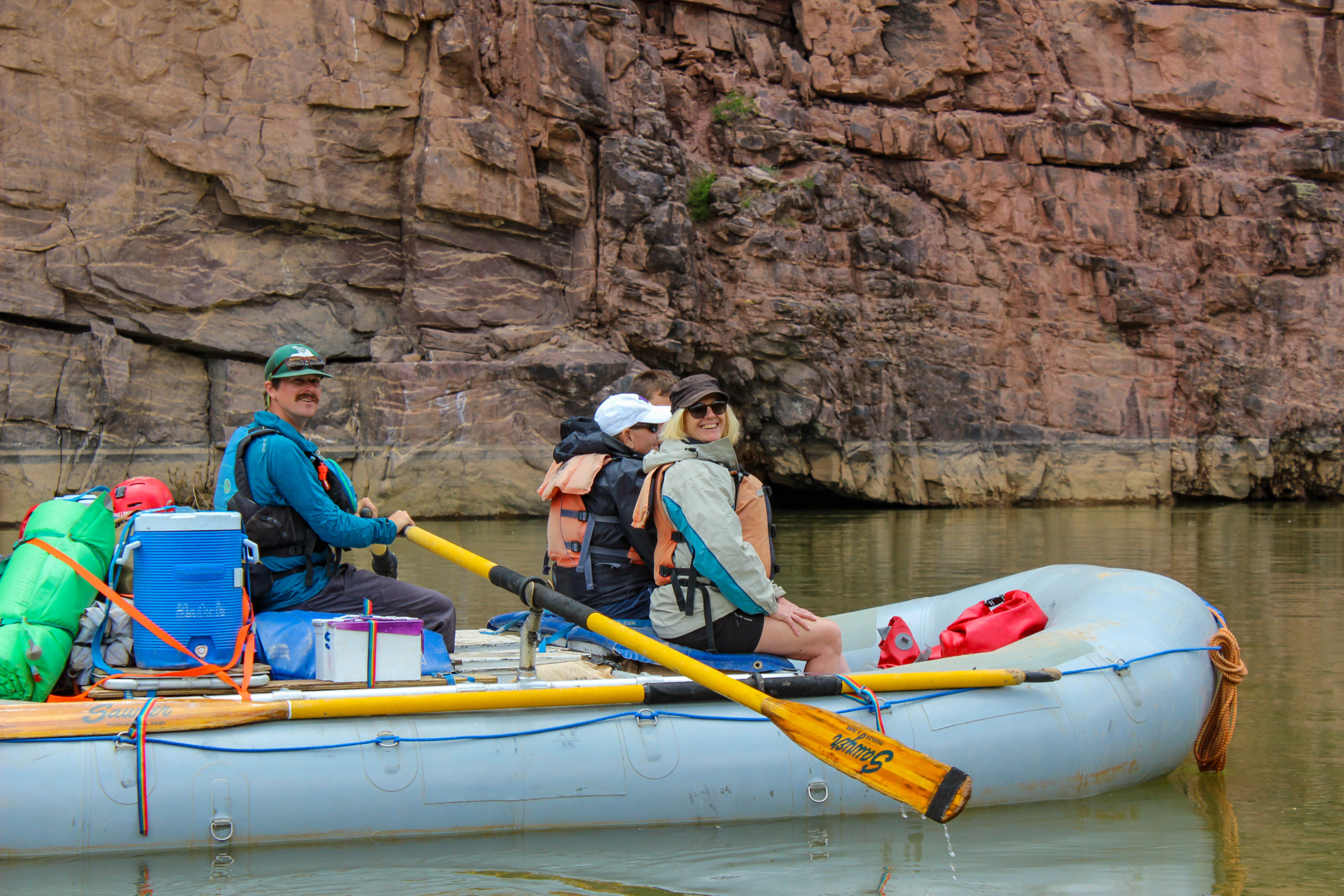 Think of this bag as your carry on. It's smaller and meant for the things you'd like to have access to during your flight—er, float! Be sure to have the following items in your Day Bag for your time on the river:
Sunscreen, at least SPF 30.
Chapstick, preferably with an SPF.
Medications you need on hand.
Camera or smartphone. Hopefully one with it's own water-resistant case.
Rain Jacket & Pants (Especially during monsoon season in mid-to-late summer)
Sarong
Merino Wool or Polypro socks and a Beanie (Great for those impromptu cold snaps)
Fleece/Hoodie (Especially for spring and fall trips)
Wear this on the boat:
Swim Wear
Sun shirt and quick drying bottoms
Sunglasses and Chums
Sun Hat
Overnight Bag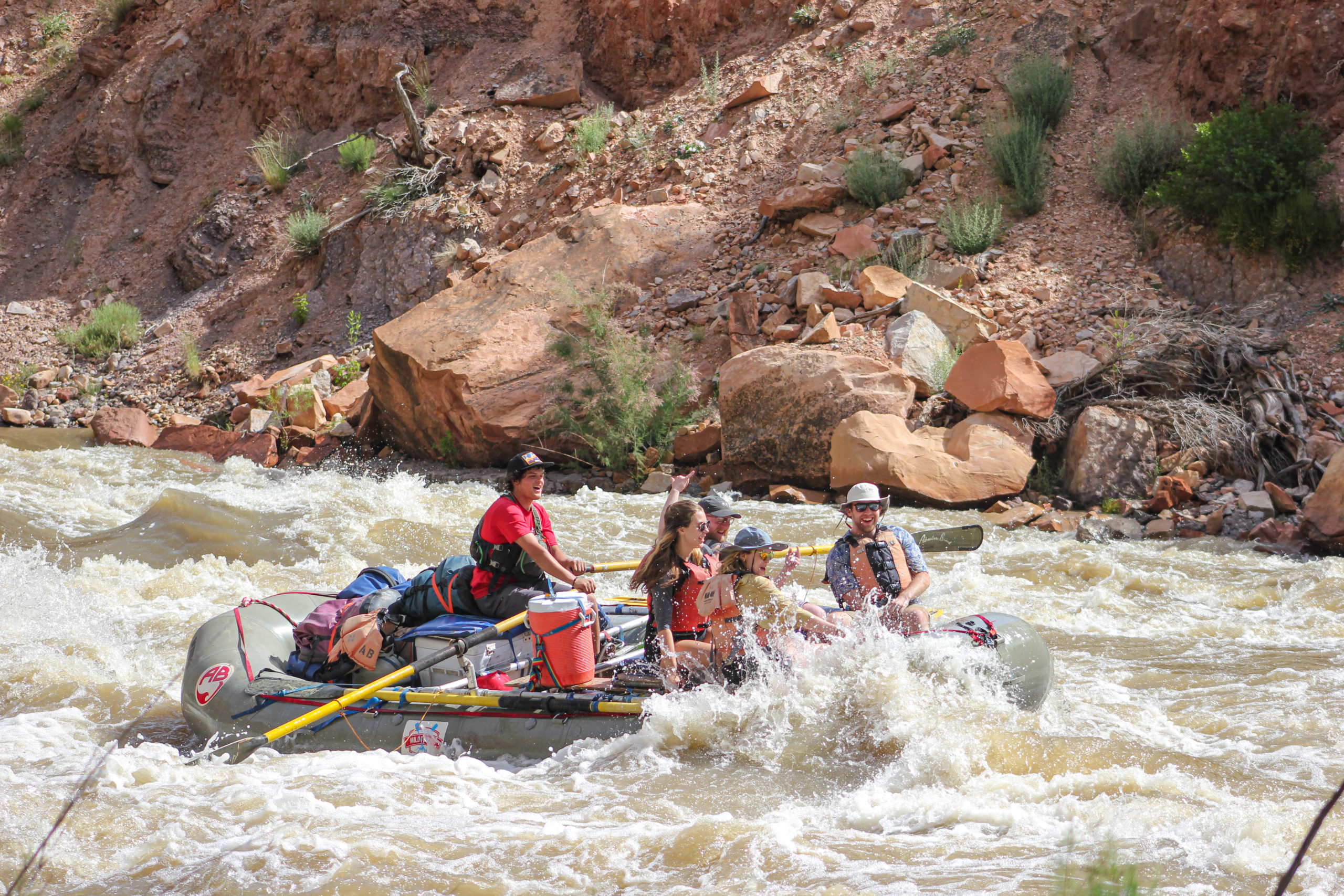 These bags are strapped down in the back of the rafts, and won't be accessible until you reach camp for the evening. In these bags should go your:
Tent
Sleeping Pad
Sleeping Bag
Pillow
The bulk of clothing for the trip. We highly suggest bringing warmer, comfy clothes for lounging around camp.
Personal Toiletries: Toothbrush, comb, etc. We provide hand sanitizer and soap in camp for you.
Headlamp/Flashlight
Games, books, instruments, or any other recreational items you so wish to have.
To organize this bag so it closes nice and water tight:
Pack bigger items at bottom like your tent, sleeping bag, and clothing bag. Then pack in the smaller items like toiletries and flashlights on top. Lift the bag and give it a healthy shake to get all the items inside packed closely together. Then fold the top down and squish out all the air. Roll down the top of the bag until it's all the way down to your stuff. Click down the side straps, tighten them and click the top ones last.
Alcohol & Snacks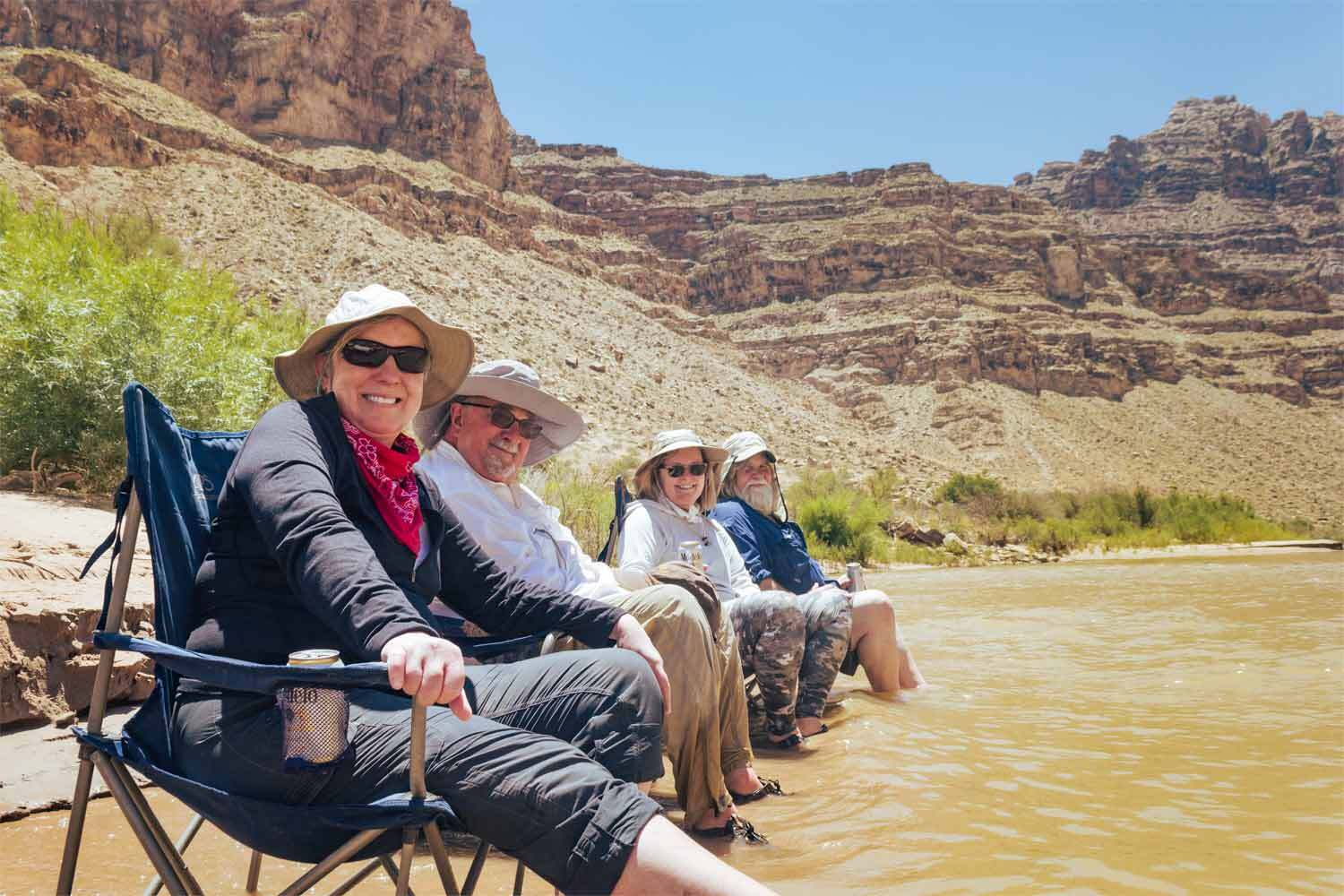 You are welcome to bring alcohol on your multi-day rafting trip. Just be sure to have it in non-breakable containers, and if it's enough to supply a modest bar, consider bringing a cooler for it along as well. If you don't have one, just let your guides so they can pack it into one of ours. Also, don't forget to bring your favorite snacks if you love to munch during the float. Keep in mind, things in bags (beloved chips) are quite subject to being crushed.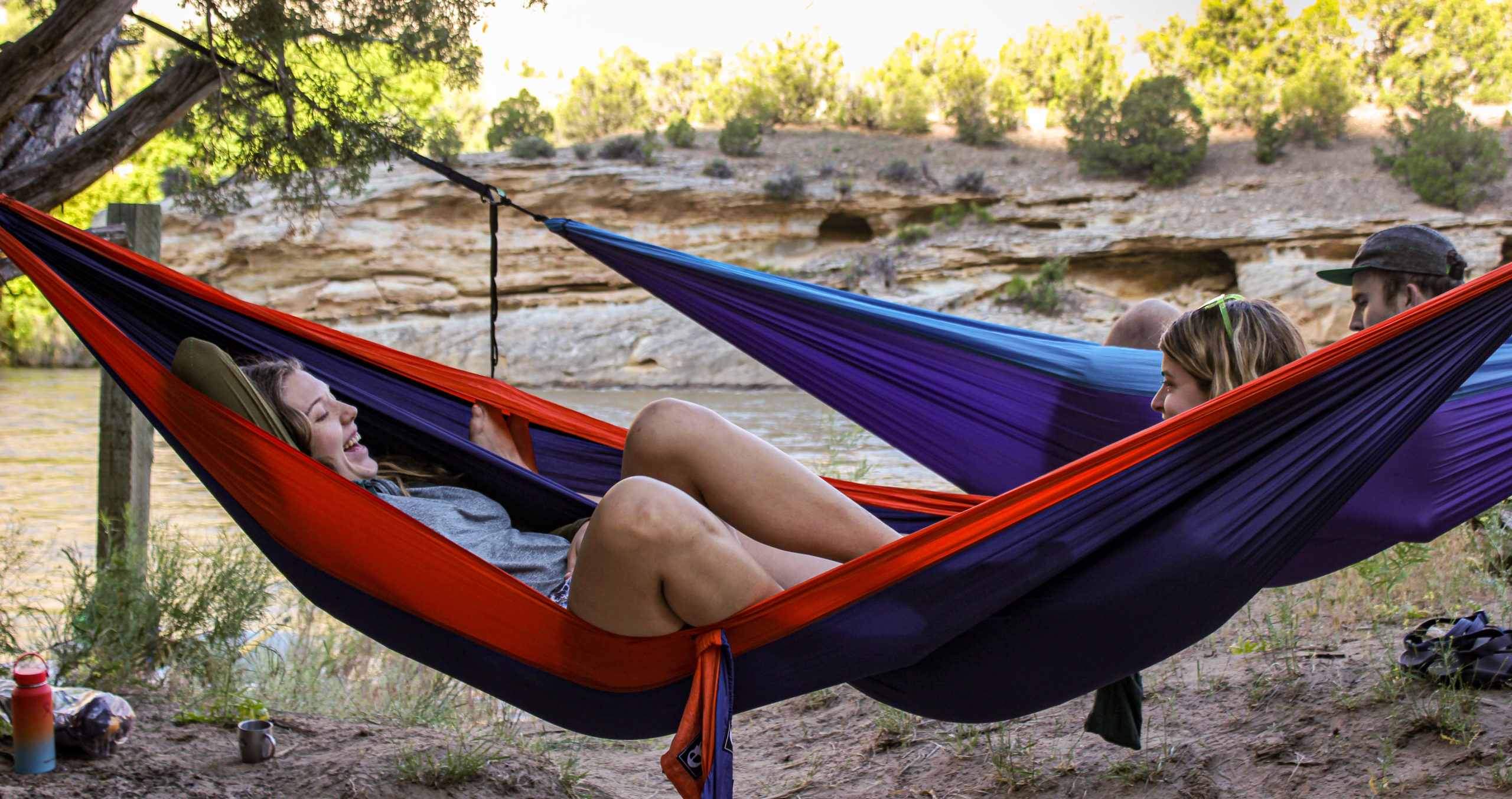 If this is your first time learning how to pack for a multi-day rafting trip, you're probably going to bring more stuff than you're going to use— which is totally okay! Bring the books if you see yourself reading in camp more than socializing, or those swimsuits if you really want to change it up each day. Heck, bring a costume if you want! This is your vacation after all. But just so you know, as long as you have one base layer, one mid-layer, and a warm layer for clothing, you're good to go!
Packing is such an exciting part of any trip, and we hope this helps you sort through the array of stuff you have spread out over your bed or floor. If you still feel underprepared, check out 8 extra things not on the multi-day raft trip packing list . Happy campin'!
What To Pack On A White Water Rafting Trip
Ready for an adventure of a lifetime? White water rafting is an amazing experience full of moments of excitement and awe in the great outdoors. It's best to come prepared for your trip so you can enjoy yourself no matter what may be in store.
Many outfitters, like Winding Waters River Expeditions, provide premium rafting and camping equipment, including life jackets, dry bags, tents, sleeping pads, and more. However, you are responsible for your own personal items.
What should you pack for a white water rafting trip? That depends on the type of trip, time of year, and length of the trip. However, there are a few essentials for white water rafting you can't do without no matter what kind of trip you take.
We've put together a detailed packing list that you can download here, or continue reading for a great overview of what you need to bring on your river rafting adventure.
Clothing To Pack For A White Water Rafting Trip
One of the first things you'll need to pack is the clothing you will wear on your rafting trip. As a general rule, try to avoid cotton clothing. Cotton tends to get cold when wet — and you'll definitely be getting wet — so avoid cotton in every season.
The clothing you pack will generally depend on the weather, but here are a few clothing-related items you will need to bring no matter what time of year you go rafting:
River Shoes – Wear sturdy sandals with straps that are designed for watersports. Flip flops won't cut it!
Camp "Slippers" – You'll need dry shoes to wear around camp to keep your feet safe and warm. Remember, mornings can be cold even in the summer!
Extra Plastic Bag for Wet Clothes – You can use a trash bag or a large ziplock. Keep your wet clothes separate from your dry clothes so everything doesn't end up soggy.
Set of dry clothes – After a day getting splashed on the river, you're going to want something nice and dry to change into.
For warm and sunny weather, be sure to pack:
Quick-dry shorts or bathing suit
Synthetic shirt (quick-drying, non-cotton material)
Long-sleeved sun shirt
Sun-blocking hat – Bring a brimmed hat to protect your face from the sun
Sunglasses – Don't forget a retainer strap
For cool, cold, or rainy weather, be sure to pack:
Top outer layer, such as a windproof and waterproof jacket
Bottom outer layer, such as windproof and waterproof pants
Sweater, jacket, or sweatshirt (fleece or wool recommended)
Warm hat – tin, snug
Synthetic or wool socks
Synthetic long sleeve shirt(s) and top layers
Synthetic long underwear or leggings
Personal Items To Pack For A White Water Rafting Trip
Water Bottle
Water is your best friend on your river vacation. It's not just carrying you down the river, it's also hydrating your body and keeping you healthy. We recommend Hydro Flask water bottles, which are specially designed to keep your water cold. Whatever water bottle you bring, it's a good idea for it to have a carabiner so you can easily clip it to the raft and other gear for easy access.
Sunblock
Nothing ruins a good outdoor vacation like a sunburn. If there's one personal item you can't do without on a white water rafting trip, it's sunblock. Bring along a container of long-lasting, waterproof, and sweatproof sunblock, along with a sun-blocking hat and chapstick with SPF. We apply early and often on the river!
Snacks
With Winding Waters River Expeditions you will enjoy sustainable, locally grown foods during meal times, but in between you may want to have something to snack on. Only bring snacks that are light to carry and don't require cold or hot storage.
Soap, Lotion, and Toiletries
At the end of the day, you'll probably want to wash off that "river feeling." Bring along some soap (we recommend Dr. Bronner's ) and other basic toiletries to clean up after a long, adventure-filled day. Lotion is also a great idea to bring some moisture back to your sun-soaked skin. Don't forget to throw any medications you need into your toiletry bag too!
Fun Items To Pack For A White Water Rafting Trip
In addition to the essentials like clothing and gear, you may want to pack a few fun items to enjoy during your free time camping along the river.
Here are a few extra items you may want to consider bringing:
Camping hammock
Swimming goggles or snorkel gear
Binoculars
Star gazing guides
Playing cards
Flashlight or headlamp
Just be sure your extra items are small, light, and easy to pack!
The Not-To-Pack List For White Water Rafting Trips
Almost as important as knowing what to bring on a white water rafting trip is knowing what not to bring. Some items and white water rafting just don't mix. The last thing you want is to lose or damage your personal belongings, especially valuable personal belongings. Keep in mind, your stuff (and yourself) will be exposed to the great outdoors, so don't bring anything you don't want to put at risk.
Here are a few items you should definitely leave at home:
Electronics (laptop, iPad, iPod, etc.)
Expensive jewelry
Expensive eyewear
If you do choose to bring electronics like your smartphone or camera, make sure you have a dependable waterproof case to reduce the risk of damage.
Get Packing and Get Going!
More often than not, our white water rafting guests find that they overpack for the trip rather than underpack. As long as you have the essential items appropriate for your trip length and weather conditions, you should be just fine.
Remember, with Winding Waters River Expeditions, you are lead by experienced, full-service guides . They will make sure you are well-equipped and prepared to enjoy a trip of a lifetime. The most important things you can bring are your spirit of adventure and sense of wonder.
If you have any questions about what to bring on your rafting trip, feel free to contact Winding Waters River Expeditions by phone or email and we'll help you with everything you need. You can also grab our detailed packing list here to print out and mark up as you prepare for your trip.
Winding Waters River Expeditions operates under special use permits, granted by the U.S. Bureau of Land Management, the Umatilla National Forest, and Hells Canyon National Rec Area in the Wallowa-Whitman National Forest. Hells Canyon Whitewater and Winding Waters River Expeditions are licensed by the Oregon State Marine Board and the Idaho Outfitters and Guides Licensing Board. Hells Canyon Whitewater and Winding Waters River Expeditions are an equal opportunity recreation service provider and employer.
7 Things Everyone Should Bring on a Rafting Trip
Raingear? Check. Insulating layers and sun-protection shirts? Check and check. Water shoes? Yup. Hat, sunscreen, water bottle…yes, got those too!
Good work. You've worked through the essential list of what to bring on a rafting trip. Now all that's left is to pack some key items that will take your experience to the next level. More than the basics, these additions to your kit will style out your float and make you feel like a professional guide, or at least the envy of the rest of your crew.
What to Bring Rafting: Gear Essentials That Will Take Your Trip to the Next Level
1) Light up the night
You'll definitely want to pack a headlamp (bonus points if it has red-light mode). But these days there are more options than ever for adding some lights to your tent, group zone, or kitchen.
Snag a set of Big Agnes' battery-powered mtnGlo Camping Lights and get creative with your campsite ambience. They're designed for tents and they work great for adding soft, yet functional light to your sleeping quarters, but you can also drape them on pretty much anything for a fun, festive campsite.
If you want something more lantern-like, the MPOWERD line of Luci lights are pretty slick. They're inflatable so they pack down easily. They're fully solar powered so you don't need batteries (7 hours of charge time in the sun gets you 12 hours of light on the medium setting). They're waterproof, durable and they throw off a lot of light for their size. Starting around $20, they're also fairly inexpensive. Higher-end models can even charge your phone or other USB device.
2) Comfy clothes
Despite advances in base layers (wool that's not itchy, synthetics that don't smell like a gym bag after 10 minutes of wear), there's nothing better than sliding on something soft and comfy in camp at the end of a long day of paddling. And even though "cotton kills" may be the on-water slogan of river guides, when it comes to camp comfort, cotton is king.
It may seem too basic to mention but keeping a soft, cotton t-shirt reserved for evening lounging is a raft-trip power move. For cooler floats, I toss a long-sleeve cotton shirt into my pack. If there's enough room, I'll even bring my favorite hoodie.
A cotton sarong is another great multi-purpose addition to any river trip. Lightweight and supremely packable, it basically disappears into your kit…until you need it. Keep off the bugs, add a bit of sun protection, play superhero if you want, a sarong is as useful as it is packable. Still not convinced? There are a ton of ways to use a sarong on a rafting trip will make you a believer.
3) Something to read
Multi-day rafting trips have all sorts of down moments that are perfect for engaging with the written word. I'm partial to natural history type books about the area I'm paddling through, but historical or even fiction books set where you're paddling can really add value to your experience too. I once discovered (and then frantically downloaded) a collection of free Jack London stories about Hawaii moments before our plane took off en route to Kaua'i. His story about lepers in the Kalalau Valley defending themselves from forced relocation to a colony on the island of Moloka'i added an entirely different perspective when I kayaked to that fabled spot. If you're going to read on a device, though, be sure to bring some extra juice…
4) Portable power
Raft trips tend to take place in beautiful settings. You'll probably want to take a lot of photos and videos. But without a source of power, your phone won't last long. A small charging device can extend the life of your phone and other electronic equipment (like that Kindle you brought along for reading) without taking up much space in your bag. I'm a fan of Goal Zero's Flip 24, but there are loads of other portable charger options out there. Also, take a moment to flip your phone to "airplane" or "low battery" mode, and make sure your screen brightness is as low as it can be to save as much precious power as possible.
5) A group surprise
Everyone wants to be a hero at least once in their life. But not everyone wants to dive into a frozen lake to rescue a wayward dog or run into a burning building. Thankfully, there's a much easier route to hero status – the group surprise.
With just a little forethought and discretion, you can stash a special something into your bag that, when unveiled, will immediately make you a winner.
On an adults-only rafting trip? Pull out a nice bottle of scotch or some delicious wine on the last night of the float (decanted into a non-glass container, of course).
Signed up for a summer float with your family? Bring some squirt guns and bust 'em out on day two. Break out this travel bocce set at camp, or bring along some waterproof cards and this cool lightweight, foldable cribbage board to start a winner-takes-all-the-chocolate tournament.
At the end of the day, you don't have to spend loads of money on a surprise, you just have to be modestly organized: a sheet of paper and a pen are all you need for a super fun game of Salad Bowl. Whatever you bring, just be sure to keep it a secret until the big reveal!
6) Moisturizing cream
Years ago, my wife and I joined a crew on a five-day float on Montana's Smith River. The mid-May weather was fickle; sunny and warm one day, snowy and cold the next. I have a lot of great memories from that trip, but one stands out: Kenny religiously rubbing moisturizing cream onto his feet each night.
When I teased him about his nightly ritual, he proudly declared it was the key to navigating a long season on rivers. It turned out that Kenny was a river guide, and I took note of his dedicated foot-care regimen.
The reality is that feet take a beating on raft trips. They're wet one moment, airing out in Chacos the next, and then forced to trot across scalding sand without any protection at all. A quick nightly application of high-quality, natural moisturizing cream like Super Salve will help keep your dogs (not to mention other parts of your body that are exposed to the elements all day like your hands) from drying out, cracking, or worse. Worried about getting your sleeping bag covered in lotion? Bring an extra pair of socks so you can slip them onto your feet just before you retire for the night.
7) Earth-friendly cleanliness
Yes, there will be a hand washing station (though you should still toss a small bottle of hand sanitizer into your pack). And yes, you can always take a quick dip in the river to wash off the day's grime. But bringing along an eco-friendly way to clean your face (and other parts I won't mention here) can be a game changer on both short and long rafting trips.
The problem is that most makeup remover/cleansing towelettes are made from plastic, don't biodegrade, and have alcohol and other harsh cleaning agents that dry out your skin. The good news is that there are some earth-friendly options.
Burt's Bees has an entire line of eco-groovy towelettes made from cotton left over from the garment industry. This option from Simple is free from chemicals, compostable, and pretty inexpensive. Even though these options are more earth-friendly than others, single-use anything is best used sparingly. My wife and I often share a towelette if we're just wiping off our face after a long day.
None of these "luxury" items are all that expensive. They're all pretty small and easy to bring on rafting trip, but guaranteed they will elevate your experience.
What favorite extras do you like to bring on a rafting trip? Leave us a comment below.
Photos: Luci lights for camping; Mpowerd; Reading on the Rogue River – Cindi Stephan; Squirt gun fun on the Lower Klamath River – Gary Pearl; Rafting trip shower – Cindi Stephan
*An earlier version of this post first appeared on the blog in 2013 and was last updated April 2021.
Source https://mild2wildrafting.com/rafting-blog/how-to-pack-for-a-multi-day-rafting-trip/
Source https://www.windingwatersrafting.com/boathouse/what-to-pack-on-a-white-water-rafting-trip/
Source https://www.oars.com/blog/5-things-everyone-should-bring-on-a-rafting-trip/