How kids can have fun and be safe on the Kern River
No matter your age, whitewater rafting can be an exhilarating and thrilling experience. From the sights and sounds to the torrent of water rushing by with each passing second, Kern River rafting in Southern California is the most fun you can have on water, and it's also a great trip for kids and families when you just need to getaway.
That said, rivers can be dangerous, and you don't want to rent a raft and head down river without the proper gear, training and guidance, especially with kids on board. But with the right team helping you navigate the waters of the Kern River, rafting can be a safe and enjoyable adventure, and it's conveniently situated just three hours from Los Angeles, so any weekend can be a fun-filled, whitewater rafting weekend.
From easy paddling tours to some of the most challenging whitewater in the country, the Kern River offers something for everyone, especially to kids that will get the most out of every second on the water, splashing, swimming, and jumping off of rocks. There's also tubing, kayaking, paddleboarding, and rock climbing, which all present unique challenges that are sure to captivate your growing kids.
But since much of Kern River rafting is made up of difficult, Class IV rapids, requiring intermediate skills and a more attentive focus that younger kids may lack, it's suggested to go with a lesser difficulty to ensure safety and fun. After all, if your child is overwhelmed and feels unsafe, they likely won't have a good time, and it's true that lesser rapids can actually be more fun than technical runs that require more experience and know-how.
Even if you have younger children that may be too young for a raft, some sections of the Kern River are quite tame and perfect for more leisurely activities that will maintain their focus but won't prove overwhelming. But in general, Class III rapids shouldn't be attempted by children under the age of 6, and progressively harder Class IV rapids shouldn't be attempted by children under the ages of 12, respectively. It's why all of our trips have minimum age limits, though there are plenty of entertainment options for smaller children on the Kern River.
It all starts with our Lower Kern Class II-III rafting trip, which are meant for adults and kids above the age of 8, though high-water protocol may push the minimum age to 12. Class IV rapids typically require a minimum age of 12 due to the more challenging rapids at points during the trip. For younger kids, our Lickety Blaster rafting trips (ages 6 and up) offer a different way to get a Kern River rafting experience without the undue risk, and you might find that older kids have just as much fun on these experiences as they do the bigger rapids.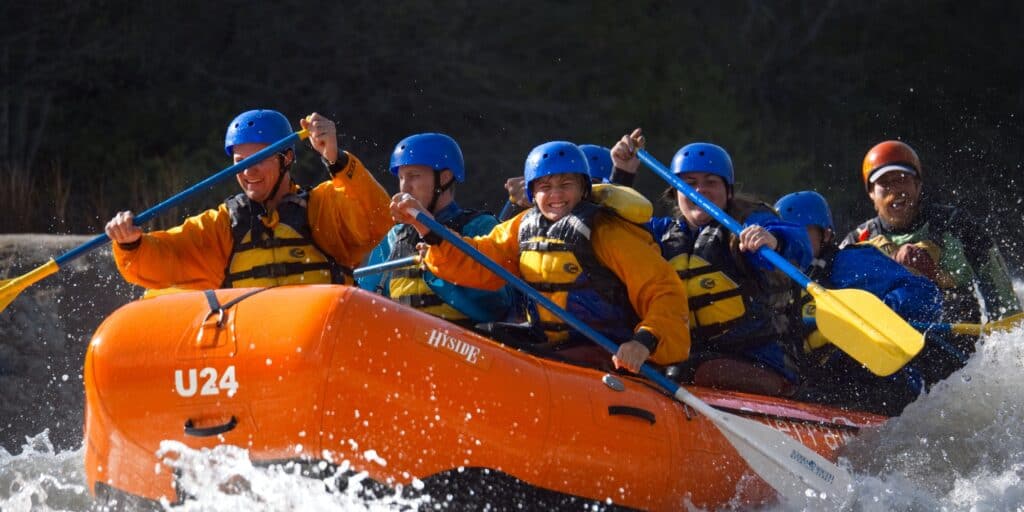 About Kern River Rapids
At 165 miles long, the Kern River is responsible for draining a large part of the Sierra Nevada mountains in Central California. With snowmelt pushing water down scenic canyons, the Kern River is one of the best spots for whitewater rafting in the U.S, and it's also some of the most beautiful wilderness you'll see anywhere.
The Upper Kern has some of the best river rafting access in California, enabling you to get in and out easily, though the size and difficulty of rapids can be challenging for children. With Class III through V+ rapids, the Upper Kern is made up of seven distinct sections, each with their own challenges and features. Some areas can be run straight through, while others require portages where the raft must be carried.
With challenging runs throughout, the Upper Kern is great for older kids and experienced paddlers, and even some of the more mundane runs are difficult due to trees and other obstacles. The seven different Upper Kern sections include Limestone (Class IV), Fairview (Class III), Chamise (Class IV-V), Ant Canyon (Class IV), Thunder Run (Class V), Cables (Class IV) and Lickety Split (Class II and III).
While the Upper Kern provides non-stop action with little rest, the Lower Kern is known as a drop-pool river, which means that after each bit of action, there's a quieter section for everyone to regain their composure. That's great for kids and novices that need some time to breathe and regroup after a stretch of rapids, and it's also good for families to take it all in and bond between the strenuous bits.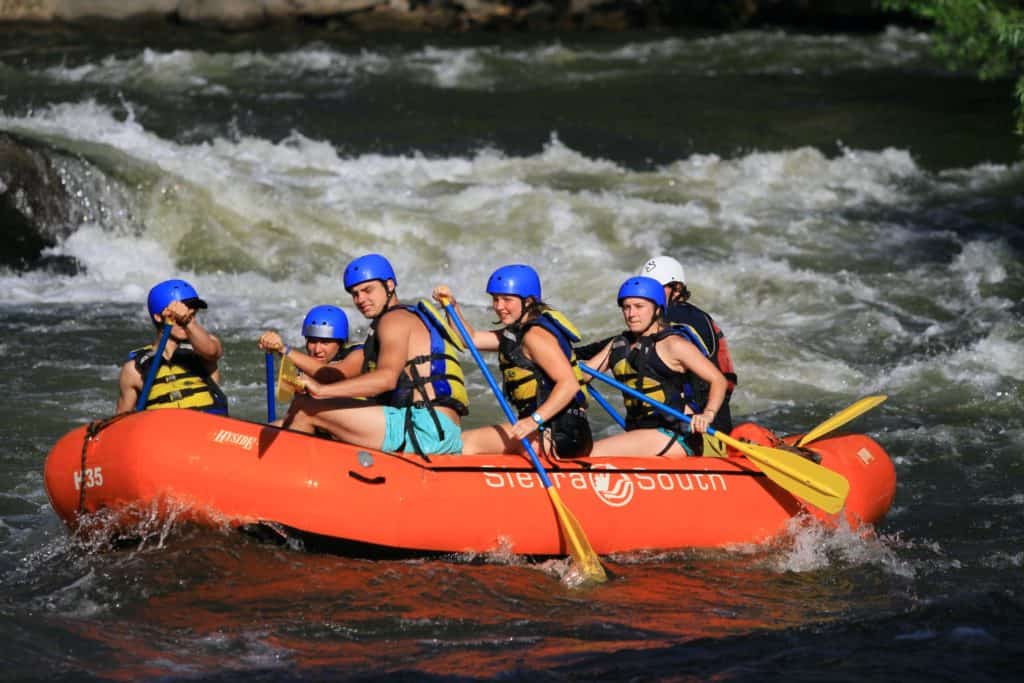 The Upper Kern and Lower Kern are separated by Isabella Lake, which is fed by the Upper Kern, then released into the Lower Kern as circumstances permit. This gives Lower Kern River rafting a much longer season as the water is held in Isabella Lake and released throughout the year.
In this sense, the Upper Kern is a snowmelt river while the Lower Kern is a regulated river. As the weather warms in California into the spring and summer, the runoff is what gives the Upper Kern its rapids, giving a season that starts in late March or early April and going through July, after which all the snow is melted and the reservoir at Isabella Lake holds the rest.
But the best part is that as a regulated river, the Lower Kern has a much longer season than the Upper Kern, which ends just as the summer is getting started. Instead, Kern River water destined for agriculture in the Bakersfield area is regulated throughout the summer, helping keep crops hydrated and adventurers in the thick of fun on the Lower Kern well into the late summer. Unlike unregulated rivers elsewhere, the Lower Kern has excellent rafting into September — much later in the season than would be possible otherwise.
While the Lower Kern has less formidable rapids than the Upper Kern — Class II through Class IV — the season is much longer with raftable flows from May through late September, with 19 miles of varying lengths and difficulties. The average gradient is also 27 FPM, compared to the Upper Kern's 58 FPM, which means it's less steep and better for kids.
The three main parts of Lower Kern River rafting are the Picto, a challenging Class II and III run that starts at Slippery Rock or Granite, ending at Miracle; the Gusto, one of the most popular sections of the Lower Kern, with Class IV rapids and ending at Democrat; and the Big Five, a fast trip that starts at the Delonegha Bridge and ends at Democrat.
While there are many Class II and III rapids, there are also challenging sections, which is why it's always a good idea to go with a trusted outfitter when it comes to Kern River rafting, or whitewater rafting anywhere, for that matter. Even skilled rafters understand that each and every river is different, and experience on any river is one of the best safety measures you can have.
For more about Kern River rafting, look to the experts of Sierra South. With 37 years' experience guiding rafting trips on the Kern River, we're uniquely qualified to help you have a great time on your next rafting trip, whether it's your first time out or you love to come back each and every year. Contact us to book your next trip. We can't wait to see you out on the river!
"Great Adventure!"
"Great adventure. Return trip after many years. Still the best on the river. The guides were great. Our guide, Brandon, had amazing skill and knowledge about the river, park, environment. Read more »
– Dana Crompton on Google
"Fun for the Entire Family!"
"Great fun for entire family! Wonderful staff & knowledgeable guides made it an amazing experience. Very well organized. Great white water rafting, delicious lunch by the river & relaxing hot. – Michael Fong on Google
"Always Fun"
"Always have a fun day on the river with Sierra South. Their guides are excellent, knowledgeable and informative about the area which adds to the enjoyment."
– Joe Ruggieri on Google
"Great Time with Sierra South"
"We had a great time with Sierra South. The guides were awesome and professional. Watching the other companies on the river confirmed that we made the right choice to go. – Jason Bradley on Google
The Kern River Can Be Deadly. Here's How to Stay Safe.
As a subscriber, you have 10 gift articles to give each month. Anyone can read what you share.
Give this article Give this article Give this article
Playing in the Kern River near Lake Isabella, Calif., in the summer of 2017. Credit. Marcus Yam/Los Angeles Times, via Getty Images
(Here's the sign-up, if you don't already get California Today by email.)
If you haven't been to the Kern River, you may not know that it's a stunner.
Make the harrowing drive up Highway 178 east from Bakersfield, and you'll be rewarded with views of tall, green trees, glittering water and giant boulders that look like sculpture.
On parts of the river, the rocky rapids make white-water rafting a summertime draw, and lower down, where the water appears calmer, campgrounds are a destination for families looking for an affordable getaway.
But that, rescuers and experts have long said, is where you can get into trouble.
"The problem is that the speed with which people drown is just so fast," Zac Boyd of the Kern County Fire Department told me. "Once they're in the water, the life expectancy drops."
A spring of heavy rains and cooler-than-normal temperatures means the river has been rushing. Since Memorial Day, local officials said, at least four people have drowned in the river and an 11-year-old girl remains missing after being lost in the currents more than a month ago.
Still, Mr. Boyd said his department, as well the Kern River Conservancy and the patchwork of public safety agencies that operate in the area, have worked hard to prevent accidents. They've recorded a P.S.A. and partnered with rafting outfitters to provide loaner life vests.
But Mr. Boyd said he's found the most effective tack is simply approaching campers to tell them about danger.
Maybe you believe you are a strong enough swimmer to keep your head above water. Or perhaps you think that tying a rope around your children's waists as a tether will prevent them from being dragged off by unseen currents.
Mr. Boyd — were he to meet you at, say, a campground in Keysville — would politely disabuse you of those notions. "It's something that a sign can't do," he said.
(There are also signs, including a famous one that has been periodically updated with the river's death toll since 1968. It's up to almost 300.)
A search-and-rescue team looking for a person reported missing in the Kern River in 2017. Credit. Marcus Yam/Los Angeles Times, via Getty Images
It's tough to draw a line back to those prevention efforts, but officials say that in spite of this year's high water they have been less busy than they anticipated. And the number of deaths has been lower than in past high-water years.
Back in 2011, I reported for The Bakersfield Californian on what was among the river's deadliest summers. Using coroner's reports, my then colleagues and I counted 15 drownings that year.
In 2017, Sgt. Zack Bittle of the Kern County Sheriff's Office told me, the grim count was 16. In June of that year, the lower Kern River, where most swimmers take their chances, was flowing at about 5,400 cubic feet per second, according to Army Corps of Engineers gauge data.
This year, the river reached about the same flow in mid-June, and has dropped since. But summer is far from over, and Sergeant Bittle warned there is still a risk: Even this week's flows of roughly 2,500 cubic feet per second can be treacherous.
So, with all that in mind, Mr. Boyd said his advice for enjoying the river is pretty straightforward:
• Wear a life vest, if you're anywhere near the water — even if you're just wading or sitting on rocks with your feet in the water. The rocks are slippery.
• Watch your children — don't let them splash in shallows.
• Don't try to anchor yourself to the shore with ropes, and don't use pool toys.
• If you want to enter the river, go with a trained guide.
Here's what else we're following
(We often link to sites that limit access for nonsubscribers. We appreciate your reading Times coverage, but we also encourage you to support local news if you can.)
The Trump administration had been working on a plan to drastically weaken Obama-era rules on planet-warming vehicle pollution. Credit. Jenna Schoenefeld for The New York Times
• Four of the world's biggest automakers sided with California against President Trump, who is expected to all but eliminate Obama-era vehicle emissions regulations. The deal with Ford Motor Company, Volkswagen of America, Honda and BMW gives the carmakers more certainty. [The New York Times]
• Meanwhile, Tesla lost money even as sales of its Model 3 sedans surged. The company is spending heavily. [The New York Times]
• Mayor London Breed and a faction of San Francisco's board of supervisors have reached a deal over dueling proposals to potentially open up public land for affordable housing and homes for teachers. [The San Francisco Chronicle]
• Sixteen Marines arrested during the regular morning formation at Camp Pendleton on Thursday were accused of a range of offenses including human smuggling and drug violations. [The New York Times]
• After Nipsey Hussle's death, what will become of the business empire he was building — without displacing people? [The New York Times]
• A confrontation with a San Francisco security worker who ended up with brain damage is highlighting an inflection point for skateboarding as it grows from a culture that glorifies conflict and rebellion to a mainstream sport with professionals. [The New York Times]
• The archives of Ebony and Jet magazines were largely unseen treasures. They could soon be opened to the public after a group of four major foundations, including the J. Paul Getty Trust, won them at an auction. [The New York Times]
True tall tales
Storefronts, sidewalks and the streets of Mission Beach are inundated with scooters.
Credit. Tara Pixley for The New York Times
• Pacific Beach has more electric scooters than people. Now, two "repo men" have made a business by taking them off the streets and to a tow yard. They're posing an existential threat to the multibillion-dollar scooter industry. [The Verge]
• "It was like stumbling upon a work of art," the man who spotted it said. But how did the fully intact Double-Double get into the street — in Queens? (Sorry for the long explanation of In-N-Out.) [The New York Times]
• Did a man named Paul Gonzales — by inviting women on dates then ditching them with the bills — create the perfect crime? Here's the weird story, told in pulpy detail. [The Daily Beast]
• Get ready, Redding — and anyone else: Megan Rapinoe has a book deal. [The New York Times]
And Finally …
The light in the dining room is dim and flickering, in the way of a Victorian parlor midseance. Credit. Adam Amengual for The New York Times
This week's Friday recommendation from our California restaurant critic, Tejal Rao, is to find a little magic. (And not of the Disney variety, this time.) Read on:
The Magic Castle in Hollywood has been calling to me for some time now — the shows, the décor, the séances! Sure, the second-floor restaurant, deep inside the mansion's maze of rooms, isn't exactly known for its food. It never has been.
But in April, a new chef, Jason Fullilove, took over the kitchen, and he has since made some updates to the old menu, which I wrote about after a recent visit.
The dining room was dark and flickering, like the first-class cabin of a ghost ship, and dinner came with a silly show. But I have to admit: I was utterly charmed by the Castle's brand of old-school Los Angeles magic.
California Today goes live at 6:30 a.m. Pacific time weekdays. Tell us what you want to see: CAtoday@nytimes.com. Were you forwarded this email? Sign up for California Today here.
Jill Cowan grew up in Orange County, went to school at U.C. Berkeley and has reported all over the state, including the Bay Area, Bakersfield and Los Angeles — but she always wants to see more. Follow along here or on Twitter, @jillcowan.
California Today is edited by Julie Bloom, who grew up in Los Angeles and graduated from U.C. Berkeley.
Kern River tubing: When and where to go
When the water is low and the sun is out, tubing down the Lickety Split section of the Kern River is a highlight and for many, a rite of passage. Not to be confused with a lazy river float, Kern River tubing is a full-on adventure, as you'll tackle a handful of rapids as you make your way down the 1.73 mile run. There are important considerations to pay attention to though, and this post will go into those items to help ensure you have a memorable and safe experience.
While we don't offer tube rentals, you can buy a tube online using Amazon. This is a popular and affordable option.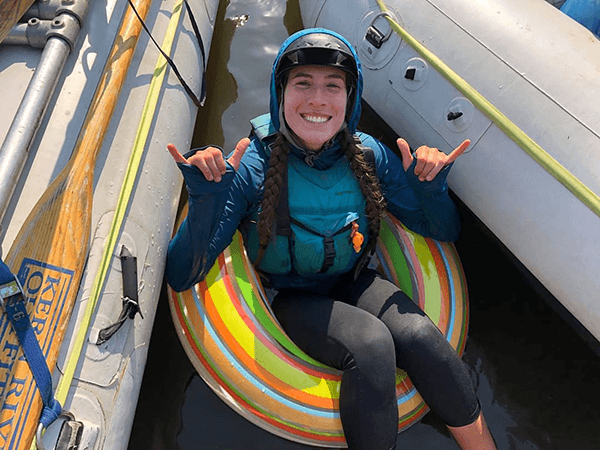 Wear a Life Jacket
Whether you call it a PFD or a life jacket, it is critically important that you wear one while tubing on the Kern River. Even though wearing a life jacket while tubing might seem like overkill, keep in mind that a tube can easily deflate, or if you accidentally flip over, separate from you entirely. A PFD on the other hand, won't pop, can't separate from you, and is Coast Guard approved.
The vast majority of serious river incidents involve someone not wearing a life jacket. Just wear one and don't become a statistic.
Only go during low water
Kern River tubing is a low water activity. You shouldn't go during medium or high river flows. The rule of thumb for the Lickety Split section of the Kern River is when the water is between 200 – 500 CFS. Nothing higher. Below 200 CFS it can still be fun, but be prepared to get stuck quite a bit. Below is a river gauge showing you the flow.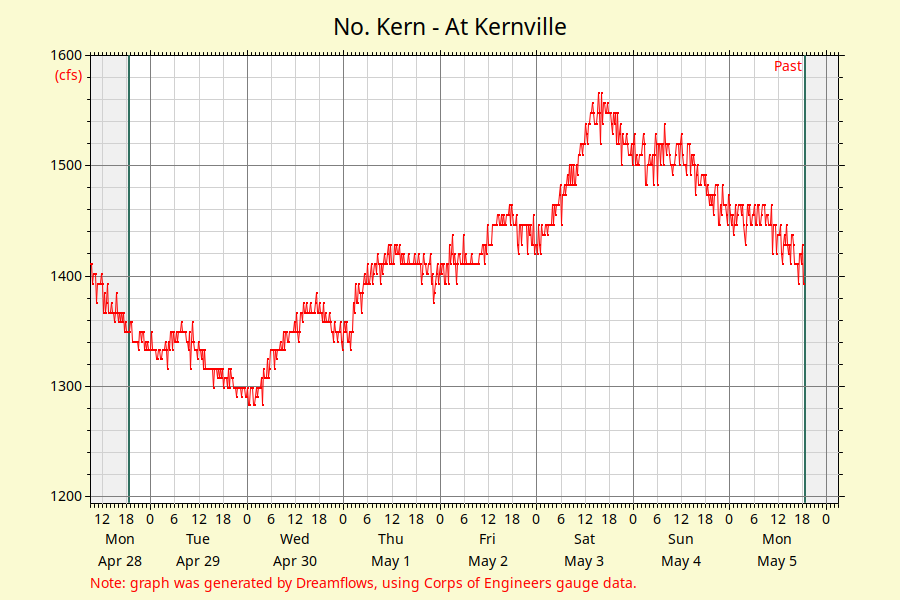 Where to go
Lickety Split section – shuttling required
The tried and true Kern River tubing run is the Lickety Split section of the Upper Kern river. At any water flow, you should avoid the Lower Kern. It's just not set up well for a tubing run and the numerous trees present a real strainer hazard. Sections besides the Lickety Split of the Upper Kern should be avoided as well. The best part of the Lickety is it's easy to arrange a shuttle and there are usually many others out there with you.
Riverside Park – no shuttling required
If you don't want to deal with a shuttle, or want a more leisurely tubing experience, then an option is to go to Riverside Park in Kernville and simply walk up to the bridge, float down and then finish at the bottom of this Class II rapid. Want to ride again? Simply walk up the path and hop in. Obviously, this is a much shorter ride of just a minute or two, but this can be a good option if you don't want to commit to a long Lickety Split tubing run, or if you don't want to set your own shuttle.
Which tubes to buy
You can buy tubes for less than a tube rental offered by local companies. The ones below are very popular.
Source https://www.sierrasouth.com/how-kids-can-have-fun-and-be-safe-on-the-kern-river/
Source https://www.nytimes.com/2019/07/26/us/kern-river-drownings.html
Source https://kernrafting.com/2020/07/02/kern-river-tubing/