The Beginner's Guide to Whitewater Rafting
Elen Turner is a New Zealand resident who covers the country for TripSavvy. She has also spent time living in the United Kingdom, Czech Republic, Japan, Australia, the U.S., and Nepal.
Whitewater rafting is an exciting sport and, despite how it looks, you don't need to be incredibly brave or technically skilled to enjoy it. Even beginners and older kids can enjoy a rafting adventure. Whether you want to add a half or full-day whitewater rafting excursion onto a trip or like the idea of spending several days (or even weeks!) on the river, there are all kinds of rafting destinations and trip types to suit your needs. From gentle floats along tropical rivers to epic expeditions through some of the world's greatest river canyons, here's everything you need to know about whitewater rafting.
River Grading System
The first thing you need to know when planning a whitewater rafting trip is about the grading system. The International Scale of River Difficulty is a standardized scale created by the American Whitewater Association used to rate the safety of a stretch of river or a single rapid. The grades can be summarized as follows:
Grade I, Easy: Fast-moving water with some small waves. The risk to swimmers is low.
Grade II, Novice: Straightforward rapids with clear channels; rocks and medium-sized waves can be easily avoided. Swimmers rarely need much assistance.
Grade III, Intermediate: Rapids with moderate and/or irregular waves requiring some complex maneuvers; scouting is advisable. Swimmers can usually self-rescue or are helped with some assistance.
Grade IV, Advanced: Intense and powerful but predictable rapids; precise and expert boat handling is required. Swimmers usually require group rescue, and the risk of injury is moderate-high.
Grade V, Expert: Long, obstructed, and/or violent rapids with drops, requiring high fitness. Swimmers risk injury, and rescue is difficult.
Grade VI, Extreme and Exploratory Rapids: Runs at this level are rarely attempted.
Well-trained whitewater rafting guides can guide even relative novices through challenging and high-grade rapids, but in general, beginners and older children will be safest and most comfortable on Grade II and III rapids. Those with more experience or advanced river skills and an appetite for adventure can tackle Grade IV and V rapids. Most trips—whether half a day or 10-plus days—will usually include a combination of grades, and tour operators will let you know the highest grade you'll encounter on the trip and whether that's suitable for you and your party.
Key Terms to Know
Your whitewater rafting guide will brief you before you hit the river and will run through the key terms and instructions they'll likely use. You don't need to know all the technical river terms to follow your guide's instructions, but here are some of the most important that you will hear:
Put in: The starting point of a rafting trip.
Take out: The ending point of a rafting trip.
River left/river right: Sometimes, your guide will be facing you, with their back to the front of the boat and the direction your raft is traveling. If they want to point out any features to the left or right, they'll use "river left" or "river right" relative to the direction in which you're traveling, so you don't get confused about whether they mean their left or your left!
Swimmer: Anyone who falls out of the raft is called a swimmer, whether they intended to swim or not. Your guide might shout "swimmer!" to get that person's attention when attempting a rescue, as they're unlikely to know every passenger's name.
Flip: When the raft capsizes, it has "flipped."
Safety kayak(er): The safety kayak, or kayaks, accompanies the raft to help swimmers. The number of safety kayakers on your trip will depend on the number of raft passengers and the safety credentials of the company (avoid traveling with tour operators that scrimp on safety kayakers).
What to Wear and Bring
Tour companies will provide you with the essential gear, including paddles, life jackets, and helmets. If you're rafting in a cold climate or cold water, you'll be provided a wetsuit, too. Some companies may provide a dry top, a water-resistant top that won't keep you as warm as a wetsuit but will reduce the effects of cold splashes and wind.
Your clothing is up to you, but you'll be expected to wear suitable shoes, which could be either closed waterproof shoes or sandals that strap firmly to your foot. Dress for the climate and conditions. Most people prefer to wear synthetic t-shirts and shorts of tight yoga-style pants for rafting. Cotton clothing isn't a great idea because it is cold when wet and retains water for a long time. If you're rafting in a tropical climate, this is less of an issue than in cold water or weather. If you're on a multi-day trip that requires camping, pack appropriately for overnight conditions in a tent.
Avoid taking valuables on a rafting trip, including cameras, unless you have a dry bag (and even then, keep these items to a minimum). Some guides will have a dry bag you can put small personal items in, but not all. Wearing sports shorts with sealable pockets for storing small items like keys is a good idea. If you want to take a camera, make sure it's waterproof or in a waterproof case and can be secured onto your lifejacket with a carabiner. However, rafting companies will normally take photos for you with a company camera and either provide the photos for free or at a cost after the trip.
Safety Tips
The most important safety tip is always to follow your guide's instructions. They are trained to keep you safe during what can be quite a risky activity to the untrained. It can be easy, especially when traveling with a group of friends, to get carried away with laughing and forget to follow the guide's instructions—but don't!
It should also go without saying that you shouldn't go rafting unless you can swim. Some operators in some locations (particularly developing countries where many of the local population can't swim) allow people to go on trips if they can't swim. This is a terrible idea and puts you at much greater risk if you fall off the raft. Guides are trained to swiftly pull swimmers aboard if they fall out, but your chance of panicking and behaving dangerously if you fall in the water and can't swim is much greater. You don't need to be an extremely strong swimmer to enjoy whitewater rafting, but basic water skills are necessary for your own safety.
Similarly, if you're a parent, only take your kids if they're comfortable in the water. Lower age limits will vary depending on the location and the company but are normally at least 8-years-old and sometimes 10 or 12. Lower-grade rivers and rapids will normally be more suitable for younger ages.
How to Plan a Rafting Trip
As well as the adrenaline rush associated with whitewater rafting, this sport is a great way to see landscapes that aren't accessible any other way. Floating down a river through the jungle with the sound of birdsong all around; gazing up at the walls of the deepest canyons in the world; jumping off the raft for a swim in warm waters; pulling up to camp on a riverside beach at the end of the day. these are some of the highlights of a whitewater rafting trip.
Climate and season play an important part in planning a whitewater rafting trip. In some places, it's only possible to raft during high or low water periods, before or after seasonal rains. In others, it's too cold for some of the year, while elsewhere, you can raft year-round, even in winter (with the right gear!) No two destinations are the same, and you might sometimes be surprised by what's possible: find out more about the conditions in your chosen destination before deciding whether to add a whitewater rafting trip to your itinerary. Just like you wouldn't plan to lounge on a beach and swim in the sea regardless of the season, the same applies to whitewater rafting. Know the local conditions.
Wherever you go, it's important always to choose a company with a good reputation that hires fully trained guides. While guides and companies are held to very high standards in some places (such as the U.S. and New Zealand), there are fewer legal requirements regarding safety and training in some countries. Always check a company's credentials before signing up.
Best Places to Go Rafting
Some of the most popular whitewater rafting destinations in the world are:
, especially Colorado , especially Ladakh and Zimbabwe (Zambezi River)
Some incredible long-distance river trips need to be planned well in advance, such as along the Colorado River through the Grand Canyon, because of their popularity and restrictions on the number of people allowed. In some lower-income countries (such as India and Nepal), you will find trips to be surprisingly affordable, so if you like the idea of a multi-day river trip but are on a limited budget, check out the Indus and Zanskar Rivers in India or the Sun Kosi and Karnali Rivers in Nepal.
Ready To Go Whitewater Rafting? Here's What Every First-Timer Should Know
The rushing rivers of the Adirondack Park are some of the most impressive sights in the Northeast, and the best way to experience them firsthand is on a whitewater rafting trip. To ride the rapids of the mighty Hudson, the Sacandaga, or even the Moose River is an adventure you won't soon forget.
But is whitewater rafting for you? While all those photos of crashing waves and bouncing rafts may seem a little intimidating at first, this is one activity both families and adrenaline junkies can enjoy. To help you understand what it's all about, we've broken down what every first-timer should know about whitewater rafting.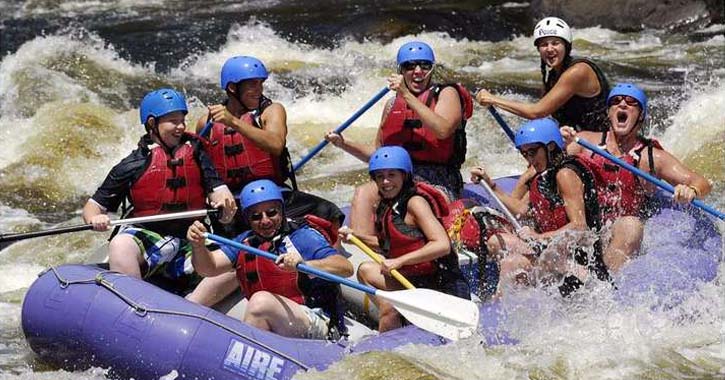 When To Go Whitewater Rafting
You may think whitewater rafting is just a summer activity, but it's actually offered from mid-spring through mid-fall in the Adirondacks.
For thrill seekers, spring leading into summer is the ideal time to go because the runoff from recent snowmelt swells up rivers and creates wild rapids. Then, from summer through fall, you can look forward to gentler rapids, particularly in September and October.
Depending on who is in your group, you may want to start off with one of the more family-friendly trips. Rather than tackle the raging Moose River in spring, you can join a rafting trip on the Sacandaga River in summer. Trips range from an hour long to 4+ hours, so make sure you know what you're signing up for.
There are a variety of options to choose from, and it's recommended to contact the rafting company you're interested in and check the current status of the rapids.
Learn About The Rapids Rating Scale
While researching the guided whitewater rafting trips in the region, you'll likely see phrases like Class I Rapids or Class IV Rapids. These ratings describe the rapids' difficulty level on a section of river. Here are the six classes:
Class I Rapids – Class I Rapids are the easiest and present few challenges for beginners.
Class II Rapids – You'll find slightly stronger rapids than Class I, and some maneuvering around small objects may be required.
Class III Rapids – These rapids are best described as medium, so they're not too strong or weak. If you're a beginner, these rapids may be the strongest you'd want to start with.
Class IV Rapids – The current is fast on Class IV Rapids, and you'll likely encounter objects and challenges on the way. Listen to your guide, and prepare for strong rapids.
Class V Rapids – Before you attempt Class V Rapids, make sure you're experienced, prepared, and know the river. These rapids are long, hard to navigate, and feature big waves.
Class VI Rapids – Unless you are experienced and understand the risks, you shouldn't go rafting on Class VI Rapids. These are the most extreme.
The Rivers Of The Adirondacks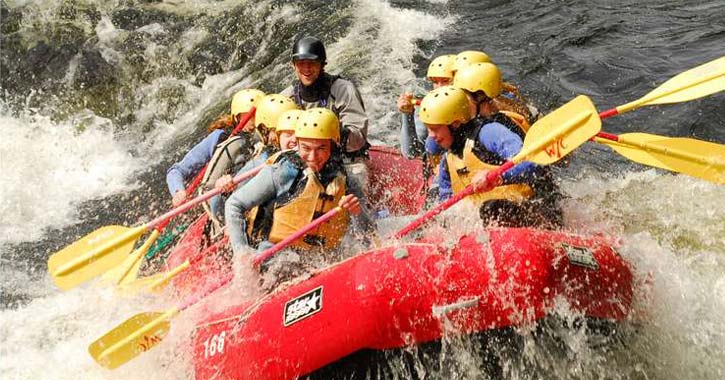 The three main rivers for whitewater rafting in the Adirondacks are the Hudson, Sacandaga, and Moose Rivers. Each whitewater rafting company in the region offers trips on certain sections of these rivers based on where their rafting base is located.
If you're rafting for the first time, the Sacandaga River may be the one for you. This river mostly sees Class II & III Rapids, which are perfect for families looking for a fun adventure.
The Hudson River/Hudson River Gorge tends to be stronger with Class III & IV Rapids, so you'll likely encounter more waves and obstacles along the way than on the Sacandaga.
Trips on the Moose River are offered by ARO Adventures only in spring. Expect raging rapids that will challenge even the most experienced whitewater rafters.
Frequently Asked Questions (FAQS)
How old do you have to be to go whitewater rafting?
Each whitewater rafting company has minimum age requirements based on the location and time of year. Some places allow kids as young as 7 on trips from Memorial Day through fall.
Do you need any experience on the water?
No, for most easy and medium-level rapids, experience (paddling, rafting, or swimming) is not required. Your NYS-certified guide will describe the river, provide safety tips beforehand, and direct you during the trip. However, since rafting is a team effort, you will be asked to help paddle and navigate the raft down the river.
What do I need to bring or wear?
Each rafter will be given a personal flotation device, a helmet, a paddle, and safety advice.
Since the water and temperature are colder in spring and fall, you'll want to wear a wetsuit and wool, fleece, and polypropylene clothing. Cotton clothing is not recommended. During the warmer months, a lightweight shirt and shorts with a bathing suit underneath is suggested. Shoes (old sneakers/water shoes/sandals) are required, and loose fitting sandals or flip-flops won't be allowed. Wear sunscreen, and don't take valuables with you.
How many people can fit in the raft?
An average raft may fit 6-10 people plus a licensed guide. There are larger rafts with a greater capacity though.
How do we get back to the rafting center?
Your rafting trip will either end at the rafting center, or a shuttle will transport you back.
Do I need to make a reservation?
While walk-ins are usually accepted, it's best to make a reservation so you have time to prepare.
Eager to get on the water for your first whitewater rafting trip? Check out these local whitewater rafting companies and see what types of trips they offer »
How to Become a River Rafting Guide
You wake up early in the morning on a bright sunny day. You are heading to work but don't need to dress formally.
You just throw on a pair of shoes and shorts and proceed towards the river in the national park.
As you hear the water gushing down the stream, you lavishly apply the sunscreen and are ready to put your raft in the river.
That could be the closest to an ideal vacation. But wait! This is not a vacation. It's your job and you have just reached your workplace.
River rafting is one of the most exciting outdoor activities in the world. A sport that gained popularity in 1970s is now a great recreational activity.
You can find river rafting opportunities in numerous rivers around the world. Some offer extreme rapids while others provide a much smoother ride.
As much as you want to enjoy rafting alone, no river rafting spot offers the facility without a guide.
A river rafting guide ensures that you enjoy a safe and smooth ride as you go up and down the river.
The job of a river rafting guide can be an ideal job for anyone who loves being around water.
If river rafting fascinates you and you want to pursue a career in rafting, you do not need a professional qualification or experience.
On a positive note, you can be a seasonal river rafting guide so you don't need to quit your existing job (if you have a professional career).
All you need is a license, the right age, perfect fitness and good sense of humor. Below you can find out how to become a river rafting guide.
Also, if you are not sure why you want to pursue this as a career, we provide some good enough reasons to motivate you.
As you continue to read you will also find out about some of the possible employment opportunities at some of the popular rafting destinations in the US.
Why Become a Rafting Guide?
Being a river rafting guide is a job full of adventure and thrill. But apart from the fun aspect, there are many other reasons for becoming a river rafting guide.
Read on to find out the top reasons why people pursue this career and continue with it years after years.
River Rafting Is Fun
One of the most important reasons why people want to become a river rafting guide is because it is fun. For most people, the mundane desk job is not what they want.
They want the excitement and thrill associated with outdoor activity and there is no better option than river rafting.
Spending time in outdoors is an essential human need and rafting helps you meet that.
Though being a river rafting guide involves physical activity, but if are someone who thrives outdoors around water, then being a rafting guide is something you will definitely enjoy.
It is Challenging
If you spend most of your time sitting in front of the desk, you might want a change. Being a river rafting guide provides you this opportunity.
It gives you a chance to be physically active while being on the job. Once you get used to this physical activity on the job, it is highly likely that you will end up pursuing this as your career path.
Being a river rafting guide is not only physically challenging but it is also mentally challenging.
The job requires you to be in the moment so that you can immediately solve any problem which comes along the ride.
So whether you want to choose the best course for your raft or plan to prevent a possible clash, your brain is never at rest.
People who grow well on this stimulation certainly want a career as a river raft guide.
It is a Way to Expand Your Social Circle
Being a river rafting guide is all about making friendships which last for a lifetime.
A lot of young adults start their career as a rafting guide but as they go through the training process of becoming a guide, they get to know a lot of new people who become great friends.
Also, when these new guides join the workforce, it gives them a chance to meet different people on every single trip.
Some of these people become part of your social network which you can benefit from later in life.
How to Become a River Rafting Guide?
The job of a river rafting guide is an excellent way to earn paychecks while enjoying the thrill and excitement of an outdoor water adventure.
So as you reap the benefits of improved fitness and making friends for life, you can do all this while making good money.
Similar to all professions, beginners in the industry need to work hard to make their way up the professional ladder. Only then they can enjoy the monetary benefits associated with their job.
But the best part of a rafting career is that most companies compensate well for new guides who take more responsibility and satisfy the clients.
Though each rafting company has a different compensation policy, a new rafting guide of average can make between $65 and $75 per day.
This is just an average so some rafting guides get slightly lower than this while others can earn much higher.
Since rafting is a seasonal job, over the course of the season, a guide earns a minimum of $4,000.
But as you gain more experience, the compensation tends to increase. Also, most companies offer a base pay and top it up with other benefits such as a bonus on x-number of trips.
Therefore, one of the best ways to earn more is to have guests who can request you as their guide.
How Many Rafting Hotspots are out There in the US?
Numerous rafting companies operate in almost all states of the country. Below you can find a list of some of the most amazing rafting hotspots in the country.
These locations are shortlisted based on popularity among tourists, experience with the rafting company (called outfitters) and guides and availability of activities other than rafting.
, Grand Canyon – Arizona
Tuolumne River – California
Arkansas River – Colorado
Gauley River – West Virginia
Salmon River – Idaho
Rogue River – Oregon
Kennebec River – Maine
Chattooga River – South Carolina
Ocoee River – Tennessee
Moving Forward
Being a river rafting guide can be a dream profession for anyone who enjoys being in the water.
It comes with a unique set of benefits, a decent paycheck and lots of fun.
So if you are looking forward to a career in river rafting, now is the right time to apply.
Source https://www.tripsavvy.com/beginner-guide-to-white-water-rafting-5181465
Source https://www.adirondack.net/rafting/first-time-whitewater-rafting-tips/
Source https://raftthecanyon.com/river-rafting-guide/