Sunwapta Challenge Whitewater Rafting: Class III Rapids
Take on the Class II and Class III white-water rapids of the Sunwapta River with a 4-hour rafting adventure from Jasper, following the dramatic Endless Chain Ridge through Jasper National Park. You'll paddle alongside an experienced river guide, splashing over an 8-mile (13-km) stretch of fun rapids. This 4-hour whitewater rafting trip includes all necessary equipment and instruction, as well as round-trip transport from a central location in Jasper.
What's Included
Meeting And Pickup
Meeting point
Please check-in 15 minutes prior to departure time in the parking lot opposite the Shell Gas Station at the White Maligne Rafting Van located in the back right corner of the lot. Paid all day public parking is available in this same parking lot, including limited RV parking.
End point
What To Expect
Make your way to a central location in Jasper, then travel 45 minutes to a put-in spot by the Sunwapta River in Jasper National Park. Wear a swimsuit under your clothes so you'll be ready for a quick change into a wetsuit, neoprene booties, and a paddle jacket, and on cooler days, bring a pair of wool socks to wear inside the neoprene booties.
Meet the river guides for a briefing on white water paddling technique and safety, then hit the river in self-bailing rafts that accommodate up to six passengers. The name of the Sunwapta comes from the Stoney Indian term "turbulent river," and during the highest-water months of mid-June to late July, it lives up to its name with a consistent mix of Class II and Class III rapids.
Watch for wildlife at the edge of the water, as Jasper National Park is habitat for everything from tiny pikas to grizzly bears and moose, and enjoy views of the dramatic Rocky Mountain landscape. After roughly 1.5 hours on the water, steer to shore at a take out point—it's a great idea to bring a towel and warm clothes to change into when you get off the river.
This 4-hour whitewater trip concludes with return transfer to Jasper.
Maligne Adventures ( Pass By )
'Sunwapta' is the Stoney Indian term for 'turbulent river' and this river lives up to its name. Traveling in 6 passenger self-bailing rafts, your expert guide will maneuver your group skillfully down the 13 kilometer stretch of river punching through a consistent flow of Class II rapids in-between several sections of Class III whitewater. Set in a pristine wilderness area of Jasper National Park, the Sunwapta is a low volume, technical river that follows the Endless Chain Mountain Range from its source at the toe of the Athabasca Glacier. You will be surrounded by spectacular Canadian Rockies scenery in prime wildlife habitat allowing the chance to spot elusive native wildlife from the raft or during the scenic bus rideThese trips do not require any previous experience and are suited for physically active individuals, 12 years and above and weighing at least 90 lbs (41 kgs) who are looking for an exhilarating ride. Please arrive 15 minutes prior to departure for check-in procedures.
Jasper National Park
Jasper National Park in the Canadian Rockies comprises a vast wilderness area of Alberta province defined by glaciers, lakes and peaks like 11,033-ft.-high Mt. Edith Cavell. The Icefields Parkway, a road from the town of Jasper, passes subalpine forest and the immense Columbia Icefield. Outdoor activities like hiking, camping and skiing are popular. Native wildlife includes elk, moose, bighorn sheep and bears.
What is White Water Rafting? Why is it Called That?
Traveling down river rapids in a rubber boat can seem quite intimidating and even scary at first. However, white water rafting is widely popular, a thrilling and adventurous experience, and done with the help of a licensed guide and rafting company, quite safe.
What is white water rafting? White water rafting is a recreational water sport where an inflatable raft carries 4 to 8 people down white water rapids on a river. White water river rafting is considered an adventure sport and has varying levels of difficulty. Typically, an experienced rafting guide will accompany beginners.
In this article we'll cover the basics of what river rafting is, and why it's called "white water" rafting. We'll also discuss the proper river rafting gear, such as clothing and equipment, when planning to go on a rafting trip.
Amazon and Affiliate Disclosure: As an Amazon Associate I earn from qualifying purchases. Some of the links below are affiliate links, which means we will earn a commission (at no extra cost to you) on the products or services you purchase using the links.
What is River Rafting?
The first attempts at white water river rafting trips were as a result of military and explorational needs to cross dangerous rivers. Early attempts at running river rapids—as early as the 1800s—often failed. It wasn't until the mid-1900—and the invention of new, better river raft materials—that much more successful rubber rafts made running rapids more feasible..
These rubber rafts would eventually become recreational and then commercialized, with recreational adventure sport companies starting to take off in the 1960s.
Nowadays, river rafting is a very popular and widespread adventure sport that draws thousands of tourists and lots of money each rafting season. And river rafts have seen many technological advancements that have vastly improved the equipment's quality and safety performance levels.
River Rafts are Inflatable
Most white water river rafts seen today are large and inflatable boats that range from being able to hold one-person to being able to hold around 8 people. They are typically made from synthetic rubber that's both weather resistant and highly durable.
White water rafts are made up of many components. The anatomy of a river raft is designed both to help the raft withstand the harsh conditions of white water as well as to help brace and stabilize the riders within.
Within the raft are typically two to three thwarts, depending on the size of the raft. Thwarts are the cross tubes that are filled with air. These help to both provide rigidity to the boat as well as an extra place for riders to wedge their feet and secure themselves.
White water river rafts will also typically have foot holes or cups of some kind for paddlers to place their feet into. The foot cups are generally at the front of the raft where there is no thwart for the paddler to use. Additionally, rafts will have handles and ropes attached to the sides or thwarts; these help with transporting the raft and provide a safety measure in case someone falls out and needs to grab onto the raft.
Rafting Guides Help Novice Paddlers Navigate Safely Down the River
Unless you're a highly experienced white-water paddler, river rafting is one sport where you definitely want a guide. It's highly recommended that you go rafting under the supervision of a trained rafting guide, at least for your first few trips.
Guides sit in the middle of the back of the raft and are responsible for reading the river, navigating the raft, and instructing the paddlers in the raft. The guide will have the majority of the steering power.
Guides will also generally provide instruction prior to and during the trip. This will include general facts about the river and route being paddled, as well as specifics such as commands to listen for and safety tips for if a paddler goes overboard. Commands given by a rafting guide are very important to listen to and follow, as the guide needs the paddlers in order to fully control the raft.
Rafting Season and River Levels Change the Experience
Rafting season is the time of year when you are able to take safe rafting trips down a river. Most commercial companies will only run trips during the warmer months between April and September. This is the most common time period for rafting seasons; however, it does vary depending on what location you're going to raftt.
Time of year is not all that affects white water rafting. River level highly impacts the availability and frequency of trips. Rivers can reach dangerous levels after heavy rain or flooding. This will typically cause rafting trips to be cancelled or rescheduled. Additionally, some river levels are controlled by dams, and paddling trips must be planned around dam releases.
Beginners should always go rafting with guides for this reason.
As fun as the sport may be, white water rafting is also dangerous, especially for the inexperienced. Always go with a guide and reputable rafting company.
Why do they call it White Water Rafting?
River rafting is called "white water" or "whitewater" rafting due to the rapids that occur naturally throughout stretches of a river. White water is actually formed from turbulence in the rapids resulting from fast-flowing currents.
According to French Broad Rafting, the four factors that can create rapids are:
Gradient – Steeper gradients result in more fast and rough rapids.
Constriction – Constriction refers to a river flowing through a tight space or corridor, causing the river's flow to hasten.
Obstruction – Obstructions are generally large boulders or underwater cliffs that result in disruption of the flow.
River flow rate – Flow rate refers to the quantity of water passing through a river and can result in rapids that were not present at lower flow rates.
All four of these contribute to the creation of "white"-water rapids, though they can do so individually or in combination with each other.
Rapids are Divided into Classes
Whitewater rivers and creeks are measured in difficulty and technicality to determine what level of experience is needed to paddle them. These are known as whitewater classes of rapids.
Whitewater classes are a range of classifications used by paddlers to choose and plan a route. While some areas, such as the Grand Canyon, may have their own special classifications to fit specific terrain, there are 6 general classes applied to most whitewater.
The international rapids class scale of difficulty are as follows:
Class I is the easiest and safest whitewater. Some paddlers do not even consider Class I true whitewater. However, it can still have obstructions and other difficulties that place it on the classification scale.
Class II is also considered mild to moderate with few moves requiring technical maneuvers or experience. This class is recommended for novices.
Class III is considered intermediate, with less river stability. This class is where more complicated maneuvers begin to arise.
Class IV is an advanced class. The waves produced by these rapids are much larger, with sometimes unavoidable river features that require precise maneuvering. Falling out of the raft becomes much more dangerous from this class upwards.
Class V is recommended for experts. The waves and river features will be much larger and more complex, requiring high levels of river-reading capability.
Class VI is dangerous even for experts. This class is considered extreme and exploratory, and sections of this class of rapids may be impossible for rescuers to reach. This class should be approached only by experts and with extreme caution.
Preparing for a Rafting Trip
When preparing, it is important to consider what you'll need to bring on a white water river rafting trip. Proper attire is a must. Avoiding heavy clothes, like long jeans and jackets, will be helpful if you end up in the water. Heavy clothes make for a heavy swim.
Additionally, closed toed shoes are often required in the event that you end up in the water. White water often has many rocks that can injure your feet.
Paddles, life jackets, and helmets should all be provided and required by the rafting company you're going with. Always do research into the classifications and routes that a company offers. Some rafting companies may be more beginner friendly or reputable than others.
White Water Rafting Wrap Up
White water rafting is a thrilling adventure sport that ranges in difficulty from beginner friendly to expert only. It's important to know the different classifications of white water before you go rafting.
Never go white water river rafting alone, and always listen to the commands of your guide. Lastly, white water rafting is an exciting adventurous way to explore the outdoors and you should definitely add it to your bucket list.
What is the most dangerous whitewater rafting in the world?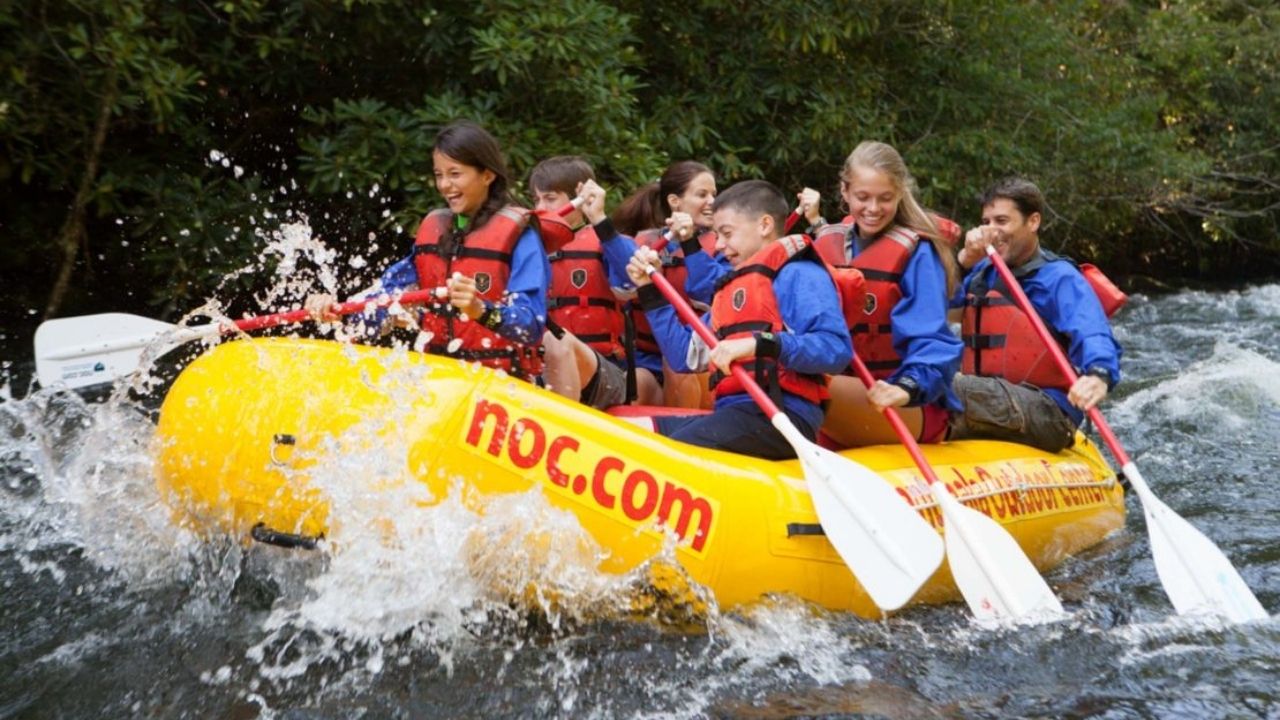 Whitewater rafting is literally one of the most exhilarating extreme sports I've ever participated in. I'm a frequent rock climber and skydiver, but there's something about the whitewater rapids that gets my adrenaline churning.
Maybe it's the gushing whitewater, majestic panoramic views, or the thrill of the rapid waiting just around the river bend. So I've compiled this list of the top 10 most dangerous whitewater rafting locations in the world, which wasn't easy since there's at least one "dangerous" rapid or river in every corner of the world.
I narrowed down this list to the places that are extremely dangerous but not secluded. Unfortunately, this meant removing famous rivers like the Ganga River in Rishikesh (India) – a famous sport for worldwide whitewater rafting competitions.
There are six classes of whitewater difficulty or "danger" – class 1 to class 6. Class 6 is considered a no-go for beginners based on the International Scale of River Difficulty (ISRD). Keep in mind that the Grand Canyon stretch of the Colorado River follows its own difficulty scale from class 1 to class 10.
That's it for the book-ish info. Now let's have a look at the rapids!
1. God's House – Karnali River (Nepal)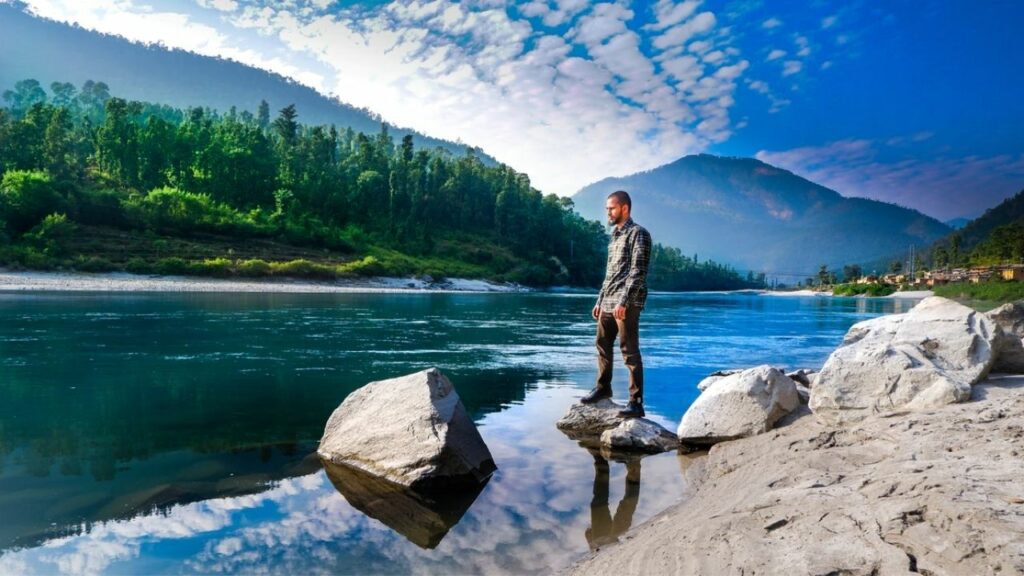 Karnali River
| | |
| --- | --- |
| Rapid Difficulty | Class IV – Class V |
| Popular Rafting Locations | Karnali River, Sunkosi River, Tamur River and 13 more! |
| Best Time of the Year | Early October |
| Other Activities | Trekking, Mountaineering, Skydiving, Rock Climbing, Canyoning |
I figured if this list is gonna have rapids called Terminator and whatnot, I should start with an easier name first – The God's House. You can't have a successful whitewater rafting trip in Nepal without visiting the Karnali River.
It's a famous spot for both beginners and experts – with thousands of tourists swarming this beautiful place in Western Nepal in October (the post-monsoon season). The Karnali river flows through a jungle and the Himalayan ranges and has rapids of classes 1 through 5.
God's House is one of the many rapids on the Karnali River, but this class 5 rapid that goes through the narrowest parts of the river isn't a place for newbies.
Cost Breakdown:
| | |
| --- | --- |
| Flight from the US | $894 – $1,119 |
| Hotel Cost | $12 – $200 |
2. Ghostrider – Zambezi River (Zambia, Africa)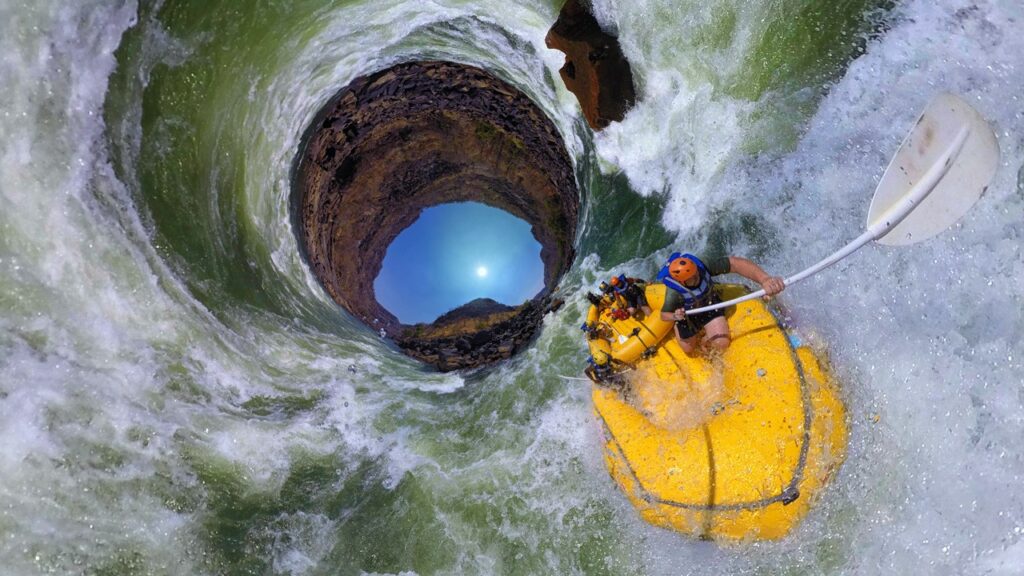 Zambezi River
| | |
| --- | --- |
| Rapid Difficulty | Class III – Class V |
| Popular Rafting Locations | Stairway to Heaven, Gnashing Jaws of Death, Victoria Falls, |
| Best Time of the Year | May to August |
| Other Activities | Canyoning, Rock Climbing, Mountain Biking, Kitesurfing, Scubadiving |
The wilderness of Zambia in East Africa is the second-best whitewater rafting location globally and the best choice for an extreme rafting trip outside the United States.
What separates it from other locations on this list, you ask?
First and foremost, the Zambezi River has one of the most dangerous rapids in the world – the Ghostrider. And it will stare into your eyes from the deep fall.
Second, the Zambezi river has not one but two extreme locations from this list, the second one being the Victoria Falls rapids. Other famous rapids such as Stairway to Heaven, Gnashing Jaws of Death, and Commercial Suicide (class VI rapids) are also in the area.
Third, you don't have to go too far for other outdoor activities because Zambia's majestic Zambezi River literally has it all.
Cost Breakdown:
| | |
| --- | --- |
| Flight from the US | $1,347 to $1,707 |
| Hotel Cost | $49 – $1,163 |
3. Terminator – Futaleufú River (Chile)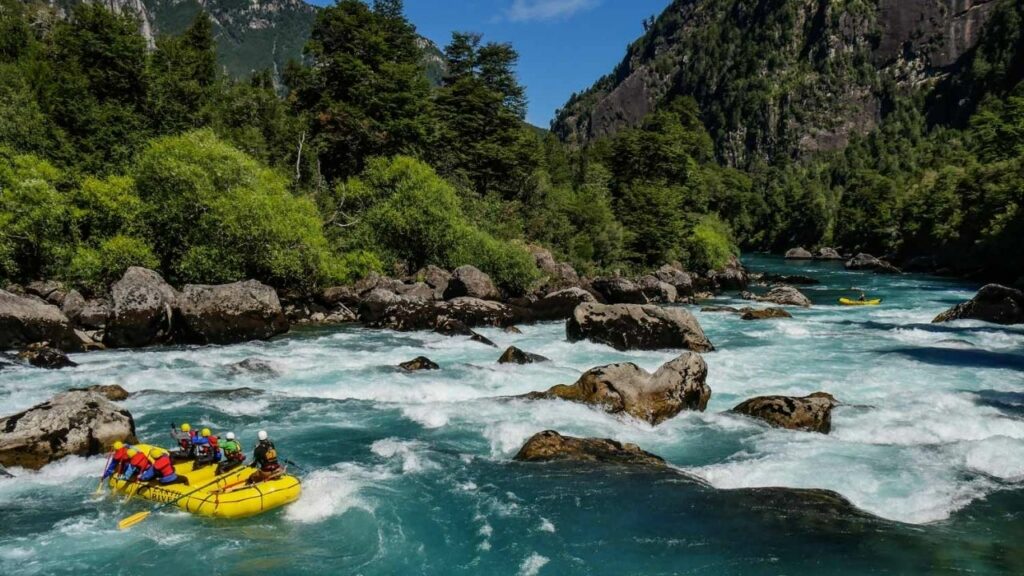 Futaleufú River
| | |
| --- | --- |
| Rapid Difficulty | Class IV – Class V |
| Popular Rafting Locations | Puente a Macal, Puente a Puente, Azul a Macal, Río Petrohué (Puerto Varas) |
| Best Time of the Year | December to April |
| Other Activities | Hiking, Trekking, Skiing, Snowboarding, Surfing, Kayaking |
I swear I'm not making up these names! And no, you won't be greeted by Arnold here.
Futaleufú River in Northern Patagonia (Chile) is infamous among rafters for its three extreme whitewater rafting locations – Puente a Macal, Puente a Puente, and Azul a Macal.
It's the perfect place for extreme sports enthusiasts because they get to experience 3 at the price of 1. It's infamous because it's considered the most challenging commercially run whitewater rafting location, even among the pros.
If that doesn't satisfy you, try Terminator – the class V and extremely dangerous rapid on the Futaleufú River. Even its "cheat run" on the left river is longer and more challenging than most rapids; just imagine how majestic the real thing would be.
Cost Breakdown:
| | |
| --- | --- |
| Flight from the US | $461 – $653 |
| Hotel Cost | $40 – $250 |
4. Godzilla – Rio Upano River, Ecuador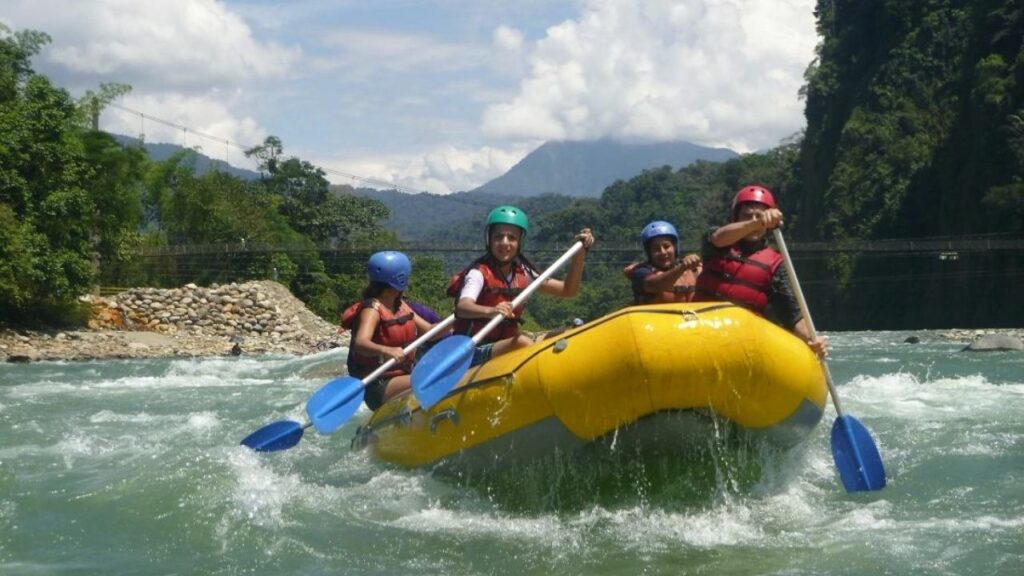 Rio Upano
| | |
| --- | --- |
| Rapid Difficulty | Class II – Class V |
| Popular Rafting Locations | Rio Upano, Río Toachi, Río Mulaute, Río Blanco, Río Napo, Río Misahuallí |
| Best Time of the Year | Late December to Early May |
| Other Activities | Paragliding, Swing Jump, Ziplining, Canoeing, Suspension Bridges |
Okay, this is the last of these weirdly scary names. Ecuador is famous among the rafters worldwide, not just for its various rivers but for the native culture as well. It might just be the thing missing from your next rafting trip.
Ecuador has various popular whitewater locations ranging from classes 3 through 5 that are suitable for beginners and pros alike. Rio Upano River, or the "River of the Sacred Waterfalls," runs deep in the Andes mountain ranges through jungles and canyons.
And, the infamous "Godzilla" rapid on Rio Upano takes it one step further. With 15-foot waves from both sides and a level V classification, Godzilla is no different from the infamous monster god from the movies. This, too, can shake the experience out of expert rafters.
Cost Breakdown:
| | |
| --- | --- |
| Flight from the US | $356 – $1,006 |
| Hotel Cost | $33 – $925 |
5. Rapida Della Segheria – Noce River (Italy)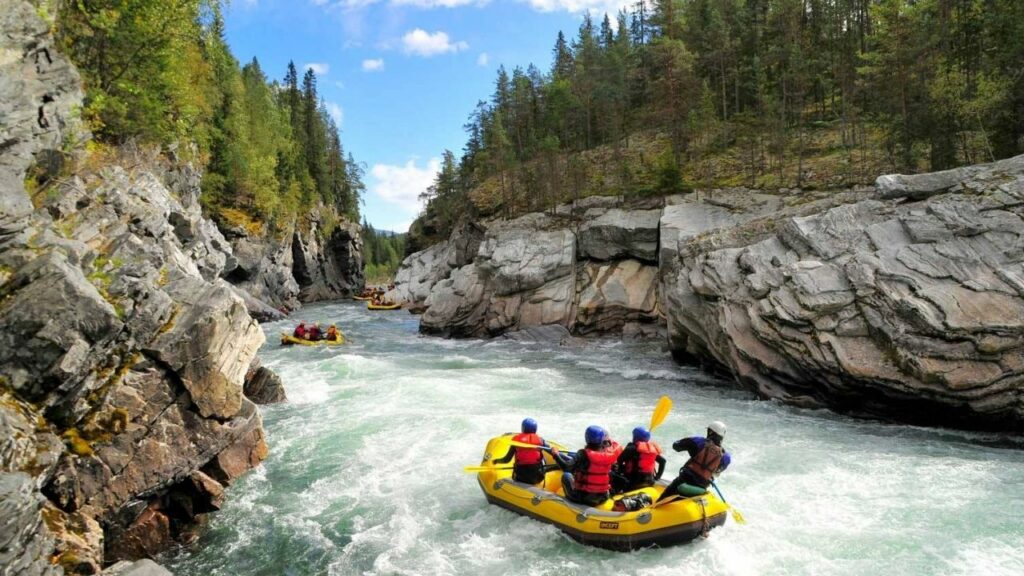 Noce River
| | |
| --- | --- |
| Rapid Difficulty | Class III to Class V |
| Popular Rafting Locations | Sawmill Rapid, Noce River |
| Best Time of the Year | May to October |
| Other Activities | Hiking, Flying (Ziplining), Kayaking, Scubadiving, Skiing, Paragliding |
The Noce River is a must-go location if you're ever backpacking in Europe. Italy's Noce River (Il Fiume Noce) is divided into several sections and difficulties.
The top of the river, located in the Brenta Dolomite Mountains near Val di Sole in Northern Italy, is beginner-friendly with only class III rapids. The difficulty rises to class V as you go south and reach the Caldes village.
Further south is where you'll find the most dangerous whitewater rafting rapid in all of Europe – the Sawmill Rapid (Rapida Della Segheria).
Cost Breakdown:
| | |
| --- | --- |
| Flight from the US | $534 – $687 |
| Hotel Cost | $22 – $1,017 |
6. North Johnstone River, Australia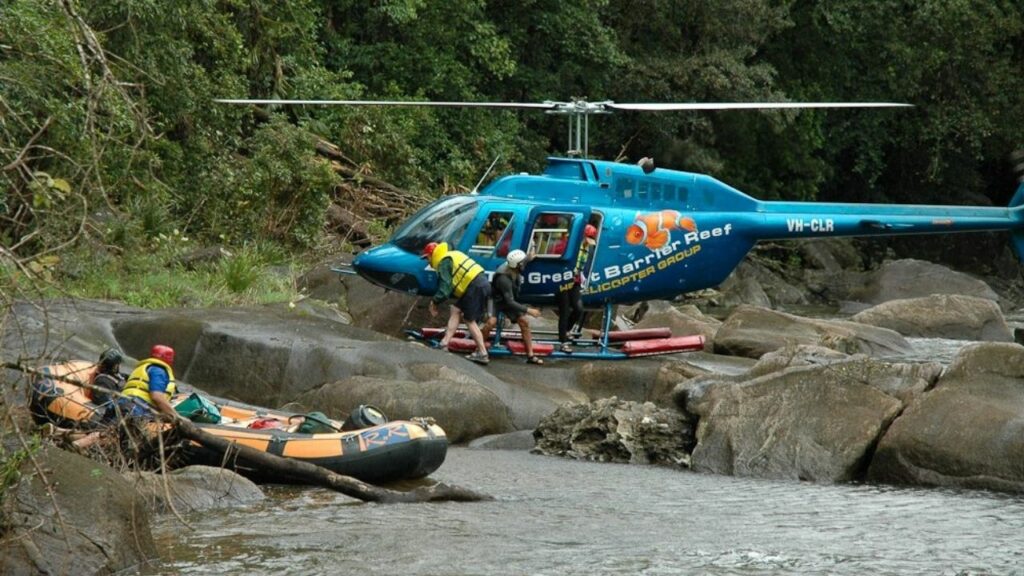 North Johnstone River
| | |
| --- | --- |
| Rapid Difficulty | Class IV and Class V |
| Popular Rafting Locations | Tully River, Franklin River, Murray River, Barron River, Mitta Mitta River |
| Best Time of the Year | April to June |
| Other Activities | Shark diving, Bungee jumping, Hand gliding, Adventure caving, Skydiving |
The rivers in Australia are well-known in the whitewater rafting world. From over 45 class IV rapids in Queensland's Tully River to the weirdly tricky rapids of the Murray River such as the Murray Gates, Sharks Tooth, Hole in the Head, Guides Mistake, and many more – Australia has rapids in bulk for you.
But there's one that is more secluded than any other rapid in the world. The upper half of the 120-mile Johnstone River is only accessible by a helicopter, and is known for its class IV rapids and the oldest rainforests in Australia.
The best part is that it's only 20 mins away from Cairns – the gateway city to the breathtaking Barrier Reef.
Cost Breakdown:
| | |
| --- | --- |
| Flight from the US | $4,330 – $4,966 |
| Hotel Cost | $96 – $202 |
7. Bidwell – Chilko River & Dipper Creek – Squamish Valley, British Columbia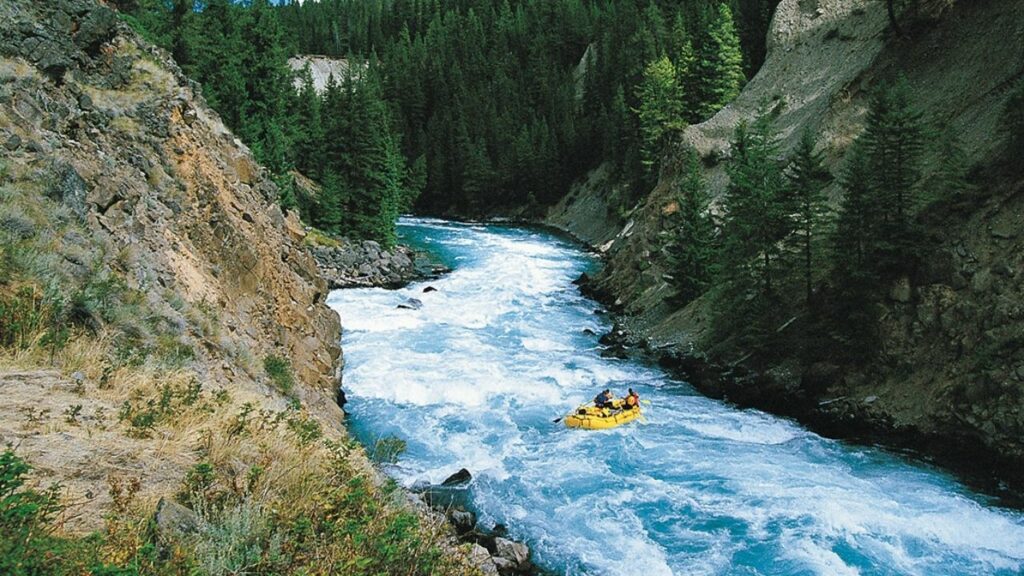 British Columbia Whitewater Rafting
| | |
| --- | --- |
| Rapid Difficulty | Class III – Class V |
| Popular Rafting Locations | Stikine, Toby Creek, Kicking Horse River, Thompson River, Elaho River, Chilcotin River |
| Best Time of the Year | May to July |
| Other Activities | Ziplining, Bungee Jumping, Kitesurfing, Rock Climbing, Caving |
British Columbia is famous for having the largest collection of commercially-owned class IV rapids in the world. Bidwell, a 14-mile long class IV rapid on the Chilko River, is the longest commercially-owned whitewater rapid in North America. It'll literally leave you gasping for breath.
Experts treat the Bidwell as the only training run before trying the infamous White Mile, located further down on the Chilko River. In comparison, the Dipper Creek in Squamish Valley isn't as long as the Bidwell, but its crazy 40-feet drop will leave you holding on to dear life (and raft)!
Cost Breakdown:
| | |
| --- | --- |
| Flight from the US | $339 – $716 |
| Hotel Cost | $87 – $228 |
8. More Rapids Than You Could Go To, United States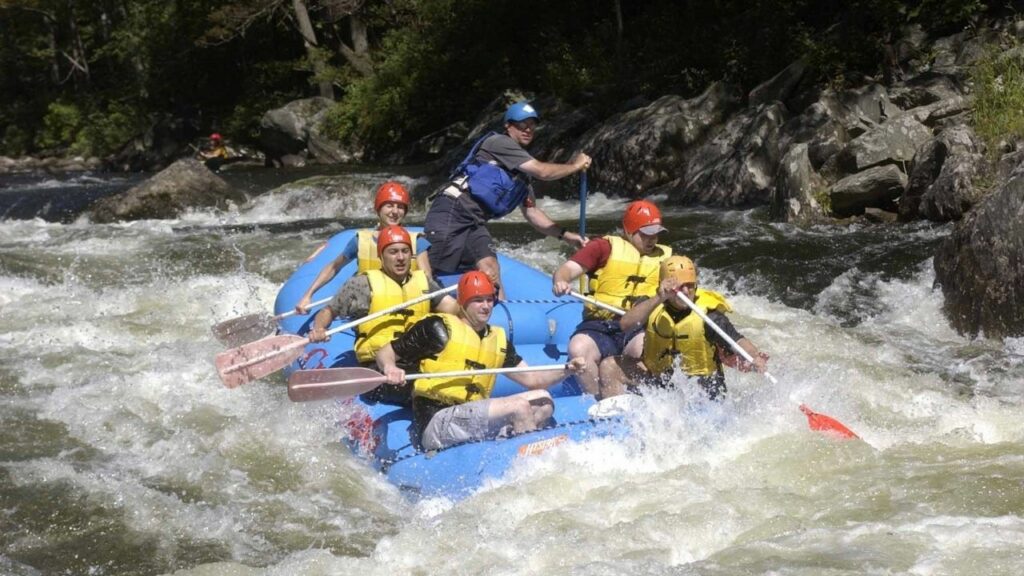 Deerfield River, United States
The U.S. is at the end because it's impossible to choose one or two best rapids from the country. The United States is the best country you could go to for whitewater rafting in the world, thanks to the dozens of world-famous whitewater rapids here.
| | |
| --- | --- |
| Rapid | Location |
| Big Drops 2 and 3 | Colorado River |
| Lava Falls | Colorado River |
| Pillow Rapid | Gauley River |
| Celestial Falls | White River |
| Bull Sluice | Chattooga River |
| Section Two | Lochsa River |
| Clavey Falls | Tuolumne River |
| Whirlpool Rapids Gorge | Niagra River |
The 8 rapids mentioned above are globally renowned class IV and V rapids that'll give you the time of your life. US whitewater rafting also has much more to offer than just eight. Refer to my guide on the 10 best white water rafting locations in the US: Beginner to Advanced.
If you're in the U.S., I suggest trying out any of the top 4 – you won't regret it.
I got into extreme sports about 20 years ago and am a die-hard adrenaline junkie. Just like in business, I choose my outdoor adventures based on how much they scare me. My goal is to share the lessons I've learned over the past couple of decades braving the unknown to encourage you to do the same.
Disclaimer
All content cited is derived from their respective sources. If you believe we have used your copyrighted content without permission, send me an email at [email protected] and I'll remove it immediately.
About Us
Elevated Adventurer is your go-to sherpa for all things adventure sports and outdoor exploration. Here you'll learn everything you need to know about your favorite outdoor sports from rock climbing and scuba to skydiving and extreme sports.
Source https://www.viator.com/tours/Jasper/Sunwapta-Challenge-Run-Class-3-Rafting/d5421-5400P7
Source https://paddlecamp.com/what-is-white-water-rafting/
Source https://elevatedadventurer.com/what-is-the-most-dangerous-whitewater-rafting-in-the-world/