Skagit River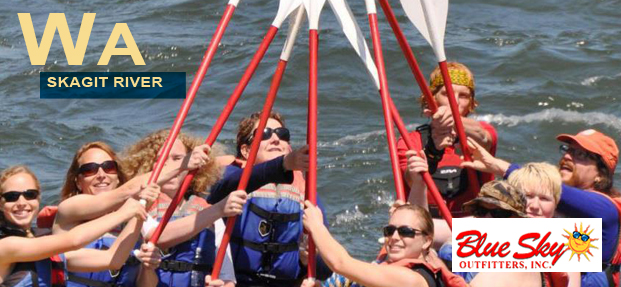 The Skagit River is western Washington's largest river after the Columbia. Its headwaters lie across the border in southern British Columbia, high in the Canadian Cascades where some of the world's deepest snowpacks accumulate. From here the river runs south into Washington, gathering more snowmelt from lofty granite peaks in North Cascades National Park. Then the Skagit River turns southwest through the Cascade foothills and finally due west to Puget Sound.
For the moment the Skagit River still runs free from the last dam near Newhalem to Puget Sound. Though all 90 miles are boatable, the first 25 down to the Sauk River confluence hold the most interest for whitewater rafting. These back-to-back runs offer a variety of whitewater rafting and scenery, and they can be combined for longer trips.
Go Rafting with A Commercial Outfitter in Washington
Blue Sky Outfitters is one of the oldest and most respected whitewater rafting outfitters in Washington State. They have been providing top quality rafting trips in the Pacific Northwest for more than 27 years.
Visit their website for more information about Skagit River Rafting.
Upper Skagit River Rafting Trips: Class II-III / Beginner
Upper Skagit River rafting trips course swiftly down a narrow, heavily forested glacial valley that provides frequent views of nearby snow-capped summits. The river is sparkling clear, and on sunny days the water is an intense and beautiful blue-green. This stretch holds the Skagit's only whitewater, making this section quite popular. Most of the action is limited to a short Class II – III gauntlet called the S-Curves, where the river cuts a narrow passage through granite bedrock. This section of the Skagit River travels through North Cascade National Park, home to some of America's most beautiful scenery.
Lower Skagit River Rafting Trips: Class I / Beginner Float Trip
The Lower section of the Skagit River is considered a mellow float trip. Just below the upper section, the river settles into a swift but gentle glide down a gradually widening flood plain. Soon the river begins meandering in shifting channels over deep deposits of gravel and cobble, the legacy of an ice-age glacier that once filled the valley and extended all the way to Puget Sound. This stretch of the lower Skagit enjoys many views of snowy peaks. Below Cascade Bridge the Skagit valley widens and the channel becomes broader, splitting occasionally around large islands. The Lower section enjoys a little more solitude: the river occasionally winds away from the highway, and dense vegetation provides some privacy.
Scenery and Wildlife: Migrating Salmon and Bald Eagles
Each season on the Skagit River offers unique and beautiful scenery. While the summer months are the most popular for rafting, in autumn the riverside foliage turns to blazing yellow and orange and the migrating salmon leap from the waters. Each winter hundreds of the great birds come south from Alaska and Canada, drawn to the Skagit by throngs of migrating salmon and steelhead. Rafters can watch the migration with views of majestic snow capped peaks in the background. Although numerous birds migrate to the area, the Skagit River is perhaps best known for its annual gathering of bald eagles.
Season: Year-round
Dam-controlled, the Skagit River runs year-round. The spring provides early-season rafting without the intimidating high water from spring run-off that most other rivers experience.
Skagit River Rafting Trip Summary
Wetsuits Required: Yes, when water is under 55 degrees. Each person should make sure that they have a wetsuit available to them (rent or bring your own). Guides may decide that water and air conditions are suitable to go without a wetsuit at the meetup for the trip, in this case, all unused wetsuit rental charges will be refunded.
Length of trip: 9 miles
Duration of trip: 2-2.5 hours on the river depending on river flow. 3-4 hours total (includes safety talk and shuttle ride)
Minimum age: 7
Minimum weight: 50lbs
Liability Waiver Required prior to trip: yes (online here)
Meeting Location: USFS Marblemount Boat Launch located across the bridge in Marblemount, WA (click here to be directed to the USFS page and map).
For a PDF map with directions click here.
Risk Analysis of the Skagit River
Safety Protocol: Finished 2013. Revised 2022.
Number of significant rapids (Class 3 or higher) at normal flows: 3
Generalized classification of river by American Whitewater: Class 3
Most significant rapid: S-Bends (Class 3)
Major risks to human safety according to our in house analysis: 1. hypothermia 2. Flush Drowning
Skagit River Rafting Trip Experience
This is an instructional trip designed to introduce our clientele to whitewater and educate the general public on contemporary use of equipment on whitewater rivers. A great early season run when other rivers are dangerously high, the Skagit River rafting tour is also a beautiful and exciting trip for families in late summer and early fall when temperatures are up and sunny skies return to the North Cascades.
On the Upper Skagit, the wonder of nature and a wild river are literally at the fingertips of our guests. This river is extraordinarily special, with a rich archaeological and historical past that gives it a near mystical feeling; the area was once home to the first human residents of the corridor, the Upper Skagit Tribe.
People new to whitewater will be given instruction on safety, prevention, and rescue procedures, followed by a nice nine-mile trip through one of North America's most gorgeous rivers. The Skagit is a mild river in comparison to others, but it's also very powerful; it's a great way to introduce someone to the sport, or to get started for the summer with some great whitewater that can be enjoyed by the entire family. If you or someone you love wants to get into rafting, this is the place to start, and we are the company to take you.
The Upper Skagit River rafting tour is a great introductory whitewater experience. Suitable for families and children at most flows, it's truly a mix between great natural scenery and whitewater. We have designed this trip as an instructional introduction, so the emphasis here is on teaching and learning rather than adrenaline filled whitewater. If you have never been in a whitewater situation, it makes sense to take this trip first. This trip is considerably tamer than our power-packed Sauk River Whitewater trip , but does have a section of nice rapids with big, fun waves. We encourage anyone who wants to get an introduction to whitewater , or who wants to learn more about the sport in a safe manner, to explore the Upper Skagit River. There truly isn't a better introductory whitewater trip out there in Washington.
When running the Upper Skagit River rafting trip, we should take a moment to reflect on the rich history of the area. Both Native Americans and European Settlers have had their difficulties with the surrounding North Cascades Mountains. The Upper Skagit exemplifies a pristine mountain river, with its clear and iridescent green water fresh off of the glaciers of southern British Columbia. The trees remain green well into the fall, their overhanging limbs draped so heavily with lichen that we can almost touch it as we float by. The Skagit doesn't frighten the adrenaline junkie, but who cares? This is a whitewater rafting trip in Seattle that beginner adventures can enjoy.
Please click HERE to be directed to American Whitewater's page on the Upper Skagit River for more information on this particular section of river.
Skagit River Rafting Trip Itinerary
The trip meets at the Marblemount Boat Launch, just outside of Marblemount, Washington, by traveling East on Highway 20 until you reach the town of Marblemount, then taking the bridge across the Skagit River as the road curves to the left (if you go East of Marblemount you've gone too far!). Our crew prepares you at the Marblemount Boat Launch, where temporary restrooms are available. From here we transport our guests up Highway 20 to Goodell Creek, which is located about 14 miles upriver from Marblemount. At Goodell Creek we will drop our rafts and begin our safety talk (once everyone is comfortable in their equipment).
Our Skagit River safety talk is just as involved and detailed as any of our other whitewater trips, and it's vital that new whitewater river runners listen in and ask any questions about how to deal with possible rescue scenarios while on the river. Your lead guides will go through safety precautions, as well as whitewater swimming, throw bag rescue, high siding, and flipping. All these drills will take place at Goodell prior to departure.
Once everyone is ready to go, with a paddle in hand, we get ourselves nestled into the rafts. A great trip for families, the Skagit River usually runs deep enough that we can take our larger boats, so even larger groups of six or eight can fit into one raft. When we are all set to go, we start out with our first Class 2 rapid, called Goodell Creek, just like the boat launch. From here we wind around for several miles, hitting the occasional wave and playing games like the "paddle joust" and talking about native plants, wildlife, geology, and anthropology. This is a trip that has just enough of everything.
As we meander downriver, we are always within a mile from highway 20, but it never seems to bother us, and we are likely to never hear it. All we see are the trees and the beautifully clear water as we float on down towards the highlight of the trip: the Class 3 Shovelspur rapids, also known as the S-Bends. This section of river drops significantly, with a high amount of gradient for approximately half a mile. There are four distinct sections of whitewater here, with the first two being the most intense. These rapids are constriction rapids with deep water and big pools at the end—the perfect rescue situation for someone newer to whitewater. While still dangerous, these rapids give most new whitewater enthusiasts just enough excitement without taking them completely out of their comfort zone. Perhaps that's why so many families choose to take their children on this trip. We invite all children over 50 pounds, who are comfortable swimming in whitewater, to join us on the Skagit River rafting trip.
After the S-Bends the river slows down, and we are left to tell stories of the whitewater runs through the biggest rapids of the day. Even though we've only been together for a few hours, this trip has a way of making a meaningful impact on the group in the raft. After the rapids are over, many people decide to go for a swim and bob alongside the raft for a while as the rafts float through the deep river corridor, surrounded by the majestic peaks of the North Cascades.
The trip ends at Copper Creek, which makes the total length of the trip just about nine miles. Here at Copper Creek is a restroom facility, and here your guides will shuttle you five miles back to your cars, which await you back at Marblemount. From here you have some lunch or dinner options at local cafes, as well as several local hikes. Some people like to take a trip into the Cascade River drainage, where astounding views of the North Cascades can be found, and large peaks such as El Dorado and Triad Peak lurk around the tops of the Cascade River corridor. This trip is the perfect stress-free getaway and is our recommended trip for those who are timid or have less experience with whitewater rafting. You will not be disappointed, and besides, it's always better safe than sorry when it comes to whitewater rafting, and after this run, you can always come with us on a more challenging river later in the summer.
Things to do near the Skagit
Tumbling in swift curves straight from the heart of North Cascades National Park, the Skagit River is surrounded by some truly beautiful wilderness. With trails for all ability levels looping around glaciated peaks, and campgrounds nestled beneath the rising ramparts of the North Cascades, this area is a great place to explore for a day or a weekend.
Hiking & Trail Riding
In the Newhalem area, easy jaunts through the moss-hung valley forest bring you to views of the icy North Cascades, including the dramatic wall of the Picket Range . From the North Cascades Visitor Center you can take the 1.8 River Loop trail along the bank of the Skagit to mountain views. Branching off from this trail is the Trail of the Cedars , a short offshoot into old-growth forest. If you fell in love with the sound of roaring water on your Skagit River whitewater rafting adventure, try Ladder Falls , accessible from a short trail behind the Gorge powerhouse . For those more interested in an all-day, elevation-heavy adventure, there's Sourdough Mountain Lookout , where beat poet Gary Snyder wrote one of his books and where glaciers flash in the summer sun to every side. With almost 5,000 feet of elevation gain in 5.2 miles and a round-trip distance of over 10 miles, this trail is strenuous but rewarding, with some of the most breathtaking views this area of the Cascades has to offer and a historic fire lookout still standing at the summit. The trailhead for Sourdough Mountain is accessed from the town of Diablo, just east of Newhalem on highway 20.
Camping and Accommodations
If you want to take a few days to explore after your river rafting trip, the Skagit River area offers an array of reservation and first-come, first-serve campgrounds. Thirteen miles east of Marblemount is Goodell Creek Campground , sprawled in old-growth forests along the banks of the Skagit. This campground doesn't take reservations, but it does have toilets and drinking water. Just west of Newhalem is the Newhalem Creek Campground , which has easy access to hiking trails and the North Cascades Visitor Center. This campground does take reservations and has water, a dump station, and flush toilets. It can also accommodate large RVs. If you're looking for a more primitive camping experience, the six first-come, first-serve sites of Gorge Lake Campground offer great views and toilets but no drinking water. If primitive isn't your style, the Buffalo Run Inn in Marblemount offers hotel rooms, free Wi-Fi, and a restaurant.
Marblemount is the best place in the area to grab a bite to eat. Our guides love the small, locally owned fare at the Marblemount Diner. If you're looking for some quick food and a caffeine fix, try the Mondo Restaurant. For a unique menu that includes, bison, elk, and seafood, the Buffalo Run Restaurant can't be beat. If all you need is some sugar on your way home, the Cascadian Home Farm, located a few miles outside Rockport, has great ice cream and milkshakes.
Skagit River, Washington
November 10, 1978. The segment from the pipeline crossing at Sedro-Wooley upstream to and including the mouth of Bacon Creek. The Cascade River from its mouth to the junction of its North and South Forks; the South Fork to the boundary of the Glacier Peak Wilderness Area. The Suiattle River from its mouth to the boundary of the Glacier Peak Wilderness Area at Milk Creek. The Sauk River from its mouth to its junction with Elliott Creek. The North Fork of the Sauk River from its junction with the South Fork of the Sauk to the boundary of the Glacier Peak Wilderness Area. The North Fork of the Cascade River from its confluence with the South Fork to the boundary of North Cascades National Park.
Classification/Mileage:
Scenic — 100.0 miles; Recreational — 58.5 miles; Total — 158.5 miles.
RELATED LINKS
Photo Credit: Unknown
Skagit River
The Skagit River, in Northwest Washington, is the largest and most biologically important river draining to Puget Sound. The Skagit Wild and Scenic River System includes a portion of the Skagit River from Bacon Creek downstream to just east of the town of Sedro Woolley, which is classified as recreational. Three tributaries—the Sauk, Suiattle and Cascade Rivers—are classified as scenic. The system is 158.5 miles and includes over 38,000 acres. Approximately 50% of the river system is in private ownership, primarily in the Skagit and lower Sauk.
Whitewater rafting is popular on the Sauk and Suiattle Rivers. Commercial guides require permits from the U.S. Forest Service. Private boaters do not require permits. Winter eagle viewing on the upper Skagit draws thousands of visitors from November to February. Fishing for steelhead, coho and Chinook is popular on the Skagit and lower Sauk rivers. The outstandingly remarkable values are fish, wildlife and scenic quality. The upper Suiattle, upper Cascade and upper Sauk are on the Mt. Baker-Snoqualmie National Forest.
Salmon, Native American culture, history, whitewater boating, unmatched beauty, world-renowned fishing, solitude, what don't Northwest rivers offer in abundance?
Source https://www.rafting.com/washington/skagit-river/
Source https://triadrivertours.com/skagit-river-rafting/
Source http://www.rivers.gov/rivers/skagit.php