7 California River-Rafting Trips to Take Next
With the weather so perfect, it's also the perfect time to get your mind and body ready to go river rafting in California.
February 13, 2021
Share
Thrill-seeking nature lovers, rejoice! With spring right around the corner, it's the perfect time to get your mind and body ready to go river rafting in California. Whether you're a beginner looking for a scenic float or a professional searching for your next adrenaline-pumping rapid, the Golden State has a river that'll realize all of your white-water rafting dreams. Brush up on your California rivers, gather your adventurous friends, and get ready for a river-rafting adventure of a lifetime.
A guide to white-water rafting in California
Just about anyone can go white-water rafting in California. The key is choosing the right river for your skill level. Rapids are classified from Class I (easy and calm) to Class IV (wild and challenging to navigate). You also have a wide range of rafting tours to choose from: half-day, full-day, or even multi-day tours. Doing your research before selecting a spot to go river rafting in California is crucial.
Recomended businesses
Show me California.com
Recommended Businesses near
Discover the best of California. Our recommended businesses are top-quality and are committed to their communities.
Categories
Does your business rank among the best in California?
Learn more about our selection criteria and vetting process.
Where to go white water rafting in Northern California

1. Trinity River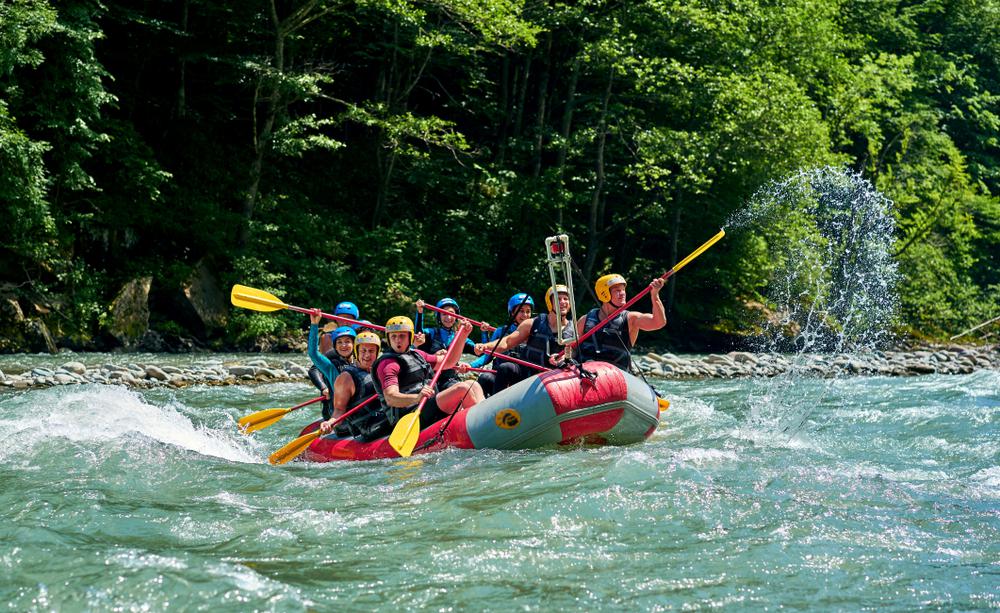 Rapids rating: Class II–V
Nearest town: Willow Creek
Northern California has some of the best river-rafting excursions in the country, and the Trinity River is proof of that. Whether you're a beginner or an expert paddler, rafting on this California river is bound to be a treat. You can find more serene floating and wildlife viewing on the nature-enclaved Lower Trinity. Step up to Pigeon Point from there, and you'll face Class II to III rapids—perfect for first-timers.
But if you're a real pro at river rafting in California, Trinity's Burnt Ranch Gorge is the place for you. The Class V rapids at this wild white-water spot are sure to give you a few thrills (and potential) spills. Previously thought unrunnable, Burnt Ranch Gorge's extreme conditions make it suitable only for highly experienced white-water rafters in California .
2. Truckee River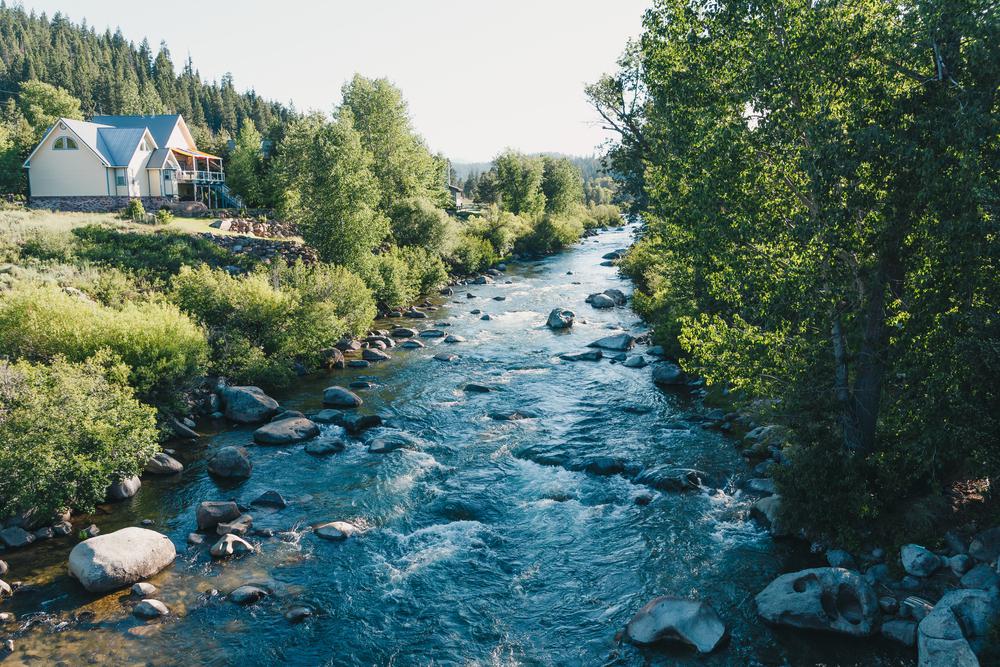 Rapids rating: Class II–III
Nearest town: South Lake Tahoe
The Truckee River is a perfect spot for beginner and intermediate paddlers looking to go white-water rafting in Northern California. Soak in the sun and trail your fingers through the (mostly) tranquil waters on your Truckee river-rafting adventure. You can take many breaks along the way as well, as Truckee is lined by beautiful picnic spots and swimming holes waiting to be discovered. The rafting trips on the Truckee River usually require half a day to complete and are a blast, so consider adding one to your itinerary when spending a weekend in Truckee .
3. Russian River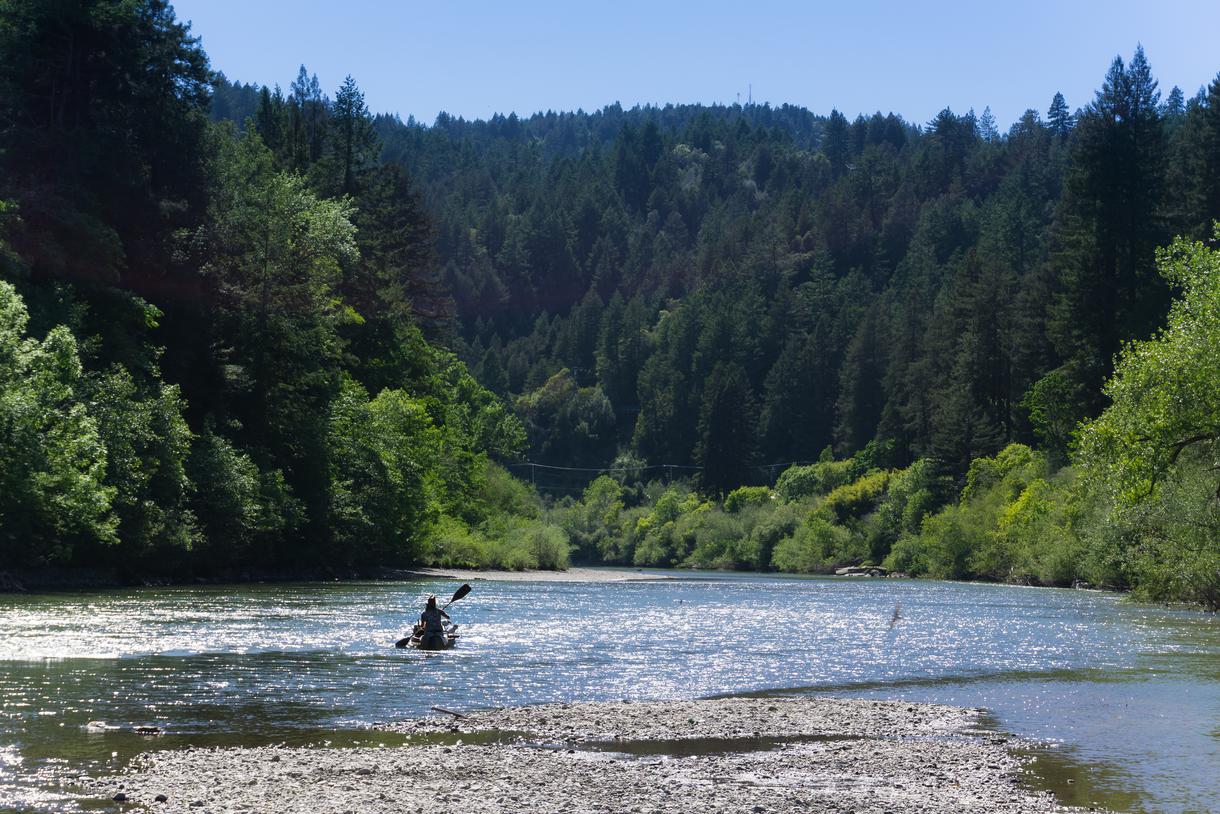 Rapids rating: Class I–III
Nearest town: Cloverdale
Featuring diverse terrain, beautiful wilderness, and clear waters, the Russian River provides respite from the hustle and bustle of daily life. This gorgeous river also offers a glimpse into California history, as it takes you through farmlands and historic towns. Russian River white-water rafting is ideal for those who want to take their paddling skills up a notch. With Class II and III rapids making up the majority of this NorCal river, the elevations and jumps here and there give paddlers just enough excitement without the danger.
4. American River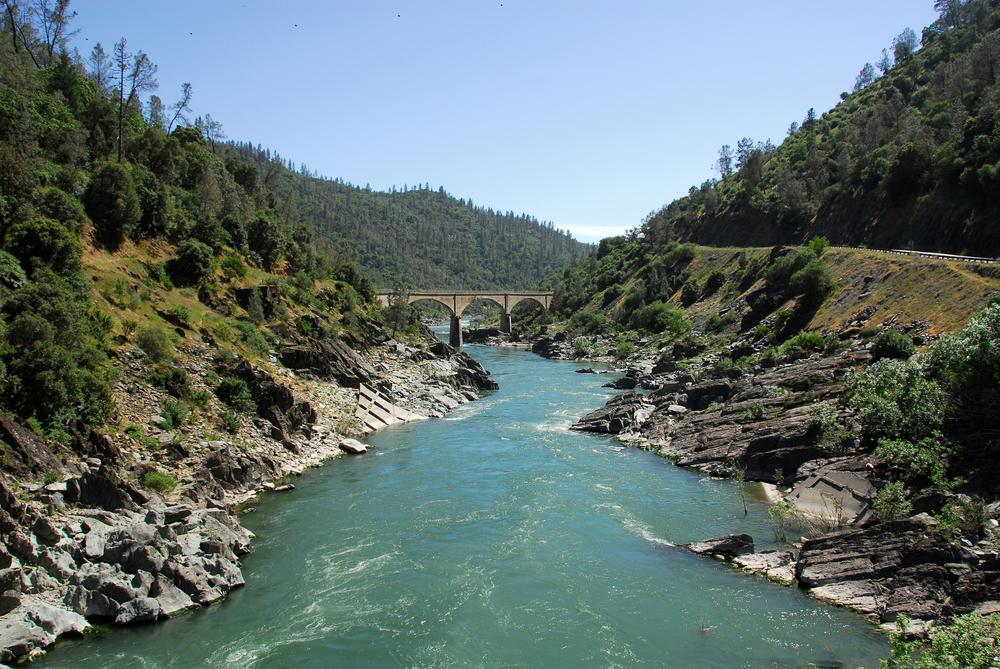 Rapids rating: Class II–IV
Nearest town: Auburn
When it comes to white-water rafting in Sacramento , everyone seems to love the South Fork of the American River. The splashy Class III rapids at this California river are a blast—especially on a hot summer's day. But if you had a more challenging ride in mind, you'll want to head out to the Middle and North Forks of the American River. The Middle Fork boasts one of the most unique rapids in all of California—the Tunnel Chute—which was formed when miners blasted a tunnel through the side of a cliff to divert water. The Chute drops you 6 feet before whisking you through a 90-foot-long tunnel.
But perhaps the most scenic spot for river rafting in California is the North Fork of the American River. The emerald-green waters of this spectacular river flow untamed through a forested gorge with 2,000-foot cliffs, with nearly non-stop white-water rapids. American River rafting is a must-do for all water sports enthusiasts looking for a thrill-inducing experience.

Top places for white water rafting in Southern California

5. Kern River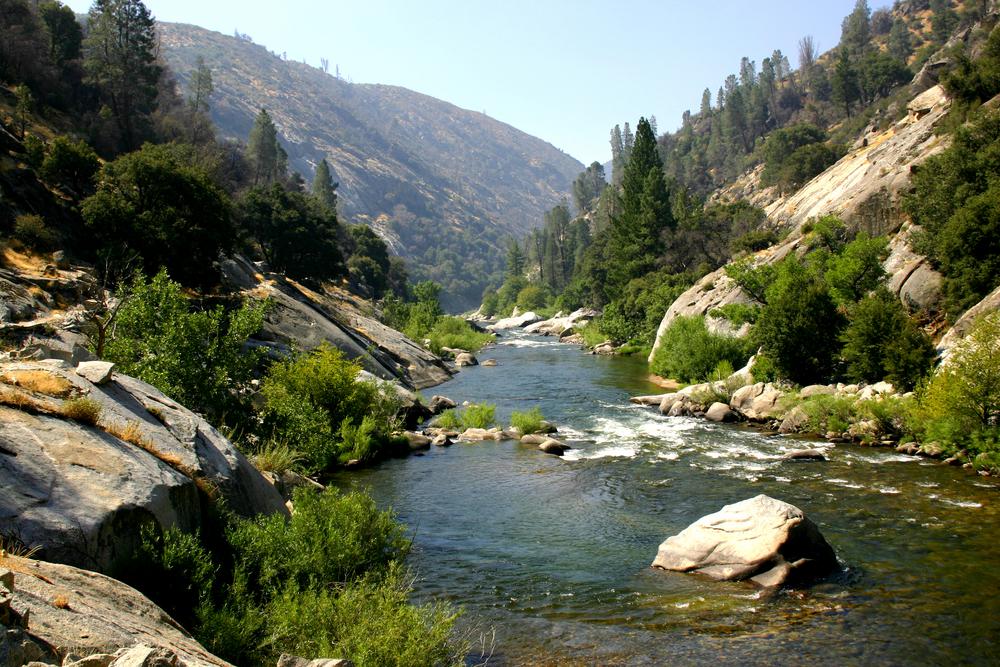 Rapids rating: Class III–IV
Nearest town: Kernville
Sadly, SoCal is not as abundant in river rafting destinations as NorCal. But the few rivers that do exist here provide rapids for days and awesome adventuring opportunities like no other. Since white-water rafting in San Diego and white-water rafting in Los Angeles aren't really possible, making the trip to the Kern River is the next best thing.
Not too far from L.A. is the Lower Kern River—a rafting spot like no other. Paddlers here can expect more challenging whitewater during the spring and a calmer, more reliable flow during the summer. Looking for a weekend escape from the city? Paddle the entire stretch of the Lower Kern, which amounts to a two-day adventure surrounded by wilderness and beautiful scenery.
6. Kaweah River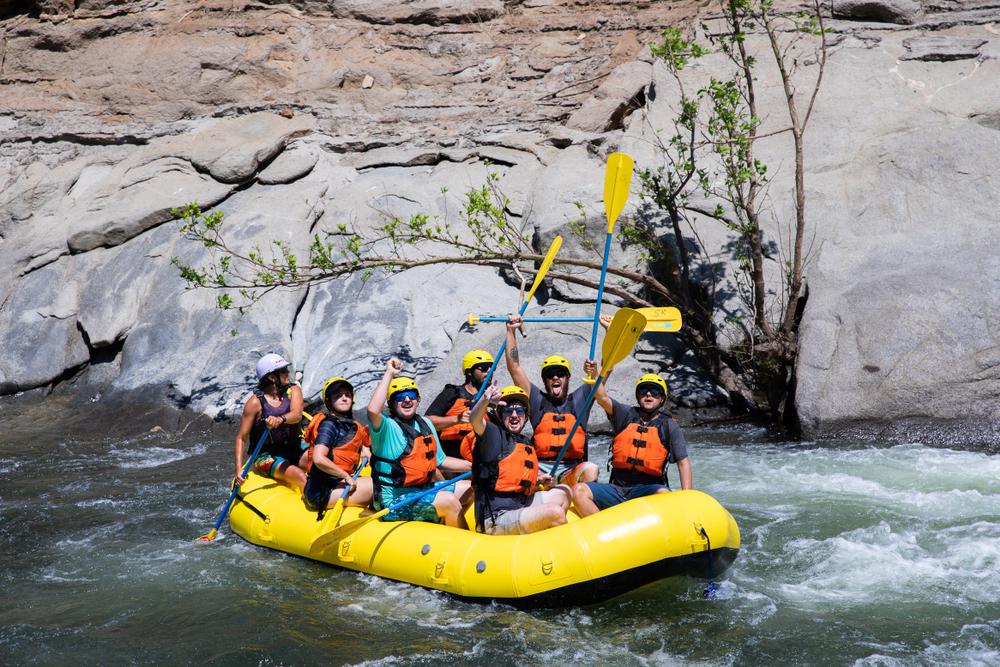 Rapids rating: Class IV
Nearest town: Three Rivers
The most important factor to take into account when planning a rafting trip on the Kaweah River is timing. Flowing from the peaks of Sequoia and Kings Canyon National Parks , this steep river offers some of the best white-water rafting in California. But to enjoy Kaweah in all its glory, you should aim to visit during the snowmelt season, which is from April through June.
Sorry, beginner and intermediate paddlers, but rafting on this California river requires serious expertise. The lower section of the river offers 10 miles of Class IV rapids with narrow chutes and plenty of obstacles. But if you're very experienced, you might also be able to tackle the six-mile stretch in the upper section, just outside park boundaries. Though we must warn you: Only try this section if you're extremely sure of your paddling skills.
7. Merced River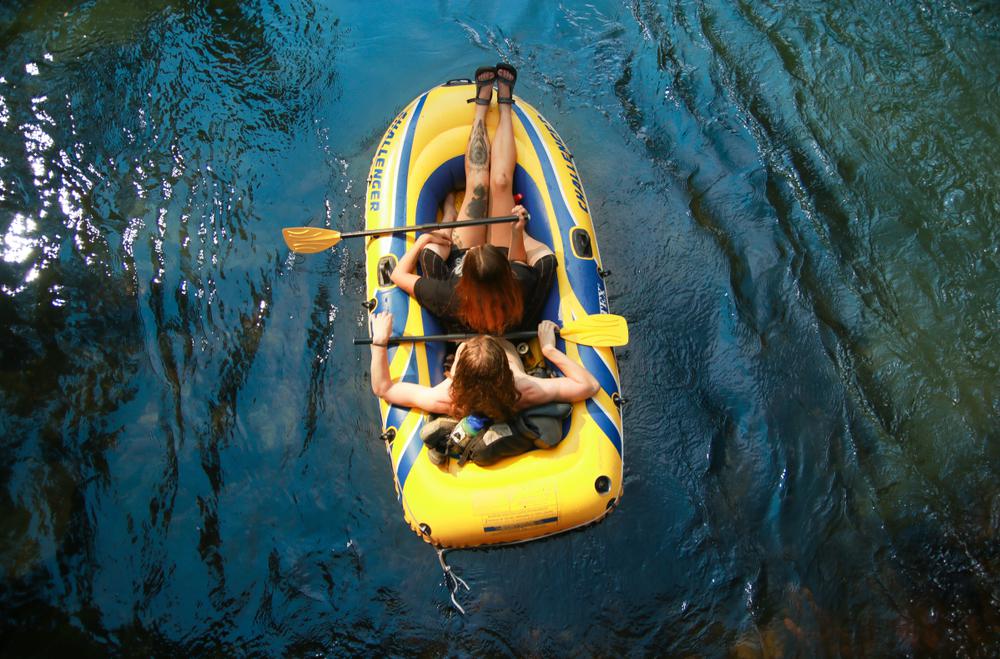 Rapids rating: Class III–IV
Nearest town: El Portal
You won't find any white-water rafting spots in Yosemite National Park , but this is the closest you can get to one. Running down from the High Sierra, the wild Merced River flows through Yosemite and right past Highway 140. The 18-mile-long, free-flowing river ranks high up on everyone's list of places to go river rafting in California.
If you're not very experienced, it's best to hit up the Merced River when the weather starts getting warmer. As the snowmelt subsides, the river mellows out to a fun, Class III level that lasts well through July. But those up for a challenge should visit between April and June for thrilling Class IV rapids.
River Rafting Near Me?
Here at OTL, we know about shows, events, and other things to do. But, outdoor activities? Not so much. So, we consulted an adventure-seeking expert to put together this guide to "river rafting near me." You go all-in with friends or keep it tame and float along with your family.
However you decide to pursue it, you'll be making some memories – and that's what life's about, isn't it?
Row, Row, Row Your Boat
You know that old nursery rhyme "row, row, row your boat?" They were onto something when they said it made life like a dream. There's nothing quite like floating down a river in a raft to make all of your troubles seem to melt away. The current gently pushing you along; the wind whispering across the banks; the sound of birds chirping. River rafting truly does make life a dream!
Getting into river rafting can be a bit intimidating, especially if you've never gone and are unsure of where to go. Places like Eagle, Colorado, Missoula, Montana, and Oak Hill, West Virginia, are some of the best for finding excellent rivers (as well as river outfitters) to help you begin your journey of getting started with river rafting!
But just getting to these places may not answer all of your questions about getting on the river. That's why we put together this quick guide to help you get started with river rafting this summer. Let's get started!
Get Me Started With River Rafting Near Me
The best thing you can do to get started is to find a local outfitter to chat up. These companies should offer guided trips down the river you plan to tackle. They'll be able to tell you what to expect when getting on the river, what sections to avoid, and even tell you what sort of gear to bring.
Consider booking a trip with the outfitter before you attempt to float the river yourself to get a sense of where to paddle based on how an experienced guide navigates the river you'd like to float.

How Do I Find the Best River Rafting Spots in My Area?
The best thing that you can do to find the best river rafting spots in your area (aside from finding a local outfitter, of course) is to Google the phrase "river rafting near_______" and put the city that you'll be visiting.
As mentioned in the intro, some of the best places to go rafting are in western states like Colorado and Montana and eastern states like West Virginia. Generally speaking, areas with access to mountains are some of the bes.
River Rafting in South Africa
River Rafting in South Africa. Click here for a list of the best white water rafting near you.
When it comes to River Rafting or White Water Rafting, South Africa's impressive rivers keep up with the best international rafting destinations! An ever-increasing number of families, couples, solo travelers, and adventure-seekers are opting for the thrills and spills of river-based leisure activities.
River rafting involves a journey along a river in an inflatable raft using a paddle to…
Read Post How to Read a River: The Basics