River Rafting in Rishikesh: Things To Know Before You Go
Meera Watts is a yoga teacher, entrepreneur, and mom. Her writing on yoga and holistic health has appeared in Elephant Journal, Yoganonymous, OMtimes, and others. She's also the founder and owner of Siddhi Yoga International, a yoga teacher training school based in Singapore. Siddhi Yoga runs intensive, residential trainings in India (Rishikesh, Goa, and Dharamshala), Indonesia (Bali), and Malaysia (Kuala Lumpur).
Known affectionately as Govinda, Shobhit discovered Yoga in his early twenties and immediately realized that this was his passion!
What is River Rafting?
River Rafting is a challenging sport in which you need to navigate downstream on river rapids while you're using an inflated raft. To make things happen, you'll need awesome teamwork. Rafting is among the most popular, in the extreme sports niche.
Is River Rafting Available in Rishikesh?
In the last few years, one special adventure has become very popular among keen adventure enthusiasts. Its name is Ganga Rafting, and there is one town in India that can offer you the best experience possible.
Right! Its name is Rishikesh…
Know it or not Rishikesh is well-known for being the adventure capital of India, so this is one of the main attractions for travelers who are looking for this type of activity.
People from all around the world are going to Rishikesh to taste the rafting there.
Ganges river is named after the living mother Goddes of India. During your rafting experience on its waters, you'll be able to have fun while exploring this must-try experience.
Is it dangerous to do River Rafting in Rishikesh?
The river rafting in Rishikesh is safe if you follow the safety instructions given by the guides in charge.
Which Are The Best Rapids For River Rafting in Rishikesh?
Are you not a professional river rafter?
No worries… There's something for everyone!
There is no matter if you're doing Grade 1 or Grade 5 you always need to be with a helmet.
The second one is always to wear a life jacket!
So sometimes the fact that you're wearing the life jacket doesn't mean it will save your life. The most important thing is to wear it correctly.
The lifejacket must be fitted perfectly to your body, and all of its buckles must be clipped, so make sure everything is ok before to jump into the fun! The best thing you can do is to ask the professional guide to fit your jacket.
4. You Need to Listen CAREFULLY During the Safety Talk of your Guide in Charge
You'll be working with experienced professionals who know exactly what to do and how to handle in any type of situation, so just listen to them carefully, and you're not going to have problems.
5. Know the Proper Swimming Techniques
There are two swimming techniques in case you fall out, or you jump for fun.
The first one is to swim lay on the water with your back, nose, and toes to the sky and your head up. The head needs to be up, so you know exactly where you're going. Your knees need to be slightly bent and the feet downstream.
You need that in case you contact a rock, so you can use your legs and feet as shock absorbers and push off the rock. Keep the arms near to your body, so you can navigate your body. The important tip here is to keep your butt high and your legs together because there is a chance for it to fit a rock. After this type of hit, often the river rafting is not funny anymore.
The second one is more useful in rescue situations. To make it correctly you'll need to lay on your stomach and imitate Michael Phelps until you're out of the river.
However, your guide will explain everything in detail, so don't worry!
Well, you already know everything about the river rafting in Rishikesh! So now, you can just book your Yoga Teacher Training in Rishikesh and go to this incredible place where the beautiful nature is mixed with many different types of adventures.
We hope you enjoyed every line you've read, and we are waiting for you in Rishikesh!
Meera Watts is the owner and founder of Siddhi Yoga. She is known around the world for her thought leadership in the wellness industry and was also recognized as a Top 20 International Yoga Blogger. Her writing on holistic health has appeared in Elephant Journal, CureJoy, FunTimesGuide, OMtimes and other international magazines. Meera is a yoga teacher and yoga therapist, though now she focuses primarily on leading Siddhi Yoga, blogging and spending time with her family in Singapore.
Leave a Reply Cancel reply
This site uses Akismet to reduce spam. Learn how your comment data is processed.
Complete Guide To River Rafting In Rishikesh
The mighty river Ganges in Rishikesh provides river rafting opportunities that give you the feeling of being on an episode of Fear Factor. It certainly gives you an adrenaline kick far superior to garnering the courage to speak with a stranger!
It's also without a doubt a thrill-per-minute activity to be attempted in Rishikesh, as there's a float for every type of traveler looking for a dose of adventure. There are beautiful river stretches perfect for first-timers, families, and graduated adrenaline junkies. You can go for full day, overnight, or half-day rafting in Rishikesh; whatever type of rafting you're looking for can be found here. But before you actually attempt this and cross it off your bucket list, let us run you through our complete guide to river rafting in Rishikesh.
Going river rafting in Rishikesh has to be on your bucket list! Photo by NARINDER PAL
Understand The Grades For Rapids
Before you go river rafting, you will have the choice to select which grade you'd like to attempt. The higher the grade, the more difficult and challenging the waves of the river gets. To break it down, here are the categories –
Grade I – The waves in this grade aren't fierce and barely have any obstacles. You can probably make that call to your mom and tell her you're going river rafting. In fact, she can even think of joining you with more of your other aunts and relatives!
Where to go for a dose of Grade I river rafting? – Brahmpuri
Grade II – The waves act more difficult than usual in this grade but it's still fairly manageable. To cut to the chase – you can phone your mom, inform her you're going river rafting, and she won't be worried.
Where to go for a dose of Grade II river rafting? – Shivpuri
Grade III – In Grade III, things get real. It's no longer just a short walk-in-the-park type of river rafting activity, but it upgrades to becoming an obstacle race. Your mom will definitely need a boatload of convincing if she sees Grade III rapids!
Where to go for a dose of Grade III river rafting? – Marine Drive
Grade IV – Grade IV is the ultimate fear factor river rafting experience. You have to gather all your strength and get the guts to experience the fierce waves and obstacles, and even be prepared for the chances of the boat flipping over. In short, you'd not get permission to step into Rishikesh if you tell your mom you're about to attempt grade IV river rafting. The good news is Grade IV rapids are only left for the professionals and the seasoned rafters, so you can stick to Grades I and II until you get there!
Where to go for a dose of Grade IV river rafting? – Kaudiyala
Know The Names Of The Rapids
Once you understand the grade you're attempting, learn about the rapids that will come your way on the river stretch. Before you enter the boat, your instructor will inform you about the rapids you're about to meet en route. It's good to know the names so you know what's coming your way on the river. (Plus, you can also boast about which rapid you went over on Instagram).
Major Rapids In Rishikesh
Grade I Rapids
Black Money
Sweet Sixteen
Good Morning
Body Surfing
Grade II Rapids
Club House
Initiation
Double Trouble
Hilton
Terminator
Shivpuri Rapid
Grade III Rapids
Three Blind Mice
Cross Fire
Roller coaster
Golf Course
Return to Sender
Grade IV Rapids
The Great Wall (waves so strong that boats can flip over)
Finally! Where To Go For A Dash Of River Rafting In Rishikesh?
There are a good number of commercially rafted rivers in Rishikesh. The most popular option for tourists is Shivpuri, Brahmpuri and the Marine Drive river stretch. The cost for river rafting at these junctions is budget-friendly and these locations are less than an hour from Rishikesh. For river rafting at these top spots, expect to spend between INR 500 to INR 1500 per head. These three stretches are great for novices and first-time river rafting enthusiasts. Seasoned adrenaline junkies can attempt the Kaudiyala and Devprayag river stretch where the rapids are way more challenging.
You can always enquire about which routes are the best for you once you actually get to Rishikesh. Or, simply channelize your inner Monica and pre-plan everything, down to the last detail!
Our guide to river rafting in Rishikesh can only do so much justice to this amazing activity. Photo by NARINDER PAL
Best Time For River Rafting In Rishikesh
The best time for river rafting in Rishikesh is from September to mid-October. If you wish to plunge into ice-cold waters, you can opt for white river rafting that happens from mid-October to March.
What To Carry With You For River Rafting In Rishikesh
You're going to get drenched while river rafting. That's why an extra pair of clothes and a towel will come in handy.
It's best to avoid carrying valuables but for things like your wallet and phone, carry a waterproof bag.
Although your tour operator will carry a first aid kit for the group, you can also carry things like a band-aid, cotton, and a pain relief cream just to be safe.
Bonus Tips
Dress For The Occasion – When you go river rafting, make sure you're dressed in an outfit that can dry quickly and is comfortable. For shoes, don't opt for flip-flops but wear something more sturdy like sneakers or a sandal with straps. Before you sit in the float, also double-check that the helmet and life-jacket aren't loosely fitted.
Listen To The Commands – Pay attention to the instructions your guide gives you. Your guide is the captain of the float, so follow their commands and paddle according to the instructions that they will shout at you. You will also be instructed on how to hold the paddle before entering the float. If you don't understand, don't feel shy to ask again.
Have A Safe Thrilling River Rafting Experience – Remember that your safety comes first. Each stretch of a river behaves differently in different seasons. After arriving at the spot if you personally feel that the river is acting up or if you're uncomfortable with your gear, you're in every power to drop the idea completely. You can swap it with other calming activities by the river such as kayaking or body surfing where you just float in the water leisurely with your life jacket on.
You're Ready For River Rafting In Rishikesh!
Now you're all equipped with everything you need to know, all boiled down into our guide to river rafting in Rishikesh. Go ahead and get psyched about riding through the chilled, gushing waves with friends or family. You'll definitely need the company of people in the float as there aren't rafts that take single people on it. But that's something you won't have to worry about if you're staying in the very social goSTOPS where you'll most likely meet other adventure junkies saying a loud YES to river rafting in Rishikesh!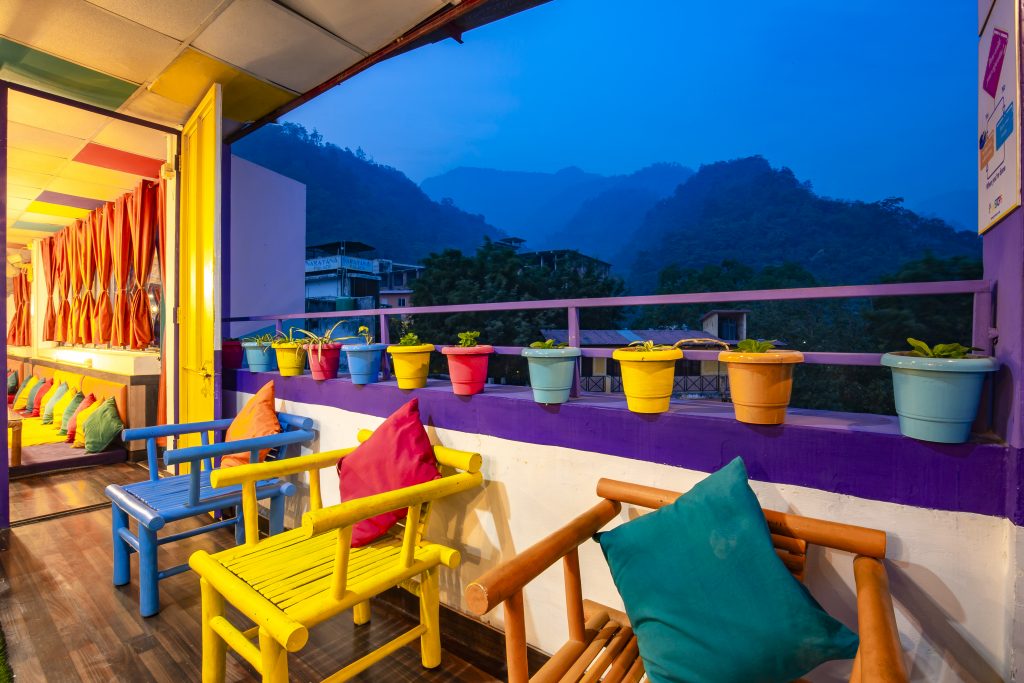 Experience Rishikesh like never before at goSTOPS Rishikesh
Is Rafting Safe For Non-swimmers?
You can go river rafting if you don't know how to swim provided that you wear your life jacket at all times. But it's better to opt for Grade I and II rapids if you are a non-swimmer as the waves are way more timid in these grades. Go through our guide to river rafting in Rishikesh to get an idea of what the grades are like.
How Long Is River Rafting In Rishikesh?
River rafting in Rishikesh can last for 1 to 2 hours if you cover a shorter stretch of the river. A popular spot for this is Brahmpuri. If you wish to stay on the water longer for 2-3 hours, you can opt to do river rafting at Shivpuri. The duration all depends on how much distance is being covered.
What Is The Best Time For River Rafting In Rishikesh?
Late September to mid-October is considered to be the best time for river rafting in Rishikesh. For white river rafting, plan your trip between mid-October and March.
How Much Does Rafting In Rishikesh Cost?
You can do river rafting in Rishikesh for a mere amount of INR 600. This is the starting price at which you can engage in this adventure spot. But costs can go up to INR 2500 if you cover a longer distance of the river.
White Water Rafting In Rishikesh | Is it Really Safe? | 10 Travel Enthusiasts Tell Tale
According to a news report recently, a woman lost her life during white water river rafting in Rishikesh accident. Every year there are a few similar river rafting accident & death cases that happen during the season of rafting in Rishikesh. So, I thought to dig this deeper and ask around travel enthusiasts who have experienced rafting adventure about their experience in real time to bring collated precautions & safety tip for you.
I stayed in Rishikesh for two years and I too went for rafting. I was scared but then I am generally scared of water activities. At rafting in Rishikesh, I could see sheer mismanagement and total dependency on these over confident kids, so called 'raft guides'. Call it peer pressure or what; I did rafting once. Thankful to Ganga ji that I am safe. Sadly, that lady wasn't lucky enough. Though society will eulogize her death too for she died in Gangaji and attained real moksha. Who knows, how is the family coping with this loss. Maybe she has small kids or ailing parents.
Well, I am recounting my experience of rafting in Rishikesh so that it prepares you on what to expect and also sharing some tips to ensure safety which should be our primary concern till our lovable government wakes up.
Tip 1 – Get Gyan On Rishikesh Rafting Route
At rafting point in Rishikesh. Early morning
In Rishikesh there are three to four level of rafting and based on your ability one should opt for the appropriate level. The most difficult level is a 36 Km of rafting ( Kaudiyala to Rishikesh) and has rapid river category of 4th grade.
The moderate one (16 kms) starts from the ever-popular Shivpuri and ends at Laxman or Ram jhula ghat.
Easy rafting starts from a midpoint further down from Shivpuri on the Rishikesh road. This is a fun picnic place with maggi stalls around. We chose grade I for our Rishikesh rafting.
Though non-swimmers can participate in Rishikesh rafting but then choose the shorter route with beginner or moderate grade rapid.
Shilpi Dutta, says she experienced rafting in April 2012 but didn't go for cliff jumping. She did the 21km rafting and found it was totally exciting.
Tip 2 – Choose Rafting Grade Wisely| Funny Names But Risky Games
The Ganga river and rafting enthusiasts face to face.
In total, there are 13 rapids divided into 4 grades based on their level of difficulty in the Rishikesh rafting route. Their names are really funny but their purpose is important – it is a forewarning so choose wisely by asking:
It is important to have prior knowledge of these rapid and ask proper questions to the guide. Clearly tell them your level of water scare, fitness level and swimming skills. Guide might be tempted to make bit more money by suggesting the longer route but you don't want to take the longest route ever, right? So, make sure it is your decision and not an influenced one.
Shyamal Mukherjee did rafting back in 1999 and shares his experience from yesteryear's
Rafting in 1999
"We reached in the afternoon there for rafting in a group of 20 people. Stayed there in tents near Ganga. Next morning we all got ready for rafting. Hired two boats. All were given relevant details plus life jacket each. It is safe and a pleasant journey. In case boat topples, one should not panic especially if you don't know swimming. Rafting in RIshikesh is a life time experience once you complete."
Tip 3- Adventure is Good, Overconfidence is Not
Enroute to rafting point alongwith our boat
Safety gears like life jacket and helmet are not comfort clothing. Check if the gear is in good condition. Don't be causal about it. Most of the rafting guides provide overused gears which might not even fight you properly or have a buckle that isn't working – stay away from it. They will say, "Madam theek hai"
Be adamant. Safety first. Though you may be tempted to click selfies instead of searching for the right gear at that time but remember it is important.
Once you have boarded the boat, they will ask to keep your wallets, mobile or camera that can get wet into a dry bag. The boat usually has two boys managing the trip.
Simple instructions are provided. Listen to them carefully.
I admit, during the instruction time I was quite casual. I did make a mistake.
Though frankly, I didn't enjoy the rapids much. My favourite was when they halted somewhere in between the rapids and asked us to get into the water and stay afloat with buoyancy. Blissful experience indeed!
Tip 4 – Be A Responsible Tourist
My favourite moment from the rafting when we floated in Gangaji
Kiran Chaturvedi worked as a qualitative market research professional with the WPP Group for many years, and now organizes creative writing workshops. She writes on socio-psychological topics, places and people, and occasional fiction and poetry. She is a nature enthusiast and roots for sustainable, holistic and greener living. She shares her views about rafting in Rishikesh:
"Have done it and am very familiar with the whole set up. It is very safe if rules are followed. Both unscrupulous operators and ignorant and arrogant tourists willfully ignore these guidelines. And then accidents happen which turn fatal. Otherwise accidental are a risk in the activity but usually can be controlled.

I see completely brazen attitude of tourists. Drunk and insisting on rafting. Getting rowdy and disobeying guides. And God forbid, if something happens then it is all the operators fault. There are also completely cynical operators who allow this. Then there the good ones, who respect the river and its power and don't behave, like rapists."
Sushmita Sarkar | Travel Blogger at MyUnfinishedLife
I go to Rishikesh often as we have second home in Haridwar and I have never tried river rafting there because of safety reasons. What I have observed is that most tourists want to try rafting for the 'fun' of it expecting it to be joyride in an entertainment park where all safety measures should be taken care of by operator, while they can sing & shout (and be drunk). While I can't say much about the operators or their team, as I haven't experienced it first hand, what I have observed (and I have many times sitting leisurely by banks of the river) is that even if the operating team is genuine, the ignorance and unwillingness of the tourists on the raft makes it a difficult task for the team to manage them and in event of an accident, impossible to control.
So, remember to be a responsible tourist.
Once the rafting is over, do enjoy a bowl of steaming hot maggi and coffee right at the riverbank.
Undoubtedly, Rishikesh rafting is fun and an experience of lifetime. Just a few precautions and you are good to go J
Tip 5 – Do Due Diligence & Choose The Right Rafting Operator
Gwen Stephens Jones, an avid globetrotter, expresses;
Happy to share my experience, as I used to work for a raftng company in Sri Lanka, so I noticed the difference between a legitimately safe operator in Rishikesh Vs a company flouting every single internationally recognised safety guideline going – if the company isn't offering a safety briefing pre-trip, their raft guide not wearing not wearing shoes or helmets, companies taking young children on grade 3 or above rapids or operating without a safety kayaker. It's true that all adventure sports come with inherent risks, but if the above are also part of a company's culture, then it's downright negligent.
Archana Singh blogs at Blog: www.travelseewrite.com
Rishikesh will always be special for me when it comes to Rafting as this was the place where I first rafted. It seemed to be great fun and above all very economical. But having done rafting in different parts of the world, all I can say is, it isn't handled in a professional way. Even in India, I would rate rafting in Zanskar safer and more professional.
Bhawna Grover, Content Head at Goibibo and a travel enthusiast, hula hoop trainer and a doting mom says:
I did rafting in Rishikesh with my flatmates in 2012. An all girls gang! And though we were all super excited to do this as it was our first adventure activity, we didn't think much before taking the plunge. However, after doing adventure sports in foreign countries and seeing their safety measures, rafting in Rishikesh is very-very risky. It runs more on faith than anything else. Yes, you wear life jackets but that's about it. When there are rapids, one does get scared. Hands get tired of rowing and you have no control. Also you are sitting on the edge without any support or harness or anything tied to you. You could fall anytime if you're not alert or don't follow instructions.
There have been several accidents and deaths in the past.
Ishani Sawant, A Mountain Athlete, Adventure Consultant working in Risk management and safety for adventure programs, says:
Go with a recognised adventure travel operator as there have been many casualties due to any tour operators who can put up rafting trips. It's important that you have good guides and the river has massive flow.
Rafting in Rishikesh Cost
Rishikesh rafting charges are somewhere between Rs 500 to Rs 1000 per person based on the level chosen. If you book complete package with Rishikesh camping and rafting then costs may be higher.
Susmita Mukherjee strongly advocates against rafting in Rishikesh and her organization Alpaviram is currently trying to connect the adventure sports authority of Uttarakhand to help crackdown on the issue.
"Not safe. Every year rafters die owing to carelessness. Govt has ordered a strict ban on rafting without permits; locals continue to flout laws to make a quick buck in the season. Have seen a terrified young man get injured on the rocks while cliff diving, part of the rafting experience. Instead of helping, the 'guides' were laughing at him."
Still, no one cares, no one takes a note, rules are flouted openly, kids run the show, and safety norms are thrown into the deep water. Sad but true state of affairs.
Let me wrap up all about Rishikesh rafting with thoughts from Antarik Anwesan who blogs at On Second Thoughts & collates his experiential travel stories. He has widely travelled across India and abroad, and shares:
I have done rafting in Rishikesh in 2011 and in 2017 with the same reputed company (Adventure Trails India- Camp Ganga Riviera). I have stayed in campsites that cost Rs. 3500 per night and also ones that cost 1000-1200 per night (including rafting). There is obviously a huge difference.
The thing with adventure sports is that, there is definitely risk involved. You are made to sign the indemnity bond before you take part in any activity. But there are some companies which actually care about your safety, and some don't. No one wants to kill you or be part of an accident, but that is definitely possible. The forces of nature need to be respected and those who don't are going to be in trouble sooner or later. So safety measures both from organizers/guides and tourists is important.
You can do rafting in Rishikesh at just Rs.400 for the basic 12-16 km stretch- that's the one most people take part in. Including children and old people (my relatives did it)- it's quite safe as long as you follow your guide's instructions. Sometimes the cheap cost does raise questions regarding the safety though. It's always better to go with major companies who might charge a bit more but will atleast have experienced people to guide you.
I got a guide last year who was one of the key rescue operators during the Kedarnath floods– definitely a highly experienced guide. The guides ask you not to panic, they ask you to keep rowing even when huge waves are crashing on your raft- these might sound difficult but they know those waters and do their best to keep you safe. If you don't follow their instructions, chances are you will be in trouble. The first time I went rafting, we were in the middle of a major rapid and one of my friends got too scared and stopped rowing. The raft overturned and we were all in water. Within seconds the guide had pulled us all back on the raft to safety.
But there are several companies operating with inexperienced guides or even just cramping huge groups of people without caring too much about safety.
Then there is the other aspect- the tourists. I remember my campsite owner specifically telling me not to let anyone in the group get drunk the previous night in case we want to raft in the morning. They don't let people raft if they think one is hungover. But I doubt most other companies in Shivpuri do it because all they care about is getting the max number of people, give basic food and stay services, and get done with the rafting asap. People do flock to these cheap operators because well, they are cheap. They don't want to pay more and go with 'experienced' companies but in case something goes wrong they would put the entire blame on the operator. If you were too lousy enough to not research well and raft with any random company, can you really put the blame on them if something is wrong?
To Conclude:
Final decision to raft or not to raft is absolutely yours, so is your life's responsibility.
As it hasn't happened to you; it shouldn't bother you – one needs to rethink about it.
Source https://www.siddhiyoga.com/india/river-rafting-rishikesh
Source https://gostops.com/blog/guide-to-river-rafting-in-rishikesh/
Source https://writergitanjali.com/rafting-in-rishikesh/