River Rafting in Ladakh
River rafting in Ladakh evokes thrill like no other. Settled in the lap of Himalayas, the difficult terrain has two swift rivers- Indus River and Zanskar River with exciting rapids, perfect for river rafting. The wonderful landscape of Ladakh adds to the delight of rafting. The towering mountains, colorful monasteries, ancient canyons formed by the river, chilly winds, the freezing waters and unrivalled thrill, all make rafting in Ladakh an experience that you do not forget easily.
Luring visitors from all over the world, River Rafting in Ladakh is one of the most adventurous activities in India. Accessible only for three months of the year (July, August, September), as rivers get frozen in winters and start flowing in summer, getting to heavy flow in the monsoon. Experienced guides, efficient gear and Learn more about your adventure expedition.
Indus River Rafting
Locally known as the Singhe Khababs (out of Lion's mouth), Indus River flows from north-west to south-east Ladakh. Originating in Tibet, near the Kailash Mountain and the Mansarovar Lake, the river gets frozen in winter and flows in high speed during the month June to late August which is also the best time for adventure sport of rafting.
Expeditions for river rafting on Indus last for one to five days. Rapids on the river found are generally of I and II grades and at some places and grade III to even V rapids.
The most popular river rafting routes on Indus River are:
Rafting on this stretch of Indus River starts from Phey Village, about 12 km from Leh and ends at Indus-Zanskar confluence at Nimo, about 36 km from Leh, this route consists mostly of Grade II and III rapids. Adding to the thrill is the scenery of beautiful mountains, tiny hamlets and imposing old monasteries nestled among the valleys.
In comparison to Phey-Nimo route, Upshi to Kharu route for river rafting in Indus is not too difficult. The river has Grade I and II rapids, with handful of grade III rapids too. Rafting starts at Upshi, about 90 km south-east of Leh, along the road which leads south to Manali, ending in Kharu.
This rafting adventure trip starts from Phey, about 8 km south of Leh and ends at Saspol, on Leh-Srinagar Highway, near Alchi. In addition to the thrill of the speedy waters, this route is blessed with the breathtaking view of landscapes and beauty of tiny hamlets on both sides of Indus River.
Favored by the beginners and amateurs, this rafting route in Ladakh starts from Kharu, 45 km South-East from Leh and ends at Spituk, just short of Leh. The rapids are quite basic and the views are more than a beauty to cherish.
For the true adventure aficionados looking for exhilarating river rafting in Ladakh, the Saspol to Khaltsey route offers the ultimate challenge. The highlight of this route is the kilometer-long series of rapids at Nurla. The rafting will finish at Khaltsey 90 km from Leh.
River Rafting on Zanskar River
Zanskar River is a north-flowing tributary of Indus River, perfect for thrilling river rafting in Ladakh. Frozen in the winters, Zanskar is famous for the frozen Chadar trek, but in the summers and the monsoon, the river has a swift flow.
The adventure –laden route is mostly upto the confluence of Zanskar and Indus. There are stretches on the river blessed with grade II to V rapids that includes Alchi, Nimmo, Upper Nimmo, Big Water 'Chilling', Zangla and Major Surprise (created by a recent land slide).
Here are some of the popular river rafting stretch on Zanskar River:
The easiest stretch on the Zanskar River for rafting, the route from Tsogsti to Sangam takes almost 1 hour with rapids of grade 1+. Enjoying the speedy flow of the river along with spectacular scenery creates cherished memories.
The rapids on the Choklamsar to Phay route are mostly grade 1-2 and can be easily covered in 1.5 hours. Passing through the ancient Zanskar gorge, the landscape is particularly impressive.
This particular river stretch from Schorpochay to Sangam are dotted with grade 2+ rapids which offers a memorable rafting adventure on Zanskar River, that can be covered in 2.5 hours.
Phay to Sangam stretch on the Zanskar River is dotted with rapids of grade 2+ which can be easily covered in 2.5 hours.
Posing a challenge to rafters, the river stretch to Sangam and Alchi has a number of thrilling rapids some of grade level 3+. Taking around 2.5 hours the adventure is also blessed with breathtaking scenery of the mountains.
One of the best experiences of thrilling white water rafting in Ladakh, the 30 km stretch on the Zanskar River from Chilling to Sangam is blessed with a number of Grades to 2-4. The impressive landscape along with the adrenalin pumping activity makes for some of the best adventure sport in Ladakh.
Best Time for River Rafting in Ladakh
River Rafting in Ladakh can be best experienced during the transition months between summer monsoon. Therefore, the best time for river rafting in Ladakh is from June to September.
As far as winters are concerned, the flow of two rivers in Ladakh is increased and becomes so difficult that grade V rapids can be experienced. So, it is advised to plan a Ladakh trip from April onwards as the weather gets much soother and you can easily enjoy adventure activities in Ladakh.
Things to Follow While River Rafting in Ladakh
Here are some things you need to remember before commencing river rafting in Ladakh.
Always choose a licensed and professional rafting agent.
Wearing a life jacket is a must even if you are a great swimmer.
Check the comfort of your outfit and life jacket before sitting on the raft.
Avoid wearing any type of jewelry.
Hold the paddle correctly and properly.
Keep sitting in the boat and do not move unnecessarily.
If you want to try hard-level rafting, make sure to learn basic swimming techniques.
Follow the commands of your raft leader.
Do not panic. Always keep calm, otherwise, you will put everyone at risk.
In case of any issue. don't try to judge the situation on your own. Always listen to what your leader says.
Things to Carry for River Rafting in Ladakh
You obviously cannot carry much on the raft, except a waterproof camera. Here is the list of things you should carry for river rafting in Ladakh, which you may need before and after the rafting.
Water shoes (optional)
A towel
Dry clothes or easily dryable clothes
Sun protection
Lip Balm with SPF
Toiletries
Wallet
FAQs about the Ladakh Monastery
Q: Where are the best places for river rafting in Ladakh?
Ans:In the Indus rivers on the Phey – Nimo route.
Q: What are the rapid grades in Ladakh for river rafting?
Ans:Starting from Grade I to VI, adventure junkies can enjoy all the grades of rafting.
Q: Best time to go for river rafting in Ladakh?
Ans: The best time to go rafting in Ladakh is between May to July which is also the summer months. The temperature remains comfortable and one can enjoy the sport to the fullest.
Q: How many people can do rafting in one raft?
Ans: It highly depends on the size of the boat but there can be people anywhere up to 7 and not more than that.
Q:What is the minimum age limit for Rafting in Ladakh?
Ans: 10 years is the age for the initial grades but it goes higher if you go higher on the grade.
Q: Can a nonswimmer go river rafting in Leh?
Ans:Yes, a non-swimmer can also get a taste of this adventure but you will have to restrict yourself until grade II. Also, make sure that you have an instructor in the raft and you have put on the protective gears while rafting.
Q: Is river rafting Open in Ladakh?
Ans:Yes, river rafting is open in Ladakh and people visiting here between May and July can enjoy the sport. In fact, if you visit here during August, you still can enjoy the sport because Ladakh is in the rain shadow region and it receives very low to no rainfall throughout the year.
Is saluda river rafting still open
Your Adventure Awaits in the Palmetto State.
Saluda River Tubing
Choose your equipment. Choose your adventure.
Reserve online ahead of time, or bring CASH ONLY for walk ups the day of the event.
Brand New for the 2022 Season: THE DOUBLE.
For the first time ever, Palmetto Outdoor is introducing a Double Tube that's able to accommodate two people and space for a cooler or dry-bag in the middle. This tube is perfect for parents and children, friends, or partners.
Super Star Tube
Introducing the Super Star tube, brand new for the 2021 season. The Super Star combines everything that floaters want in a tube: excellent design and the most durable materials on the market. Lightweight yet with welded seams, these premium materials can handle any rapid. The Super Star is made of 1000 deneir PVC with a raised PVC mesh bottom, handles for stability, and a D ring for easy tethering (make sure to bring your own rope or carabiner clip). Limited quantities available.
These brand new tubes are designed to handle the shallow, sometimes rocky, waters of the Saluda River. The raised bottom is perfect for children, pets, or rent an extra tube to float a cooler down with your group (no glass, no styrofoam).
The Super Star Tube package includes your tube, life jacket, and shuttle upstream. Your group will float downstream about 2.5 miles, where your car and dry clothes are waiting at the take out. This trip requires moderate experience and children must be at least 10 years of age to participate.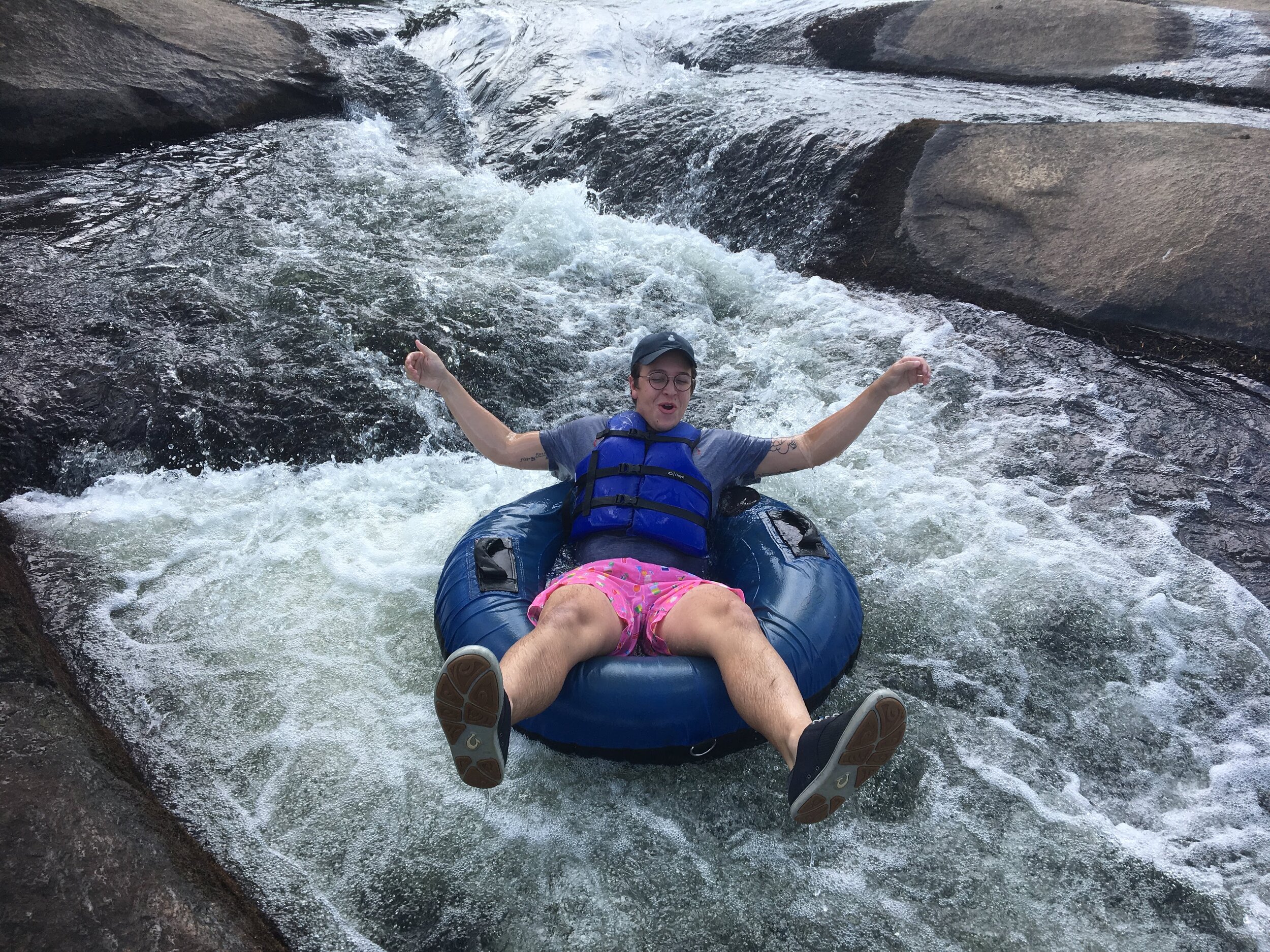 Deluxe Tube
Our most popular option for floating down the river. The Deluxe Tube has a nylon cover around the tube, a mesh bottom underneath the tube, and a "D" ring sewn on the side for easy tethering (make sure to bring your own rope).
These tubes are perfect for children, pets, and coolers. Many groups will rent an extra Deluxe Tube to float a cooler down with them (no glass, no styrofoam). Additionally, the dual air chambers add increased support and stability.
The Deluxe Tube package includes your tube, life jacket, and shuttle upstream. Your group will float downstream about 2.5 miles, where your car and dry clothes are waiting at the take out. This trip requires moderate experience and children must be at least 10 years of age to participate.
Standard Tube
Our cost effective floating option. The Standard Tube is constructed from commercial grade vinyl with two handles. It is lightweight and easy to carry down to the water. The lightweight material also helps the tube glide through the river with ease.
The open center of the Standard Tube is a great option for people who want to swim in and out of the bottom easily.
The Standard Tube package includes your tube, life jacket, and shuttle upstream. Your group will float downstream about 2.5 miles, where your car and dry clothes are waiting at the take out. This trip requires moderate experience and children must be at least 10 years of age to participate.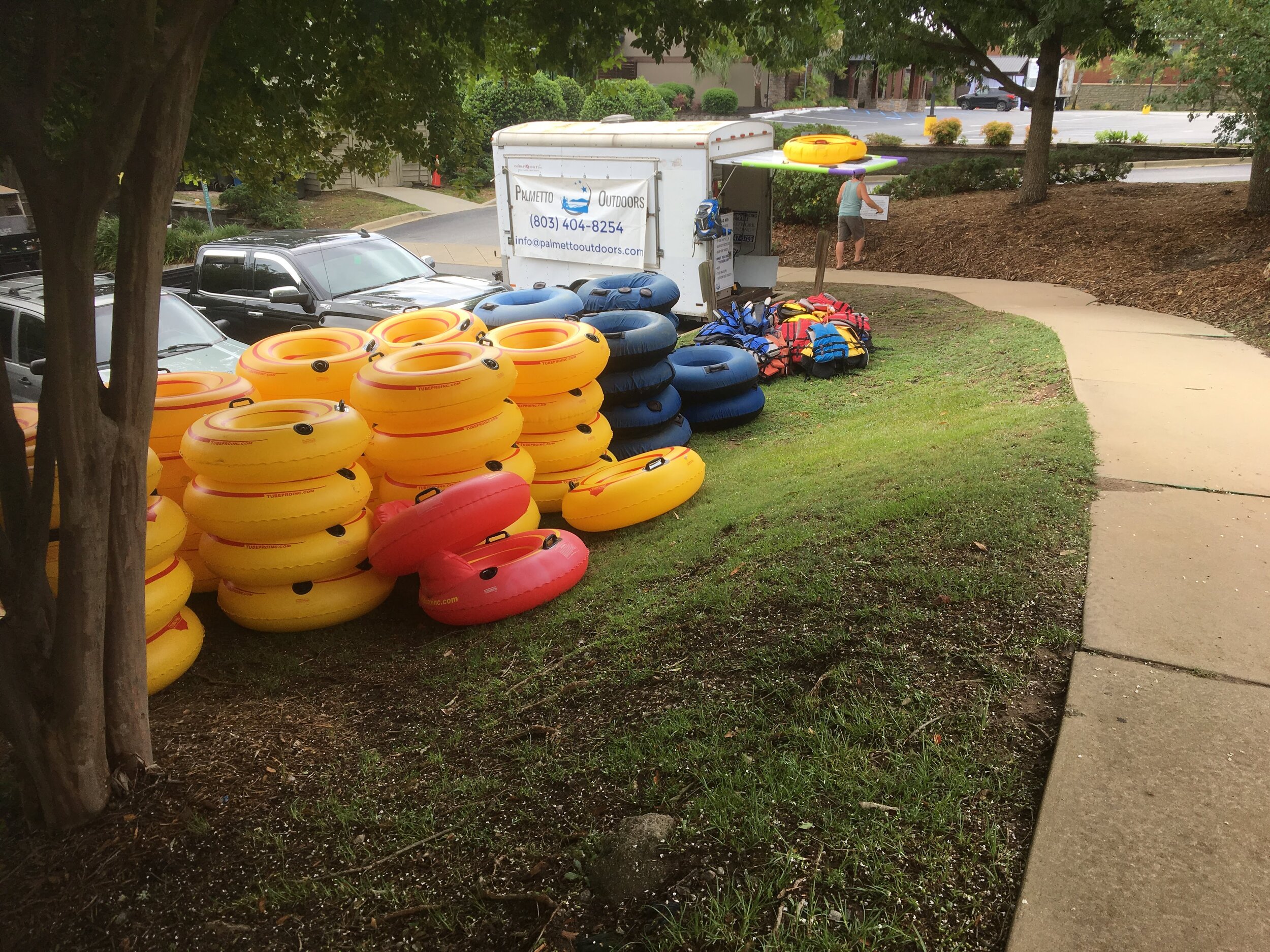 Grab-n-Go
Create your own river adventure. The Grab-n-Go Rental allows our guests the freedom to take our tubes offsite where there is public river access, like a public boat landing or along the Riverwalk. Guests choose the length and route of their trip, perfect for people who want to explore the Saluda, Broad, or Congaree Rivers. Grab-n-Go rentals are also great for guests who'd like to bring our equipment to Lake Murray.
Grab-n-Go Rentals include a TubePro heavy-duty vinyl tube and a life jacket (no Deluxe tubes). A shuttle is not included in this package; guests must provide their own transportation. Grab-n-Go allows guests to create a flexible trip suitable to their schedules. Enjoy the tube all day and just return it to Palmetto Outdoor by 7:00 PM to avoid a late fee.
This option is also perfect for families with children under the age of 10.
Trip Logistics
The Super Star, Deluxe, and Standard tube rentals all include your tube, life jacket, and shuttle upstream.
You can reserve online ahead of time, or we accept walk ups the day of but it is cash only upon arrival.
All groups will meet at the West Columbia Riverwalk and Amphitheater, just off of the Gervais Street Bridge. Shuttles are offered hourly, Sunday-Friday 12:00 PM- 4:00 PM and Saturdays 10:00 AM – 4:00 PM. Please arrive at least 30 minutes prior to your shuttle in order to find parking and check in. From the Riverwalk, we shuttle your group upstream about 2.5 miles to the put in location where guests are issued equipment.
After all equipment is issued, our guides walk guests down to the river and administer a safety speech. Guides discuss the importance of life jackets, what to do if you come out of your tube, and finally where to exit the river after your trip. We ask that guests please pay attention to this information so your group can have a safe and fun time on the river.
After launching, it is about a 3 hour float back down to the West Columbia Riverwalk where you originally parked. We grab the equipment and you are right there at your vehicle. All equipment is due back by 7:00 PM or late fees may apply.
Lower Saluda Scenic River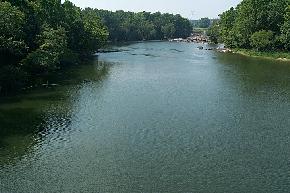 A ten-mile section of the Saluda River in Lexington and Richland Counties, from below Lake Murray Dam to the confluence with the Broad River, was designated a State Scenic River in 1991.
The Saluda Scenic River (commonly known as the "Lower Saluda") is recognized as an outstanding recreational resource. The tailrace waters from Lake Murray reservoir provide a cold-water fishery and varying river flows for recreational boating. Popular activities on the lower Saluda includes fishing for trout and striped bass, whitewater and flatwater paddling, and tube floating.
Partners for the Lower Saluda Scenic River Project serve on a local advisory council, which represents local landowners, river users, community interests, and SCDNR. Participation has included Trout Unlimited, Riverbanks Zoo and Garden, SCPRT (Dept. of Parks, Recreation and Tourism), River Runner Outdoor Center, SC Electric and Gas Company, Irmo-Chapin Recreation Commission, Palmetto Paddlers, Congaree Riverkeeper, Shaw Industries, American Whitewater, Congaree Land Trust, American Rivers, and The River Alliance.
Management plans for the river include the 1990 Lower Saluda River Corridor Plan and the 2000 Lower Saluda Scenic River Corridor Plan Update.
Recreational Access
There are several public access locations along the Lower Saluda River, which are described below. A map of the river with similar access information is provided at the website – PaddleSC, Lower Saluda River.
Hope Ferry landing (on south bank) and Saluda Shoals Park (north bank) – These provide the only public ramps for trailered boat launches on the river. Hope Ferry landing is accessed from Corley Mill Road. Saluda Shoals Park has two boat ramps, at upstream and downstream ends of the park, which is accessed from two locations, either Bush River Road or St Andrews Road.
Saluda Shoals Park – Open daily, admission fees are charged. River access facilities include two boat ramps, canoe launch, decked overlook to the river, and miles of nature trails along the river. Enter the park from either Bush River Road or St Andrews Road.
Gardendale Access – This access is 3.5 miles downstream from Hope Ferry and the upstream ramp at Saluda Shoals Park. The Gardendale site provides access for boats that can be carried in. The location is on the north bank near the Gardendale community and Rivers Edge Retreat off Garden Valley Road which is accessed from Bush River Road near I-20.
Saluda Riverwalk – This three-mile section of the Three Rivers Greenway was opened in 2020 and provides a public walking/biking path along the north bank of the river from the I-26 bridge crossing, past Riverbanks Zoo, to the Broad River confluence at Boyd Island. Saluda Riverwalk is accessed from Candi Lane, which extends west from Greystone Blvd near Riverbanks Zoo.
Riverbanks Zoo and Botanical Gardens – Open daily, admission fees are charged. With entrance to Riverbanks, you can enjoy zoological and botanical exhibits, nature trails and a pedestrian bridge with views of Mill Race Rapids, historic structures, and more within the property. Riverbanks is located off Greystone Blvd which connects with I-126. NOTE: public access for river use (paddling, fishing, swimming) is no longer provided from the Zoo parking lots.
Going the Distance – Boaters can run the entire Lower Saluda through its confluence with the Broad River by taking out at landings on the Congaree River. Two carry-in boat access sites are located immediately downstream of Gervais Street Bridge (US Hwy 1), one on the east bank at Senate Street and one on the west bank at the amphitheater. Gervais Street Bridge is 10 miles downstream from Hope Ferry and Saluda Shoals Park. Public landings with ramps are located 2 and 3 miles downstream of Gervais Street Bridge on the east and west banks of the Congaree.
Safety Considerations
Water conditions on the Lower Saluda River can be Dangerous to all river users. Before using this river be aware of:
Rapidly changing water levels
Strong currents
Cold water
Large rapids
Consider the following Lower Saluda River conditions and precautions:
Water flow conditions can change rapidly within a couple of hours because of releases from the hydroelectric power facility at Lake Murray. Daily river flows may range from 400 to 20,000 cubic feet per second. Daily river levels may range from 2 to 10 feet.
The river water is cold, about 60 degrees F, because it comes from deep within Lake Murray. Swimmers can experience hypothermia, even in the summer.
Major rapids, up to Class IV, begin downstream of the I-26 bridge. Many rapids have large hydraulics.
All river users who are boating, swimming, or wading should wear life jackets.
Mill Race Rapids Should Be Portaged. Walk Around It! A portage trail begins in a power line right-of-way just upstream of Mill Race Rapids on the right bank (south side) of the river.
Water Levels
Water flow in the Lower Saluda changes frequently. For the latest information check the following sources:
Contacts
For additional information about the Lower Saluda Scenic River Project contact:
Bill Marshall
South Carolina Department of Natural Resources
P.O. Box 167
Columbia, SC 29202
Telephone: (803) 734-9096
Phone Numbers | Accessibility | FOIA | Privacy Policy | Report Waste or Abuse to SC Inspector General |
South Carolina Department of Natural Resources – Rembert C. Dennis Building
1000 Assembly Street, Columbia, SC 29201
© 2020 All rights reserved. webmaster@dnr.sc.gov
Source https://www.lehladakhindia.com/river-rafting-in-ladakh/
Source https://www.palmettooutdoor.com/tube
Source https://www.dnr.sc.gov/water/river/scenic/saluda.html