Rafting Slang
The Colorado whitewater rafting industry has a culture all its own. Especially in hotbed locations like Cañon City, Salida, and Buena Vista, the river pervades nearly every aspect of life. People from around the world flock to these locations to take on challenging whitewater and soak in the amazing scenery.
If you have ever taken a river trip down Browns Canyon National Monument or the Royal Gorge , you have likely heard raft guides use unique terminology. Importantly, whitewater enthusiasts use unique terminology to describe boats, rivers, and tools of the trade. If you are interested in planning a Colorado river trip, it's not a bad idea to brush up on common types of white water rafting slang.
Boat & Navigation Slang
When it comes to boating and navigation, river rafters share much of the terminology used by other water enthusiasts, such as sailors and kayakers. Therefore, a good way to get up-to-speed on rafting slang is to pay attention to the words and phrases used in popular boating culture.
Here are some popular examples of boat slang:
Paddles & Oars: Oars and paddles are commonly confused. Paddles are the short water propulsion devices commonly used to power rafts on guided trips. On paddle boats, each rafting guest has a paddle in-hand and helps power the boat in response to the guide's paddle commands. Oars are longer than paddles, roughly 9 plus feet in length, and are attached to a frame that is secured to the raft. On commercially guided trips, guides will sit on the frame and both power and control the raft using the set of oars. On oar boats, guests can choose to not paddle and instead, hold onto a handle and enjoy the scenery without the need to paddle.
Line: In rafting, "line" is the term used to describe the route that your boat will follow as it floats downstream. To avoid rapids and obstacles, guides often visualize a line before entering a stretch of river.
River Right & River Left: These are two popular navigation terms that guides use to direct either guests or other guides to move toward one side of the river or the other. When your guide tells your group you are heading "river right" he or she means the right side of the river when facing downstream. Likewise, "river left" indicates the left side of the river when facing downstream.
Bow & Stern: These two terms are used universally in boating. The bow is the front of the boat and the stern is the back of the boat. Paying careful attention to the use of these key terms will get you a long way on your Colorado river trip.
Rafting Terms for River Conditions
After you have familiarized yourself with the terminology used to describe boats and navigation, you may want to learn about the lingo of the river itself. Whitewater rafters have developed immensely creative slang to describe the many features of rivers. Taking a few moments to read these terms will help you be better prepared for your next river trip.
Here are some popular white water rafting terms to describe rivers:
Run: The term "run" is used to describe a section of a river that will be rafted in a single trip. Likewise, "running" a river is the process of floating down a specific section of water.
Wave: Waves are the cresting bumps in rivers that are caused by the reaction of fast-moving water and objects beneath the surface. River waves take on many shapes and sizes, you can even surf on some river waves!
Wave Train: Wave trains are a series of repeating waves found within a set of rapids. Because they offer continuous action, wave trains provide a fun ride for whitewater rafters.
Chute: The term "chute" is used to describe the place where river water flows quickly between two obstructions where there is also significant gradient, or drop in the river. For example, at some water flows there are sections in the Royal Gorge on the Arkansas River where the current is carried between a couple large rocks where there happens to be a good drop – this could be called a chute, and it leads to fast water and an exciting ride. Chutes can also caused by boulders and large logs.
Eddy: An Eddy is an area on the edge of a river where the water spins – it turns back upstream in a whirling motion filling a void just downstream of an obstruction along the bank of the river. Eddies are formed by the shape of the river bottom, the size of the obstruction sticking out from the river bank, as well as the curvature of the riverside. On mellow trips, eddies can offer a great place to pull off and take a break. However, an eddy can be quite aggressive when the water is high and pulling strongly.
Pillow: Pillows are smooth, uplifted currents that form on top of partially submerged objects, such as rocks and logs. When looking at a river, pillows are slight bumps in the water that don't fully crest like waves.
Confluence: A confluence is a place where two flowing bodies of water come together into a single current. Confluences can occur between two rivers, or a stream and a river.
Rapid Classifications: River rafters have a set of classifications that describe the difficulty of rapids. The difficulty rating is described in terms of Class I – Class VI rapids. The easiest of these rapids, Class I, represents flat water that beginners can easily float on an inner tube. As the classes progress, so does the difficulty of the trips. The hardest rapids feature huge waves, strong currents, and dangerous waterfalls. The most challenging rapids, Class VI, are typically considered unrunnable and should not be attempted.
Talk to Echo Canyon River Expeditions
The team at Echo Canyon River Expeditions loves to share our knowledge with customers. Please Contact Us to learn more about whitewater rafting.
White Water Rafting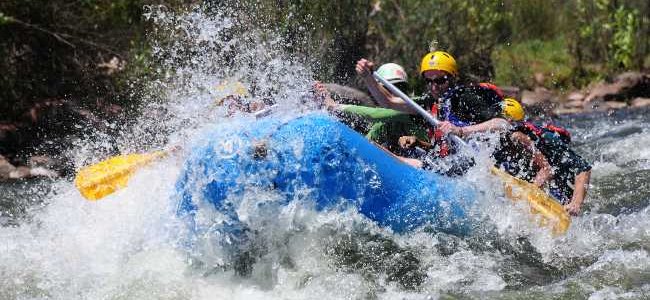 White water rafting is a recreational sport consisting of travelling downriver, using the current, in an inflatable raft.
One form of rafting is hydrospeed. This is practised individually on a type of float, called a hydrobob, which you control by moving your legs and the flippers on your feet.
The adrenaline rush felt on the way down is an exciting sensation that will free your tension and leave you feeling relaxed.
The rivers used for rafting have a designated a level of difficulty according to the speed of the current, the turbulence of the water, the existence and strength of whirlpools, the existence of rocks on the route…
In short, this is an exciting sport that enables you to enjoy a fun experience with nature.
Where you can practise it
Today, Andalusia has three rivers that are the scene of first-class rafting. The first, the River Genil, which starts in the snow-covered peaks of the Sierra Nevada and flows through the provinces of Granada, Malaga, Cordoba and Seville, offers different locations where you can enjoy this activity: Cuevas Bajas and Cuevas de San Marcos (Malaga), Benamejí (Cordoba) and Badolatosa (Seville).
Meanwhile, in the Province of Jaén, the Upper Guadalquivir area (in the Sierras de Cazorla, Segura y Las Villas Natural Park) is particularly notable. It is where one of the longest rivers in Spain begins and it offers a section with extremely beautiful natural surroundings.
Near the town of Órgiva is where the River Guadalfeo flows and where you will find the third great area for rafting, which is perfect during months of thaw. Here, the River Guadalfeo offers a setting of great scenic value, with stunning mountain views thanks to its location in the heart of Granada's Alpujarra region.
Precautions and recommendations
Firstly, we recommend you choose an established agency or school to ensure you are offered the necessary equipment and a safe route.
As this is an outdoor activity, weather conditions are fundamental to fully enjoying this activity safely.
Specialist agencies and centres know the characteristics of each area of river and their advice will avoid any unpleasant surprises.
Knowing how to swim is not absolutely vital but it is an important safety measure that may be of great help in an emergency.
Furthermore, to practise hydrospeed you must be in good physical condition.
Equipment required
The equipment generally used for white water rafting consists of an inflatable raft, oars, a life jacket, helmet and wetsuit or, if you do not have one of these, a swimsuit or comfortable clothing you don't mind getting wet.
To enjoy hydrospeed you will also need a hydrobob, in addition to flippers.
9 Worthwhile lessons from my River Rafting experience
Ah, the magic of travel! And, the gush of unplanned vacations, at best! Had the opportunity to go River Rafting at Rishikesh a few days ago, and I was thrilled to say the least! The sight of water – be it an ocean, sea or a mighty river is pure bliss for someone who stays in a land locked city. The sound of waves crashing at the shore is quite a stress buster. I prefer to admire it from a distance though
Not knowing swimming and wearing glasses only accentuates the fear. Thankfully rafting did not require me to go underwater (which has been done and dusted, too! Yay!!) Was quite excited to go for it after hearing so many repeated tales of friends' encounters- the adrenaline pumping experience did full justice to it!
We started at Shivpuri after a brief training (if it can be defined as one!) from our instructor. I remember the look on his face when he asked how many of us were doing it for the first time and all 7 of us raised our hands! And then he burst into laughter saying – "First timers don't follow any of the trainings anyway, so just enjoy yourself!"
We can deduce great learnings through every experience, and rafting is no exception. Here goes my take.
River rafting teaches worthwhile lessons
1. Teamwork
While navigating through the rapids it is all the more important that everyone works in unison in order to maintain stability. The raft moved explicitly well when all 7 (and our trainer, the 8 th one) paddled in sync. When there was more (or less) effort from one side, it showed. Very rightly said, None of us is as strong as All of Us!
2. Don't give up!
One moment which is still fresh in my memory is when there was a rapid ahead and our instructor asked us to stand in the raft, with our paddles in front of us and we were supposed to put our body weight onto the paddle. We were so sure that we'll fall in the river by this tactic as we were giving away our safety 'foot lock'. The fact that paddles were too tall for us made matters worse. My unstable knee (a 'proud' footballer's injury) didn't help either.Or so did we assume. I had mentally prepared myself to fall in the river. Surprisingly, all of us stayed within the raft! And, what an experience it was! Just going with the flow, enjoying every turn the rapids threw at us – truly exhilarating!Be brave and believe in yourself – you can definitely conquer the fast rapids or any challenge life throws at you.
3. The road ahead is full of bumps!
As Mr. Kalam put it – A straight line in your ECG means you are not alive! While navigating through your life, there will be highs and there will be lows. There is a dialogue on the similar tangent in the recently released Dhoni's biography – Knowing when to hit the bouncer for a SIX and when to duck is a skill, which you would eventually master. Enjoy the ride, celebrate your crests and work harder to navigate through your troughs. In the end, you will be through!
4. Go with the flow!
For once, try not to control everything. There were times when we stopped paddling and just went ahead wherever the river current took us. Even while navigating through a rapid. And, it was on the right track! Calm yourself, and the rapid will pass! And, you would miss it once it does, as it is exactly where all the fun lies! Just like some of life's problems – you simply need to be patient; and they will eventually be solved.
You can't calm the storm, so stop trying. What you can do is, calm yourself. The storm will pass.
Remember that Class IX mathematics numerical – If you go upstream, you need to put in10X effort as compared to what you need if you go downstream? Going with the flow would be far easier as the momentum will be on your side. Just like SRK says in 'Love You Zindagi' – it is absolutely OK to take the easy path sometimes. Definitely not a sin!
5. Have faith in your instructor
Or whichever professional you are working with. Once I headed to a dentist who did not feature very high on my trustworthy list, and he made sure my fears were real. He ended up giving me anaesthesia 3X the normal prescribed limit, still my gums refused to get numb. Sitting in that dreaded dentist chair I was thinking all sort of stories and what if scenarios. It was only after I closed my eyes and > have faith in this professional that things got better and we could move ahead with my tooth extraction. I didn't visit him again, of course Trust your instructor/investment professional/ Doctor*. (S)he has that title for a reason. Following our instructor made sure our experience was super awesome!
* Of course, beware of quacks! Go ahead and check all their credentials before taking their advice. Once you are sure, then have complete faith.
6. The art of balance!
Or hedging, as they say in financial jargon. Balance the raft, as you would balance your life, your investments, your work-life-family-fitness-passions, anything and everything! Too much load on one side for quite long makes sure the other side gets weak, and leads to high probability of a fall.
7. Face your fears, heads on!
And then they would cease to be in your dreaded list. Ok, rafting is not that big a fearful activity, but yes, hitting a rock unknowingly is. Or, falling into water is, without a warning. At least for me! J It is one thing to jump into water and another to be thrown in by a large wave which catches you off guard. Less than 2 minutes into rafting, our trainer fell in the raft – and we were all blank! We had imagined this happening to us, but not to him. Knowing that obstacles are a part of the equation would keep you grounded and 'on your toes' if the unexpected happens.
This reminds me – one of my friends, Snehitha who rafted a day before us had said that I will be scared while jumping off the raft. Yes, I was! But, did it anyway! Twice J I also remember holding her hand so tightly on my maiden 'Sea Walk' that it pained her. Completion of that underwater walk despite my real and imaginary fears gave me a high no alcohol could!
8. Inverse relationship between Success and Comfort Zone
True personal or professional success lies in moving out of your comfort zone, even if it makes you shiver. There are no guarantees that you'll stay safe and dry, but there is a 100% certainty that nothing changes if you don't even try.
9. In the end, just have fun!
Imagine…Getting fully splashed with cold water while navigating a tough rapid. The feeling of keeping your balance amidst all the chaos and feeling victorious after realizing that the rapid is over and you are still in the raft! Or, even outside the raft but alive The feeling of taking a dip in the ice cold water. The feeling of jumping from a cliff. Paddling together as hard as you can. The feeling of 'You did it!' The list goes on…..
Even if rafting doesn't feature in your bucket list, here's me hoping you have a chance to apply some of these lessons in whatever adventure and rapids you're facing. All the best, keep rocking! After all, the journey is as important as the destination!
Header image for representation only: Credit – riverraftinginrishikesh.co
Tags career management
Every student and MBA aspirant MUST watch this (unusual) video.
About Manishree Gupta
A doctor by qualification, financial analyst by choice, sports enthusiast by passion and an egalitarian by heart.
Source https://www.raftecho.com/rafting-slang/
Source https://www.andalucia.org/en/white-water-rafting
Source https://www.careerizma.com/blog/river-rafting-lessons/