What We Can Learn from October's Rafting Tragedy in Costa Rica
When four American tourists and a local guide were killed in a late October rafting accident on Costa Rica's Rio Naranjo, it sent ripples of apprehension and heightened awareness through the rafting community, both domestically and abroad.
What We Know
A popular rafting run, the Naranjo forms the southern border of Manuel Antonio National Park and offers several different sections, including a lower, six-mile stretch from Villanueva to the Llamarón Bridge; and the upper, Class IV El Chorro section, a tight canyon where the accident occurred on Saturday, October 20, at 3 p.m..
With the river running high, three rafts flipped near Liverpool de Quepos and the five victims were carried away downstream. Some trip participants managed to cling to the rafts and some were rescued by a safety kayaker. In all, 14 guests—many members of a bachelor party trip—were aboard the three rafts, along with five guides. All were wearing PFDs and helmets.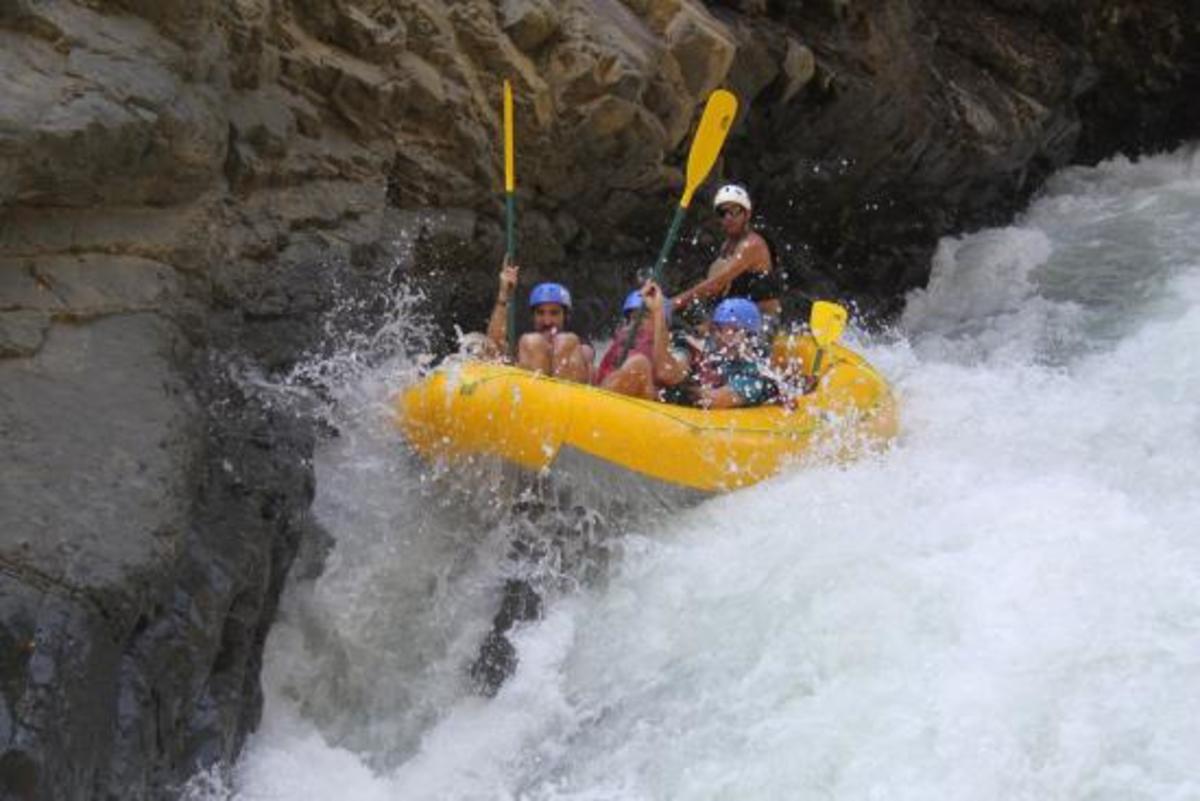 Rafters on Costa Rica's Naranjo River, where the accident occurred. (Courtesy photo)
The Associated Press identified the victims as Americans Ernesto Sierra, Jorge Caso, Sergio Lorenzo, and Andres Dennis, and local guide Kevin Thompson Reid. Local authorities confirmed the river was swollen by rains, with the National Emergency Commission issuing a flood alert in the area.
Survivor Anthony Castro's Account
As told to CNN: "What was meant to be a weekend to remember for 14 friends turned into a living nightmare," adding the group had planned a number of activities during the trip for friend and groom Luis Beltran. The bachelor party group arrived at the river amid high winds and rain, causing the guides to delay putting on for an hour.
"Within five minutes of being out on the river, all three rafts capsized, and everyone ended up in the water," he added. Thirteen of the people pitched into the water were able to grab hold of the overturned rafts, while the other members of the party were swept downstream. Castro said the river's "immense current" kept flipping the rafts as he and others tried to pull themselves out of the water.
Among those carried away, Castro said he banged off rocks and battled to keep his head above water. "All of us struggled to stay above water," he said, adding that some of them were able to grab onto rocks along the river, but four of his friends, including the groom's brother, were not among them. "Luis, the man we hoped to celebrate all weekend, lost a brother and we all lost four great friends during this vacation which went horribly wrong."
What We Learned
Pay Attention to Water Levels: "We often see flush drownings connected with high water on both private and commercial trips," says Charlie Walbridge, American Whitewater's accident database manager who has been monitoring whitewater accidents since 1975.
"Often participants have traveled long distances and are reluctant to cancel when "high water" becomes "too high" or "flood-stage" which can lead to tragic results. There's often quite a bit of pressure to put on and run. Deciding to change plans is tough for both outfitter and private paddler, but it must be done. You need to know and heed the warning signs," adds Miles DeFeyTer, who used to safety kayak the El Chorro stretch: "It's super sad news. The drive in from Quepos is long and pretty treacherous in its own right. The rains probably continued during their run and caught them off guard."
Judgment is Key: "The accident was just terrible judgment as the river at the put-in was at flood level," maintains Rafael Gallo, owner of longtime Costa Rican outfitter Rios Tropicales, which was not the outfitter involved. "Others decided not to run trips that day." Adds Walbridge: "You have to be honest with yourself all the time regarding conditions."
High Water Ups the Ante: "Flush drownings occur pretty regularly," says Walbridge. "High water is a tremendous variable. And there's a big difference between high water and way-too-frickin' high water that's out of your control. I've been on a few I shouldn't have been on. It's great when everything's working, but totally different when you flip and swim. It's very hard to manage and get all the pieces of your party safely back together. And a river doesn't have to be flashing. It's a story that's repeated fairly often: The river's high, a boat flips, and all the passengers are recovered except one, who floated downstream."
It Can Happen to Commercial Trips As Well Private: Nothing against outfitters, for whom the safety of their guests is paramount, but accidents like this aren't just restricted to private parties. "Accidents like this have certainly happened to both commercial and private groups," says Walbridge. "Outfitters aren't immune to high water levels either."
Certain Locations See More Flashes: The question to ask, says Walbridge, is did it flash, or was it just high? Did they know, or get caught? Regardless, certain areas of the world are more prone to flash floods, and extra caution should be exercised. "What you see a lot in Central and South America is rivers flashing, which we don't have as much here in the States," he says. "But it can still happen anywhere."
Other Notable High Water Accidents
Unfortunate as the Costa Rica tragedy is, the accident emulates other high-water calamities in South and North America, a few of which are highlighted below:
Chilko River, British Columbia, August 1987
Five rafters were killed in a high-water accident on this river, when an outfitter put on during high flows on the Chilko's Lava Canyon section in a single, 18-foot raft, without any backup safety support. The accident was re-enacted in the 1994 Alan Alda movie, "White Mile."
Sardinas Grande River, Ecuador, December 2015
In this accident, says Walbridge, a very skilled group of kayakers hiked in a long way through the jungle to run Ecuador's Sardinas Grande River, only to see it too high to run. They waited for it to drop, and when it didn't, they put on anyway instead of facing the long hike out. Several members of the party were killed when it continued rising in a flash flood. "It can happen anywhere, to anybody," says Walbridge.
Rio Abanico, Ecuador, January 2018
In this accident, three expert kayakers from the UK died after being caught in a flash flood on a remote jungle river in Ecuador. According to Walbridge, the victims "went through a lot of trouble to get there and likely thought, 'Oh, we can handle it.'"
Illinois River, Oregon, March 1998
On this trip, a "very experienced group of guides from the New River's North American River Runners" put on for a multi-day rafting trip on Oregon's Illinois River, only to see it rise 15 feet on them overnight, going from 1,700 to 17,000 cfs when they were in the heart of the canyon.
A two-person "Shredder-type" raft capsized in a pourover, carrying victim Jeff Alexander more than five miles downstream. "They were a very experienced team, and got caught by a flash flood," says Walbridge. "If anyone could have handled it, it would have been them." Walbridge says that the river went from "high to an insane level" very quickly, adding that a leaky neck gasket might have caused the victim's drysuit to fill with water.
Cheat River, West Virginia, June 1980
On this trip, an outfitter put a trip on West Virginia's Cheat River, only to see the river crest at 18 feet on the gauge, up from its normal level of 2.5 feet. "Four feet on the Cheat is about 6,000 cfs," says Walbridge, a longtime guide on the Cheat. "So that's a heck of a lot of water." After the trip launched, says Walbridge, guides knew they were in over their heads. The raft flipped, stranding one guest on a snake-filled rock in the middle of the torrent who was only rescued by a nearby coal mining helicopter, whose Vietnam War pilot made an impressive "one-skid landing" to pick him up. "It was a case of a river flashing from a modest, runnable level to an out-of-control flood stage in just a few hours," he says.
The article was originally published on Canoe & Kayak
For access to exclusive gear videos, celebrity interviews, and more, subscribe on YouTube!
Rafting on the Naranjo River
Costa Rica offers some of the world's best white water rafting. Wild and untamed, these big, brash rivers plunge through spectacularly beautiful, largely unexplored tropical wilderness.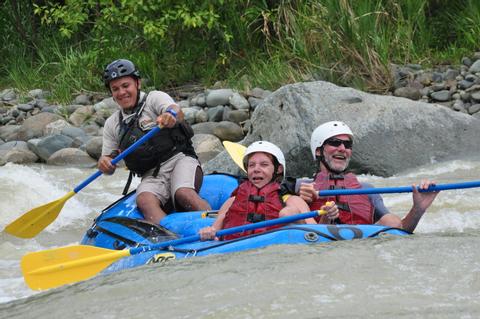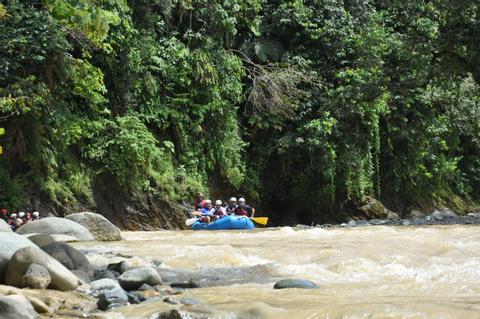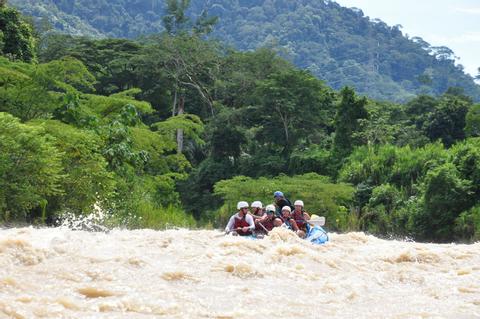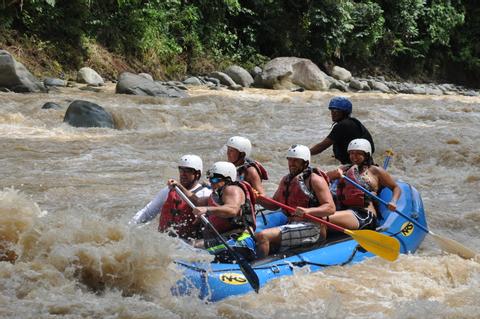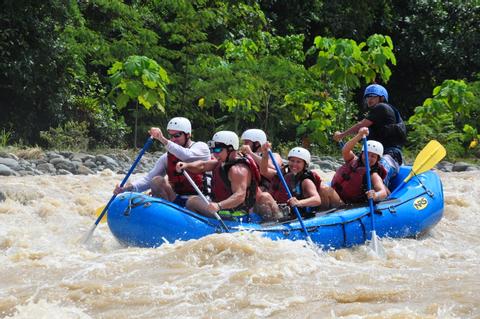 Available Days: Every day
Schedule: 6:30 AM, 8:00 AM, 11:30 AM
Hotel Transport Included
Mobile Ticket Included
Offered in English, Spanish
Enjoy the tropical rivers, where both nature lovers and thrill seekers will get a high off of river rafting adventures. This half day tour will take you down the Naranjo River for class III and IV rapids, intended for more experienced paddlers.
The Naranjo River drops steeply from the mountains above Quepos, through a beautiful jungle gorge and takes you on a wild ride to sea level, passing nearby farmlands and palm plantations. Rafters should be physically fit and ready for adventure. This tour includes fruit snacks and lunch.
Important: No pregnant women are allowed in this tour.
Attraction Visited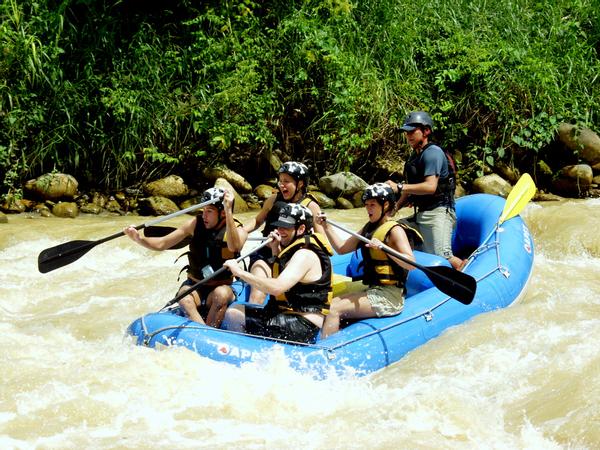 Located just west of Rio Savegre, the Naranjo River's white water covers about 50 miles (80 km) of stunning terrain.
Transportation
Many of our tours and activities offer transportation pick up & drop off options from several locations and destinations. Options vary by tour, see "BOOKING REQUEST" for full details.
Traveler Comments
Orlando was an awesome guide. The post rafting meal was one of the best we had in Manuel Antonio!!
– TRINA P , JUN 2019
We very much enjoyed this experience. Justin was our tour guide and was very warm and knowledgeable. We also really had a great time before the rafting even began during the 90 minute drive to the river (our driver, Mario, was a wonderful driver in some tough terrain). We enjoyed our time on the river–we did not want it to end!. They welcomed us back with a beautiful fresh fruit display and juice by the truck (thanks, Mario) and then drove us back where they then gave us a yummy lunch. It was a great day!
– LISA O , MAR 2018
Best time ever. Our guide, Andres, was fantastic!
– ELLEN S , AUG 2014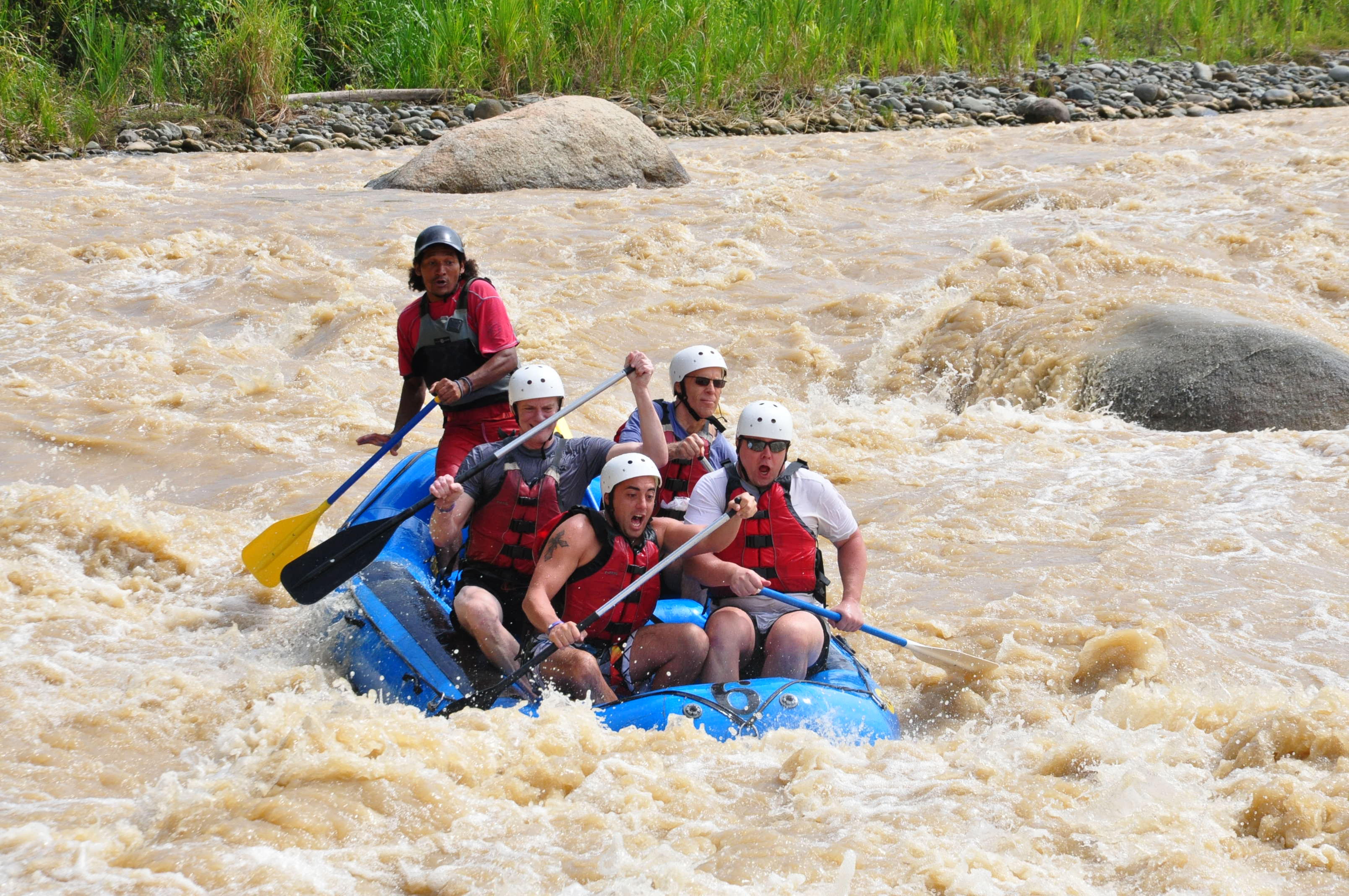 Costa Rica offers some of the world's best white water rafting. 19
Similar things to do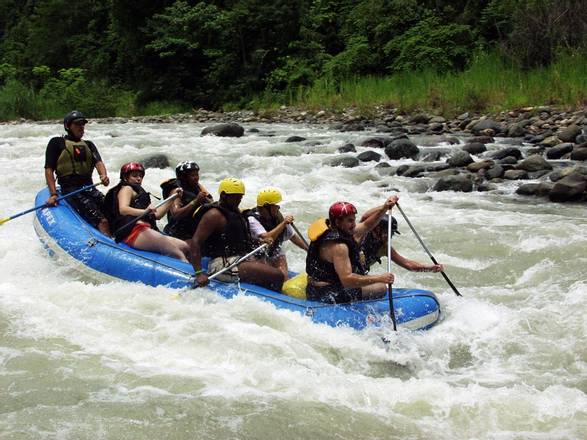 The Savegre River, one of the most pristine rivers in the country and surrounded by lush vegetation and meandering waters, features class II and III rapids that are perfect for beginner rafters.
I Am Trying To Choose Between The Naranjo River And The Savegre River. I Have Rafted the Pacuare River Before. Which River Would Be The Most Similar?
Home » Questions & Answers: Ask Nikki And Ricky! » I Am Trying To Choose Between The Naranjo River And The Savegre River. I Have Rafted the Pacuare River Before. Which River Would Be The Most Similar?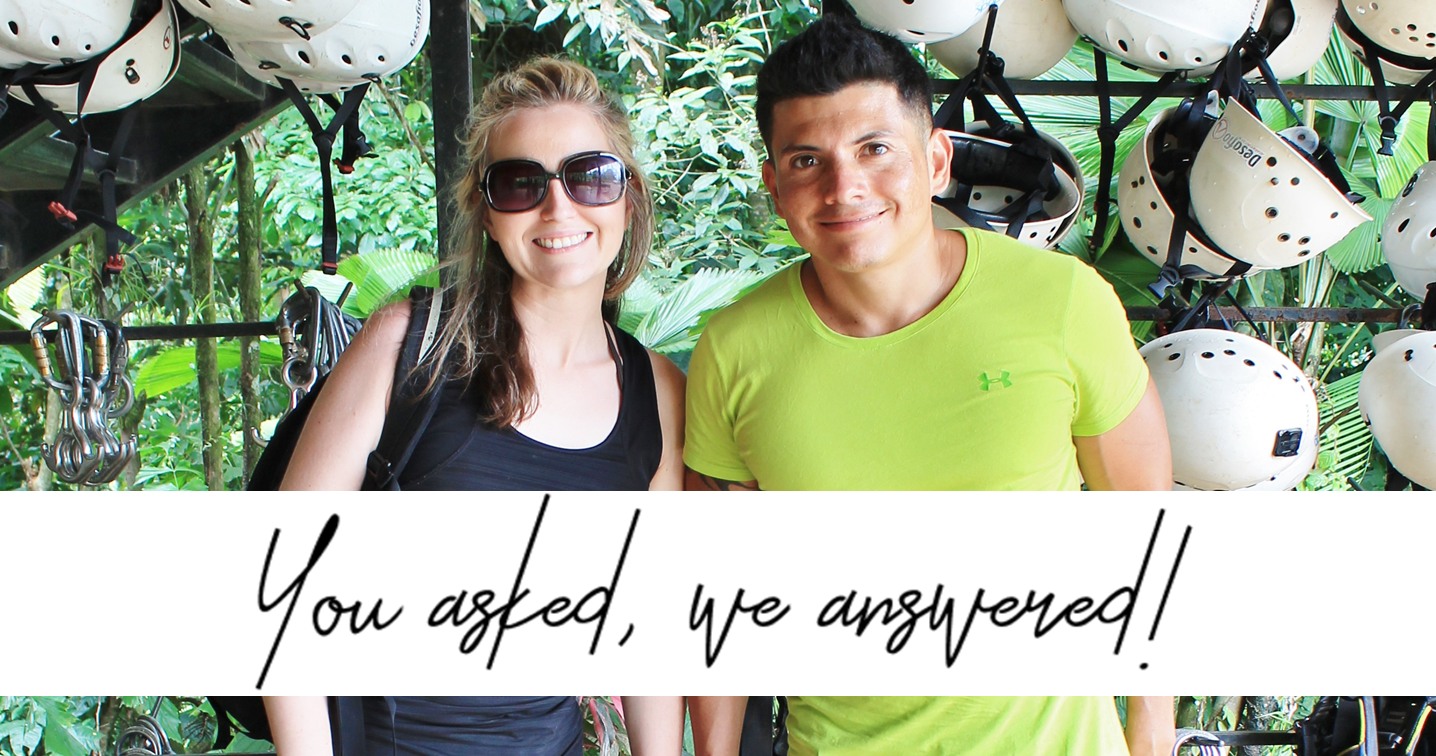 Last updated on May 2nd, 2020 at 11:31 am EST
Nikki Solano is the CEO of Pura Vida! eh? Inc. (Costa Rica Discounts); the author of the guidebooks Moon Costa Rica 2019 & 2021; the Costa Rica Destination Editor for Essentialist; and a freelance writer for hire. Together with her Costa Rican husband, Ricky, she also operates the Costa Rica Travel Blog, created the online community DIY Costa Rica, built the Costa Rica Destination Tool, and designed the Costa Rica Trip Planning 101 E-Course.
Costa Rica in July: Costs, Weather, Wildlife, Roads, Tourism Closures And More! – October 26, 2022
Mistico Park or Sky Walk/Adventures: Which Arenal Hanging Bridges Are The Best? – June 24, 2022
Osa Peninsula Beaches In Costa Rica – June 14, 2022
You asked…
LOVE YOUR BLOG! We are all trying to settle on which white water rafting trip to take. Some don't mind class 3 and 4, and none of us really want a class 5. Some would probably feel comfortable with just a 3. My husband and I went on the Pacuare River several years ago in February. It was considered a class 4. We experienced a somewhat calm river a lot of the time, (so plenty of time to prepare for the exciting times), but of course it was a class 4 at times. We had the best time ever! I'm trying to choose the best tour for a larger group (we are arriving in a few weeks), and I want my adult children to have a similar experience as we had on the Pacuare, but we will be coming from Manuel Antonio. I have watched UTube videos and read blogs. I am still confused. The Savegre river is recommended as a class 2 and 3. After reading some blogs, I am not sure if this river will be as exciting as the Pacuare river. But the Naranjo river (which looks VERY exciting) is recommended as a class 4 and 5 at times. If we avoid the Chorro part of the river, can we get a good class 3 and 4 tour on the Naranjo River? Any suggestions would be so appreciated.
We answered…
You have come to the right place! We LOVE assisting travellers with their Costa Rica rafting tour questions–well, all Costa Rica trip planning questions truly–however since we have rafted Costa Rica's rivers more than 2,000 times (yes, you read that right!), we get excited when we can help others have wonderful experiences similar to our own.
Let's start with the most pressing question… when will you be in Costa Rica? I caught that you mentioned that you will be here in a few weeks, however knowing the exact dates you will be here will help us really judge what the rivers will most likely be like during the time of year you plan to visit. Assuming–for now–that you plan to visit at the end of November, this is nearing the end of Costa Rica's rain season and it is a time of year when rivers are generally swelled. Compare this to your last rafting experience here which was during the month of February, and although the Pacuare River offers one of the very best rafting experiences in the entire country, the fact that you participated in the activity during Costa Rica's dry/summer season would have changed the river's height, course, and rapids significantly.
To tackle the question of class III rivers versus class IV rivers, nearly every white water rafting trip in Costa Rica is either a combination of class II and III rapids, or else a combination of class III and IV rapids. To quote an answer provided in our Your Costa Rica Rafting Tour Questions Answered! blog post:
WHAT IS THE DIFFERENCE BETWEEN A CLASS II/III RIVER IN COSTA RICA AND A CLASS III/IV RIVER IN COSTA RICA? SHOULD I CHOOSE A CLASS II/III RIVER OR A CLASS III/IV RIVER?
River "classes" (sometimes referred to as "grades") signify river difficulty. In general, class II signifies a novice class, class III signifies an intermediate class, and class IV signifies an advanced class. Classes are often grouped together (e.g., as class II/III or class III/IV) when the river includes a combination of easier and more difficult sections. In Costa Rica, most white water rafting tours are run on either class II/III or class III/IV rivers. In layman's terms (at least in Costa Rica), class II/III rivers are best chosen by timid rafters and/or rafters with children who may be too young to participate in class III/IV river rafting tours. In contrast, class III/IV rivers are the most common rafting tour option; they are available to all travellers above the minimum age limit for participation, they are ideal for both beginner and experienced rafters, and they provide the most thrilling rafting tour experience.
You asked, "can we get a good class 3 and 4 tour on the Naranjo River?". To this question, we can easily answer "yes". This is because the Naranjo River is graded as a class III/IV river, and if you do in fact plan to visit at the end of November (as per our assumption above) when rivers tend to be at their highest, class III/IV rapids are most likely what you will get. Here's where it gets tricky answering your question with similar certainty. You also commented, "The Savegre river is recommended as a class 2 and 3. After reading some blogs, I am not sure if this river will be as exciting as the Pacuare river." If we were to compare the Pacuare River rafting tour experience in February (as per your past experience) to the Savegre River rafting tour experience in February, we would tell you that the latter experience would pail in comparison to the former (with respect to rapids) since the Savegre River is graded lower than the Pacuare River. However, assuming you plan to visit in late November–when the Savegre River is likely to be higher than it is at other times of the year (including February)–this would increase the intensity of the Savegre River rafting tour experience and bring it closer to the intensity experienced when you rafted the Pacuare River in February (i.e., during one of the Pacuare River rafting tour's least intense months).
Without being able to predict Mother Nature, the following is how we would rank the three river trip experiences (on average, from the most intense to the least intense river trip according to rapids) at the times of the year that pertain to your question:
Naranjo River Rafting Tour during November (class III/IV river rafted during the wet season)
Pacuare River Rafting Tour during February (class III/IV river rafting during the dry season)
Savegre River Rafting Tour during November (class II/III river rafted during the wet season)
Since you commented, "I want my adult children to have a similar experience as we had on the Pacuare", the real question becomes, between the two Manuel Antonio river trips (i.e., the Naranjo River rafting tour vs. the Savegre River rafting tour), which would be the better of the two? If you are not able to experience the exact same rapid intensity that you did on the Pacuare River in February, would you rather have a more intense or less intense trip? If you prioritize rapids and would rather have an experience that is slightly more intense than the rafting experience you had previously, we would suggest going with the Naranjo River rafting tour. Alternatively, if you prioritize rapids and would rather have an experience that is slightly less intense than the rafting experience you had previously, we would suggest going with the Savegre River rafting tour.
To make matters more difficult, even with the debate over rapid class pushed aside, there are other ways that the two rivers can be compared. Below we offer links to our pages that provide full descriptions of the various river trips, including tour details such as tour start times, tour durations, minimum age limits for participation, amenities included (such as meals), and costs. In addition, when it comes to scenery, the Savegre River rafting tour provides a nicer backdrop than the Naranjo River does (for some travellers, this warrants a selection of the Savegre River rafting tour over the Naranjo River rafting tour, although rapid class is sacrificed), however unfortunately neither of the two compare to the stunning surroundings of the Pacuare River jungle.
Note: We agree with your thought to avoid the Chorro section; this section of the Naranjo River (which is reserved and sold separately as its own individual rafting tour separate from the regular Naranjo River rafting tour) only runs between January and April when rivers are typically at their lowest (from May to December, the Chorro section of the Naranjo River is too dangerous to run).
Source https://www.mensjournal.com/adventure/what-we-can-learn-from-octobers-rafting-tragedy-in-costa-rica/
Source https://www.anywhere.com/costa-rica/destinations/manuel-antonio/tours/whitewater-rafting-naranjo
Source https://costaricatravelblog.com/trying-to-choose-between-the-naranjo-river-and-the-savegre-river-which-is-the-most-similar-to-the-pacuare-river/