Raft Rentals On The Shenandoah River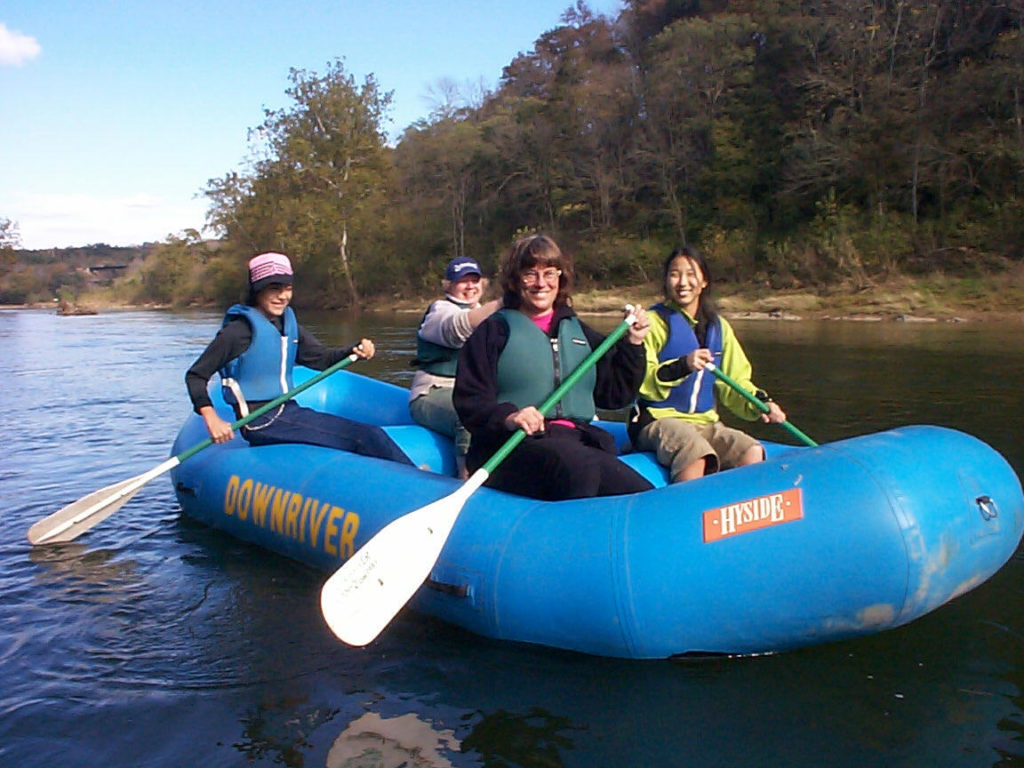 RAFT TRIPS ARE NOT GUIDED. Rafts are our most stable watercraft making them ideal for inexperienced paddlers and/or families with smaller children (minimum age 5 years). Rafts also offer a larger platform and more "elbow room", a real opportunity to relax and chill out. However, rafts are significantly slower than canoes or kayaks and so trips take longer, especially if the river level is low. Figure only a little over one mile per hour unless the river level is up. All our raft rentals for the Shenandoah River are commercial outfitter grade watercraft, and are self baling with inflatable floors (which means wet feet).
MINIMUM AGE 5 YEARS, NO EXCEPTIONS
RAFTING TIPS
Rafts function best on this river at higher water levels, they are a bit clumsy in low water (canoes and kayaks do better in low water). Rafts provide a very stable platform, so they're ideal for families with minimal river running experience and also families with small children (our minimum age is 5 years).
2022 PRICING – DAILY RAFTING RENTALS SHENANDOAH RIVER RATES
(Includes paddles, PFD's, and shuttle service. Two day rates are simply double the daily raft rental rate.)
SMALL RAFT – $109 per raft
9ft x 4ft | 2-3 persons
MEDIUM RAFT – $135 per raft
10.5ft x 5ft | 3-4 persons
LARGE RAFT – $180 per raft
13ft x 6ft | 5 to 6 persons
SUGGESTED RAFT FLOATS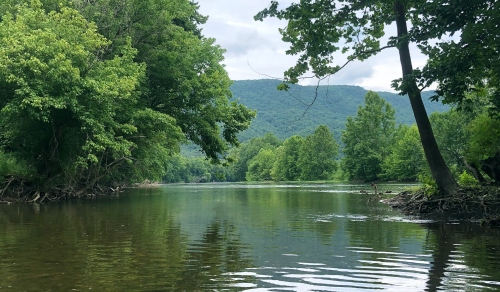 TRIP #1 HAZARD MILL TO BASE
$109 per Small Raft
$135 per Medium Raft
$180 per Large Raft
3 miles, 2 to 3 hours
A mellow float with lovely scenery, great fishing, just a few riffles, and finishes back at our base. A perfect trip for those wishing to take their time, or those on a limited schedule. Not recommended if the river level is "very low."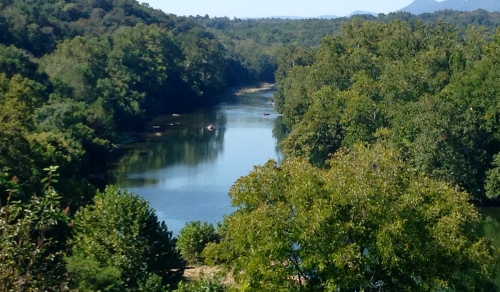 TRIP #3 BURNERS FORD TO HAZARD MILL
$109 per Small Raft
$135 per Medium Raft
$180 per Large Raft
4.5 miles, 3 to 5 hours
This is as good as it gets, featuring spectacular mountain scenery through mostly protected wilderness and more interesting riffles and small rapids. Again, great fishing and world class birding, This is the best section when the river is low, but this trip does require a timed pick up at Hazard Mill.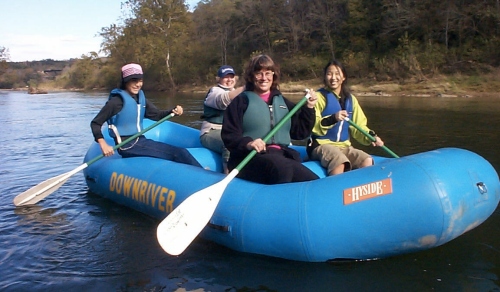 TRIP #3 BURNERS FORD
$109 per Small Raft
$135 per Medium Raft
$180 per Large Raft
7.5 miles, 4.5 hours
This is a wonderful section of river, great scenery and a little more white water. Most of this section is permanently protected from development and remains truly wild and scenic. A good day float for a raft.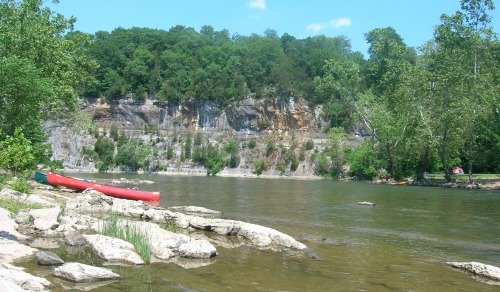 TRIP #4 SEEKFORDS LANDING TO HAZARD MILL
$109 per Small Raft
$135 per Medium Raft
$180 per Large Raft
9 miles, 4 to 7 hours
On this full day float you get the thrill of Compton Rapid (class II) and all that wonderful wilderness, but this long section doesn't allow much time for fishing or relaxing, and does involve some active paddling. Bring lunch and plenty of sunscreen, and remember that timed pick up.
River Conditions
River conditions and water temperature can change rapidly. Stay up to date on current Shenandoah River conditions and find more information on what each level means.
Contact Details
Location
884 Indian Hollow Road
Bentonville, VA 22610
Mailing Address
PO Box 10
Bentonville, VA 22610
Ways to Raft Down A River
Ways to Raft Down A River. The roots of modern river rafts date back to the post-World War II surplus equipment sold across the country. Before rubber, river runners were using wooden boats with poor agility and little room for cargo or passengers. They were heavy, easy to break, and time-consuming to repair. To avoid these issues, Goodrich Rubber Company manufactured one of the first rubber rafts for whitewater in 1938 for use on a documentary film trip. The resulting footage from the trip inspired more individuals to experiment, and once they became cheap and abundant after the war, rubber rafts became king and wooden boats generally fell out of style.
The diversity in boat types on the river has never been greater than it is today, with almost all of them being made of rubber. Because every boat provides a different experience and their names are not always intuitive, here is a basic guide to the main types of water crafts you may see on the river.
Oar Rafts
The luxury cruise liner of the river, oar rafts are designed to carry as much gear as possible while leaving space for passengers to ride comfortably onboard. For seating and gear storage, oar rafts have wooden or aluminum frames strapped onto them, with the oars attached in the middle. These boats are sometimes confused with paddle boats, as the guts of both are the same, but the utility and experience of each could not be more different. On a paddleboat, everyone is participating, while oar rafts are powered by a single person utilizing two 9-10 ft. long oars positioned off of either side of the boat, allowing the passengers to relax, lay back, and enjoy the ride. A typical oar raft can carry 5-6 people and upwards of 1500 pounds!
For slow, flat-water stretches, there is no more relaxing way to travel downstream than riding along on an oar boat. Sharing stories and conversations, reading books, taking naps, or simply marveling at the scenery, the experience of the calm float offers something that is lost in activity. Due to the heavy weight of gear, food, and passengers, oar boats are difficult to flip and generally the safest way downstream, making them the most popular boats for multi-day trips.
Paddle Boat
A paddleboat is what most people picture traveling on when they imagine "whitewater rafting". These rafts have elevated tubes that make up the sides with smaller tubes running width-wise across the floor. These smaller tubes are called "thwarts" and they act as seats or footholds for passengers. Paddleboats hold between 6-8 people and everybody has their own paddle, with one person (usually a river guide) sitting in the back. The passengers are responsible for creating and maintaining momentum, with the captain in the back doing all the steering and voice commands.
Paddleboats are a great way for people to participate and stay active. With strong paddlers, these boats are very maneuverable and lots of fun in the whitewater. However it is often hard to find 6-8 people who are committed to paddling the entirety of a trip. They are not designed to carry any cargo, and because of how lightweight they are, it is much easier to flip over in a rapid. Also, paddling can be a tough workout, especially in flat water and fighting a headwind, which may scare away any willing participation. Ideal for day trips and active groups, paddle boats are rare for multi-day trips but may be available upon request. Read more about why we don't bring paddle boats on all of our trips in this blog.
Inflatable Kayak
Affectionately known as "duckies" for the characteristic way they appear to waddle downstream while following bigger boats (mama ducks), inflatable kayaks are a great source of freedom and autonomy on the river. Great for beginner and experienced paddlers alike, duckies are fun, stable, and easy to use while providing good exercise and the opportunity to explore the river on your own. It is common to see duckies on all stretches of water, but are not typically used in larger whitewater on commercial trips. Most kayaks are designed for one adult, but tandem duckies have become more popular in recent years. Holiday will bring duckies on most trips, when appropriate.
Stand up Paddleboard (SUP)
The newest river craze is the stand up paddleboard, or SUP. Despite being inflatable, these can be stiff as a surfboard and surprisingly stable. Manufacturers make many different shapes and sizes of SUPs, with the river designs being wider and thicker to better fare in whitewater. Another fun option to explore the river with autonomy, SUPs offer a unique workout and challenge to those seeking an active experience. The flat water of Cataract, Ruby/Horsethief Canyons, and Desolation Canyon are the most common sections of river that Holiday will bring SUPs.
Originally from the suburbs near Cleveland, Ohio, Justin made his way to Utah after graduating from Ohio University with a degree in exploring and having fun… If not on the river or in the kitchen, you'll find him wandering the mountains, drinking coffee, or writing down words he hopes will come across as sensical.
Rafting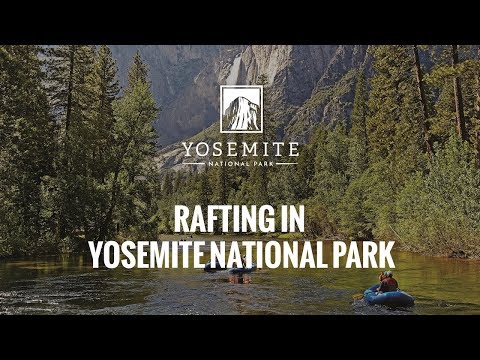 Spend the afternoon rafting in Yosemite–you'll have tons of fun while cooling off and taking in some amazing views. Your trip will include a 3-mile float down the Merced River in a raft that holds 2-4 people.
The Yosemite rafting season varies from year to year and depends on factors such as the depth of the rivers, the temperature of the water and the seasonal snowmelt. With a good snowpack year, the season can last anywhere from the middle of July to the end of August.
Rafting Information
$30.50 per person
NOTE: Two capable paddlers are required per raft, including at least one adult per boat, and children under 50 lbs. are not permitted in rental rafts. For safety reason, we cannot make any exceptions to these rules.
ADA Rafters
Our rafting staff will assist special needs visitors at the raft entry point, transport their device or chair to the river exit point, and provide transportation for the return trip in an accessible tram.
Rafting Cancellation Policy
Cancellations must be made at least 2 hours prior to scheduled session in order to receive a full refund. Any cancellation made less than 2 hours from rafting session time will be nonrefundable.
Rafting Rules and Safety Checklist
Please be alert and cautions during your trip. Have fun and enjoy Yosemite.
Rafting is not recommended for non-swimmers. Life jackets must be worn at all times in rental rafts.
Children weighing less than 50 pounds are not permitted in rental rafts. Rafting is considered unsafe for small children due to swift and cold water.
Two capable paddlers are required in each boat. A capable paddler is at least 5 feet tall and 12 years old. An adult is required in each boat.
Glass containers and alcoholic beverages are prohibited on rental rafts.
Be cautious and alert! Trees and rocks do exist in the Merced River, creating obstacles requiring your attention. Rafts may not be tied together.
Do not take valuables unless properly secured and waterproofed.
Purchase price includes raft, paddles, life jackets, and shuttle ride. Shuttles return every 30 – 40 minutes. The last shuttle departs at 6:00 pm.
Only paid persons may ride in rental boats.
Do not enter roped off areas on riverbanks. Please respect these sensitive areas.
Do not tie rafts together at any time.
Please beach rafts on sand or rock areas only; don't disturb the natural vegetation around the area.
Rental Reservations
No experience is necessary to rent a raft and experience the delight of rafting down the river at Yosemite National Park. Life jackets are provided and wearing them is mandatory.
Reservations are currently unable to be made over the phone or online and must be made in person on the day of your desired rafting trip.
NOTE: All raft rentals depart from Curry Village.
Using Your Own Raft & Innertube
If you'd like to use your own raft, you have the option of purchasing a ticket for the shuttle bus back to Curry Village at the end of your rafting journey for $5.00 per person. You can bring your deflated inner tube or raft back with you on the bus, as long as it fits in your lap. We also rent life jackets and paddles for $5.00 each. Life jackets are required for children younger than 13, and rentals are good for one trip down the river.
Source https://www.downriver.com/river-trips/raft-trips/
Source https://www.bikeraft.com/ways-to-raft-down-a-river/
Source https://www.travelyosemite.com/things-to-do/rafting/