Planning a Rafting or Paddling Trip Could Be Summer's Safest Pandemic Escape
As society works collectively to curb the spread of COVID-19, maybe there is something to all the clichés of this unprecedented moment, navigating "uncharted waters," while "all in the same boat together." The opportunity to launch a paddling or rafting trip could be one of this summer's safer adventure outlets as pandemic restrictions slowly ease.
With overseas bucket-list travel off the books for the months ahead, turn your compass closer to home. A bevy of outfitters are waiting with open arms—and enhanced safety protocols—to get you in a boat. Whether it's for a day-trip or a multi-day outing, just show up and let them do the rest. Instant social distance on the water will help worries from the past few months float away downstream.
"Everyone's itching more than ever to get outdoors," says Carl Borski of Eagle, Colorado's Lakota Guides, one of countless outfitters adjusting their plans and ramping up precautions to accommodate ongoing restrictions while still offering a great experience. Borksi anticipates more guests oriented to road trips, "driving within a 12-hour radius."
"Our outfitters truly believe that recreation is essential," adds Bob Hamel, executive director of Arkansas River Outfitters Association. "There are some undeniable mental health benefits to getting outside and participating in nature. As Coloradans, we're so lucky to have the best whitewater rafting destination in our backyard."
5 Awesome Unconventional River Rafting Trips
While he's expecting lower numbers, Mike Wallisch, VP of operations for Alaska Travel Adventures, whose rafting and sea kayaking operations rely largely on cruise ship traffic, says the experience they offer is now more important than ever. "People are looking to get active outside," he says. "And taking a raft or sea kayak trip with the family or close friends is a great way to do that."
Outfitters across the country are relying on two key tenets of their offerings—reduced transmission risk outdoors and the relative ease of maintaining social distance on a river or other waterway—to sustain their businesses in the peak-visitation months ahead.
Borski says Lakota will likely be running more or less "private" trips this season, from shuttle service to river float, which are perfect for families or tight groups of friends. Other outfitters are also prepping accordingly. "All of our outfitter members are able to naturally offer safe spacing by grouping families and small groups to single boats," says AROA president Mike Kissack. "Providing a well-ventilated, outdoor experience for healthy recreation enthusiasts of all skill-levels." Kissack adds that rafting experts are well suited to the task of identifying potential risks and creating solutions to mitigate them. "We're looking forward to helping families get out on the river to reconnect with the outdoors," he adds, "all while following recommended guidelines."
Off-the-Grid Rafters Return to COVID-19 Pandemonium After 25 Days in the Grand Canyon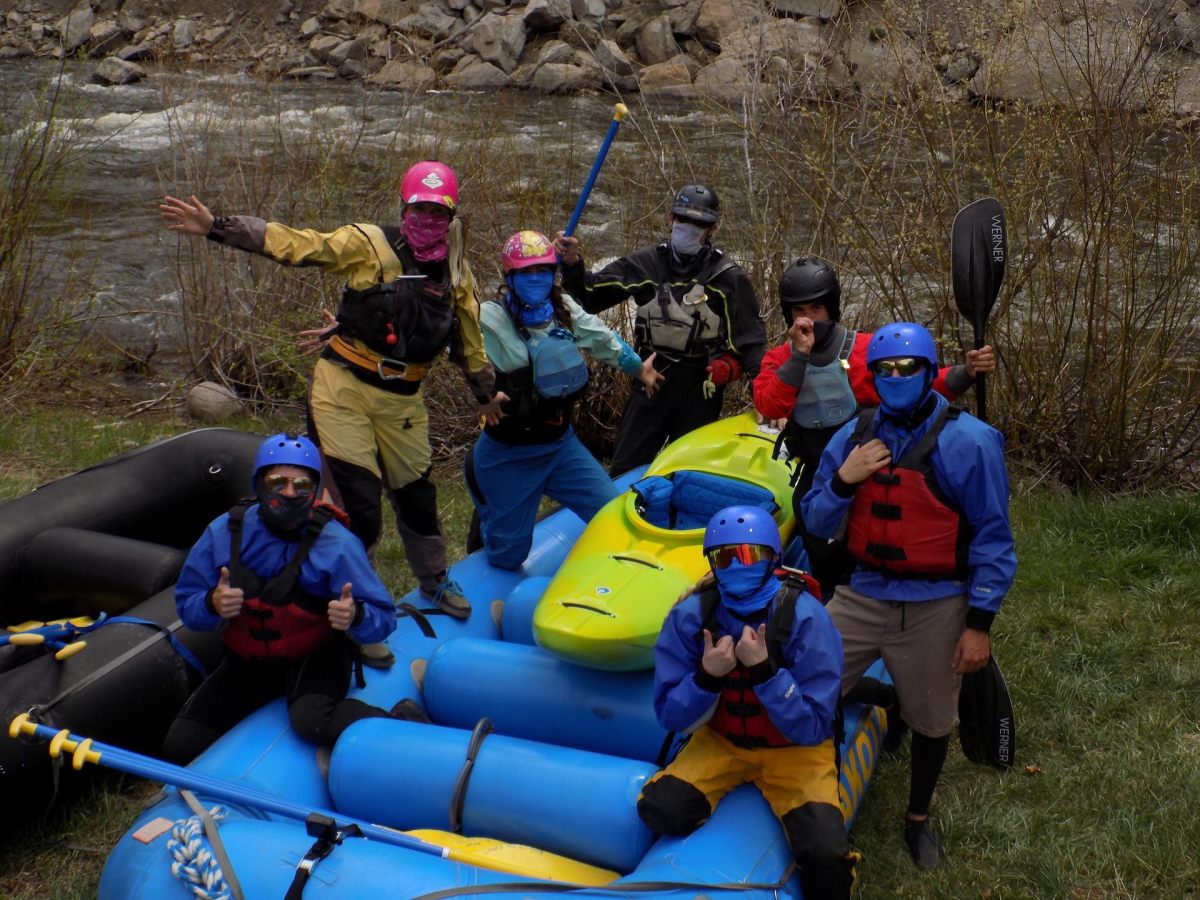 While paddling in masks is not a requirement for rafting outfitters to operate, some are leaving the option open for wary guests eager to get back outside. Courtesy Lakota Guides
In Utah, Sheri Griffith Expeditions is already gearing up for its desert rafting trips to start June 1, offering a special family group discount for groups of eight to 12, with each trip chartered just for specific groups.
"We already have great sanitary measures in place, and we're improving them," states the outfitter, taking into account everything from pre-trip guest screenings and transportation to meal preparation and service. "We want our guests to stay healthy and have a wonderful time on the river, without extra worry. It's a great sure cure for everyone's pent-up cabin fever." They expect guests to favor remote sections including their Cataract Canyon and Desolation Canyon rafting trips.
Things are similar in the Northwest, where outfitters like Northwest Rafting Co., which runs trips on Oregon's Rogue, Illinois, Chetco and Owyhee rivers plus Idaho's Middle Fork of the Salmon, also praise paddling's benefits during this time of increased safety protocols.
"A wilderness river trip is a great way to get away while social distancing in fresh air," says owner Zachary Collier. "And it's easy since we're in small groups on regulated rivers that limit group size. And we'll be adding more boats to each trip so it's easy to maintain separation. We're seeing a lot of people signing up."
Dreams to Reality: A Beginner's Guide to Pulling Off a Wilderness Paddling Expedition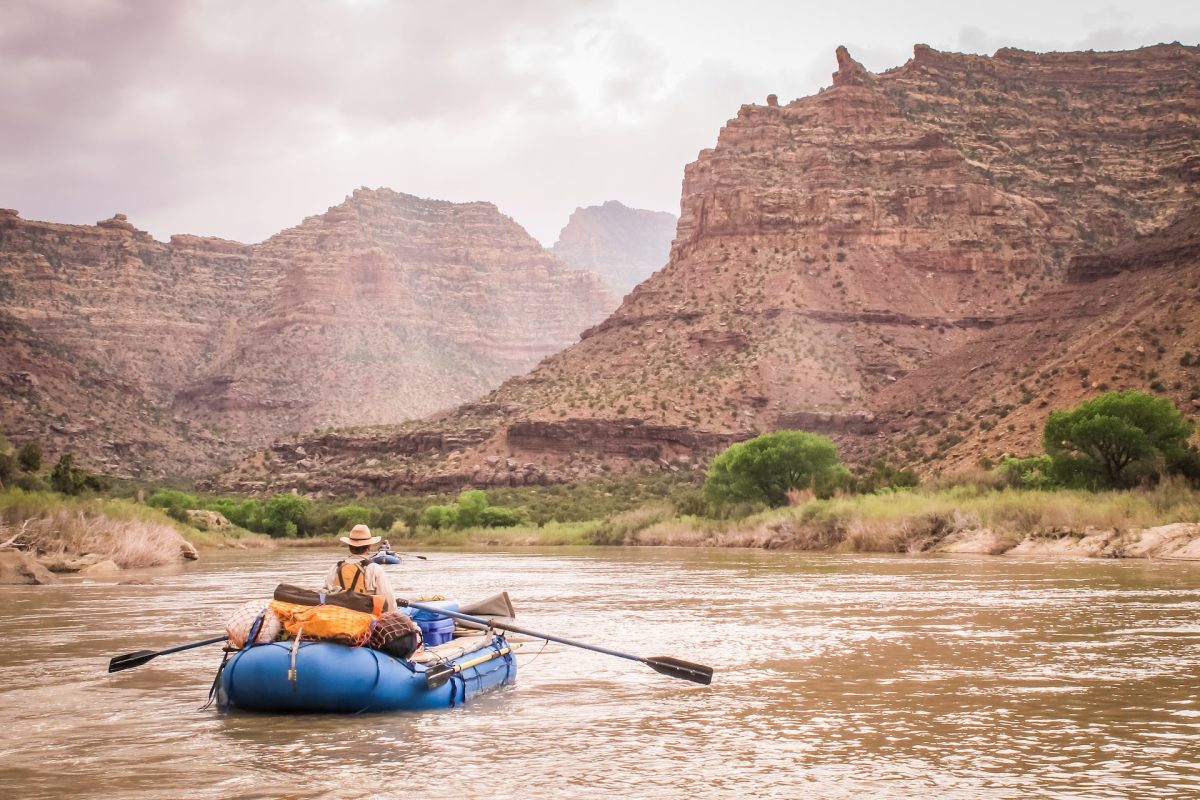 While it foresees fewer bookings, paddling powerhouse OARS, which offers trips all over North American and around the globe, also feels its trips offer a perfect escape now.
"There's already significant pent-up demand for the type of outdoor adventure experiences we offer, particularly in the U.S.," says OARS Marketing Director Steve Markle. "Domestic travel will be the first to bounce back and we're banking on the idea people will be taking road trips and staying closer to home as things open up."
As such, OARS is making plans to follow various virus-safety protocols on all of its trips.
"We're working closely with various outfitter associations and river managing agencies to develop a mitigation plan that follows CDC as well as state and local guidelines," says Markle, adding that steps could include guide and guest screening, masks, gloves, physical distancing, and heightened attention to hand washing and sanitation. "All of these steps play a part in getting us back on the river."
National Parks Begin Opening As Public and Park Advocates Remain Divided on Safety Concerns
As for distancing, he adds they'll be getting creative.
"It's achievable at camp, but we may need to limit our group size on rafts and in shuttle vehicles," he says. "We may need to stick to one family or household unit per boat and on some rivers. One- and two-person inflatable kayaks and standup paddleboards are also an option."
Still, as a rafting outfitter, he adds, OARS is well accustomed to handling things like hygiene. "Our procedures have long featured vigilant adherence to best practices for sanitation, disinfection of communal surfaces, and the availability of hand washing stations and hand sanitizer on every trip," he says. "And our certified food managers adhere to strict guidelines for food prep and clean up. We'll also be providing additional training for all guides and staff specific to COVID-19."
As with the rivers they run, however, he admits it's a constantly changing landscape. But the product they offer is especially appealing during today's pandemic.
"We're continually assessing the situation," Markle says. "While it will likely be a dramatically different landscape, I think domestic travel, road trips, national park visits and guided adventures will all bounce back more quickly. Historically, in times of economic contraction, we've done fairly well due to the fact that 80 percent of our trips are domestic and relatively affordable. And we're starting to see a bit of a surge in interest for trips later this summer."
Packlist: River Trip Camping Essentials
POPULAR PANDEMIC PADDLING TRIPS
Assuming people will be staying closer to home this year, Markle expects interest in the following trips out West to be high this summer:
Field Tested: 7 SUP Paddles for Every Type of Paddling Adventure
Inside the U.S. Men's Rafting Team Attempt to Break the Grand Canyon Speed Descent Record
For access to exclusive gear videos, celebrity interviews, and more, subscribe on YouTube!
Can I Still Go On a Rafting Trip During COVID-19?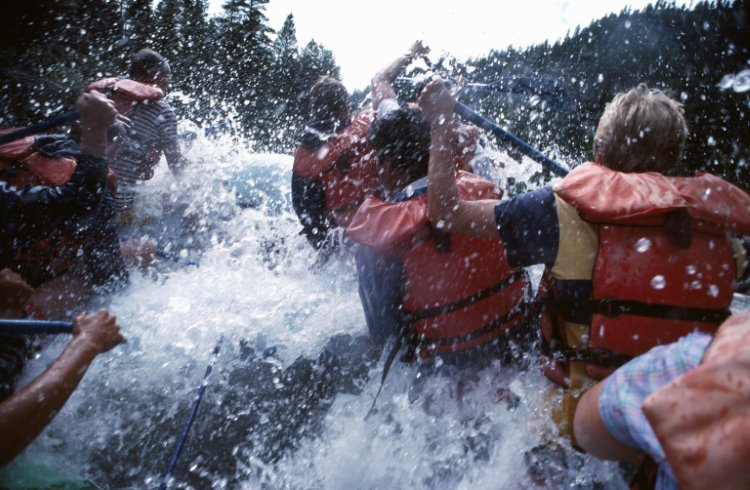 Photo © Getty Images / Jeff Foott
Like a lot of travelers, my travel plans for this year did not turn out as expected. Instead of three weeks exploring the Himalayas in Ladakh, India, my husband and I were facing month five of sheltering in place in California. We needed to escape, but also stay safe. Our solution: a multi-day rafting trip on the Snake River in Idaho, in the northwestern United States. We'd be running rapids ranging from Class I to Class IV, enjoying the beauty of a spectacular canyon, spending our days in the open air, and sleeping under the stars.
We'd also be with a group of strangers gathered from all over the COVID-19-riddled USA.
New coronavirus safety protocols for rafting
Our first thought is: how safe will we be packed into small boats at close quarters with others, as well as eating and camping together?
Let's be clear – it's not possible for an outfitter to guarantee that none of the guests will get coronavirus. But the company we travel with, ROW Adventures, has implemeted a number of new safety measures to protect its guests and staff. These were put together in collaboration with some other outfitting groups ROW belongs to, such as the Idaho Outfitters & Guides Association and the Wild Rogue Outfitters Association.
The protocols include limiting the number of people in each boat (and keeping travel parties to their own boat where possible), eliminating buffet service at meals, and requiring guides to wear masks when preparing and serving food. Instead of tents being set up by the staff at each campsite, we are assigned our own tents and tables/chairs for the duration of the trip, which we have to set up and take down each day. This actually has an advantage – we are able to choose our own spot to camp each night.
The night before the trip, we attend an orientation at our hotel in Cambridge, Idaho, and meet the rest of the group – a family of four from Seattle, another from Fort Lauderdale, Florida, and two life-long friends from Louisville, Kentucky. Our trip leader, Connie, is affectionately known as "The Queen of the Snake." Petite but formidable, she's been rafting this river for more than 30 years.
We'd all previously agreed to ROW's Code of Conduct regarding COVID-safe behaviors. Now, we fill out a health form confirming we don't have symptoms of COVID-19 and haven't been exposed, and have our temperatures taken. If we have fevers or are unable confirm the health questions, we will not be allowed on the trip.
Our temperatures are taken again on the third night. If any of us displays positive symptoms during the trip, that person would be isloated from the others for the rest of the journey. But that's not an issue on our trip.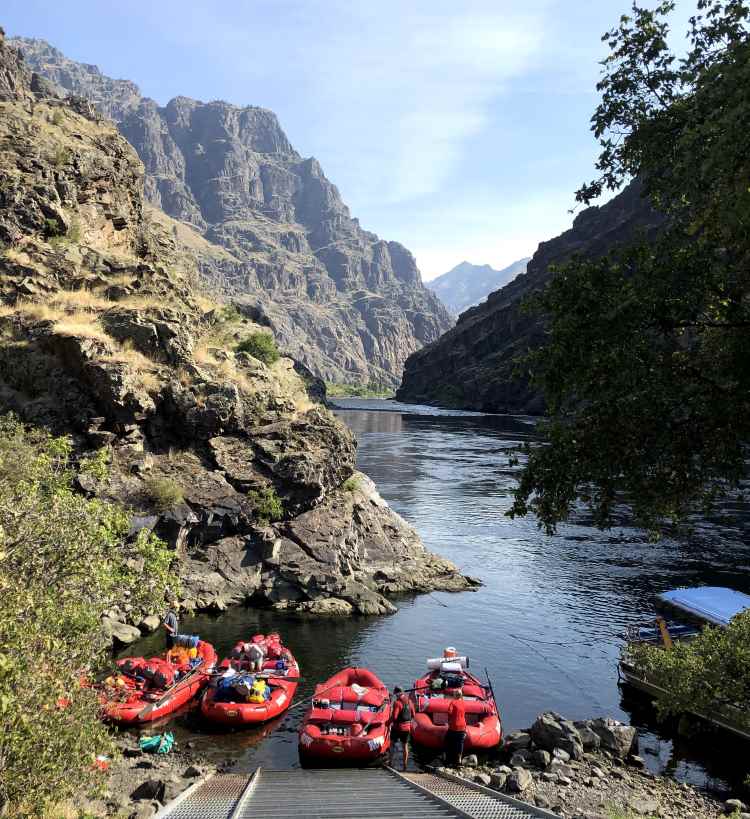 The rafts being loaded on day one of our journey. Photo credit: Ellen Hall
Social distancing on the river
Maintaining six feet of distance from other passengers on a river raft is not always easy. Our trip uses two types of sturdy, inflatable rafts – one paddle boat, and four cargo boats. In the paddle boat, which is smaller and lighter, the passengers sit on the edges of the boat so they can help paddle, and the guide sits at the back, steering with two oars. In the cargo boats, which are larger, heavier, and more stable, the guide sits in the middle, manning the oars, and passengers can ride up front or at the back (paddling not required).
The paddle boats hold four to six passengers, as well as the guide, and quarters are fairly tight. The two families are comfortable sharing the paddle boat with other members of the group. My husband and I are not, so we ride in one of the cargo boats, safely distancing ourselves from others. The cargo boats have to take a somewhat more conservative line through the rapids, but it's still plenty exciting, especially on the three Class IVs.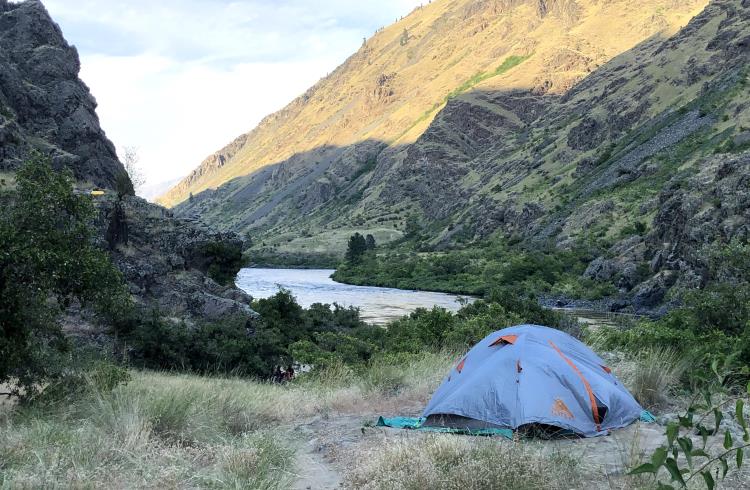 One of our campsites, on a bluff overlooking the river gorge. Photo credit: Ellen Hall
At camp and during meals, we keep our tables and chairs spaced apart. But we find it almost impossible to keep our distance at all times. Take water rescues, for example. If you go for a "swim" in fast-moving water, either on purpose or by accident, you may need to be hauled back into the raft. If properly executed, the rescuee ends up lying more or less on top of the rescuer – rather awkward in any circumstances. On one occasion, after bobbing my way through a "swimmable" rapid (on purpose), I have to be quickly hauled in because a jet boat is approaching.
There are also times when the sheer magic of the trip makes us forget all about COVID-19 – like when I unthinkingly hand my binoculars to one of the guests, so she can get a closer look at a black bear on the hillside above our camp.
But, because we are in the open air the entire time, we feel the risks are pretty low. It's one of the reasons we all chose this type of adventure in the first place.
Why our pandemic rafting trip is totally worth it
The COVID-19 precautions add some minor complications to the trip – but they can't take away the thrill of bucking and plunging down a big Class IV rapid, or navigating a Class II or III in an inflatable kayak. They can't take away the grandeur of the canyon soaring above us, or the excitement of spotting families of bighorn sheep and mountain goats up on the bluffs. They can't take away the hours of sitting on the riverbank on the warm summer evenings, telling jokes and riddles.
The guides are wonderful – highly competent, attentive, and entertaining. The food is gourmet quality. And the mental health benefits of five days off the grid, focused on challenges I can actually see and deal with, instead of the looming, unseen risks of the pandemic, can't be overstated.
It isn't Ladakh, but it's exactly what I need.
What to know about rafting during COVID-19
While it's not possible to elimate the risks of catching the virus entirely, a lot depends on how closely the guests follow the regulations. Here are some things to keep in mind:
When deciding on a trip, first check to see if the company addresses COVID-19 on their website. If they do not, reconsider traveling with them.
When planning your trip with the outfitter, be honest and specific about your needs and risk tolerance. If you have concerns about social distancing, say so. If you are keen to paddle (or would rather not), speak up. Don't wait until the orientation to do so – once the group is at the river, it may not be easy or even possible to accommodate new demands.
Be sure to maintain as much distance as possible on buses or other transit vehicles when traveling to and from the river, and keep windows open for proper ventilation. Face masks should be worn by all passengers and the driver – if that rule is not being followed, don't be afraid to say something to the trip leader.
Safety measures at the hotels at the beginning and end of the trip may be out of the operator's control, especially if there are no face mask mandates in those towns/states. Bring sanitary wipes to wipe down high-touch surfaces, carry plenty of hand sanitizer, and consider bringing your own pillows and pillowcases.
Not all guests will have the same level of concern about COVID-19. Set a good example by wearing your mask and keeping your distance when appropriate, washing hands well before meals, and refraining from handshakes and hugs. It shouldn't keep you from bonding and having a great time – it didn't prevent us from doing so.
What World Nomads says about rafting during COVID-19
World Nomads has not declared rafting safe from COVID-19. Nobody knows if the world will ever be "safe" from coronavirus again, unfortunately, so it's up to each of us to take responsibility for our own protection.
Boating During COVID-19: Tips for Safe Social Distancing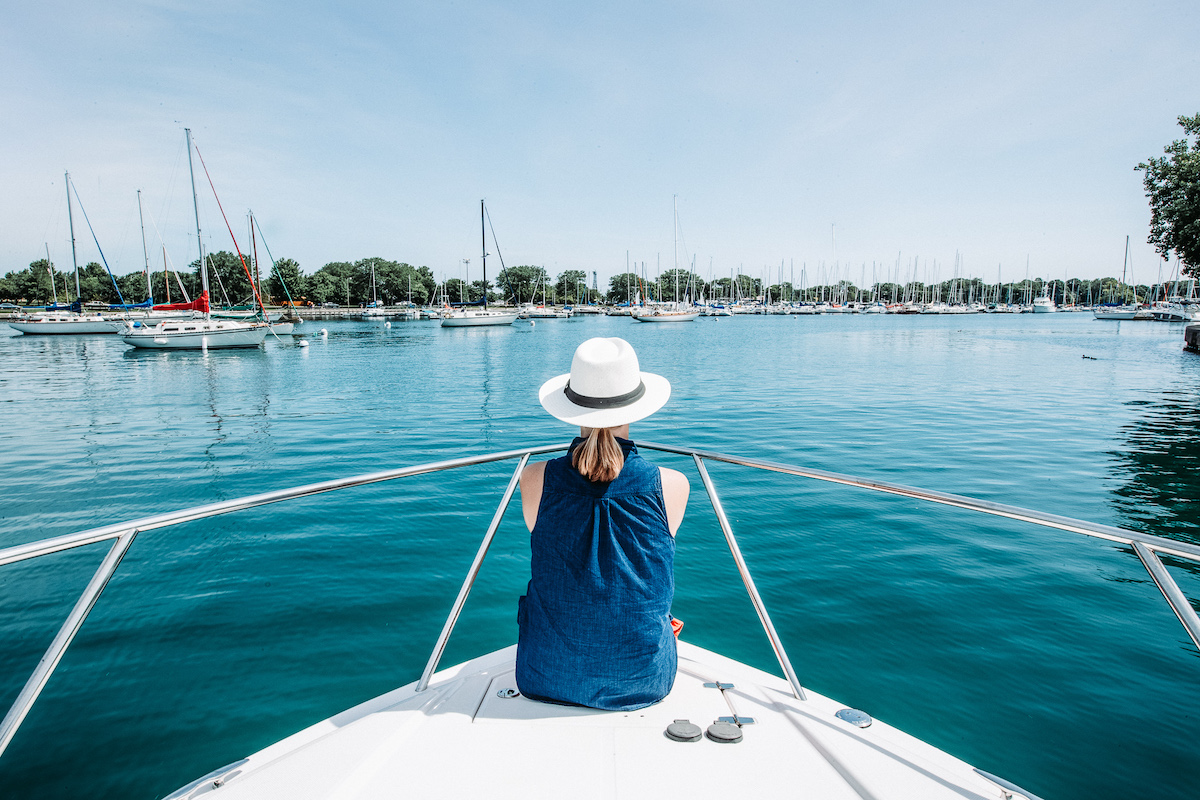 Boating safety is always—always—a critical consideration whenever you push off the dock, but with all the recent issues regarding COVID-19, many people are wondering if boating is considered a safe social distancing practice.
As boaters everywhere do their best to navigate these uncharted waters, we'll do our best to serve as a reliable resource in answering many of your questions about boating during the coronavirus—from navigating local boating restrictions and boat ramp closures in your area, to following best practices for social distancing on the water.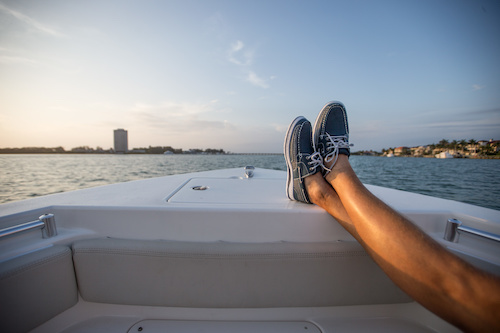 Is Boating a Safe Social Distancing Activity?
The short answer is yes, but the long answer is a bit more involved.
First and foremost, all the usual rules apply:
You need to limit the people aboard to those family members you share your home with, period—no guests.
You also can't raft up with other boats or pull up onto a beach close to another boat, as that could put you in close proximity with the occupants.
You also have to be careful to maintain a safe distance from others when doing things like loading up at the marina or fueling the boat.
After doing anything that requires touching an item someone else may have touched, like a marina gate lock or a fuel pump, disinfect by washing your hands or using a hand sanitizer as soon as possible.
Finally, to maintain the highest level of safety pack your gear and supplies ahead of time and don't plan to stop at a store on the way to the marina or launch ramp, as you usually might.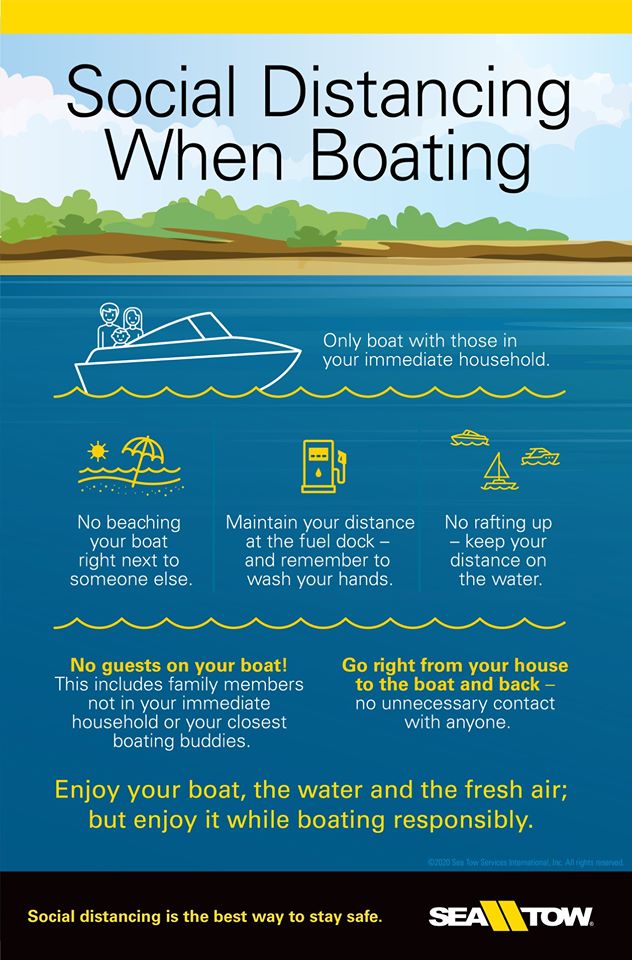 Where Can I Go Boating, and What Boat Ramps are Open in My Area?
Every state and in many cases different municipalities or counties have different regulations in place as to where you can launch a boat during this time of crisis. And these rules are changing by the day.
At Discover Boating, we strongly recommend checking on the legalities before making any trips. One resource you may want to use is our Public Water Access Guide Tool, which can help you discover nearby locations to go boating in your local community by using the interactive map. All you have to do is select your state to see the latest updates from state officials regarding public water access points, boat landings, and ramps.
Another handy resource can be found at the US Fish & Wildlife Service: State By State Closures, which lists the US Fish & Wildlife locations including many with access points, and their current status is updated daily.
Will I Receive Assistance If I have Mechanical Issues While Boating During the COVID-19 Crisis?
This is a question that may weigh heavily on a lot of people's minds, since it's another way your safety may be impacted out on the water. As we publish this report, on-the-water towing assistance from major fleets like TowBoatUS and Sea Tow remain active and able to respond (see the latest BoatUS COVID-19 statement and the Sea Tow statement on this issue).
In addition, search and rescue (SAR) and emergency personal from the US Coast Guard and most state agencies also remain active. However, due to the constantly changing nature of this emergency we highly recommend double-checking on all of the above, before taking out your boat.
How Do I Disinfect My Boat During the COVID-19 Crisis?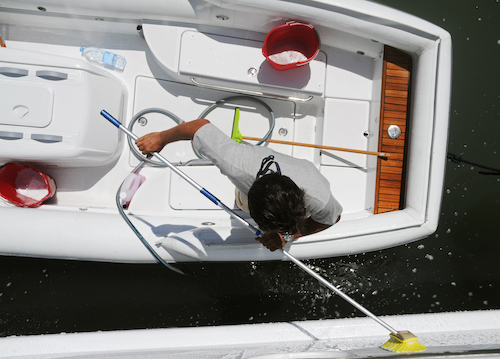 Like many solid surfaces, the parts of your boat could temporarily house the COVID-19 virus. As long as you keep boating between you and your family, your boat in and of itself shouldn't be any problem. But, what if you want to be extra cautious and disinfect your boat?
In that case, go by the CDC recommendations. That means disinfecting surfaces with EPA-approved disinfectants, however, you should remember that some of the approved disinfectants (like bleach or acids) can harm some of the surfaces of a boat. The canvass and vinyls are particularly subject to damage or discoloration, if disinfecting chemicals are left on their surfaces.
So, after disinfecting be sure to give your boat a thorough wash-down. The most important thing overall is simply to maintain a clean boat; see our How to Clean a Boat Guide to keep things ship-shape.
The Bottom Line on Boating During Coronavirus
We boaters love getting out on the water, and part of that love comes from bonding with family, and spending quality time with a loved one, or just enjoying the solitude.
Thankfully, in areas where short-distance travel hasn't been entirely eliminated we can still do all of these things safely on our boats. So check on the regulations affecting your locality. Be careful to maintain social distancing practices. And then cast off those lines and feel the wind in your hair—because boating is still the hands-down best way to enjoy living on planet Earth.
Source https://www.mensjournal.com/adventure/how-an-outfitted-paddling-trip-could-be-summers-safest-adventure/
Source https://www.worldnomads.com/explore/north-america/united-states/can-i-go-rafting-during-covid
Source https://www.discoverboating.com/resources/boating-during-coronavirus-covid-19