Whitewater at New River Gorge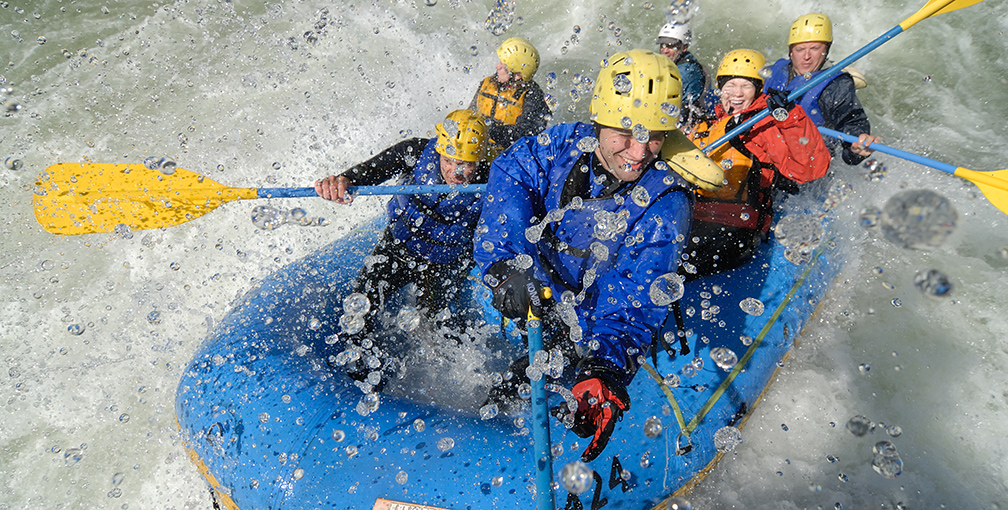 The New River begins high in the mountains of western North Carolina, crosses Virginia, and enters West Virginia near its southernmost tip. It then heads north to join the Gauley River, and form the Kanawha River. In so doing, it manages to transect every ridge of the Alleghenies. Its name is actually a misnomer in that it may be one of the oldest rivers in the world.
New River Gorge National Park and Preserve includes 53 miles of free-flowing New River, beginning at Bluestone Dam and ending at Hawks Nest Lake. The New River typifies big West Virginia style whitewater. Within the park it has two very different characters. The upper (southern) part of the river consists primarily of long pools, and relatively easy rapids up to Class III. It is a big powerful river, but very beautiful, always runnable, and providing excellent fishing and camping. There are a number of different river access points, and trips can run from several hours to several days.
The lower (northern) section of river is often referred to as "the Lower Gorge." In a state that is justifiably renowned for colossal rapids, the Lower Gorge has some of the biggest of the big with rapids ranging in difficulty from Class III to Class V. The rapids are imposing and forceful, many of them obstructed by large boulders which necessitate maneuvering in very powerful currents, crosscurrents, and hydraulics. Some rapids contain hazardous undercut rocks.
How to Go
In addition to running the river on your own, a number of licensed outfitters offer guided trips on the New River. Trained guides, equipment, instruction, transportation to and from the river, and meals are provided. Trips vary in length from several hours to several days, and offer different degrees of difficulty, from peaceful float and fishing trips to crashing whitewater excitement. Visit any one of the commercial outfitters to schedule an adventure on the New River.
When to Go
Ranging from mild riffles on the upper parts to big whitewater rapids in the lower section, the New River offers something for everyone. The New has trips available year-round, with the season running from April through October.
Paddling On Your Own
The section of the New River from Hinton to Thurmond offers challenging Class I, II, and III rapids suitable for intermediate whitewater paddlers, and consists primarily of long pools and moderate rapids.
Downstream from Thurmond the river narrows and includes technical Class III – IV rapids. The New River below Thurmond is suitable only for advanced and expert paddlers. The New River is a powerful and beautiful river that usually has enough water to run.
There are a number of different access points on the New River, and trips can run from several hours to several days.
Safety First
Running whitewater rivers is inherently risky. Prior to putting on a river, individual trip participants must recognize and assume responsibility for the attendant dangers, which include — but are not limited to — possible loss of life. Before attempting any river, paddlers should satisfy themselves that every person in their group understands the inherent risks of river running, freely assumes responsibility for their own safety, and possesses the necessary skill and prior experience to reasonably ensure a safe trip.
New River Gorge Whitewater Rafting Trips
CHOOSE THE UPPER OR LOWER NEW RIVER.
Choose between a calm day on the Upper New River or a day with more rapids on the Lower New River Gorge. Both trips are great for first-time rafters, with the Upper New being the ideal option for families with kids as young 6. And, kids raft for free* on the Upper New River at ACE!
* A child age 6-11 years old rafts free with each full paying adult. (Excludes Saturdays)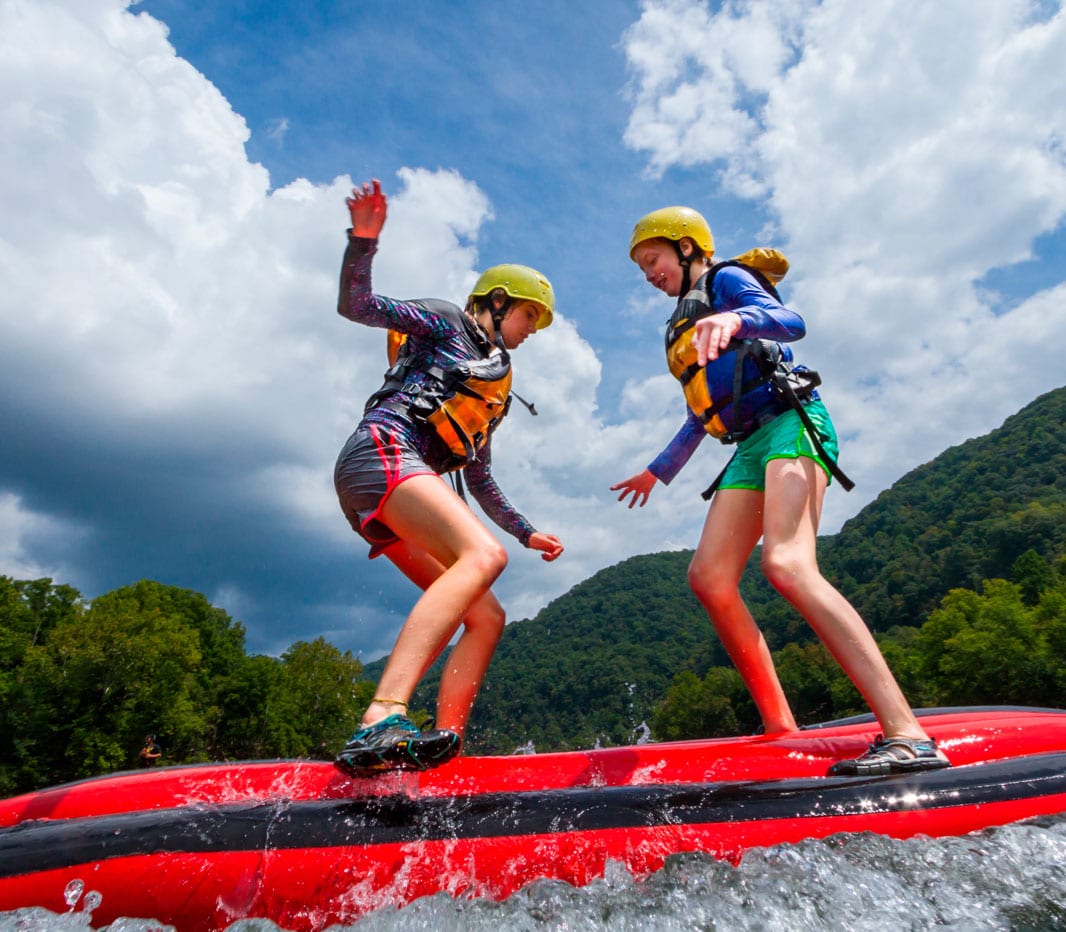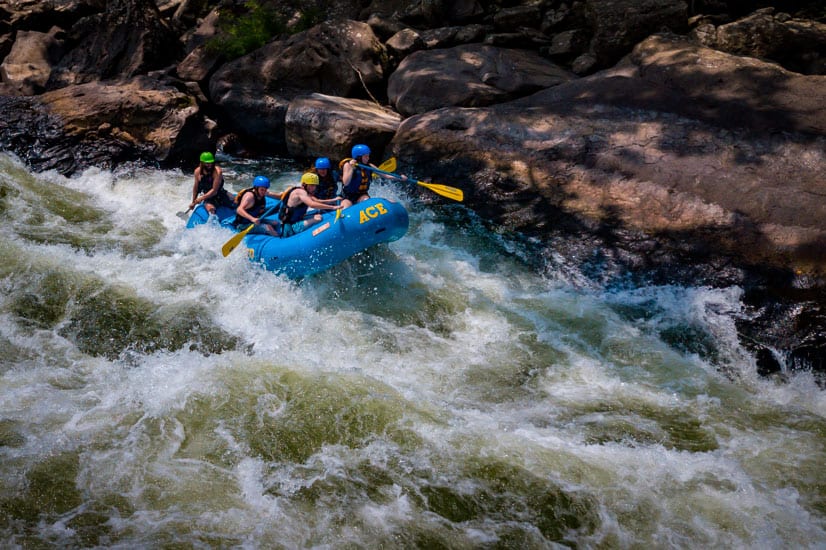 Call 800.787.3982 for more info and speak to a real,
live person!
Choose A Section Below To View Trip Options.
Lower New River Rafting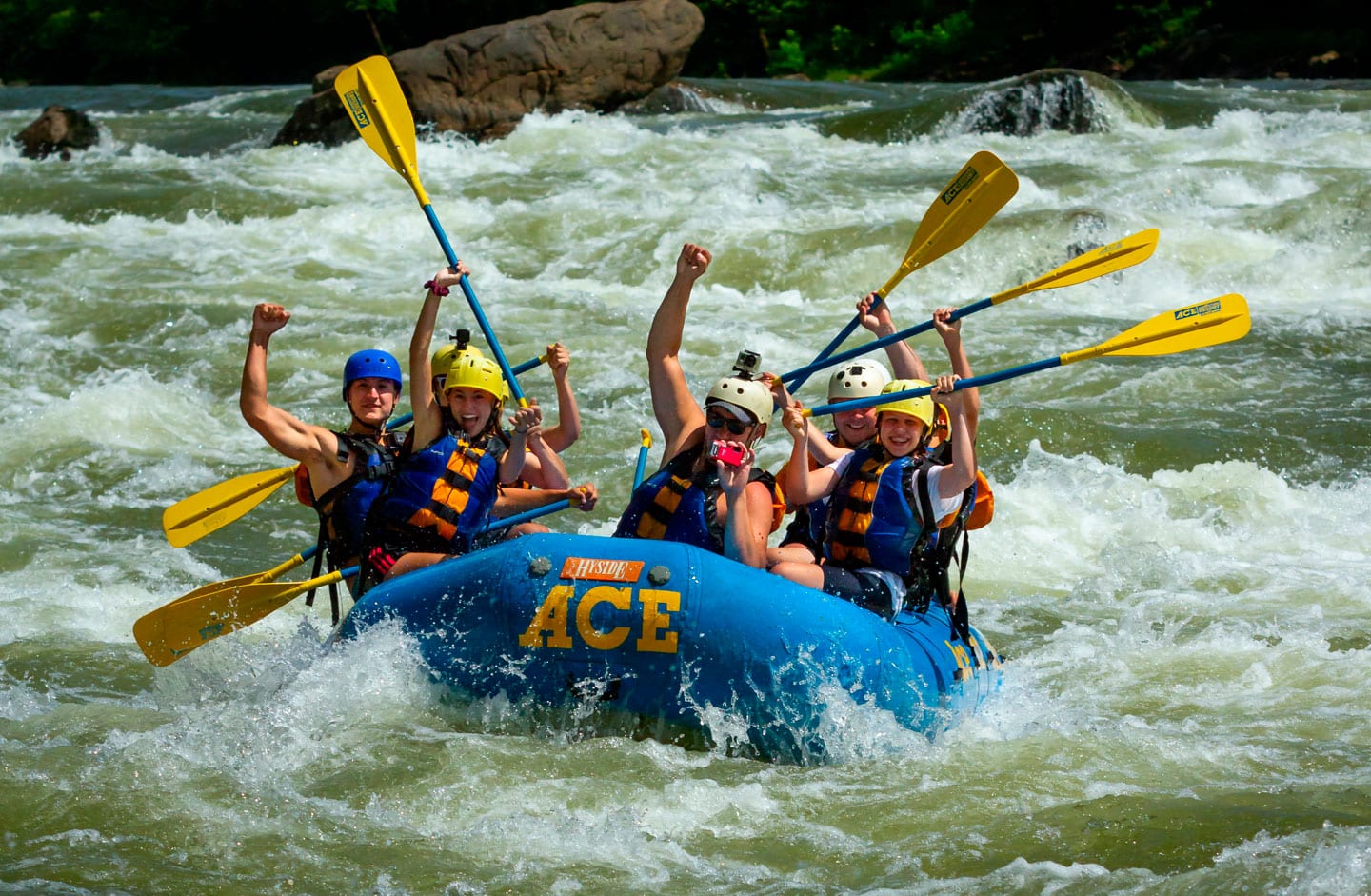 Lower New River Gorge Trips
Our Most Popular Rafting Trip!
In its Lower section, The New River begins to narrow and simultaneously drop in elevation. There, big water rapids form. Local boaters call this river section, where the water charges through a deep and spectacular sandstone canyon "The Gorge". River trips end under the awe-inspiring New River Gorge Bridge providing dramatic closure to the most inspiring outdoor journey on the East Coast.
Minimum Age: 12 YRS. (CALL FOR AGES 10-11 YRS.)
Season: May – October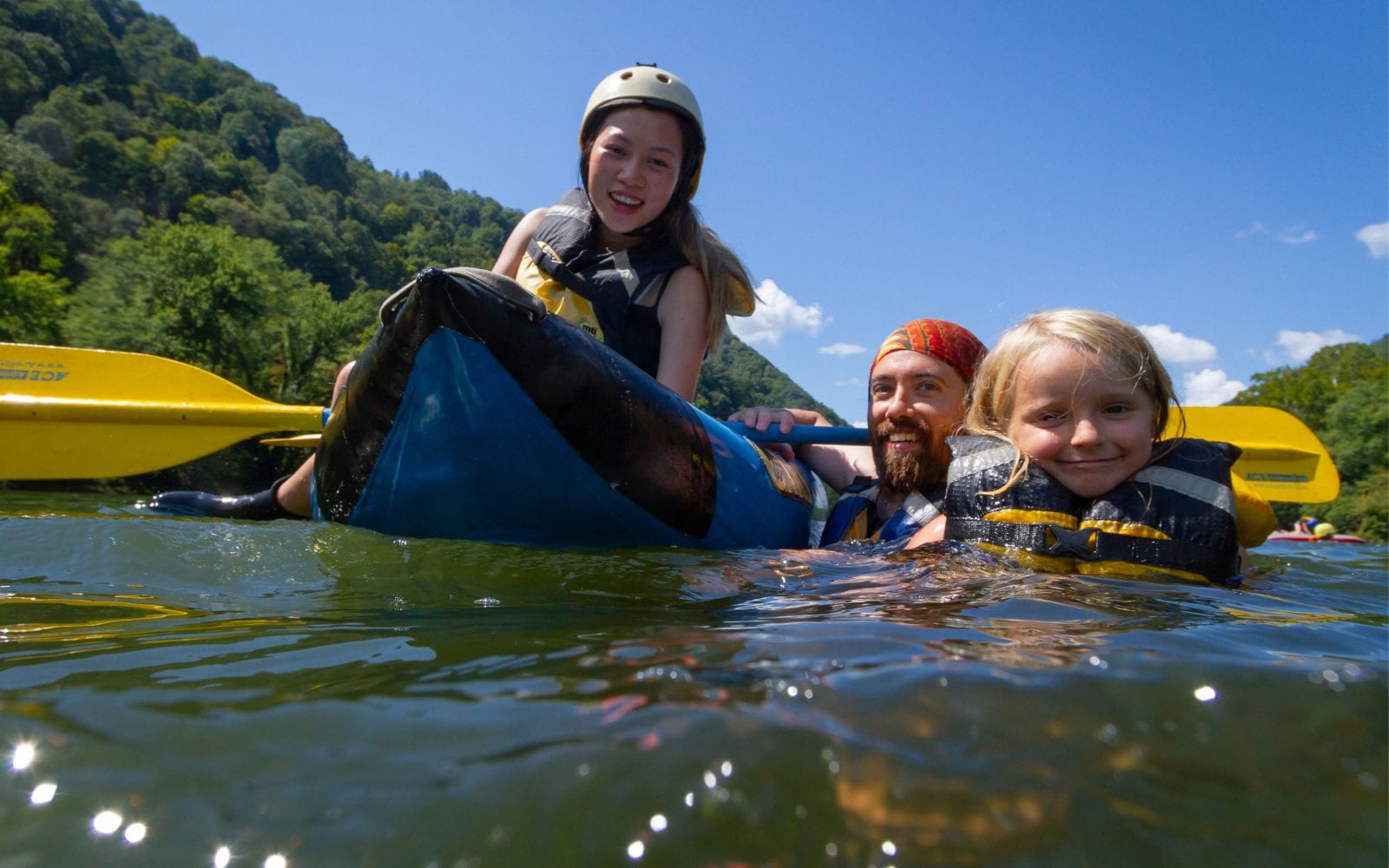 Upper New River Rafting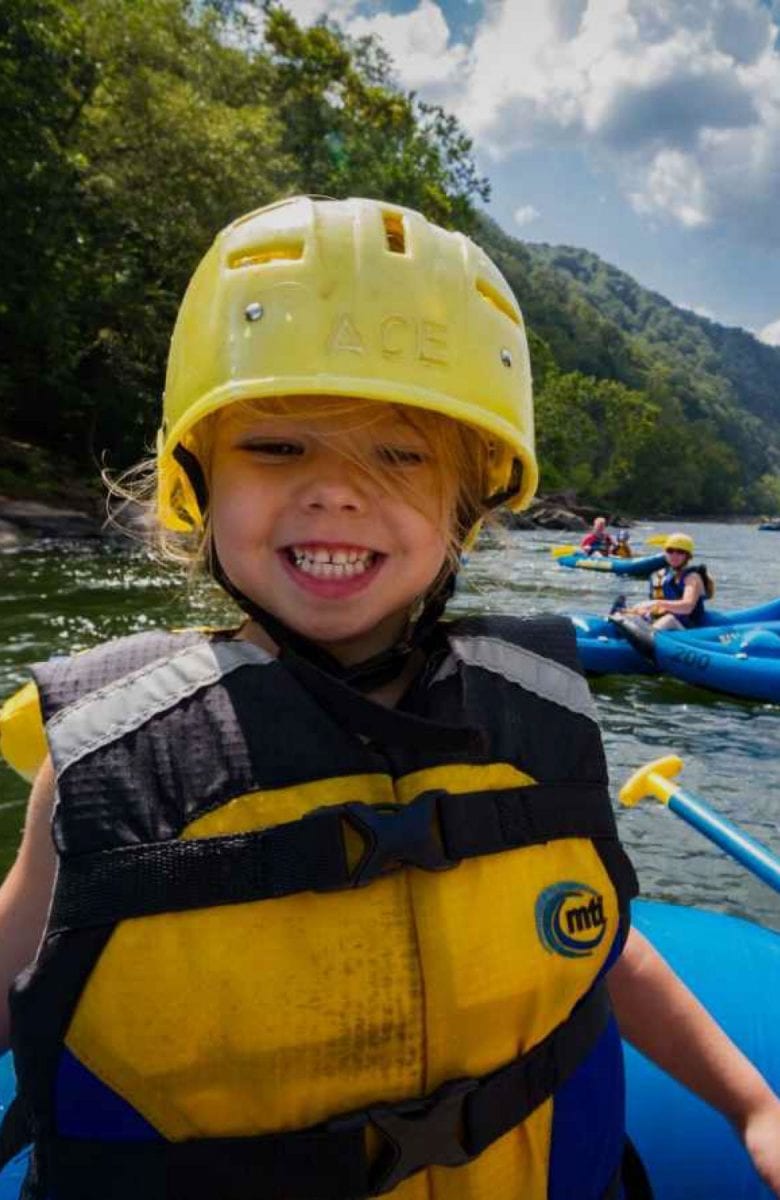 Upper New River Family Trips
PERFECT FOR CHILDREN OVER 6 AND TIMID BEGINNERS
Create memories for a lifetime on the Upper New River. This full-day trip is the perfect introductory rafting experience for kiddos as young as 6. And, kids raft for free* with each paying adult on the Upper New River! With options to raft with your group or paddle solo in an inflatable kayak, this trip will keep every rafter entertained.
* A child age 6-11 years old rafts free with each full paying adult.
Minimum Age: 6 Yrs.
Season: May – November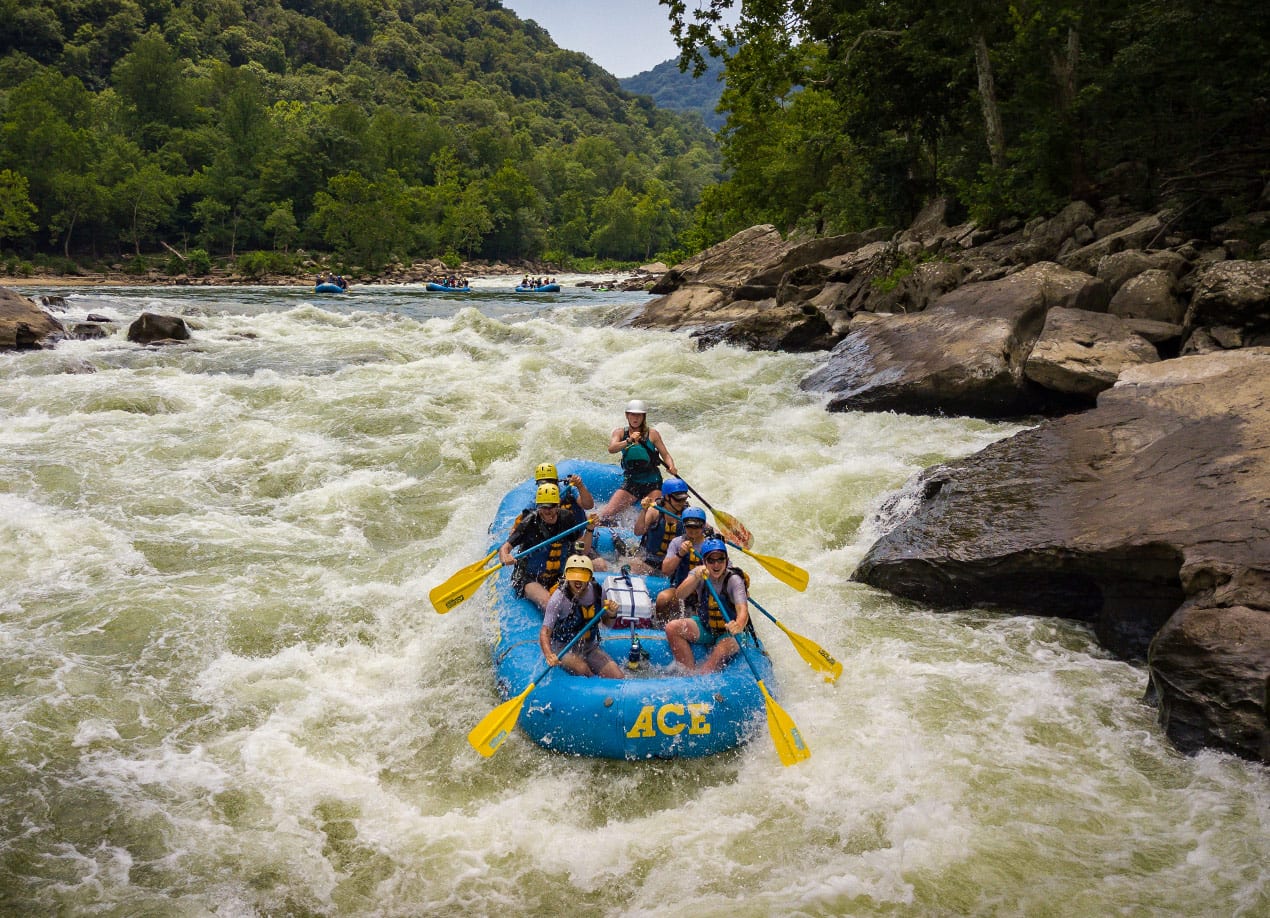 New River Gorge Whitewater Rafting Trips
The New River Gorge runs year round and always provides an amazing and scenic ride. There are two sections to choose from. The family-friendly Upper New River Gorge is a great way to introduce children as young as 6 and timid first-timers to whitewater rafting. The Lower New River Gorge section will entertain first-time rafters age 12 and up while still offering a fun challenge for those who have experience.
Whitewater Rafting at New River Gorge, America's Newest National Park
I'd never been whitewater rafting before, but I wanted our visit to New River Gorge National Park and Preserve in West Virginia to be the pinnacle of our recent family vacation, so I chose a trip with Adventures on the Gorge in hopes that my 10-year-old daughter and 12-year-old son would have a great summer vacation memory to look back on when school arrived in the fall.
America's Newest National Park
Adventures on the Gorge is an outdoor outfitter with a resort on the rim of the gorge inside America's newest national park, and the resort was our base camp for a couple of nights. The plan was to challenge ourselves to a nighttime aerial obstacle course and a whitewater rafting adventure before heading home to prepare for the start of school.
Located in Southern West Virginia, New River Gorge is a great family road trip idea within driving distance of about half the U.S. population. The minimum age for most activities at Adventures on the Gorge is 10, and the people there are bubbling with joy and the desire to help you achieve your vacation goals, whether it be savoring the wilderness, reclining by the swimming hole, or (in our case) whitewater rafting with our increasingly hard-to-please tweens.
Family Rafting Adventures with Adventures on the Gorge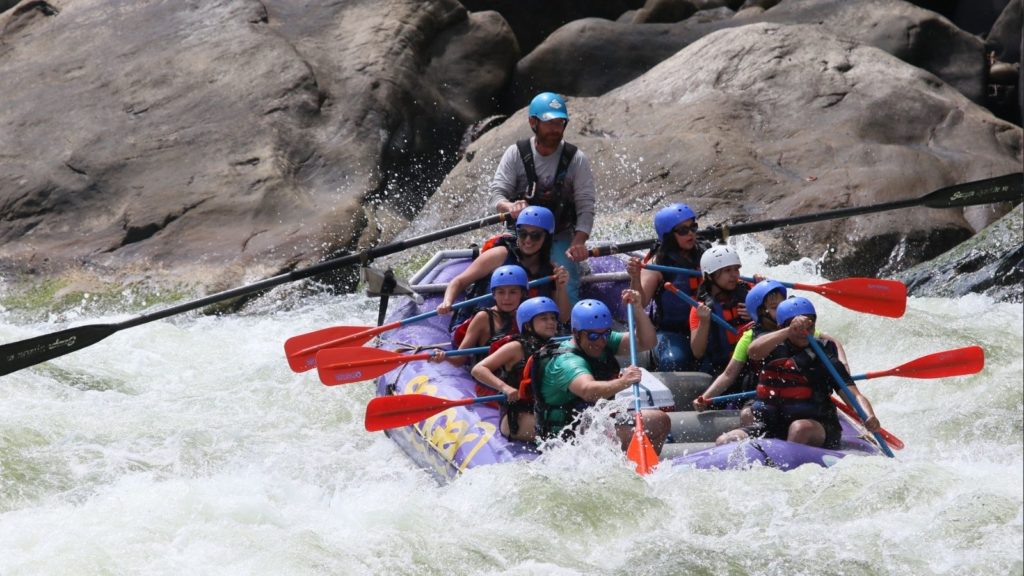 West Virginia's New River Gorge boasts some of the best whitewater rafting in the eastern United States. The New River carved a canyon 1,600 feet deep in places, leaving steep cliffs crowned by abundant forest and wild Appalachian terrain. The river flows south to north and is one of the oldest on Earth. It's sublime when awash in the sun's rays, summer's greenery, and exuberant laughter.
Numerous outfitters and trip types are available to help you pick the adventure that's best suited for your group. The Family Lower New River Gorge excursion we took with Adventures on the Gorge includes approximately 25 Class II to IV rapids on a full-day trip. It was adrenaline-fueled but also extremely relaxing as we floated in the warm water, jumped off a rock to swim, and gobbled up a picnic lunch on the beach.
Our guide told stories and instructed how to best manage rapids with names like "Double Z" and "Scramble Like A Rat." My tummy tightened, but I focused on paddling and dug my feet in as best I could. My husband started off in the front of the raft, but by the end of the day everyone had a chance to command the face-drenching spot at the bow of our oar-mounted raft.
As we careened across rapids, our bodies occasionally bounced into the air and huge smiles slathered our faces. There were moments where my motherly instinct took over and I clutched my children's life jackets—but none of us fell into the water that day. The worst injury was when I broke a fingernail.
Rafting season continues through October on the Upper and Lower New River as well as the Gauley River. "People come from all over the world to paddle the Gauley," says Kate Smallwood with Adventures on the Gorge. "Summerville Dam has scheduled releases where the water from Summersville Lake enters the Gauley and creates massive Class 5+ rapids."
Nighttime Aerial Course and Other Adventures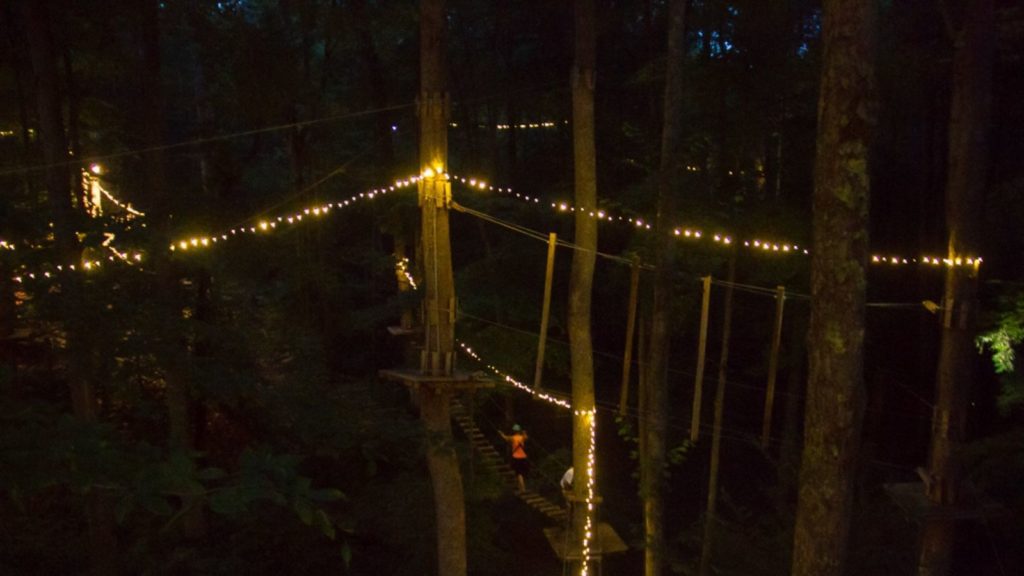 The New River Gorge National Park and Preserve is a playground for outdoor enthusiasts and perfect for families with teens or tweens who aren't as easily impressed with milder family vacation ideas.
MoonTrek, an obstacle course of bridges, nets, and platforms up in the trees at Adventures on the Gorge, is aglow in the evenings with string lights and sounds of the forest. For me, clipping and unclipping our gear and balancing our bodies on swinging challenges became such a focus that I often forgot how high up we were. The fact that it was dark helped my husband overcome his fear of heights to tackle two of the six courses with our bold 10-year-old daughter. He also earned bragging rights in her book.
If your crew is super brave, take the Bridge Walk across the New River Gorge Bridge, a huge steel arch bridge and one of the most photographed destinations in West Virginia. On a Bridge Walk tour, you're secured to the bridge with a safety cable. You then walk more than 3,000 feet on a 24-inch catwalk on a three-hour guided tour as cars drive overhead.
Additional opportunities for family fun with Adventures on the Gorge include hiking, mountain biking, zip lining, paintball, laser tag, horseback riding, and hunting.
When we returned home, I ferried my daughter to Meet the Teacher day at school. Her math instructor asked what she did this summer, and my girl proudly beamed that she whitewater-rafted at the newest national park. Boom.
We will definitely return to New River Gorge. Its unfiltered beauty took hold of our souls. Next time, I'd like to raft the Gauley River and zipline the TreeTops Canopy Tour. Our kids need to eat their protein so they surpass the minimum 90 lb. limit. Boating Summerville Lake also sounds splendid as we can paddle board, rock climb, rappel, and swim along the way. I'm super excited and slightly less nervous now that I've experienced some of what America's newest national park has to offer. And it wouldn't be an adventure if I didn't venture past my comfort zone.
More from FamilyVacationist:
As parents and travel experts, we select every product, destination, and attraction we recommend based on independent research, strong reviews, and product testing. Some products are sent to us for free and some visits are hosted, with no incentive to offer a favorable review. If you buy an item through a link on our website, we may earn a commission.
Source https://www.nps.gov/neri/planyourvisit/whitewater.htm
Source https://aceraft.com/white-water-rafting/new-river-gorge-rafting/
Source https://familyvacationist.com/whitewater-rafting-at-new-river-gorge-americas-newest-national-park/