New River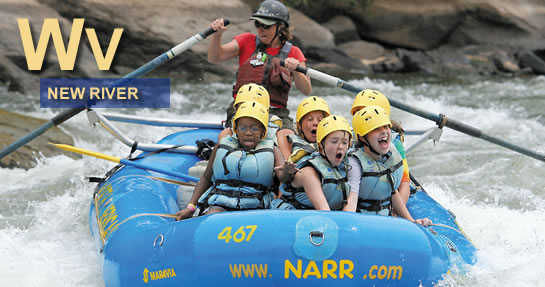 Contrary to its name, the New River is one of the oldest rivers in the world. Its varied level of difficulty makes New River rafting suitable for a wide range of whitewater rafting enthusiasts. The Upper New River is known for its friendly Class I-III rapids. However, the Lower New River is notorious for it's advanced Class IV+ rapids with drenching waves. The New River offers remarkable scenery while passing abandoned mining towns and lush canyon walls rising 1400 feet.
Go Rafting with A Commercial Outfitter on the New River
ACE Adventure Resort – Right in ACE's backyard, you will find a rich diversity in white water rafting adventures – beginner-friendly trips for the whole family or a ride so wild it takes your breath away. It's the world-class New and Gauley rivers. Choose from half-day to multi-day excursions.
Visit their website for more information about New River Rafting.
Sponsoring Outfitter
Upper New River: Class I-III / Beginner
Class I and II rapids make this the easier of the two sections. The Upper New River is known for its friendly Class I-III rapids. It offers easy to moderate rapids, with long chutes dropping gently over ledges and expanses of calm water interspersed with stretches of waves. Opportunities to swim or go on a hike make Upper New River rafting ideal for family adventures or for scout and youth groups. Because little maneuvering is required to negotiate the rapids, the run can be enjoyable for children as young as six. This stretch of river is fifteen miles long and takes six to eight hours.
Lower New River: Class IV+ / Intermediate
The Lower New River drops 250-feet in sixteen miles, as it passes through what some call the "Grand Canyon of the East." A trip on the Lower New is notorious for its big waves and advanced Class IV+ rapids such as The Keeneys, Double Z and Greyhound Bus Stopper. Towards the end of the run, rafters get a view of the imposing New River Gorge Bridge. At 876 feet, the New River Gorge Bridge is the Northern hemisphere's longest single-span steel arch bridge.
Season: May – September
Although the New River is free-flowing, it is a high volume river and there is ample water to go rafting all spring and summer.
Whitewater Rafting in May
Ski season is coming to an end, and that means one thing for the high country: whitewater rafting trips and summer fun! Welcome to the 2013 season of AVA Rafting and Mountaintop Zipline Tours! AVA will start to run rafting trips on Friday, May 3 rd on the Arkansas River with trips departing from our Granite Outpost. We'll follow that by opening our Clear Creek rafting trips on Saturday, May 4 th at our Idaho Springs Outpost.
Granite Outpost/ Arkansas River Trips
Starting May 3 rd , we'll be running our Brown's Canyon trips, including the Brown's Canyon ½ Day, Brown's Canyon Express (3/4 Day), and Brown's Canyon Sizzler (full day). Overnight trips will be available for those wanting some extra time on the river. Depending on water levels, we will be getting ready to open our more advanced rafting Arkansas River trips, as well, including the Numbers and Pine Creek.
In addition to opening up whitewater river rafting, we'll also be opening up our Granite zipline course with 7 different zips totaling over 3500' of zipping. Our rock climbing tours will begin, as well, which means you can package rafting and ziplining, rafting and rock climbing, or ziplining and rock climbing for a truly action-packed day. Want to do all three? We renovated our cabins over the winter, and they'll be open for business May 3 rd , too! So stay with AVA for the weekend and check out all the great activities available.
Idaho Springs Outpost/ Clear Creek Trips
Starting May 4 th , we'll be running trips on Clear Creek, including the Clear Creek Beginner and the Clear Creek Intermediate. Depending on water levels, we'll be getting ready for the Clear Creek Advanced, as well. Trip times are available throughout the day, so we can accommodate all schedules whether you're looking to spend the rest of the day exploring Idaho Springs or need to squeeze in some whitewater after a day of work.
Our Idaho Springs mountaintop zipline tours are running already, so if you just can't wait for the rafting season to start, take advantage of April Colorado ziplining. Our 6 zips of varying lengths zigzag down the cliffs behind our outpost, providing stellar views and high adrenaline fun. If you do decide to wait until the river's flowing, package our white water rafting trips and Colorado zip line tours for a perfect day of thrills.
Kremmling Outpost/ Colorado River Trips
Our Kremmling Outpost is scheduled to open our Upper Colorado River float trip options on May 17 th with Upper Colorado full day and half day float trips, as well as inflatable kayak trips and stand up paddleboard trips, all of which make for fantastic family rafting trips. We are expanding the number of overnight rafting trips we offer, as well. We'll be posting more details as Opening Day approaches!
Join AVA and enjoy all the extra snow we got this spring – it's sure to make for some fantastic whitewater. Rafting season is upon us!
New River Gorge Whitewater Rafting Trips
CHOOSE THE UPPER OR LOWER NEW RIVER.
Choose between a calm day on the Upper New River or a day with more rapids on the Lower New River Gorge. Both trips are great for first-time rafters, with the Upper New being the ideal option for families with kids as young 6. And, kids raft for free* on the Upper New River at ACE!
* A child age 6-11 years old rafts free with each full paying adult. (Excludes Saturdays)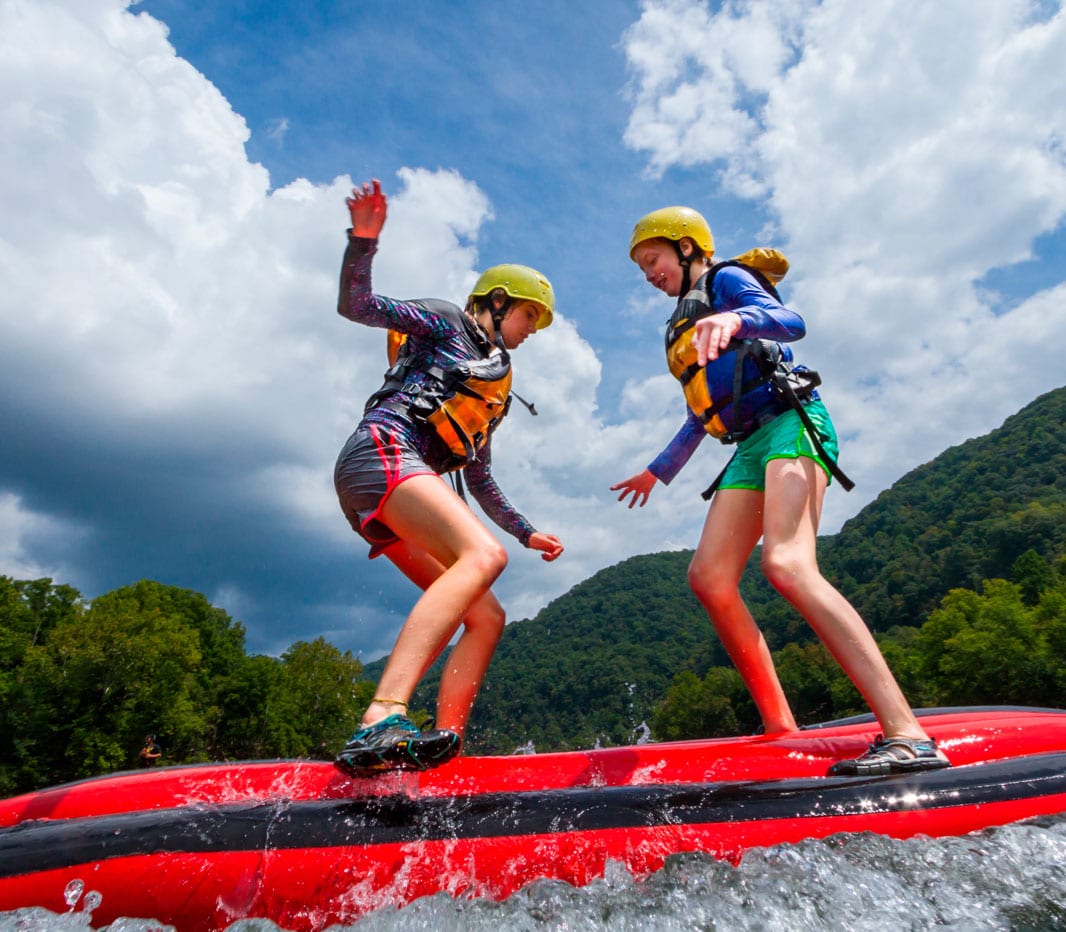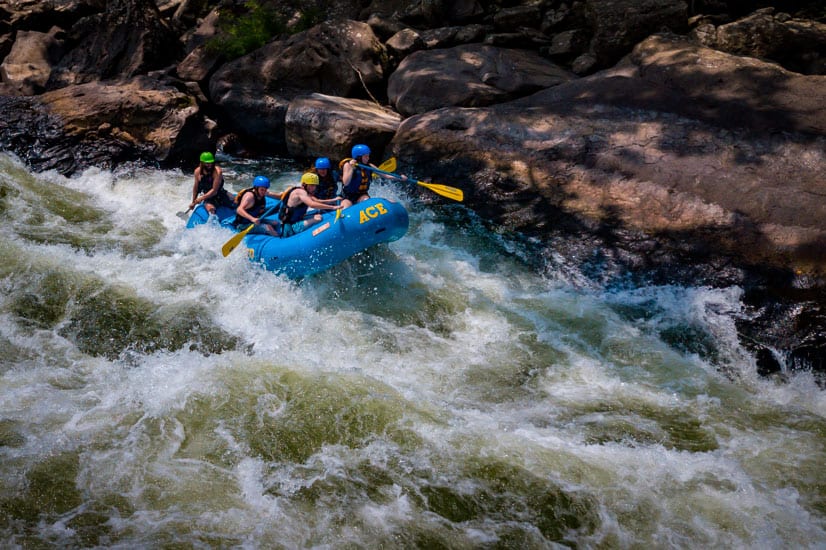 Call 800.787.3982 for more info and speak to a real,
live person!
Choose A Section Below To View Trip Options.
Lower New River Rafting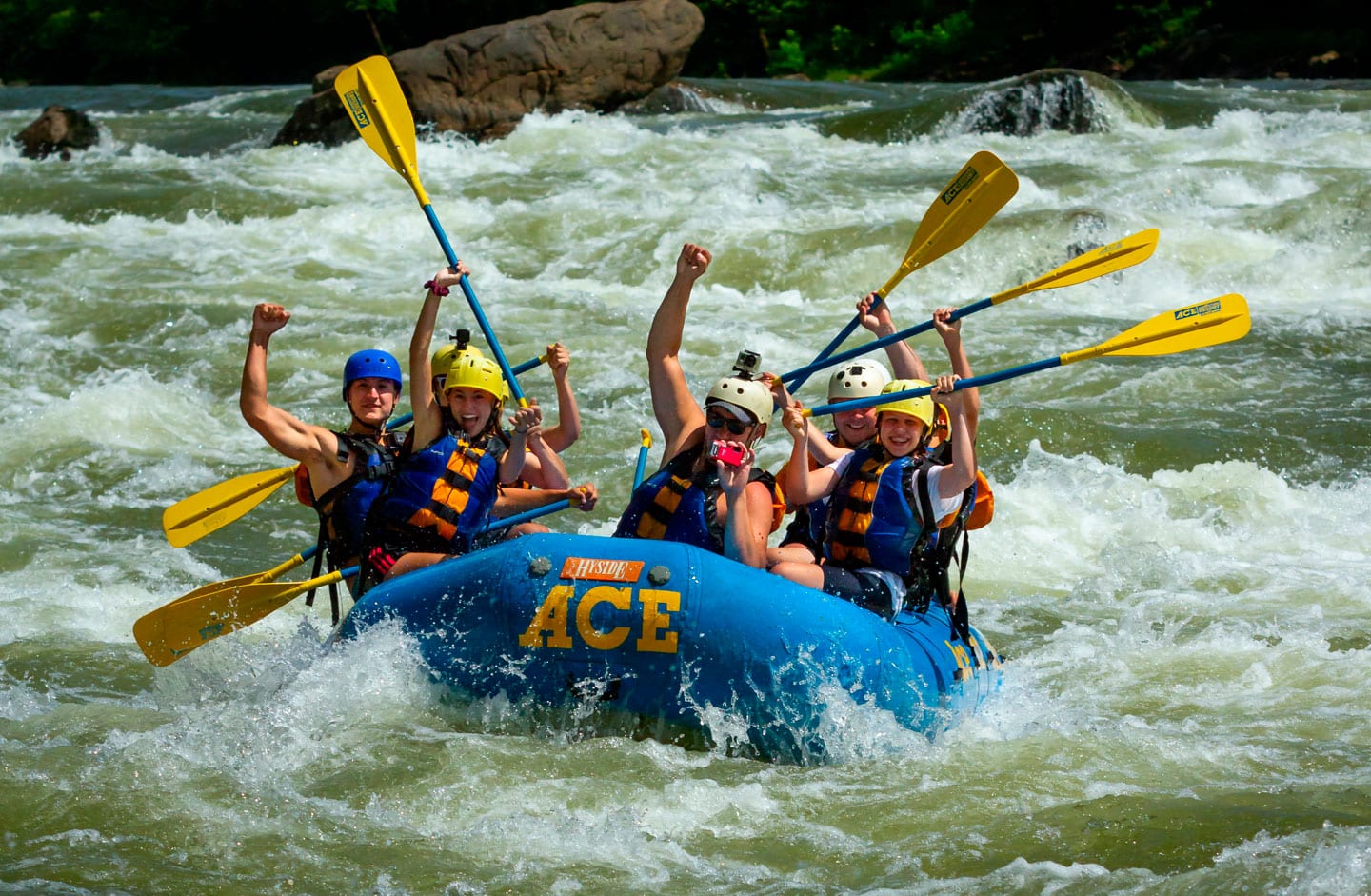 Lower New River Gorge Trips
Our Most Popular Rafting Trip!
In its Lower section, The New River begins to narrow and simultaneously drop in elevation. There, big water rapids form. Local boaters call this river section, where the water charges through a deep and spectacular sandstone canyon "The Gorge". River trips end under the awe-inspiring New River Gorge Bridge providing dramatic closure to the most inspiring outdoor journey on the East Coast.
Minimum Age: 12 YRS. (CALL FOR AGES 10-11 YRS.)
Season: May – October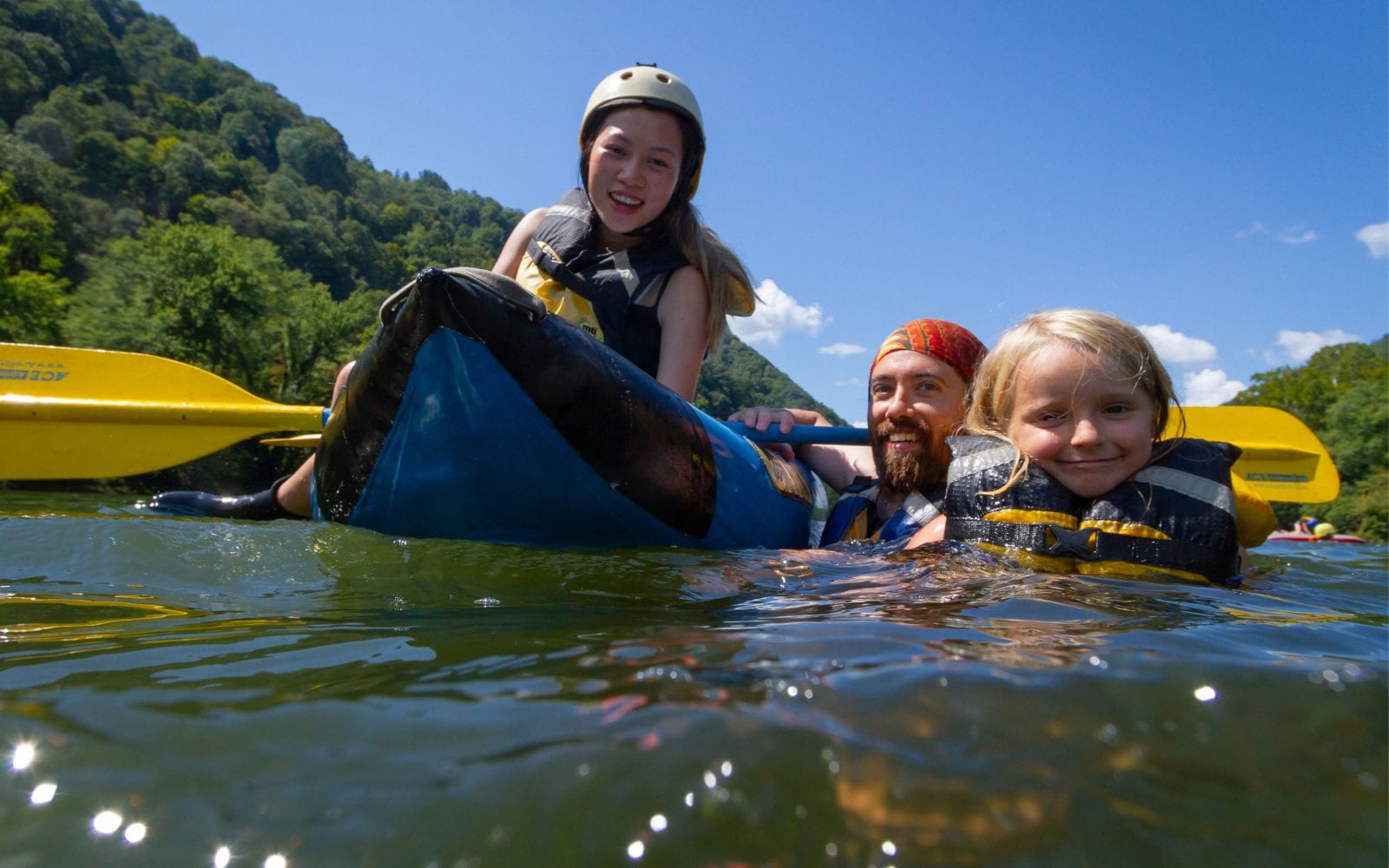 Upper New River Rafting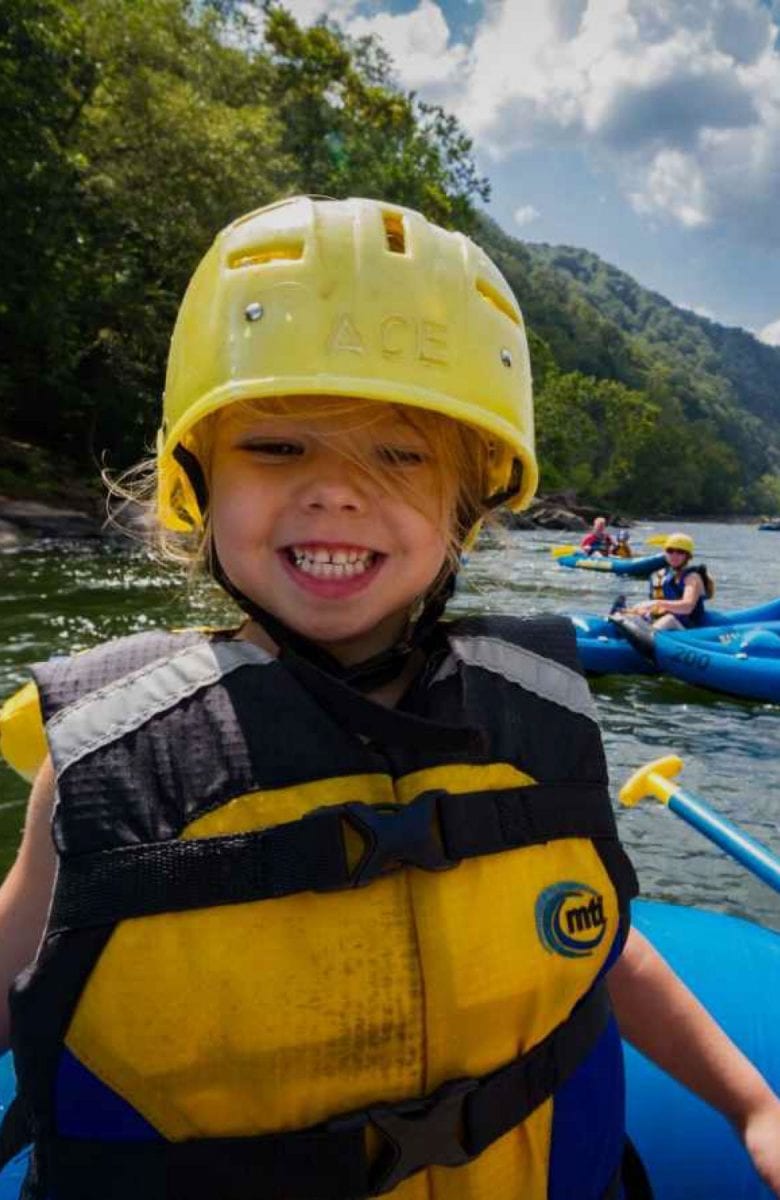 Upper New River Family Trips
PERFECT FOR CHILDREN OVER 6 AND TIMID BEGINNERS
Create memories for a lifetime on the Upper New River. This full-day trip is the perfect introductory rafting experience for kiddos as young as 6. And, kids raft for free* with each paying adult on the Upper New River! With options to raft with your group or paddle solo in an inflatable kayak, this trip will keep every rafter entertained.
* A child age 6-11 years old rafts free with each full paying adult.
Minimum Age: 6 Yrs.
Season: May – November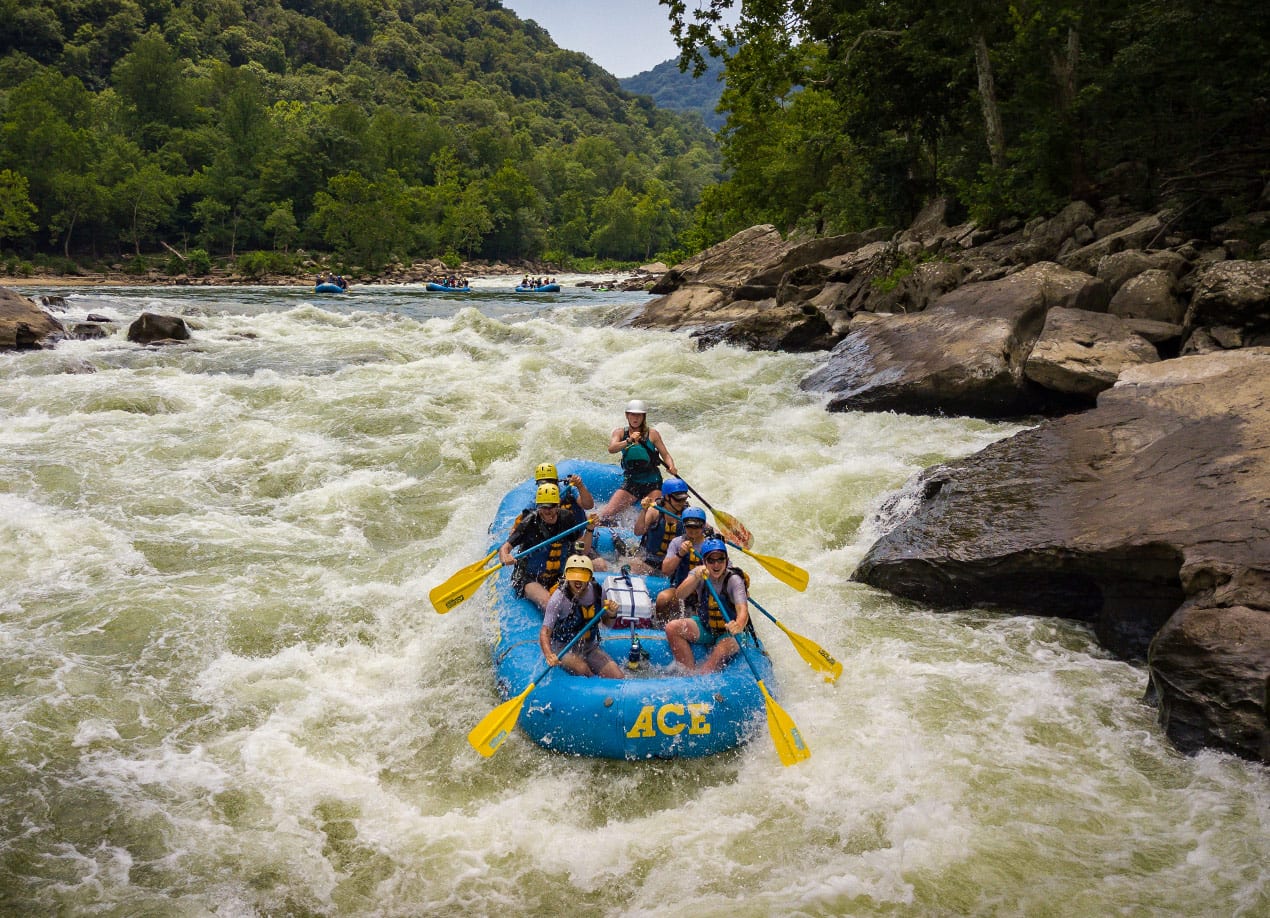 New River Gorge Whitewater Rafting Trips
The New River Gorge runs year round and always provides an amazing and scenic ride. There are two sections to choose from. The family-friendly Upper New River Gorge is a great way to introduce children as young as 6 and timid first-timers to whitewater rafting. The Lower New River Gorge section will entertain first-time rafters age 12 and up while still offering a fun challenge for those who have experience.
Source https://www.rafting.com/west-virginia/new-river/
Source https://www.coloradorafting.net/blog/whitewater-rafting-in-may/
Source https://aceraft.com/white-water-rafting/new-river-gorge-rafting/