Is rafting with children safe and what is age limit?
Many have been wondering is it safe to bring your children to rafting. As a team of professionals, we're able to give you answer on this question. And for starters, we'd like to point out the fact that rules about kids on rafting vary from club to club and more importantly from river to river. But we'll get there.
Here are the things you should know about rafting with children.
Rafting can be safe for children too
Yes, rafting is safe for children too, but there are some exceptions of course. There are many factors that can decide if it would be safe to go rafting with children, or not, just like when it comes to rafting safety in general. We will mention some of those below, but the main thing is that different clubs have different policies about children in rafts.
General rule is that people shouldn't bring babies on rafting tours, because even if it's the calmest river ever, babies are just too little to help themselves in any possible way. Common practice is that rafting clubs value all factors that can determine how safe rafting would be in general, and decide what is appropriate children's age for rafting adventures.
Some clubs say that age limit for children to go rafting is at least: 3, 5, 7 or 10 years old. Of course, those numbers can vary from season to season, from weather conditions and general river characteristics.
Bring your children only with prior consultation
Prior consultation with rafting professionals is very important. Even though we, here at Tarasport, very deeply care about everything that can be found on our website, when it comes to rafting information and other important stuff, we advise you to always make sure that everything is like it says on rafting clubs websites.
Human error is possible, so always make sure to call your rafting club before you start your trip, and ask again about rafting policies and rules you read on their (or our) website. Something may change during rafting season or some fresh information about rafting conditions may occur, and there wasn't enough time to change it publically, so a simple call could decide for you if it's safe to bring children along or to tuck them in the beds and experience rafting by yourself.
Different river, different rules
The main reason why there's no unique standardization when it comes to children rafting is unpredictable and unique nature. Every part of the world has its own weather conditions, and not to mention river characteristics. Even though we can categorize rivers buy their water volume, geographical location, and speed, every river has its own characteristics that can't be copied. That's why professional rafting clubs decide whether it's safe to go rafting with children somewhere or not.
Mountain rivers are almost always fast but that doesn't necessarily mean that they're too difficult for kids with the supervision of adults and rafting professionals.
It all comes down to water level and seasons
Throughout the rafting season, rivers can change their water volume to a certain degree. Some change it more than the others, but the water level is changing everywhere, varying from 1 st until 6 th level. Some rivers have water volume levels always between 4 th and 5 th level, like Tara river has, while others can encounter bigger variations.
Right after the cold winters when mountain snow starts to melt, during Spring months, river usually exceeds its highest peak of the season, when rafting is most extreme, dangerous and when already cool rapids become even cooler and rougher. That is the period of year when professionals like to raft, and those who like adrenaline rush. Those months are definitely not safe for children when it comes to mountain river white water rafting.
Summer is usually "reserved" for smaller water levels when rivers cool off a bit, and when beginners will feel safe, so that's the time of year when bigger children can come too, but only with prior consultation with the exact rafting club, you're coming too. Nothing we say can be taken for sure, since like we said, nature is unpredictable.
Late Summer and Autumn months are perfect for all kinds of rafters! Fall rafting is suitable for whole families and even rafting with a child. Those are the months you should be considering if you're thinking about rafting with children.
That is our advice for you, and we're happy to hear from you if you're up for some unforgettable family rafting fun on Tara and Drina rivers, during late summer and fall.
Rafting with kids is ok, only with top-notch safety equipment
Just like you're receiving a proper life jacket, helmet, neoprene suits and shoes, your kid should get one too. Make sure to ask if your rafting club has all the necessary rafting equipment suitable for children. Also, make sure to ask all about rafting tour, and things that may occur, such as behavior during rapids crossings and such, while you have children by your side.
We hope that all of these advice helped you to decide whether you're going on a rafting adventure with your kids, or alone this time. One's for sure, we invite you all, just choose your season and feel the rush!
Rafting and the Kids
Rafting is a popular outdoor recreational activity that is enjoyed by both adults and kids alike.
It is a great way to seek thrill with your loved ones and make the most of your summer holidays.
Even though rafting can bring you closer to nature and allows you to have oodles of fun with your friends and family, it has its own fair share of risks – injuries and possibly even death.
Fun and thrill aside, rafting can be a dangerous sport. If your child is thinking of taking up the sport, you might have one question in mind – is rafting safe for my child?
To help you answer this and many other significant questions, we have composed this blog post.
Continue reading this post to find everything you need to know about rafting with kids – is rafting safe for kids? Should you take your child on a river rafting?
Tips for rafting with kids and lots more.
Is Rafting Safe for Kids?
Yes, rafting can be safe for kids, only with excellent safety equipment, and if you take the necessary safety precautions.
As rafting involves several potential risks, it is important to follow general guidelines. This will keep your kids safe, and they will enjoy the sport more.
That being said, it is always wise to consult rafting professionals before allowing your child to go rafting.
As an extreme sport, rafting may not be for everybody and surely not for kids of all ages.
Therefore, it is best to consult rafting professionals whether or not it is safe for your child to try rafting.
Rafting safety guidelines for kids vary according to the rafting season. Depending on the type of river and season, rafting can be quite unpredictable.
Every state has different weather conditions and river types that define the suitability of rafting for kids.
For example, some rivers may have low water levels that can be absolutely safe for kids to raft in.
However, at times, the river may cross its highest peak because of the change in weather – melting snow in the spring season may cause the river's water level to rise.
This is the time of the year when rafting is not considered safe for kids. It is, however, perfect for professional rafters or rafters wanting to trigger an adrenaline rush.
Summer and fall are usually the seasons when rafting is safe for children.
Trying rafting in small river bodies with a proper helmet, suit, life jacket, and shoes will ensure they are 100% safe and sound.
These months are also perfect for families to enjoy rafting with their kids and strengthen their family bond.
At What Age Can Kids go to Rafting?
The age limit for kids going rafting varies from state to state and club to club.
Some rafting clubs prohibit rafting to young kids under the age of 5 while other clubs may allow rafting to even 3-year-olds for as long their parents or families accompany them.
Different clubs have different age limit policies, and some of these clubs may change these policies depending on the season, weather conditions, and river characteristics.
For example, some rafting clubs may allow small kids to go rafting with adults if the sun is out, there are no clouds in the sky, and the river tides are low.
However, in times of high river tides and unpredictable weather conditions, children may not be allowed to go rafting.
Before you decide to take your kids on a river rafting, ask for the general guidelines on kids from the particular rafting club.
The reason why clubs set out a specific age limit for rafting is for the safety of the kids.
Not all kids are comfortable in the water (especially small kids) and may easily get overwhelmed with so much water surrounding them.
Some kids may also find rafting uncomfortable due to continuous bumping and excessive sun exposure.
Even slight carelessness on you or your kids' part may knock them out of the rafting boat.
Tips for Rafting with Kids
As parents, rafting with your kids can be an unforgettable family-bonding experience.
However, necessary precautions need to be taken to ensure this adventure turns out to be hearty and full of fun.
Here are a few tips that every parent should consider when rafting with their young or older kids.
1. Prepare Your Child for Rafting in Advance
Before going rafting with your kids, it is important to have a conversation with your kids about the activity. It is possible that your child may already have some idea of what rafting is like.
They may have seen it on TV and therefore may be super excited to try the fun sport. You might think you don't need to talk about it with your child, but trust us, you should.
While rafting may seem enjoyable, it's an entirely different experience when you're trying it out.
If your child is young, they may get intimidated by rapids or may not like it when they get all wet when the water splashes on them.
If a young or sensitive child experiences this, they may end up making a big fuss about it, ruining your rafting experience.
Therefore, it is recommended to have a chat about it with your child beforehand.
Prepare them for what they may or may not experience during their rafting trip.
2. Pick the Right River for a Family Rafting Trip
If you have a young, growing family, you will need to stick to rivers rated Class II or under.
Avoid taking your kids to Class III or Class IV rivers as they usually have big waves and large rocks that can be a serious hazard to your kids' safety.
Other than this, you will also have to make sure that your children do not go rafting alone. There should be at least one adult with them in the boat; this could be you, your partner, or an oarsman.
When planning a rafting trip, make sure to look for rivers with tamed rapids. However, the rapids may drastically change as the weather changes.
This is why you should always book for river rafting when you are 100% certain of the weather condition.
Avoid booking during the spring or rainy season as this may make the rapids go wild in an otherwise safe and small rive body.
Please note that small children are less capable of maintaining their body temperature in cold temperatures.
Children can cope with a wet suit on, but if adults have to wear a wet suit as well, then it is probably not the best river for kids.
Due to cold weather conditions, the children won't be able to swim or have water fights, and this will take the fun out of their rafting experience.
It is better to look for a water body that is small, warm, and low in elevation so that children can have more activities to do in the water.
3. Keep in Mind Your Child's Attention Span
Children generally have short attention spans and may grow out of activities soon.
While you may enjoy sitting in one position, taking in the scenery on your rafting trip, your kids will eventually get bored.
This is why you should jazz things up for your kids so that they are happy for the duration of the trip.
What you can do is bring along a bug net so that your kids can catch fish, frogs, insects, etc. While you're on a boat with your kid, play fun games such as word games or I spy, etc.
This will keep the enjoyment alive during the raft trip. Also, make sure to take a lunch break in between or have a fun conversation with your kid so that they don't lose interest in the rafting trip.
4. Keep All the Essentials Handy
Expect the unexpected when rafting with kids. When going rafting with your children, make sure you pack snacks, water bottles, sunscreen, toys, first aid kit, towels, and extra clothes for them.
You never know when your kid may get hungry during rafting and may demand food, so having it in your backpack will save you from endless drama.
You should also carry a waterproof camera for your child. If they get bored, they can always take photos and capture wonderful memories.
5. Don't Forget to Pack an Umbrella or a Canvas Bimini
Exposure to full sun can affect the skin (and the mood) of your child. If your kid refuses to apply sunscreen, you will need to consider a better alternative.
What you can do is take along an umbrella or a canvas bimini. With a proper shade in the boat, your child won't feel the heat of the sun as much.
If they're not feeling too hot, they might even be able to take a nap.
Kids PFDs (Personal Flotation Devices)
Life jackets are necessary safety equipment that your kids must wear before they go rafting.
Kids can be moody and refuse to wear a life jacket, but it is your duty to convince your child to wear one.
Even after several attempts of convincing your child to wear the jacket, if your child doesn't budge from their initial decision, it is better to skip rafting.
Going rafting without a life jacket on will be a huge risk and not worth it at all.
There are generally five types of life jackets used for different boating conditions. A PFD is a vest-like life jacket that is worn by adults and children when they go rafting.
When buying a PFD for your kid, here are a few important factors that you should consider!
1. Fitting
PFDs for kids are designed according to the weight of children. When buying a PFD for your child, finding the right size is crucial.
The right size largely depends on the weight of your kid. Infant PDFs are best for those with a weight of 8 to 30 pounds, child PDFs are good for kids weighing 30 to 50 pounds, and youth PFDs are ideal for children that weigh 50 to 90 pounds.
For infants and small children, PFDs should feature a crotch strap (to prevent the PFD from going up), grab handle (to help the kid get out of water), and padded head support (to keep the child's head above the water).
On the other hand, youth-sized PFDs are similar to adult-sized PFDs. A youth-sized PFD always has more belts, so that adjustments can be easily made for different sizes.
2. Types of PFDs
PFDs are categorized into three popular designs – standard PFDs, inflatable PFDs, and hybrid PFDs. Choosing any of these particular designs depends on the set of characteristics they offer.
Let's discuss these types of PFDs in detail:
Standard PFDs
They are also known as type III USCG-approved PFDs and are similar to a standard vest. These PFDs are often made from foam or any other airy material to help keep the wearer afloat in water.
Most children, teens, and young adults should wear a standard PFD when going rafting.
Standard PFDs have many benefits that include:
Easy to Maintain: Taking care of standard PFDs is quite simple. The floatation device only needs to be washed with mild soap and water. Unlike other life jackets, it doesn't need dry cleaning or washing with gasoline or any detergent.
Can be Used for Different Purposes: PFDs are super versatile and can be used for different water sports, including rafting, fishing, canoeing, waterskiing, etc.
Feature Multiple Pockets: PFDs have many pockets that come in handy for storing essentials such as glasses, camera, snacks, tools, etc. These supplies can be useful in emergency situations when access to them may be difficult otherwise.
Warm: Standard PFDs are considerably warm. Its thick fabric help children stay warm when rafting in cold weather conditions.
Floatable: This PFD type is inherently buoyant, so you won't have to activate it in order to use it.
Inflatable PFDs
Less bulky than standard PFDs, inflatable life jackets are the modern version of floating devices.
These safety jackets operate with flexible air chambers that are filled with air or gas for floatation.
Some inflatable PFDs puffed up the moment they touch the water while others are manually operated.
Inflatable PFDs are popular among both adults and children for many reasons:
Supremely Comfortable: Inflatable PFDs have a slim design, and with this PFD on, you don't feel the weight of anything extra on your body. All of this makes the life jacket super comfortable.
Isn't Warm: This feature helps keep the wearer cool, and hence it is a perfect option to consider in the scorching summer.
Best for Older Kids: Inflatable PFDs are relatively newer than other life jacket types. Because of this reason, you may not find them in every size. They are currently manufactured in a size that best fits older kids.
However, according to the Coast Guard, inflatable personal floatation devices should be used by children under the age of 16.
Hybrid PFDs
As the name suggests, hybrid PFDs are a combination of standard PFDs and inflatable PFDs. Since they offer the best features of both PFD types, they are generally more expensive.
They keep the person afloat in water by trapping air in their chambers, but despite that, they don't feel heavy at all! Some type III PFDs can come in hybrid design and thus great for all types of kids.
3. Comfort and Adjustability
Kids can be picky, and if the life jacket is even slightly uncomfortable, they won't go in water no matter what you lure them with.
Therefore, considering your child's comfort level in a life jacket is important. Always look for the jacket that is made from nice, mellow material.
Also, make sure that you choose a flexible PFD that easily fits children of all sizes. For easy adjustments, it is good to have multiple straps.
Rafting can be a fun and safe sport for children as long as they follow the necessary safety precautions.
Parents need to be one step ahead in this case and make sure their children are equipped with the right protective measures.
For example, they should wear protective gear such as a PFD before going rafting. Not every river and season is ideal for rafting with kids.
Therefore, parents should carefully choose the time and destination when considering a fun, memorable family rafting trip!
Kid-Friendly Rafting Trips
Choose a trip or scroll down to learn more.
Choose a kid-friendly rafting trip below for details or scroll down to learn more about rafting trips offered for kids as young as 6 years old!
About Kid Friendly Rafting At ACE Adventure Resort
Kid Friendly Rafting Trips Make Lasting Memories
Nobody is going to look back and remember their best day of television, that's why we think getting the kids outside and into a raft makes for one of the most memorable family trips ever. With kid friendly options like the Upper New River Gorge (for ages 6 and up) and the Lower New River (ages 12 and up to paddle, 10 and up in an oar rig) we can help you get your family paddling together this summer.
The Perfect First Time River Trip!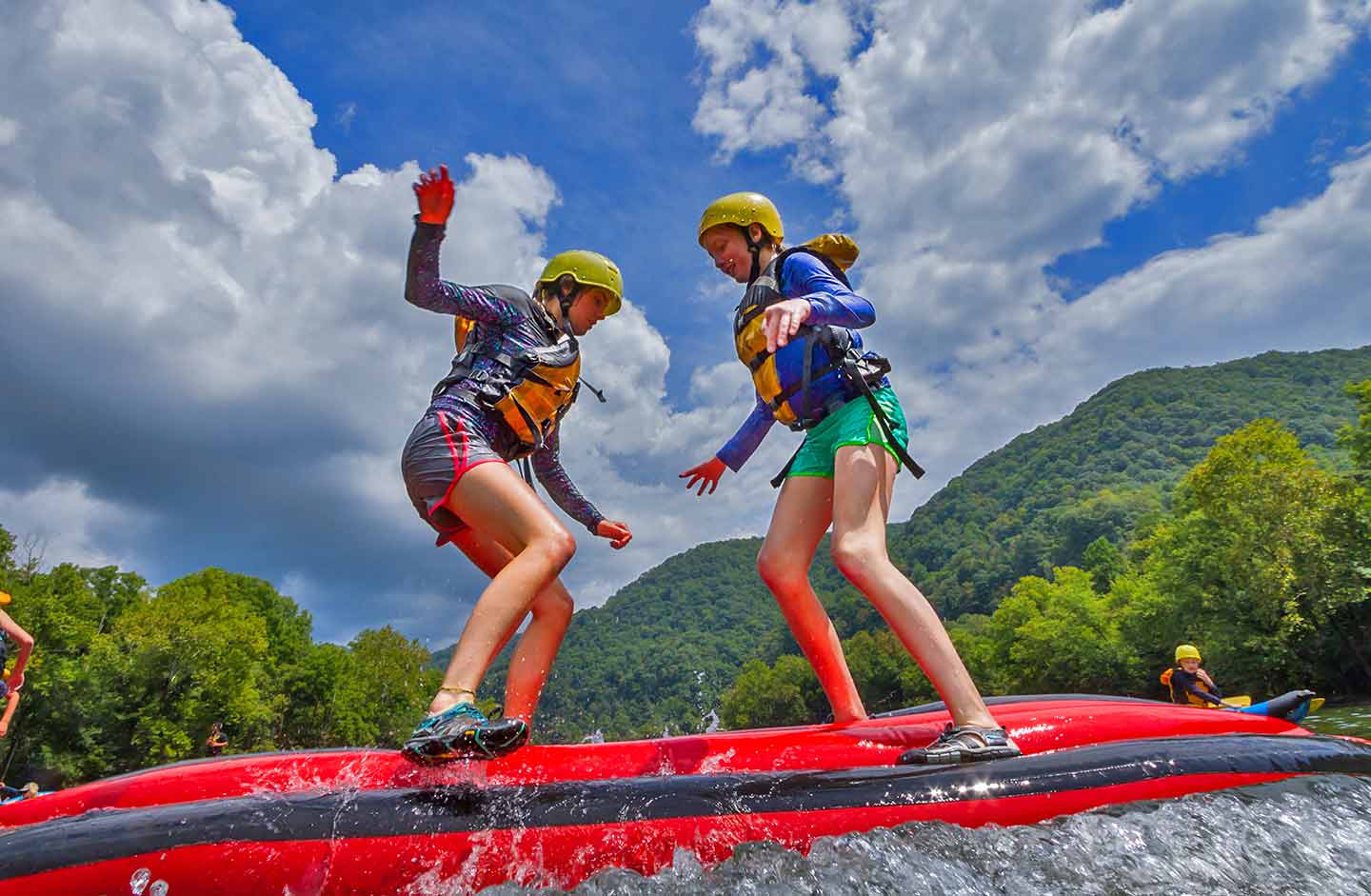 Upper New River Rafting For The Youngest Adventurers
Are you ready to take your family vacation to the next level? Experience the beauty and adventure of a family rafting trip with ACE Adventure Resort!
Choose from a full day trip on the Upper New River, the best kid-friendly rafting for families with kids as young as six, or for rafters who aren't quite ready to take on the bigger rapids of the Lower New River. Paddle together in a raft, or opt for a duckie (inflatable kayak). The warm water in the New River means that you don't have to worry about kids being cold, and the nonstop fun of the trip means you won't hear "I'm bored!" at all during your trip. You'll have time to swim and play in the river in between the fun and splashy rapids, and jump off jump rock. At lunch, your guides will prepare you a riverside lunch-the most fun picnic ever!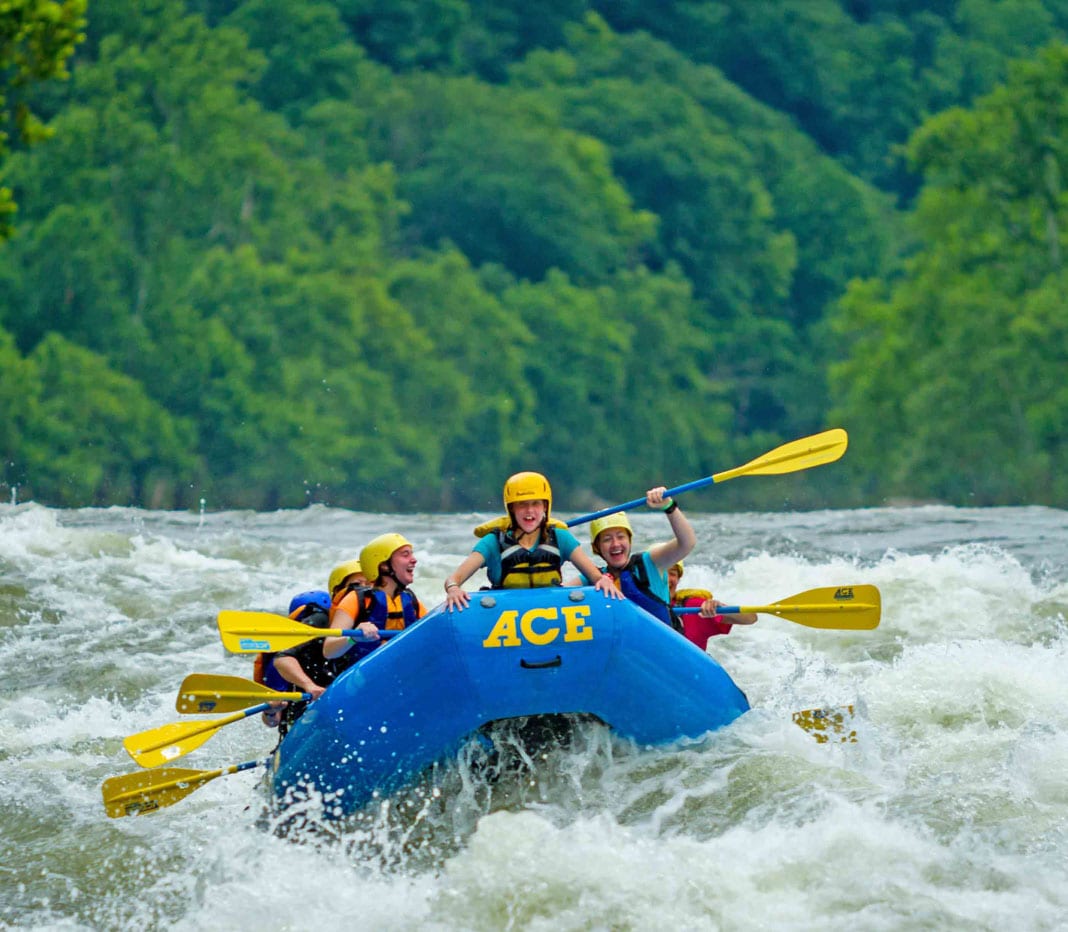 For Kids 10 Years And Up… The Lower New River Gorge!
For families with older kids, or for those looking for a more wild adventure, check out the Lower New River. Kids ages 12 and up can paddle in a raft, and 10 and up can experience this incredible section of river in an oar rigged boat. This trip is available as a full or half day, so whatever your schedule is, we can find the best option for you! This class IV+ section of river meanders through the New River Gorge Section of the river, where you'll see huge boulders throughout the river and spectacular sandstone cliffs lining the top of the 1,000 foot gorge. Full Day trips include lunch.
There's A River Trip For Everyone!
Explore the rivers that we raft here in West Virginia. Enjoy two sections of whitewater rafting on the Upper and Lower New River Gorge. In the Fall you can also join us for the challenging Upper Gauley River or the scenic Lower Gauley River!
Source https://www.tarasportrafting.com/blog/rafting-children-safe-and-what-age-limit
Source https://raftthecanyon.com/rafting-with-kids/
Source https://aceraft.com/white-water-rafting/rafting-by-challenge-level/rafting-for-kids/