Inflatable Rafts | Recreational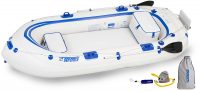 An inflatable recreational level raft is a raft that's, as the name suggests, designed for recreational uses. Typically priced at $600 or less, these inflatable rafts are versatile, durable and are fun to use.
But they aren't for everyone. These rafts do have limitations—as all boats do. Certain people will find their boating needs match perfectly with the capabilities these rafts provide. Other paddlers, however, will find other inflatable boats more suited to their needs.
The purpose of this article is to introduce affordable yet quality inflatable rafts to people who are in search of an inflatable boat. The article highlights who these boats are for, their best purposes, who likely will not want an inflatable raft and finally, some good brands of inflatable rafts to buy
Contents of this article include:
Good Inflatable Rafts v. Cheap Inflatable Rafts
I'll never forget the story of a friend who bought a camo covered inflatable raft at Walmart. He used it for hunting waterfowl on a Montana river. On his first day using it the boat developed a tear in the bottom while he was on a remote waterway in Montana. The result wasn't happy. He walked a very long distance in very wet clothing in rather chilly weather – leaving the remnants of his boat behind. Needless to say, the hunting trip wasn't enjoyable or productive.
And really, that sums things up on inflatable raft quality. The world consists of many inexpensive inflatable rafts. However, these rafts can be divided into two categories – those that are good (and thus float and will last many, many years) and those that are bad (and will be lucky to last a season).
Where can you find these cheap inflatable rafts? Simple, go to K-Mart or Walmart or some such place. You'll find plenty of rafts around $150 or so. And you know what, these cheap rafts work ok for the kids to play in on a pond or something.
However, never, ever take these rafts into remote areas or on longer river floats (and this includes long day trips, too). These cheap inflatable rafts are cheap for a reason – they are poor quality. And they will almost certainly fail you at a critical time.
I've traveled hundreds of miles in my Sea Eagle 8 recreational raft in diverse weather and through all kinds of water. And yet it hasn't developed a hole or a leak. Moreover, my raft cost only about $100 more than the junk at Wal-Mart.
So, if you are serious about floating rivers in a raft, do yourself a favor and get a good one. In the end, you'll be happy you did.
Ideal Uses for Recreational Inflatable Rafts
So what recreational uses are these rafts well suited for? The list is almost endless, and is only limited by imagination. Some prime uses for this class of raft include:
Day floats down rivers with Class III whitewater or less
Float Fishing on Rivers
Fishing on Lakes with the use of a trolling motor
Longer, multi-night float trips
Using a trolling or gas motor, long travels across lakes and backcountry camping
Carrying loads of gear- again using a gas or trolling motor
You Don't Want an Recreational Inflatable Raft If…
In some ways, it is easier to list the limitations of these rafts than it is their potential uses. So, this section lists out "activities" you do NOT want to do with a recreational level inflatable raft.
Thus, you do not want a recreational inflatable raft if….
You plan to paddle long distances on flat water
Inflatable rafts are neither sleek nor slender. In fact, they are rather fat. This is great for stability—you really have to work at it to capsize a Sea Eagle 9 inflatable raft, for instance. A solo paddler can, in fact, sit on the edge of the boat with their feet dangling into the water and not even come close to capsizing the raft.
But this stability comes with a price—these rafts aren't simply meant for long distance paddling. The front of the raft acts like a snowplow—pushing water ahead of it instead of cutting through water like an inflatable kayak or inflatable canoe can. The result is that, on flat-water paddles, progress is slow and paddling is rather tiring.
This doesn't mean you can't row these rafts. Far from it. I've rowed my Sea Eagle 8 inflatable raft plenty. But it's over shorter distances—such as going from one bank of the river to the next. Or paddling down a bit of flat water in a river that otherwise has a solid current. However, the one time I used my raft to make a lengthy paddle across a lake wasn't the greatest of paddles I've had in my life—let me put it that way. Progress was slow and the rowing was tiring.
You want to run stronger Class III or any Class IV+ rapid
Few recreational inflatable rafts have drain valves. Drain valves allow water that enters the boat to drain out. Of all the recreational inflatable boats I've seen, only the newly redesigned Sea Eagle 9 has drain valves that allows water that enters the boat to drain out. As such, when water enters most recreational rafts it needs to be bailed out, sponged out (using a specialty boat sponge) or simply tipped over and emptied when onshore.
For most floats on rivers with Class II rapids or less, the lack of self-bailing isn't a problem at all. However, when running powerful Class III rapids, it is almost inevitable that water will enter the boat. If you plan to only periodically run Class III rapids, bailing out water from the raft isn't a huge deal. However, if you foresee lots of Class III rapids in your future, you might want to reconsider which type of inflatable boat meets your needs or only consider buying the Sea Eagle 9 raft.
Finally, recreational inflatable rafts aren't meant for the pounding that Class IV rapids inflicts on a boat. Their fabric isn't as strong as is found on whitewater inflatable rafts, and their limited maneuverability makes it difficult to navigate fast-moving water. For this reason, if you want to float through Class IV rapids, these smaller, recreational level inflatable rafts aren't the boat of choice.
You want to use the boat in sub-freezing temperatures
Most quality recreational inflatable rafts are constructed from a thick, flexible PVC material. It is very difficult to put a hole in this material—I've never put a hole or tear in my Sea Eagle raft despite owning it for 15+ years.
However, this fabric becomes less flexible below freezing. And the colder the temperature, the more brittle the fabric becomes. Thus, you don't want to use most recreational inflatable rafts in sub-freezing temperatures.
The one notable exception to this temperature limitation is the NRS PackRaft, which is constructed from a thicker and different material, but which also has a higher price than other recreational rafts.
My Sea Eagle 8 on a rafting trip down the Middle Fork Flathead River outside Glacier National Park. Went through Class III whitewater just fine. My raft was replaced by the redesigned Sea Eagle 9 raft, which has many killer features I wish my raft had.
Good Recreational Inflatable Rafts
There isn't a large selection of quality recreational level inflatable rafts available today, perhaps because these types of inflatable boats just aren't as popular as inflatable kayaks are. My guess is that the lack of flat-water paddling ability removes these boats from consideration by many paddlers.
And for people who are serious into rafting or need enhanced durability/options in their boat, most rafters gravitate towards the larger, whitewater/expedition level series of inflatable rafts.
As such, the recreational class of inflatable rafts has become a bit of an "orphan category." There's only a couple of good rafts I'd recommend in the $600 or less price range, and plenty I'd highly advise staying away from (run away from anything priced much less than $200 or so).
Due to this somewhat constrained selection of rafts available, shopping for them is easier. So here's some rafts I recommend.
Sea Eagle 9 Inflatable Raft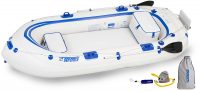 The Sea Eagle 9 Inflatable Raft is an excellent quality recreational level inflatable raft with many options available. See more info about the SE9 at Sea Eagle.Com
I own the smaller version of the Sea Eagle 9—the now discontinued Sea Eagle 8. I've owned it for 15+ years (and was the first Sea Eagle boat I owned) and it's never developed any holes or tears. It's been banged into rocks, tree limbs and dragged across all sorts of things that would have torn lesser quality inflatable rafts.
The Sea Eagle 9 is one of the more versatile recreational inflatable rafts available, which is one reason I recommend it more than any other recreational raft. The raft has a huge weight capacity—over 1200 pounds. Optional floorboards are available, allowing the raft to convert to a solid fishing platform, especially when paired up with the optional motormount and trolling/gas motor. Another unique option available for these boats is the canopy.
This raft was also recently redesigned with a number of new features I wish my older raft had. In particular, the newer features include:
A removable high pressure floor with a tough nylon fabric. Allows for standing in the raft while preventing hooks from poking a hole in the floor.
Floor drains – Allows water that enters the boat when running whitewater to drain out.
Newly designed seats
Finally, the SE9 is very portable. Weighing just 35 lbs without the removable floor, it folds up neatly into it's own bag and can be stuffed into any trunk. Total inflation time, using the manual pump, is about fifteen minutes once you get the hang of it.
Total base price of the SE9 is around $450-$500.
Also, the Sea Eagle 9 works just fine for multi-night float trips, or as the video below shows—multi-month float trips.
How to Prevent Putting a Hole in Your Sea Eagle Inflatable Raft
I've yet to puncture my Sea Eagle 8 inflatable raft. One reason is due to raft's fantastic construction. However, another reason is that I'm careful. This doesn't mean I "baby" the boat while I'm river floating. Hardly. I've bounced into rocks at 6+mph with this boat, hit and dragged the raft over submerged rocks more often than I care to remember and have hit dozens of tree limbs.
You see, normal river use is unlikely to lead to holes in the boat because these rafts are soft. Once you inflate them, you can easily push your finger into the fabric a good half-inch. This softness allows these rafts to essentially "bounce" off obstacles it hits.
What puts holes in these types of rafts isn't use on the water. Instead, what punctures these rafts is dragging them along the ground. In particular, a fine way to puncture these rafts is to drag them up a rocky or twig-strewn riverbank or lakeside. These rafts are designed to bounce—not be dragged.
Thus, to prevent puncturing your new Sea Eagle raft, the procedure is simple. Carry your boat to the river once it's inflated. And when you're done with your float trip, carry the boat to where you'll deflate it. And never, ever, just "drag" the boat behind you across the ground—as doing so is the #1 method of puncturing the boat.
Sea Eagle 9 Instruction Video
Intex Mariner 4
The Intex Mariner 4 is a solid inflatable raft, albeit rather heavy. It is the least expensive good quality inflatable raft available, though. More info about the Mariner 4 at Amazon.
The Intex Mariner 4 is one of the few "things that float" from Intex that I recommend. Unlike most other Intex boats, the Mariner 4 is a fairly tough boat. While made from a different material than the Sea Eagle or NRS PackRaft, the material is thick and doesn't puncture easy provided you don't drag the boat across the ground.
If there's one huge drawback with this raft it is the weight. The Intex 4 weighs a whopping 80 lbs, despite having less weight capacity (880lbs) than the Sea Eagle 9 (1200lbs).
The reason for the reduction in weight capacity is that the Intex 4 lacks the huge air bladders of the Sea Eagle (a lot of air goes into inflating the Sea Eagle 9). Less air = less weight capacity.
Due to the smaller pontoon size of the Intex 4, it is not advised to run this raft through any Class III rapid. Too much water will fill the raft and the rafts heavy weight somewhat constrains maneuverability. But the raft is fine for Class I and Class II rapids.
The base Intex 4 Mariner is priced somewhat less than the Sea Eagle 9. And like the Sea Eagle 9, motors can be used with the boat. One nice benefit the raft has is an inflatable keel—which can make lake paddling a wee-bit easier (although don't mistake an inflatable raft's keel for an inflatable kayak's keel—there's a huge difference in performance).
While the keel does make flat water paddling a bit easier, make no mistake—this is not a boat you want to paddle long distances. Similar to the Sea Eagle 9, this is a raft best used on rivers or used with a motor. Paddling should be limited to maneuvering and short flat water paddling stretches.
Overall, if you have a severely constrained budget, the Intex 4 is a decent inflatable raft. Provided you take care of it (clean it, store it dry and don't drag it along the rocks), the raft should provide many years of service. Typical price range of the base model raft is around $250 or so.
Note – Stay away from other Intex rafts priced less than the Mariner 4. These cheap inflatable rafts simply do not hold up and constantly develop leaks. The Mariner 4 is constructed from a thicker, and much heavier, fabric (one reason the boat weighs so much). I've seen several inexpensive Intex inflatable rafts fail, one of which was on the seams—which makes repairs almost impossible. While the "floating recliners" and such from Intex work fine for the local pond and backyard pool, you don't want to take many Intex products on a float where it's a long walk back to your car if the boat fails.
How to build an inflatable float raft river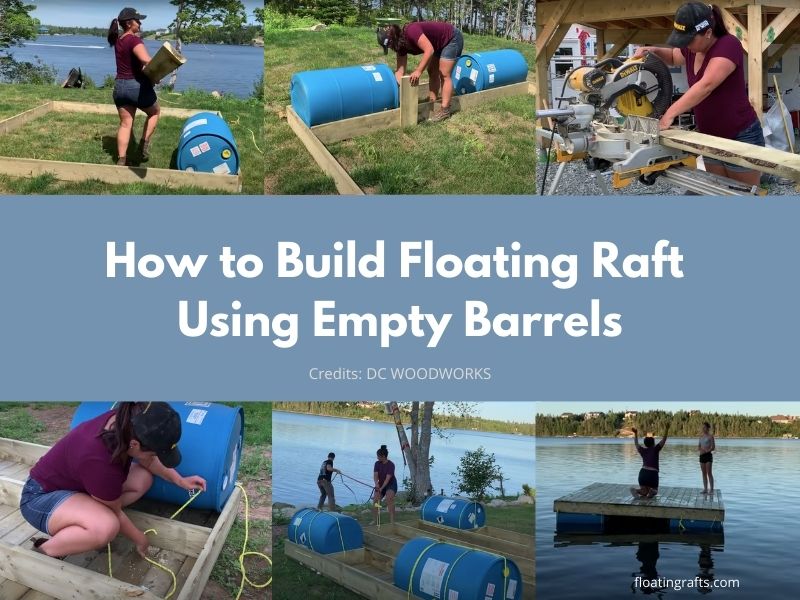 Building a Floating Raft with Empty Barrels : Here's How!
SachinFr
September 30, 2020
How to Guides
Rafting is a lot of fun, and whether you are with family, friends, or alone, it can make your time worthwhile. There are a variety of rafts, ranging in their capacity, from casual rafting to more adventurous classes of white water rafting. You can get anything from the stores it seems. But, have you ever wanted to let your inner adventurer out, and do it a little differently.
Building a raft can be an adventure in a way. All you need is a couple of tools, the material for making a stable and safe raft, and the sense of adventure inside of you. With all this, you'll have your handmade raft in no time.
In this article, we'll discuss how you can turn empty barrels into a float you can take out on the waters. Follow the instructions carefully, and you'll be floating on water like an expert in no time. So, let's end the preamble here and get into the method.
Step-by-step Guide to Building the Floating Raft (Using Barrels)
1. Gather everything you'll need!
First and foremost, you'll need to gather everything that you'll need for building your barrel float. You'll be needing the following tools and materials.
Tools Needed
You'll need an essential power tool for your project, a drill. You can use a battery-operated unit for ease of handling. If you're working with a corded model, you can use an extension cord. If you're making the float near the water body (for ease of portability), a battery-operated cordless drill makes more sense.
To accompany your drill, you'll be needing a variety of drill bits for more precision.
Along with this, you'll also need Square, a hammer, A Skilsaw, and a measuring tape.
To seal the barrels to stop the water from entering, you'll need Teflon or plumber's tape. You can also use silicone to close the barrels.
Materials Needed
For this project, you'll need six pieces of 2/8/10 feet pieces and one 2/8/12 feet piece. Later on, you'll cut the pieces for ribbing purposes, to support the deck of your raft.
For the flooring of the raft, you'll need around sixteen 1/6 inches, pressure-treated pieces of lumber.
For this particular project, you'll need four barrels that are 23 inches in diameter and 35 inches long. Depending on the place you're getting your barrels from, the size of the barrels can differ. You'll need to make slight changes in the overall structure accordingly.
With all this in your sight, you can begin working on your floating raft.
2. Constructing the Frame
Firstly, you'll be building the frame of the raft, which is going to be 8/8 inches long. For this, you'll need end pieces that have the size of full 8 feet, or 96 inches. Ribs for the frame, on the other hand, will need to be 93 inches long. This difference is there to accommodate the width of the end board. Don't follow? Let's elaborate.
The end boards are one and a half inches in size, which means that the 2/8 lumber isn't a full 2 inches wide. One and a half inches twice make three inches in total, and that's why the ribs need to be 93 inches to accommodate the end boards.
Working the Barrels
As we mentioned earlier, we'll be going with barrels that are 3 inches in diameter and 35 inches in length. You'll need four of these barrels for this structure. To make sure that the barrels fit perfectly into their place inside the frame, you'll need openings at the side of these barrels. These will be of 21 and a half inches/35 inches in length. Doing this will ensure that your barrels stay in their place to keep the structure stable.
Cross- braces
For cross bracing, we'll need the extra two feet from the eight-foot lengths. As we've mentioned earlier, we're using six 2/8/100 foot and one 2/8/12-foot pieces for the project.
To make them stick, you'll need about one and a half pounds of dex screws (about three and a half inches long).
3. Fastening the Barrels onto the frame
After you've finished the framework of your raft, you need to insert the barrels you have into position.
The opening you've made earlier will accept the barrels easily. Once the barrels are in place, the water will push up on the raft more firmly. To keep the barrels in place, you will need something to tie them to the frame. You can use the Nylon rope, which is very strong (it's the same one that Fishermen use). Here's how to tie it properly.
First, run the rope through the 2/8 piece, and make a knot on the inside. Wrap it around the barrel, and from there to the other side. Run the rope through the 2/8, and finish off with a knot.
In case the barrel is wobbly, they'll be pushing down on the rope, making the knots even firmer. You don't need to worry about imbalance once everything is in its proper place.
You'll need around 50 feet of 3/8 rope for fastening the barrels in place, and each of the barrels will need to be fit in place using two lengths of rope. You'll need an additional rope for making a piece for the end, and if there's any rope left from fastening the barrels, you can use that. Otherwise, you can use another cut. It is in place to tie the anchor. To set it, you can follow the same procedure as before.
4. Setting the Deck Flooring
After putting the barrels in place, the next thing to do is to set the flooring of your raft. For this, the ideal choice is 1/6 pressure treated lumber in eight-foot lengths. You can go with smoothed lumber, as not only is it aesthetically more appealing, it is also safer. It is ideal, especially if you have kids who'd like to come on board. Smoothed lumber ensures that no splinter harms their legs.
While you're working on flooring, you can keep the following points in mind.
Spanning the flooring across the ribs of the deck ensures increased overall strength of the structure.
When you fix the deck lumber to the deck, the ideal option is two and a half inches of galvanized dex screws. You'll need approximately two pounds of these to finish it all off.
Now, when you install these floorboards, they're going to push down on the barrels. Thanks to the ropes already placed to hold them, the pressure from the boards is only going to tighten the boards, keeping them in their place. If any part of the raft seems uneven to you, you can push down to get the barrels to go back down and flatten the raft.
With this, the deck of your floating raft is complete. You can leave the raft as is, or you can play around with various additions such as a ladder and slide for your kids, as an addition to the raft.
Here's what you'll need to do to add a ladder and a slide for your kids on the raft.
Adding a Ladder and a slide onto the Slide
To do this, you'll be needing the following things.
You'll need about three pressure treated 4/4/8 feet pieces.
You'll need a slide, which you can buy first hand (they can be a bit expensive, depending on their made) or, you can look for a used one on eBay or other online platforms, or at your nearest flea market.
Here's what you'll need to do.
Among the three pieces of pressure treated 4/4/8 feet lumber, you can leave two of them at full eight feet long.
Take the remaining 4/4 piece of wood, and cut it in half. It is going to be useful for the other corner.
With the 4/4/8 pieces, you'll need to place them upright. You'll be making the outside of your ladder, which kids will use to climb up the Slide.
With the other halves of wood, you'll be making the front two stilts for the structure. On these two stilts will sit the platform on which the kids will stand before they go ahead and slide.
Finally, you'll attach the Slide in front of the platform. Make sure that it does not exceed the edge of the raft. The Slide will end approximately two feet above the water level.
And with that, your barrel raft, along with the ladder and Slide for your kids, is complete. Enjoy!
Conclusion
Floating on a raft can be a peaceful and relaxing activity, and it can be a storm of fun. It all depends on what you want with your day. Your floating raft, made with wood and a couple of empty barrels, can be for a fishing trip, or a sunbathing experience, for a family picnic, or the kid's day out. Whatever you end up doing, you're sure to have a lot of fun on this float.
We wish you good luck with the project, and afterward, lots of fun-filled holidays from your routine!
How to Build a River Raft Frame
Why spend the big money on a raft frame? You can save a lot of money and build a comparable frame with as many options as you desire! Our cost was $340 and a comparable frame is over $500. The weight wasn't much more.
Step 1: Material Required
The following items are needed for a complete raft frame: galvanized steel pipe, QuickFit clamps, oar mounts, oar locks, and oar lock springs.
We are using QuickFit clamps from www.frontierplay.com and galvanized steel from Home Depot wich is used to build chain link fences. The oar mounts, locks, and springs can be purchased from www.frontierplay.com or www.nrsweb.com.
The completed weight is only a few pounds more than a comparable aluminum frame on the market.
Time spent to build the frame depends on how you choose to cut the galvanized pipe. Other than cutting, this frame assembles pretty quickly. Our kids thought it was a lot of fun assembling the frame.
Step 2: Additional Items for Assembling Frame
Items needed: tape measure, marker, allen wrench. One of the following items for cutting galvanized pipe: hax saw, pipe wrench, or power saw.
Step 3: Selecting Your Pipe
We purchased galvanized pipe from both Home Depot and Lowe's. We wanted the 1.660 chain link line post and not the top rail tube.
The top picture shows the pipe from Lowe's and the bottom pipe is from Home Depot. The price in our market was the same at both stores; however Lowe's pipe was a lighter gauge and seemed to compress more then we liked when the QuickFit clamp was tightened on the pipe.
Home Depot's 16 gauge in our market is what we are recommending because the pipe doesn't compress down when the hex nut on the QuickFit clamp is tightened down.
Step 4: Selecting You Fittings
We went with FrontierPlay's QuickFit clamps because they were easy to order and have been tested on raft frames.
Orignally we built our frame with 90 degree elbows for all 4 corners but ended up going away from the elbows because they cost more and are bulky.
The best item is the QuickFit T clamp ($9.95) because it's smaller, better priced and accomplishes what we wanted: a low profile frame which wasn't heavy, yet was durable with easy to add options.
Step 5: How Many Pipes and Fittings Do You Need?
Believe it or not this is the hardest step.
You now have to decide what size of frame you want to build. Are you building a frame for a day trip, overnighter or extended river trip? Do you want a place for a cooler, dry box, drop bag, etc? Will the rower sit on the cooler or seat?
The nice part about these frames is they are interchangeable with Northwest River Supplies (www.nrsweb.com) aluminum frames and NRS's patented LoPro fittings (shown in picture). This option allows you to add fishing accessories, foot bars, and seat bars.
We recommend cutting your cross bars the same length as NRS's frame options so if you want to add a foot or seat bar it's easy to interchange.
If you really want to simplify the process FrontierPlay (www.frontierplay.com) offers a "Build Your Own" package option where you can select all the features you can imagine. It's really cool and worth checking out.
Step 6: Assembling Your Frame
You now have your fittings and pipe and you are ready to get started.
You will have two rails ($8.75 each) which rest on the lateral tubes of your raft. We went with the 8′ posts because the rails are the longest part of the frame. The cross bars can be shorter and cost us $6.98 each, you will need as many as your uses require.
There are two key frame measurements: center-to-center and flat length. Calculate the center-to-center measurement by taking the width (outer dimension) of your raft and subtracting the diameter of one tube.
We are showing two pictures. One picture places the frame directly on top of the tube using the above directions. We prefer to extend the frame a little pass the center which creates an easier walking platform and more frame surface area for securing your items.
For flat length, measure longwise along the relatively flat surface of a tube or pontoon; this measurement will indicate how long your frame can be.
We mentioned earlier that we recommend building the frame so it will inter-link with NRS accessories. NRS's frames comes in the lengths of 54″, 60″, 66″, and 72″. When cutting your cross bars subtract 1 3/4″ from the NRS frame width. Example: for a 60″ frame cut your cross bars at 58 1/4″.
These pictures show a NRS foot bar being used with this frame.
Step 7: Putting the Frame Together
You have now made all your pipe cuts and you are ready to start connecting your rails, fittings, and cross bars.
Slide how many fittings you plan on using onto each rail. Lay the rail on a flat surface and estimate where you'll want your fittings and then tighten the hex screw.
When one rail is complete do the exact same thing with the other rail. It helps to line up the second rail next to the completed rail. Tighten the hex screw in each fitting.
Make sure the fittngs are tightened on a flat surface to ensure the cross bars will line up with each other.
Now separate the two rails and insert the cross bars into the QuickFit clamps. Once all the cross bars are in place go back and tighten the hex screw.
You now have a raft frame. You can measure your cooler and or dry box to determine where the cross bars need to be located. I usually at this point crab the cooler or dry box and adjust the bars based on the actual fit of the cross bar. Make sure you leave just enough room to get a strap between the cooler/dry box and the cross bar.
Step 8: Accessorize Your Frame
You now need to add the oar mount (69.95 pair). Placement for the oar mount is a personal preference.
It is our recommendation to purchase a NRS foot bar (69.95) because it's solid and won't rotate like a foot bar made out of QuickFit clamps can.
We have attached a picture of a foot bar made out of QuickFit clamps. We like this option if the bar is resting directly against a solid item such as a cooler or dry box. The bar won't rotate and works great for securing a cooler or dry box.
Step 9: Oar Mount Options
You're almost done!
Now you need to decide what type of oar mount sytem you want to go with. You can go with an oar lock or a pin and clip system.
Pros vs. Cons of Open Oarlocks:
Pros: Oars slide easily up and back down the oarlock when pulling oar in to avoid obstacles. Easy to re-position mid-rapid if "popped out" of oarlock. Ability to feather blade (when not using oar rights).
Cons: More expensive. Oar can be completely released from oarlock if enough force is applied. Has more "play" which can be noisy.
Pros vs. Cons of Pin and Clips:
Pros: Holds oar and blade very securely. Less expensive. Hard to lose oar if oar stirrup is used. Quiet System.
Cons: Oars can be difficult to pull in when approaching obstacles. Hose clamps can damage oar shaft. Feathering blade is not possible.
Step 10: Final Key Accessories to Add
With our frame we used four 6′ 1″ web straps for our cooler and dry box support with 8 strap sliders which was about $10.
If you want to really accessorize your frame, add the NRS cooler mount and NRS dry box mount ($65).
If you want to add comfort add the NRS seat bar ($95) and seat. There are two types of seats you can add. One is small and durable and easier to stack mutiple frames on top of each other for traveling ($66). The other seat is very comfortable and can get in the way a little more when transporting a lot of items on a vehicle. If you want the comfort, the bigger seat is worth the money $90).
Step 11: Congratulations!
Wow, you built your own frame and it's really easy to add or adjust as you wish.
Now get out of town and away from work and enjoy your new frame on your favorite river.
Have fun and enjoy!
Step 12: Improve Your Frame
If you want your frame really solid so it can't be taken apart go to Lowe's and buy Plumbing Contact Adhesive Sealant which is a clear substance (looks like shoe goe). Place this material around the outside edge of the T-clamp. Looks really good and holds extremely well.
We only found the need to use this material on our cross bar being used to hold a fishing thigh bar. The bar would rotate from the leverage placed on the thigh bar.
Be the First to Share
Did you make this project? Share it with us!
Recommendations
Lamps Challenge
Reuse Challenge
Metal Contest
25 Comments
I built a fishing frame with these instructions and first would like to thank the poster. I did notice a few things have changed in the years since this has been put up. First, the pipe from HD is from Vietnam now and doesn't seem as good as Lowes, USA made at the moment. Also my Lowes has has more selection in terms of length. Even bigger is that Lowes sells these 1.25″ fittings now. $6.95 per T fitting at the moment and they look better. I tried the glue option for my fishing frame and let it set up and it didn't hold on the seat bars so I ended up breaking out the welder and laid heavy tacks on either side of the fittings once everything was assembled and sliding smoothly.
Reply 1 year ago
Did you make your thigh bars? they look really good!
Reply 2 years ago
Did you use the NRS seat mount for your seats? I see on their website it says it fits a 1.58″ diameter frame and the one in this project is 1.25″. Just wondered if you were able to make it work with the smaller diameter pipe.
Question 3 years ago on Step 12
Hey! Why do you recommend cutting the pipe 1 3/4″ less than the equivalent NRS length. Is this because the Frontierplay fittings ad length? Thank you! I am building a 72″L x 60″W frame.
[NOT MAD CAPS] LIKE THE WHOLE IDEA. IVE ALWYS BEEN A CANOE MAN. DON'T LIKE THE IDEA OF ROWING WITH MY NECK & HEAD CRANED BEHIND ME , TO SEE WHERE IM GOING. I HAVE ALREADY ASKED THE QUESTION MANY TIMES BEFORE. " CAN YOU REVERSE ROW & SEE YOUR COURSE LOOKING FOWARD ALL THE TIME LIKE YOU DO WITH PADDLES?? THANK'S [VLAD]
Reply 3 years ago
I'm a white water rafter . We forward row everything unless it's small volume and super technical. Big volume is awesome on a forward row . Ferry angle is key to everything rafting . I think another name for forward rowing is portague or something like that .
Reply 4 years ago
You just don't want to row!
There are several satisfactory ways to accomplish this.
First, is teach somebody else to row.That will get you off the hook until they get tired of it. Best way I've found s to set them atop the gear pile behind me and demonstrate what the oar strokes do. Pull on the left/right. push on the left/right, push/pull on both oars. Then acquaint them with what the current does to the boat and how to ferry across currents, spin the boat, take a wave, or get you over to a good fishing spot(!)
Second, is learn to like it. I'm in my 8th decade, been playing in the water all my life, and other than occasionally showing off, I haven't really learned this. Adopting a "Servant's Heart" will make you into everybody's hero and mentor.
Third, is to row with those 3-bladed oars, put out by Evinrude, Mercury, Suzuki and Honda. They are easy, if noisy. Sailers call them "The Iron Wind."
As for navigation, everything I know about rivers I learned before I was 10 years old, playing in a creek about 3 feet wide. Toss in a stick and see where the current takes it. The rest is intuitive and you'll figure it out.
Oh yes! Despite what you've been told, there exists one foolish question; "Do I have to wear a life jacket?" The answer is "Yes!" Even when wading past your ankles, you'd better consider it. Up to your knees, I'll be all over you like stink. We know of too many ways that moving water kills. And even an Olympian will tell you they can't swim in the stuff where WE go! Every drowning is unexpected. But every drowning is so simple, looking back. Learn everything you can about RIVER rescue, so your trip doesn't necessitate a "recovery." That really ruins your day . believe it.
Source https://www.bigskyfishing.com/inflatable-boats/inflatable-rafts-recreational/
Source https://www.floatingrafts.com/build-floating-raft-with-empty-barrels/
Source https://www.instructables.com/How-to-build-a-river-raft-frame/