How to Float the Boise River
Picture this: You're kicked back in a raft, feet up with a can in your hand. The sun is hot; the river is cool and calm. You close your eyes and tune into the river's rushing sounds – smooth, steady, soothing. You blink your eyes open to the clear blue sky as you hear the river getting louder ahead.
Readjusting, you grab your paddle and get ready, like an Old West cowboy saddling up, ready to ride. Raft in position, can secured, you slide through the drop in the river. A woosh of clean, clear water spills into your lap. Refreshed, you settle back into your only duties for the two-hour raft ride: chill, sip, paddle, repeat.
That's floating the Boise River.
Floating the river is a summer tradition here in Boise. The season usually begins in late June and closes late August. Exact dates depend on water flow and level, and are announced in early summer each year.
The main Boise River float is from Barber Park to Ann Morrison Park. The trip is about 6 miles and takes 2-3 hours. All in all, it's pretty chill. There are three small drops in the river and several curves that require light navigation.
Float Prep
It doesn't take much to have a great float down the Boise River, but there are a few essentials to make your trip the best it can possibly be.
Get a good raft or tube
First things first: You need a good raft or tube and a paddle. You can bring your own, purchase one at a store like Fred Meyer or Albertsons, or rent one at Barber Park.
To rent a raft, visit Boise River Raft & Float in Barber Park. They offer three-hour rentals for tubes and rafts on a first-come, first-served basis. You can rent one-person tubes, four-person rafts, six-person rafts and two-person inflatable kayaks. All raft rentals come with life jackets and paddles.
Once you've secured your rental, hop in the river right there at Barber Park and enjoy the float. When you exit the river at Ann Morrison, bring your gear to the clearly-marked return area near Ann Morrison bridge.
If you bring your own raft, don't forget to bring a pump. You might just need it.
Gather your gear
The general rule of thumb for floating is if you don't want it to get wet, don't bring it. Especially if you are floating in a tube. Make sure to pack out whatever you bring and don't forget to put on sunscreen!
What to bring: raft/tube, ore, pump, patch kit, water bag, water bottle, canned drinks, sunglasses, hat
What to leave: glass bottles, phone (unless waterproofed or you have a waterproof bag), anything you don't want to get wet
Getting to the river
To float the river, you need a vehicle at Ann Morrison (where you exit the river) and a ride to Barber Park (where you start your float). Parking at Ann Morrison is free and available in several locations. Parking at Barber Park has a seasonal fee and is limited. There's not much street parking outside of Barber Park either and parking in surrounding neighborhoods is not permitted. There are two ways to get to Barber Park: a one-car shuttle or a two-car shuttle.
One-car shuttle: Park at Ann Morrison and ride the park's shuttle service to Barber Park. It's $3 per person and departs from Ann Morrison every hour on the hour, Monday-Thursday, 1-8 p.m. and Friday 1-9 p.m. On Saturdays, Sundays and holidays, the shuttle departs approximately every 20 minutes from 12-9 p.m.
Two-car shuttle: Park one car at Ann Morrison and pile into another car, drive to Barber Park and park there. At the end of the float, you will drive back to Barber Park to pick up the second vehicle.
Get pumped up
Do not forget the holy grail of floating gear: a portable pump. There are no pumps available at Barber Park, so you absolutely must bring your own. Once you're pumped up, put your raft in the river, hop on and enjoy.
The Float
It's a leisurely 2-3 hour float down the Boise River. Most of the river is wide and tree-lined, with depth varying from very shallow to several feet deep. You have a high chance of seeing wildlife along the way. Some navigating is required around corners so you don't get caught up in the trees or brush.
On the float, you'll pass by several sandy beaches and places to stop along the shore. You will also pass some Boise landmarks, including Warm Spring Golf Course, Kristin Armstrong Municipal Park, M.K. Nature Center, Boise State University and its football stadium, Julia Davis Park, the Ann Frank Human Rights Memorial, and finally, float right into Ann Morrison Park, just a few blocks from downtown Boise.
The route also passes under six bridges: The Red Bridge, Parkcenter Bridge, Broadway Bridge, Friendship Bridge, Capitol Bridge, Ninth Street Bridge. Exit at the pull-out on the South (left-hand) side of the river, right before Ann Morrison Bridge.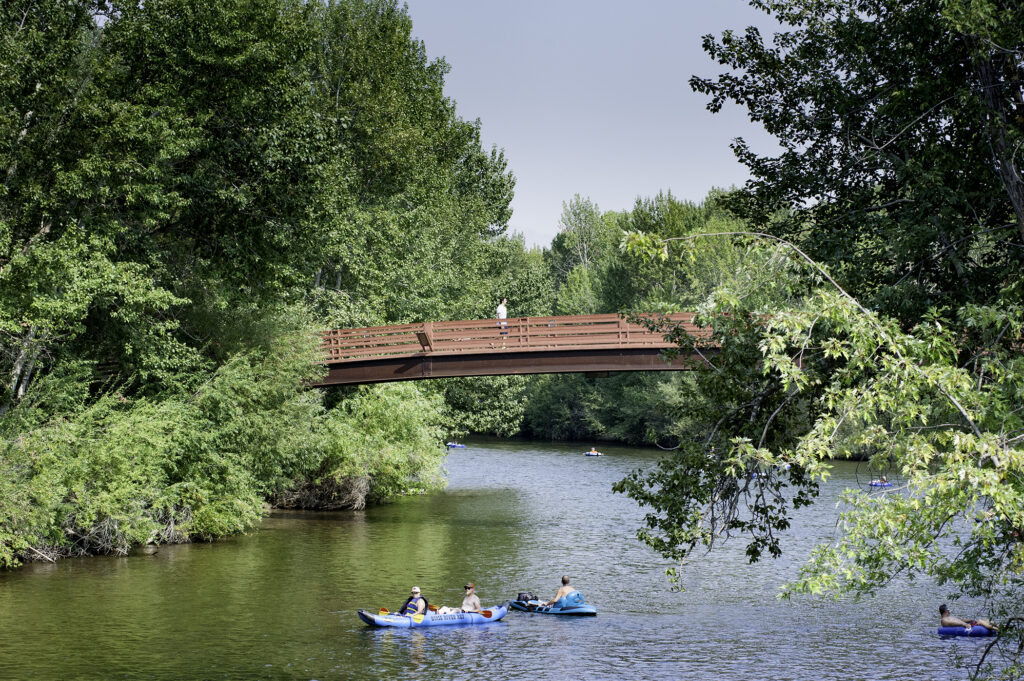 Post Float
Once on dry land, deflate your tube and pack it back to your car. If your tube popped along the way, you can discard it in the "dead raft" bin located at the take-out by the bridge.
Getting off the river at Ann Morrison leaves you steps away from downtown Boise and all it has to offer. If you've floated up an appetite, cross over the bridge to the Northside of the river and grab a bite and a beverage at Green Acres Food Truck Park, Payette Brewing or Push & Pour coffee shop.
How To Have The Best Day Floating The Boise River
Have you heard about floating the Boise River during the hot summer months in Idaho? Located in southwestern Idaho, the Boise River is a great place to float during the summer months. With its mellow current and scenic views, floating Boise River is a popular activity for locals and tourists alike.
One of the best things to do in Boise during the summer is float the Boise River! It's a great way to spend a hot day, and it can be really inexpensive. All you need is a tube or raft, a cooler with some drinks and snacks, and a life jacket. If you don't have your own tube or raft, you can rent one.
Here's a step-by-step guide to ensure that you have the best possible time floating the Boise River.
THIS ARTICLE MAY CONTAIN COMPENSATED LINKS. PLEASE READ OUR DISCLAIMER FOR MORE INFO.
Floating the Boise River FAQs
When can you float the Boise River?
The season for floating the Boise River starts in June sometime and goes through Labor Day in early September. The Ada County Parks & Waterways needs to give an 'all clear' on water flows.
How long does it take to float the Boise river?
It usually takes 2-3 hours to float the Boise River. You put in at Barber Park and take out at Ann Morrison Park in Boise, Idaho.
How deep is the Boise River?
It fluctuates throughout the year between 3 feet to 7 feet, depending on the water flow and the area of the river.
Can you drink on the Boise River?
Yes you can, but it's not recommended. Instead, consider visiting one of the top breweries Boise has once you get off the river.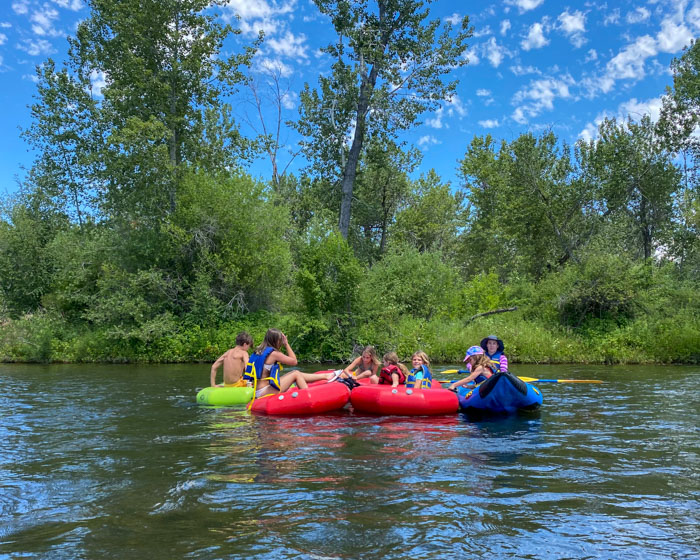 Floating The Boise River Tips
Every year over 125,000 people float the Boise River. It's such a fun experience, but you need to know a few safety tips before you head out.
Safety Tips For Floating The Boise River
According to Idaho State Law, all vessels, including rafts and kayaks, need to be equipped with a personal flotation device for each person in the craft. Children 14 or younger onboard any type of boat must also wear an approved life jacket when it's underway 19′ long or less.
Make sure you know how to swim, and that everyone in your party is prepared to get wet. I wouldn't recommend taking very young children or babies with you.
If you fall into the water while Boise River rafting, stay calm. The tip is to keep your feet pointed downstream and use your arms to bring you back to safety. Use your feet to push you away from rocks and other obstacles, and let your life jacket work for you.
Always float with a buddy, it's much safer to have someone watching out for you. Plus, it's so much more fun that way.
When To Float The Boise River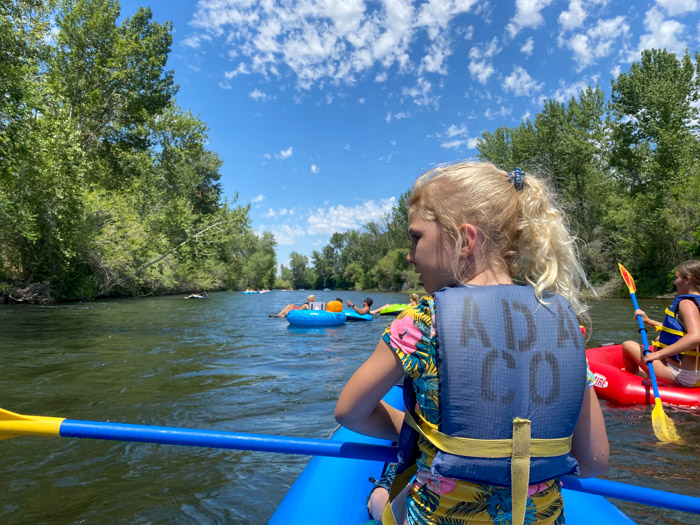 The Boise River tubing season often begins sometime in June and goes through Labor Day. It all depends on ADA county.
Once river flows decrease and stabilize in the spring, an effort is made by the Boise Fire Department to identify and mitigate obvious hazards to tubers and boaters. Then the Ada County Parks & Waterway will open the river to floaters. A great place to stay up to date with the float season is this Facebook Page.
What To Bring With When You Float
If you plan ahead, you can buy your own tube online to float the Boise river for the price of renting a tube just once or twice. That means if you live near Boise and you plan to float a few times this summer, it will be totally worth it to buy a tube just like this ahead of time.
This tube is a popular pick for Boise river floaters. I'd also recommend getting some paddles which you'll appreciate once you get on the river. There are many low hanging branches on the banks of the Boise River, and it's easy to get caught up in them if you don't have any paddles.
In addition to the tube, you'll need a small portable air pump. Barber Park used to offer an air fill station, but that's no longer the case. So many people who frequent the Boise River will have tubes that look like these and small portable inflators like these that they stow in a wet bag and take down the river with them.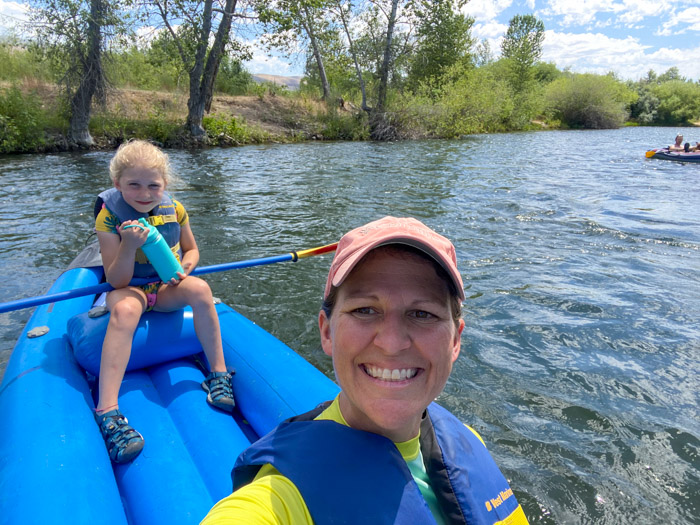 Be sure to wear water shoes to protect your feet and bring a hat, sunscreen, wear your swimsuit, and plan to bring some bottled water and snacks.
Find a great set of water shoes that have good traction to keep you from slipping on rocks.
Many people choose to bring alcoholic beverages on the river, it's just not always recommended. If you do decide to bring a few beers, be sure they're not in glass containers.
A dry bag is a must when you float any river. It will hold your cell phone, car keys, money, and anything else you need to keep with you. This dry bag is a great option.
Pack towels and dry clothes to stash in your car. That way you can change into them once you get out of the river. Or, bring a wicking towel with you and stash it in your dry bag.
List of Things To Bring On Your Float:
Where Do You Go and How Does It Work?
Most people put in at Barber Park and take out at Ann Morrison Park in Boise, Idaho. There's a shuttle that runs between the two parks and offers rides to all floaters during the season. You'll need cash for the shuttle, so be sure to have some on you. In 2022 the fee was $3 per person and they let you bring your raft or tube with you.
You have the choice of parking at Barber Park in Southeast Boise for a $7 parking fee or at Ann Morrison Park for free. The trick is to find parking.
If you plan to float the river over the weekend, then it's best to arrive early in the day to find parking. Many people prefer to park at Ann Morrison Park to then take the shuttle to Barber Park. That way once you get out at Ann Morission you can go to your car for towels and dry clothes.
How To Rent Rafts or Tubes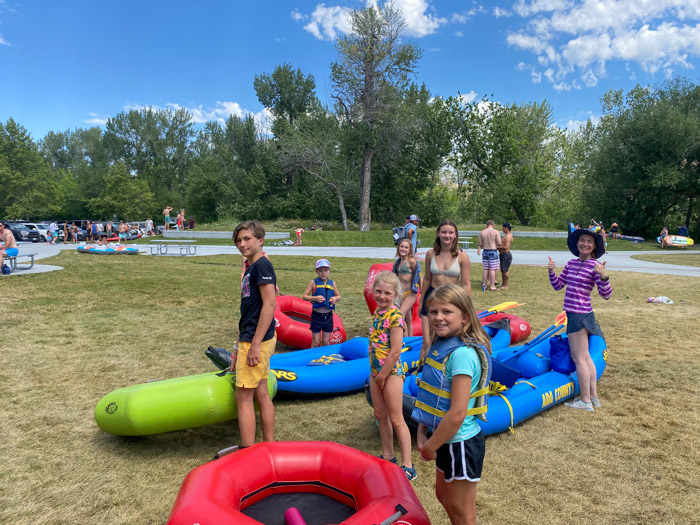 When you arrive at Barber Park, either by parking there or by taking the shuttle from Ann Morrison Park, you will find the rental station. You will need your credit card and a photo ID at the tube rental kiosk in order to rent a tube.
Prices can range from $27 for a single tube up to $85 for a 6-person raft. They also offer 4-person rafts at $75 and 2-person inflatable kayaks for $50. All rafts come with paddles and life jackets.
Other Things To Know About Floating The Boise River
There are public bathrooms at both Barber Park and Ann Morrison Park, so be sure to use them before getting into the water. You'll also find that food trucks often frequent Ann Morrison Park. You may decide to indulge after a few hours on the river.
There are a few rapids on the Boise River. Nothing too intense at all, but enough that you'll need to pay attention and use your paddles or arms to steer you in the right direction to stay on course.
Look for the signs to exit the river on the left before the big bridge at Ann Morrision.
Floating the Boise River is a fun and easy way to spend a hot summer day in Idaho! Just be sure to schedule your trip in advance, pack everything you'll need, choose the right type of float for your group, and relax and enjoy yourself once you're on the river. Before you know it, you'll be wondering why you didn't try floating sooner!
Float the Boise River: The Complete Guide
There's only one thing to do when summer temperatures hit triple digits and you feel yourself wilting faster than a wildflower: slather on the sunscreen, grab a few friends and float the Boise River.
Floating the six-mile stretch of the Boise River from Barber Park to Ann Morrison Park is a uniquely thrilling yet tranquil pastime. Where else can you spot wild mink, deer and bald eagles' nests, or watch teenagers jumping from bridges, or even stop to picnic or fish on a quiet stretch of beach before floating on to the heart of the city?
No one is quite sure when the tradition started, but now each year more than 125,000 people take the two-hour trip downstream. If you've never tried this local rite of passage, don't worry, we've got you covered. Below you'll find everything you need to know to have a safe and enjoyable time at the river.
Preparing (and Waiting) for Float Season on the Boise River
While floating the Boise River may seem like a no-brainer, there's a lot of planning that must happen before the river is safe for users to enjoy. Please don't plan a float before the season officially opens. Water levels could be too high, increasing the risk of drowning, or too low, increasing the likelihood that you'll hit the rocky riverbed and injure yourself.
In addition, each spring the Boise Fire Department sends out a dive team to remove potential hazards – like submerged branches, which can deflate vessels or even snag floaters. Once hazards are removed, and the water level is deemed safe, Ada County Parks and Waterways officially opens the river to floaters. This typically happens around mid-June or early July.
Photo @denise__renee/Instagram
The 2022 Boise River float season is scheduled to open on Monday, June 27th!
Low-Cost Shuttles and Rentals Make Floating the Boise River a Breeze
Barber Park is a quick 20-minute drive from downtown. However, once the season officially begins, shuttle buses regularly run between Barber Park and the take-out location in Ann Morrison Park for $3 per person, which is a much easier commute.
Why do people float this particular stretch of river? Major irrigation diversion dams sit above and below both parks, making it impossible to start your float before Barber Park or continue beyond Ann Morrison Park.
Given how easy it is to float the river, your hardest decision may be deciding what time to go. That answer depends on what you're looking for: serenity or good people watching. The quietest times are mornings and early afternoons. The hotter it gets, the more people you'll find on the river.
Floaters can bring their own inner tubes, kayaks, or boats to Barber Park's put-in spot, or they can be rented or purchased at the park for $15-$60. Life vests and paddles are also available to rent. It's also worth noting that reservations for rentals cannot be made in advance; the tubes and boats are rented on a first-come, first-served basis. For convenience, rented equipment is returned at Ann Morrison Park.
Photo @heartifactor/Instagram
While Barber Park usually has free air stations available to inflate vessels, for the summer 2021 season, park officials have declined to turn on the air stations to discourage community spread of the coronavirus. If you plan on bringing your own tube or raft, be prepared to bring your own inflation equipment. Social distancing protocols also will be implemented in Barber Park's rental area and on the shuttle buses.
Staying Safe on the River Is As Easy as Following a Few Simple Guidelines
Navigating the Boise River during float season can be safe for the whole family if you follow a few simple guidelines.
Do not float the river if you do not know how to swim, or don't feel confident in swift water.
Don't float alone; use the buddy system.
Take a river-appropriate vessel (hint: that novelty swan floaty might not survive the trip)
State law requires you to have life jackets for you and everyone in your party.
Pack a dry bag to keep your cell phone and other essentials safe.
Don't take glass on the river.
Stay hydrated with your favorite non-alcoholic beverage (drinking alcohol on the river is illegal; you can be cited).
Wear appropriate clothing and shoes – the water is usually in the 50s, temperature wise, even on hot days.
If you feel cold, simply pull over and get out of the water.
If you fall into the river, raise your knees toward your chest, point your feet downstream and gently paddle to the closest riverbank.
Please leave the river cleaner than you found it.
Restrooms designed with floaters in mind
The first few miles of your float will feature scenic views of sage-speckled foothills before giving way to the Warm Springs Golf Course. Right after the golf course, a takeout next to a burnt-orange bridge (often filled with cannon-balling teenagers) marks your first opportunity to stop and use the restroom, located a few hundred feet from the riverbank.
Two other permanent restrooms are readily accessible during the float: one in Julia Davis Park and the other in Ann Morrison.
How to Make the Most of Your Boise River Experience
Simply lying back and enjoying the cool, scenic beauty of this six-mile stretch is fulfilling enough for many people. However, if you're adventurous – or if this isn't your first trip downriver – there are many ways to expand your two-hour journey into a full afternoon.
For instance, many visitors rush through Barber Park without pausing to enjoy it. The park is perfect for larger gatherings, like family reunions. It has picnic tables and a covered patio, scenic wildlife trails, a playground, and numerous barbecue stations. Why not take the whole family and linger in the park before beginning your trip downstream?
The popular Boise Greenbelt also hugs the river's banks, making it easy to put in and take out on your own terms – or even meet up with non-floating friends for a riverside picnic or to fish for rainbow trout.
Photo @robstream/Instagram
You'll pass under many bridges during your journey downtown. If you're feeling brave, pull over and try a leap of faith off a bridge (being mindful to jump at least 50 feet from other floaters). Jumping off bridges isn't illegal unless posted – and those signs usually denote where the water is too shallow for a safe jump. When in doubt, look for teenagers. They typically congregate around the best jump spots.
And remember: while this six-mile stretch of the Boise River is undoubtedly popular, the river runs for 102 miles before emptying into the Snake River. Whether fishing, floating, surfing, kayaking, or sitting quietly and contemplating the rushing water is what fulfills you, find a piece of the river and make it yours.
Originally published in Jun 2020, updated Jun 2021.
Lisa Kohl
Lisa is a top Idaho Realtor and creator of WeKnowBoise.com. From Southeast Boise to the North End, up to Eagle and west to Meridian, or right in the middle of the Boise Bench and downtown – We Know Boise. Whether buying or selling a home, we provide full-service real estate solutions dedicated to helping our clients achieve their goals.
Source https://visitboise.com/float-the-boise-river/
Source https://thriveinidaho.com/floating-the-boise-river/
Source https://www.weknowboise.com/blog/float-the-boise-river.html