How to Build a River Raft Frame
Why spend the big money on a raft frame? You can save a lot of money and build a comparable frame with as many options as you desire! Our cost was $340 and a comparable frame is over $500. The weight wasn't much more.
Step 1: Material Required
The following items are needed for a complete raft frame: galvanized steel pipe, QuickFit clamps, oar mounts, oar locks, and oar lock springs.
We are using QuickFit clamps from www.frontierplay.com and galvanized steel from Home Depot wich is used to build chain link fences. The oar mounts, locks, and springs can be purchased from www.frontierplay.com or www.nrsweb.com.
The completed weight is only a few pounds more than a comparable aluminum frame on the market.
Time spent to build the frame depends on how you choose to cut the galvanized pipe. Other than cutting, this frame assembles pretty quickly. Our kids thought it was a lot of fun assembling the frame.
Step 2: Additional Items for Assembling Frame
Items needed: tape measure, marker, allen wrench. One of the following items for cutting galvanized pipe: hax saw, pipe wrench, or power saw.
Step 3: Selecting Your Pipe
We purchased galvanized pipe from both Home Depot and Lowe's. We wanted the 1.660 chain link line post and not the top rail tube.
The top picture shows the pipe from Lowe's and the bottom pipe is from Home Depot. The price in our market was the same at both stores; however Lowe's pipe was a lighter gauge and seemed to compress more then we liked when the QuickFit clamp was tightened on the pipe.
Home Depot's 16 gauge in our market is what we are recommending because the pipe doesn't compress down when the hex nut on the QuickFit clamp is tightened down.
Step 4: Selecting You Fittings
We went with FrontierPlay's QuickFit clamps because they were easy to order and have been tested on raft frames.
Orignally we built our frame with 90 degree elbows for all 4 corners but ended up going away from the elbows because they cost more and are bulky.
The best item is the QuickFit T clamp ($9.95) because it's smaller, better priced and accomplishes what we wanted: a low profile frame which wasn't heavy, yet was durable with easy to add options.
Step 5: How Many Pipes and Fittings Do You Need?
Believe it or not this is the hardest step.
You now have to decide what size of frame you want to build. Are you building a frame for a day trip, overnighter or extended river trip? Do you want a place for a cooler, dry box, drop bag, etc? Will the rower sit on the cooler or seat?
The nice part about these frames is they are interchangeable with Northwest River Supplies (www.nrsweb.com) aluminum frames and NRS's patented LoPro fittings (shown in picture). This option allows you to add fishing accessories, foot bars, and seat bars.
We recommend cutting your cross bars the same length as NRS's frame options so if you want to add a foot or seat bar it's easy to interchange.
If you really want to simplify the process FrontierPlay (www.frontierplay.com) offers a "Build Your Own" package option where you can select all the features you can imagine. It's really cool and worth checking out.
Step 6: Assembling Your Frame
You now have your fittings and pipe and you are ready to get started.
You will have two rails ($8.75 each) which rest on the lateral tubes of your raft. We went with the 8′ posts because the rails are the longest part of the frame. The cross bars can be shorter and cost us $6.98 each, you will need as many as your uses require.
There are two key frame measurements: center-to-center and flat length. Calculate the center-to-center measurement by taking the width (outer dimension) of your raft and subtracting the diameter of one tube.
We are showing two pictures. One picture places the frame directly on top of the tube using the above directions. We prefer to extend the frame a little pass the center which creates an easier walking platform and more frame surface area for securing your items.
For flat length, measure longwise along the relatively flat surface of a tube or pontoon; this measurement will indicate how long your frame can be.
We mentioned earlier that we recommend building the frame so it will inter-link with NRS accessories. NRS's frames comes in the lengths of 54″, 60″, 66″, and 72″. When cutting your cross bars subtract 1 3/4″ from the NRS frame width. Example: for a 60″ frame cut your cross bars at 58 1/4″.
These pictures show a NRS foot bar being used with this frame.
Step 7: Putting the Frame Together
You have now made all your pipe cuts and you are ready to start connecting your rails, fittings, and cross bars.
Slide how many fittings you plan on using onto each rail. Lay the rail on a flat surface and estimate where you'll want your fittings and then tighten the hex screw.
When one rail is complete do the exact same thing with the other rail. It helps to line up the second rail next to the completed rail. Tighten the hex screw in each fitting.
Make sure the fittngs are tightened on a flat surface to ensure the cross bars will line up with each other.
Now separate the two rails and insert the cross bars into the QuickFit clamps. Once all the cross bars are in place go back and tighten the hex screw.
You now have a raft frame. You can measure your cooler and or dry box to determine where the cross bars need to be located. I usually at this point crab the cooler or dry box and adjust the bars based on the actual fit of the cross bar. Make sure you leave just enough room to get a strap between the cooler/dry box and the cross bar.
Step 8: Accessorize Your Frame
You now need to add the oar mount (69.95 pair). Placement for the oar mount is a personal preference.
It is our recommendation to purchase a NRS foot bar (69.95) because it's solid and won't rotate like a foot bar made out of QuickFit clamps can.
We have attached a picture of a foot bar made out of QuickFit clamps. We like this option if the bar is resting directly against a solid item such as a cooler or dry box. The bar won't rotate and works great for securing a cooler or dry box.
Step 9: Oar Mount Options
You're almost done!
Now you need to decide what type of oar mount sytem you want to go with. You can go with an oar lock or a pin and clip system.
Pros vs. Cons of Open Oarlocks:
Pros: Oars slide easily up and back down the oarlock when pulling oar in to avoid obstacles. Easy to re-position mid-rapid if "popped out" of oarlock. Ability to feather blade (when not using oar rights).
Cons: More expensive. Oar can be completely released from oarlock if enough force is applied. Has more "play" which can be noisy.
Pros vs. Cons of Pin and Clips:
Pros: Holds oar and blade very securely. Less expensive. Hard to lose oar if oar stirrup is used. Quiet System.
Cons: Oars can be difficult to pull in when approaching obstacles. Hose clamps can damage oar shaft. Feathering blade is not possible.
Step 10: Final Key Accessories to Add
With our frame we used four 6′ 1″ web straps for our cooler and dry box support with 8 strap sliders which was about $10.
If you want to really accessorize your frame, add the NRS cooler mount and NRS dry box mount ($65).
If you want to add comfort add the NRS seat bar ($95) and seat. There are two types of seats you can add. One is small and durable and easier to stack mutiple frames on top of each other for traveling ($66). The other seat is very comfortable and can get in the way a little more when transporting a lot of items on a vehicle. If you want the comfort, the bigger seat is worth the money $90).
Step 11: Congratulations!
Wow, you built your own frame and it's really easy to add or adjust as you wish.
Now get out of town and away from work and enjoy your new frame on your favorite river.
Have fun and enjoy!
Step 12: Improve Your Frame
If you want your frame really solid so it can't be taken apart go to Lowe's and buy Plumbing Contact Adhesive Sealant which is a clear substance (looks like shoe goe). Place this material around the outside edge of the T-clamp. Looks really good and holds extremely well.
We only found the need to use this material on our cross bar being used to hold a fishing thigh bar. The bar would rotate from the leverage placed on the thigh bar.
Be the First to Share
Did you make this project? Share it with us!
Recommendations
Lamps Challenge
Reuse Challenge
Metal Contest
25 Comments
I built a fishing frame with these instructions and first would like to thank the poster. I did notice a few things have changed in the years since this has been put up. First, the pipe from HD is from Vietnam now and doesn't seem as good as Lowes, USA made at the moment. Also my Lowes has has more selection in terms of length. Even bigger is that Lowes sells these 1.25″ fittings now. $6.95 per T fitting at the moment and they look better. I tried the glue option for my fishing frame and let it set up and it didn't hold on the seat bars so I ended up breaking out the welder and laid heavy tacks on either side of the fittings once everything was assembled and sliding smoothly.
Reply 1 year ago
Did you make your thigh bars? they look really good!
Reply 2 years ago
Did you use the NRS seat mount for your seats? I see on their website it says it fits a 1.58″ diameter frame and the one in this project is 1.25″. Just wondered if you were able to make it work with the smaller diameter pipe.
Question 3 years ago on Step 12
Hey! Why do you recommend cutting the pipe 1 3/4″ less than the equivalent NRS length. Is this because the Frontierplay fittings ad length? Thank you! I am building a 72″L x 60″W frame.
[NOT MAD CAPS] LIKE THE WHOLE IDEA. IVE ALWYS BEEN A CANOE MAN. DON'T LIKE THE IDEA OF ROWING WITH MY NECK & HEAD CRANED BEHIND ME , TO SEE WHERE IM GOING. I HAVE ALREADY ASKED THE QUESTION MANY TIMES BEFORE. " CAN YOU REVERSE ROW & SEE YOUR COURSE LOOKING FOWARD ALL THE TIME LIKE YOU DO WITH PADDLES?? THANK'S [VLAD]
Reply 3 years ago
I'm a white water rafter . We forward row everything unless it's small volume and super technical. Big volume is awesome on a forward row . Ferry angle is key to everything rafting . I think another name for forward rowing is portague or something like that .
Reply 4 years ago
You just don't want to row!
There are several satisfactory ways to accomplish this.
First, is teach somebody else to row.That will get you off the hook until they get tired of it. Best way I've found s to set them atop the gear pile behind me and demonstrate what the oar strokes do. Pull on the left/right. push on the left/right, push/pull on both oars. Then acquaint them with what the current does to the boat and how to ferry across currents, spin the boat, take a wave, or get you over to a good fishing spot(!)
Second, is learn to like it. I'm in my 8th decade, been playing in the water all my life, and other than occasionally showing off, I haven't really learned this. Adopting a "Servant's Heart" will make you into everybody's hero and mentor.
Third, is to row with those 3-bladed oars, put out by Evinrude, Mercury, Suzuki and Honda. They are easy, if noisy. Sailers call them "The Iron Wind."
As for navigation, everything I know about rivers I learned before I was 10 years old, playing in a creek about 3 feet wide. Toss in a stick and see where the current takes it. The rest is intuitive and you'll figure it out.
Oh yes! Despite what you've been told, there exists one foolish question; "Do I have to wear a life jacket?" The answer is "Yes!" Even when wading past your ankles, you'd better consider it. Up to your knees, I'll be all over you like stink. We know of too many ways that moving water kills. And even an Olympian will tell you they can't swim in the stuff where WE go! Every drowning is unexpected. But every drowning is so simple, looking back. Learn everything you can about RIVER rescue, so your trip doesn't necessitate a "recovery." That really ruins your day . believe it.
How do I build a cheap raft?
If it were me I would join some free pallets together with wire or nailed boards. Use 4 or how ever many you want to create the size. Then take the boards off more pallets to nail them to the top of the rafts to give you a platform. It will float if the wood is dry. That is the simplest and cheapest way I know.
Sharon on Sep 11, 2019
Me, I would build it from a bunch of cut down trees using rope to lash it together. I've built and used one of these in the Canadian Wilderness. I used lodgepole pine, since it can be very straight and use can find free-standing seasoned ones. also used for Teepee poles.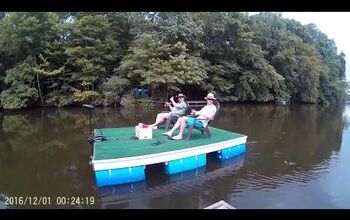 If you aren't limited to using wood for your raft, take fun noodles and zip tie them together to create your raft. The jumbo ones are especially sturdy, but if you don't want to spend as much you could use the thick ones on the outside edges and the thin ones on the inside. If you want something more rigid, you could use the thick noodles under the outside perimeter of a polycarbonate sheet, perhaps with extras going crosswise underneath for added stability.
Deb K on Sep 02, 2020
Hi Praveen, here's one idea for you to ty out, hope it helps,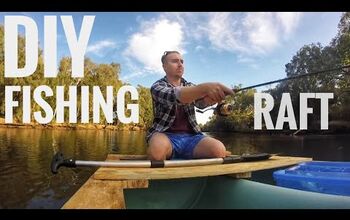 Suggested Project Book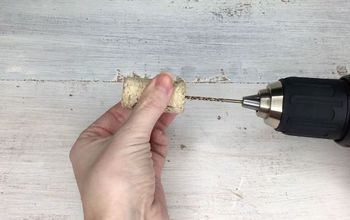 Cuddling Up At Home With A Bottle Of Wine? Then Try These Projects!
Related Discussions
Did anyone out there build a DIY pergola. tips?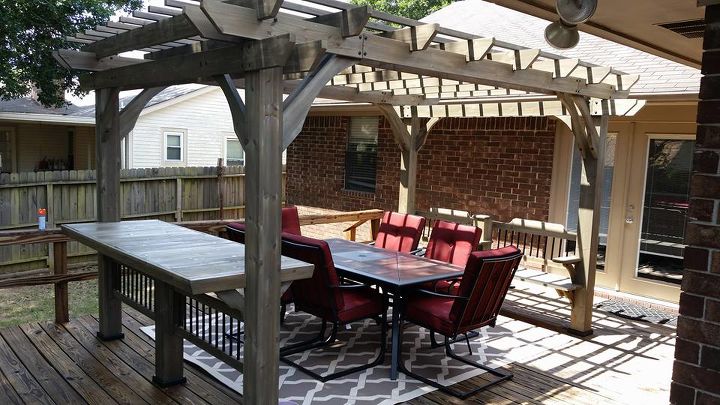 How to clean wood to prevent termites?
Donna on Sep 03, 2017
I have a few wooden planters and enjoy using salvaged wood such as pallets or logs in my décor. I was recently made aware that I am inviting termites into my home. I. See more
How to Build Rafts
This article was co-authored by wikiHow staff writer, Christopher M. Osborne, PhD. Christopher Osborne has been a wikiHow Content Creator since 2015. He is also a historian who holds a PhD from The University of Notre Dame and has taught at universities in and around Pittsburgh, PA. His scholarly publications and presentations focus on his research interests in early American history, but Chris also enjoys the challenges and rewards of writing wikiHow articles on a wide range of subjects.
This article has been viewed 20,949 times.
If you want to test your survivalist skills, you can build a log raft with supplies provided primarily by nature. If you don't mind employing some plastics, though, you can also make a raft out of either PVC pipe or plastic storage bins. So go ahead, grab some lumber and tools, and impress your friends with your DIY raft!
Making a Plastic Storage Bin Raft
You can buy plastic storage bins and plywood sheets at any home improvement store.
Choose a drill bit that has an equal or slightly larger diameter than the 1.25 in (3.2 cm)-long bolts you'll be inserting, so that the pilot holes are large enough to accept the bolts.
Either prop the plywood up on blocks or low sawhorses, or place it on soft ground. That way, you won't drill into the floor of your garage, workshop, or driveway!
Drill a total of 20 pilot holes—2 per bin, 1 per handle.
Remove the bins and stand the plywood upright on its long side. You can lean the plywood up against sawhorses, a fence, etc., or just have a friend hold it upright for you. You just need to be able to access all the pilot holes you made. [3] X Research source
So, on one side of the plywood, each piece of duct tape will cover one bolt head and one washer that's pinned between the bolt head and the plywood. The other end of each bolt will be sticking out of the other side of the plywood.
Galvanized bolts are rust-resistant and will hold up better on the water.
Lay the plywood on the ground and feed the bins onto the bolts. Place the plywood down so that the bolts are sticking up (and the duct tape-covered bolt heads are down). Slide the pilot holes in the handles of each bin over the bolts. [5] X Research source
Finish tightening the bolts with a ratchet that has an extension attached to it, or with a power drill that has an extended ratchet bit attached to it.
For instance, to create an 8 ft × 8 ft (2.4 m × 2.4 m) raft, place 2 smaller rafts together long side to long side. Then use 2, 8 ft (2.4 m) long pieces of 2 in × 4 in (5.1 cm × 10.2 cm) lumber to connect the decks along their short sides.
Drive in at least 1, 2.25 in (5.7 cm) galvanized screw per linear 1 ft (30 cm) of 2 in × 4 in (5.1 cm × 10.2 cm) lumber.
The plastic bins provide ample buoyancy for this raft. However, overloading the raft makes it more likely someone will fall off, so stick to 2-3 people per 8 ft × 4 ft (2.4 m × 1.2 m) section.
Make sure everyone has a life vest on at all times.
This raft is OK for slow-moving water (such as a lazy river), but keep it out of fast-moving or rough water.
Assembling a PVC Pipe Raft
Cut 4 sections of 3 in (7.6 cm) diameter PVC pipe to 12 ft (3.7 m) lengths. If you find 12 ft (3.7 m) sections of 3 in (7.6 cm) diameter PVC pipe at the home improvement store, just buy 4 of them. Otherwise, use a hacksaw to cut 4 longer sections–e.g., 16 ft (4.9 m)–to length.
"Medium grit" generally refers to sandpaper with a grit number between 60 and 100. [10] X Research source
Repeat this process with the other 7 end caps and pipe ends.
You'll find small (separate) cans of PVC primer and PVC cement in the plumbing supplies section of any home improvement store.
Work in a well-ventilated area to dissipate the fumes created by the PVC cement, and wear work gloves to keep it off of your hands.
This step isn't absolutely necessary, since the PVC cement should provide a lasting watertight seal. However, the caulk does provide extra insurance.
Use a caulk that is labeled as water-resistant.
Cut 2, 5 ft (1.5 m) lengths of 2 in × 4 in (5.1 cm × 10.2 cm) lumber. Buy pressure-treated lumber if possible, as it will resist rot better. Use a hand saw or circular saw to cut the lumber to length.
In reality, then, your rectangle will have 4, 1 ft (30 cm)-long "tails" of PVC pipe sticking out beyond its corners.
Make the pilot holes with a drill bit that has a slightly smaller diameter than the 2 in (5.1 cm) brass screws you'll be inserting.
You'll be doing this for all the screws, but work one-at-a-time.
You can buy tubs of silicone gel at your local home improvement store.
Drive the dipped screw into the pilot hole, and repeat. Use a power screwdriver to twist the dipped screw through the pilot hole and into the PVC pipe, until the washer is snug against the top of the wood. Then, repeat the entire process (dipping the screws, etc.) 7 more times to secure the PVC pipes to the wood.
Dip the brass screws into the silicone gel as before.
If you can't find a large enough sheet of plywood—some stores carry a maximum size of 8 ft × 4 ft (2.4 m × 1.2 m)—attach 2 more 5 ft (1.5 m) pieces of lumber to the PVC pipes, spaced out evenly between the 2 at the ends of the raft. Then, cut 4 sheets of plywood to 5 ft × 2.5 ft (1.52 m × 0.76 m) lengths and secure them side-by-side over the 4 supports.
Let the silicone dry for 4 hours before putting the raft in water. If the silicone isn't allowed to dry for at least 4 hours, it will simply wash off when you launch the raft in the water. Without the silicone coating, the screws will rust more quickly and the connection between the raft lumber and PVC pipe won't be as strong.
To add some extra buoyancy, you can glue sheets of rigid foam insulation to the underside of the plywood deck. Pick a glue intended for use with rigid foam. Even with this extra buoyancy, though, keep this raft on calm water.
Community Q&A
As a small thank you, we'd like to offer you a $30 gift card (valid at GoNift.com). Use it to try out great new products and services nationwide without paying full price—wine, food delivery, clothing and more. Enjoy!
Building a Plastic Storage Bin Raft
Assembling a PVC Pipe Raft
You Might Also Like
↑https://youtu.be/KJQZ6i8Q7jo
↑https://youtu.be/KJQZ6i8Q7jo
↑https://youtu.be/KJQZ6i8Q7jo
↑https://youtu.be/KJQZ6i8Q7jo
↑https://youtu.be/KJQZ6i8Q7jo
↑https://youtu.be/KJQZ6i8Q7jo
↑https://youtu.be/KJQZ6i8Q7jo
↑https://youtu.be/KJQZ6i8Q7jo
↑https://www.familyhandyman.com/plumbing/how-to-glue-and-join-pvc-plastic-pipe/view-all/
↑https://www.bobvila.com/articles/2145-quick-tip-choosing-sandpaper/
↑https://www.familyhandyman.com/plumbing/how-to-glue-and-join-pvc-plastic-pipe/view-all/
About This Article
This article was co-authored by wikiHow staff writer, Christopher M. Osborne, PhD. Christopher Osborne has been a wikiHow Content Creator since 2015. He is also a historian who holds a PhD from The University of Notre Dame and has taught at universities in and around Pittsburgh, PA. His scholarly publications and presentations focus on his research interests in early American history, but Chris also enjoys the challenges and rewards of writing wikiHow articles on a wide range of subjects. This article has been viewed 20,949 times.
To build a raft, remove the lids of 10 plastic storage bins and lay them upside down on a sheet of 0.75-inch plywood. Then, drill 20 pilot holes through the bin handles and plywood using a drill bit with a diameter of at least 1.25 inches. Next, remove the bins and stand the plywood upright, so you can slide 1.25-inch galvanized bolts with washers into each hole. Then, temporarily duct tape the bolts down and flip the plywood so the ends of the bolts are sticking into the air. From here, you can finish your raft by feeding the bins onto the bolts and securing them using washers and nuts. To use your raft, place it bin-side down in the water and steer it with long poles or paddles. For more tips, like how to assemble a PVC pipe raft, scroll down!
Source https://www.instructables.com/How-to-build-a-river-raft-frame/
Source https://www.hometalk.com/diy/build/q-a-cheap-raft-43633502#!
Source https://www.wikihow.com/Build-Rafts