How Old Do You Have to Be to Go White Water Rafting?
White water rafting can be a fun and great family activity. However, rafting is not without risks, and people falling out of the raft, especially on big rapids, is not unheard of. So people with kids often wonder how old a child should be before they can go white water rafting with a group tour.
How old do you have to be to go white water rafting? To go white water rafting, you should be no younger than 5 years old and you should start on Class I, easy rapids. However, each rafting guide company will have its own requirements regarding minimum ages for rafters, and it varies with the difficulty and length of various rivers and tours.
Minimum ages for white water rafting vary, but you'd be surprised to find out that there's no hard and fast rule for how old children have to be to go white water rafting. But there are some very important things to keep in mind when rafting with younger paddlers.
Amazon and Affiliate Disclosure: As an Amazon Associate I earn from qualifying purchases. Some of the links below are affiliate links, which means we will earn a commission (at no extra cost to you) on the products or services you purchase using the links.
White Water Rafting Age Limit Guidelines
Keep Their First Trips Short
If you've got kids, you know they have varying attention spans. Come to think of it, and I'm guilty, a lot of adults get bored quickly.
5-10 Years Old – Three hour rafting trips are about the limit for kids from 5-10. 1 to 2 hours, even better for a first trip.
Over 10-14 – They can handle all day river rafting excursions on rapid classes that are appropriate for their skills.
15-19 and up – Should be able to have fun and participate in all day river trips and multi-day overnighters on the river.
Rapid Class Levels – Safety First
Staying safe while river rafting means knowing your own and your kids' skill level and [picking rapid classes that are appropriate for each of you.
Here are some guidelines in choosing what class of rapids to take your kids on based on their age:
Class I – Beginners – Lazy days with a 5 year old. Bring lots of food.
Class II – Beginners – 5-10 year olds should be able to handle some beginning rapids
Class III – Beginners who can focus and pay attention – 10-12 and things are getting more interesting
Class IV – Beginners who'll follow river raft guide instructions – 12-14 can handle some beginning thrills
Class V – Beginners to intermediate rafters who've been on a previous rafting trip – 15 and up and hang on for excitement
Obviously, this is individual specific and these are just starting points. The thing to remember is to talk to the river rafting guide company and be honest with them in assessing each member of your family's skills and experience. They'll then steer you toward the right rafting adventure for you.
Mental Toughness
Only you will be able to determine this about your kids. And most of us parents will delude ourselves into believing we and our kids are more prepared than we are. So take heed…
Will you child panic in a tough situation? Will you?
Can you each participate in rescuing someone who's gone overboard? Or will you get in the way of rescue efforts?
Three's almost no way of knowing how you are they will perform until you are tested. So choose easy trips to start and work your way up. Better the lazy day doldrums of a boring rafting trip than drowned due to panic.
So the best thing to do is to find a rafting trip that's going to be fun. Err on the side of fun over too much thrills.
Choose a Good Rafting Company
This should go whiteout saying, but I'll say it anyway. As in everything, there are levels of good, great and outstanding river rafting guides/companies out there. Choose one that has lots of good reviews and lots of reviewers who have positive things to say about them.
These rafting companies and guides will be conservative when it comes to how old your kids have to be to go rafting. Listen to them, because they know what will work and what will be a dangerous age for the level of river you'll be tackling.
And that leads us to…
Rafting Company Age Limits
For the most part, each rafting guide company will have their own white water rafting age requirements based on their own assessments of river danger levels.
Because each white water rafting trip is unique, there's no hard and fast rule regarding the minimum ages. You can safely assume, however, that there aren't going to be many tours out there that take kids less than five years old on a raft. Kids still need to be able to follow instructions, hold a paddle, and keep their seats on rough water, which precludes most toddlers.
While there are no definitive rules on white water rafting age restrictions, there are some guidelines that are generally adhered to by rafting guide companies. This has to do with the class of rapids the rafters will encounter; classes range from I to VI, with the most difficult class of rapids being rated as VI and only advisable for experts with special gear.
Example: American River California – Tributary White Water Tours says this:
"Our minimum age limit recommendations at normal summer flows are:
4 years old on Class 2 rivers
6-8 years on Class 3 rivers
13 years and strong swimming abilities on Class 4 rivers"
Here's a breakdown of rapid classes and average minimum ages for them.
It includes rapid class descriptions, and a general idea of what ages can handle these rapids.
| | | |
| --- | --- | --- |
| Class | Description | Minimum Recommended Age |
| I | Easy water, light to no rapids, few obstructions | 5 years old |
| II | Faster water, some obstructions, but mostly clear lanes and smaller rapids | 10 years old |
| III | High and irregular waves, regular obstructions, sudden banks, | 12 years old |
| IV | Fast-moving water, high waves, obstructions requiring significant maneuvering | 14 years old |
| V | Extremely difficult, violent, and long-lasting sections of rapids, constant obstructions, steep drops | 16 years old |
| VI | Extraordinarily difficult, riders face an almost constant threat of death, left to paddlers of Olympic-level skills | 18 years old |
White Water Rafting Age Limit Guidelines Table
As you can see, five years old is a reasonably minimum age to plan for a family white water rafting trip, and that's if the rapids will stay at a Class I the whole way. Luckily, you can usually find a variety of rafting trips that offer a wide range of difficulty levels.
White Water Rafting Company Age Restrictions
As we mentioned, each tour guide company will have their own river rafting age limit restrictions when it comes to their raft trips. Even though many of these companies list their age requirements for each type of rafting trip on their websites, it's still a good idea to call and confirm before booking a trip.
Make sure you tell the truth about your child's age and don't try to sneak your kid onto a trip. This can be dangerous.
Apart from the obvious concerns with safety, younger kids will often have shorter attention spans and lower levels of stamina than older kids, so they're better suited to going on shorter trips. Kids under ten might only be able to handle trips that are shorter than three hours, while older kids may enjoy long trips.
Of course, each child is different, so it's important to take your child's individual strengths and weaknesses into account before taking them white water rafting.
Set your own river rafting age limit.
Hey, you're the parent, remember? The good news is, for the most part, you can and should decide what you're comfortable with as a minimum rafting age.
If it's your family's first trip, it's usually advisable to err on the side of caution and take your kids on an easier, shorter rafting ride. Even if they're a little bored, you can get a good idea of what they can handle for future trips.
Work your way up to more challenging length trips and more difficult classes of rapids.
We waited until our girls were 11 and 13 before tackling our first family rafting trip on Oregon's Rogue River. And guess what? They were fine. I, however, had "issues".
Regardless, at the end of the day, you'd probably rather your kids say their first rafting trip was too easy and they want more of a challenge on the next trip. It beats them telling you they were terrified and never want to go white water rafting again.
You can always take them on a more difficult trip as they gain experience and confidence, but getting them back out on the water after a harrowing trip may be difficult.
States Have Varying Age Restrictions
There's very little in the way of state regulations on rafting minimum age limits. Only in very rare circumstances will a state regulate white water rafting ages. In a few instances, states will require that white water rafters be a minimum age for certain rivers.
However, whether a younger child can go white water rafting will largely depend on the river being rafted, their parents and the rafting company.
How old do you have to be to raft the Ocoee? In Tennessee, for instance, riders on the Ocoee River must be at least 12 years old.
Apart from this example though, it's very difficult to find legal requirements for white water rafting minimum ages; river rafting is a loosely-regulated activity, and it's largely left up to the rafting companies to determine age requirements.
However, it's in a rafting company's best interest to self-regulate, both from a liability standpoint as well as from the perspective of getting future business. If they're constantly exposing young kids to tough rapid trips, they won't get repeat customers and there will inevitably be tragic accidents. These companies are the experts and their advice should be heeded.
Even if participants sign a waiver, companies can still be subject to civil liability if they aren't accurately assessing the appropriate age ranges for their rafting trips. As stated above, there are usually plenty of rafting trip options that are appropriate for all age ranges and skill levels. Normally, tour guide companies are happy to help their customers choose the right ones for the ages in their family.
Age-related White Water Rafting Risks
There are a few risks that go along with white water rafting that you should be aware of before you bring your kids along for the ride. These can include, but are not limited to, the following:
Drowning – Rivers are powerful rushing waters and this had to be said
Impact on rocks or other obstructions
Being hit by stray paddles in the boat
Getting stuck in river features
No matter how skilled, experienced, and/or fit a rafter is, if they're rafting rapid classes that are above their skill and experience levels, no matter what age they are, they run the risks of all these dangers. This is especially true for kids who may not have been in situations before where they're under stress and pressure, unlike many adults. Kids may simply not know how to react when they're stressed and therefore, may be at increased risk.
Therefore, it's really important that you accurately assess your child's potential skill level before you take them out on the river. It cannot be overstated that white water rafting is a dangerous activity even under the best conditions, and it's infinitely better to be conservative in your estimates and take your kid on a trip that may be too easy. The risks are too great.
Rafting Age Limit Wrap Up
Many families enjoy going white water rafting with their kids, and it can be a very fun activity and adventure for parents and kids alike. While there isn't much in the way of legal age restrictions, any reputable rafting trip company will have their own age restrictions in place. These restrictions are based on the length of the trip and the class of rapids you'll likely encounter.
Instead of seeing this as a negative, parents should take their recommendations into account for the safety of their own children. Rafting can be dangerous, but it's also a lot of fun. Introduce your kids to rafting slowly and cautiously, challenging them more and more little by little rather than overwhelming them on their first trip.
I'm Steve, the research and technology workhorse behind Paddle Camp. I do tons of research on all our family's paddling gear before I buy or recommend anything. I grew up canoeing with my dad and brother. A few years ago I bought paddle boards for my daughters, myself, and my wife. Ever since then, we plan most of our vacations around kayaking, canoeing, or paddle boarding.
Related Articles
Can you white water raft while pregnant? As always, you should consult your doctor before undertaking any strenuous physical activity. Here's our take on it.
Many white water rafting companies have weight limits for their rafters. It's important to realize that these restrictions are to keep everyone safe.
About Us
We love paddling! We all remember being beginners and having no clue what kayak, canoe, or SUP to buy. Nor did we understand all the rafting gear, paddling laws, and how-to paddle info we'd need to get started. So we built Paddle Camp to help you navigate the often confusing world of kayaking, canoeing, stand up paddle boarding, and river rafting.
LEGAL INFORMATION
As an Amazon Associate, I earn from qualifying purchases. Paddle Camp is a participant in various affiliate networks, including AvantLink, CJ, and others. Paddle Camp is compensated for referring traffic and business to these companies.
Overnight Rafting Trips
Let's go camping on the river! This is our all time favorite way to spend time with our friends and family. This fully guided and all-inclusive intimate overnight rafting and camping adventure takes place on the beautiful and pristine Upper Colorado River in between Pumphouse and State Bridge. Trip includes 2 full days of rafting and exploring and one beautiful night of river-side camping. Gourmet meals will be provided and cooked by your professional river guides and will include lunches on both days and 1 breakfast and dinner. Our overnight trips are small capacity meaning you will get the relaxation you need without hoards of other people around. Looking to extend your trip? Book an additional night/day and you will spend your second day at camp relaxing, fishing, hiking, exploring, swimming, or whatever your heart desires!
Overnight River Camping Trip
Start Time
Location
Upper Colorado River
Duration
2 days with an overnight
Class
I-II rapids with occasional III at high water
Season
May through September
Price
$400 Adult / $350 Youth (12 and under)
Minimum Age
Day 1
• Meet at the Silverthorne Boathouse at 8AM
• Gear up & meet your guide(s)
• Shuttle ride to Pumphouse on the Upper Colorado River
• River time with hikes, rapids, warm springs, & swimming
• Tasty river bank lunch served by your guide
• More river time and probable squirt gun drills
• Arrive at your pre-set camp
• Free time for fishing (Colorado license required), SUPing, kayaking & more
• Riverside dinner prepared by your guides
• Camp under the stars by the wild and scenic Colorado River
Day 2
• Rise & camp; shine to a hot, gourmet breakfast
• River time & a visit to the endearing riverside community of Rancho Del Rio
• Tasty river bank lunch served by your guide
• River time & rapids
• Take out at State Bridge
• Shuttle back to the Silverthorne Boathouse with arrival around
About the Colorado River
Our overnight trip on the Upper Colorado River covers fourteen river miles over two days and is inviting to people of all ages. This rare gem has been a popular escape for private rafters for years and has been considered for the coveted National Wild and Scenic River designation. The National Wild and Scenic Rivers designation was created to preserve certain rivers with outstandingly remarkable natural, cultural, and recreational value in a free-flowing condition for the enjoyment of present and future generations. This varied landscape is home to all kinds of wildlife, including bald eagles, deer, beaver, and big horn sheep, there is always something to marvel at. The Upper Colorado River is located just south of the town of Kremmling, about an hour North of our office in Silverthorne. It is convenient to all the Summit County and I-70 corridor ski areas of Keystone, Breckenridge, and Vail.
Why Choose Us?
Our staff are here to help you from beginning to end. Whether you are working with our reservations specialists to plan and prepare for your adventure, or traveling down the river with our experienced and friendly guides, you can rest assured that Colorado Rafting Company is looking out for you. That means you can relax and enjoy the scenery, company, food, and fun on your Colorado River rafting trip.
All- Inclusive Trip Package Includes:
CRC professional river guide
Shuttle service from Silverthorne boathouse to river
Lodging (tents, sleeping bags and all camping equipment)
Two lunches, one breakfast and one gourmet dinner all served riverside
All rafting/safety gear, inflatable kayaks and SUP's
Campsite games
Trip Package Does Not Include:
Clothing (See recommended gear under Trip Planning)
Insurance (Trip or Rescue)
Gratuity
About Your Guides
Our staff are here to help you from beginning to end. Whether you are working with our reservations specialists to plan and prepare for your adventure, or traveling down the river with our experienced, certified, and friendly guides, you can rest assured that Colorado Rafting Company is looking out for you. We pride ourselves in maintaining a smaller operation where we can provide truly intimate Colorado adventures where we call you by your name and not just a number. Our Colorado River rafting guides are highly trained, experienced, and certified by the State. That means you can relax and enjoy the scenery, company, food, and fun on your Colorado River rafting trip.
What is the best time of year to go rafting on the Colorado River?
This depends on what you're interested in. If big, exciting water is what your group is looking for, then high-water season is the best time. Mid-June to early July is traditionally the high-water season. When rivers run at their peak, it can make for a big ride. Keep in mind some sections may close due to high water conditions. Most people enjoy a normal run off-season, which is mid-May to late-August. Water levels and weather are very unpredictable, so book a date that best suits the group and be prepared for the unexpected. There really is no bad time to go white water rafting in Colorado.
Is there an age limit to raft on the Colorado River?
Yes. We have an age limit of 5 years old for the Colorado River trips. During times of high water, we typically bump the age limit to 7 years old. For all stand up paddleboard and inflatable kayaks the age limit is 12 years old.
Do I need to know how to swim to go rafting?
Nope! Except for advanced and expert trips, you can go white water rafting even if you can't swim. Each person will be fitted with a Type-V Coast Guard-approved personal flotation device (life jacket) to be worn while on the river at all times. This life jacket is designed to float the wearer on his/her back with his/her head out of the water. Guests are instructed on the proper use of this life jacket in a safety orientation talk before departure. It does help to have some knowledge of swimming, especially in some of the more aggressive sections.
Should we tip our guide?
Our guides make a base wage similar to a bartender or wait person. General guidelines for tipping would be the same as for a bartender or a waitperson (15-20%). If you do believe in tipping, and the guide has proven to do a great job, it is a nice way to express your appreciation but only if you feel you had a safe, fun, and informative experience. If you did not have a pleasurable and adequate experience, we would appreciate it if you would please bring it to the attention of our management. Feedback and letters from our guests are greatly appreciated and helps us maintain the highest standard of customer service and appreciation.
What should I wear on a river trip?
Avoid cotton clothing, as it tends to get wet and stay wet – not to mention taking valuable warmth from your body's surface. For rafting, bathing suits and shorts are recommended with comfortable, secure footwear. While not required, we do provide wetsuits, splash jackets, and booties at no additional charge. This equipment isn't mandatory but it is designed to keep you warm. Towels are best kept in your vehicles at the office and don't do you much good on the river because there is no way to keep them dry. For rafting and other activities your best bet would be materials such as wool, polypro, fleece, micro fleece, polyester, waterproof jackets, and any other outdoor material that dries fast. There is limited space on the rafts, so you should limit what you bring to what you can wear. Personal flotation devices (PFDs) are included with all rafting adventures and helmets on all Blue River trips. If you have any questions please give us a call and we can give you information so that you know what to expect and can plan accordingly.
Is whitewater rafting dangerous?
All our guides go through extensive training, basic first aid, CPR, and all river guides are certified by the state of Colorado. Rafting is an adventure sport and involves a degree of risk on the part of the participant. Although we take precautions to ensure a comfortable and enjoyable trip, we cannot be responsible for lost or damaged articles and/or personal injury. It is important for the group to choose a trip within their entire group's limits. Colorado Rafting Company/Colorado Adventure Guides is committed to the safety of our guests. Due to the inherently dangerous nature of some outdoor recreation activities in the backcountry, all participants are required to acknowledge these risks by reading and signing a liability waiver prior to trip departure. All participants under the age of 18 must have a liability/health history waiver signed by a parent or legal guardian. In addition to this form, the health history questionnaire must be filled out for each participant. All information submitted is completely confidential; it is for the guide's use and would only be shared in the event of an emergency with medical and/or rescue personnel directly caring for the guest. It is Colorado Adventure Guides' policy that all Emergency Contacts be a person over the age of 18 and not participating in the same guided trip or course.
What should we bring on our river trip?
For river trips you will want to bring a few towels to leave in your car; you'll be happy to have something to dry off with after your adventure. Bring a change of dry clothes to leave in your car. Bring sunscreen, sunglasses, sunglass straps and hats that protect from the sun, and a camera to document the amazing memories. Bring water for pre-rafting and post-rafting hydration.. Remember, you're in the Colorado Rockies, and it's important to stay hydrated! We also suggest bringing cash to tip your guide. Please see our equipment lists for other activity specific gear.
Do we go rafting it it is raining?
The weather in the Colorado Rocky Mountains is very unpredictable and varies from mile to mile and minute to minute. Colorado averages over 300 days of sunshine a year. The odds are, the weather will be good. We run our outdoor activities in all weather conditions, rain or shine, and have gear available to help keep you comfortable, even in the worst conditions. Wetsuits, neoprene booties, and splash tops can really make a big difference and make your trip a pleasurable one. Don't forget, you're going to get wet rafting, even on the sunniest of days. Weather is not a cause for cancellation.
Cache La Poudre River White Water Rafting
Just outside of Fort Collins, Colorado, the Cache la Poudre River offers pristine wilderness and fun whitewater. The Poudre is Colorado's only river designated "Wild and Scenic". First-time rafters will enjoy the fun Class III whitewater of the Lower Poudre while more experienced paddlers can challenge themselves on the Class IV excitement of Mishawaka Falls.
Location:Fort Collins, Colorado
Drive time from Denver: ~1 1/2 hours
Best time to raft: May – September
Ages: 7years old and up
Duration: 1/2 day, & full day
Other Activities: fly fishing,
Lower Poudre
Age Minimum: 7 years old
Rapids: Class III
Best Time to Go: May-September
Location: Fort Collins, CO
Price: Starts at $60/person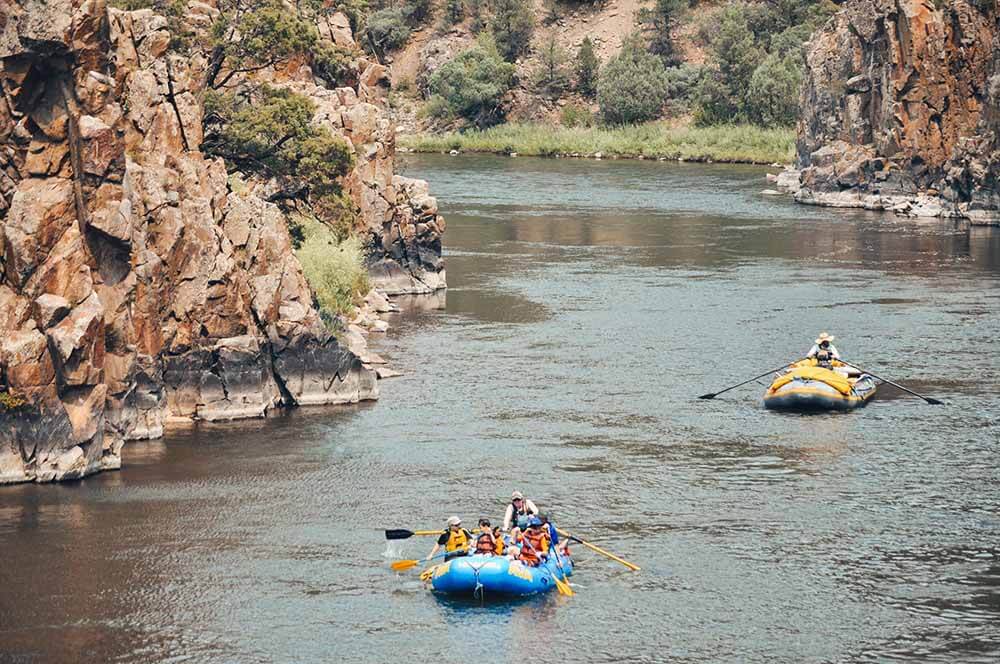 Mishawaka
Age Minimum: 13 years old
Rapids: Class IV
Best Time to Go: May-August
Location: Fort Collins, CO
Price: Starts at $71/person
Upper Poudre
Age Minimum: 13 years old
Rapids: Class IV
Best Time to Go: May-July
Location: Fort Collins, CO
Price: Starts at $120/person
Family-Friendly Adventure
Grab the family and head to Fort Collins for an adventure on the Cache la Poudre! Our 1/2 day Poudre River rafting trips are for ages 7 and up.
Getting Here
Your Cache la Poudre rafting trip meets in the northern Colorado town of Fort Collins. Just about an hour north of Denver you will head to the RMA Fort Collins Office on US-287.
WHAT TO WEAR
Wear a swimsuit that you can wear under your wetsuit, and make sure to apply or bring sunscreen. Wear shoes that will be secure to your feet. Old tennis shoes work great. You can wear a hat and sunglasses, but be aware that they could fall off.
WHAT TO BRING
We recommend that you bring a water bottle, sunscreen and lip balm with sunscreen. You can bring cash to tip your rafting guide, but other than that, it is best to travel lightly.
You can raft the Poudre river between the middle of May and typically through August. Certain trips during certain years will not be available after July, but typically you can find a great rafting trip on the Poudre all summer long.
The Poudre River is about 66 miles from Denver. It typically takes anywhere from an hour to an hour and a half to get to the outpost.
The minimum age for rafting the Poudre River is 7 years old. Guests who are 7 and older can raft the Lower Poudre River section and guests who are 13 and older can raft the Mishawaka section of the river.
POUDRE RIVER WHITEWATER RAFTING DETAILS:
Convenient to Estes Park, Rocky Mountain National Park, Fort Collins, and Denver
Lower Poudre is half day with morning and afternoon start times
Wetsuit, splash jacket, and booties are available for rent
POUDRE RIVER RAFTING
Whether you opt for mild or wild, the Cache la Poudre River will provide a whitewater experience you'll never forget. After your trip, take your Colorado vacation to the next level; head up the road and upstream to river's birthplace in famed Rocky Mountain National Park where you'll be treated to even more sweeping vistas, rugged peaks, wildflowers, wildlife, and gorgeous waterfalls.
A rafting trip on the Poudre and a visit to Rocky Mountain National Park is the perfect way to experience Colorado. You'll have easy access to the wilderness of the Rockies while still remaining close to Denver, Fort Collins, and Boulder.
THE LOWER POUDRE
Looking for family-friendly whitewater? The Lower Poudre's exciting Class III rapids will still be appropriate for the kids while providing thrills for the whole group. Between rapids, you'll have plenty of time to take in the stunning scenery. Minimum age 7, minimum weight 50 lbs.
MISHAWAKA FALLS
Looking for heart-pounding exhilaration? The intense whitewater of Mishawaka Falls will challenge even the most adventurous as you navigate this narrow, technical stretch. Stop mid-trip to refuel with a hearty riverside lunch. Good physical fitness recommended. Minimum age 13.
Source https://paddlecamp.com/how-old-do-you-have-to-be-to-go-white-water-rafting/
Source https://coloradoraftingcompany.com/rafting-trips/overnight-rafting-trips/
Source https://www.coloradorafting.net/river-trips/poudre-river/