Hobble Creek Canyon: A Wilderness Walmart
A group of riders explore Hobble Creek Canyon on horseback.
As Utah County gorges itself at the trough of consumerism, oozing suburban sprawl can almost suffocate wilderness lovers. Fortunately, Hobble Creek Canyon is less than a 20 minute drive from Beto's, big-box stores, and row upon row of mortgage monuments. The canyon is one of the last places near Provo that offers a condensed, convenient version of Utah's best outdoor experiences. When you can't spend a week in the Uintas, why not spend a Wednesday evening in Hobble Creek?
Hobble Creek is divided into a main stem and two forks: the Left Fork and the Right Fork. The Right Fork lies mostly within the Uinta National Forest. The narrow road is canopied with thick trees as it winds between steep mountain slopes. The cold, clear creek offers great trout fishing. The paved main road ends approximately 8 miles up the canyon and continues to climb until it reaches over into Diamond Fork Canyon (favored turf of Mark Perkins, one of our contributors).
Right Fork
The best thing about the Right Fork is that almost any turn off the road offers opportunities for a short hike. There are several trails, including the following:
Days Canyon Trail
The trailhead is located at Cherry Campground. This trail follows a small stream up a draw, eventually opening onto a meadow. If followed, it eventually joins with Maple Canyon Trail.
Kirkman Hollow Trail
Follow the right fork of Hobble Creek past Cherry and Sulphur campgrounds. The road finally crosses the creek. The trail starts as a 4WD road just beyond this crossing. It continues three miles up on a ridge, ending at Wanrhodes Canyon.
Wardsworth Creek Trail
This trail begins where the pavement of the Right Fork road turns to gravel. The trail follows a stream upwards through spruce and aspen. About 3.5 miles up this trail is a picturesque waterfall cascading over red rocks. At the top, Dry Creek Canyon Cutoff Trail forks off near a stock pond.
Dry Canyon Trails
Three trails begin near Dry Creek Campground. Trail 091 is one of these, and extends roughly five miles before joining a 4WD road in the left fork of Hobble Creek.
Left Fork
The Left Fork of Hobble Creek is mostly private land, but many residents are willing to give permission to responsible hikers, photographers, and fishermen. The Left Fork is wider and larger and offers beautiful views. Pole Haven, a canyon about 3 miles from the Hobble Creek Golf Course, leads to the base of Provo Peak.
Mountain bikers, photographers, anglers, and hikers will love Hobble Creek for its quick and easy access, as well as compact but dynamic offerings.
Getting There
To reach Hobble Creek, take US Highway 89 through Springville and turn east on 400 South. After approximately 1 mile there is a four-way stop. Turn right onto Canyon Road and follow it up into Hobble Creek Canyon. Bring a high-clearance vehicle, and you can spend hours enjoying winding dirt roads, off-trail hiking, and expansive views of the Wasatch.
Ways to Raft Down A River
Ways to Raft Down A River. The roots of modern river rafts date back to the post-World War II surplus equipment sold across the country. Before rubber, river runners were using wooden boats with poor agility and little room for cargo or passengers. They were heavy, easy to break, and time-consuming to repair. To avoid these issues, Goodrich Rubber Company manufactured one of the first rubber rafts for whitewater in 1938 for use on a documentary film trip. The resulting footage from the trip inspired more individuals to experiment, and once they became cheap and abundant after the war, rubber rafts became king and wooden boats generally fell out of style.
The diversity in boat types on the river has never been greater than it is today, with almost all of them being made of rubber. Because every boat provides a different experience and their names are not always intuitive, here is a basic guide to the main types of water crafts you may see on the river.
Oar Rafts
The luxury cruise liner of the river, oar rafts are designed to carry as much gear as possible while leaving space for passengers to ride comfortably onboard. For seating and gear storage, oar rafts have wooden or aluminum frames strapped onto them, with the oars attached in the middle. These boats are sometimes confused with paddle boats, as the guts of both are the same, but the utility and experience of each could not be more different. On a paddleboat, everyone is participating, while oar rafts are powered by a single person utilizing two 9-10 ft. long oars positioned off of either side of the boat, allowing the passengers to relax, lay back, and enjoy the ride. A typical oar raft can carry 5-6 people and upwards of 1500 pounds!
For slow, flat-water stretches, there is no more relaxing way to travel downstream than riding along on an oar boat. Sharing stories and conversations, reading books, taking naps, or simply marveling at the scenery, the experience of the calm float offers something that is lost in activity. Due to the heavy weight of gear, food, and passengers, oar boats are difficult to flip and generally the safest way downstream, making them the most popular boats for multi-day trips.
Paddle Boat
A paddleboat is what most people picture traveling on when they imagine "whitewater rafting". These rafts have elevated tubes that make up the sides with smaller tubes running width-wise across the floor. These smaller tubes are called "thwarts" and they act as seats or footholds for passengers. Paddleboats hold between 6-8 people and everybody has their own paddle, with one person (usually a river guide) sitting in the back. The passengers are responsible for creating and maintaining momentum, with the captain in the back doing all the steering and voice commands.
Paddleboats are a great way for people to participate and stay active. With strong paddlers, these boats are very maneuverable and lots of fun in the whitewater. However it is often hard to find 6-8 people who are committed to paddling the entirety of a trip. They are not designed to carry any cargo, and because of how lightweight they are, it is much easier to flip over in a rapid. Also, paddling can be a tough workout, especially in flat water and fighting a headwind, which may scare away any willing participation. Ideal for day trips and active groups, paddle boats are rare for multi-day trips but may be available upon request. Read more about why we don't bring paddle boats on all of our trips in this blog.
Inflatable Kayak
Affectionately known as "duckies" for the characteristic way they appear to waddle downstream while following bigger boats (mama ducks), inflatable kayaks are a great source of freedom and autonomy on the river. Great for beginner and experienced paddlers alike, duckies are fun, stable, and easy to use while providing good exercise and the opportunity to explore the river on your own. It is common to see duckies on all stretches of water, but are not typically used in larger whitewater on commercial trips. Most kayaks are designed for one adult, but tandem duckies have become more popular in recent years. Holiday will bring duckies on most trips, when appropriate.
Stand up Paddleboard (SUP)
The newest river craze is the stand up paddleboard, or SUP. Despite being inflatable, these can be stiff as a surfboard and surprisingly stable. Manufacturers make many different shapes and sizes of SUPs, with the river designs being wider and thicker to better fare in whitewater. Another fun option to explore the river with autonomy, SUPs offer a unique workout and challenge to those seeking an active experience. The flat water of Cataract, Ruby/Horsethief Canyons, and Desolation Canyon are the most common sections of river that Holiday will bring SUPs.
Originally from the suburbs near Cleveland, Ohio, Justin made his way to Utah after graduating from Ohio University with a degree in exploring and having fun… If not on the river or in the kitchen, you'll find him wandering the mountains, drinking coffee, or writing down words he hopes will come across as sensical.
Clear Creek White Water Rafting
Come experience an enjoyable, unforgettable Clear Creek river rafting trip with Colorado's premier Clear Creek rafting company: AVA Rafting. Gain a new appreciation for the natural environment and an adventurous and unique view of the Rocky Mountains. Let us help you create the memory of a lifetime with one of our Clear Creek Colorado rafting or zipline adventures! Clear Creek whitewater rafting navigates a steep, technical river with white water rafting sections appropriate for all ages and abilities.
Oh and also, Clear Creek offers some of the absolute best whitewater rafting near Denver. Just 30 minutes west of Downtown, these trips are the perfect Denver whitewater rafting destination!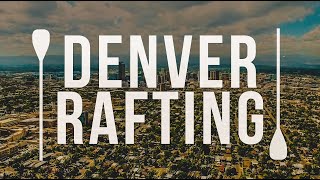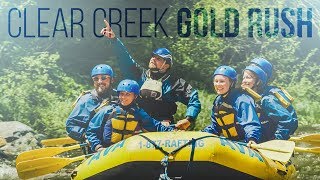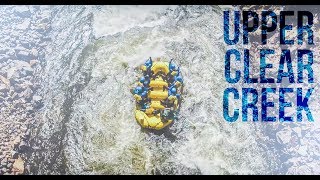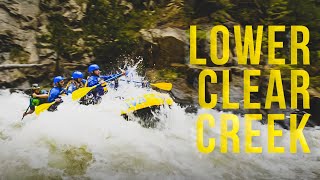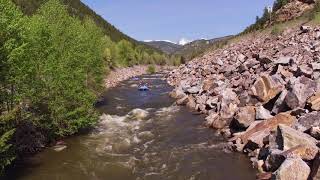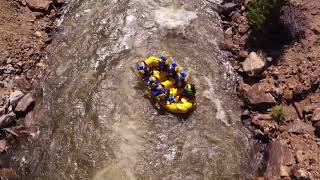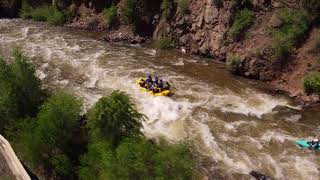 Location:Idaho Springs, Colorado
Drive time from Denver: ~40 minutes
Best time to raft: May – September
Ages: 6 years old and up
Duration: 1/3 day, 1/2 day, and full day
Other Activities: zipline & via ferrata
Gold Rush Section
Age Minimum: 6 years old
Rapids: Class II-III
Best Time to Go: May-August
Location: Idaho Springs, CO
Price: Starts at $44/person
Upper Clear Creek Section
Age Minimum: 15 years old
Rapids: Class III-IV
Best Time to Go: May-August
Location: Idaho Springs, CO
Price: Starts at $75/person
Lower Canyon Section
Age Minimum: 15 years old
Rapids: Class IV-V
Best Time to Go: May-August
Location: Idaho Springs, CO
Price: Starts at $80/person
TRIPS FOR EVERYONE
Clear Creek rafting has trips for all ages and excitement levels. We have trips for kids as young as 6 years old and 1/3 day long, to full day trips with thrilling class 5 rapids and a BBQ lunch on the river.
GREAT TRIPS FOR KIDS
Our Clear Creek Gold Rush rafting trip is perfect for families with kids as young as 6 years old. Join us on this exciting trip that takes you past the Charlie Tayler Water Wheel, through town and down exciting rapids such as Dizzy Lizzy, Power Line and Mountain Lion. Rafting Clear Creek is a great family adventure with AVA!
EXCITING PACKAGES
Not only can you experience the best rafting that Denver has to offer, you can package your rafting trip with our Cliffside Zipline trip or our Mount Evans Via Ferrata. Make the most of your adventure in the mountains with a multi-adventure package.
CLOSE TO DENVER
Clear Creek is conveniently located in the historic mining town of Idaho Springs, just 30 minutes west of downtown Denver and about one hour from Boulder, Breckenridge, Keystone, and Winter Park. Our Clear Creek outpost features part-day and full-day trips with multiple departure times from early morning to evening.
WHAT TO WEAR
You can wear a swimsuit with quick drying clothes over it. We do not recommend wearing any cotton because once it gets wet it can keep you cold and does not dry quickly. We will provide wet suits and splash suits. Most important, wear shoes that are secure to your feet. Water shoes and old tennis shoes work great. Please don't wear flip flips or crocs.
WHAT TO BRING
Appropriate shoes that stay secure to your feet; no crocs or flip flops. Don't forget waterproof sunscreen and sunglasses. Don't bring your favorite pair or make sure you have croakies so they don't fall off. Lastly, make sure to pack a water bottle to stay hydrated throughout your rafting trip.
Our Clear Creek rafting trips are great paired with a Cliffside Zipline tour or the Mount Evans Via Ferrata tour. Join us for a full day of adventure with our rafting + aerial tour packages in Idaho Springs. Read more about our Clear Creek adventure packages by choosing your aerial adventure below:
Ziplining
Via Ferrata
Clear Creek in Idaho Springs will typically start running in mid to late April and will run through mid-August or early-September if the water levels allow.
Clear Creek stretches along I-70 from about Loveland to Golden, CO. The most popular section for whitewater rafting lies in Idaho Springs, CO, just about 30 minutes west of Denver.
Clear Creek rafting trips require children to be at least 6 years old, however, when water levels are high, the minimum age might rise.
ABOUT CLEAR CREEK
Clear Creek flows through Clear Creek Canyon in the Rocky Mountains directly west of Denver, following alongside I-70 until it connects to the South Platte. Clear Creek runs through the town of Idaho Springs, where the first gold was found in the late 1850s during the Colorado gold rush.
Located in an old mining valley in the Colorado Rockies, its proximity to Denver, Boulder, Summit County and Winter Park makes Clear Creek rafting an easily accessible favorite for locals and travelers alike. AVA is a premier Clear Creek rafting company in Colorado.
ABOUT OUR CLEAR CREEK TRIPS
Clear Creek is an excellent destination for gatherings of all sorts. We even book multiple departure times to fit busy vacationer's schedules! Whether you want an exciting and adventurous family reunion activity or a unique introduction to the Colorado wilderness or a different way to celebrate your bachelor party, Clear Creek has something to offer everyone. Because of its varying intensities and gorgeous landscape, Clear Creek is the premier whitewater location for anybody looking for a truly Colorado experience.
AVA has a trip for everyone on Clear Creek. The Gold Rush section is great for families with kids as young as 6. This 1/3 day trip is a great introduction to whitewater rafting in Colorado. The section you'll raft includes eleven Class III rapids as you paddle and splash your way down the Creek.
Looking to up the intensity? The 1/2 day trip on Upper Clear Creek allows you to conquer some of the most intense whitewater rafting on Clear Creek! Enjoy this steep, technical section that will keep your paddle moving. This trip is physically demanding and only for ages 15+.
Ready for the best Clear Creek has to offer? The Lower Canyon of Clear Creek trip is a 1/2 day advanced whitewater trip that is one of the most continuous sections of whitewater in Colorado. You will rush through impressive scenery and an even more impressive gradient that drops 150 feet/mile through the canyon.
AVA also has longer trips on Clear Creek. Combine the Upper Clear Creek and the Gold Rush for a 3/4 Day trip that includes lunch called the Outer Limits. Push your physical limits on our full day advanced trip, the Phoenix, which combines the Upper Clear Creek, the Gold Rush and the Lower Canyon into one jam-packed day with a delicious BBQ lunch in the middle!
A unique activity for team building or improving leadership skills: plan group river trips like corporate trips, wedding parties, scouts, athletic teams or bachelorette parties!
Source http://wildernessusa.com/explore/trail-guides/hobble-creek-canyon/
Source https://www.bikeraft.com/ways-to-raft-down-a-river/
Source https://www.coloradorafting.net/river-trips/clear-creek/