Guided excursions
Rafting on the Isar has a long tradition. As early as the 15th century, timber for the Frauenkirche was brought to Munich in this way. Today you can discover the most beautiful stretches of the Isar on a rustic wooden raft – atmosphere and music included.
By raft from Wolfratshausen to Munich
The raft trips start in the old rafting town of Wolfratshausen about 30 kilometres from Munich. The crew skilfully steers the raft, which is equipped with tables, benches and live music, down the Isar to Munich-Thalkirchen. Depending on the water level, the trip on the white water takes five to seven hours.
While enjoying a typical Bavarian snack and live music, you drift past many scenic spots. Shortly after the start, the raft passes the Pupplinger Au landscape and nature reserve. Most of the time, the Isar flows peacefully. On hot days, you can even swim alongside the raft in the quieter places and cool off a little. The trip gets a little wilder at the locks, where the differences in altitude have to be overcome by raft slides. In the idyllic Mühltal valley near Schäftlarn Monastery, for example, the raft shoots down the 18 metres of altitude at quite a rapid pace, accompanied by the cheerful screeching of its passengers.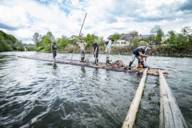 The rafts are built anew every day from mighty tree trunks and dismantled again. A raft consists of up to 18 tree trunks and offers space for around 60 people. Rafting is a sustainable business: once the rafting season is over in September, the logs are processed into timber.
The history of the Isar rafting
From 13th century
Delivery of building materials, but also of imported goods from Italy by raft to Munich
End 17th century
Regular passenger and freight transport by raft
Mid 19th century
Every year, 5800 rafts pass through the rafting area in Wolfratshausen.
from 1891
The new Isartal railway between Munich and Wolfratshausen replaces the raft as a means of transport.
The raft trip is making a comeback as a pleasure trip.
Wolfratshausen becomes a member of the association of international rafting towns.
Rafting" is included in the nationwide register of intangible cultural heritage of the German UNESCO Commission.
Raft trips on the Isar: contact and booking
The raft trips take place in summer from May to mid-September. The start is in Wolfratshausen.
Depending on the raft, you can book a whole raft or individual places. Find out about individual special services such as bus transfer to Wolfratshausen, lunch and music requests and book early.
Enquiries and reservations can be made directly with the following organisers and rafting companies:
Tips for Beginner Rafters
You've decided that you're ready to experience the rush of paddling down a river, splashing and laughing with friends and family. When preparing for your first whitewater adventure, there are numerous beginner rafting tips that can help you be prepared. By understanding what to expect and how to stay safe, you will be ready to go on the trip of a lifetime!
Tip #1: Listen Closely to Your Guide
Probably the most important tip is to pay special attention to everything your guide has to say. Our raft guides are highly trained river-lovers who are committed to making your trip as safe and fun as possible.
Before you head out, your raft guide will talk to the group about safety tips and what to expect. Be sure to listen closely to this introduction as they will tell you what you need to know before you head out on your river adventure.
Once you're on the raft, continue to listen to your guide. They will tell you when and how to paddle, if you need to lean to one side of the raft to keep everything balanced, and even what to do if a paddler should happen to slip out of the raft.
What's more, your guides are personable and knowledgeable individuals who will share interesting tidbits about the Colorado wilderness and history of the regions that you paddle through. These stories are a great part of a raft trip!
Tip #2: Always Wear Your Life Jacket and Helmet
At every moment when you're on the river, your life jacket and helmet need to be secured. Before you step onto the raft, ensure that they both feel snug and comfortable. If you need any assistance making sure that your safety equipment is on and fitting properly, ask our staff to help you.
Tip #3: Be Sure to Review Our Packing List
While there isn't much that you need to do to prepare for your river float trip, the one thing that you should check out before you head over is our rafting packing list . You want to make sure that you bring what you need to make your trip an enjoyable one. This includes:
A bathing suit or workout clothing
Sunscreen
Sunglasses with a strap to secure them
Secure, comfortable footwear
Water bottle
A change of clothing/dry clothing for after the trip
Water shoes or wet suit (also available for rent)
If you happen to forget any of the above, don't worry! We have most everything that you could need for purchase at our headquarters. Dry clothes and proper attire are the two things that you will want to make sure to bring with you.
Tip #4: Keep Your Hands on the T-Grip
The end of your paddle has what is known as a T-grip. It is absolutely essential that you always keep one of your hands over the T-grip. One of the most common injuries that can occur whitewater rafting is injuring another rafter by taking your hand off of the end of your paddle. If this happens when you go through a rapid, the T-grip can end up making contact with another rafter.
How to Become a River Rafting Guide
You wake up early in the morning on a bright sunny day. You are heading to work but don't need to dress formally.
You just throw on a pair of shoes and shorts and proceed towards the river in the national park.
As you hear the water gushing down the stream, you lavishly apply the sunscreen and are ready to put your raft in the river.
That could be the closest to an ideal vacation. But wait! This is not a vacation. It's your job and you have just reached your workplace.
River rafting is one of the most exciting outdoor activities in the world. A sport that gained popularity in 1970s is now a great recreational activity.
You can find river rafting opportunities in numerous rivers around the world. Some offer extreme rapids while others provide a much smoother ride.
As much as you want to enjoy rafting alone, no river rafting spot offers the facility without a guide.
A river rafting guide ensures that you enjoy a safe and smooth ride as you go up and down the river.
The job of a river rafting guide can be an ideal job for anyone who loves being around water.
If river rafting fascinates you and you want to pursue a career in rafting, you do not need a professional qualification or experience.
On a positive note, you can be a seasonal river rafting guide so you don't need to quit your existing job (if you have a professional career).
All you need is a license, the right age, perfect fitness and good sense of humor. Below you can find out how to become a river rafting guide.
Also, if you are not sure why you want to pursue this as a career, we provide some good enough reasons to motivate you.
As you continue to read you will also find out about some of the possible employment opportunities at some of the popular rafting destinations in the US.
Why Become a Rafting Guide?
Being a river rafting guide is a job full of adventure and thrill. But apart from the fun aspect, there are many other reasons for becoming a river rafting guide.
Read on to find out the top reasons why people pursue this career and continue with it years after years.
River Rafting Is Fun
One of the most important reasons why people want to become a river rafting guide is because it is fun. For most people, the mundane desk job is not what they want.
They want the excitement and thrill associated with outdoor activity and there is no better option than river rafting.
Spending time in outdoors is an essential human need and rafting helps you meet that.
Though being a river rafting guide involves physical activity, but if are someone who thrives outdoors around water, then being a rafting guide is something you will definitely enjoy.
It is Challenging
If you spend most of your time sitting in front of the desk, you might want a change. Being a river rafting guide provides you this opportunity.
It gives you a chance to be physically active while being on the job. Once you get used to this physical activity on the job, it is highly likely that you will end up pursuing this as your career path.
Being a river rafting guide is not only physically challenging but it is also mentally challenging.
The job requires you to be in the moment so that you can immediately solve any problem which comes along the ride.
So whether you want to choose the best course for your raft or plan to prevent a possible clash, your brain is never at rest.
People who grow well on this stimulation certainly want a career as a river raft guide.
It is a Way to Expand Your Social Circle
Being a river rafting guide is all about making friendships which last for a lifetime.
A lot of young adults start their career as a rafting guide but as they go through the training process of becoming a guide, they get to know a lot of new people who become great friends.
Also, when these new guides join the workforce, it gives them a chance to meet different people on every single trip.
Some of these people become part of your social network which you can benefit from later in life.
How to Become a River Rafting Guide?
The job of a river rafting guide is an excellent way to earn paychecks while enjoying the thrill and excitement of an outdoor water adventure.
So as you reap the benefits of improved fitness and making friends for life, you can do all this while making good money.
Similar to all professions, beginners in the industry need to work hard to make their way up the professional ladder. Only then they can enjoy the monetary benefits associated with their job.
But the best part of a rafting career is that most companies compensate well for new guides who take more responsibility and satisfy the clients.
Though each rafting company has a different compensation policy, a new rafting guide of average can make between $65 and $75 per day.
This is just an average so some rafting guides get slightly lower than this while others can earn much higher.
Since rafting is a seasonal job, over the course of the season, a guide earns a minimum of $4,000.
But as you gain more experience, the compensation tends to increase. Also, most companies offer a base pay and top it up with other benefits such as a bonus on x-number of trips.
Therefore, one of the best ways to earn more is to have guests who can request you as their guide.
How Many Rafting Hotspots are out There in the US?
Numerous rafting companies operate in almost all states of the country. Below you can find a list of some of the most amazing rafting hotspots in the country.
These locations are shortlisted based on popularity among tourists, experience with the rafting company (called outfitters) and guides and availability of activities other than rafting.
, Grand Canyon – Arizona
Tuolumne River – California
Arkansas River – Colorado
Gauley River – West Virginia
Salmon River – Idaho
Rogue River – Oregon
Kennebec River – Maine
Chattooga River – South Carolina
Ocoee River – Tennessee
Moving Forward
Being a river rafting guide can be a dream profession for anyone who enjoys being in the water.
It comes with a unique set of benefits, a decent paycheck and lots of fun.
So if you are looking forward to a career in river rafting, now is the right time to apply.
Source https://www.munich.travel/en/topics/excursions/river-rafting-isar
Source https://www.raftecho.com/beginner-rafting-tips/
Source https://raftthecanyon.com/river-rafting-guide/